The ideal explainer video length
If you have already been involved in video marketing, you are probably also aware that shorter videos are more effective. At least that's what they say.  Makes sense actually, since in the age of the goldfish generation we can barely focus on single task over a longer period of time. Therefore, there's this widespread opinion that  60 seconds is the magical video length. Is it possible to generalize like that? And where do these assumptions come from?
An explainer video serves the purpose of summarizing complex messages as well as the most important information of a brand in an easy understandable and entertaining way.  It supports companies in generating leads, increasing brand awareness and conversions. However, if you do not determine the appropriate length for the explainer video, you risk a much lower interaction of the target group and ultimately do not get the desired added value. 
An explainer video should be long enough to convey the most relevant information and introduce the brand, but at the same time not overly verbose or even bombard the audience with boring content. And what exactly does that mean for us? In this article we take a closer look at the question and explain how long a perfect explainer video should be. 
The ideal explainer video length – Figures speak for themselves
We're starting off a little number crunching. But this is the only way to understand the relationship between content and engagement rate or/ and the attention span. Wistia, a leading video software company, has analyzed the user behavior of about 500.000 videos in a research. This revealed the following findings: 
In the first 30 seconds the viewer rate drops from 100% to 70%.  30% of the viewers lose interest.  

Between 30 seconds and 120 seconds the video engagement decreases only minimally. In other words, if you were able to hold the viewer for the first 30 seconds, he will most likely watch the video until the 2nd minute. 

Between the 2nd and the 6th minute we can see a dramatic decrease: A total of 50% of the viewers exit the video. 

However, in the 6th to 12th minute there is again only a slight decrease in the number of viewers. For further video lengths no more analyses were carried out. 
Other interesting data on video marketing are summarized below:
The human attention span has dropped to 8 seconds 

33% of viewers finish a video after 30 seconds, 45% after one minute and 60% after the second minute. (Ad Age)

50% of consumers believe that a video should be 60 seconds long, while 33% claim that 1-2 minutes is optimal. (Wyzowl)
The results are relatively straightforward and show that shorter videos generally result in greater interaction. Based on the numbers, we can now assume that each video should simply be 60 seconds, right? Hm, yes and no. It may be a good benchmark and is also praised by many marketers as a "sweet spot" for delivering maximum content while keeping the maximum attention. Nevertheless, the basic conditions for the video should be determined first.
The ideal length- What really matters 
Indeed, the previous statistics show that shorter videos get better engagement. But does this mean that even an informative 10 minute video must be desperately squeezed in under 120 seconds? No way! 
Like any successful pitch deck, an explainer video must be short and concise. But before rigorously snipping the video and making the content look like a ripped Chihuahua, there are a few basic questions that should be answered:
What the video's goal? Do I just want to arouse interest, create brand awareness or provide detailed information? 

Who is the

target audience

and how much expertise do they have on a given topic?  

Where should the video be shared?

Only on web pages, on social media channels, via email or even offline at an event? 
It is therefore important to consider the context: 
If you have a relatively simple product, it is recommended to keep the video at about 30-60 seconds to ensure high engagement and maximum attention. If the message is more complex, it is also important to take the necessary time to describe the product or service. In the end, the video should also provide added value. Valuable content telling a story and creating an emotional bond with the audience is essential for a longer video. 
Don't forget that explainer videos are not detailed instructions, but rather summarize the most important message in 1-2 sentences. If necessary, it could be worth creating several videos and integrating them on different landing pages. So, even though an average of 60-120 seconds is recommended for maximum engagement, it is also important to consider the different marketing goals and distribution channels. 
Different lengths for different distribution channels 
Different platforms require specific formats, but also have different user preferences. The following is an overview of our suggested video lengths for certain channels: 
Social media 
In general, social media users prefer shorter videos – especially because they are often played on mobile devices on the go. Instagram videos may be 60 seconds long, but according to Hubspot, videos of 26 seconds receive the most comments. We therefore recommend keeping the video to a maximum of 30 seconds. On Facebook, on the other hand, videos of 1-minute length could get the the highest engagement. 
For Youtube you can create longer videos, because Youtube users are consciously looking for video content and are therefore willing to invest more time. While most videos are between 4-5 minutes, according to Hubspot 2 minute videos are the most popular.
Webpage and landing page 
The videos for a webpage or landing page can vary greatly in length, depending on the purpose of the video. As part of a pre-launch marketing campaign, for example, they can be used as a short 30-second teaser to raise brand awareness and build up anticipation.
A corporate video in the form of an image film can also go into a little more detail, especially in the case of more complex services, and can therefore be a little longer. So here it is important to determine the goal and the target group. From 30 seconds to even 6 minutes, anything is conceivable as long as the story is captivating and builds an emotional bond with the audience. 
Exhibition
A trade fair can be loud and chaotic. In addition, you have to stand out from all your competitors. With the help of a video, you can attract attention from a distance and arouse interest in the products before the stand staff takes over the conversation. Since new visitors keep coming by, the video should allow a quick start from the beginning. A length of approx. 45-120 seconds is recommended in order to integrate enough informative content at the same time. 
E-mail 
Videos in e-mails are powerful tools to increase the opening rate and click-through rate. According to Neil Patel, a length of 1 to 2 minutes is recommended to ensure maximum engagement.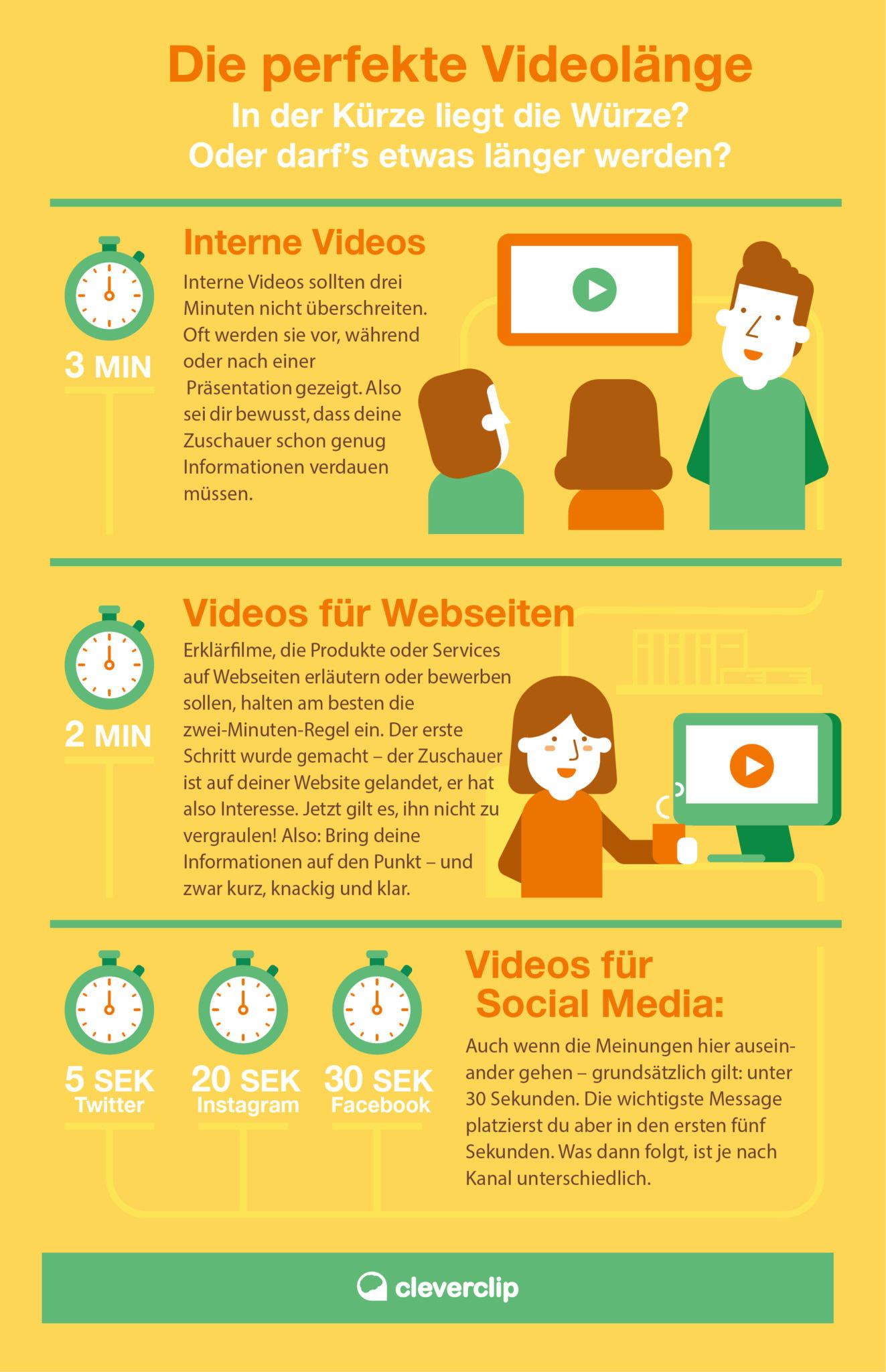 Maximum engagement at minimum length – this is how it works  
Although the length of video varies according to information needs, industry and target group, the trend towards shorter videos is still recommended.
Either way, convincing in the first few seconds is the top priority. If you succeed in catching the audience's attention right from the beginning, there is a good chance that the viewer will stay tuned for a slightly longer video. As an example, on Instagram even the first 3 seconds are absolutely crucial. 
Exciting, informative, but short and concise can be a big challenge. To make sure to get to your "killer explainer", you need to make sure you have an effective script. At this point we would like to remind you of some important ingredients of a perfect script recipe:
In the first part, draw attention to the problem by addressing the customer's

"pain point"

. Depending on the product, this part can be limited to 3-10 sentences. 

Then, in about 2 sentences, emphasize a possible solution for the existing problem.

Spotlight on: Present the product in the form of an

elevator pitch

and create an "aha effect". The big challenge is to pack all relevant points into only one explanation. Do not focus on the product features, but on the individual benefits for the customer in order to create an emotional bond. 

Integrate a "Call-to-Action" for further engagement. 
In general, the rule of thumb says that 120 words correspond to a 60 second video, to avoid overwhelming the viewer and to allow enough time to process the content. 
How long should my explainer be?: Our Takeaway 
The shorter the better – and ideally 60 seconds. While this guide is valid in many cases for an explainer video, there are also exceptions, as we have learned. Target group, purpose, industry and product complexity, as well as distribution channels must be analysed in detail beforehand.  An explainer video should not summarize all the information in the world, but rather wrap up a central message.
In today's business world, people have less time, so every piece of information should be as concise and precise as possible. Concise and precise, but appropriate for the respective context. Do you need support in creating an explainer video? Then feel free to contact us. 
For convenience purposes this post has been translated automatically.