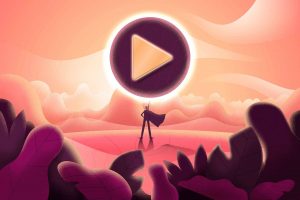 The ultimate explainer video guide – From "zero" to "hero" 
You have decided to include an explainer video in your content strategy? Fantastic! You have taken the first step towards more effective marketing. But every beginning is hard and the road to the perfect explainer video can be quite bumpy. To prevent you from being lost in no man's land and to ensure that you can actually benefit from your video, we will guide you step by step through all the important points that you should know before creating your first video. From brainstorming, scripting and animation to the final touch – even without any previous knowledge, you will be able to create a breathtaking explainer video that will catapult your brand into the next level.
The explainer video – and why you actually need it
Explainer videos are short, mostly animated clips that summarize complex information about products or services of a brand in an entertaining, comprehensible and vivid way. They can also be seen as a modern form of the pitch deck and are becoming increasingly important in internal and external corporate communications worldwide. 
Explainer videos are so effective because they address several senses simultaneously through both audio and visual elements and are therefore better stored in long-term memory. Especially in the age of stimulus satiation, in which our attention span lasts only 8 seconds, explainer videos help to anchor the message effectively in the consciousness of the target group, as our brain processes images about 60000 times faster than pure text.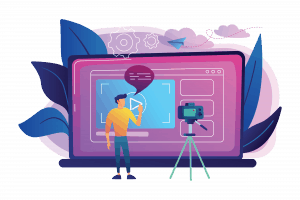 Furthermore, explainer videos have the following benefits:
a better SEO ranking, as Google favors websites with video content

about

20% higher conversions,

more reach and a higher engagement of the target group 
To keep it short, an explainer video will help you generate valuable leads, achieve better search engine rankings, increase brand awareness, maximize conversions and place your message in the customer's long-term memory. Well, if these are not power tools, what are they? 
Step by step to the explainer video- pro 
Rome wasn't built in a day either. An effective explainer requires good planning, research and analysis, as well as technical know-how. Before you plunge into the actual production, important initial questions should therefore be clarified: 
Should I make the video myself? This is the basic question in the first place, because it will have a decisive influence on the rest of the process. Basically, you have three different options when creating an explainer video: 
hire freelancers,

hire a specialized agency 

Create your own video. 
Which of these options you choose is, of course, entirely up to you or depends on certain resources such as the budget, the internal technical know-how, the time available, etc. We take a closer look at all three options: 
Freelancer

: If you want to hire specialists but do not have the budget for a professional agency, this is the best option.

Please note, however, that hiring freelancers for such a complex project is very time-consuming and requires excellent coordination. Experts have to be hired for every single step of the explainer video: e.g illustrators, copywriters, sound designers etc. Without proper project management from your side, there can be a lot of misunderstandings and miscommunication. 

Create your own explainer video: 

Do you have enough professionals in-house that you could bring on board for the project? Excellent, then you can dare to tackle the matter yourself! All in all, it will probably be the most cost-effective option and allows you to have detailed control over all steps. As you know your team very well, communication between the departments is usually more fluent and with fewer misunderstandings. 

However, plan enough time and get a second opinion after the video has been produced to get external feedback. 

Hire a professional agency: 

If you have the necessary financial resources available, emphasize first-class quality and want to get the greatest possible added value from your explainer, then this is the right option for you! 

An experienced video agency knows exactly how the video message should be staged in order to convince the audience in the long term. In addition, a good agency always tries to achieve your desired goals within the available budget and is always available to answer any questions you may have.
What is my goal? As in any marketing strategy, the objective is essential. An explainer video should not simply decorate your webpage, but have a concrete purpose. Do you want to increase your brand awareness or engagement on social networks, sell a specific product or generate more leads? Summarize the main goal briefly and concisely and keep it in mind for all further steps. 
Who is the target group? You should first determine exactly for whom you are creating the explainer video. For this purpose you can create a buyer persona, i.e. a fictitious figure of the ideal customer. The goal and target group analysis are also important to set the right tone for the video in terms of style, voiceover, mood, etc. Ask yourself what exactly you want to achieve with the audience. Should they visit the website, register for an e-mail or simply deal with a message in more concrete terms? Integrate an individual "Call-to-Action", which motivates the respective user for further engagement. 
How do we measure performance? Define important parameters in advance that allow you to measure the success and thus ensure whether you are on the right track with the explainer video or whether you need to take any action. In video performance analysis, the most important key figures are the "click-through rate" and the termination rate. But depending on the previous objective, the engagement rate, cost per engagement, reach, clicks, shares and brand management are suitable as well. If you work with an agency, they should also be able to explain exactly how the campaign success is measured.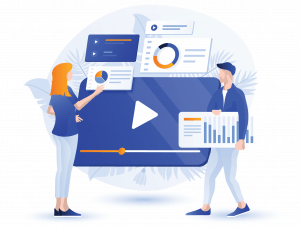 Which style should I choose? An explainer video offers a range of styles and animations – from live shots, 2D and 3D animation, stop motion, kinetic typography to the good old classic – whiteboard animation. Which style you should choose depends on a number of external factors such as budget, target group, actual product and industry. If you want to illustrate a highly complex product, a 3D animation can be suitable for a realistic presentation. But even a Whiteboard animation can be suitable for complex services, as sometimes the minimalist style makes it easier to get the message across. The style should also be in harmony with the corporate image and brand personality. 
Have you answered all these questions in detail? Excellent, then you already have a good starting point for the next steps. Now it's time to get into the production! Let's take a look at the important elements that should not be missing in a perfect explainer video. 
Important elements of an explainer video 
The script 
Most of us are not aware of it, but the script is the absolute heart of the video and the key to success. Without a perfectly worked out script, there will be no successful explainer video. It is crucial to apply the principle of storytelling instead of providing boring facts and address the "pain points" of the customers.  An outsider should be able to understand the script without any background knowledge. Therefore make sure that the wording is clear and concise. If the script raises more questions than you had before, a flop is guaranteed. Ideally it should not exceed 90 seconds. 
Characters 
Characters are the heroes of the story with whom the target group can identify. They are important for building an emotional bond between the storyteller and the audience.
Voice Over 
Most explainer videos include a voice-over to illustrate the problem and the solution and guide the viewer through the story. This can be especially relevant for complex products in order to better understand the message. Choose the voice actor carefully – the tone of the voice should match the brand image as well as the video content. Professional voice talents who know exactly the right articulation, intonation and tone of voice are essential. 
Animation 
Although some explainers may be based on live action, most of them use a specific animation style. Depending on the product, budget, target group and your own corporate image, you should also choose the style carefully. Here is a selection of common forms: 
Whiteboard Animation: The classic among the explainer videos. Clear structure, reduced design and extensive use of colour are the key aspects of it. The individual illustrations are created in front of the viewer. A special form of whiteboard animation is the layering style, using cut-out illustrations which are being moved on a flat background. 
2D animation: flat characters and shapes characterize this animation, which is versatile and suitable for almost all areas.
3D Animation:

Three-dimensional images

are associated with elaborate concept drawings and comparatively high costs, but they also offer a breathtaking and realistic representation as well as free creative freedom. 3D animations are particularly suitable for complex products that should be realistically illustrated, e.g. in medicine and technology. 

2.5 D Animation: This is a mixture of the two previously discussed styles. Through various editing techniques such as layering,

morphing

, perspective adjustments and shadowing, you can either make 2D elements appear as 3D or directly embed 3D objects in a 2D environment. 

Stop Motion: This is a

special type of animation

that combines live footage with traditional character animation. The object is photographed, then moved slightly and photographed again. When the individual images are strung together, they create the illusion of movement. 

Typography:

Moving text combined with audio

illustrates the information and helps the audience understand what is being said.  
The sound 
As in every other film, the music in an explainer video also contributes decisively to the atmosphere and can evoke stronger emotions, emphasize a message and involve the viewer even more intensively in the action. Both the background music and all additional sound effects should of course be in harmony with the plot, the target group and the set goal. 
So far so good. But especially in the beginning there are often unexpected events and misplanning that can have a negative impact on the whole project. To save you from as many escapades as possible, here are some on-top tips to ensure that the production process of your ultimate explainer is as smooth as possible.
Extra tips for the ultimate secret recipe 
Brevity is the soul of wit
A good explainer video should illustrate the entire message within 60 seconds, with the first 10 seconds being crucial for the audience's interest. The biggest challenge is to place all relevant information, but still keep it short and concise. Avoid unnecessary digressions and use precise and concise wording. If the explainer video exceeds a certain length, it misses the actual purpose. 
An explainer video is no advertisement
Many compare an explainer with a simple promotional video. If you do that, you have lost. An explainer video should tell a story, not just hold a product in the camera and inform the customer about incredible product features. It is important to introduce the problem, the "pain point" of the hero, with which the target group can identify, while presenting the product or service as the respective solution. Overall, the video should be based on a closed storyline and emotionally move the viewer instead of revealing facts and figures. The keyword "storytelling" is essential in today's marketing. 
Expected costs 
The investment in your video depends on many factors, starting with the question of whether you want to create it yourself or whether you prefer to work with a professional agency. The industry standard for production only starts at around €4500 and can go up to €10,000 or even higher. Beyond that, your individual needs and goals, as well as the desired type of animation, need to be considered. For example, a whiteboard animation will be significantly cheaper than a colourful 3D animation. 
An in-house production will certainly be more cost-effective, however, you should always keep the production value in mind: A video agency knows exactly how to realize your goals and maximize the ROI.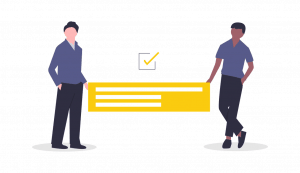 Choosing the right agency
If you have decided to work with an agency, then you are facing a new hurdle. Providers are a dime a dozen – now you have to find the right one who can create an individual solution for your needs. 
Conduct a detailed research beforehand, look at past projects in similar industries and inform yourself in detail about the creative process. The agency should be passionate about the work and not create standardized template solutions. You need to be sure that each phase of the project is handled by absolute experts who always have a solution ready, even when unexpected difficulties and misunderstandings arise. Also ask for transparent pricing – you should know exactly where the budget is going and protect yourself from hidden costs.
In summary, you can keep the following questions in mind:
Is the agency striving and ambitious to achieve your goals in the best possible way? 

Is the agency fully aware of how the performance of the video is to be measured? 

What does the portfolio look like and what do other clients say? 

Does the agency strive for individual customization or does it mainly work with ready-made templates?  

Do you want to work with the agency at all? A well-decorated portfolio and renowned major clients are all well and good, but if the chemistry between you and the agency doesn't fit and the working culture is too different, it won't result in a pleasant cooperation. 
Choosing the right software
If you're getting into the subject matter yourself, you should take a closer look at some software that allows you to create characters and animations. We have summarized some available programs below: 
Biteable: A simple and minimalistic design characterizes this software. Even with the free version you can create high quality HD videos. If you want to design a little more functions and the watermark, you should upgrade. The premium version costs $99/ year. 
GoAnimate: This software contains exciting backdrops and a variety of characters. The templates offer a lot of fun and are easy to use. Unfortunately the version is not available for free. 
Videoscribe: This software is perfect for creating whiteboard animation, even without any previous knowledge. It offers a variety of royalty-free images and music, as well as a free trial version.
Powtoon:  The software offers very high-quality templates with a variety of characters. Thanks to the Drag&Drop function, it is easy to use even without previous knowledge. There is a free version, but with limited features and Powtoon branding. 
Animaker: There is also an easy to use drag and drop function that makes it very user friendly. With 120 different animations and 5 video styles, this software also offers one of the most comprehensive databases. 
Wideo: The program provides built-in templates with 1300 images and more than 50 different music tracks, which can be used to easily create 2D animations. The basic package starts at $19 per month.
Rawshorts : This program specializes in whiteboard animations and offers extremely creative templates for various industries. This allows you to create professional videos with smooth transitions in no time at all. A free trial version is available.  
The deed is done 
Well…2508 words later you have now reached the end of the big beginner's guide. Congratulations, you are now the absolute Explainer-Pro! Well, whether you are really ready for your first explainer video will probably only become apparent in practice. But you have acquired the necessary know-how. And what do they say? "Practice makes perfect" – the road to success knows no shortcuts!
And in case you still don't trust yourself yet, that's what we are here for.  Feel free to contact us and we will create the perfect customized explainer video for you, with no risks or side effects! 
For convenience purposes this post has been translated automatically.