So you want to create an explainer video – but are now faced with the big question of how to proceed? Then you've come to the right place! We explain whether and how you can create an explainer video yourself, what to consider, what software is available and much more!
Content
What is an explainer video?
Explainer videos, explainer films or explainers are short, mostly animated clips that summarise complex information about a brand's products or services in an understandable and vivid way in an entertaining way. They can also be seen as a modern form of pitch deck and are becoming increasingly important in external and internal corporate communication.
Why create an explainer video?
Explainer videos are so effective because they appeal to several senses simultaneously through audio and visual elements and are thus better stored in long-term memory. Especially in the age of sensory overload, in which our attention span is only 8 seconds, explanatory videos help to effectively anchor the message in the consciousness of the target group. Our brain processes images about 60,000 times faster than pure text.
Furthermore, explainer videos enable companies:
a better SEO ranking, as Google favours websites with video content
20% higher conversions
More reach and higher engagement of the target group
In short, an explainer video helps you generate valuable leads, achieve better search engine rankings, increase brand awareness, maximise conversions and place your message in the customer's mind for the long term.
The latter is also the reason why explainer videos are being used more and more by schools. They enrich the lessons and are an effective learning tool that is appreciated by both teachers and students.
Create your own explainer video – step by step
So now to the actual topic of the article: How to create an explainer video yourself. There are now many software providers that allow you to create an animation. Generally, this is also the most cost-effective option and offers you complete transparency and control over all steps.
Note, however, that creating your own explainer video does not happen at the push of a button: An effective script, storyboard, voiceover, post-production and other elements need to be created and require a lot of time and know-how. The final result also depends on your personal commitment.
A (good) professional agency, on the other hand, is always ambitious to ensure the best possible result for its client. Ask yourself at this point whether you have the necessary skills to create a convincing animation. If yes, then go to the workshop! If not, you always have the option of hiring professionals and having an explainer video created professionally.
We'll now show you how to create your own DIY explainer video step by step:
Step 1: Planning & collecting ideas
Step 2: Create script
Step 3: Create a storyboard
Step 4: Sound and Voiceover
Step 5: Music and sound effects
Step 6: Draw and animate
Step 1: Planning & collecting ideas
Before going into the actual production, important questions should be clarified. This allows for a structured design process to achieve the greatest possible added value and not end up in a chaotic juggling act.
First analyse the following in detail:
What is my goal?
As in any marketing strategy, the objective is the be-all and end-all. An explainer video should not simply decorate your webpage, but pursue a concrete purpose. Ask yourself what exactly you want to achieve with your audience. Do you want to increase your brand awareness or engagement on social media, sell a specific product or generate more leads? Or do you just want to create brand awareness, explain a complex process, or get more email subscribers? Summarise the main objective succinctly and keep it in mind throughout the rest of the process.
Who is the target group?
You want to explain something to a certain group. This works best if you think yourself exactly into this target group. The best way to do this is to develop a persona, i.e. a fictitious representation of the end user, in order to better understand their needs. Take into account the person's most important attributes, such as age, gender, profession, interests and, most importantly, prior knowledge of your topic. After all, you don't want to bore or overwhelm your audience. At this point, you should also clarify how much background knowledge already exists and what knowledge the target group should gain after watching the video.
What is the idea?
This is where brainstorming comes in! With the background knowledge you have now acquired, you can go out and develop ideas. The first one is rarely the best. It's best to put yourself in the shoes of the persona you developed in the previous step and think about how they would prefer to have the topic explained to them. What problem does the product solve? What story do you want the video to tell? How do you appeal to the viewer emotionally? Invest enough time in brainstorming and sketch out several ideas to make sure your explainer video really tells a compelling story.
Important: Many people equate an explainer video with a simple promotional video. If you do that, you've lost. An explainer video should tell a story and not just hold a product up to the camera and tell the customer about incredible product features. It is important to present the problem, the "pain point" of the hero, with which the target group can identify, while presenting the product or service as the respective solution. Overall, the video should be based on a closed storyline and move the viewer emotionally instead of revealing facts and figures. Keyword "storytelling"!
Which style is the right one?
Based on the previous analysis, as well as the budget, your expertise and the time available, you can now decide on a suitable style. Although some explainer videos can be based on live footage, most use a specific animation style – from 2D, 3D and stop-motion animation to kinetic typography and classic whiteboard animation – the options are very diverse and should also be in line with the corporate image and the product.
If you want to illustrate a highly complex product, for example, a 3D animation can be suitable for a realistic presentation. A whiteboard animation, for example, is also suitable for elaborate services, as its minimalist style conveys the message more simply and precisely. Here is an overview of common animation styles:
Whiteboard animation: The classic among the explanatory videos. Clear structure, reduced design and largely no colour are the hallmarks of whiteboard animation. The individual illustrations are created in front of the viewer. A special form of whiteboard animation is the laytrick style, in which illustrations drawn on paper and cut out are moved on a flat background.
2D animation: flat characters and spaces characterise this animation, which is versatile and suitable for almost all areas.
3D animation: Three-dimensional images are associated with elaborate concept drawings and comparatively high costs, but they also offer a breathtaking and realistic presentation as well as free creative scope. 3D animations are particularly suitable for complex products that need to be illustrated realistically, for example in medicine and technology.
2.5 D Animation: This is a mixture of the two previously discussed styles. Through various forms of editing such as layering, morphing, perspective adjustments and shadowing, you can either make 2D elements appear 3D or embed 3D objects directly into a 2D environment.
Stop Motion: This is a special type of animation that combines live filming with traditional character animation. In this process, the object is photographed, then slightly offset and photographed again. When the individual images are strung together, they create the illusion of movement.
Typography: Moving text combined with audio illustrates the information and helps the audience to better understand what is being said.
Learn more about different animation styles in our big explainer video guide. 
How do I measure performance?
Define important parameters in advance that allow you to measure success and thus make sure whether you are on the right track with the explainer video or whether you need to take measures. In video performance analysis, the most important key figures are the click-through rate and the abandonment rate. But depending on your previous objectives, engagement rate or cost-per-engagement range, clicks, shares and brand mentions may also be useful.
Have you answered all the above questions in detail? Very good, then you have a good starting point for the next steps. Now it's off to the workshop and on to production!
Step 2: Create script
After you have clarified all the basic questions in step 1, it's time for production. The script is often underestimated at this point – an absolute beginner's mistake! In fact, the script is the most important element of the entire explainer video. Even great marketing specialists like Neil Patel emphasise the importance of the script.
But what exactly makes a good script? You can use the following structure as a basis:
Emphasise the problem and address the customer's "pain point".
Present the product as a solution to the existing problem. It is important to create an "aha effect" and to emphasise the individual added value.
Don't forget to include a "call-to-action" for further engagement.
Storytelling is an absolute must for a successful script to engage the audience emotionally. The characters are the heroes of the story with whom the target group can identify. No story, no successful video!
Here are some additional tips for an ultimate power script:
The rule of thumb is 120 words per 60 seconds of video.
Make sure that the wording is concise and short, and that the vocabulary is easy to understand. Depending on the purpose and target group, the topic should be understandable without prior knowledge. If the script raises more questions than you had before, a flop is already pre-programmed.
Focus on the key benefits for the target group and not on the product features.
The first few seconds are crucial and should show the viewer that the video is worth watching to the end.
Step 3: Create a storyboard
The next step is to support what is being said with images. So you develop individual image scenes for the script, which in combination must convey a clear message. The whole thing is called a storyboard. Don't worry, it doesn't have to be a painting à la Picasso, simple scribbles are perfectly sufficient!
You take the individual paragraphs of your text and develop images that visually support the spoken content. It has actually been proven that content that is visually and auditorily absorbed at the same time finds easier access to your memory and remains there longer.
By the way, the storyboard is an inevitable step. You immediately find out whether your image ideas fit the story.
Step 4: Select voiceover
Sound effects play a central role in an explainer video to emphasise the message even more and to appeal to the audience emotionally. A narrative voice, on the other hand, helps the viewer to understand the content better, as it clarifies the problem and the solution and guides the viewer through the story. This is especially essential for more complex products.
Depending on the provider, many animation softwares provide a database of music and sounds. Otherwise, the portals Pond5 or Audiojungle are also suitable.
For the voiceover, you should not do without a professional speaker who has a perfect command of tonality and articulation. There are two websites that are particularly worth highlighting for this: voices.com or voice123.com. Both sites allow you to post a project in the form of a job opening and thus find the right voiceover artist. Always listen to some demos in advance to make sure that the voiceover artist's timbre matches the product and brand image as well as the target audience.
If you want to try yourself as a speaker, make sure you have a good microphone, a quiet environment, the speed of your speech and your articulation. A big challenge for an inexperienced speaker is also to suppress breathing noises. You will find that it is not easy to create a flawless recording. But practice makes perfect!
Step 5: Music and sound effects
As in any film, the music in an explainer video contributes decisively to the atmosphere and can evoke stronger emotions, particularly emphasise a message and wrap the viewer even more intensively in the action. Both the background music and any additional sound effects should, of course, be in harmony with the plot, the target group and the defined goal.
Step 6: Draw and animate
Similarly to speech text, drawing and animating is also a challenge. If you are not a motion designer or whiteboard artist, animating your own clip will take a lot of effort. Unless you use one of the following online tools, which we highly recommend:
The best softwares
Of course, the video still has to be brought to life. You could theoretically use PowerPoint. But nowadays, depending on your style, budget and previous knowledge, there are numerous softwares that offer different video animations and make your job much easier.
#1 Biteable
A simple and minimalist design characterises the Biteable software. Even with the free version, high-quality HD videos can be created. For more options, there is an upgrade. The premium version costs $99/year.
#2 VYOND
VYOND offers a variety of exciting backgrounds, characters and different objects. Videos in infographic, whiteboard and 2D style are possible. A free trial version is available for 2 weeks, the Essential version costs $49 per month, Premium is available for $89 and the Professional version costs $159.
#3 Videoscribe
Videoscribe focuses on whiteboard animation. There is a large database of licence-free images and music that can be used to create good videos even without prior knowledge. A free trial version is available. You pay CHF 21.00 a month for the subscription, CHF 14.75/month for an annual subscription.
#4 Powtoon
Powtoon offers high-quality templates with a variety of characters. Thanks to the drag & drop function, it is easy to use even without prior knowledge. Powtoon offers a permanently free version, but not in HD quality and only with Powtoon branding. The package for $83 per month already offers a lot more as a Pro+ version. The Agency version costs $138 per month.
#5 Animaker
Animaker also offers an easy-to-use drag-and-drop function that makes the software very user-friendly. With 120 different animations and 5 video styles, this software also offers one of the most extensive databases. The basic version is available for $10/month, the pro version for $49.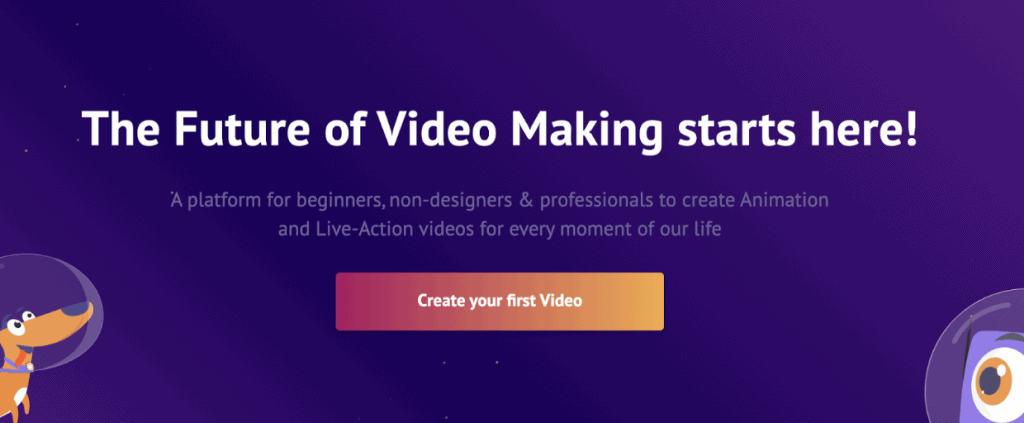 #6 Wideo
The Wideo software for creating 2D animations is particularly easy to use. Furthermore, the templates can be made a little more personal by uploading your own images, music and logos. In addition, the programme provides built-in templates with 1300 images and more than 50 different music tracks. The basic package starts at $19 per month.
#7 rawshorts
rawshorts creates explainer videos using artificial intelligence. The technology for converting text into animated videos uses AI to create a video draft within seconds. A free trial version is available. The Essential version is available from $20/month.
#8 Fiverr
Fiverr is not a do-it-yourself platform, but a database for freelancers who take on parts of the video production. The tender platform offers all services from the marketing sector – at very reasonable prices. From graphic design to texts to animations, you'll find everything you need here.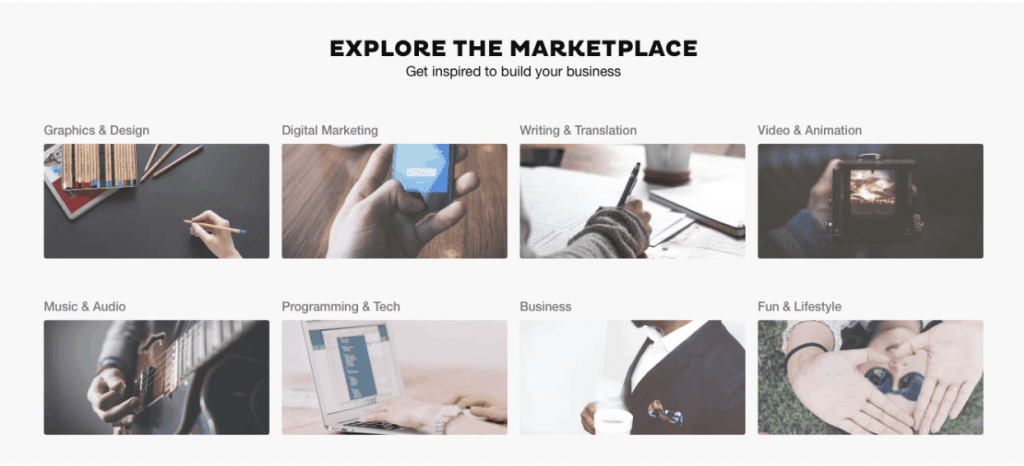 Making an explainer video yourself – is it really worth it?
As you can see, there are excellent possibilities today to create an explanatory video in your own workshop. However, always consider the production value. Often, the option is cheaper than working with professionals, but the quality is also lower and the animation much simpler. Whether you manage to achieve the desired added value is therefore questionable.
Especially as a company, it is of course important to always create a professional and convincing impression. Regardless of the video style, certain basic skills, at least in scripting and storytelling, should not be lacking. Therefore, think carefully about whether your specialist knowledge is really sufficient to bring a high-quality explainer to life.
Video content is effective, but not if it is "crap content". Poor quality actually damages your image. Then maybe you should invest a little more and make sure that the explainer video is of high quality. Of course, we are happy to help at this point… 🙂
For convenience purposes this post has been translated automatically.