Explainer videos- The super weapon of content marketing 
Perhaps you're familiar with it: a page-long text that makes you fall asleep already throughout the second sentence. After the first paragraph you are already somewhere on Bora Bora. Of course, you can barely remember what you have read. You give up and quickly switch to your smartphone to scroll a little through the Insta Feed. 
A classic case of today's society. Our attention span has dropped, long texts bore us and we're sick of all the ads.  How is a marketing manager supposed to reach any customers and inform them about products? We are faced with an ever-increasing challenge when it comes to captivating customers and motivating them to buy. 
At this point Explainer videos have proven to be a super weapon in the field of content marketing and are increasingly gaining popularity. But what exactly are explainer videos and why are they so effective? In this article we explain everything you need to know about this topic. 
What's an explainer video?
Explainer videos summarize briefly and concisely and in an entertaining way, the most important information about products and services of a brand. Thereby, complex content can be conveyed visually and comprehensibly to the respective target group in the shortest possible time and more attention can be paid to it. 
Explainer videos can be regarded as a modern form of a  pitch deck and are becoming increasingly important in the  internal and external corporate communication . An explanation video supports the company in generating leads, creates more website traffic and achieves higher brand awareness and conversions. But what distinguishes explainer videos from other media and why are they a particularly effective resource in content marketing? 
The power of explainer videos 
Pictures say more than a thousand words – we all know this metaphor, and especially in the digital age, in a world of sensory overload, it acquires a new meaning: Today we have neither the time nor the desire for lengthy texts. However, we love pictures. The human brain generally processes images 60,000 times faster than text-based information and stores them better in long-term memory.
Explainer videos allow information and dry facts to be packed into stories through visual storytelling and thus appeal to viewers emotionally. In this way we arouse the interest of the audience and succeed in anchoring our message in their consciousness. Other important functions of an explainer video are summarized below:
SEO
You can't go without video content nowadays anymore. In general, embedding videos in communication channels can lead to a 55% increase in the number of visitors and, at the same time, a longer dwell time. Moving images also achieve higher shares and likes on social networks and thus better reach. In general, pages with video content receive higher rankings in search engines than just text-based content. 
Concise and Simple 
Our attention span has dropped to eight seconds. And that also means that we only have 8 seconds to convince the customer on our landing page. That means a) all relevant information must be mentioned at the beginning and b) we have to arouse interest before the customer is gone. Good explainer videos do just that: they compress product offers in 60-120 seconds and captivate the viewer by staging visual elements combined with music and a narrative voice. 
Higher Conversion Rates 
91% of consumers confirm that they are watching an explainer video to learn more about a particular product. 84% agree that they are more likely to buy after watching an explainer video than before. So if you want to achieve higher conversion rates, there is no way around it.
Wide range of application
Explainer videos offer countless areas of application, regardless of the industry. Presenting products or services, explaining new processes, employee training, company presentations or trade fair appearances.  Wherever we want to convey a message to a target group, explanatory videos are an option. From finance, SaaS, travel companies to NGOs: Complexity exists everywhere and explanatory videos help you stand out from the competition with visually appealing content. 
Targeted customer approach 
Explainer videos can be optimally adapted to the respective target group, this applies both to the content and the communication channels. Whether on webpage, Instagram, Linkedin, Facebook or newsletter: The possibilities are very versatile and create a higher level of interaction on all platforms. Even at events, explainer videos are ideal for product presentations. 
All these advantages with only one video and in less than 2 min – quite tempting hugh? Can't wait to get started with your explainer video?  But first you should think carefully about what kind of video works best for you. Even in this point explainer videos surpass traditional marketing forms and give free rein to creativity. 
Explainer Videos: Types and Styles
From 2D animations, over stop motion and 3D videos, real films to the good old classic, the whiteboard animation: the world of explainer videos is versatile and perfectly adapted to the respective needs. The following is an overview of the most important styles: 
Whiteboard animation and laying trick style 
Clear structure, reduced design and the extensive renunciation of colour characterize this classic among the explainer videos. The individual illustrations are created in front of the viewer. Thanks to the low production effort and the reduced optics, the whiteboard animation is far more affordable than other formats.
The live visual elements arouse the curiosity of the audience and quickly convey the content. Another special form is the laying trick technique, in which illustrations drawn and cut out on paper are moved on a flat background. 
2D Animation 
This is probably the most common form of animation, however versatile and suitable for almost all areas. 2D animation uses flat characters and spaces. Immovable content is quickly brought to life and the information is presented through visual storytelling.
3D Animation 
Entertaining, breathtaking and probably the most demanding form of animation: three-dimensional images are associated with elaborate concept drawings and comparatively high costs, but it also captivates through the realistic representation and creative freedom, which certainly allows to stand out from the competition. 3D animations are particularly suitable for complex products that should be illustrated realistically, e.g. in medicine and technology. 
2.5D Animation 
The animation world is divided into two main styles: 2D and 3D. And although these are the most popular, a new form of animation should also be emphasized: The 2.5 D Animation. 
This is a mixture of the two styles discussed above. 3D elements are embedded in a 2D environment. But you can also make 2D elements appear as 3D by skillfully using perspective and shadow. To achieve this effect, many creative editing forms are combined such as layering, morphing, perspective adjustments and shadowing.
Real film 
In contrast to animation, the real film involves actual movements being filmed in front of the camera. Instead of drawn characters, actors perform the script. Real films can also be used as a basic format, in which 2D and 3D elements are added. 
Stop Motion 
Stop Motion is a special type of animation that combines live footage with traditional character animation. The object is photographed, then slightly moved and photographed again. This process is being repeated. When the individual images are arranged in a row, they create the illusion of movement. Watch here what we did for Xing.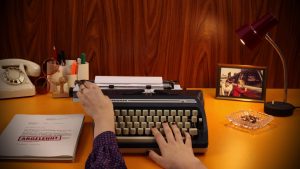 Typography 
Typography uses animated text to present the information. A text-based video is cheaper than visual animations and can also effectively produce positive results. Moving texts combined with audio illustrate the information and help the audience better understand what is being said.  
The appropriate animation style depends on many factors. Analyze exactly what fits your brand and corporate image, as well as the target group. It is also crucial to consider how complex the products are and what budget you have available. 
Production process 
An explainer video isn't created trough some magic. That would be too easy. It's an elaborate production process that needs to be carefully planned and worked out down to the last detail. This is the only way to create high-quality videos that convince the target group with your product or service. 
The following is an overview of the most important elements of an explainer video: 
Script
The heart and the key to a successful video. Ideally it should be 90 seconds long. It is important to address the "pain points" of the customers and at the same time to present them the solution, namely the product. Pay attention to clear and precise wording that packs all the information into a story. The target group must be able to understand the text without any problems. 
Characters  
Depending on the type of animation, certain characters must be created. Characters are the heroes of the story and help the target audience to identify with the product and service. They create an emotional bond between the narrator and the audience. In 2D videos, characters are drawn by hand and then recorded, while in 3D animation they are designed exclusively by computer.
Voice over
Especially when it comes to complex products, a narrative voice can be very helpful to support the images and make them easy to understand. The tone of the voice should match the brand image as well as the video content. Professional voice-over artists who master the correct articulation, accentuation and tonality should not be renounced. 
Music and Sound 
Similar to the voice over, the music should be carefully matched to the brand image and the content in order to create the necessary emotions. 
Useful Add-ons 
No "Bla-Bla" please 
The aim of an explainer video is to convey the most important product information to the audience in an appealing way. The video should be max. 2 min to hold the attention of the audience. Therefore, focus only on the most relevant information. Otherwise an explainer video quickly loses its meaning and purpose. 
Storytelling instead of classic ads 
Instead of pure facts you should move the audience emotionally through visual storytelling. Even if you present a product or a service, always make sure that you emphasize the advantages, that the customer can gain by using the product instead of pure product features.
Correct SEO
The explainer video can improve the results in the search engine. However, the SEO should also be perfectly optimized for this. Relevant keywords, alt-text, title, description and tags – all this should not be missing.
The right quality 
In order to stand out from the competition and reach the target group, an explainer video should be produced professionally. Poor videos can even damage the brand image. The cooperation with an experienced and video agency is therefore very advantageous, in order to guarantee a high-quality optics and to convince the audience with the quality. 
The right formula
Successful explanation videos are generally all based on a similar basic formula: 
Problem: Present the problem to the audience and wrap it in a visual story. 
Solution: Show how the product can solve the existing problem. 
Functionality of the product/service: Emphasize the unique characteristics that directly benefit the audience. Do not forget that the advantages should always be in the foreground and not the pure product features.
Call to Action: Invite the audience to take action and describe how the target group should proceed. 
Conclusion  
More engagement, greater reach, entertainment, higher conversion rates, more web page traffic: Animated videos are no longer children's stuff, but real miracle weapons in content marketing. Explainer videos create the necessary personality for your brand to generate more customers and stay in your mind for a long time. 
If you are not quite sure yet or still have questions, please feel free to visit our Frequently Asked Questions on the subject of explainer videos or contact us.
For convenience purposes this post has been translated automatically.