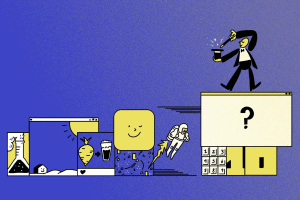 Convince the industry-wide audience with explainer videos 
Whether a lengthy presentation, a page-long product description, a novel full of facts and figures – all these formats have one thing in common: They are boring! To retain the audience's attention in the age of sensory overload with such content and to anchor your message in their consciousness will require a lot of luck. Since not all of us are chased by shooting stars, we have to rethink. True to the motto "Video is King", explainer videos are and will remain the secret weapon in today's marketing. 
We have already explained in our big explainer video guide what exactly an explainer video is, what formats exist and what the production process looks like. However,  we noticed that many people are not really aware of how variable an explanatory video can be used. That's why today we present our Top 10 application fields and the respective advantages of how you can benefit from an explainer video in each field.
Onboarding and staff training  
The onboarding is one of the most important processes in the company to ensure that the employee is well integrated and receives all the relevant information regarding internal guidelines and work flows. However, since our brain can only process a fraction of information, it sometimes seems as if Alzheimer's had already spread even among the young "kiddies". 
Especially the first few days at a new job can quickly overwhelm us, important information may not reach us or get quickly forgotten. An explainer video supports all the newbie's to convey complex information in an understandable and vivid way with the option to play it over and over again. At the same time guarantees that all new employees receive identical information.
But even beyond the initial training, explainer videos are absolute power tools for internal communication, e.g. in the context of change management. Processes change so rapidly, technology advances, new trends develop. For this reason, the company is forced to keep the team "up to date" to guarantee specialized experts.
Similar to the onboarding, explainer videos help to summarize identical information and also complex process changes, internal guidelines and strategy changes precisely and sustainably, while at the same time providing maximum response through moving and emotional content. The faster transfer of information eliminates misunderstandings and uncertainty and ensures maximum effectiveness of corporate communication. 
E-Learning / Digital Learning 
The importance of e-learning is constantly increasing in the digital age. However, because of the flood of information that reaches us every day, it is even more difficult nowadays to guarantee a sustainable learning effect. Explainer videos allow to address several senses at the same time through the use of moving pictures, sound and spoken language. 
At the same time, we need to keep in mind that the Millennials and Generation Z in particular have grown up in a multimedia environment, making video formats part of their everyday life. These almost "basic needs" of the digital age should also be taken into account in modern learning methods if we want to keep the attention of the audience and anchor the message in its consciousness in the long run. Our brain processes images about 60,000 times faster than text-based content and 65% of our society learns better through visual content.
Presentations  
What's the old saying? – First impressions count, right? And that's why the all-rounders prove themselves even in the offline world. Especially at the beginning of a presentation, explainer videos enable you to attract the attention of the audience and put you in the spotlight, as well as to wrap facts, e.g. about the company, in a captivating story. 
But also during the course of the presentation, spontaneous video content provides an exciting variety and allows a specific explanation of a complex topic without overwhelming the audience or even losing its interest. It doesn't matter whether it's a sales pitch, a charity campaign or an educational event, thanks to the enormous effectiveness of an explainer video you can convince any kind of audience.
By the way, built-in short clips can be very advantageous from the speaker's point of view as well: They allow a short breather to sort your thoughts and ensure that you don't exceed the speaking pace. Especially during enormously long presentations it is easy to get lost in your own monologue and forget to pay attention to the right tonality, tempo, gestures and facial expressions. 
Product video  
Of course, an explainer video is also a powerful tool in the marketing of products and achieves far greater response than a classic advertising video. With the help of the magic of storytelling, customers' pain points can be packaged into a visual and most importantly emotional story in which the product provides the solution to the problem.
Due to a variety of formats – from classic whiteboard animation, 2D characters to complex 3D productions – an explainer video can be used for different industries and products. It is particularly effective during product launch, either to generate the first leads in the prelaunch phase or on the actual launch day, especially for more complex products, to prove your expertise and create an initial buying impulse. 
Social Media 
Nothing works without social media today. While the platforms are littered with text or simple images, you can use video to stand out from the crowd, achieve higher shares, greater reach and engagement. Through the use of audio and attractive moving images, the maximum of information can be spread without being directly perceived as intrusive advertising. In general, conversions on social media can be increased by up to 80% with the help of video content.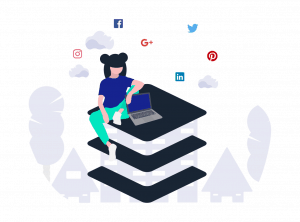 At the same time, video marketing favors the algorithm, which in turn makes it easier to grow on the social channels and build the follower base and thus potential customers. To achieve the greatest possible added value, you should pay attention to the following points:
Focus on channels that are relevant for your target group, e.g. Xing and Linkedin for B2B or Instagram and TikTok for B2C.

Make sure you offer entertaining video content and wrap it into an emotional story

An effective and engaging caption that summarizes the content of the video and motivates the user to comment. 

Since

85% of social media users watch videos with no sound

, it is even more important to use meaningful visual content and to support it with subtitles if necessary 

The video should be mobile friendly and have short loading times
Explainer videos can be uploaded as a regular post  or as part of an ad campaign. Especially on Youtube, the 2nd largest search engine after Google (and also part of Google), paid ads can be placed very effectively to reach relevant target groups. 
The icing on the cake are, depending on the platform, comparatively simple and manageable performance tracking tools with which you can also gain detailed target group insights, e.g. when the video was watched, which countries and age groups dominate, achieved impressions, engagement rate, etc. 
E-Mail Marketing and E-mail Signatures 
Up to 320 billion emails are sent every day.  Therefore you can't even blame anyone for moving the email into the trash without even checking it. Nevertheless e-mail marketing is and remains one of the most effective forms of communication. But it should be designed correctly. You probably already have an idea of where we're heading, right? Explainer videos! (You see the small clips are soon the answer to absolutely everything). 
Integrated videos in e-mail marketing reduce the unsubscribe rate by 26%, increase the opening rate by 19% and the click-through rate by an amazing 65%! Hallelujah, quite impressive numbers! To avoid problems with the file size, you can integrate videos in the form of a link or a GIF animation that leads to the main video. Also make sure you have an attractive thumbnail and mention the video in the subject line to attract the interest of your readers.
Recruitment 
Explainer videos support the company enormously in the field of "employer branding" and can thus become the basis for talent sourcing. This can be done in different ways: On the one hand, the corporate culture can be presented: What are the advantages of working for company XY? What is the Company Mission? What distinguishes the company and what values does it represent?
Presenting the company as an attractive employer has become especially important among the millenniums and Generation Z and a main selection criteria. But also throughout the actual recruitment process, an explainer video can be used to summarize the hurdles and tasks that job seekers have to prepare for during the application process. In this way, candidates with lacking qualifications can be sorted out in advance.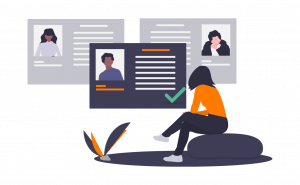 Exhibition booth  
Who doesn't know it? A crowded fair, masses of people, one booth after the other, everyone frantically shouting after the customers with flyers and goodie bags. Do not belong to these pitiful booth sellers!
 An explainer video can support you in various ways and attract immediate attention even from a distance. You can also save time if all the stand staff is already in conversation. The visitors see the products directly in action, receive exciting information and are therefore more open to a product offer in a follow-up discussion. The visual approach and storytelling result in an affective commitment, so that the visitors are also motivated to make irrational, emotional decisions. In other words, even if the customer had no specific product need, he or she can decide to buy it after watching a video. 
Ideally, you let the video play in an endless loop on a large screen and integrate a call to action. Make sure that the video has appealing graphics, but is in line with the booth and corporate image. Since trade fairs are generally very loud, there is no need for sound. Subtitles can be helpful to support the visual information. 
In need of some inspiration? Then check out how we created an explainer video for the TPL booth. 
Customer Service  
You have a page-long FAQ on your webpage and yet your e-mail inbox is always flooded with the same customer inquiries? Then it makes sense to integrate an explainer video to answer standardized questions and illustrate complex topics in an appealing way. Support videos or "how-to" videos, e.g. for technical questions, can also be used to summarize topics in a way that is understandable to laypersons across all industries.
From the construction of furniture, the use of kitchen appliances to special application guidelines for certain medications, with an explainer video you can show your customer an individual approach and ensure maximum customer satisfaction. 
Webpage and landing page 
You probably know it from your own experience: You visit a webpage, see the long text, scroll down briefly and are gone. The 8 seconds goldfish era always presents us with the big task to convince the webpage visitor in the shortest possible time. As little text as possible is a good starting point, but not so easy – as all relevant information should reach the customer anyway.
An explainer video enables exactly that: The combination of moving pictures, narrative voice and music packs important content into an emotional story that ensures maximum attention. In this way, you increase the time users spend on the website and at the same time summarise all the important information briefly and concisely before the user leaves again. 
Even on a landing page as part of pre-launch marketing, an explainer video can arouse the anticipation of a product and also prove your expertise. This way, leads can be generated in advance and buying impulses for the actual launch day can be created. Also Google prefers websites with video content and provides you a better SEO ranking. Make sure that the video is optimized for the search engine: Alt tags, video description, title and links should not be missing. 
Conclusion 
As you can see, there are countless areas of application for an explainer video. All right, we have only presented 10, but this list could go on indefinitely, regardless of the industry. Explainer videos offer many different formats – from simple whiteboard animations to complex 3D production, for example to illustrate complex products. They can be perfectly adapted to suit the purpose, budget and target group. Do you need a little more inspiration? Then take a look here in our "Explainer video Best-of list" or contact us if you have any further questions. 
For convenience purposes this post has been translated automatically.