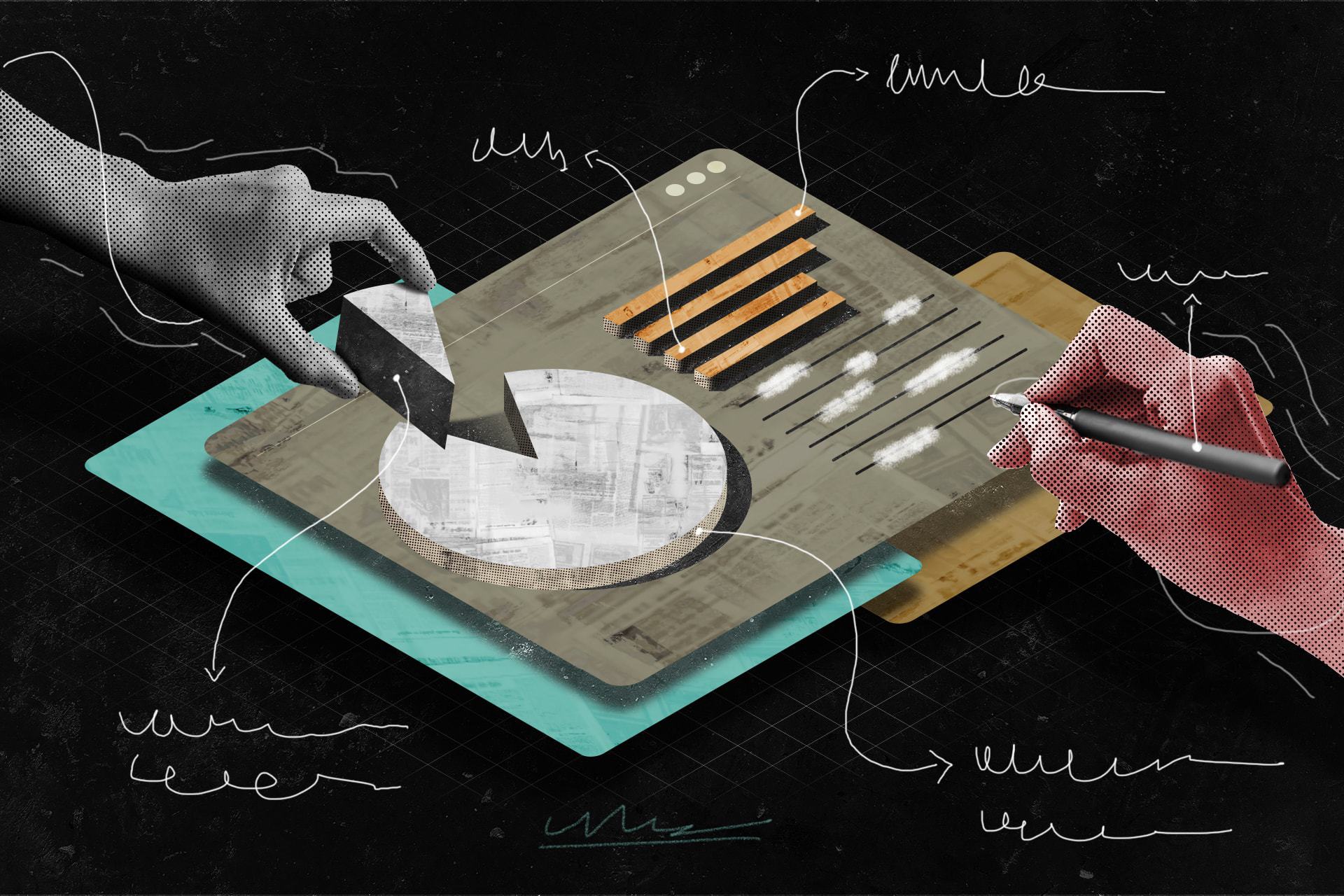 We all know the  course of an ordinary presentation: the speaker stands frozen in one place, clicks through the slides, with a monotony similar to a horizontal asymptote. After about 10-15 minutes the attention of the audience drops to zero. If the presentation lasts a little longer, speak into a crowd that scribbles some squiggly patterns into the booklet, gives hearts to senseless #foodporn pictures on the smartphone, or hopefully awaits redemption. Ergo, the audience doesn't listen anymore and it's about time to add some variety to your presentation. In this article we explain how you can create an interactive presentation that turns your audience into your listeners. 
Create interactive presentations effectively 
According to a Prezi study, half of the respondents said they were distracted during the presentation with other activities, including 
Sending messages (28%)

Checking e-mails (27%)

Falling asleep (17%). 
What a sad record for any speaker. And that is exactly why it is important to make the presentation as interactive as possible. To achieve this, you have to take a variety of aspects into account – from the right structure, the main topics, the technical features to your own presentation skills. Here are the most important points: 
Understanding the audience 
Before you even think about balloons, confetti or other circus-like elements, you should first analyze the target group of the presentation in detail. And by "in detail", I mean in detail. Only if you know the audience and the industry precisely, you will be able to adapt the content so that the presentation will be remembered in the long run. A stunning presentation can be effective for a specific audience and an absolute fail for the other group. The presentation should fit the topic, reach the audience and of course have a learning effect.
Some questions that you should keep in mind are the following: 
who is the target group? 

how much does the target group already know about this topic?

which information will bring the greatest added value?

how digital is my target group?

how big is the audience?

which tools do I want to use for my presentation?

how and at what point should I involve my audience? 
These questions allow to focus on the essential contents and to find the appropriate structure and procedure.  No matter how beautiful the design and effects are, the audience will quickly lose interest if you cannot provide any value.
In addition, if you are able to research your audience beforehand, you should do it. You can learn so much about their past, present, and current challenges so you can properly cater a presentation to them. Salesforce has a great article discussing other various presentation tips and ways to understanding an audience. 
The right structure  
The presentation should be logically structured so that your audience can easily follow even complex topics without getting bored. Start by introducing the core concepts and goals, then go into more detail and finally provide a clear message to the audience. Similar to an exciting novel with different chapters, the presentation should also use smooth transitions to present your topic like a story. Don't leave the audience in the dark, but provide a clear overview of the topics discussed and the purpose of the presentation. Finally, the essential aspects should be emphasized again in order to be remembered for a long time. 
Identification with the audience  
It is important that the audience can identify with you as a speaker. This allows to connect  to the topic on a mental level and trust you, the speaker, as a competent person. For you, this means being authentic, natural, but also enthusiastic and motivated with regard to your own topic. 
Body language also plays an important role here: pay attention to open, inviting gestures, conscious hand movements when highlighting key points and a good posture. Also, don't forget to create eye contact with the audience.
Icebreaker 
Prove right from the start that the audience can expect an exciting and interactive presentation. If you don't manage to catch the attention of the audience from the very beginning, things can really only get worse. Because with every second the attention of the audience decreases further.  Therefore, try spice up things, either through a short role play, a Q&A session or a survey.
Include real props 
Even if your presentation is not a product demonstration, it is worth bringing real props on stage to better illustrate a concept or idea. Jill Bolte Taylor provides a good example: During her TED speech she showed a real human brain to explain exactly what happened during her stroke.   A presentation that appealed to the audience emotionally and thus gained absolute admiration. Of course you don't have to bring human organs on stage to achieve the desired interaction, but depending on the context, real props create a much stronger resonance with the audience than a simple 2D image. 
Storytelling 
The difference between a boring presentation where the audience drifts away and an engaging presentation where the audience is motivated to interact is how you convey the information to the audience. Instead of providing boring facts, your idea should be wrapped in an emotional and captivating story. The presentation should be structured like a narrative, with a conflict and a solution. Of course it is also important (and sometimes unavoidable) to integrate facts and figures, but nevertheless emotions and personal elements should not be missing in order to build a stronger bond with the audience. 
Storytelling activates large parts of our brain that are responsible for processing emotions and experiences. Stories are therefore ideal for presenting information in such a way that it arrives at the user and also remains in his memory. Visual storytelling is particularly powerful, i.e. telling the story using drawn or photographic images, illustrations or video. 
Visual content 
65% of our society are visual learners. So if you want to get a positive response from your audience, the information needs to be visualized. Instead of reading down numbers, rather show a picture. Instead of facts, include an infographic. 
Ideally try to include interactive content, e.g. an interactive infographic in which individual explanations only appear when you click on them. This keeps the audience constantly awake.
Video content  
As just explained, visual content and storytelling are important components of an interactive presentation. Our brain processes visual content about 60,000 times faster than pure text. We remember stories 22 times easier. And what could be more powerful than static visual content? Exactly, videos! Videos combine stories with images. With the help of videos, complex content can therefore be explained clearly and create a much stronger resonance through a multi-sensual approach. You can include explainer videos, but also GIFs and shorter clips that add a little variety in an entertaining way. 
Surveys and quizzes
The integration of surveys and quizzes arouses the curiosity of the audience and at the same time allows a mental recovery from the presentation content, so that the audience can concentrate better afterwards. In addition, opinion polls can be used to visually reinforce certain statements. And everything that is visually reinforced will be remembered longer. Quizzes and surveys are also particularly effective because you get results directly. For us humans, this is a kind of reward for a service rendered. New software and apps such as SlideLizard also make it easy to create interactive polls, so audiences can easily vote from their smartphones.
Physical activity  
I don't know how you feel about monotonous presentations, but in my case the lack of sleep of the last weeks is mostly noticeable. My body is drifting into a kind of waking coma – tired, unfocused and limp I look at the speaker and do not close my eyes just out of politeness. And to avoid this, you should also include moving elements in your presentation – I don't mean an aerobics class (although, why not?). 
But using for example "body voting" allows you to visually represent surveys by having viewers walk to one side of the room depending on their answers. Another example would be a right/wrong quiz in which the spectator with a wrong answer has to do a short physical exercise. In this way knowledge transfer and fun can be combined. At the same time the movement boosts the blood circulation in the brain and thus allows a better concentration for the further course of the lecture. Baaaem! Killing two birds with one stone.
By the way, this also applies to the speaker: If the person stands on stage stiff as a tree trunk and doesn't move an inch, it not only looks pitiful, but also doesn't create the desired resonance with the audience. Become physically active yourself! Get into the crowd, interact with the audience, change position from one corner to the other etc. – all in a certain amount, of course. It shouldn't look like a colourful monkey circus, but some movement is allowed. 
Social media walls 
Social media are omnipresent, especially for a younger target group. Modern tools allows you to integrate a so-called social media wall into the presentation. What is behind it? 
This tool collects all posts from different platforms that contain a certain hashtag, which you can select beforehand, depending on the topic. The audience can post relevant content about this hashtag during the presentation, which is then displayed live on the Social Media Wall for everyone to see. In this way, you activate the audience to participate and also create a good basis to go into more detail about certain content. A Social Media Wall is suitable as an icebreaker at the start of the presentation as well as a short break during the course of the presentation. 
Q&As 
Q&A sessions are an ideal way to interact with the audience, but also to clarify problems of understanding. Unfortunately, Q&As are often nly integrated at the end of the presentation only, although many listeners feel the need to clarify some points during the presentation. Rhetorical questions should also be integrated every now and then to activate the thinking process of the audience and allow a smooth transition to the next topic. 
Throwing microphones 
Something completely different to become interactive with your audience and at the same time receive valuable opinions are throwing microphones. These microphones are usually packaged as cubes or spheres and can therefore be easily thrown to the audience. Not only is it practical, as you don't have to push your way through the crowd, it also gives the presentation a playful character. There are numerous providers, including e.g. Catchbox. Some online platforms also offer them for rental. 
The right software 
To give your presentation that certain something, the respective program must also offer that certain something. Meanwhile there are far more options than just clicking through static slides. Use tools that also allow you to create interactive and creative designs. This includes interesting transitions, effects and animations. 
But beware – too many interactive transitions and elements can also quickly be perceived as annoying. On a small scale, however, you can create a little surprise moment to get the audience's attention again. 
Interactive presentations at Corona times 
If you didn't fall from the moon, you're also aware of what is going on in the world right now. A presentation with a large audience is right now unfortunately not possible. Virtual presentations are much more commonplace and this also means that the audience must be much more involved in the presentation. 
In a virtual presentation, the speaker and all participants are in different locations. Instead of communicating directly with the audience, we speak with an interface and thumbnails. The low social contact also means that there is a high risk of distractions. Our content must therefore be made even more appealing and exciting. Some points to consider, especially for online presentations, are the following: 
Avoid monotony. Especially with online presentations, the danger of reading a text quickly lurks. Speak freely and look into the camera, not at the screen.

Integrate unexpected and varied elements every 5-8 minutes. The attention span for an online presentation is even shorter than for a conventional presentation. 

Make sure that all technical requirements including internet connection and equipment are met. Interruptions or delays due to poor Internet connection or poor audio quality are extremely annoying and call your competence into question.
Interactive presentation tools
Depending on the topic, target group and individual requirements, you should also decide on the right presentation software. We can recommend the following programs to make the presentation as interactive as possible:
Next to PowerPoint and Keynote, Prezi is probably the best known presentation software.  Prezi enables an extremely dynamic design in the form of interactive mind maps. You do not click through slide by slide, but interact with different elements.
Visme is a cloud-based presentation tool that allows you to create visually appealing presentations using drag and drop functions. Visme also enables the creation of infographics as well as a database with over 100 fonts and a variety of free images. With the help of integrated analytics, it is possible to see who has viewed or edited the presentation.  
Emaze is an impressive software that allows you to transform PowerPoint presentations into interactive, narrative projects. It offers a large database of templates and video backgrounds. You can also add media content, GIFs, live feeds and other interactive content.
Canva
Canva is an online platform that offers templates for various areas such as presentations, newsletters, business cards, media kits, brochures and infographics. It offers a wide variety of design layouts and templates as well as a database with over 1 million stock images. You can also customize the design and font, filter the images and insert various elements by drag & drop functions.
With Pictochart you can create infographics that can be presented as a slide show. It offers over 600 professionally designed templates, numerous fonts, color styles, charts and industry-specific symbols, as well as a large database of archive photos. The presentation can be shared on the web and downloaded or printed as PDF, JPG and PNG.
With Genial.ly you can add interactive effects and animations to your presentations. Genial.LY also offers the possibility to integrate your own content from external services such as Youtube, Google Maps, Spotify etc. In addition, you get access to various premium templates with which you can create an unlimited number of presentations.
Zoho Show offers extensive functions for creating presentations, as well as import and export options for PowerPoint files, image editing and the option of making presentations available online. Zoho Show is also available as an app for Android and iOS. 
Powtoon is a platform for creating animated explainer videos and presentations. It enables easy editing, voiceovers and many other functions. Powtoon offers a free version, premium features are available from $19 and $59 per month.
Slido is probably one of the best known interactive platforms for opinion polls.  You can get real-time feedback during the presentation and share survey results directly with the audience. 
Tedme is a cloud-based tool that enables interactive Q&As, surveys, voting and knowledge games. Results can be integrated into the presentation in real-time. 
SlideLizard is a PowerPoint plugin that enables speakers to interact more with their audience. Viewers can access the presentation via a special URL and can directly download materials, but also ask questions, vote and give feedback. After the presentation you will receive a report with important insights into the user behaviour of the audience. 
Mentimeter is also a web-based survey tool that allows results to be embedded directly into presentations. 
The VoxVote platform offers a number of features that support target group collection and data analysis, such as user-defined questions, anonymous voting, integration of presentation slides and live chart display of results.
An Audience Engagement Software with the focus on events and workshops. The presentation slides can be shared directly with the audience via smartphone. Thanks to surveys, a social wall and other methods, the audience is interactively involved.
The software should only support you in creating an appealing presentation. Of course, you should not do without well thought-out content and the right technology on your part. As already mentioned, all extraordinary features should be used only in mass and for specific purposes.
If you yourself as a speaker pay attention to important points and structure the presentation in an exciting way and integrate illustrative elements, PowerPoint or Keynote can also be perfectly sufficient (depending on the topic and target group). In the end, it also comes with several features to spice your slides a little up. 
Conclusion
To fully engage a large audience, the presentation must be energetic, targeted and effectively staged. The audience must be addressed directly, just like in a conversation. And by the way: Practice makes perfect! So it is always best to get feedback and try to implement the criticism for the next presentation. With this in mind – good luck!
For convenience purposes this post has been translated automatically.