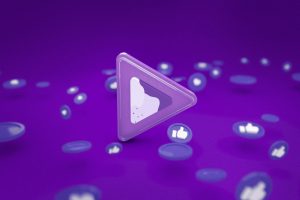 Succeeding with a corporate video 
Those of us who do not rely on video content today have lost. Don't believe us? Then take a look at these numbers: 
In summary, this means for us that those who refuse video content also refuse conversions and ultimately do not deliver what the customer wants to see. Reason enough to make video content an integral part of your internal and external communication strategy.  Today we would like to take a closer look at the corporate video and explain its advantages, important elements and steps to successfully market the business with the help of the corporate film. 
What exactly is a corporate film? 
The goal of a company video or corporate film is to present the company more precisely or to give an overview without selling a certain product. For example, it can specifically explain the mission, the company values or even the history in order to provide insights into the corporate culture and thus create trust, credibility and transparency. Corporate films can be created for different occasions, e.g. in the form of a training or recruiting process, or for customer acquisition, in the context of a presentation, at a conference, directly on the website, or on the social media channels.
A corporate film provides the following strengths:
Entertainment factor: Today, companies do not have much time to arouse the interest of the target group and remain in their memory for a long time. At this point, videos make it possible to get attention and present relevant information without being perceived as intrusive advertising by combining sound and moving images. 
Shares on social media: On social media channels,

video content reaches 1200% higher shares than static content.

This enables you to build an active community, achieve higher reach and thus increase brand awareness.

SEO Boost: Video content increases the length of time users spend on the webpage. A higher retention time and a lower bounce rate have a positive effect on the search results. Google rewards you with a higher ranking resulting in a higher target group reach. 
Employer Branding: Especially the younger generation is emphasizing the corporate culture, values and the extent to which it can identify itself with the company. So in order to find qualified talent, every company must present itself as an attractive employer. A well-done corporate video supports you in this process and provides an original insight into the company and thus sets you apart from the competition. 
In short, the corporate film is an extremely important instrument to get in touch with the respective target group, regardless of the industry, to build up a bond and to put the company in the spot light with the help of a convincing story.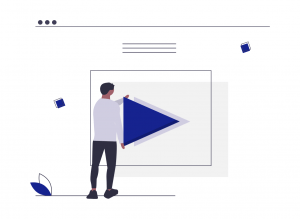 A successful corporate video – Things to consider  
A few snapshots, some music, maybe subtitles and that'll be it? That can barely go well! Because video content is not just video content. The goal is not to create any "crap content", but a conscious and effective video strategy with a concrete goal. Do we want to create brand awareness? Enhance the image? Present a concrete service or the entire corporate culture? And who is the client?
Ideally, develop a buyer persona that represents the potential customer. The goal and target group analysis also helps to set the tone of the video. A pinch of humor or even irony? Formal language or loose catchwords? What about the speaker's voice? All this should be taken into account at the start and be in harmony with each other.
At this point it is helpful to consider the sales funnel, to ensure that the video speaks to the customer at the ideal moment of the decision making process. 
The sales funnel distinguishes three different phases: Awareness Stage, Consideration and Decision. 
Awareness : Here we aim to attract the attention of the users. The viewers must become aware that they need a solution to a specific problem. The goal is to use video content to increase brand awareness, increase website traffic, attract potential new customers and guide users into the wider sales funnel. Educational and inspiring, as well as "how-to" videos are particularly suitable. 
Consideration : We are now in the middle part of the Sales Funnel. Here the user is aware of his problem and is now evaluating different options. The goal is to convert visitors to leads and to inform them about the product and company by addressing the pain points of the customers. 
Decision: In the last part it is now your task to close the deal. The audience is aware that you might be the right solution for the existing problem. What does this mean for us? We have to create trust and prove that they are making the right decision with us. 
Until it is clear to whom the video is directed, it makes no sense to create video content haphazardly . Haphazardly – that may work in fairy tales, but in the business world only the strategically thinking sharks survive.
However, there are a number of other important factors to consider:
Quality 
Meanwhile even 13 year-old Youtubers succeed in creating a recording in high resolution and with exciting effects. What does the audience say when the company suddenly tries to convince  in a blurred smartphone video? Even if the majority of the target group does not hold a degree from the New York Film Academy, they will be able to distinguish a professional video from an amateur experiment.  
A first-class produced video, in which editing, sound and resolution are absolutely "on point", is essential. Therefore, you should definitely keep an eye on the production value: While working with a professional video agency can be more expensive, it can add far more value and effectively put the company in the spotlight. Poor quality in turn damages the image. 
Authenticity and storytelling 
Avoid obtrusive commercials or the classic image film in which the CEO dressed in tie and suit stands stiffly in front of the camera and raves about his own corporate culture. These films do not attract attention. They do not arouse interest. What we really need is authentic content.
On the one hand, a coherent storyline in which the viewer is taken on a visual journey should always be the basis for an effective video. Stories create an emotional bond and are easier to remember.  Check out this article to find out how effective storytelling is.
On the other hand it is very important to show the real face. All the hype about fake influencers and the "Insta-Life", which is as far away from reality as Saturn is from Earth, more and more consumers want "real life" content.
Instead of hiring actors, it sometimes makes sense to get your own employees in front of the camera. By using so-called "original sound clips" you can create a much more authentic image for the video. The filming location should also be considered at this point. Does the location fit my message and the story? Does it even make sense to shoot at the customer point of interest?
SEO Optimization  
As described above, video content can have a positive influence on search engine rankings. For this purpose, however, it should also be optimized in the best possible way. You should pay attention to the following points:
Integrate an image description that is especially search engine friendly and contains relevant keywords. 

The title should sound exciting for the viewer, but at the same time be relevant for the search results. 

Do not forget to include appropriate

meta tags.

 

Include a link to your own webpage at the end of the video to generate maximum website traffic. 

If necessary, add subtitles to make the video understandable without sound.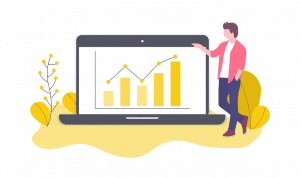 Consider the length  
Don't forget: Today nobody has time for an hour-long monologue of any theory of relativity. Therefore, emphasize the most relevant information without straying too much from the topic. If you exceed the maximum time, the video will quickly lose its effect. Depending on the goal of the video, a length of about 90-120 seconds is recommended, whereby the optimal duration also depends on the level in your sales funnel. In the "awareness" phase a 1 minute video already fulfils its purpose.
Ephemeral content, which we know from Insta-stories, are also becoming increasingly important. Sometimes it can also make sense to produce corporate videos in the form of snack content, i.e. extremely short clips that are especially useful on social media. The challenge here is to present relevant information in an entertaining and convincing way and still keep it extremely short. 
The "Call to Action" 
You have followed all important aspects, created an interesting coherent plot, built up an emotional bond with the audience and convinced with your corporate culture? Fantastic! So what now…? An abrupt end would massively counteract all your previous efforts. Therefore, you should ask for further action, e.g. by contacting us, subscribing to an e-mail subscription list or linking to social networks in order to promote future involvement. 
Share, share, share
Now you have already produced first-class content and even thought about the "Call to Action"? Well done! A pity if nobody sees it though. The new masterpiece must of course be an integral part of the communication strategy and distributed through various channels. Whether on web pages, as press releases, in newsletters and of course on social networks such as Facebook, LinkedIn and Youtube, don't keep the content to yourself! 
The courage to change 
In the past, most companies relied on a classic image film in which a memorized monologue was recited into the camera without batting an eyelid. After all, the seriousness of the company should never be questioned. What exactly is the problem? This classic image film is completely outdated, appears extremely artificial, unbelievable and anything but authentic.  Even though especially in the German-speaking countries it seems that irony and humour are a serious crime, in order to really stand out from the crowd, you should not follow the usual path and commit such crime every now and then. And this also means that despite a relatively dry industry the video doesn't have to bubble over with bourgeois correctness. Quite the opposite: A little laugh, a pinch of humor and an interesting story are not  perceived as intrusive advertising and can build up a much stronger emotional bond to the audience. 
Remember the adage "clothes make the man" – even in a conservative industry, not everyone has to jump into their jacket immediately for the shoot. Depending on your goal and purpose, you may well be able to break the norm, especially in this day and age, as long as you don't lose sight of the motto "authentic and real".  
In addition to the classic image film, various formats are also suitable for companies: Explainer videos, leadership videos, product videos, videos for internal training and much more. Based on your goals, the target group, the corporate image and the available budget, the format should be chosen precisely. 
Many companies are initially sceptical about working with a professional agency, but in the end they can report a successful return on investment. 
In need of some inspiration?
"Show-don't tell" is usually our motto. That's why we present 5 successful company videos for your inspiration. 3, 2, 1 and action! 
1. Mister Spex
Why do we want to emphasize this particular video? At first sight it almost screams for a standardized (somewhat conservative) image video. But in the end Mister Spex proves a lot of humor and some nonsense by taking us behind the scenes and showing some bloopers. This makes the video a perfect combination of serious work processes, German quality standard and yet the easiness of its staff culture. 
2. Dollar Shave Club
We have already emphazised this video in our best of explainer video article. Dollar Shave Club puts all standards above the table and celebrates its own corporate culture with a lot of nonsense, teddy bears and a big American flag. Nevertheless, the company does not lose sight of its actual goal and summarizes the company mission in a short and concise way. Just with a lot of storytelling and in a very ironic way. 
3. Starbucks
Starbucks: What makes this video special? The emphasis on the enormously family-like employee culture. Starbucks emphasizes the values of the team and reports employee stories and shows the open atmosphere in which the employee is highly valued. This gives the company enormous credibility and sympathy. 
4. Ford
Ford understood exactly how to break through traditional norms in a corporate video and uses very effective storytelling for a given occasion, Father's Day.  The video differs enormously from the actual Ford image, but the voice-over, sounds and images make it look very authentic, proving in a short clip the reliability of the brand.
5. Dissolve
Dissolve demonstrates a very creative approach and how to get the attention of the audience through humour. Using an excellently crafted script and their own footage, Dissolve, a company for stock images, parodies swanky commercials.
Corporate film: Some final words
A convincing corporate film helps to set your company apart from the competition and is a promising marketing tool, especially in times of great variety of offers.
A well elaborated concept is absolutely essential if you want to see positive results.  Based on the given resources e.g. technology, available budget and expertise, it is also important to clarify whether you want to produce the video yourself or hire a professional agency. A convincing corporate film can help the company to succeed even more in the long run – and that's when the investment pays off. 
For convenience purposes this post has been translated automatically.