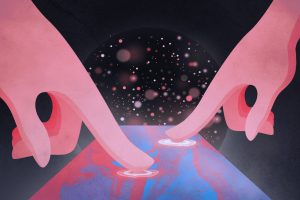 The year is 2020, the year in which we have to rely on an increasingly appealing marketing mix. The year in which we are increasingly perishing of the goldfish generation. The year in which we have to radically rethink our content marketing. With the rising challenges in content marketing, the increasing importance of interactive content is also growing. Is interactive content still new territory to you? Well, don't worry, we explain what exactly it is and why interactive content is absolutely essential in today's marketing. 
What is interactive content? 
Interactive content is a specific form of content that encourages the active participation of the target group. Unlike static content, such as reading a text or looking at a picture, interactive content actively involves the user in the process, thus attracting his or her attention and motivating him or her to deal with the topic in detail.  
Since interactive content provides hyper-relevant information in real time, a much more intensive and personalized knowledge transfer is guaranteed in an entertaining and appealing way. Interactive content can take many different forms: From simply clicking on certain info fields, integrated quizzes and other games, shoppable videos to immersive experiences such as 360-degree videos or virtual reality. 
Why interactive content is important 
So, now that we have clarified what is meant by interactive content, we are already faced with the next question: Do we really need it? Is it worth the effort to put a quiz on the webpage instead of a simple text? Or a 360 degree video instead of a simple clip? Or an animated info graphic with individual buttons instead of a simple diagram?. … Quite straightforward answer: Yes! 
Think about the consumer being bombarded with information from every direction…, advertising here and there, the e-mail box overflowing… . And you know what? None of this even reaches the consumer. The maximum you can achieve with simple, static and boring content today is maybe a quick swipe with smudged fingers over the smartphone display. In our age, no one tosses around with gratuitous attention anymore. You only get a few seconds of your customers. If you don't manage to convince them, you will either end up in the trash of your e-mail inbox, be the bottom of the Google search engine or simply join this list.  So…it is important to handle things differently and to stand out from the competition with content marketing. And this is where interactive content comes into play. 
By involving the consumer directly in what is happening, interactive content appeals to several senses at the same time. And if several senses are addressed at the same time, the consumer gets more intensively engaged with the topic. The experience is more intense and the information is better stored in long-term memory. At the same time, we arouse interest from the outset and thus increase the user's dwell time. 
Thus interactive content enables the following: 
Stronger brand awareness and stronger brand loyalty through active participation 

Longer retention time of webpage visitors with higher conversion rates and therefore much higher lead generation. 

Customer data as well as valuable insights into customer behaviour, e.g. by answering questions, behaviour and needs

Higher positioning in the search engine e.g. through backlinking and longer retention 
All in all, interactive content creates a dialogue and thus enables a stronger bond between brand and consumer. Especially in the age of stimulus satiation, we are therefore able to achieve maximum effectiveness of the message. The following figures also confirm the increasing importance of interactive content: 
81% of marketing experts believe that interactive content attracts more attention. 

66% of the marketing experts are of the opinion that after using interactive content the engagement of the audience has increased 

According to a study,

45% of consumers prefer interactive content

– and the trend is rising. So why not just giving consumers what they want? 
Interactive content is a strategic and revolutionary tool to get in direct contact with the target group.
The future is calling for interactivity   
Content is still king. We just need to rethink in this kingdom. In order to stand out from the crowd today, we have to make our content more appealing. Interactive content allows the user to be actively immersed in the brand and maximizes the effectiveness of our message. Whoever does not rely on interactive content today will soon find himself in no man's land. Would you like to learn more about how interactive content can spice up your marketing? Stay tuned, in the next article we will reveal the most important interactive formats to catapult your marketing to the next level. In the meantime, fell free to take a look at our site and learn more about the topic of "interactive content".
For convenience purposes this post has been translated automatically.