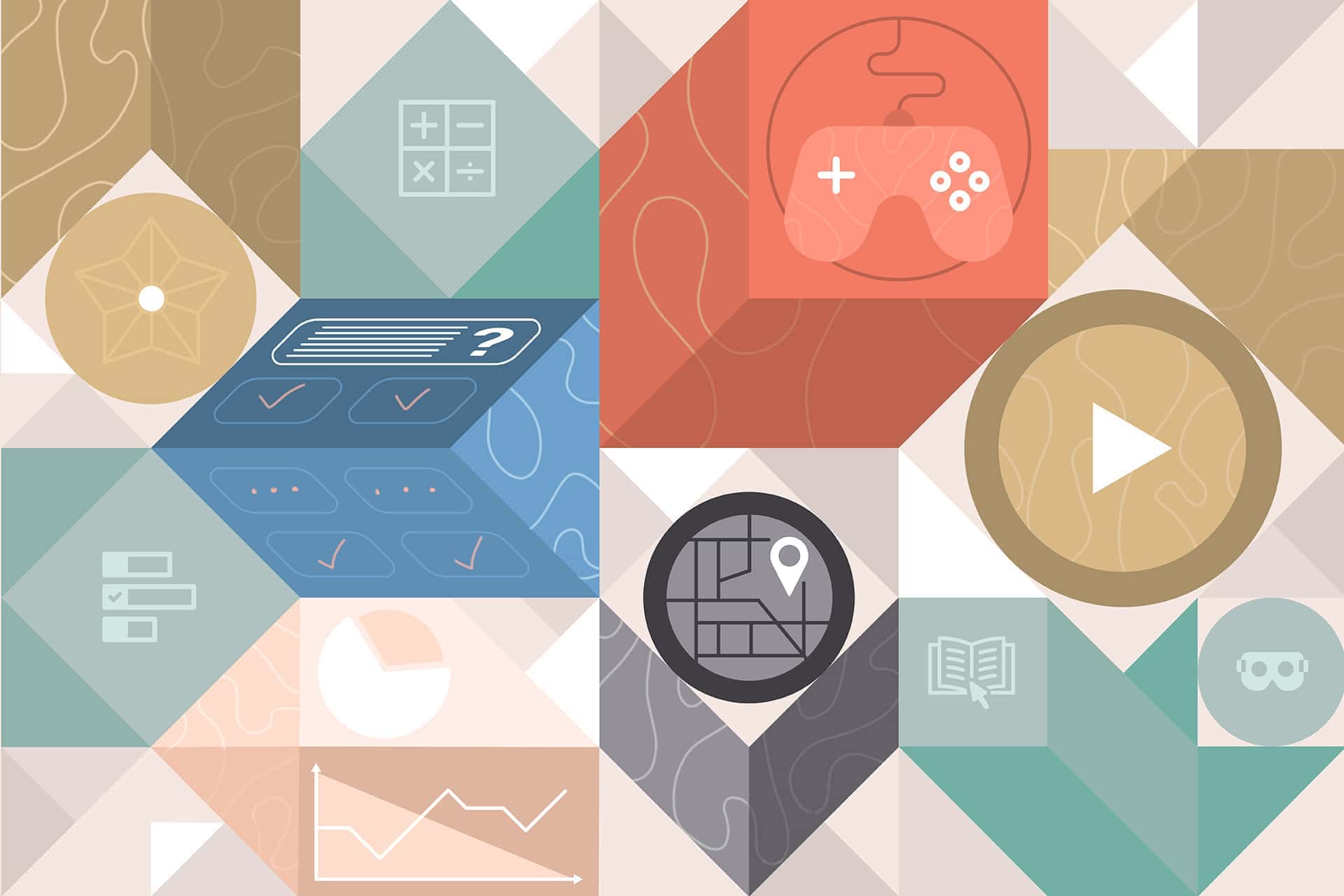 Interactivity is the latest trend in marketing. And above all, it is a trend that will not get old that quickly. In one of our last articles we already explained what interactive content is and emphasized its importance in content marketing. 
Through the multi-sensory approach, the user actively participates and therefore interacts much more with the brand. And we even get 70% higher conversions in return. VA VA VOOM! 
So, in order to benefit from this as well, of course, we have to make our content interactive. And there are a lot of options for this. To keep you on the ball, we'll introduce some common interactive styles in this article that will spice up your content marketing .  
Quizzes
Quizzes are suitable for a wide range of industries and provide an extra high level of engagement from the target group. Customers like to test their knowledge and are motivated to complete a quiz. Now think about how often you have read a text on the company website attentively to the end… Not at all?
Quizzes are particularly attractive because they deliver a personalised result in an entertaining way and are not perceived as intrusive advertising. Surely you know the typical Facebook quizzes: Who among us hasn't enjoyed finding out whether our personality resembles a carrot or as which figure we wake up in the next life? Somehow none of us are interested in that at all. But the fact that we get direct results motivates us to participate. Of course, this doesn't mean that your quiz has to consist of meaningless questions to be successful. On the contrary: If you design it cleverly, you can even gain valuable insights into the target group.
Interactive Maps
Depending on the industry and target group, you may consider interactive maps to convey relevant information on specific locations in an appealing way with mouse clicks. Doesn't mean you need to be in the earth sciences to incorporate an interactive map into your marketing strategy. For example, you can also explain personalized content such as milestones and company history using different geographic locations. 
This will certainly please the target group more than a page-long text without any graphical elements and helps to anchor your message in the consciousness of the target group. 
Games and Gamification 
Gamification offers powerful variety in both internal and external communication. On the one hand, games are much more effective than traditional learning methods because they increase the productivity of the team through self-motivation. For example, you can design training processes in the form of games to keep employees up to date. In this way, you can finally bring a little entertainment and fun into the otherwise rather dry business day! 
But also the customers are tired of being bombarded with dry advertising content from all sides. So why not add a little pizzazz to your marketing strategy? Games captivate the customer and increase their dwell time on the webpage. 
Interactive infographics and diagrams 
I can still remember those university days wonderfully, in which I had to analyse thousands of diagrams and my self-motivation faced its lowest point. Monochrome, bombarded with random percentages and a legend that contained more text than any bad novel. If we were already bored with something like that when we were at school, why should we voluntarily give our attention to a company? 
But with a little dynamic you can put an end to the boring facts! Interactive diagrams and infographics present dry statistics in an attractive and appealing way. At the same time, valuable information can be incorporated that only becomes visible on mouseover and therefore has a less oppressive effect on the user than conventional charts. So you can present your message in great detail through visual storytelling without having to worry about losing the attention of the audience. Check out this article to see how we created interactive elements for the Cancer League. 
Interactive videos
Videos are already absolute power tools in content marketing. By using moving visual storytelling, you can achieve a much higher level of commitment from the target group than with static content. But if you make the videos additionally interactive, your competition can pack up directly! (And we all like to hear that…) 
While the user remains a passive observer in conventional videos, in an interactive video he is actively involved in the story and can participate in its design. Above all, interactive videos help to segment customer needs and at the same time achieve maximum engagement through Call to Actions. 
There are different possibilities: 
Interactive videos can integrate questions or clickable tags for the viewer, for example.  So-called "Shoppable Videos" also offer the possibility of integrating additional information such as price, product description and a direct link to the product. 360-degree videos, in turn, allow viewers to choose their own perspective. According to a study by Wyzowl, 92% of marketing experts even confirm that interactive videos are an effective marketing tool.
Interactive Ebooks 
You have invested hours, no days, no even weeks in exciting e-book content and now you sit there and realize that the downloads leave something to be desired? Hmm…Then it is definitely time to integrate a little dynamic! Even if your e-book delivers valuable content, it is and will always be static content. And static content unfortunately has a hard time to assert itself successfully in the mass. 
Interactive elements give your e-book a little variety and guarantee maximum attention of the readers. Even a simple button or animation can help to achieve a higher engagement of the target group. E-books are anyway already powerful tools to prove expertise. Because they offer a high-quality and appealing overview of exclusive knowledge. The interactivity gives the documents that little bit extra and thus maximizes the commitment of the target group. 
Online calculator  
This interactive content is suitable for many different industries to illustrate the advantages of a product to customers. The calculators are usually based on a formula that takes customer needs into account and thus delivers individual results. 
Individual factors are taken into account in the cost calculation and thus customer-specific offers are created. HubSpot offers a good example. They have a number of interactive calculators and measurement tools, such as the ROI calculator, which gives business owners an overview of whether they are on the right track.
Polls and Surveys 
This is a long-established method of obtaining customer feedback. When properly designed, surveys can be fun and interesting to engage the customer and let them actively participate in the brand experience, while providing valuable data.
In addition a well-designed interactive survey is a good way to ensure that respondents stick to it and complete the survey. Interactive buttons, embedded videos, and even animations can highlight the topic or question while helping you get your audience's attention. You can even make filling out the survey a pleasure! 
Immersive experiences 
Finally, let's enter the big players: Virtual and augmented reality. With increasing digitalization, there will be more and more possibilities. 
Virtual and augmented reality combine the virtual and the real world and allow the user to dive directly into the brand world and interact vividly.  Information is conveyed in real time and thus creates a stronger connection to the brand or product. Although the effort is enormous and especially virtual reality is still in its infancy, immersive experiences offer an enormous future potential in content marketing. 
Conclusion
Goodbye boredom – hello interactivity! As you can see, there are a lot of interactive formats – from simple and inexpensive quizzes to elaborate immersive experiences for global players. So there's something for every industry and every budget. So from now on there are no more excuses! Make interactive content part of your marketing strategy! 
Stay tuned, next time we will continue with our series on interactive content and some effective areas of use. In the meantime, check out our blog or visit our podcast. 
For convenience purposes this post has been translated automatically.