Thumbnails are the small images that serve as thumbnails or previews on websites and YouTube. Why you need thumbnails, how you create thumbnails and which programs help you to create them, we will explain in this article.
Content
What is a thumbnail?
Why do I need thumbnails?
What makes a successful thumbnail?
Examples of thumbnails
How do I create thumbnails?
Formats for thumbnails on different social networks
The best programs for creating thumbnails
Thumbnails are everywhere – Conclusion
What is a thumbnail?
A thumbnail is a small graphic that serves as a preview or trailer. Thumbnails are used, for example, on websites and social networks like YouTube. The thumbnail is the first thing your viewers see and decides whether they click on your video or not. Therefore, you should put extra effort into creating your thumbnails!
Why do I need thumbnails?
Thumbnails are an important component on websites and social networks. An appealing thumbnail can be crucial in determining whether or not users click on your post or video. On YouTube, for example, the algorithm also takes into account the quality and click-through rate of thumbnails when distributing video views. So, the better your thumbnail, the higher the probability that your videos will be clicked on more often and thus viewed more often.
Speaking of YouTube: More than 1.7 billion monthly visitors and over 700 thousand hours of videos played every day should be enough reason to stay attentive when it comes to thumbnails.
What makes a successful thumbnail?
A thumbnail should first of all stand out and attract the attention of your audience. For this, it is important that you have an eye-catcher in your thumbnail. This can be a color highlighted element, a person or even an object. Your thumbnail should also contain short and concise text that reflects the content of your video. This way, your viewer will immediately know what the video is about and if it could interest them.
Now that was a lot of information in very few characters, let's go over a few points that make a good and therefore effective thumbnail.
Plan your thumbnail before content production
Use people and exaggeration
Use dynamics and energy
Score with the end result
Use bright colors
Speak your mind
Find your style
Pay attention to screen sizes
Plan your thumbnail before content production
Your thumbnail will pretty much have something to do with the content of your video, blog, or whatever type of content you want to thumbnail. So it only makes sense if that connection is apparent. A video about washing machines? Washing machine in the thumbnail. A blog about social media marketing? Social media icons in the thumbnail. It's simple, isn't it?
With this point, we just give you a tip that will save the time, because for the elements of your thumbnail you will need similar equipment as for recording your video. Back to the video about washing machines: If you've got your washer all dressed up for the video anyway, shoot it then too. You don't want to realize after the video shoot that you now have to polish them again. So don't generate extra work and plan your thumbnail into the video, blog or content production from the start.
Bet on people and exaggerations
We love emotions and we love exaggerations. Mr. Bean used only the power of gestures and facial expressions to make his audience laugh all over the world. Since thumbnails are mostly static (at the moment), gestures are difficult to use, but when it comes to facial expressions, we resonate.
We use exaggerated facial expressions to show crystal clear emotions. And maybe you've caught yourself using exaggeration to pique our interest. Now the only question that remains is how these exaggerated emotions get onto the thumbnail. The answer: people.
One face with a distorted expression on the thumbnail and everyone and anyone knows that something is wrong here. Most often, fear, disgust or anger is meant. These faces appeal to the potential audience and you need to take advantage of that. Place your face or the face of the person in the video on the thumbnail with a clear emotion in mind and you're doing everything right for starters.
Maybe you're only working with digital elements or don't want to reveal your face, it doesn't matter. We live in the digital age and avatars and digital characters are part of everyday life. Take your time and create an avatar that fits your content and values and let it exaggerate the emotions.
Use dynamics and energy
You produce a video about mountain biking and want to present a new track? Then pack the energy and dynamics of riding into your thumbnail. Show a mountain bike in the air or in a tight corner, make the potential viewers immediately curious. With the image alone, they should feel an urge to mountain bike or at least want to find out what's going on that track.
So the idea is to put a movement and the energy that this energy has in it into the thumbnail. This is not an easy task, because movements are dynamic and not static. For the thumbnail you can work with highlighting and contrast adjustments, that can create an illusion of motion.
Use bright colors
There are a lot of videos out there and there are a lot of websites that use thumbnails in their own way. So you need to stand out against all this competition. Our tip for this is to draw attention to yourself.
Bright colors and especially strong contrasts attract our eyes. Take advantage of this to increase your chances. But be careful that you don't get too gaudy and the overview suffers. A thumbnail that isn't clear can earn you a lot of missed opportunities.
Speak up
A thumbnail is static and so far we've talked about many visual elements, but we've left out one important element: Text. Your thumbnail can score not only with people, dynamics and colors, but also the appropriate text will help you to bring in more clicks.
The clear rule: keep it short. A thumbnail doesn't offer much space and you don't want to force people to concentrate to read your too small text. At this point, you've already lost them for a long time. So think carefully about what your video or content is about and use the most important words.
Find your style
We've now gone through a few points that can help you make your thumbnails more click-friendly. However, as in most cases, the same applies here: Find your style. Avoid switching between different extremes, like face or dynamic-heavy thumbnails.
It's only normal that you need to find your style in the beginning and it will take you a few tries, but you should still hurry. Your style affects how people perceive you, and you want to convey a clear style so that they recognize you and your business right away.
Once you find your style, you shouldn't deviate from it. Of course, there may be rebrandings or the like that force a redesign, but in general, stay true to your style. When someone goes to your YouTube channel, they should be greeted with your style and not a mess.
Treat thumbnails with the same eye with which you treat every branding point, and you won't have a problem.
Pay attention to screen sizes
In this day and age, most people have heard of responsive design. It's about making sure that, for example, a website works flawlessly for users on smartphones, laptops, and tablets, and doesn't lose anything in terms of clarity. The same is true for thumbnails.
It's estimated that 55 to 70 percent of the impressions a thumbnail receives come from small devices, i.e. smartphones. So when you test your thumbnail, make sure it has the desired effect on smartphones.
There is no way to upload screen size specific thumbnails on social media yet, so you should work with the approach that everyone is on smartphone. A thumbnail for a smartphone will also work on a large screen, the reverse is not true.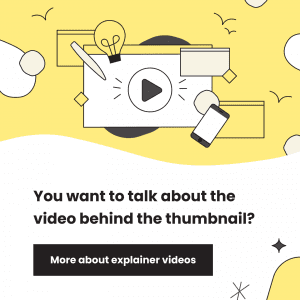 Examples of thumbnails
You know thumbnails most likely from YouTube and other video portals, but there are thumbnails in quite other areas. We want to give you a small overview, so that you understand that they can be found everywhere.
YouTube
social media
Google Image Search
Blogs
streaming services
YouTube
We know thumbnails mainly from videos and the head of portals for longer videos is and remains YouTube. So it's no wonder that these thumbnails are often associated with YouTube.
Social media
On social media like Facebook, Pinterest, Instagram and TikTok, thumbnails are also used. Sometimes it refers to a video and sometimes to a post. So there doesn't always have to be a video behind a thumbnail.
Google Image Search
Google Image Search is used hundreds of millions of times every day. What does the flag of Peru look like again? And what does a Labrador husky puppy look like? Google then provides images as the answer and unsurprisingly, they are not the original images, but thumbnails. Google shrinks the original images so that the page loads quickly and we can browse through the rows undisturbed.
Blogs
Many companies, clubs, associations and even individuals have a blog. There they write about topics that are important to them and that they want to present to their customers or readership. In the digital age, blog articles always include a cover illustration. So a visual teaser to pick people up.
As with Google Image Search, blogs also need to load quickly so that the user experience is not disrupted and users get to their destination without delay. For this purpose, title illustrations are turned into thumbnails – smaller and lighter versions.
Streaming services
By now it may be dawning on you that almost every image gallery uses thumbnails. Streaming services also use this simple method to shorten their loading times. However, when we access a streaming service with our TV, for example, it is also clear that thumbnails cannot always be used depending on the screen size.
How do I create thumbnails?
As you can see, a thumbnail can already say a lot about your video and encourage the audience to click on it. Now, of course, the question is: How do you create your thumbnails?
Option 1: Have a thumbnail created
Thumbnails are graphic elements and that's why you're in the right place with graphic or design agencies.
If you already have a style, then you can assume that the new thumbnails will fit in seamlessly. If you are still looking for your style, the right agency can help you find it.
Alternatively, you can work with freelancers if an agency is too expensive for you. There are many pools for graphic-oriented freelancers and you will certainly find what you are looking for. At this point you have to be sure what you want, because working with freelancers is often not a discussion, but more of a clear assignment.
Option 2: Create thumbnail yourself
1. get inspired
Before you start creating your thumbnail, you should look at some examples and get inspired. Search YouTube for videos on the same topic as yours and analyze the thumbnails of the most successful videos. Pay attention to the colors, shapes and fonts used.
Also look at competitors' websites to see how they manage it. Get inspired and then shape your individual character from the inspiration.
2. consider motif
At the beginning you should think about which motif you want to use. A good thumbnail is usually meaningful and makes the viewer curious. Make sure that your thumbnail fits well with the content of your video. For example, if you're doing a tutorial on decking, it should be clear.
3. consider size and format
The optimal size for a YouTube thumbnail is 1280×720, so 1280 pixels wide and 720 pixels high. Just stick to the 16:9 ratio for YouTube and everything will be fine. You might as well work a bit into the future and include HD and 4K. But you have to know for yourself if this extra effort is necessary. The format should be PNG, JPG or GIF. For other social networks, the specifications are different. Below we have summarized the most important requirements for you.
4. create thumbnail
If you're not a professional designer and don't know your way around graphics programs like Photoshop, there are still some ways to create great thumbnails for your YouTube videos. There are even so-called "thumbnail grabbers" that allow you to create a thumbnail online from a video. You simply paste in your YouTube URL – the tool then shows you a selection of possible images from your video for free, which you can use or edit further. If you'd rather do it yourself, then you'll get your money's worth below in our top programs for creating thumbnails.
5. upload thumbnail
After you've created and edited your thumbnail, all you have to do is upload it to YouTube, Instagram, or your own website. This is pretty important, because on popular social media it will be generated automatically if you don't give one manually.
Formats for thumbnails on various social networks
Besides YouTube, there are of course numerous other social networks that share and host videos. Here, too, thumbnails are an important tool for attracting users' attention and increasing the click-through rate. However, the whole thing is not limited to videos, blogs or online stores also work with thumbnails. However, the optimal size varies from network to network. Subsequently, we will only talk about aspect ratios. You can then increase the numbers as much as you like, as long as you respect the ratio.
YouTube: 16:9

Vimeo: 16:9

Facebook: 1.91:1

TikTok: 9:16

Snapchat: 9:16

Instagram:

Pinterest:

Big Thumbnails: 1.48:1

Small Thumbnails: 1:1
The best programs for creating thumbnails
You decided to create your own thumbnails? Well, that's great! There are several programs that can help you create them. We've put together a few to give you an overview.
Canva

Adobe Photoshop

Picmaker

GIMP

Snappa

PicMonkey
Canva is a free online tool that lets you easily create graphics – even without any previous experience. The best thing about Canva is that it's optimized specifically for social media and YouTube thumbnails. So with the available templates and designs, you can easily create your perfect thumbnail.
Adobe Photoshop is probably the best known graphics program and offers you countless possibilities to design your thumbnail. Photoshop is not free, but you can really do everything with the program. In our opinion, it's too powerful to "just" create thumbnails, but once you're in the Adobe world, you won't want to leave.
With over 1 million users, Picmaker has already established itself. The advantage of Picmaker is the sheer amount of royalty-free images and graphics that can be used to create thumbnails. Combined with their online graphics and design software, this makes for a solid solution.
GIMP is a free alternative to Photoshop and is also very versatile. Even if you have no experience with the program, you can quickly acquire the necessary knowledge with the numerous tutorials on the Internet.
Snappa is a paid tool that helps you create thumbnails and other graphics. The program offers you various templates and designs that you can easily customize and edit.
PicMonkey is another paid tool for creating graphics. Here, too, you have various templates and designs at your disposal, which you can customize as you wish.
Thumbnails are everywhere – Conclusion
As you can see, thumbnails are very common and that means they also have a big impact on your online presence. Stick to the formats and stay true to your style, and you're already doing a lot right.
Not sure or need some professional food for thought? Then contact us – your design agency in Bern.
For convenience purposes this post has been translated automatically.