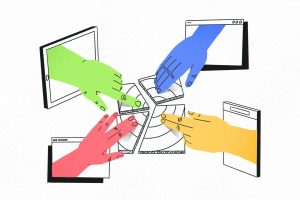 Just letting the employees do their work at home…? Does that work? Will an employee complete the tasks just as efficiently as from an office chair? And how exactly does a manager maintain overview? Does home office mean that we have to monitor employees 24/7? Maybe dial into their computers, monitor chats and localize them via app? 
That would almost remind of creepy communist conditions. But fortunately it doesn't have to go that far. (Besides, it would be a completely pointless approach that would only harm productivity even more). But how do we make sure that the employee really gets the job done? Question after question. The answer is given by a very important behaviour principle in psychology. And that is "trust". 
Why trust matters when working remotely 
Actually, it doesn't really matter whether it's the home office or the traditional work environment. Mutual trust is the key to successful cooperation, initiative and motivation of employees.  
However, many managers have the illusion that all employees who are present are also working more intensively. At least they can observe the employee and know exactly whether he or she is really filling out Excel tables or wasting time on social media. Many managers have the fear of losing control when working remotely. Will the employees also work within their own home? This is where managers should be aware of one thing though: The presence of an employee in the office says absolutely nothing about his performance or productivity. On the contrary, studies show that remote work employees are even more productive than in the office. From my own experience, I can confirm that especially in creative work, a self-chosen work location contributes enormously to the idea flow. 
In the office, you can certainly set aside your 8 hours and give the boss the impression of having completed a long working day. How much work has actually been involved is the other question. And why is trust so important?
In order to successfully implement goals remotely, the team must contribute to the company's success with initiative and motivation. And trust is an important element in employee commitment. According to a Gallup study, which asked over 10,000 people about the most important qualities of a manager, "trust" was named most frequently.  If a manager shows trust in his or her employees, the level of commitment is 6 times higher. And this is exactly what home office work needs: employees' own initiative to complete tasks independently. 
The problem of micromanagement 
Creating trust, more initiative and motivation, that sounds great. But reality often looks different and especially in remote work many managers tend to "micromanage". 
Micromanagement refers to a management style that controls the individual work steps and processes enormously and does not grant employees autonomy. If the boss is constantly pushing, putting the team under pressure and not allowing any leeway, he will encounter very dissatisfied employees in the long run. Employees start completing tasks only out of fear of being fired, but not out of interest in the company's success. According to a study by Trinity Solutions, 70% of the employees confirm that micromanagement is even a reason for them to change jobs. However, if you trust the team, they will voluntarily feel the need to get the job done to achieve a good result. 
Well, and how do we trust remote employees? 
In order to trust the employees, we need to be sure that they work independently and fulfill their duties. And in order for the employees to fulfil their duties from home, we as managers must first create such an environment. The following points should be considered: 
Set clear expectations 
The starting point of the problem is often the lack of internal communication. What do you expect from the employees? Which projects have priority? What leeway does the team have? Expectations that are not clearly defined can be fatal, especially in the home office, as you leave the employees in the dark. Pay attention to clearly defined goals, intensive written communication and a good familiarization of the team with the respective project.  If the goals are realistic, each employee will quickly find his or her own working rhythm in order to complete the task in the best possible way.  
Respond to employee needs 
Make sure that the employee has the necessary resources available, feels comfortable in his home office and is allowed to contact you if he has any questions. And why is this so important in this case? Because it shows that you care about the well-being of the employees and you strive to create an atmosphere in which the team can work effectively. This in turn inspires confidence in the employees.
Do not forget positive feedback 
Regular feedback meetings are an important part of internal communication, whether working remotely or in the office. But especially if you work independently and do not receive direct feedback from the team, you will soon feel neither superfluous nor appreciated as an employee. Positive feedback provides a motivation boost and therefore helps to stay ambitious. 
A rethinking is required 
Working remotely also means that things will happen differently than in the traditional office. And it is probably exactly this change that many managers find so difficult. As long as the employees don't make a concrete mistake, try to give them some flexibility so that each team member can find his or her own rhythm. And if something does go wrong, use this opportunity for team building by finding a solution to the problem together with the respective employee. 
Courage for transparency 
Trust is based on reciprocity. You should trust employees that they will do their job well. But on the other hand, employees will only be motivated in their jobs if they trust the company and you as a manager. For this reason, a transparent work culture is extremely important, especially in remote work. 
The companies are always eager to share facts and deadlines with their employees. But what about day-to-day communication and other information? It is precisely because of the distance that a lot of information is often lost or is only passed on to the team extremely late. "It's not that important", "the employees are not interested", "I don't have time", these are the classics I have heard from managers again and again. But let me say one thing: It is important, the employees are interested and you should take the time! The less context you offer the team, the greater the uncertainty and mistrust towards the company. Communicate with the employees at eye level and show that the team is treated openly and honestly and that they receive all relevant information. 
For this purpose you should create a company-wide knowledge base where employees have access to the most important company updates and are immediately informed about changes. Brainstorming and chats should also be held in public threads, if possible, so that every employee has an overview of internal processes. 
Transparency is the basis for trust and thus the basis for effective cooperation. Secrecy in turn leads to unnecessary rumours and a damaged working atmosphere. 
Conclusion: Trust in daily remote work 
Trust is ultimately the relationship between you and your employees. If you support and encourage the team as much as possible, and communicate work instructions clearly, the team itself in the home office will also be motivated enough to actively contribute to the company's success. And all this without CCTV, secret service and data mining, but with team spirit, responsibility and passion. 
A trust-based working atmosphere also plays an important role at Cleverclip: As a borderless team, we attach great importance to openness, transparency as well as an adaptive, selfless attitude. Taking responsibility. Carrying responsibility. And thus reach our goals together in an honest and fair working atmosphere. 
Would you like to learn more about Remote Work? Then take a look at our blog or contact us. 
For convenience purposes this post has been translated automatically.