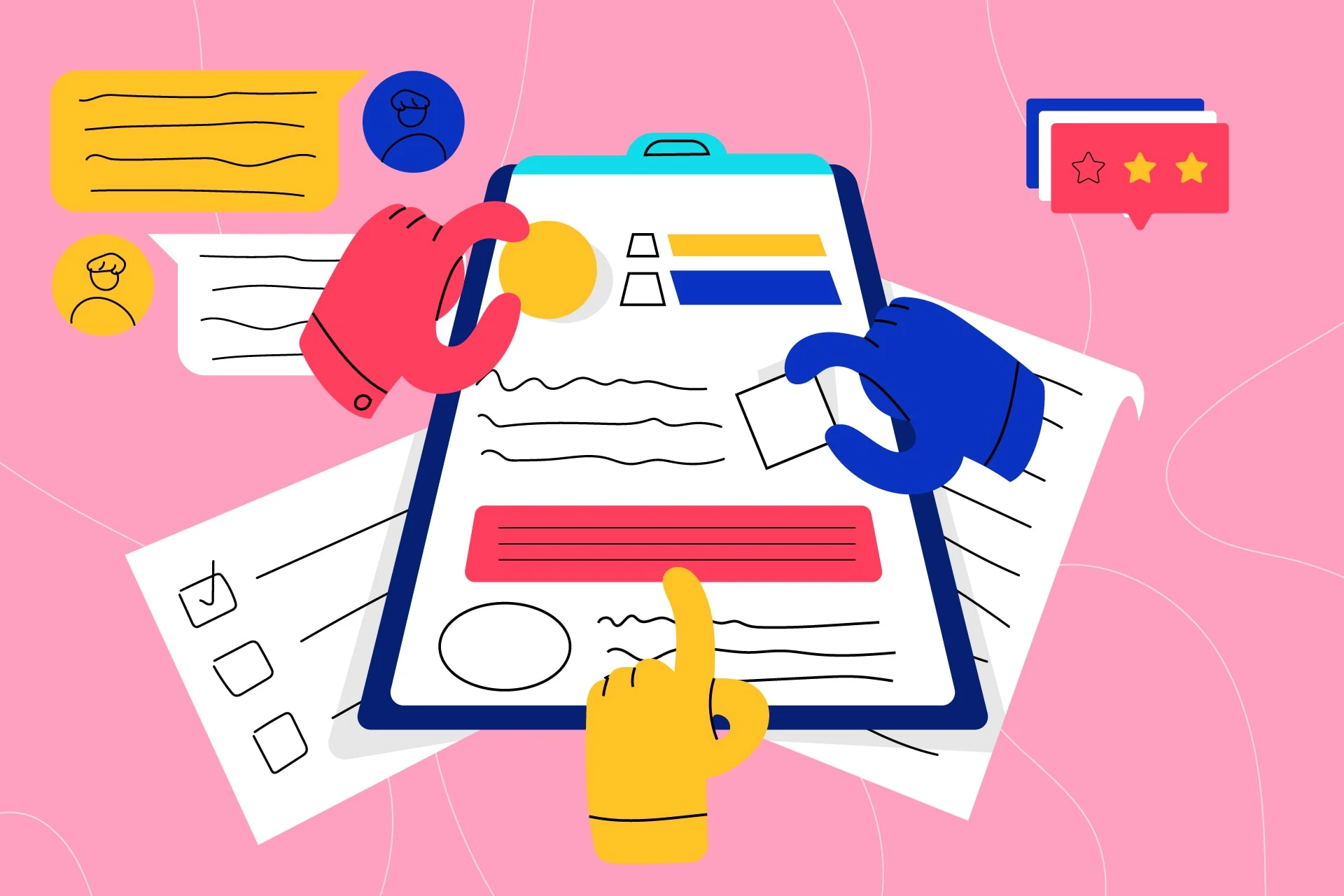 Surveys are not exactly a new groundbreaking invention. But since nowadays everything is about customer experience (CX), they are absolutely crucial. How else can you find out what your customers think about the product or service? Even if you assume that you know your customers well enough, without backing up your thoughts with actual customer opinions, it remains pure assumption. 
Within the company, the "echo chamber effect" quickly occurs, where everyone (including your competitors) only sees things from the same perspective. Your customers, however, might see things quite differently. 
To cut a long story short: Surveys are important. In this blog post we explain how to create a survey for the business context and will share other tips and tricks. 
What is a survey?
The survey is a method of collecting information from a representative group of people, usually with the aim of transferring the findings to a larger population. The survey is one of the most important instruments of social sciences as well as market research and behavioural research for data collection. Surveys are most frequently used as questionnaires, both in writing and online.
Why do I need a survey? 
In general, the aim of a survey is always to find out people's opinions on certain topics by means of random samples and thus to make statements about broader sections of the population. 
Surveys are suitable for academic work as well as market research surveys. In surveys for academic work, e.g. in the context of a final paper, the (online) questionnaires are usually kept simple and serve to empirically support certain hypotheses. But since it's not a school lecture right now, I rather focus on the 2nd option. 🙂
Surveys for market research are used for market analysis to understand customer demand and preferences. The resulting information enables to better segment the target market and to tailor products and services to consumers. In addition to customer analysis, a survey also allows to explore the market position, the competition, or the market in general. 
Also in the internal communication, e.g. in the context of an employee survey, important findings about employee satisfaction and, if necessary, suggestions for improvement can be collected. 
A survey also offers the following advantages: 
Discussion: You can discuss survey results with your target group and thus implement solutions together.

Measurable and targeted information about your target group and thus support for the decision-making process, customer loyalty and company growth 

Decisive analyses of the strengths and weaknesses of the company in order to position it correctly. 
To put it in a nutshell, a survey is crucial to the growth and success of your company. 
How do I create a survey?
Depending on the topic, your goal and target group, the surveys can of course differ. Nevertheless, there are some general components that need to be considered. Most important is that the questions provide evaluable data and that the number of participants is representative. The following steps should be considered: 
Define the target of the survey
What data and results do you want to collect from your target group? At this point, make a note of the desired results that should be answered. This is important in order to make the survey as precise as possible and not to extend it unnecessarily. 
Create questions 
After the initial criteria have been clarified, you can formulate the actual questions. Make sure that the questions you ask really provide relevant data. 
You should pay attention to the following points: 
ask mostly closed questions. With open (and therefore challenging) questions, you risk that the participant will drop out early. In general, it is recommended to ask a maximum of 2 open questions per survey. 

Use only simple terms that every participant understands directly. If the use of specific vocabulary cannot be avoided, it should be explained additionally. 

make sure that the question is neutral, so that the participant is not influenced

avoid double questions. A question such as "How do you rate the range of our services and our customer care?" can cause confusion. Only take up one topic per question and keep the question as short as possible. 

alternate the questions to avoid making the survey too monotonous. 

make the answer to the question optional. Most of the time the drop out rates are higher for mandatory surveys. 
Determine the order of the questions and the format 
There will always be participants who will leave the survey early. Group the questions by topic, with the most important ones listed first. 
All in all the whole survey should be logically structured. Page breaks, titles and instructions allow participants to better understand the survey.
Remove unnecessary questions 
As mentioned before, the questionnaire should not be unnecessarily long. Therefore, go through all questions again at the end and remove any unnecessary questions. 
Run a test 
A survey with mistakes? Not a good idea! It's best to send the survey to colleagues and friends beforehand, so that they can give feedback and make sure that all questions are being properly understood. 
The right design 
Of course the survey should be inviting for the respective participant. It does not have to be a Picasso-style picture, but some additional visual elements such as icons and color accents give the survey an appealing appearance. Interactive elements that motivate the user to take part in it are also particularly effective. Of course, all in all, the survey should still be clearly and cleanly designed.
How can a survey increase engagement?  
Surveys are incredibly powerful tools that, when used properly, can provide valuable insights while fostering strong interaction between the brand and its audience. Below are some examples of how surveys can help you increase your engagement rate: 
Interactive Online Surveys 
On the webpage, interactive surveys, in which the viewer becomes a direct participant, ensure that users stay longer and interact stronger with the site. Interactive surveys can be designed in various ways, for example with clickable buttons and icons, or in the form of a game. There are no limits to creativity! 
You can also increase employee engagement within the internal communication. Interactive surveys allow employees to give anonymous feedback. This enables you to respond to employees' wishes and suggestions, implement them and improve the working atmosphere in the long term. 
Live Surveys
Especially during a live event, surveys can actively involve the audience in the presentation. With software and apps such as Slide Lizard, it is also easy to create surveys so that the audience can vote from their smartphones. You can then discuss the results with the audience and create an interactive event.
Surveys for Social Media 
The algorithm makes it very difficult today to assert oneself on social media and to stand out in the crowd. Embedded surveys can contribute significantly to the engagement rate while collecting valuable user opinions. 
Create a survey by yourself or have it done by professionals?
Meanwhile, there are a variety of online tools that can be used to create surveys quickly and easily. Although you have different options depending on the tool, you are relatively limited with the online templates though, especially in terms of design. For simple topics, they are nevertheless well suited, because of course they still fulfil the purpose: to obtain specific information about the target group. 
For more complex or longer surveys, however, a professionally created survey can be useful. You get direct support in target group analysis, so that the questions can be adapted more precisely to achieve your company goals. 
The design is also individually adapted to the company profile as well as the target group. Data and questions can be additionally emphasized by visual elements and thus appear more attractive to the target group. A professionally created survey can also be made interactive, e.g. with moving elements and special buttons that appear only after clicking on them. 
This actively involves the target group in the survey and thus minimizes early drop-out rates. At the same time, several questions can be divided into different areas without being overwhelming. 
Conclusion
If you don't want to make decisions based solely on your gut feeling, surveys are the key to obtain valuable customer feedback and implement it successfully.
Make sure that the questions are correctly designed for your business objectives. An additional appealing design to arouse the interest of the target group will minimize early drop-out rates. Do you need some support? Then contact us and we will work with you to develop a compelling survey that will position your company correctly.
For convenience purposes this post has been translated automatically.