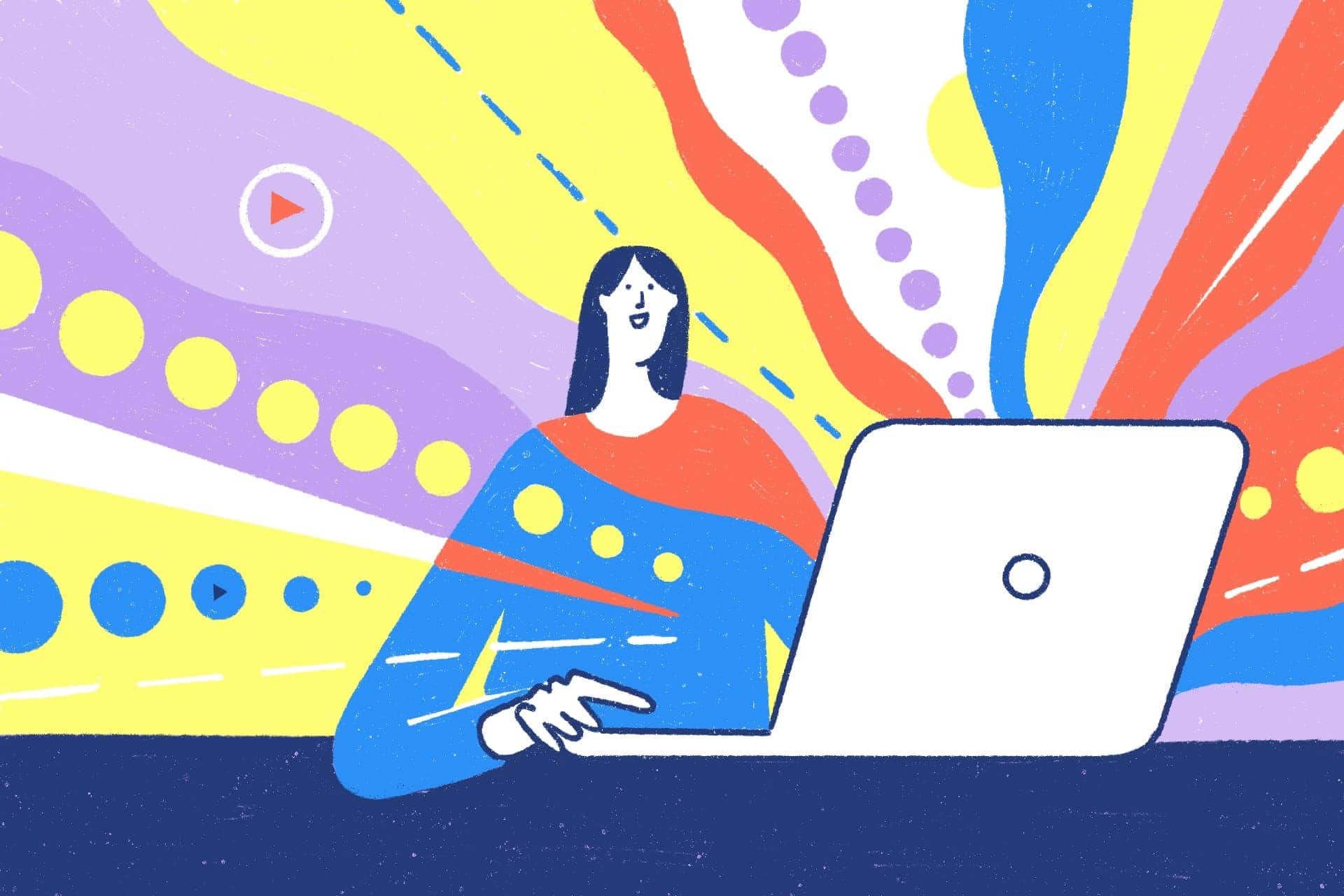 Explainer video trends for the coming year  
We're getting more digital. We have higher demands. And we have absolutely no time. Under these conditions it becomes increasingly difficult to reach the respective target group effectively. At this point, explainer videos have developed as important tools in content marketing: they wrap even complex and dry information in a vivid story, thus attracting the attention of the target group and remaining in the viewers' memory for a long time. But as so often in marketing, nothing stands still and new options and requirements are constantly developing. 
This year has proven like no other that certain things in life simply can't be planned. Nevertheless, I dare to make a rough prediction about what we can expect in video marketing in the near future. So, curtain up! Here are some explainer video trends for the coming year. 
Interactive and personalized videos 
Our attention span has dropped, that's nothing new. You have probably already drifted away at the sight of this sentence. But that is exactly what you should avoid with your customers. "It's the taking part that counts" is the motto today. The trend towards interactive elements continues to grow and should also be used intensively if you want to keep your customers in the long run. Interactive videos motivate the user to actively participate, for example through clickable links or buttons. So-called "shoppable videos", which contain direct links to the respective products, are particularly popular. 
Nike proofs the point with a video in which the viewer can create the outfit himself and is then forwarded to the online store. Although it is not a classic explainer video, it offers a good foretaste of what we can look forward to in the near future: 
Interactive videos pay off especially because more customer information can be collected with the help of modern tracking tools. More interaction, better opening rates, longer retention times and a stronger customer analysis? Hallelujah! 
Snack Content 
Sounds delicious, but is not really edible. Well, partly. For our brain it is in fact a real "morsel". In today's world, it is important to keep the content as short as possible, get the attention immediately and the information to the point quickly. Videos with a length of 1 minute already have significantly higher drop-out rates. In this case, the term "snack content" refers to extremely short videos that convey the most relevant information in the shortest possible time. Explainer videos in the form of snack content are particularly suitable for social media. 
Snack content was already a "must" last year. However, with the wide range of digital media and the associated stimulus satiation, we can assume that our brain wouldn't want to miss out on those short tidbits. 
Ephemeral explainer videos 
In the course of Instagram, Snapchat and Co. ephemeral videos have proven to be particularly successful. We know the whole thing in the form of "stories". Ephemeral videos offer several advantages: 
Building Excitement: A series of stories that build on each other is a great way to build customer loyalty to the brand. After all, they want to know what the brand has to tell next.    

Principle of scarcity: The idea that information is only available for 24 hours is what attracts most people to look at these stories regularly. This is also called the FOMO effect. (Fear of missing out).
The explainer videos can then either be divided into several stories or developed directly as snack content. Either way, with about 500 million stories viewed daily, it's definitely worth it.
Mobile-friendly and social media ready 
What would life be without a smartphone? Most users today can no longer leave the house without this "survival tool". Every free minute is used to surf the net. 
For this reason, every type of video must be absolutely mobile-friendly and also individually optimized for the respective social network. Video content on social media is the main driver for engagement. With an explainer video you can therefore not only impress the current followers with your product, but also reach new users and thus win potential customers. 
Psssst keep calm! 
Facebook&Co. introduced the autoplay function for videos a couple of years ago. And with this innovation, more and more users watch the videos without sound (sometimes unintentionally). So especially if you upload your explainer video on social networks, it makes sense to add subtitles or typographic elements. Alternatively,  you can also add a "sound on" CTA. 
Training & learning videos
Corona has turned both the world of education and the professional life upside down. Further training, lectures or staff training had to be done digitally this year. And this has certainly shaped the following years as well. Explainer videos will probably be used more and more often, especially in training and education. 
This is definitely worthwhile: an explainer video helps viewers to summarize complex and a multitude of information in a comprehensible and clear way, with the option of playing it over and over again. At the same time it guarantees that all new employees receive identical information.
Also in the context of change management, process changes can be better communicated by means of an explainer video and guarantee that employees are always up to date.
Better SEO optimization 
Whether a. trend or a fact, in order to be found in the world wide web, the explainer video must be optimally adapted to the search engine. Keywords, ALT tags and video descriptions should not be missing. The good news: Google is usually very happy about video content and gives your site a higher ranking. 
Stunning animations    
As technology evolves, more exciting styles are emerging that can transform your information into a vivid experience. But even the classics will not disappear completely from the scene. 
3D animation 
The supreme discipline among explainer videos is already widespread in many places. 3D videos are actually already a "must" and will continue to be on customers' wish lists. Explainer videos in 3D formats are an enormously powerful communication tool for conveying the advantages of a product in a clear way and taking the customer on a visual journey at the same time. The development of three-dimensional videos offers unlimited creative freedom with free choice of perspective, depth of space, motion sequences and captivating storytelling. Complex processes are visualized realistically. 
The Tinder dating app shows you exactly how it works in its colorful video: 
2.5D animation 
Although 2D and 3D animations are the most common form, a new interesting trend should also be highlighted: The 2.5D animation combines both techniques and thus offers a visually appealing explainer video at a lower cost than a classic 3D video. 
360 degree videos and immersive experiences 
When the digital world meets reality, an incredible experience is created where the viewer becomes part of the narrative. Sounds like hocus-pocus? But thanks to elaborate technologies, the animated and real worlds can actually be combined today, opening up completely new doors for the world of explainer videos. 360-degree and VR formats belong to the category of spherical videos and are characterized in particular by the active audience involvement.
With 360 degree videos, the viewer can change the perspective himself, pause and view the still image from any position. With VR videos, the viewer becomes an eyewitness to the event and actively immerses himself in the experience. At the moment these styles are still in their infancy, but we can certainly look forward to exciting explainer videos soon. 
White board 
Even in the digital age, classics do not simply die out. Thanks to the low production effort and reduced visuals, a whiteboard animation is far more affordable than the other formats, but still takes the viewer on an exciting visual journey.
Kinetic Typography 
The importance of animated texts is constantly increasing, as they offer much cheaper options for explainer videos, but are still based on the magic of visual experiences.
The typography is especially effective in narratives with a lot of statistics and is better remembered than purely static texts.
Conclusion: Explainer video trends 2021
A pinch of humour, some music, colours, animation and lots of feelings: explainer videos combine everything under one roof and spice up your marketing strategy. Video content is growing, images are being processed and remembered more easily. 
Digitalization will always offer us new options and the interest in video content will not decrease so quickly. Companies that do not integrate explainer videos into their content strategy will hardly be able to remain competitive. So let's get down to business and do some magic! 
For convenience purposes this post has been translated automatically.