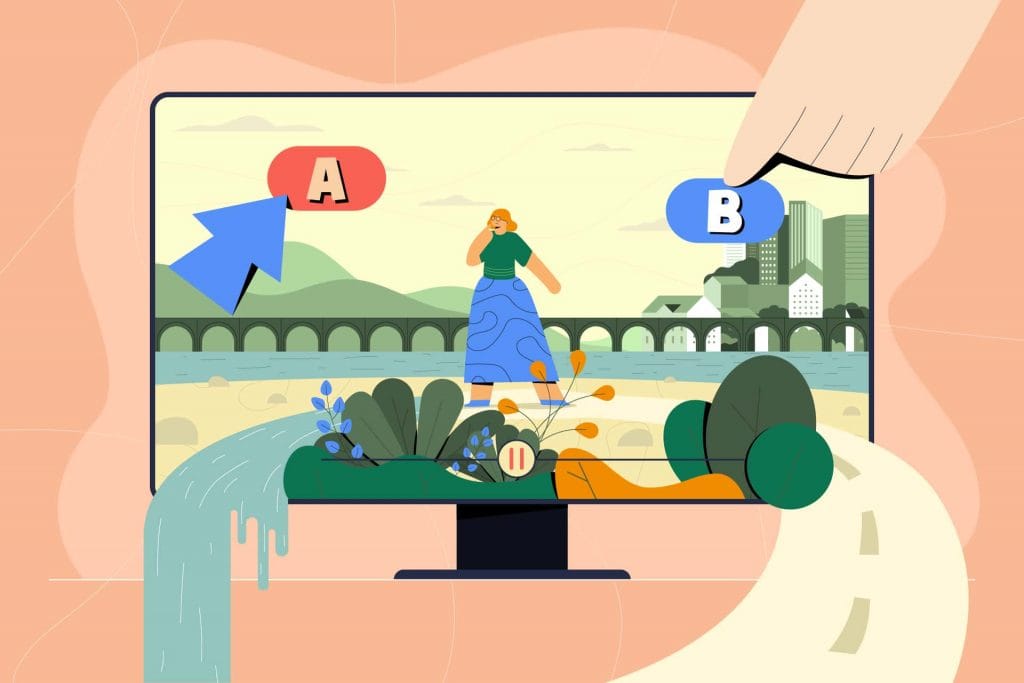 E-learning platforms are more in demand than ever. As an e-learning agency, we want to present you the best e-learning platforms in this blog article. We paid special attention to e-learning platforms for businesses, so you can get something concrete right away. We won't go into further detail about e-learning in general and e-learning videos in particular – just use the corresponding link for more information.
Without much further talk, we'll get started with the e-learning platforms comparison. If you want to jump straight to our top e-learning platforms, simply click here.
Content
Definition: What is an e-learning platform?
An e-learning platform is a digital system for conveying information in schools, companies, universities or for private use. It is usually referred to as a learning platform or, more precisely, an electronic learning platform. However, there is disagreement about the exact details of an e-learning platform.
Often Learning Management System, LMS for short, is used as a synonym of learning platform. An LMS greatly simplifies the administrative effort behind effective learning. With an LMS, you can bring your employees' training or continuing education to their computers or smartphones. This way, no one loses time unnecessarily and everyone can learn exactly when it suits them. You can then have the results and statistics automatically compiled in reports.
We will go into whole e-learning systems in this article. In theory, the entire blog, all blog articles including this one, is a simple e-learning platform. But practically, we want to go into the platforms that use entire websites or apps as e-learning platforms.
What can e-learning platforms do?
And what are you supposed to do with e-learning platforms now? Let's take a look at the typical range of functions and services offered by e-learning platforms.
Flexibility
E-learning platforms are online. So you are independent of time and place. You can visit your courses and continue learning at any time and from anywhere. If the Internet ever fails or you deliberately don't want to be disturbed, you can also download certain content. Downloading documents and presentations is part of many e-learning platforms.
Diversity
The variety media on most e-learning platforms is a joy for a design agency like us. With podcasts, explainer videos, quizzes, interactive infographics, discussion boards and online forums, efficiency is increased.
Certificate
With many e-learning platforms, you get a certificate after completing a course. So you get a certificate of having successfully completed the course. This can be a friends for you, but also serve as a tool when employer and employee have agreed on the completion of a certain course.
Tracking
The services provided by e-learning platforms are linked to the possibilities of the digital world, i.e. they are almost limitless. What exactly is implemented and how expensive certain services are are other questions. One feature of many e-learning platforms is tracking. Here, for example, you as a company can set up an account and invite your employees. You can then select courses and track how employees are progressing. In general, you can have reports generated from all statistics and results to keep track of progress.
What does an e-learning platform cost?
The typical cost of an e-learning platform depends entirely on the offering and the target group. You can find e-learning platforms for companies starting at 10 CHF per month. But you can also try special variants that cost 300-400 CHF per month. Generally, there are two options: Payment per month or payment per course.
You can also build your own LMS, with exactly your content and the features you want. Here the costs vary a lot. Will it be a single landing page or an entire website? Do you want to transform an existing LMS to suit your needs, or do you want to do everything from scratch? Which interfaces do you want and which ones do you simply need to solve technically? There are a lot of questions that have a big impact on the costs. It's best to talk to an e-learning agency if you're not sure what the best solution is for you.
If you want to create learning content yourself, then we recommend our blog article on e-learning. There, we'll go over the most important elements of digital learning and show you what to look out for to ensure you're efficiently imparting knowledge to your target audience.
If cost is an issue, then you need to ask yourself why you are looking for an e-learning platform. If you want to learn a certain skill, then you're better off looking for a platform where you can buy individual courses. If browsing and trying out is in it, then the subscription variants are more suitable, as you can test everything and nothing.
Are there any free e-learning platforms?
Yes, there are free e-learning platforms. It's even the case that many paid providers offer a free variant. Usually, only selected courses are then available or it is a time-limited promotion or you have to deal with advertising.
What are the different types of e-learning platforms?
E-learning platforms do not have a clear definition and their functions are not always the same. Not surprisingly, there are also a few different e-learning platform types and species.
For more on types, how to use e-learning, check out our blog article on e-learning.
In order to stay within the scope and still give you a good overview, let's take a look at four e-learning platform types and kinds.
E-learning platform for companies
Something for companies right at the start. There are many e-learning platforms for companies. However, there are differences whether the e-learning platform has been developed exactly for companies or whether the functions of the e-learning platform simply fit for companies as well.
A specially developed platform offers advantages and customization is certainly not a problem. But the price will be higher. Less tailored to exactly your company, platforms with the appropriate functions and courses fulfill your concerns almost exactly the same. For you, it is primarily important how your employees can access, what statistics you get and how courses can be bundled.
So you notice: An e-learning platform for companies is defined by its functions and it is exactly these that you should study thoroughly.
E-learning platform for schools
Just as there are e-learning platforms for companies, there are also for schools. Here, of course, the focus is on the exchange between students and teachers. Many functions are the same for schools and companies. This means that general e-learning platforms also work for schools. One advantage of schools is that many providers offer special discounts and deals for schools and educational institutions in general.
All inclusive
An e-learning platform has to impart knowledge, whether that's programming or baking doesn't matter. Platforms that don't really regulate their choice of topics are very popular with private individuals. There are also clearly suitable courses for companies, but more on that later. Private individuals can discover and learn all sorts of things on such an e-learning platform. The clear disadvantage is that you have to pay better attention to quality features on these platforms, as strong fluctuations are often possible.
Specialty
As already mentioned, in some cases e-learning platforms with very specific course offerings are in demand. For training your accounting team in a new SAP version, you are not unfortunate if the selected platform specializes in accounting software.
Top 10 e-learning platforms
We have told and explained a lot about e-learning platforms, so it only makes sense to introduce you to our top e-learning platforms.
Udemy
Blinkist
Coursera
Teachable
LinkedIn Learning
Khan Academy
Duolingo
Masterclass
Skillshare
ZEIT Akademie
E-Learning platform #1: Udemy
Undisputedly one of the largest e-learning platforms on the market is Udemy. With more than 130,000 courses in over 50 languages and more than 35 million users, it's fair to say that.
The diversity of the courses is as great as their number. There is a course on this e-learning platform for every desired topic. However, this large offering also comes with a catch. Anyone and everyone can upload a course, the quality is not checked and accordingly there are sometimes large fluctuations in quality. To protect users from unpleasant surprises, Udemy offers a 30-day return policy. So if a course doesn't meet a user's expectations, they get their money back.
At Udemy, users buy courses individually. But so that you don't have to buy blindly, there's a rating system like you'd find at online retailers.
E-Learning platform #2: Blinkist
Blinkist sounds abstract at first: summarizing books. But now we have to spell it out: Blinkist captures the core messages of nonfiction and trade books. That already sounds much more appealing. More than 13 million users with over 3,000 titles confirm this.
With books on psychology, politics, entrepreneurship, marketing, science, history, or even parenting, this e-learning platform has a clear selection of books for everyone. The editorial team of Blinkist selects new titles specifically and pays attention to the needs of users.
Blinkist is perfect for quickly getting the most important information from new reference books. The app even offers the option of using shortcasts. These are podcasts of a maximum of 15 minutes that can be listened to quite comfortably while cooking or on the go.
The subscription system grants users access to all titles. There is also a free version that includes one title per day.
E-Learning platform #3: Coursera
With 77 million course participants, Coursera is one of the largest e-learning platforms. Its successful concept includes collaboration with over 200 colleges, universities, and companies – and the opportunity to earn an academic degree online.
Coursera is the largest provider of MOOCs. This means that practice-oriented courses are also available for all possible fields of study. The only confusing thing about Coursera is the subscription models and what they include or don't include. Basically, you can attend courses for little money if you forgo a certificate. And free courses can also be found, even if they are only selected ones.
One appeal of Coursera is the online courses themselves. With videos, podcasts, quizzes, practice sheets, and the forums, you have everything you need to really learn a subject.
E-Learning platform #4: Teachable
Teachable is clearly one of the top e-learning platforms, with over 18 million users and over 70,000 online courses. As with Udemy, the focus is on making the dissemination of knowledge easy. That's why Teachable has geared their e-learning platform entirely towards teachers.
If someone wants to share his or her expertise on a topic with the world, it should happen with as little complication as possible. Teachable provides pre-built samples that one can adapt to his or her content to start teaching as soon as possible. Everything concerning pricing, marketing or contact with course participants is also entirely up to the teacher.
E-Learning platform #5: LinkedIn Learning
LinkedIn is known to many as a social network. The focus on everyday work, career and management can now also be found in the e-learning platform LinkedIn Learning.
LinkedIn's existing reputation gave the e-learning platform a top start and currently you can already find over 16,000 e-learning courses. With a premium subscription on LinkedIn, LinkedIn Learning is completely free, otherwise there is a subscription option or you can also buy the courses individually.
E-Learning platform #6: Khan Academy
Khan Academy is an e-learning platform where you probably don't fall into target group. Based on a YouTube channel with 7.1 million subscribers and more than 1.4 billion video views in total, Khan Academy's mission is to create education for all. The target audience is students from elementary school to high school. Topics include business, math, science and English.
The videos on the YouTube channel serve as teaching materials. The Khan Academy website provides a platform for further information, practice sheets or even question and answer sessions. Especially for teachers there is the possibility to create digital classrooms in which specific courses can be arranged. Learning progress can also be tracked to identify potential problems. The best part? Khan Academy is free of charge.
E-Learning platform #7: Duolingo
If you want to learn a language digitally, then there is no way around Duolingo anymore. This little green bird is one of the world's most popular ways to learn languages. More than 500 million users and 30 languages say enough.
Duolingo's great success comes from their gamification approach. Gamification means that you live part of your life as if you were in a video game. So when I wash clothes, I not only get clean clothes, but also experience points. If I have enough experience points together, I move up a level. And for each level I can reward myself with an ice cream or a visit to the cinema. Duolingo works in a similar way. In the app, you are presented with a story, and as you learn the language, the story goes on and on. Imagine being able to rescue a cat from a tree by using Turkish grammar correctly – crazy!
E-Learning platform #8: Masterclass
Masterclass relies on a simple principle: to become a master, you must learn from the masters. Cooking with Gordon Ramsay? Astrophysics with Neil deGrasse Tyson? Acting with Natalie Portman? Chess with Garry Kasparov? Even writing makes you want to read the insights and thoughts of these experts. No wonder the iconic commercials have helped the e-learning platform succeed.
Like many modern providers, Masterclass works on a monthly subscription basis. This then includes all courses and offerings. It invites you to try things out and simply give them a try.
Video has become the accepted medium at Masterclass. Most courses consist exclusively of videos, divided into chapters.
E-Learning platform #9: Skillshare
Skillshare is one of the best-known international e-learning platforms. With over 27,000 online courses and more than 5 million users, that's not surprising.
On topics such as business, lifestyle, design, IT and many more, you are sure to find something for yourself on Skillshare. However, the large number of courses also brings with it a slight fluctuation in quality. The large number of users counteracts this and is reflected in the reviews and discussions. This way you can learn more about a course in advance and also learn more through the exchange.
Skillshare also works with a subscription, but there is also a free subscription that unlocks selected courses. It's a good idea to check it out. The e-learning platform's courses are often a combination of videos and documents that participants can download and podcasts.
E-Learning platform #10: ZEIT Akademie
The ZEIT Academy is similar to the Masterclass already mentioned. Lecturers from the field give the courses on the e-learning platform professionalism and seriousness. The course selection is limited, but is constantly being expanded. The quality approach is clearly noticeable.
The ZEIT Akademie also relies on a subscription. This solution again offers the possibility to try out different things without additional monetary expenditure. The ZEIT Akademie blog is interesting and completely free of charge. Several times a month, blogposts are published on the topics of communication, negotiation skills, self-management and many others.
As the name suggests, the ZEIT Akademie is part of the ZEIT publishing group, like the well-known weekly newspaper "DIE ZEIT". This brings with it a clear philosophy and high standards.
The best E-Learning platforms – Conclusion
E-learning platforms will certainly continue to keep us busy in the future. While they were still complicated and opaque in the beginning, they have now become user-friendly and intuitive, also thanks to the great competition. And the offer is also incredible: for the job and for the hobby, there is definitely a suitable course somewhere.
If you are looking for an e-learning platform for yourself or your company, familiarize yourself with as many as possible once. Click around a bit and look at user feedback. You'll quickly find something that fits your mentality and philosophy. And contact the platforms for detailed questions, as is so often the case, you'll find a suitable solution in web design and websites.
For more information about e-learning in general, you can read our blog article about it.
For convenience purposes this post has been translated automatically.