Revolutionize your marketing with visual storytelling
This post is part of our storytelling marketing series. Read here the first part – Storytelling – the secret sauce for every marketing strategy; and here the second part – Visual Storytelling: The fine art of marketing.
In the course of digitalization and new technologies, the demand for high-quality visual elements is also growing. The flood of information no longer allows us to be average. We need brands that move, inspire and impress with their stories through first-class visual staging. That's why today's article is all about visual storytelling trends – both content- and format-related. Take a moment to read about all different ideas that will enrich your communication.  
Hyperreal Storytelling
To start off, let's jump directly into the big league: Virtual reality (VR). For some of you, it might be just a main attraction in an amusement park or an absolutely unaffordable high-end application at a tech fair. However, in the course of technological progress, hyperreal elements offer a lot of potential in storytelling marketing.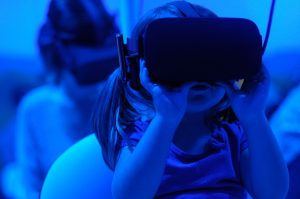 True to the motto "be in the middle of it, instead of just beside", new technologies such as virtual reality glasses or 360-degree videos make it possible to immerse oneself directly into the narrative world. The customers themselves become part of the brand's world and its story. The immersive storytelling appeals to several of our senses at the same time, making it possible to present an even more impressive and captivating story of the brand. Alright, the "illusion through a pushed button" is a costly affair and will, for now, only become an actual reality in storytelling for the global players. But the economic world is changing faster than you think and booooom.. soon every millennial will have VR glasses. Stay up to date with your storytelling strategy!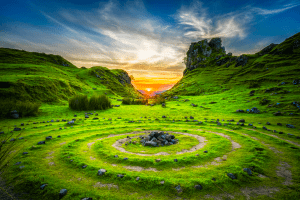 Video Storytelling
To get back to earth after the previous point: Even without wearing 3D glasses, a short video with a captivating message and the right staging can work wonders for your content marketing. In comparison to simple pictures, videos allow a combination of different factors: fast and slow motion, narrative voice, sound effects, color changes etc. The human brain is predestined for movement: movement means change – whether positive or negative, we react and process this change. This counter-play with light can also present every story in a completely different way: Dark compositions suggest danger or mystery, while brightness conveys a positive message of the story. By combining various elements with sound and dynamic movement, stories can be conveyed much more emotionally and contribute significantly to the engagement of your target group. Video content is still on the rise.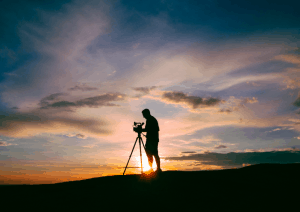 Live Broadcasting- The "real" stories
Nowadays, the word "fake" takes on new dimensions. Everything is retouched, cut, edited, blended. The successful influencer who represents an "insta life" of pure bliss is basically lonelier than the granny next door, who caresses her kittens every day. Is there anything still true today? Through the social media life, consumers have little confidence in the online world. They want honest brands. With features like Facebook or Instagram live, as well as other live streaming apps, you can tell stories to your target audience, in real time and as they happen. Lifestreams share stories effectively and authentically, just like in real life. And if something suddenly goes wrong, well… c'est la vie! Life is just the way it is and honesty lasts the longest!
Ephemeral Storytelling Stories through "Stories 
Customers love endless stories. The need to be up to date always is growing. And the need to see a personal side of the brand, instead of just perfectly staged shots, is also growing. Viewers want to know what the brand is doing all day long – because this conveys personality and transparency – the brand is personified. In addition to the previously discussed live features, "stories" functions that disappear after 24 hours on Snapchat, Insta and Co. are ideal to divide brand stories into many different chapters and give the viewers daily new personal insights.
Telling ephemeral stories has the following advantages:
Building tension: Human beings are curious and want a solution at the end of the day. A series of stories that build on each other is therefore a great way to build customer loyalty. After all, they want to know what the brand has to tell next.

 Principle of scarcity: The idea that information is only available for 24 hours attracts most people to check out these stories on a regular basis. Also known as the

FOMO effect

. ("Fear of missing out"). Because only those who've been there, have a say!
Storytelling through "Stories" offer "behind the scenes" insights and therefore, feel real to the audience. This creates an authentic and personal image for the brand.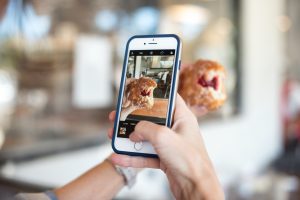 Illustrations
Instead of simple stock images that rarely (or never) have the power to tell a story, illustrations are an excellent way to showcase the message of your brand. Illustrations can also be easily integrated into infographics or presentations to wrap dry facts into stories. Simple Excel sheets and tedious text-based presentations will less likely impress the audience. But stories do!
Visual Storytelling- Which format is right for me?
In order to visualize the stories in the right way, you have to consider some factors:
1. You should know the target audience, as your images and messages should be tailored to it.
2. Define the goal you want to achieve with your images. Do you want to inspire, convey a personal message or teach? Your goal determines the emotions and mood you want to create through your visuals.
3. The budget: high quality videos require the right material, music, graphic design, etc. … and that doesn't come for free!  If you want to embed 3D elements, it becomes even more expensive. Don't forget: it doesn't always have to be the most expensive format to get it across to the audience. It's important that you tell authentic stories.
4. Consistency: Your format must be consistent with your story, brand, audience and emotions – and it should stay that way! So if you decide on a certain content strategy, make sure that you can either a) create it with enthusiasm on a regular basis or b) if you have to hire external videographers, that it is within your budget in the long run.
Once these points are established, you have a good basis for Visual Storytelling Design.
Conclusion
Don't forget: Your customers want to know more about the personal side of your company than  being bombarded with advertising.
Whichever format you choose, combining the magic of visual content with the timeless desire for stories, will deliver powerful fuel for future communication and audience engagement. And nobody forgets engagement that fast; it goes around online even months later. Whether by a "thumbs up", a little Insta- heart or a simple"tag"- People will share your story. To put it in a nutshell,  storytelling and especially visual storytelling should no longer be missing in your content marketing! And with that in mind we're wrapping up our own story!
For convenience purposes this post has been translated automatically.