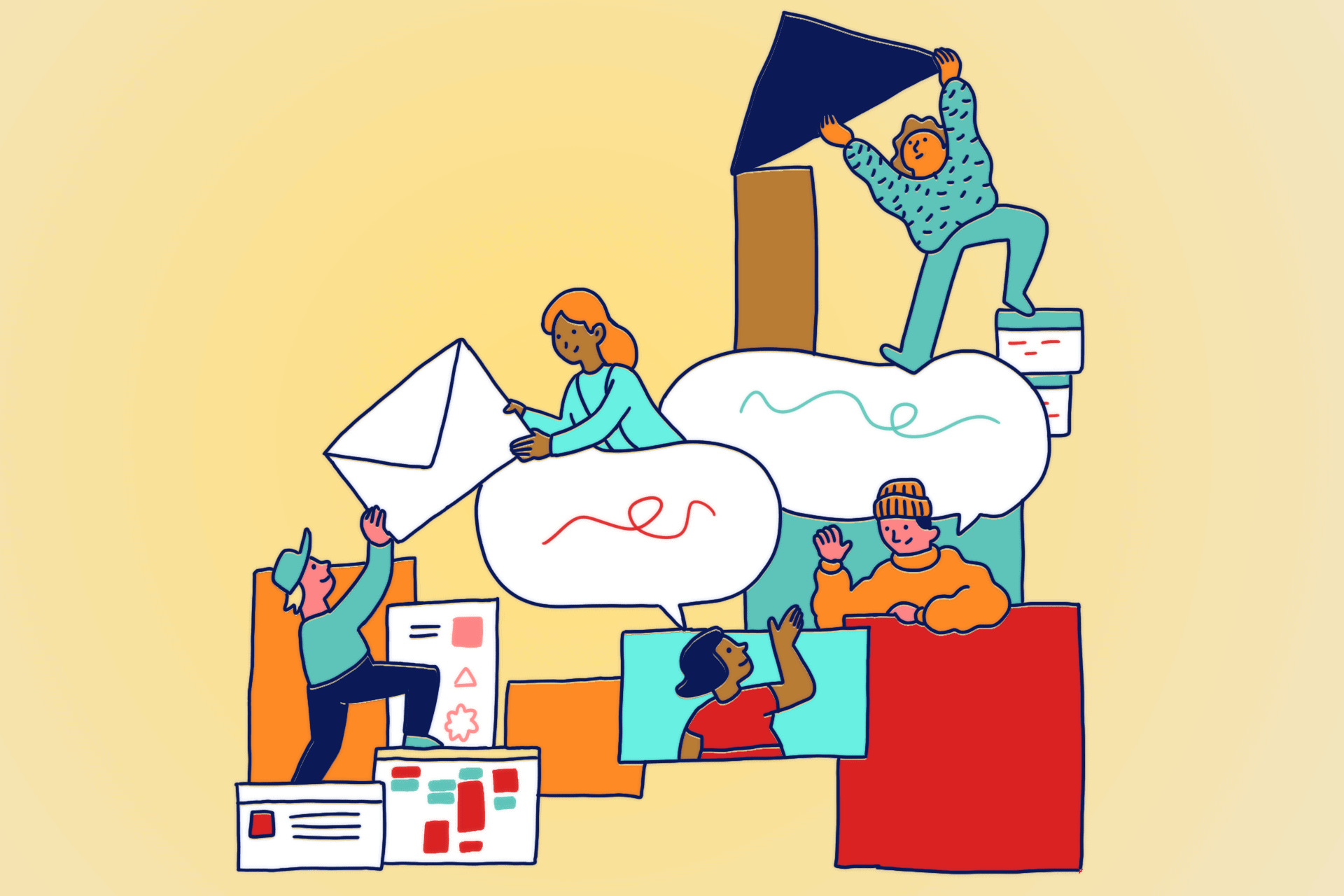 The internal communication has changed a lot, especially this year. Companies suddenly had to get ready for working remotely, manage the team and projects digitally online. It was a year that showed how important an established digital employee communication is. Companies that had recognized the trend years ago managed to maintain their corporate culture and team spirit in a crisis situation. And the others? 
When it comes to digital communication, many think exclusively of instant messaging, as we know it from WhatsApp, for example. Although messenger tools also play an essential role in internal communication, there are many more ways to communicate effectively with employees. In this article we present you some digital tools that can be used in this context. 
Why are digital tools so important for employee communication?
Effective internal communication is absolutely crucial. Not only for conveying information, but above all for building a corporate culture, a sense of community and promoting employee engagement. 
Digital tools play an important role in employee communication. They close the communication gap between departments, offer real-time information transfer and promote the development of a trusting employee relationship, regardless of the location. So much for the basics. So what options do you have to establish an effective internal communication via digital channels? 
Tools for digital employee communication 
Interactive platforms 
Interactive platforms can either be part of the website or act as a stand-alone portal. The best-known format here is the intranet, a kind of digital collection point for various areas of communication – from information exchange to document sharing or media provision. 
By automating processes and functions, costs can be minimized and effectiveness and productivity increased. But interactive platforms can also serve as an internal social network to build a stronger community between employees. An example of this would be the Jostle tool. They call themselves a "people engagement platform" and offer, among other things, a blog-style news feed and a "shout-out" area to praise employees. 
Digital signage 
This is rather a passive form of internal communication, but in the modern workplace it is becoming an increasingly important part of the company. 
In everyday life you constantly encounter these digital boards: On the street, in stores, even in doctors' offices. Everywhere consumers are addressed in the form of digital advertising. It does make sense, because it is ultimately more cost-efficient and more appealing than print advertising. Digital signages can be also updated more easily. 
What works externally also works internally. Within corporate communications, they are versatile tools for presenting updates clearly and interacting with employees. Digital signage can also be helpful in upcoming campaigns to increase the reach of internal communications.
Instant messaging 
Of course, instant messaging tools should not be missing in our article. Messaging tools are important to keep employees up to date with short-term updates. At the same time, they usually enable a more relaxed form of communication with the team than, for example, the e-mail, in which the salutation, the subject or a greeting formula are an integral part.
Group discussions can also be made easier and faster. A tool that is often used internally is Slack. It allows you to write messages privately, but also to create special threads depending on the topic. We at Cleverclip communicate on Basecamp, a project management solution with integrated instant messaging. You can create public topics, private "pings" or even group messages. 
Collaboration Tools
Especially due to the remote work culture, collaboration tools have become more and more important in employee communication. These are particularly suitable for joint project work, but also for recording progress and exchanging information internally with the team. The classic solution would be Google Doc, a cloud-based platform that enables real-time collaboration. It is free and offers a wide range of different formats, including spreadsheets, presentations and documents. Further tools would be Miro, Trello, Stackfield, Dropbox Paper or Monday. 
Team Bonding Tools 
Internal communication does not only include communication between managers and employees. The communication between each individual member is important to build the team spirit and corporate culture. This is where team bonding tools come into play. Such tools are especially relevant for remote companies to maintain the "water cooler effect". A popular tool for this purpose would be Donut, which promotes employee engagement and internal communication, but also enables joint online "hangouts". 
Video Chat Tools 
With Corona, "Zoom" has also become a buzzword – the video platform that showed undressed wives of CEOs and probably the most kitschy and messy rooms in our society. Just kidding, video tools are important for ensuring personal contact with employees, especially in the home office, and for communicating more complex issues. But not only remote companies can benefit from video tools. International meetings can also take place via video, not only to save time but also to protect the environment. Zoom is one of the best known platforms, but there are a number of others, e.g. Google Hangout, Skype or Whereby. 
Conclusion 
Meanwhile, there is a multitude of digital tools for effective employee communication. Which tool you should use depends entirely on your company. For example, larger companies with many employees will need different tools than small start-ups. Different tools should also be used for different purposes. As mentioned before, Messenger tools, for example, are used for quick information transfer. If your company is operating remotely, it is definitely worth integrating team bonding tools to strengthen the team spirit online as well. 
By the way, a few months ago we created a detailed overview with over 300 remote work tools. There should be something for all needs ;). You are not yet completely convinced about the digitalization of internal communication? Then check out this article. Maybe we can remove your doubts. 😉
For convenience purposes this post has been translated automatically.