The best remote work tools for more productivity
Almost everyone was sent home, "social distancing" became a new "social" trend and in the actual office there are already spider webs and dust mites – thanks to Corona. In other words: most of us work from home. Remote Work has long been a trend, especially in many start-ups, and can also offer decisive added value.
However, home office requires a slightly different approach than the one we know from working in the traditional office. Communication, leadership, teamwork, data security, time recording – basically everything is a little different. How can we set up a functional home office? How do we efficiently manage our communication, optimize the work processes, maintain the team spirit and even build a strong corporate culture? We find the answer to these questions in the right tools.
And what exactly are the right tools? You will find the answer to these questions in this blog post. This article serves as database of all the important tools in different areas and for different needs, which will make your remote work everyday life a little more pleasant. Let's get started…
1. Project/Taskmanagement Tools
ProofHub is a visual project management tool that helps teams to plan and organize any size of projects. With an orderly interface and emphasis on simplicity, it delivers a real time collaboration to increase accountability, communication and efficiency. Pricing is $45/ month. A free 30 days trial is available.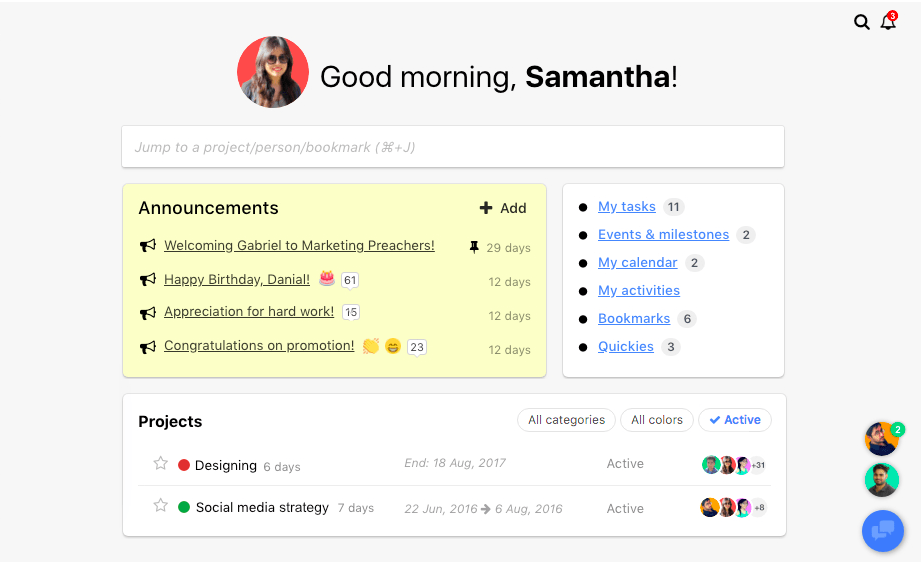 Basecamp is a real-time communication and project management tool that helps to set up to-dos, schedules, create and upload documents, files, message and chat with your colleagues, and check in regularly with your group—all in one place! Basecamp also lets you add your clients to specific projects or to create your own client-dedicated projects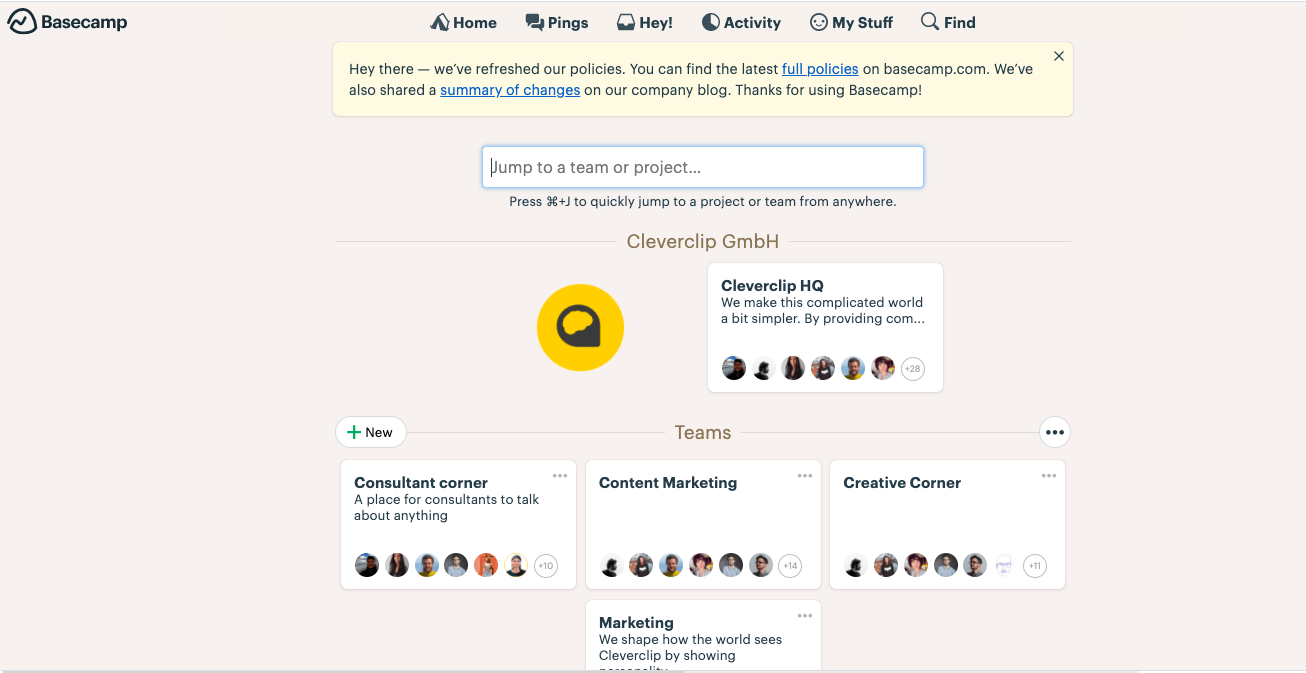 Instagantt is an online application designed to help teams create and manage projects using Gantt charts. Users have the ability to collaborate and share charts with internal and external stakeholders to ensure consistency throughout the project lifecycle. Key features include a drag and drop interface, dependency management, collaboration tools such as commenting, milestone tracking, tasks/sub-tasks, workload management, and detailed progress tracking. It also allows to export charts as Excel Spreadsheets, Google Sheets, or images. Starter prize is at $7/ month.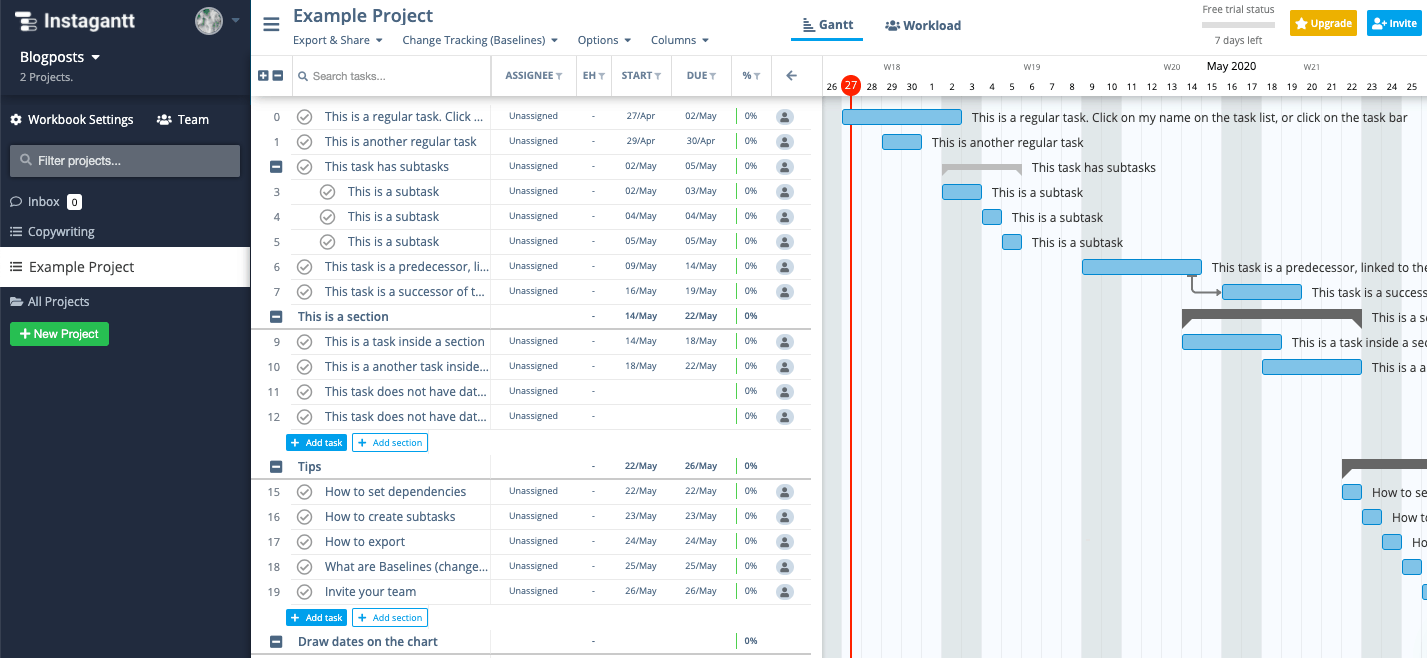 Todoist is one of the most popular to-do apps in the market today. It comes loaded with great features that help boost productivity as well as organize tasks and set schedules and deadlines. What makes Todoist so popular is the variety of apps and plugins for laptops, desktops, mobile devices, emails, and browsers. It also offers great and user-friendly collaboration as users can easily communicate and work on tasks, increasing productivity and improving output in the process. There is a free version, however with limited features only. The premium account is available for $29.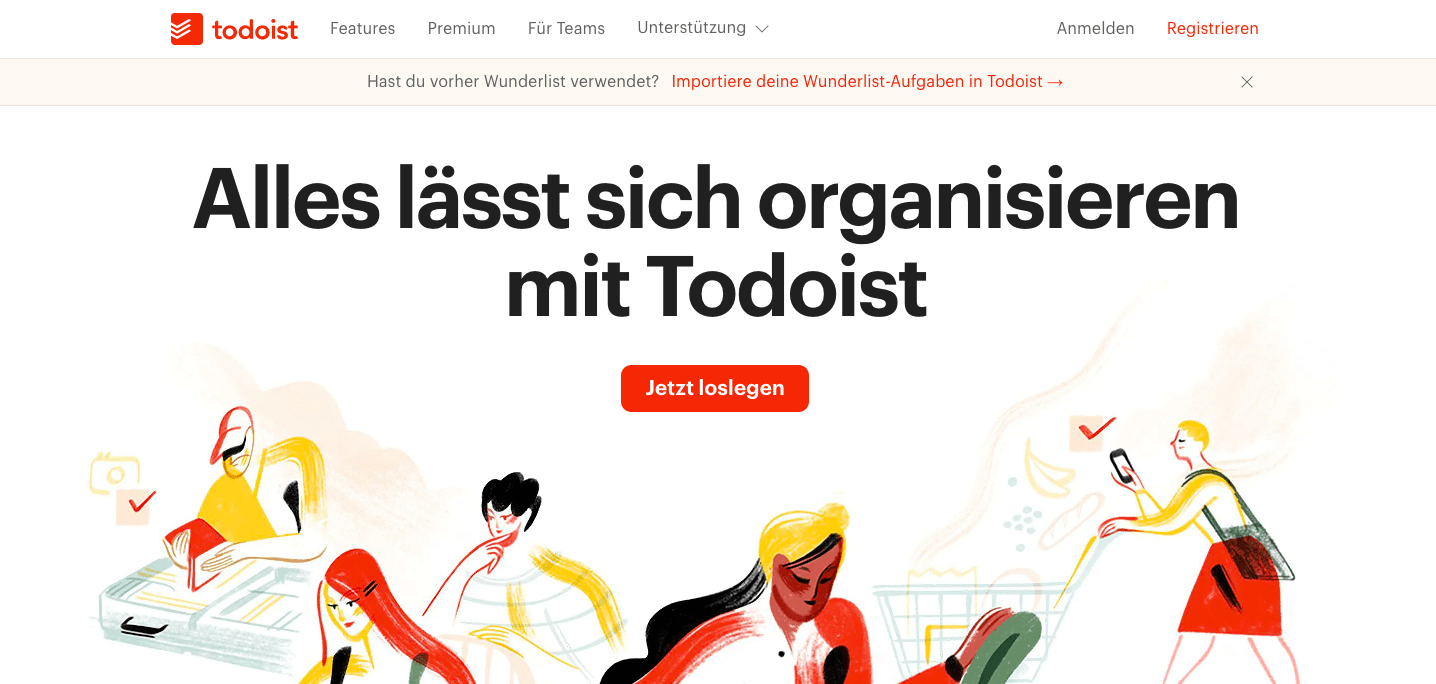 Teamwork is a work and project management tool that helps in-house & remote teams improve collaboration, visibility, accountability and ultimately results. The basic price starts at $9/ month.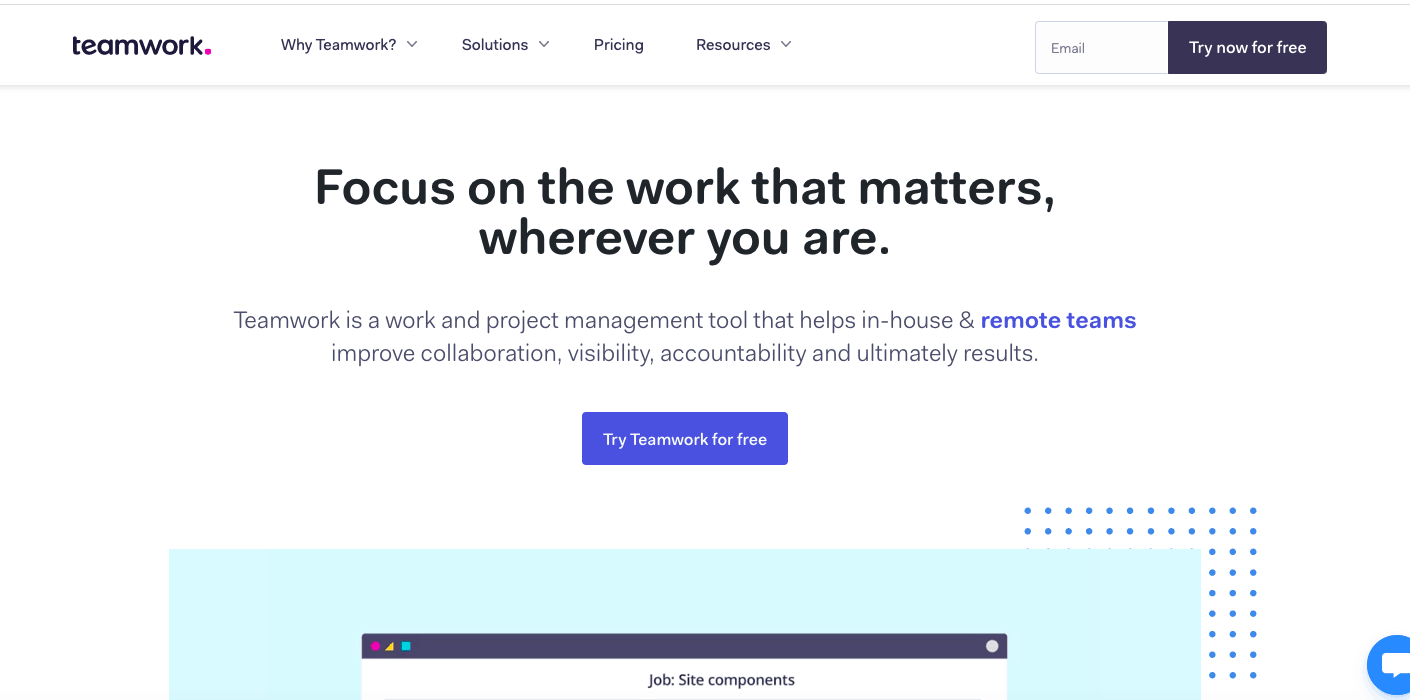 Evernote is an organization tool or note app that helps you collect, organize, and find notes, documents, and photos in a variety of formats. All files are automatically captured and a rich structure is enabled by tags and folders. There is a free basic version, a plus version for €30/year and a premium version for €60/year.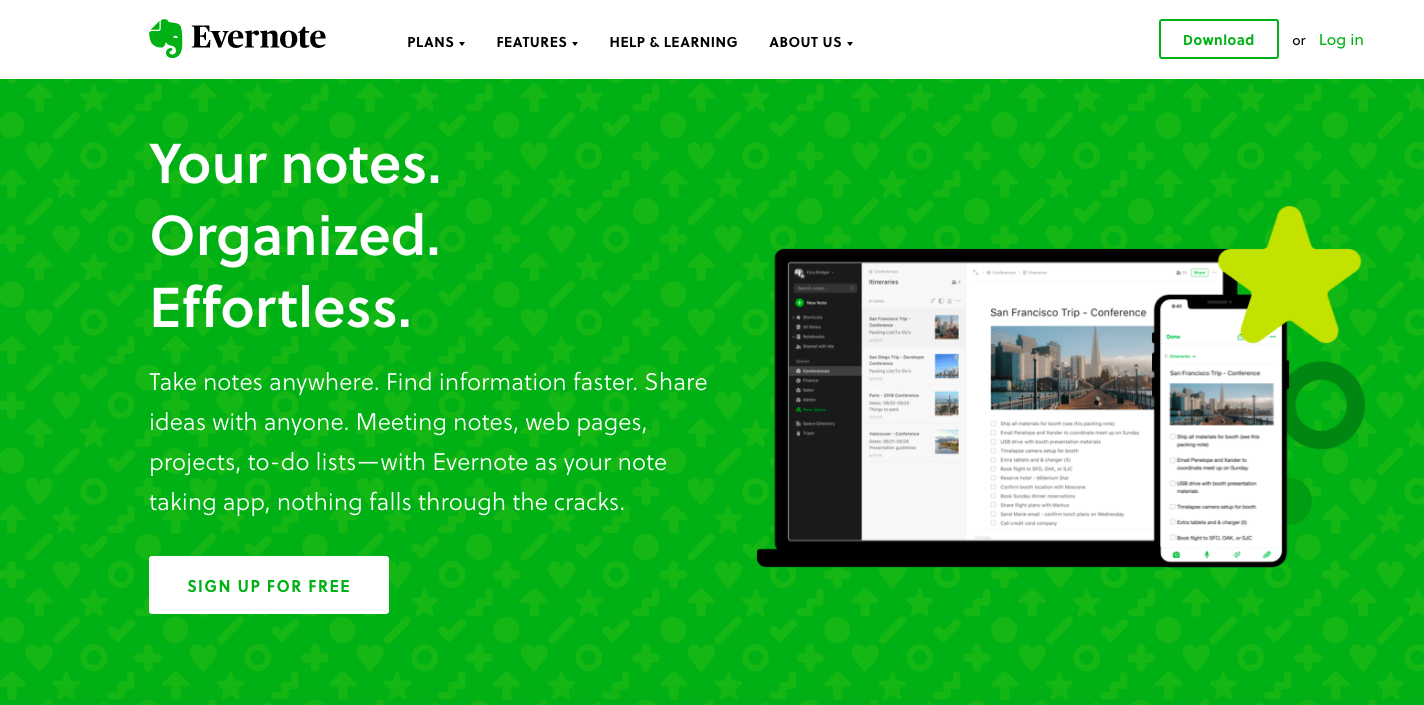 JIRA was originally a program purely for tracking and fixing bugs. However, Jira has evolved into a powerful task management tool used in a wide variety of use cases, from requirements and test management to agile software development, issue tracking, and project management. The software costs $10 for 10 users.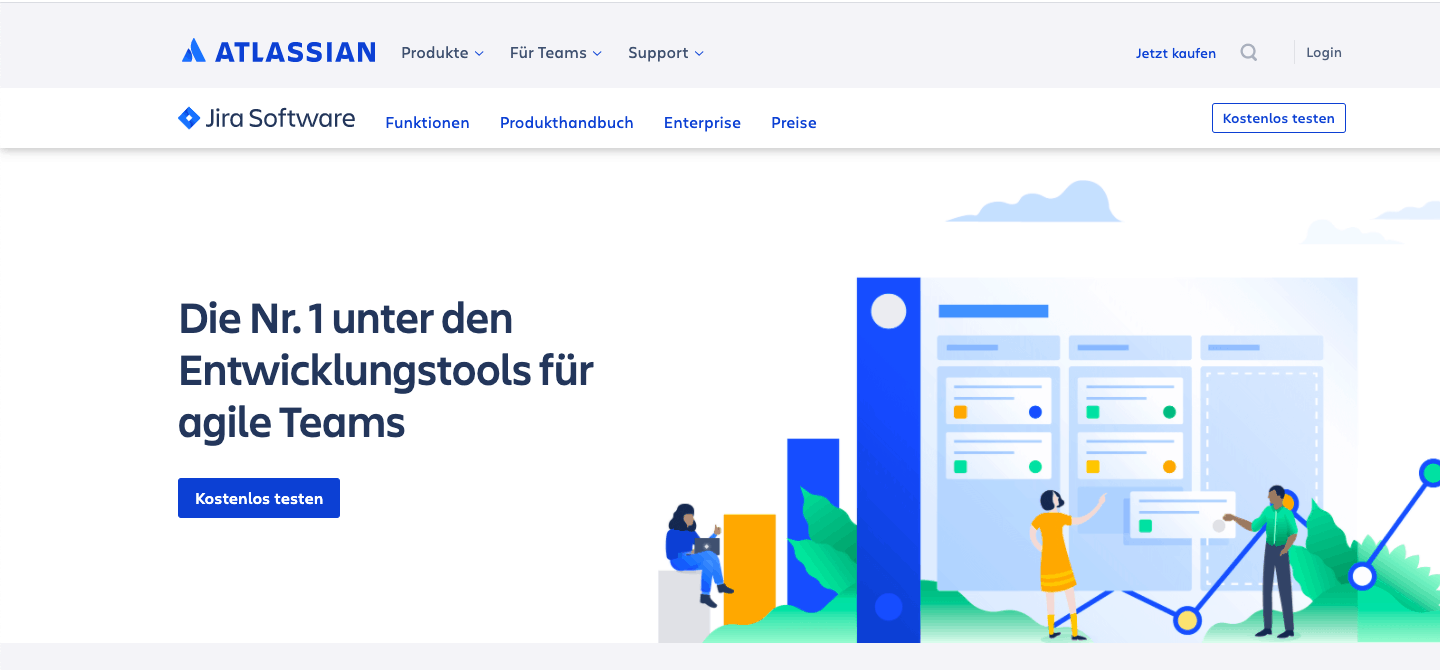 Asana is a task-management application developed for a more effective use of collaboration within an organization .The main features of Asana is the ability to create a comprehensive list of tasks, share details on actions that are required and set deadlines for the whole project. This allows everybody to have goals assigned to them and allows the team to work in one common direction.Asana offers four plans, a free Basic version and three paid options: Premium ($10.99/month), Business ($24.99/month), and Enterprise (custom).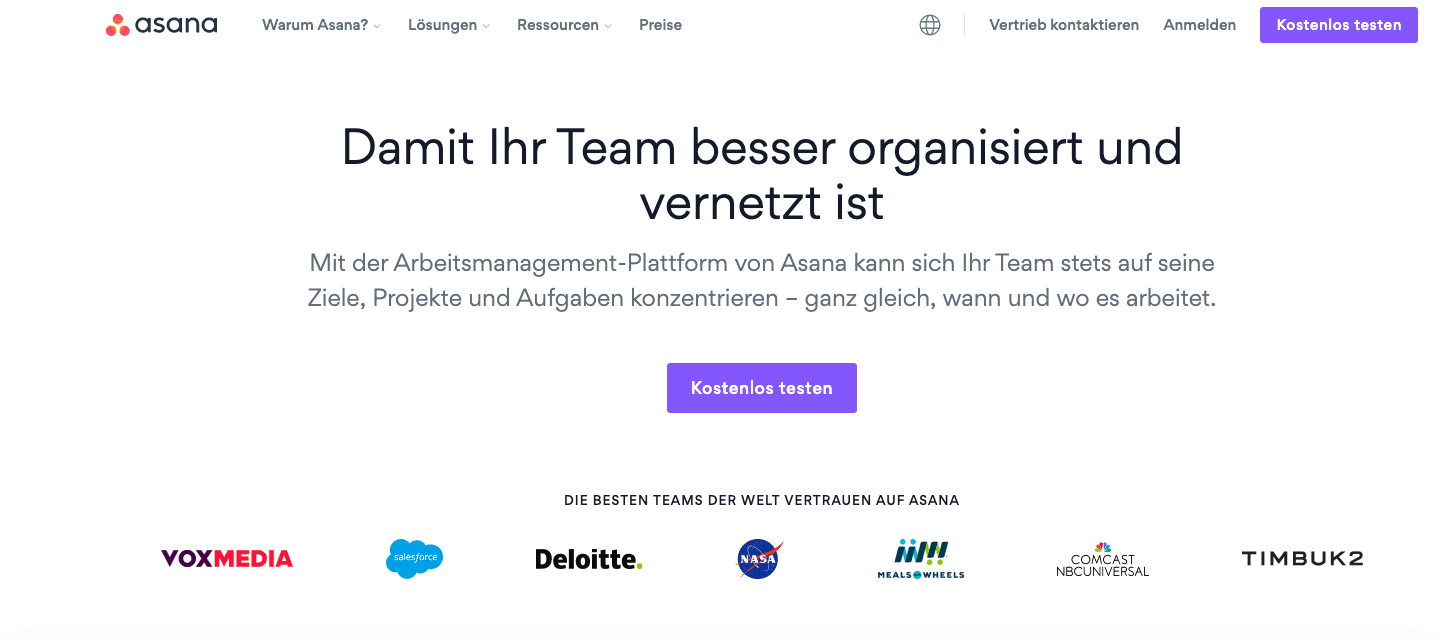 Pivotal Tracker is a collaborative project management platform designed specifically for software teams and supports agile methods. Tracker visualizes the projects in the form of stories (virtual maps), which break down the work flow into parts and thus make meetings and individual steps much clearer. A free 30-day trial version is available.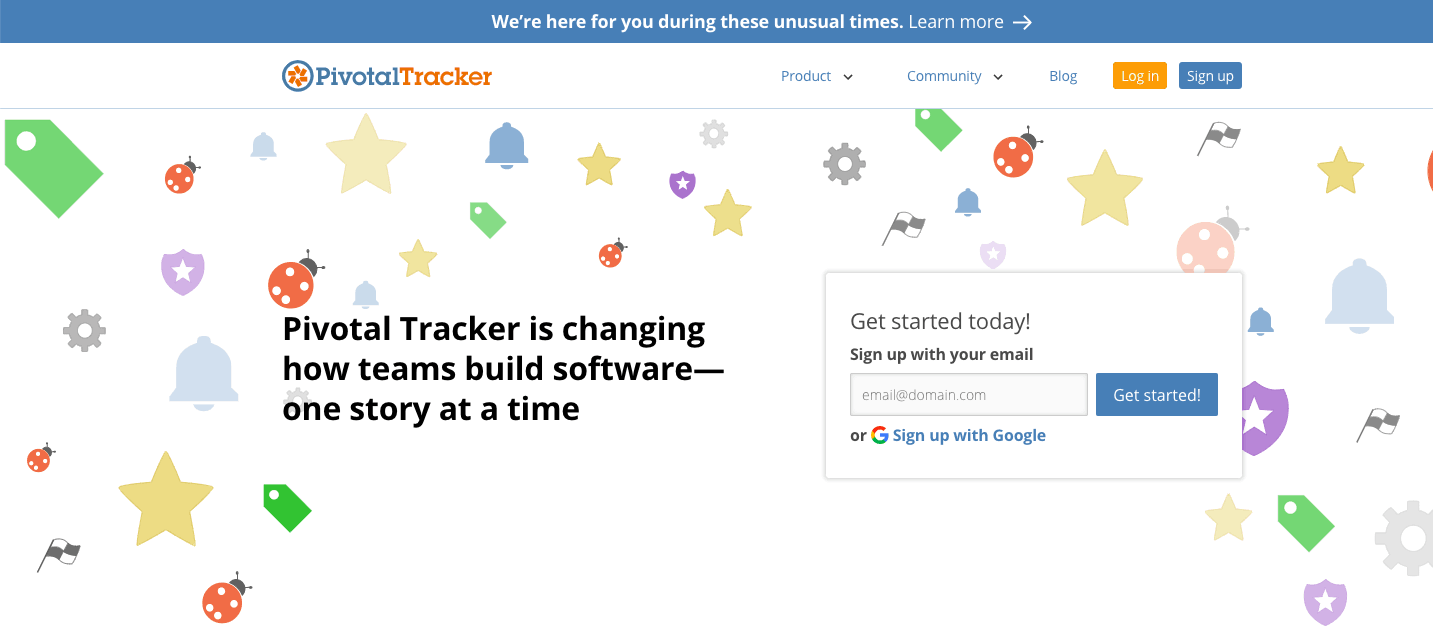 Trello is a collaboration tool that organizes your projects into boards. It as an easy-to-use and affordable application, which offers a highly visual approach to time and project management, allowing you to move cards around to see at a glance what needs to be done and when. Trello pricing starts at $12.50 per month, per user.A free version is available, as well as a free trial.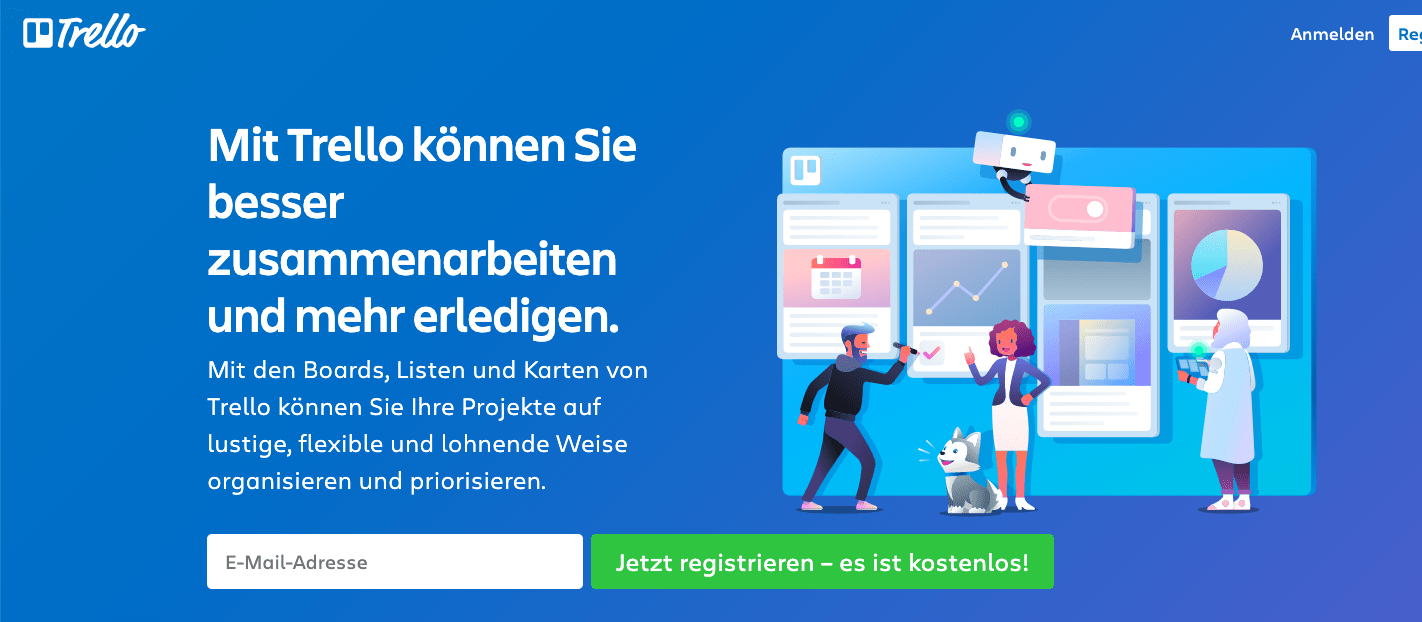 Wrike is a project management and collaboration tool to get teamwork done quickly and efficiently. Using special features it allows you to simplify and optimize project procedures, the communication and workflow. Wrike offers a variety of price packages, depending on individual needs and company size.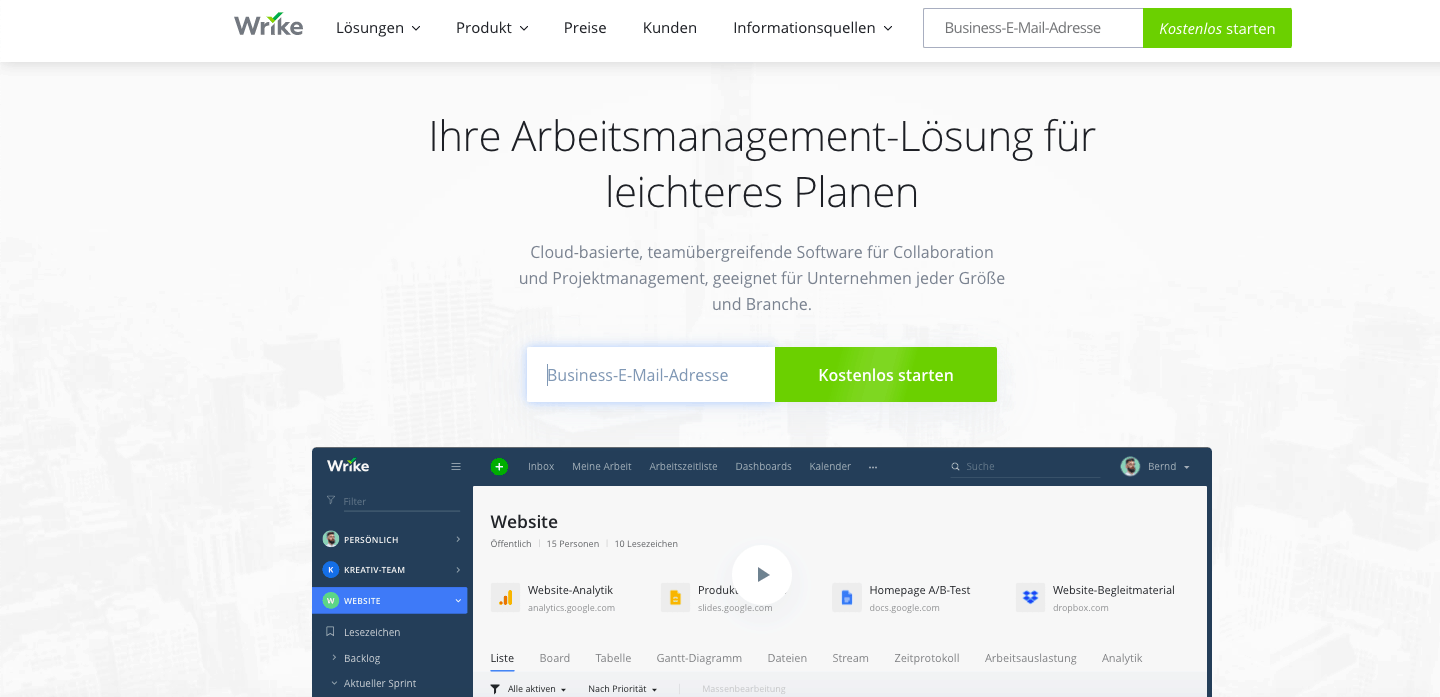 I Done This is an agile task management tool that allows users to synchronize teams and increase productivity through daily status updates, progress tracking and reporting. Daily check-ins allow teams to easily communicate task and status updates. The basic package is available from $9/ month..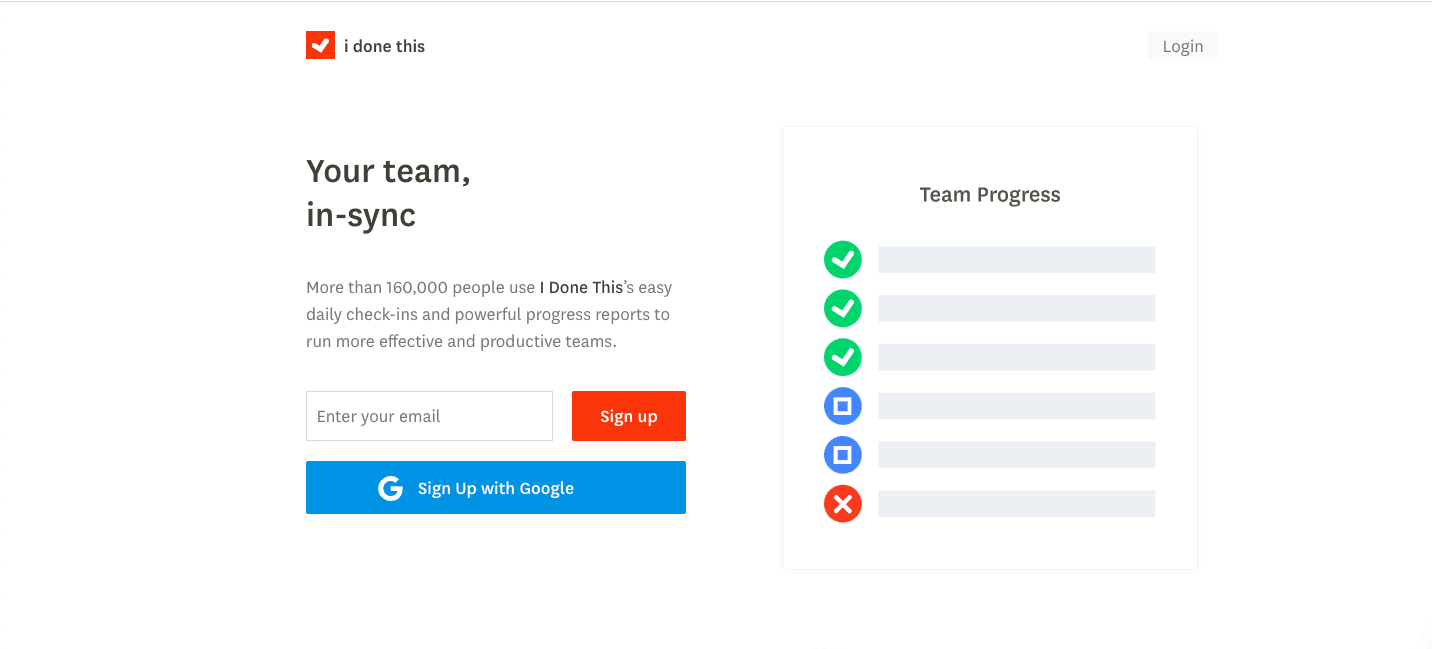 WorkFlowy is a cloud-based organizational tool that enables users to create and share lists: personal to-dos, notes, team projects, research papers, and many more. Its simple and minimalistic interface makes it user-friendly. It is free to use for up to 100 items a month.The Pro version is priced at $50 per year and includes unlimited lists and items.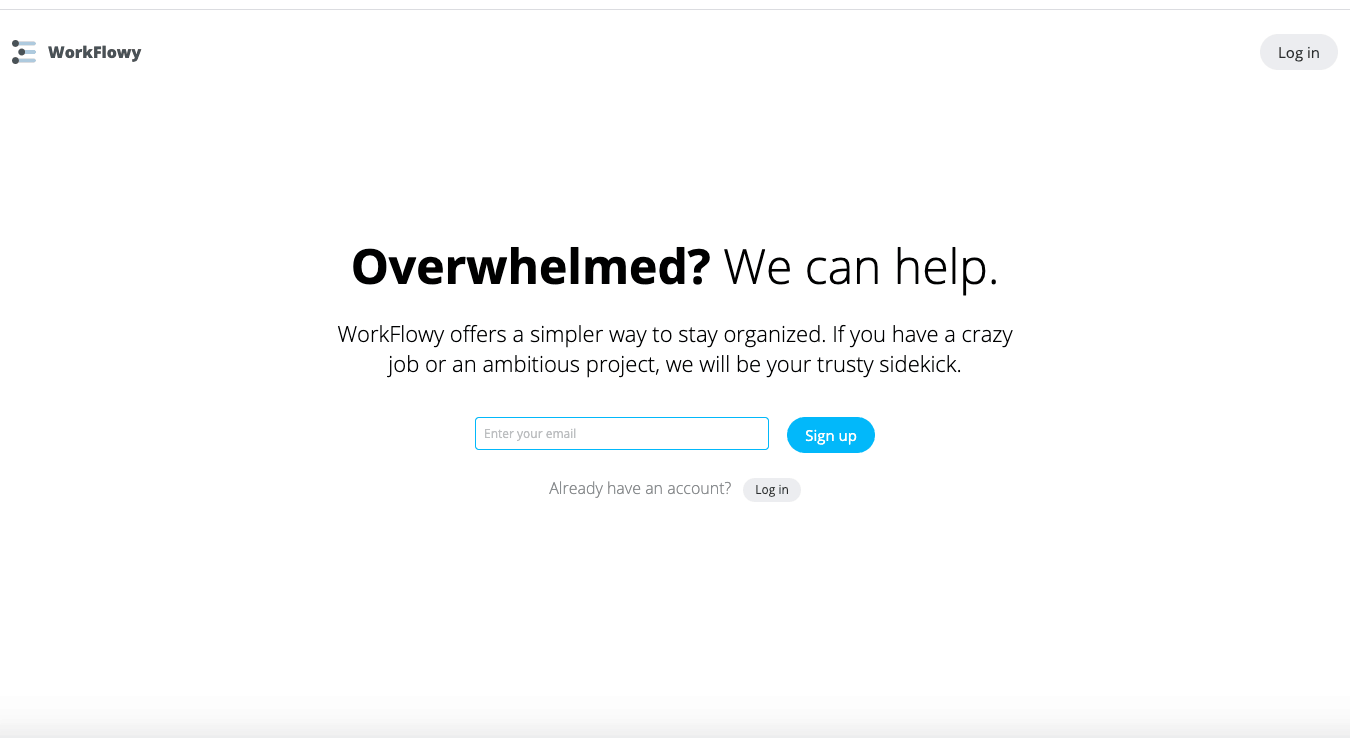 Smartsheet's intuitive online project management app is used broadly across organizations to track and manage diverse types of work for teams large and small, from enterprise companies to SMB's.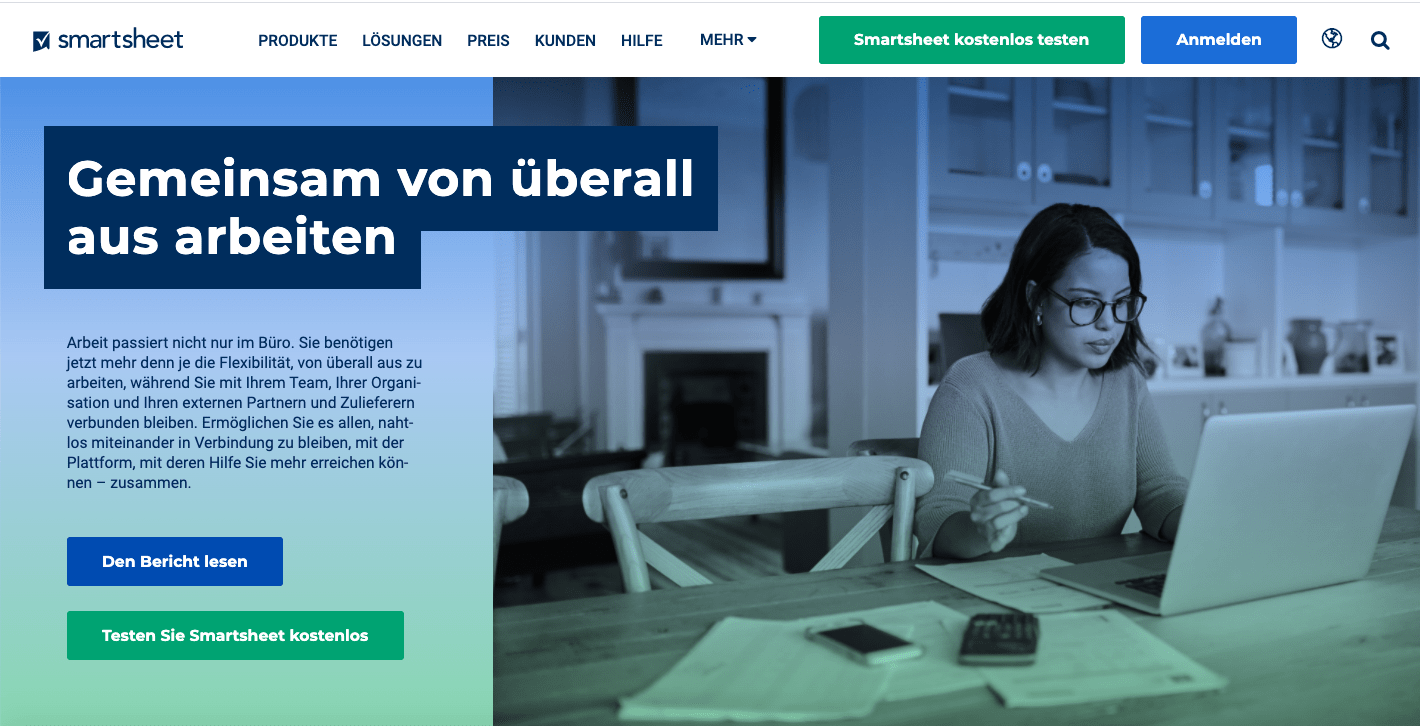 An award-winning project management tool, helps teams plan together efficiently and execute projects that deliver results on time. Its ease of use and flexibility means fast onboarding for your team and the ability to manage your work your way.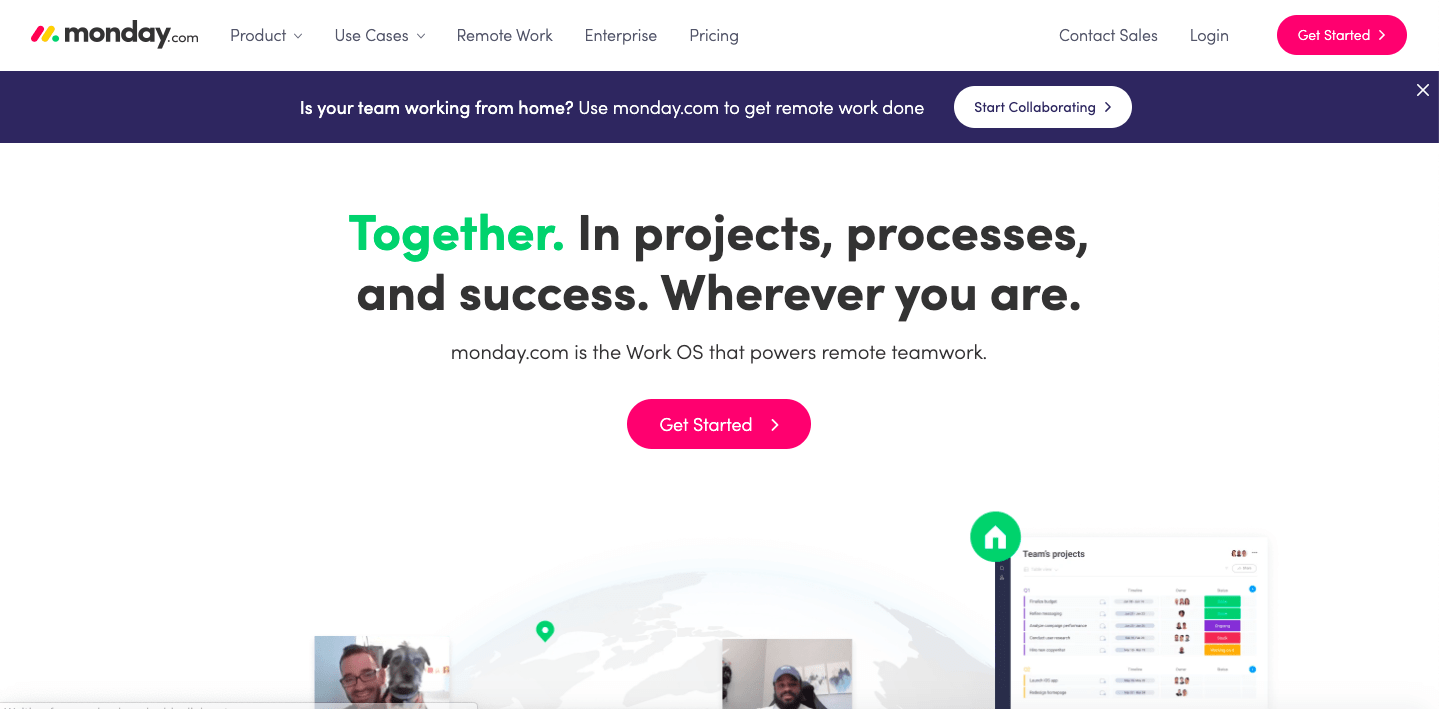 Citrix Podio is the new way to organize, communicate and get work done. Podio speeds communication and provides the transparency and accountability needed for efficient teamwork, by enabling people to organize and track work in one easy-to-use place.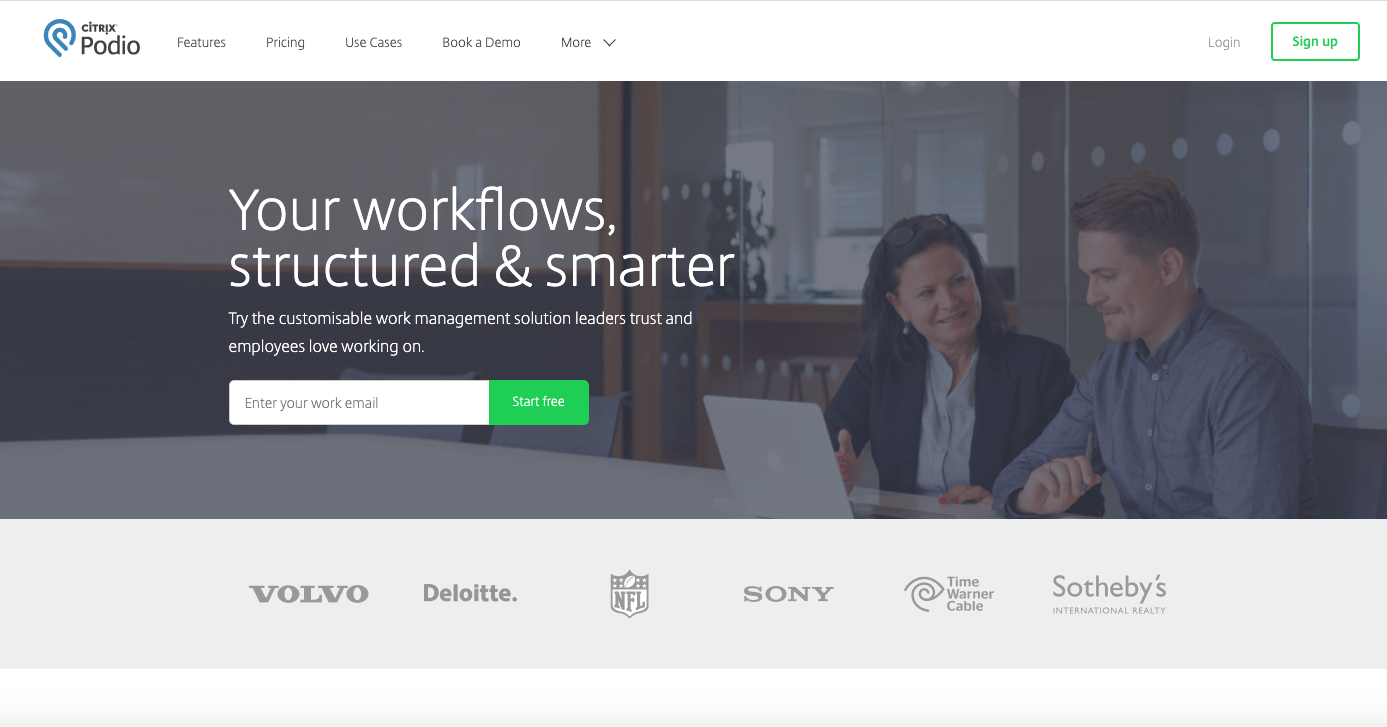 Backlog is the all-in-one online project management tool for task management, version control, and bug tracking. Plan work, track progress, and release code updates right in Backlog. Core features include subtasking, custom statuses, file sharing, Gantt charts, burndown charts, Git & SVN, and wikis.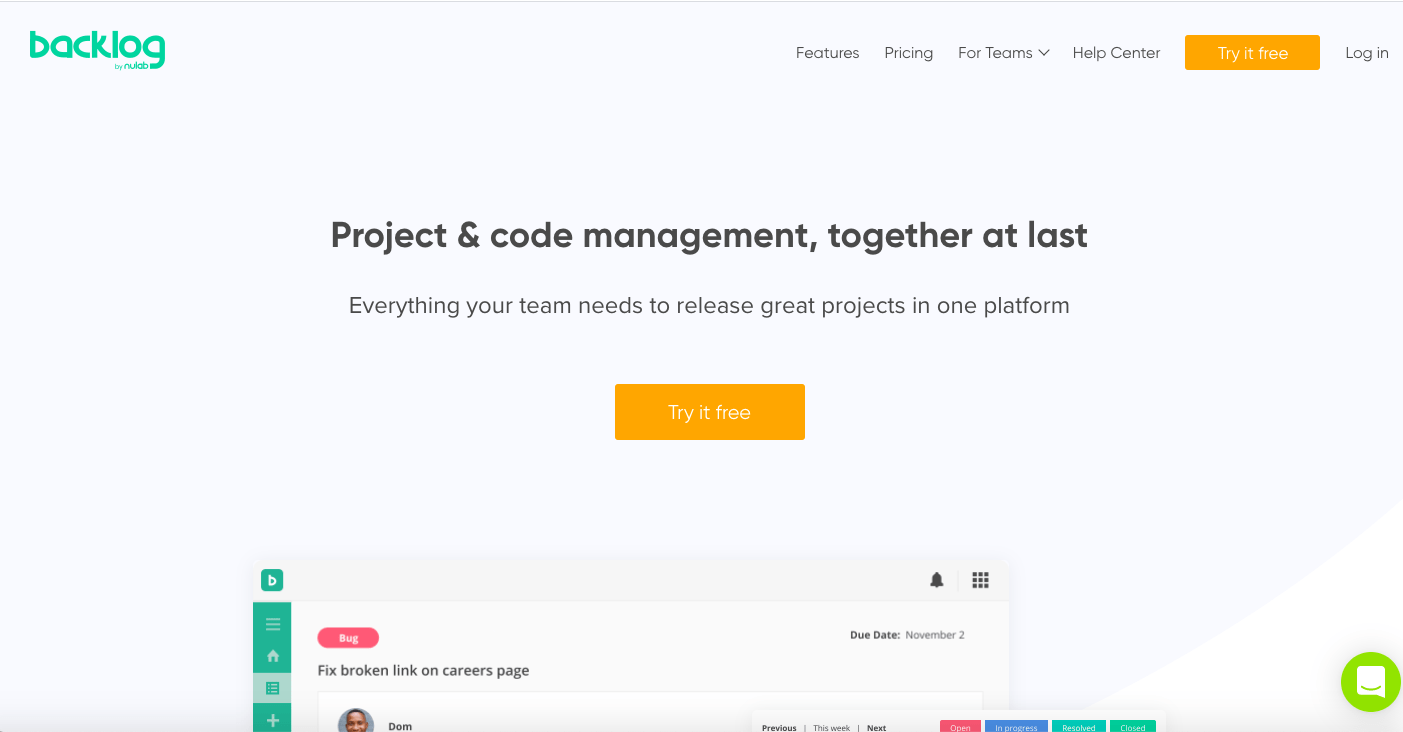 WebEx Meeting Center offers integrated audio, video, and content sharing. Keep conversations private with highly secure WebEx meetings from the Cisco Collaboration Cloud.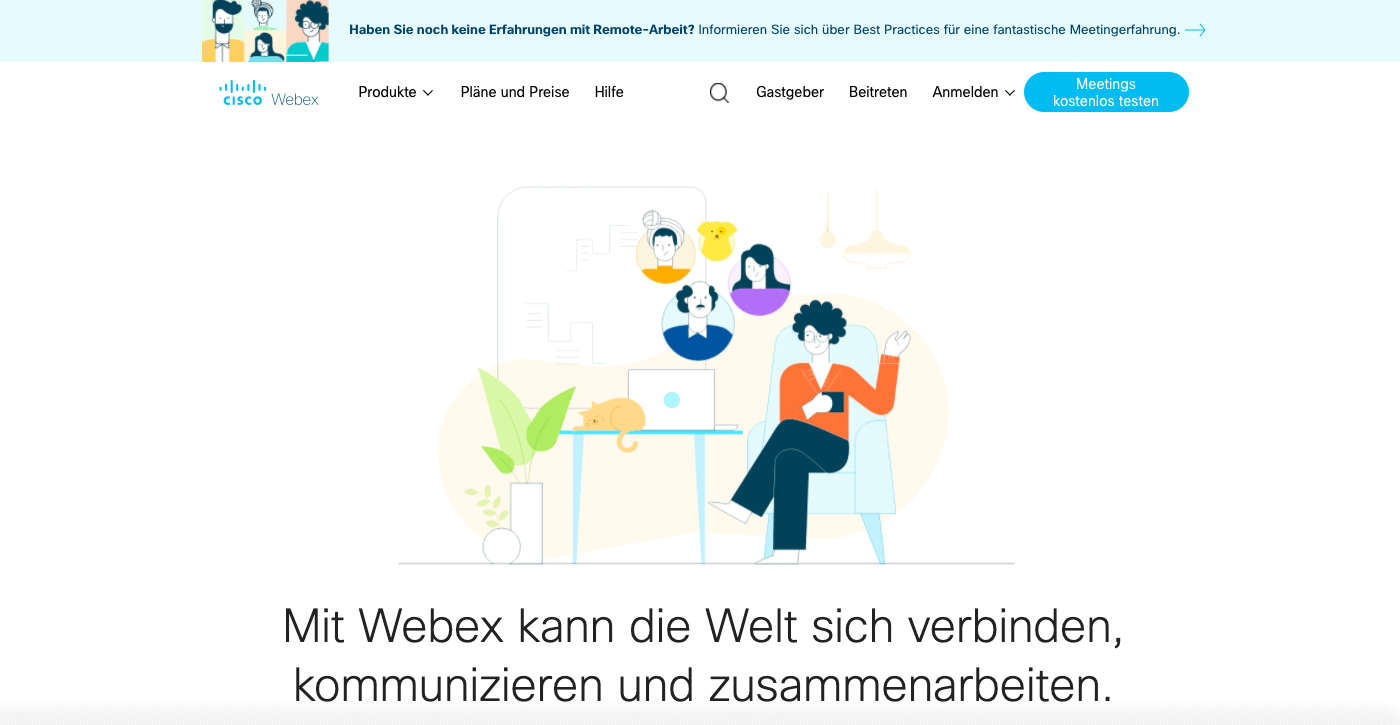 Cloud-based and on-premise project management solution that allows firm of all sizes manage notes, tasks, projects, databases and more.
Project management & task collaboration tool that combines documents, spreadsheets, checklists, and chat in one experience.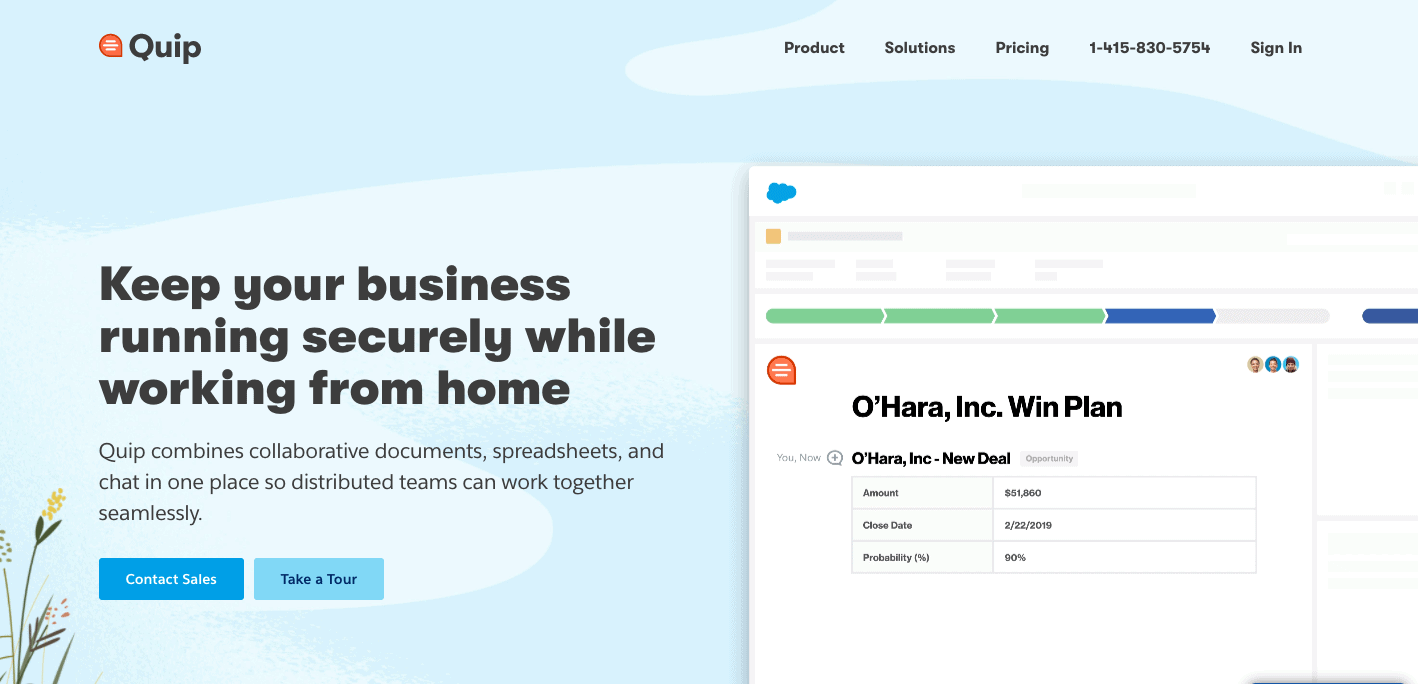 Workfront is the first modern work management platform to orchestrate all work in one place. Process meets reality in project-based task lists that intelligently and automatically feed valuable metrics into executive reports and dashboards. In addition to task management and visibility, Workfront helps streamline requests, plan and prioritize projects, manage processes, and digitally review assets.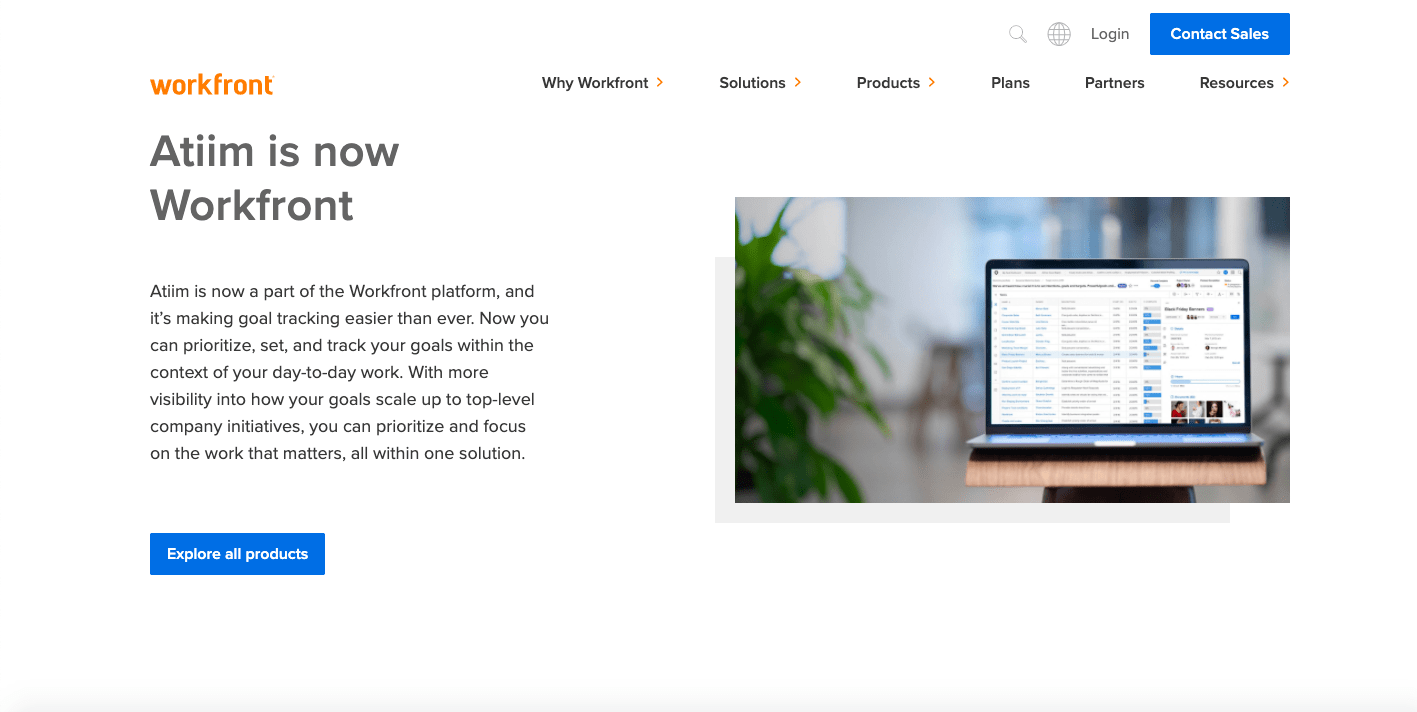 MeisterTask is the most intuitive task management tool on the web. Its flexible project boards perfectly adapt to your team's workflow, whether you're a programmer working with sprints, a marketing team using the Kanban system, or an event manager looking for some simple but powerful task lists.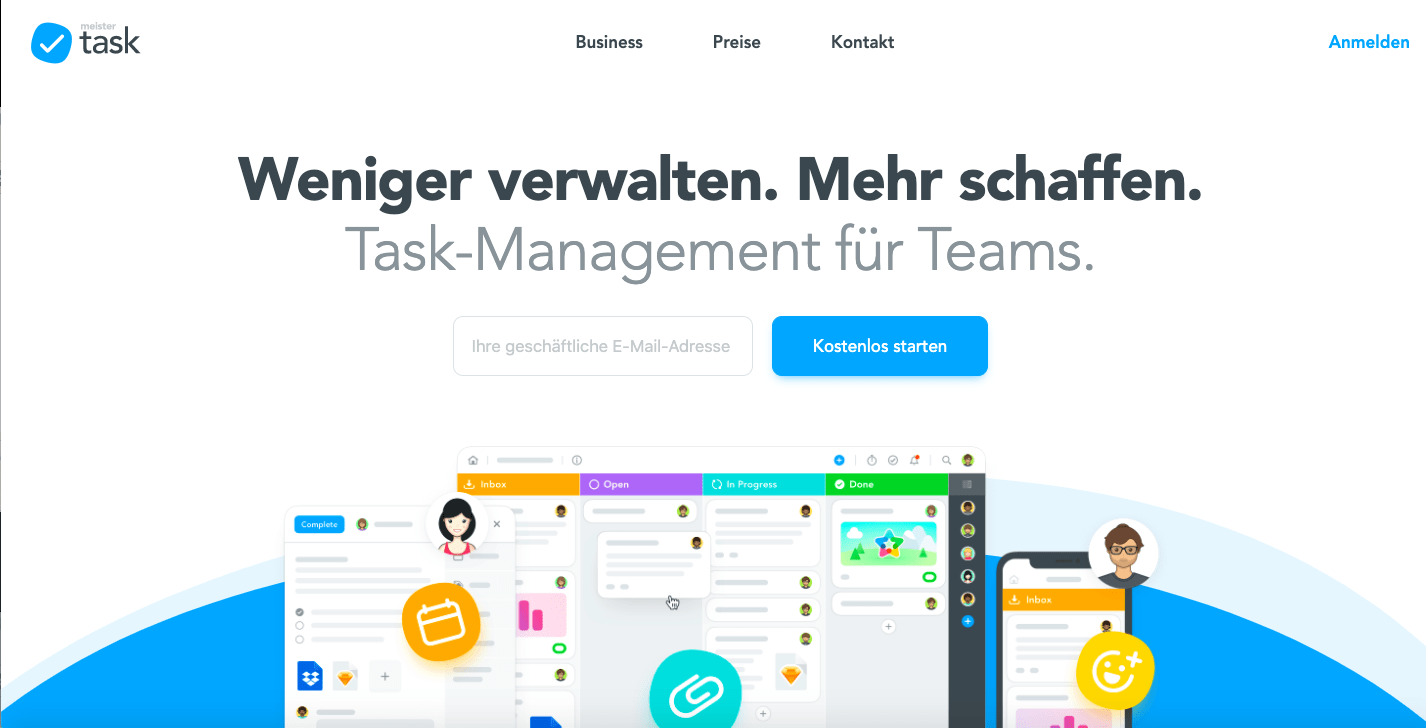 ClickUp is one app to replace them all. It's the future of work – where anyone can work on anything. More than just task management – ClickUp offers docs, reminders, goals, calendars, scheduling, and even an inbox. Fully customizable, ClickUp works for every type of team, so all teams can use the same app to plan, organize, and collaborate.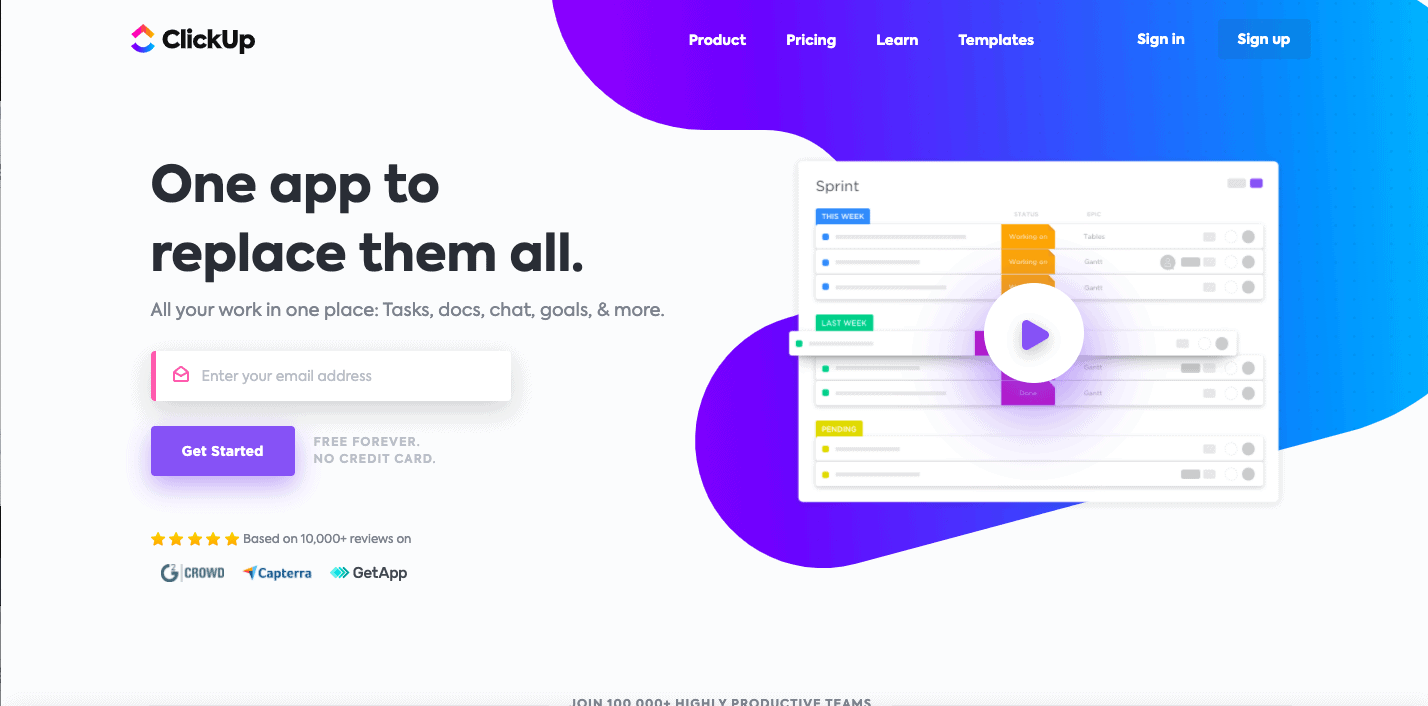 Taskworld is the easiest way for teams to keep track of work. It packs visual task management, project planning and team messaging into one robust app.
Project management for agencies and in-house creative teams. Project templates allow you to create accurate estimates and schedules. Route estimates to clients for approval, send quote requests to vendors and manage schedules with multiple target dates with dependencies and creative briefs.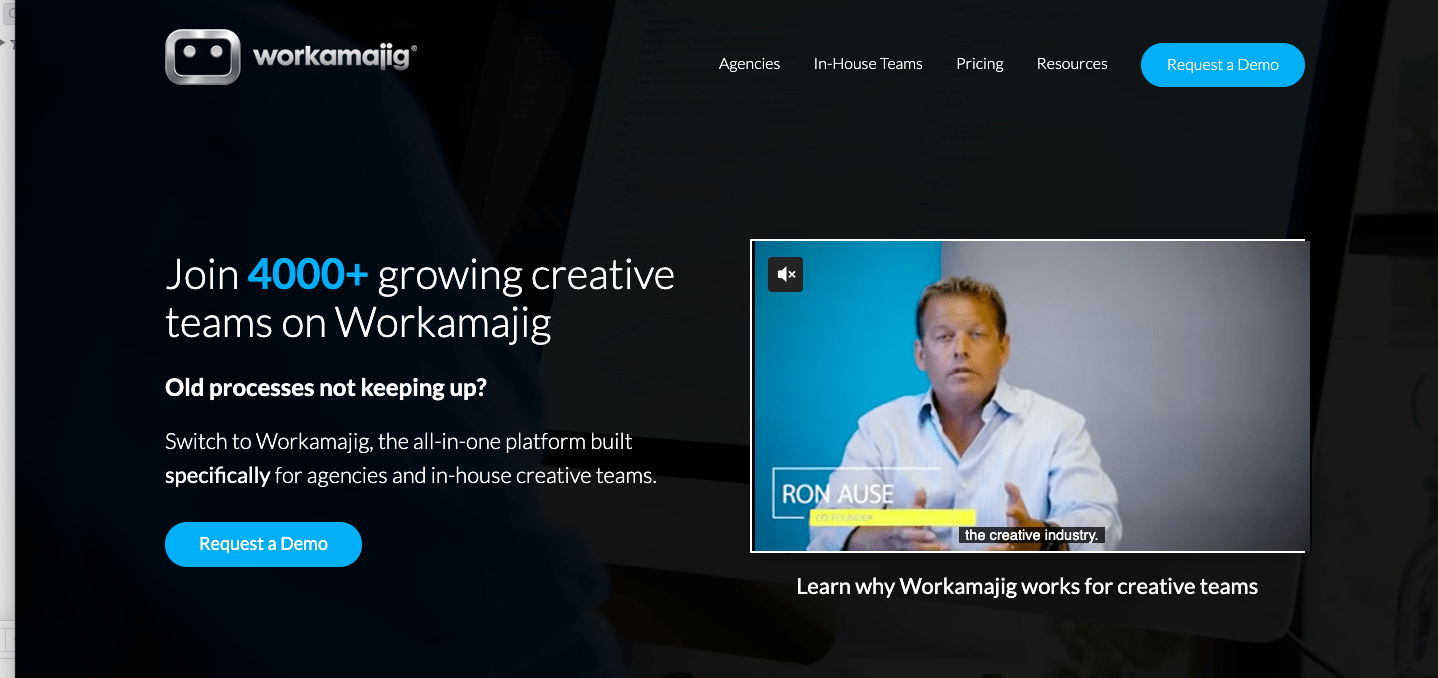 Project management app combining a simplicity of a to-do list with speed and versatility of communication tools like email or chat. There is a 30-day trial period, after which the tool costs 10 € per month.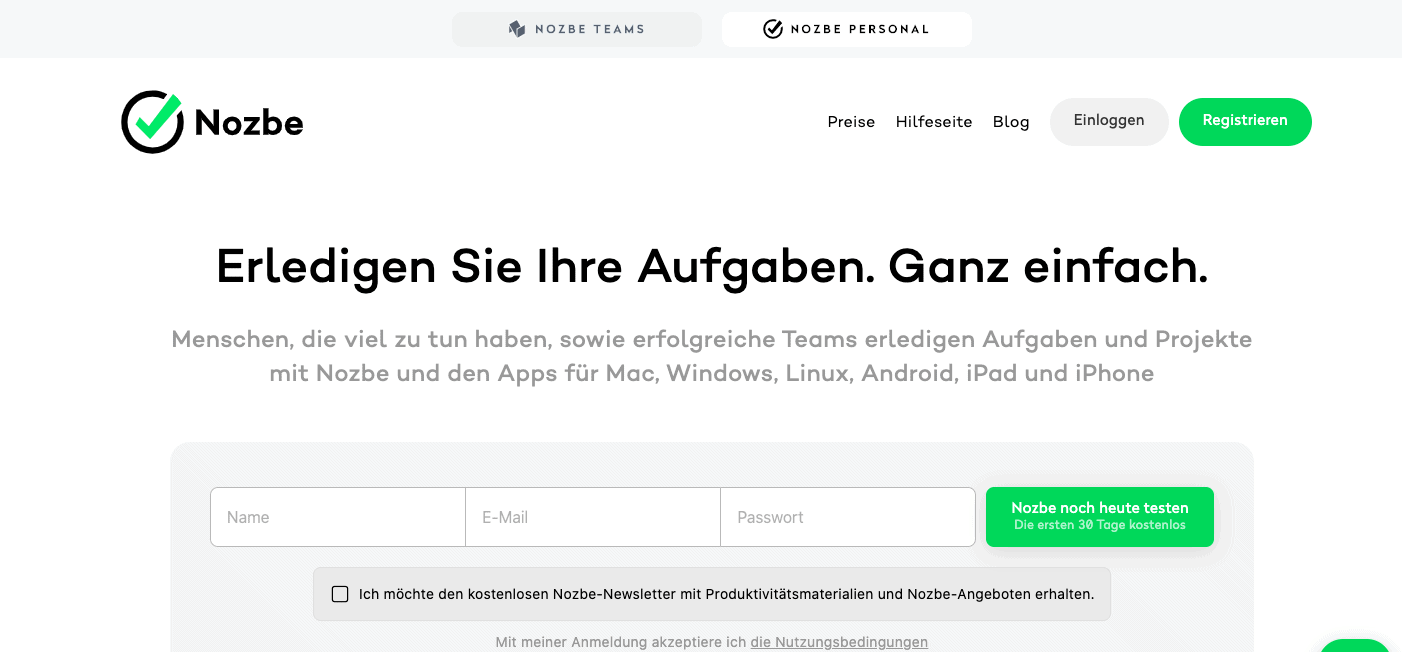 ZenHub is an agile project management solution for GitHub developers that provides project visualization, sprint planning, and actionable reporting technology. It includes task boards, slack integration, workflow customization, multi-org support, estimates and epics (Source: tapp.de).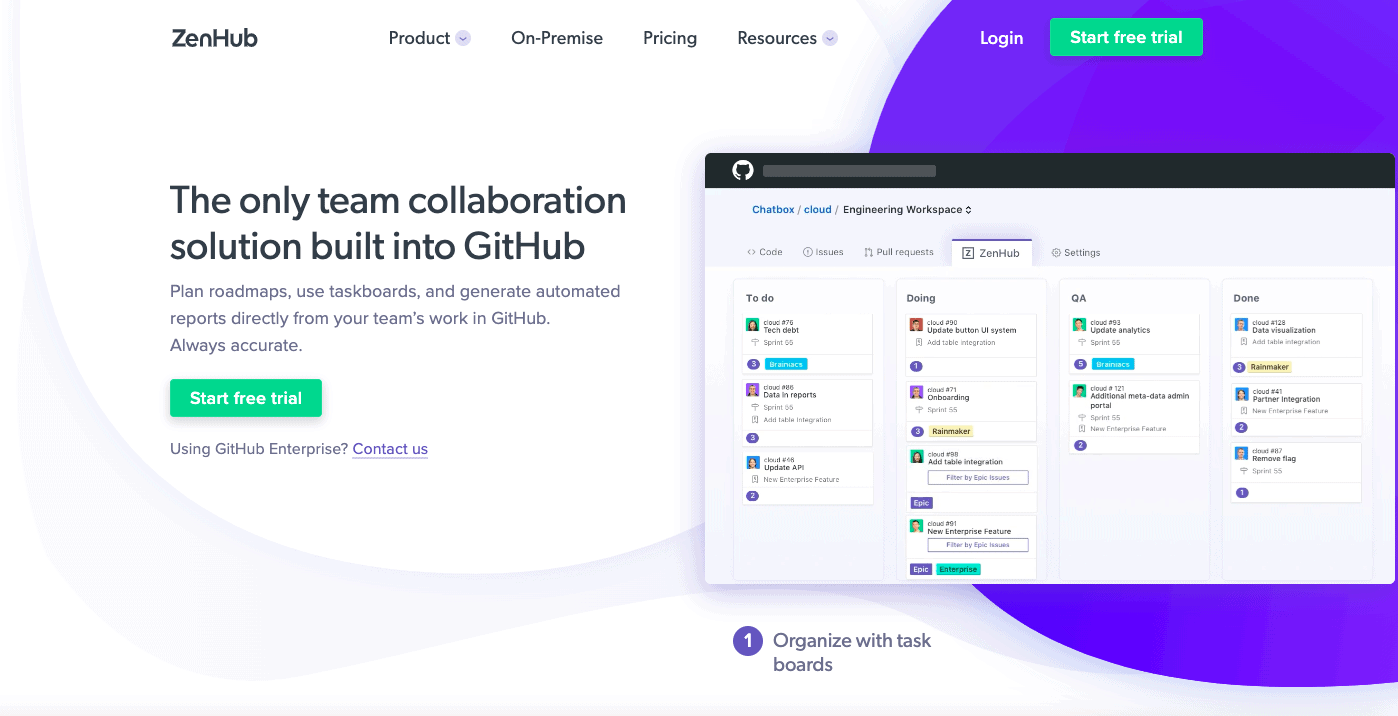 Kissflow is the Workflow Software which includes complete Process Management. Kissflow is a no-code digital workplace where anyone can create an automated process, build a project board, handle a case flow, and collaborate on work topics, all in one intelligent and easily integrated platform.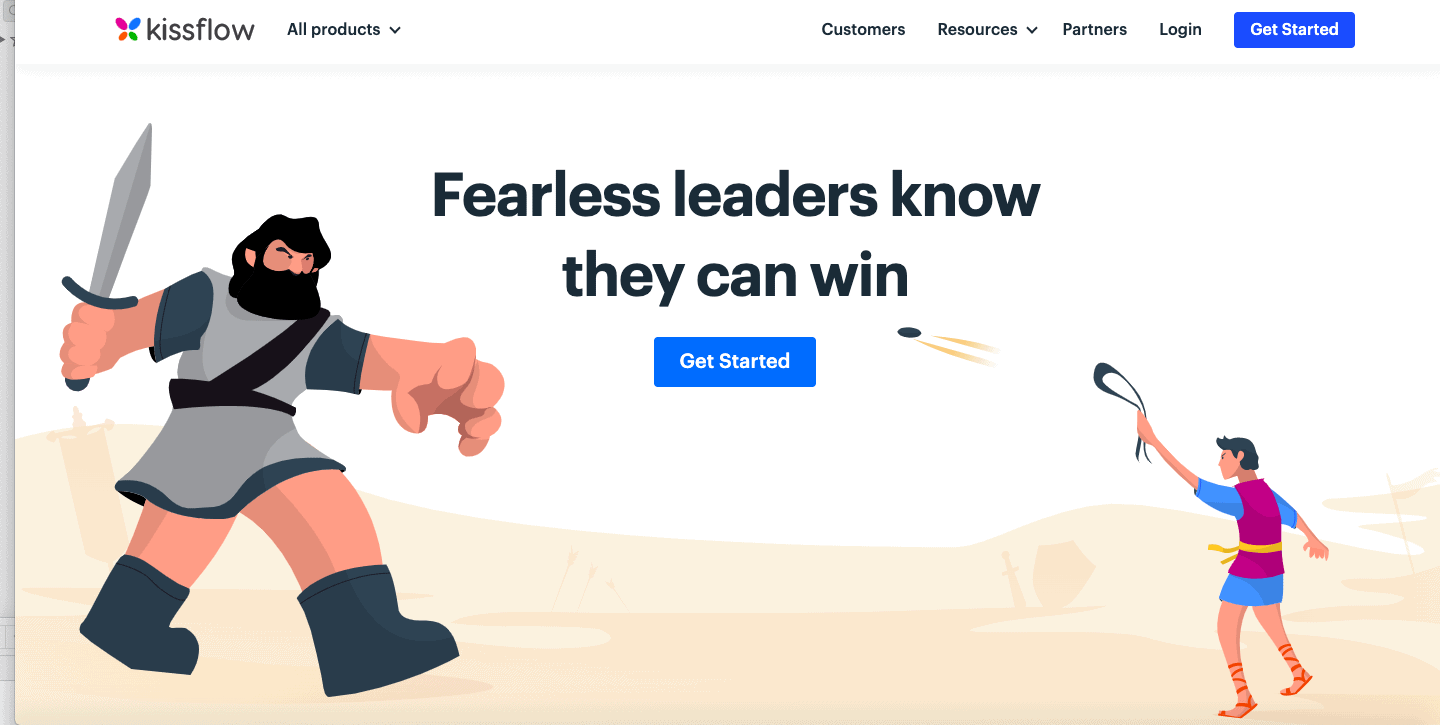 Marketing and design teams have unique workflow challenges that traditional project management alone can't solve. Built for creatives, inMotion provides project management integrated with online proofing and projects requests – to build the flexible and scalable processes that creative teams need to get content to market faster.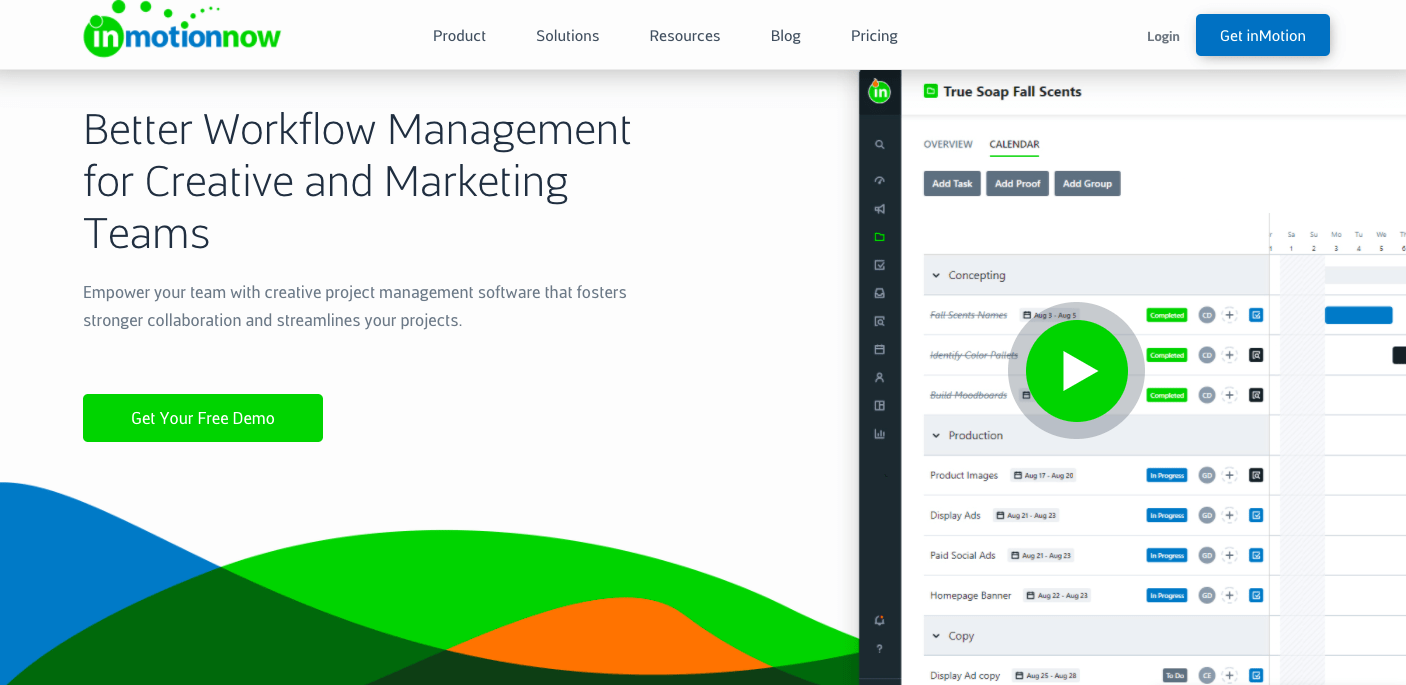 Paymo is a modern and intuitive project management application for project-based businesses and freelancers that bundles advanced task management, planning, scheduling, time tracking, collaboration and invoicing. This means that you can keep track of the entire lifetime of a project – from creation until getting paid – without having to use and pay for several apps.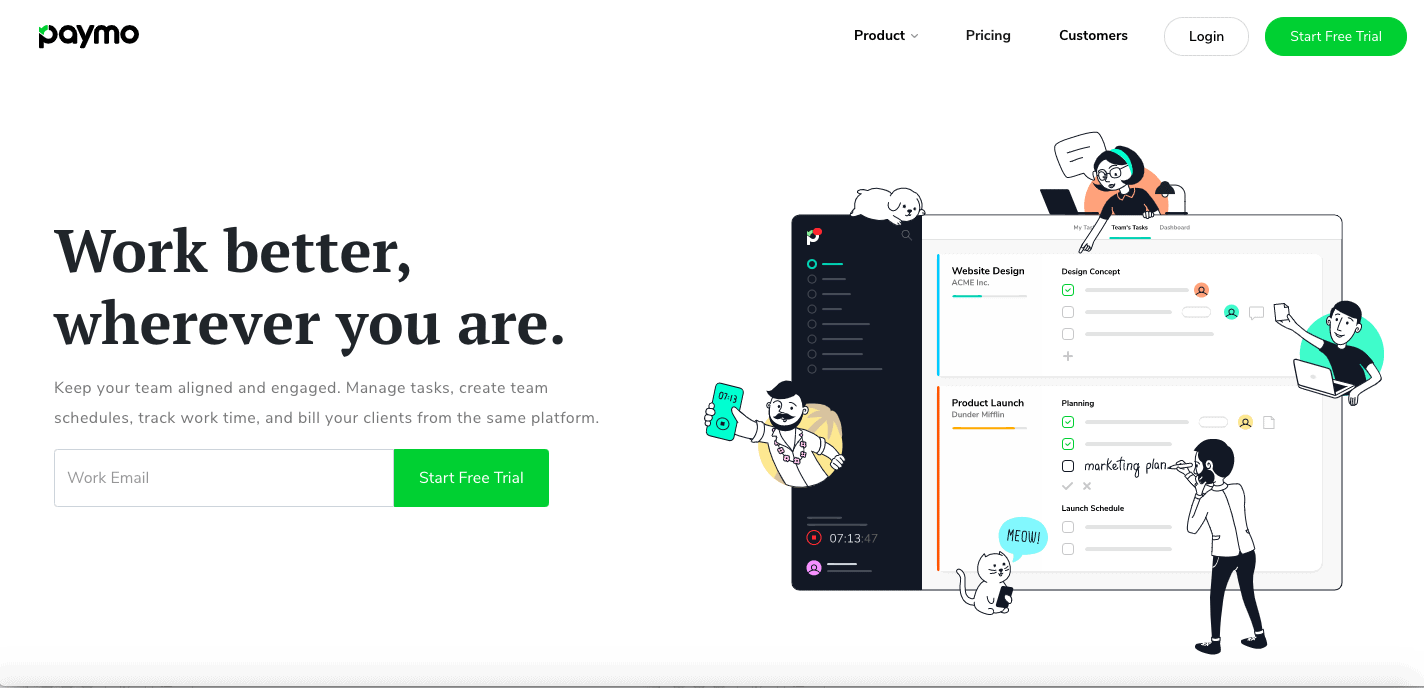 Easy-to-use visual planning tool for project management. Plan tasks on a timeline and understand what your workflow will be like next week, month or year.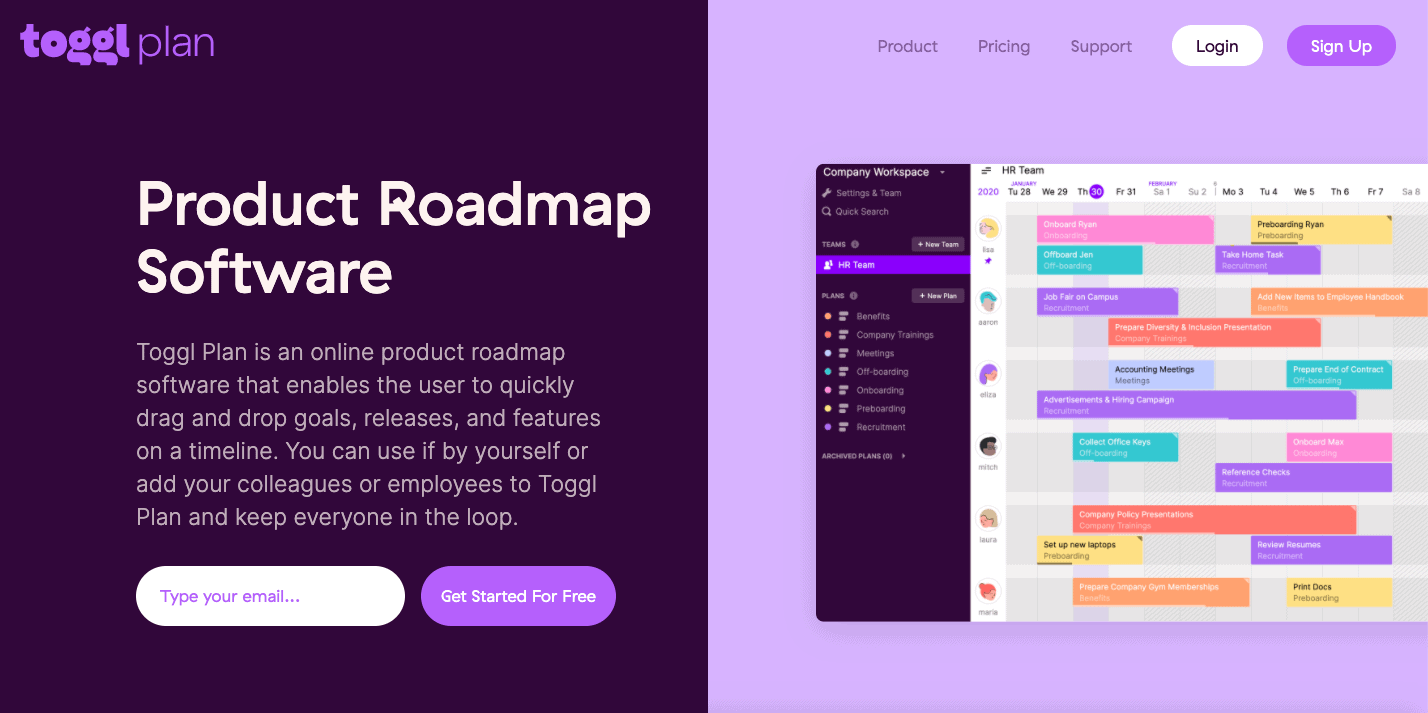 FunctionFox is a very popular software especially among Creatives. FunctionFox is a project management and time tracking tool that allows you to manage multiple projects, forecast workload and create comprehensive reports. At the same time it enables efficient internal communication with other team members. FunctionFox does not offer a free version, but a free trial version. The paid version of FunctionFox is available starting at 35,00 $/month.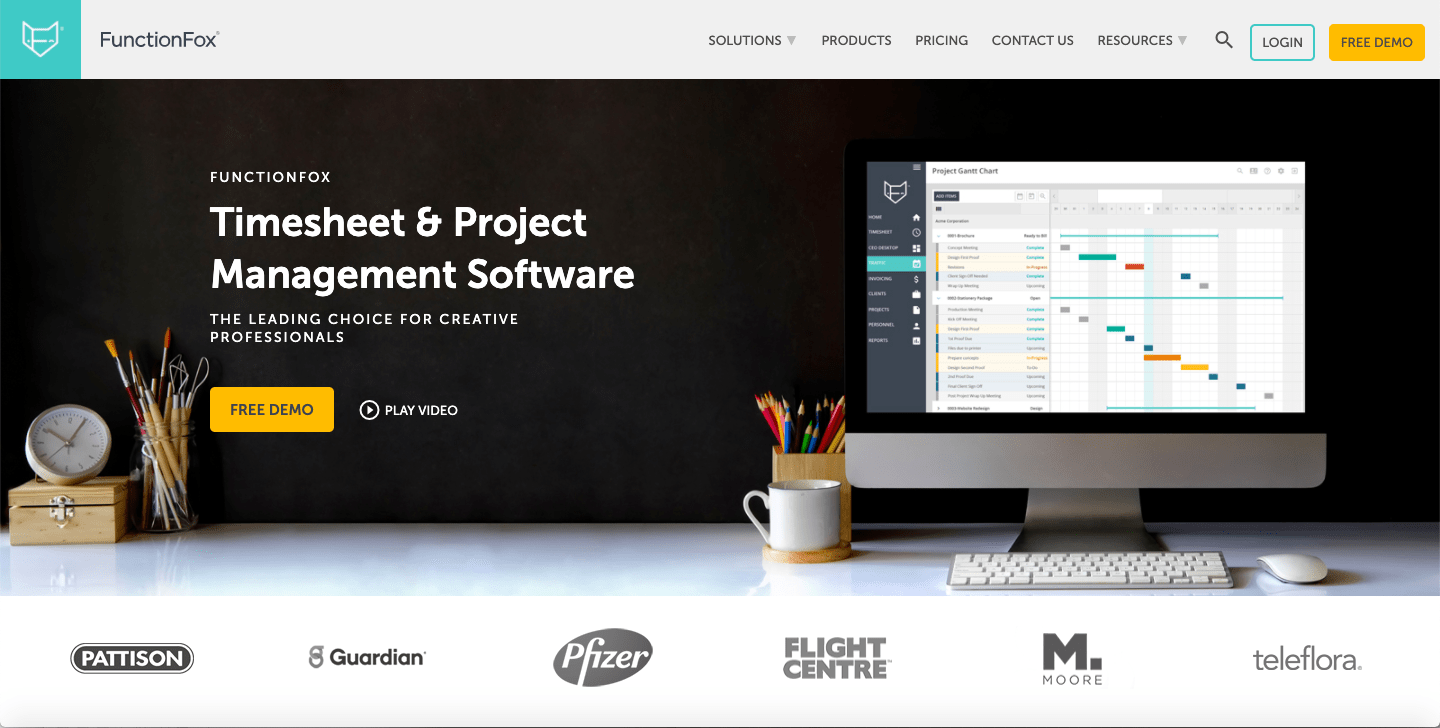 From making checklists to managing projects, collaborating with project teams, scheduling meetings, sharing files and more, nTask lets you do everything using just one tool.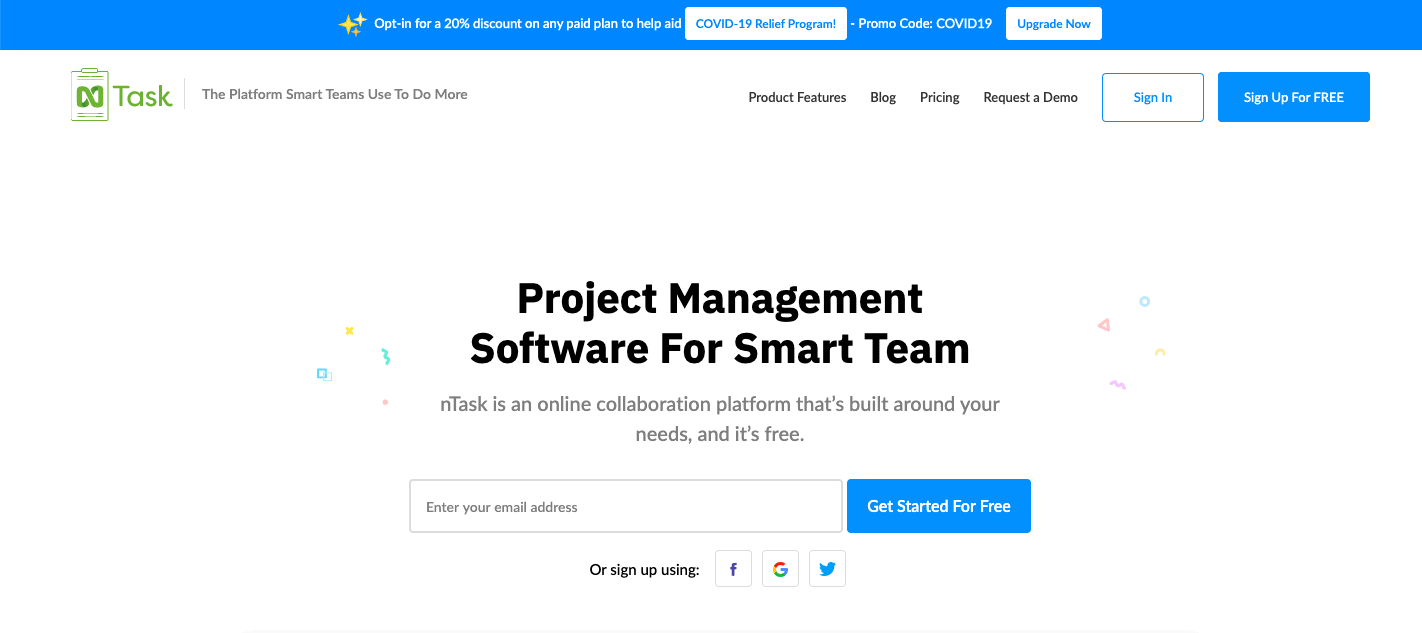 Scoro is an end-to-end business management solution which allows professional and creative services to control their entire workflow from one place. Scoro provides all the tools you need to fully manage your business: project management, work scheduling & tracking, taskboards & lists, contact database & CRM, quoting and billing, advanced reporting, real-time dashboards, and more.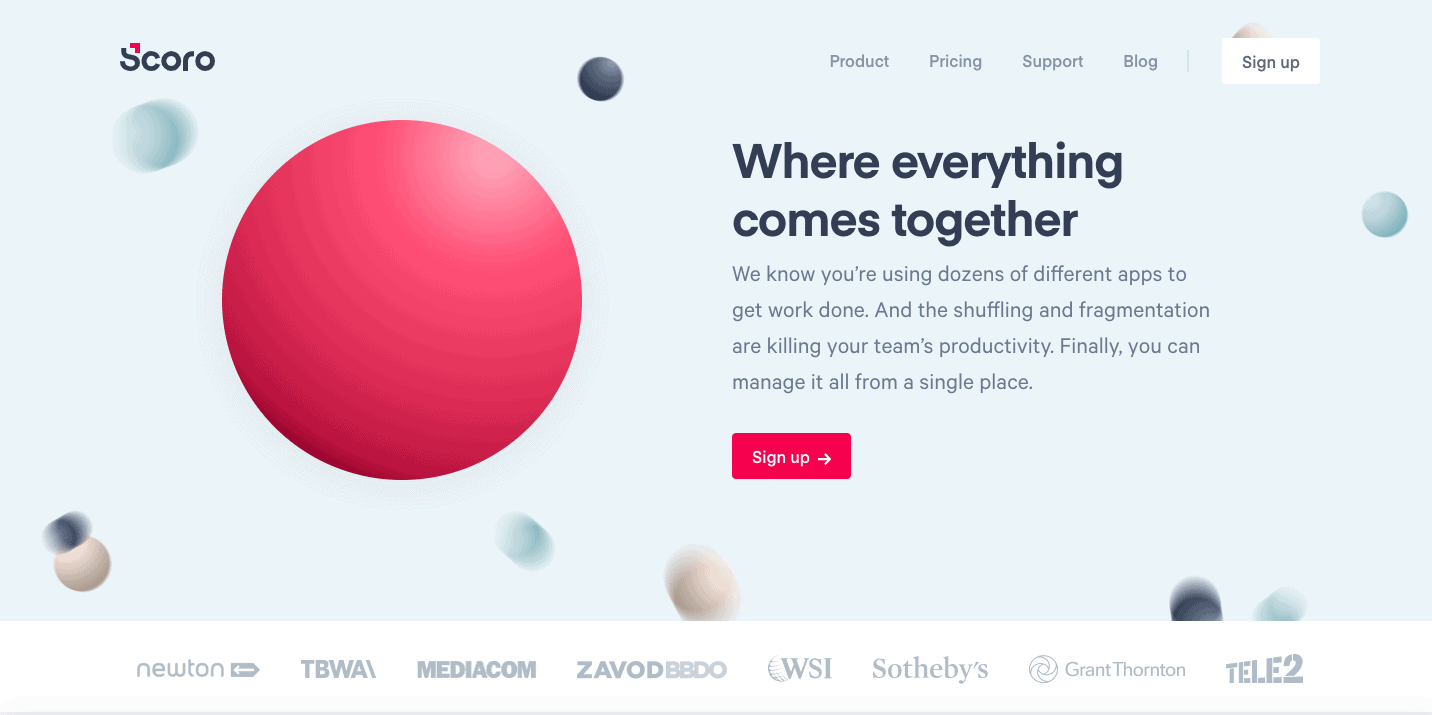 Ora is an all-in-one realtime workspace for teams. It has everything your team might need to be productive. Task management, kanban, time tracking, chat, reports on projects and team productivity.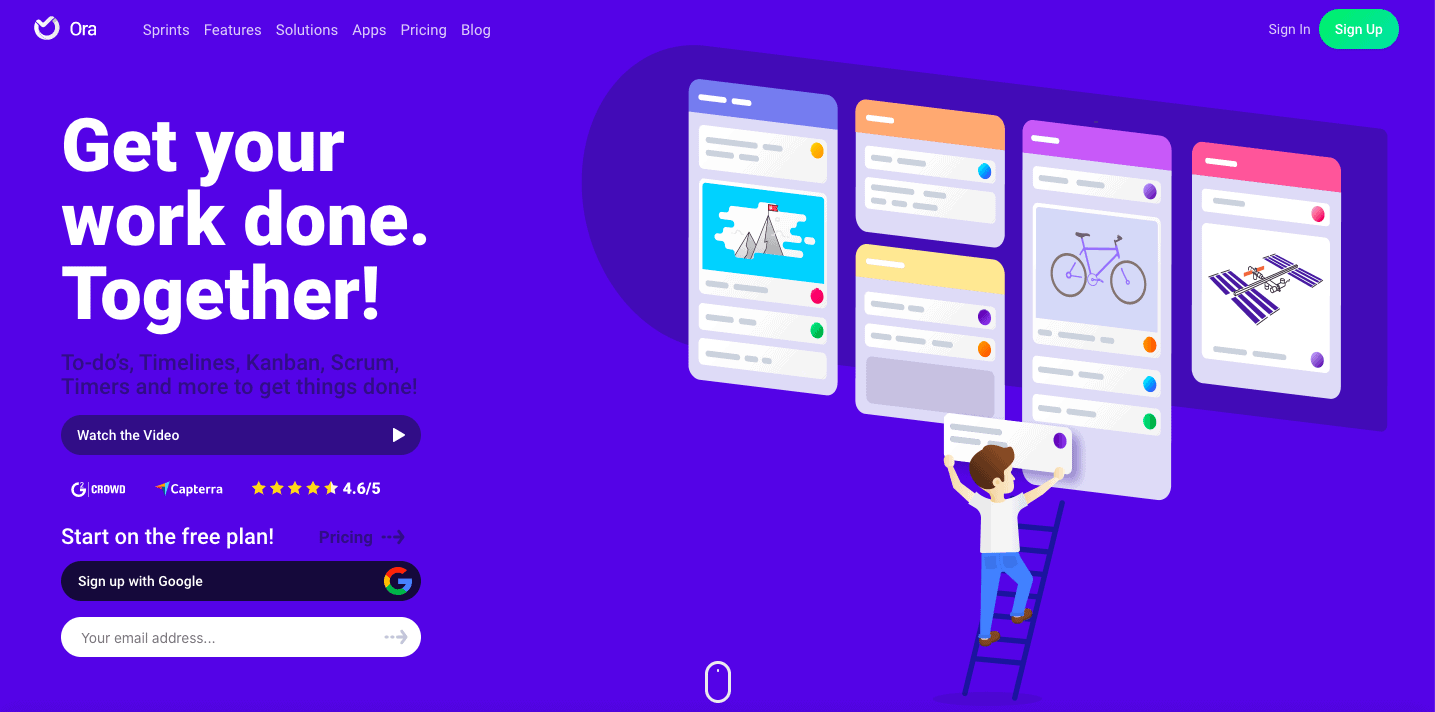 Hive is powerful, intuitive project management for modern business. The centralized platform enables companies to plan, execute, and track projects in real time. With group messaging, file sharing, and over 1,000 app integrations, Hive connects all aspects of your work.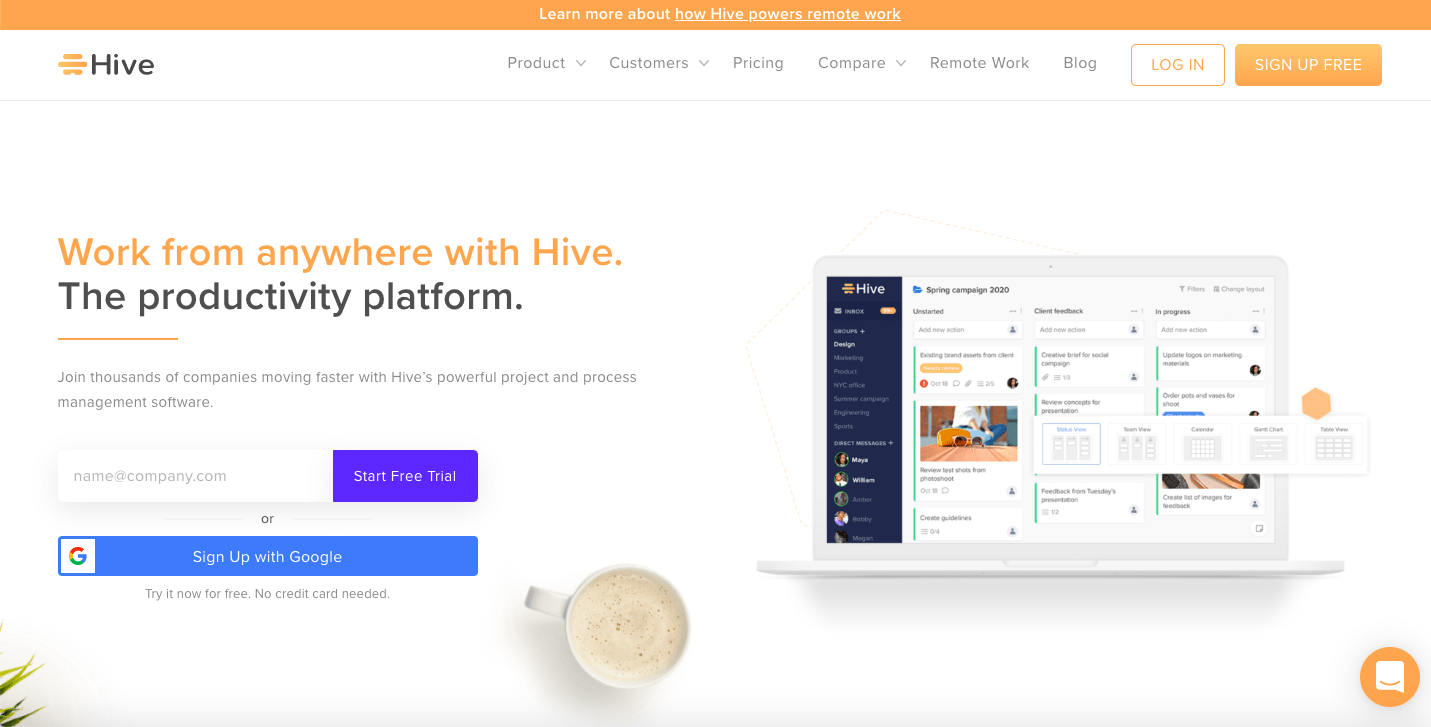 All-in-one business management platform designed for freelancers and small businesses. From projects and tasks to time tracking and invoicing, everything you need in one intuitive platform.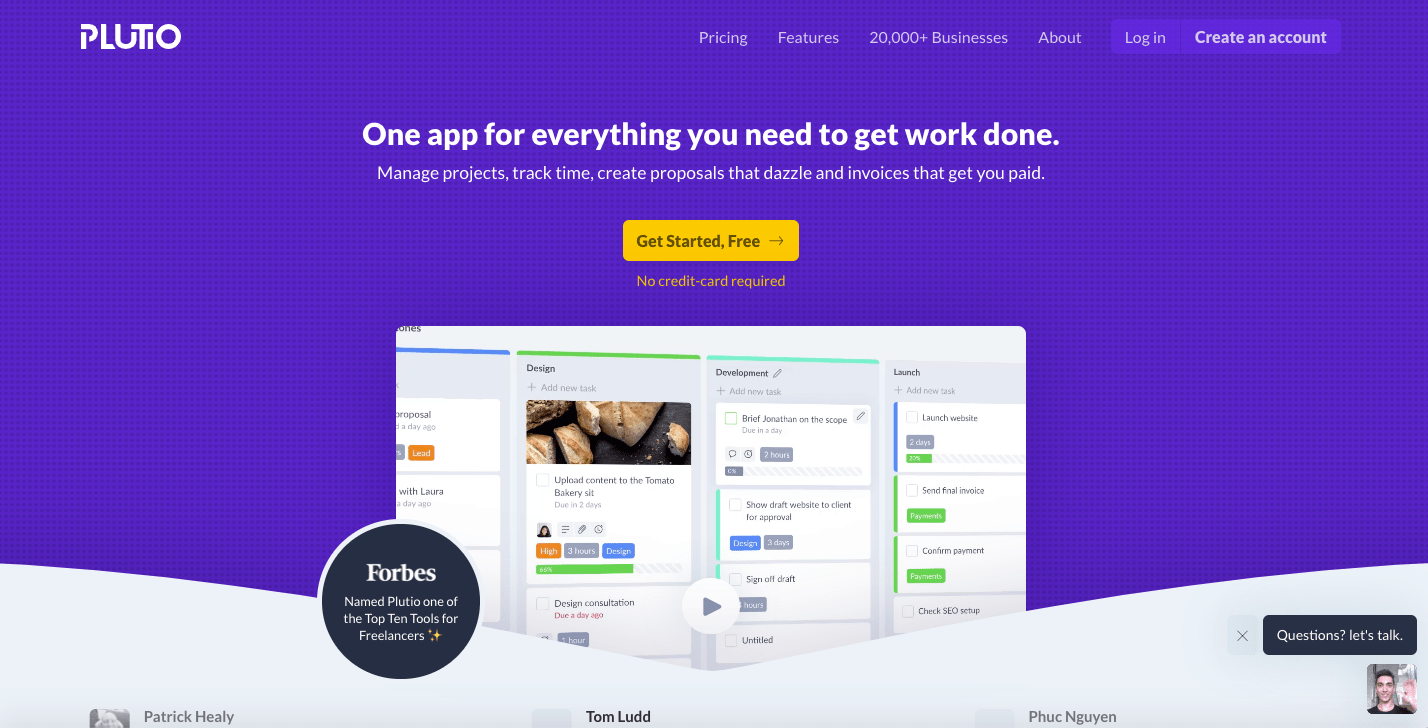 Workzone is a project management software for marketing, agency and operations teams of 5+ users.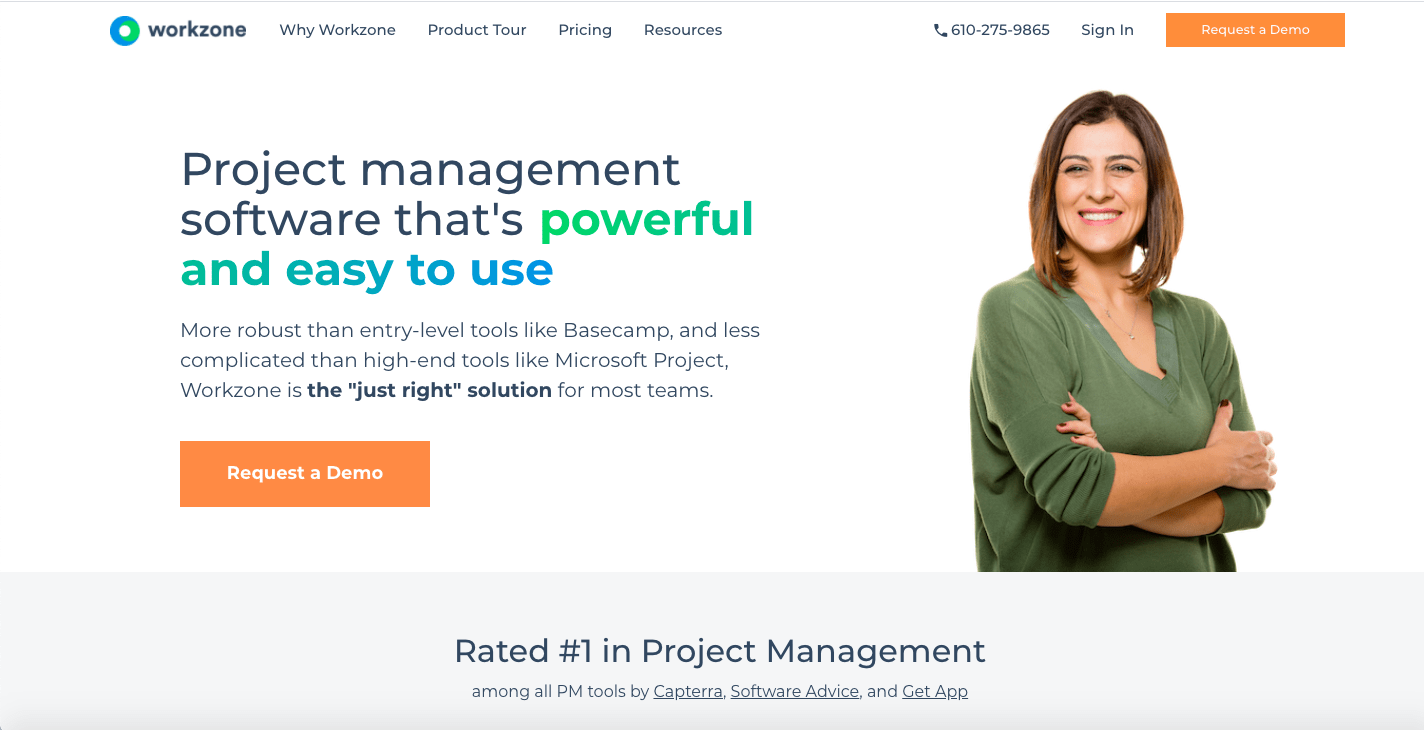 Apptivo is a powerful marketing tool that provides the tools including lead management, an opportunity pipeline with intuitive dashboards, campaign management and flexible workflow tools including marketing automation. Everything is fully accessible from your Android or iOS device and integrated with Office 365 and G-Suite.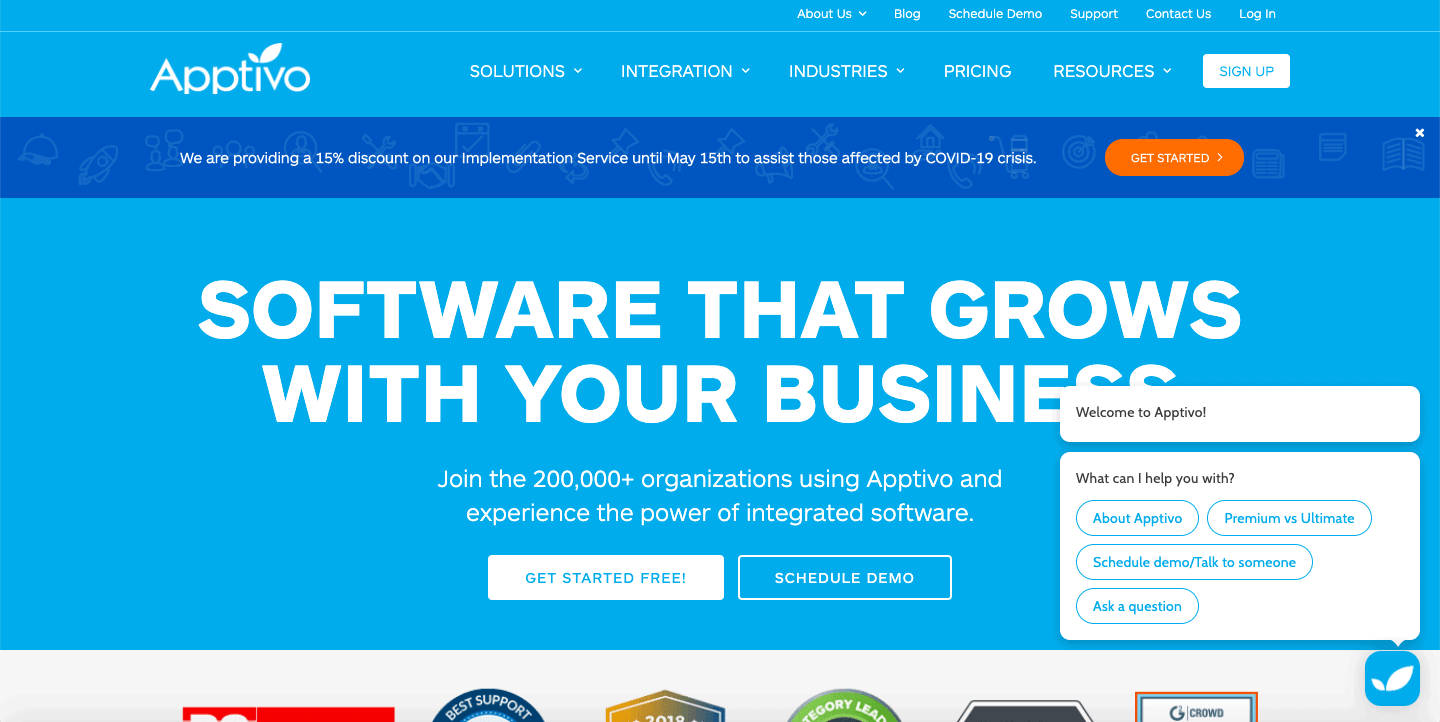 GoodDay is a work, project, product, task, time, and team management platform that gives organizations the best tools for high-level planning, aligned with their day-to-day work, and for continuous improvement of all processes based on transparency, accountability, agility, and recognition.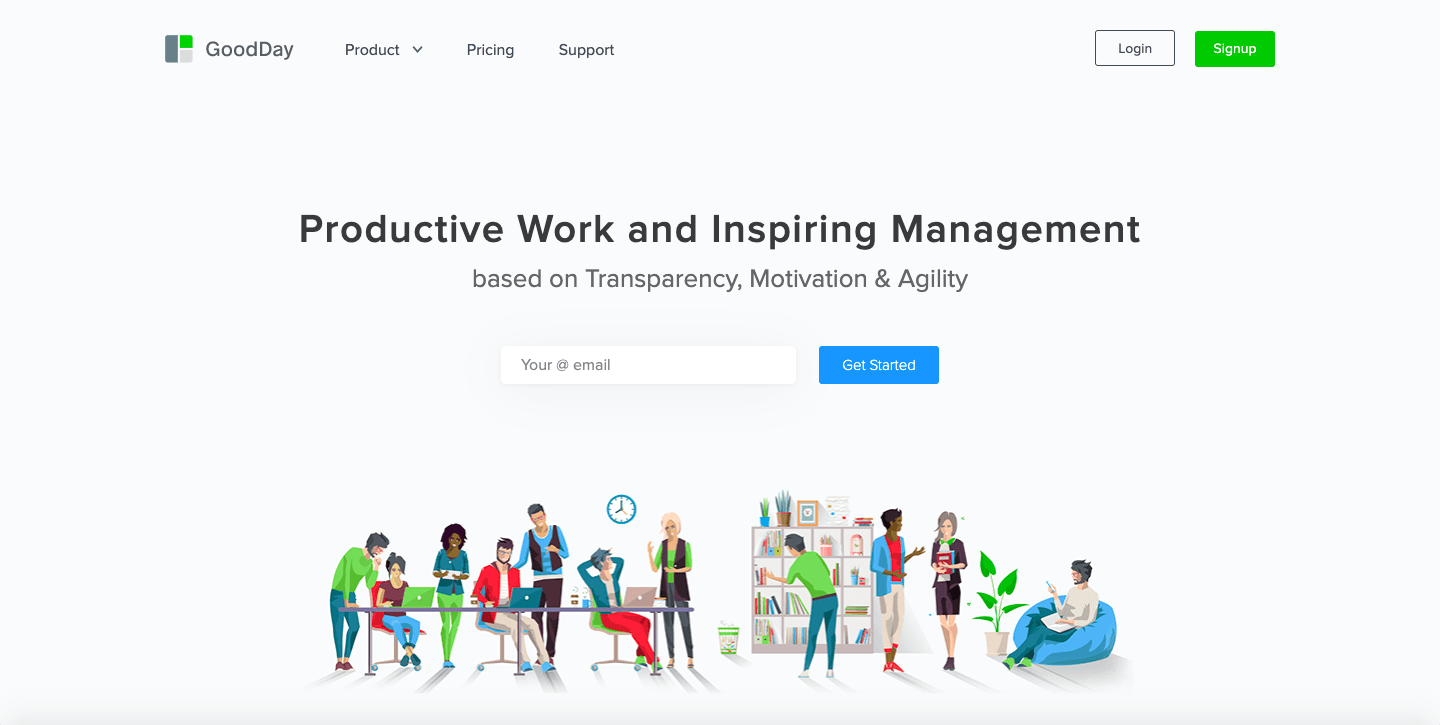 Project management tool which enables enterprise marketing communication through planning and tracking.It includes marketing workflows, an editorial calendar, a Kanban-style task view, easy assignment, recurring tasks and much more!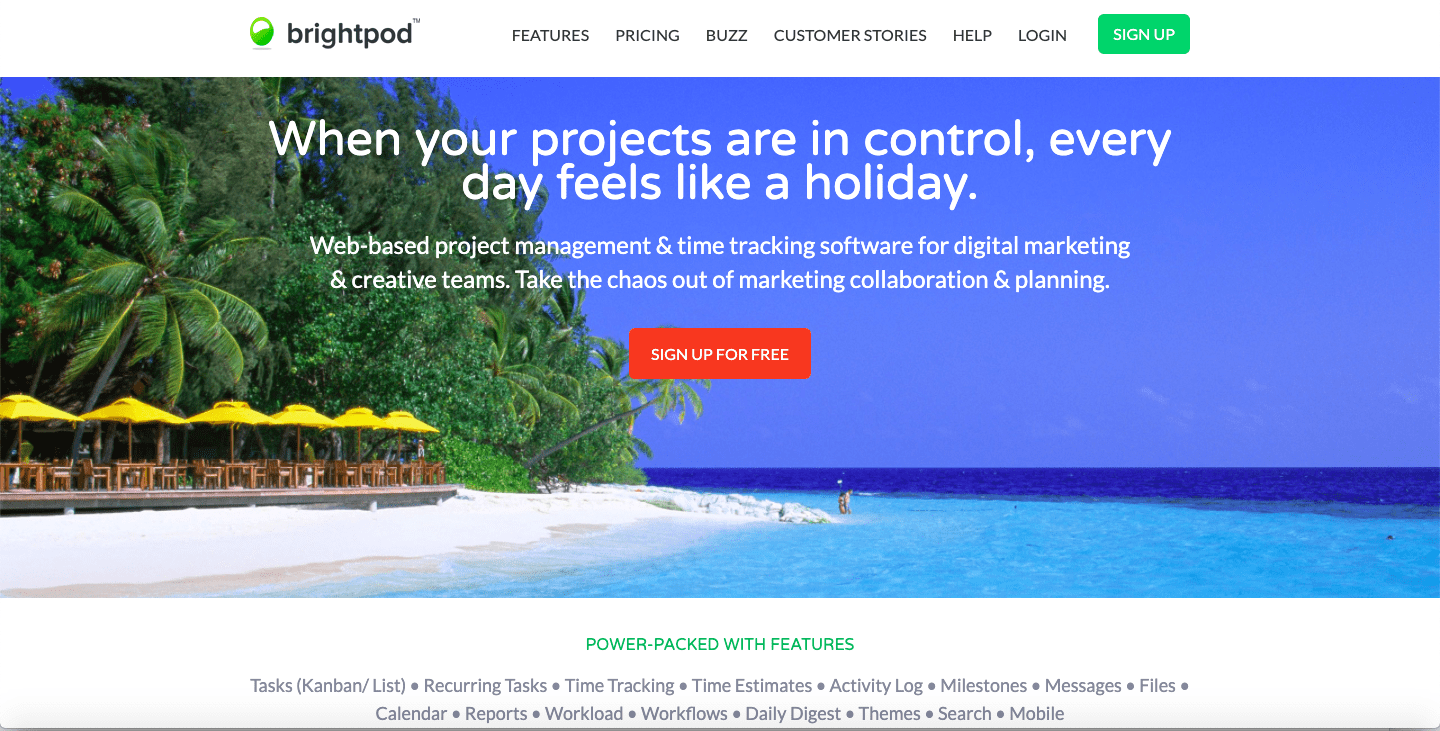 GanttPRO is an online project management tool to create Gantt charts. It is characterized by its user-friendliness, a large number of designs as well as other features such as task, resource, cost and schedule management, teamwork, templates, export functions and many more.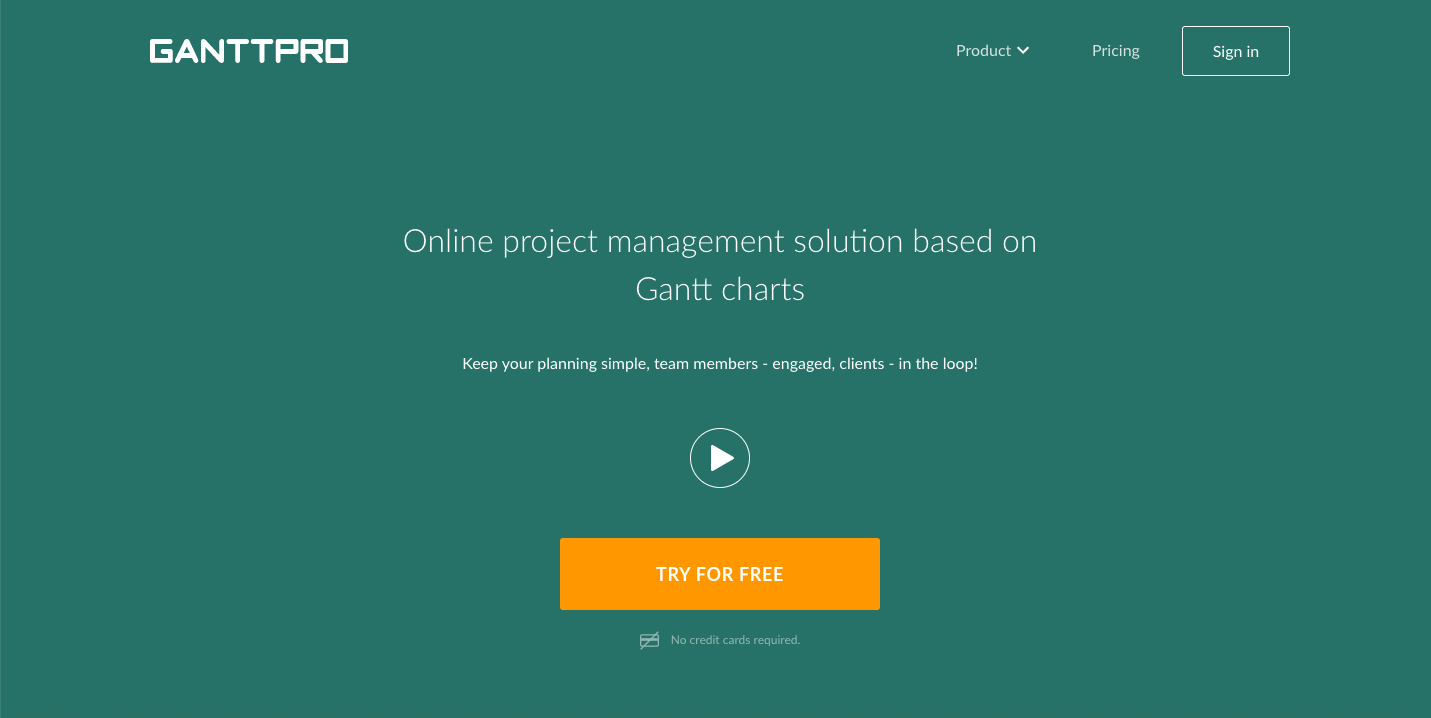 Zenkit is a project management and collaboration tool suitable for both business and personal use. It offers a variety of features such as kanban boards, lists, calendars, spreadsheets and even mind maps to manage data and tasks and to collaborate efficiently with other team members.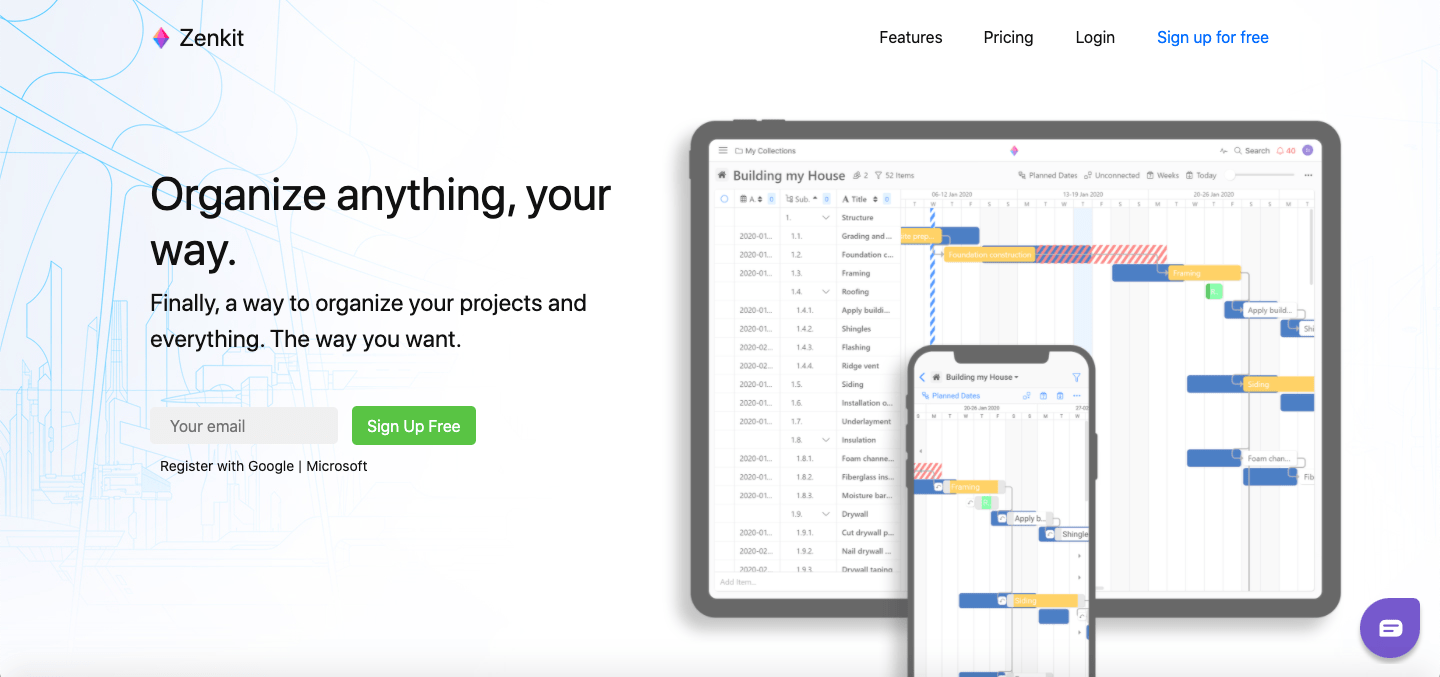 Fun Retro is a digital retrospective board that enables fast and efficient collaboration, especially in remote teams. You can create boards and online maps, add, remove and name columns. FunRetro offers a free version and a free trial version. The paid version of FunRetro is available from 20.00 $/month.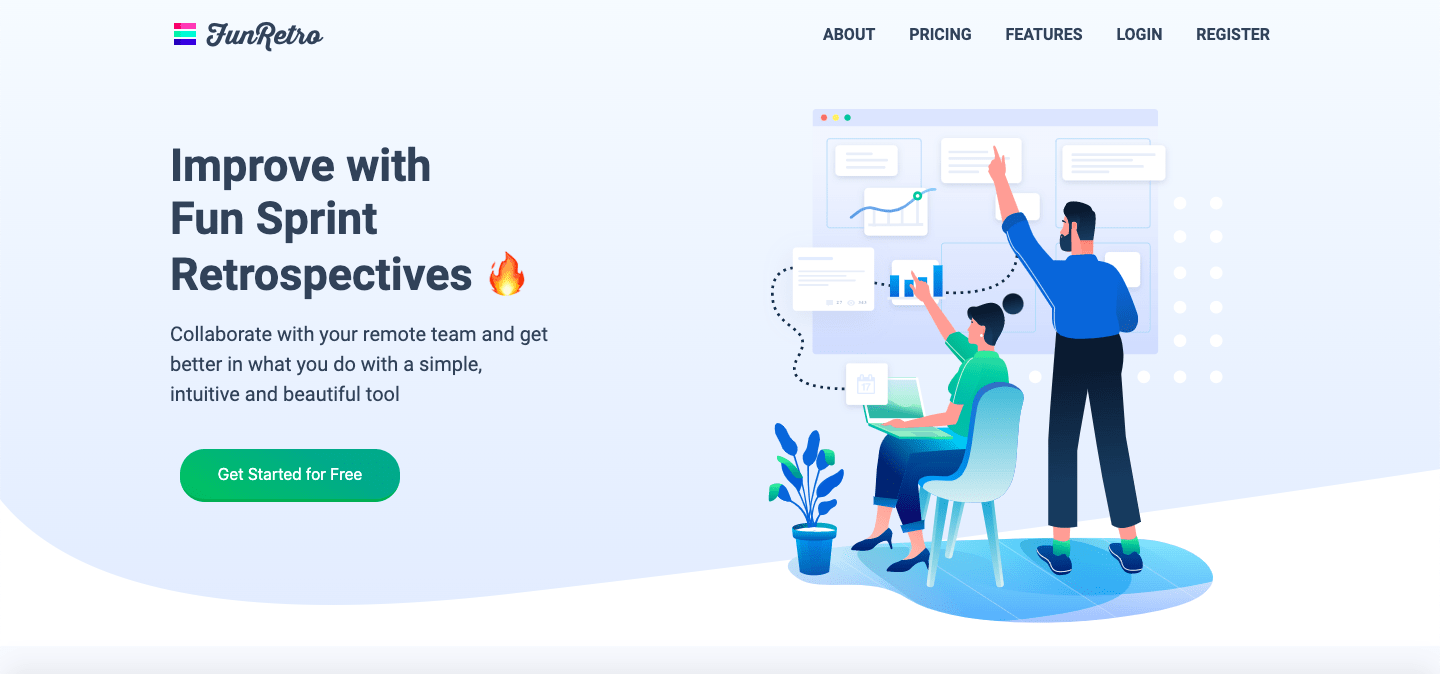 Kanbanize is Agile project management software that combines Kanban-style features and business automation into a virtual workspace. ur features include initiatives and timeline workflow, customizable Kanban boards, business automation rules, a powerful analytics module and more.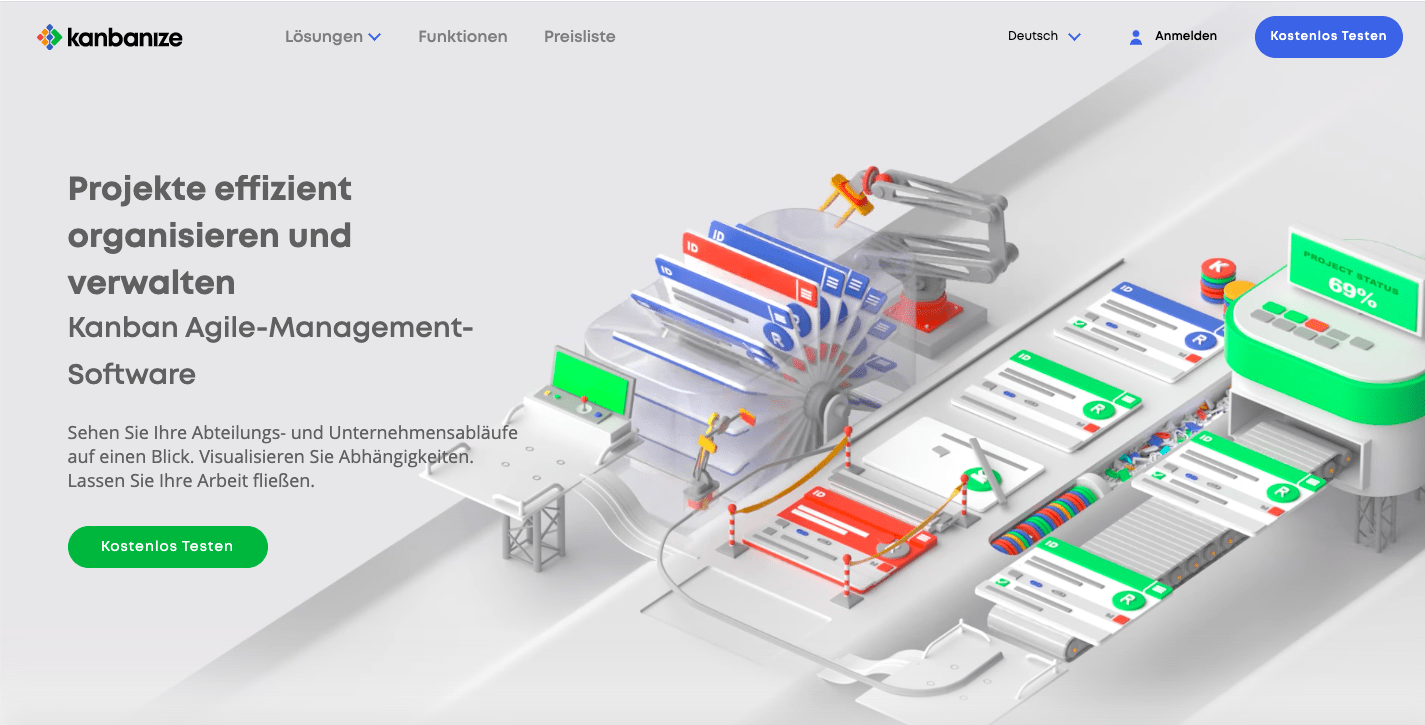 Client-facing project management software – every project brings your team and your client's team together to chat & collaborate. Project.co pricing starts at $7.00 per month, per user.There is a free version.Project.co does not offer a free trial.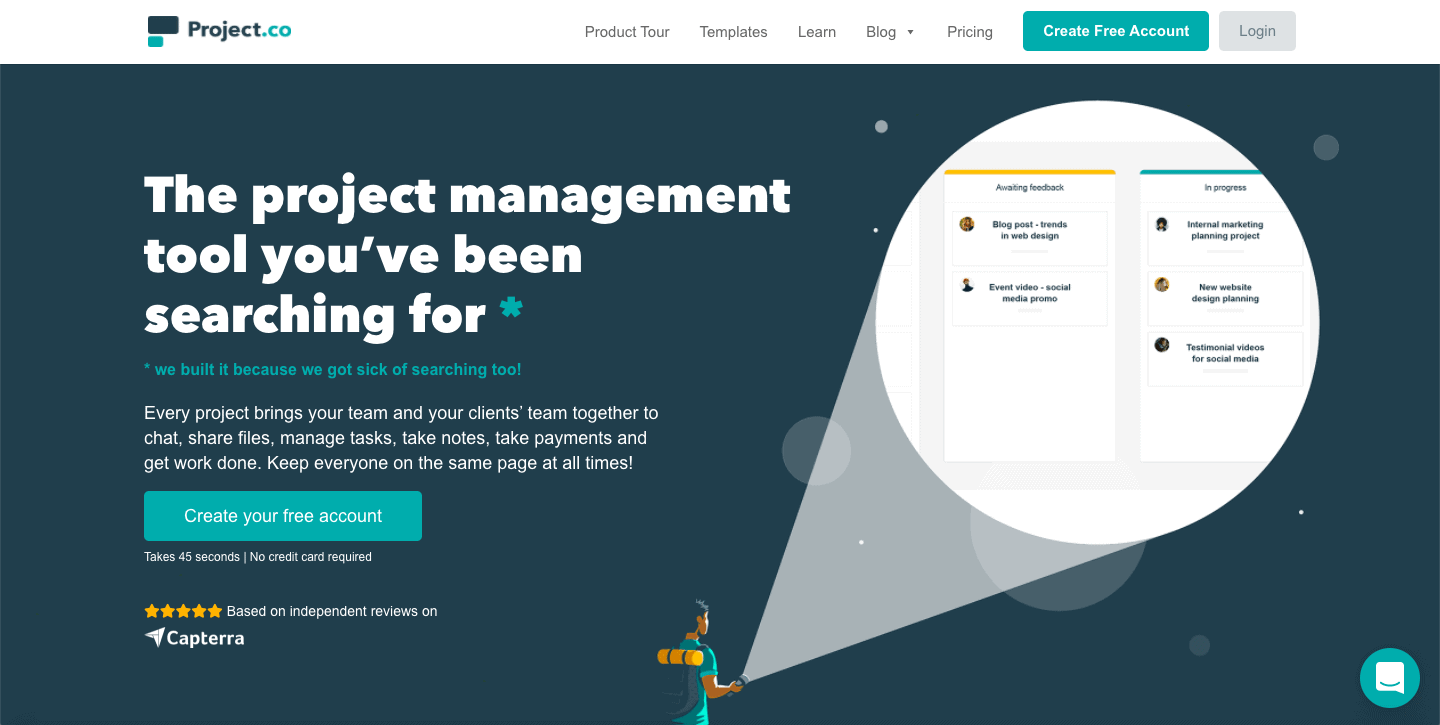 Product managers use ProdPad to collect and prioritize ideas into a clear, visual and accessible product roadmap that everyone can understand. Grow ideas in ProdPad with internal comments & voting, mockups, user personas, customer feedback – then map them out on your flexible theme-based roadmap.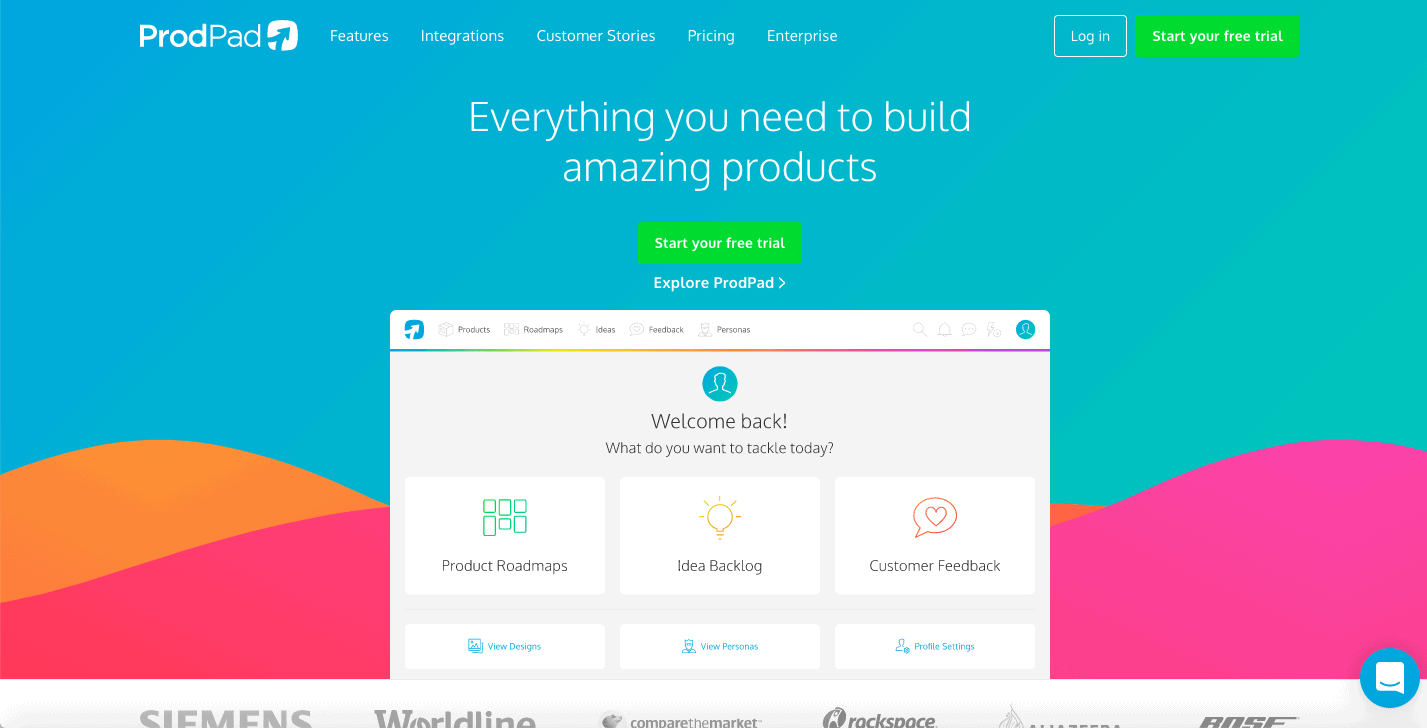 Yodiz
Yodiz is an Agile Scrum Tool & Issue Tracker with an innovative UI, simple UX and great set of features. The paid version of Yodiz is available from $5.00/month.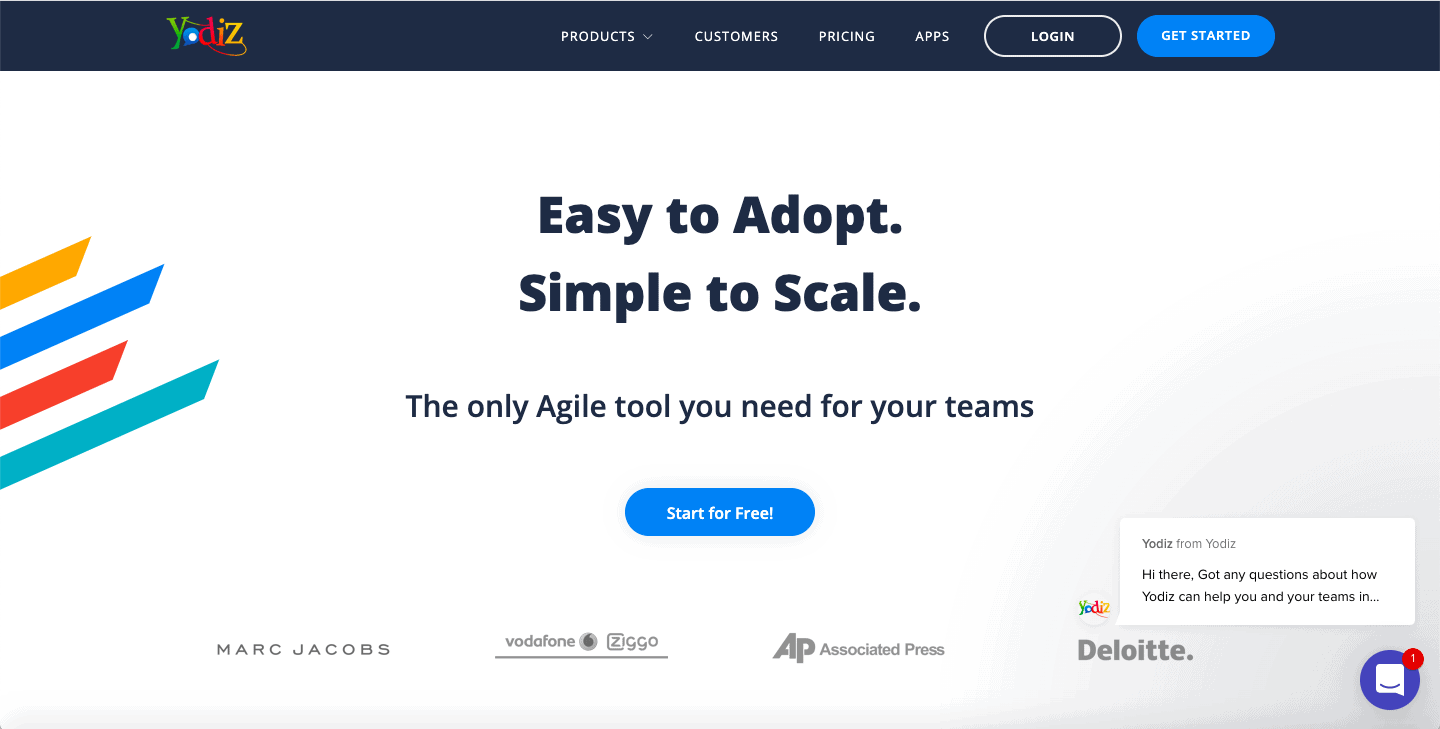 Project management platform designed for fast-moving midsize to enterprise level teams, includes visual project planning, resource planning, beautifully designed reports, security and more, supports 1000+ integrations.
Plan combines all of your teams, calendars, projects, tools, and documents into one centralized space.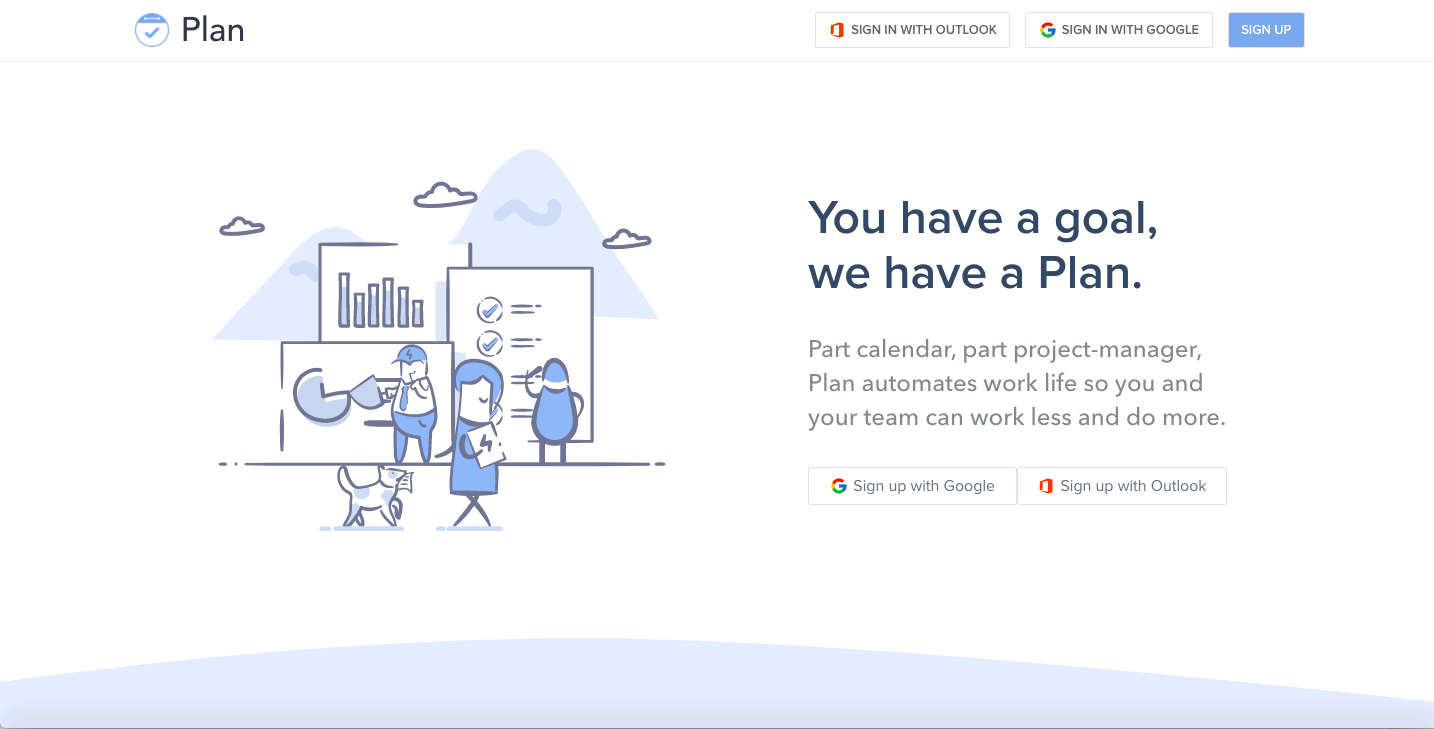 VivifyScrum helps you handle all your projects in one place. It is a software as a service solution for agile project management and collaboration. Scrum and Kanban compatible. Extremely intuitive and easy to use with real-time updates.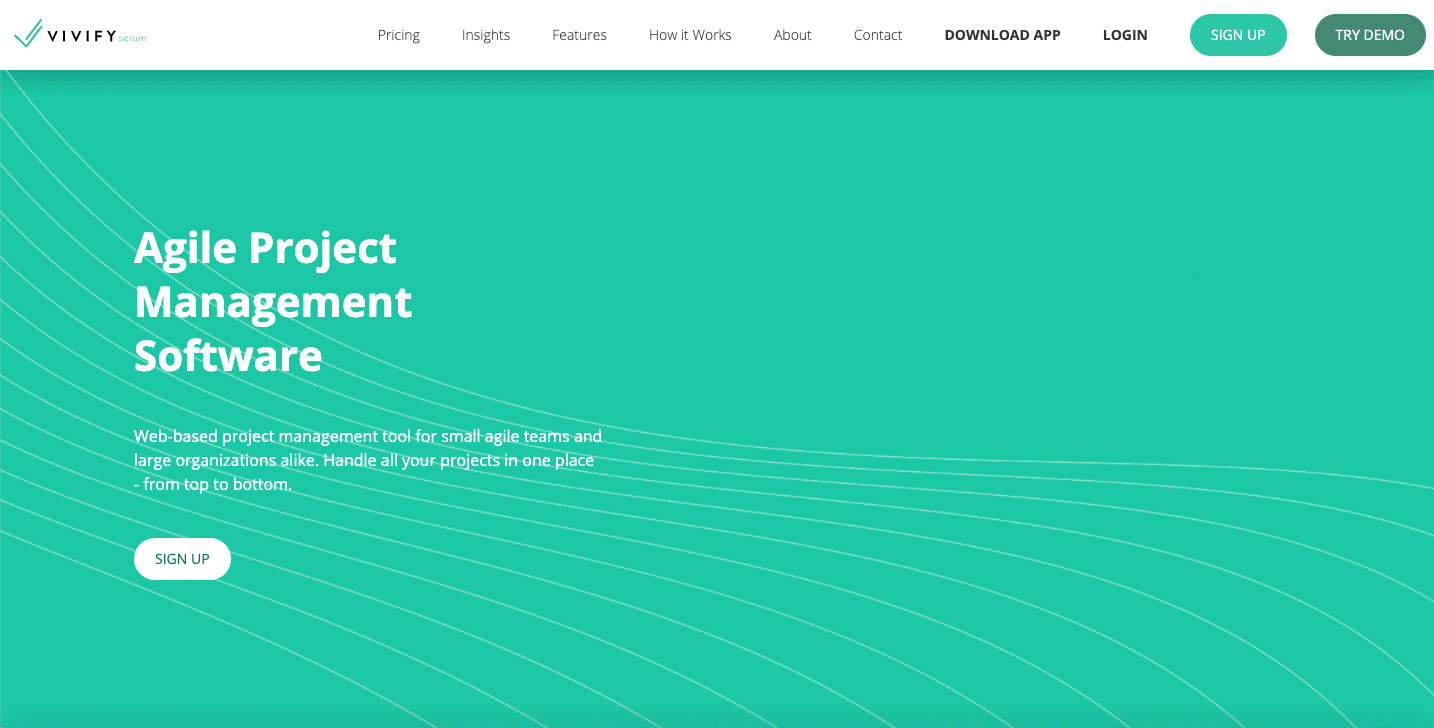 Targetprocess is a software tool to visualize and manage Agile projects according to Scrum, Kanban or a custom approach. The tool allows you to manage your product roadmap, manage requirements, track resources, create shared boards and get the transparency you need across teams, projects, and the entire organization.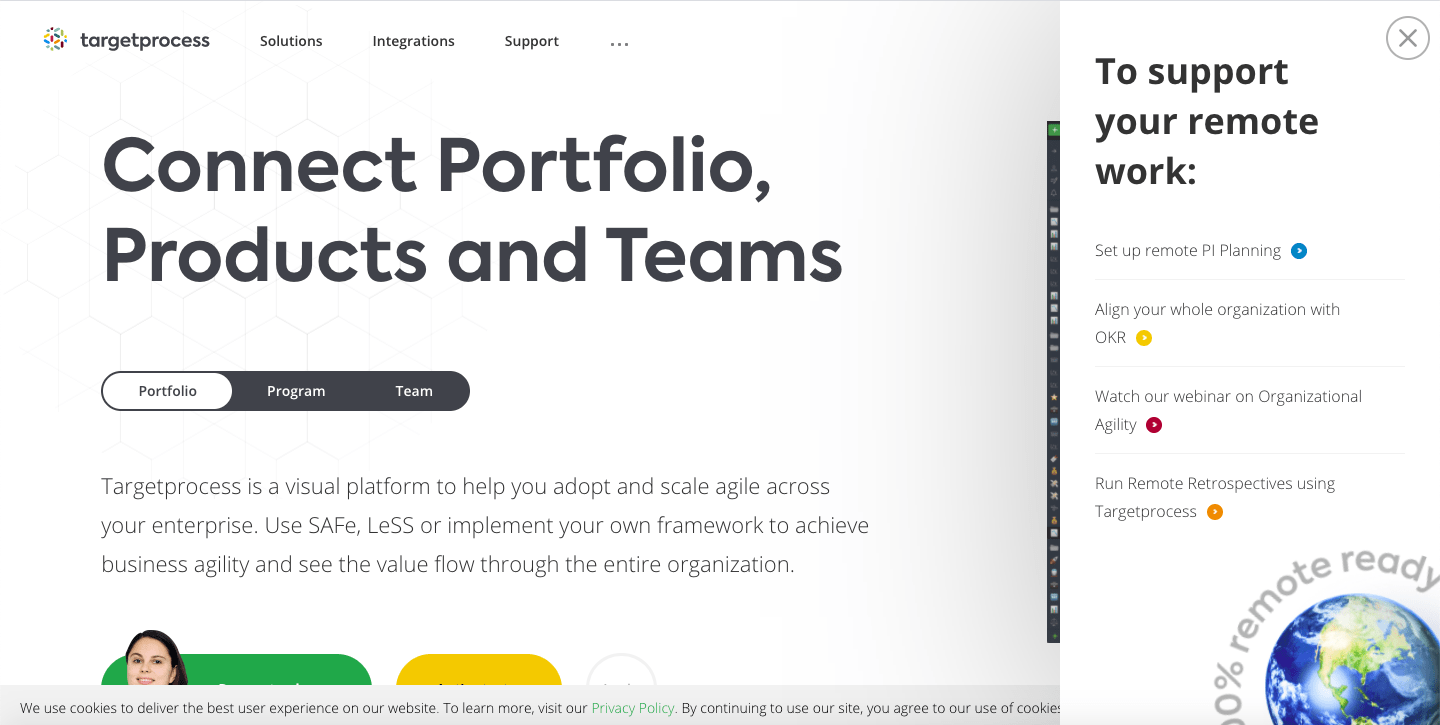 PlanITpoker is a cool on-line planning poker app that helps Agile project teams estimate projects easily.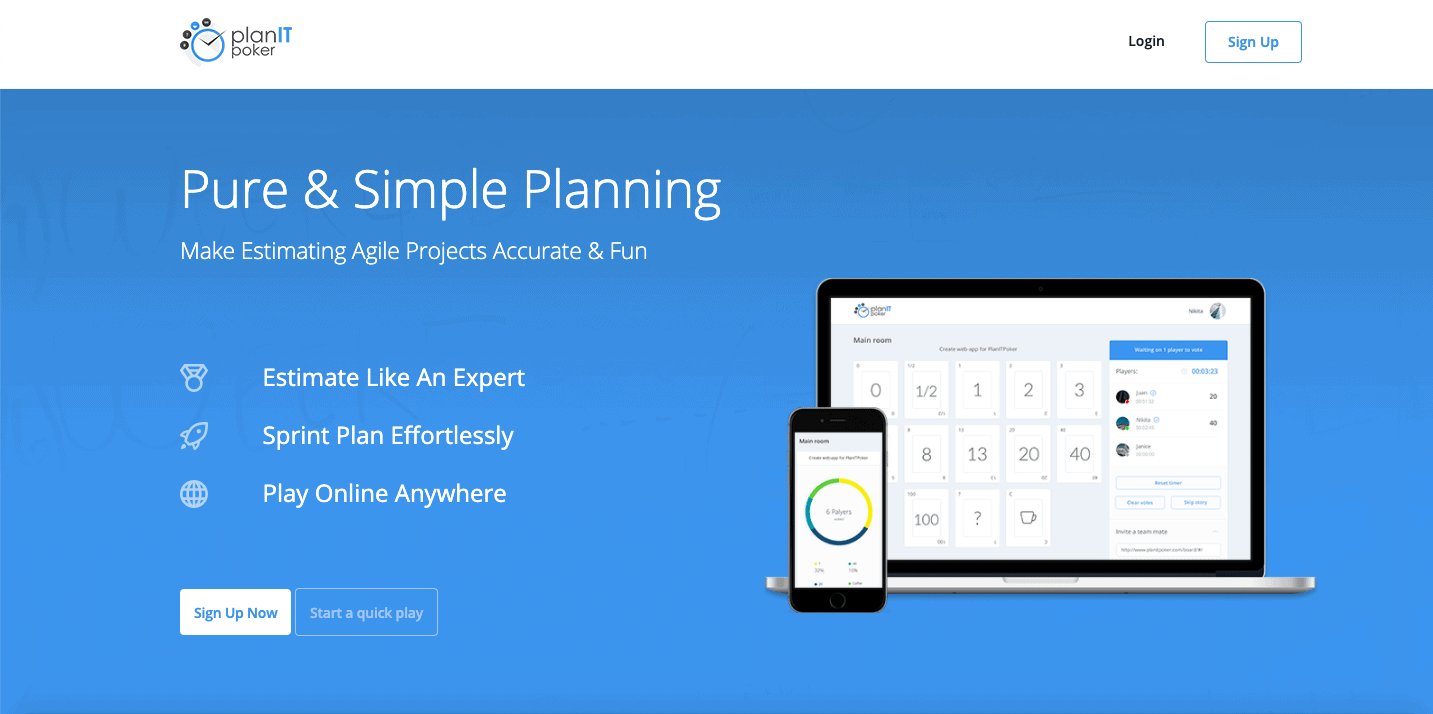 Pyrus redefines collaborative work. It makes your work day smarter by automating your tedious yet essential business processes. You can set up customized workflows with just a few clicks, such as automatically requesting approvals, routing business forms or simply delegating routine tasks to several employees.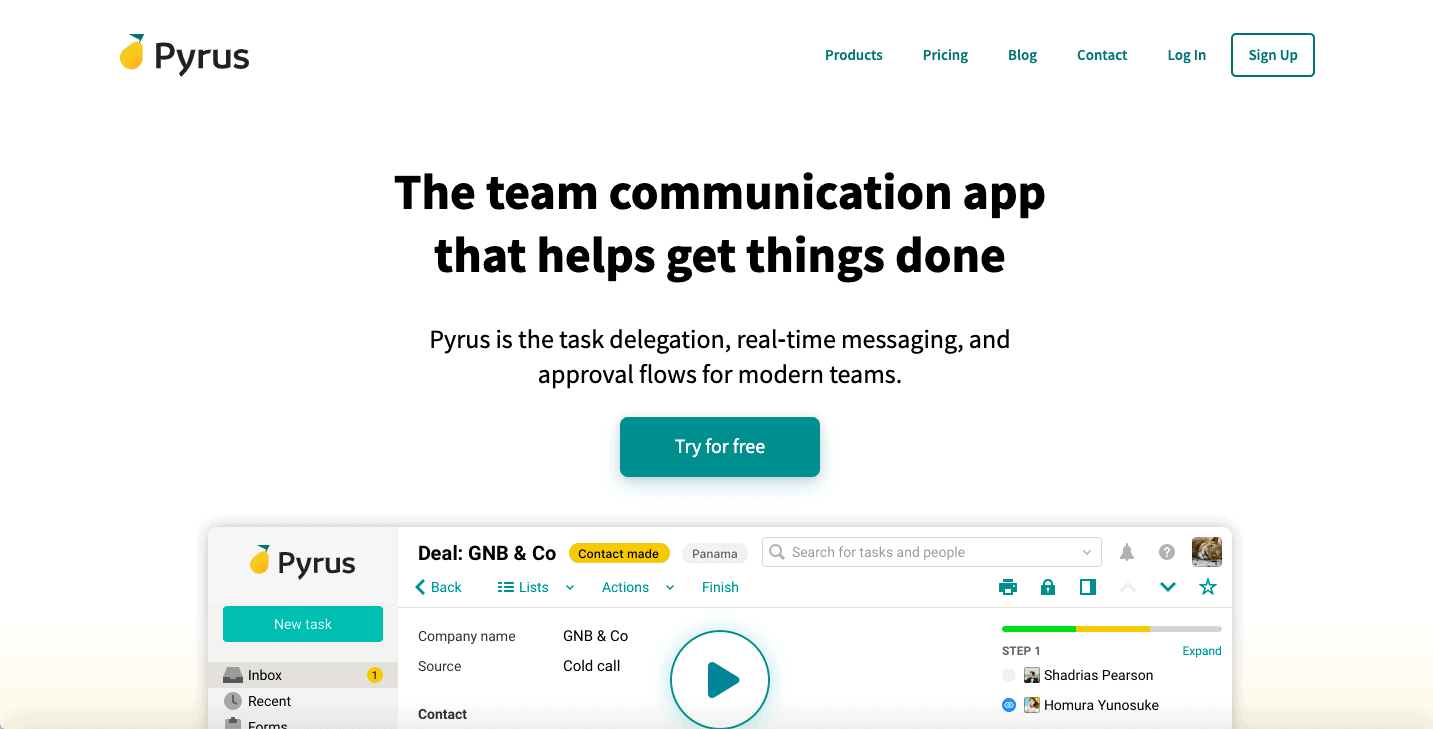 Collaboration tool that integrates internal chat, video conference and task management with AI assistance. Hibox offers a free version and a free trial version. The paid version of Hibox is available from $4.00/month.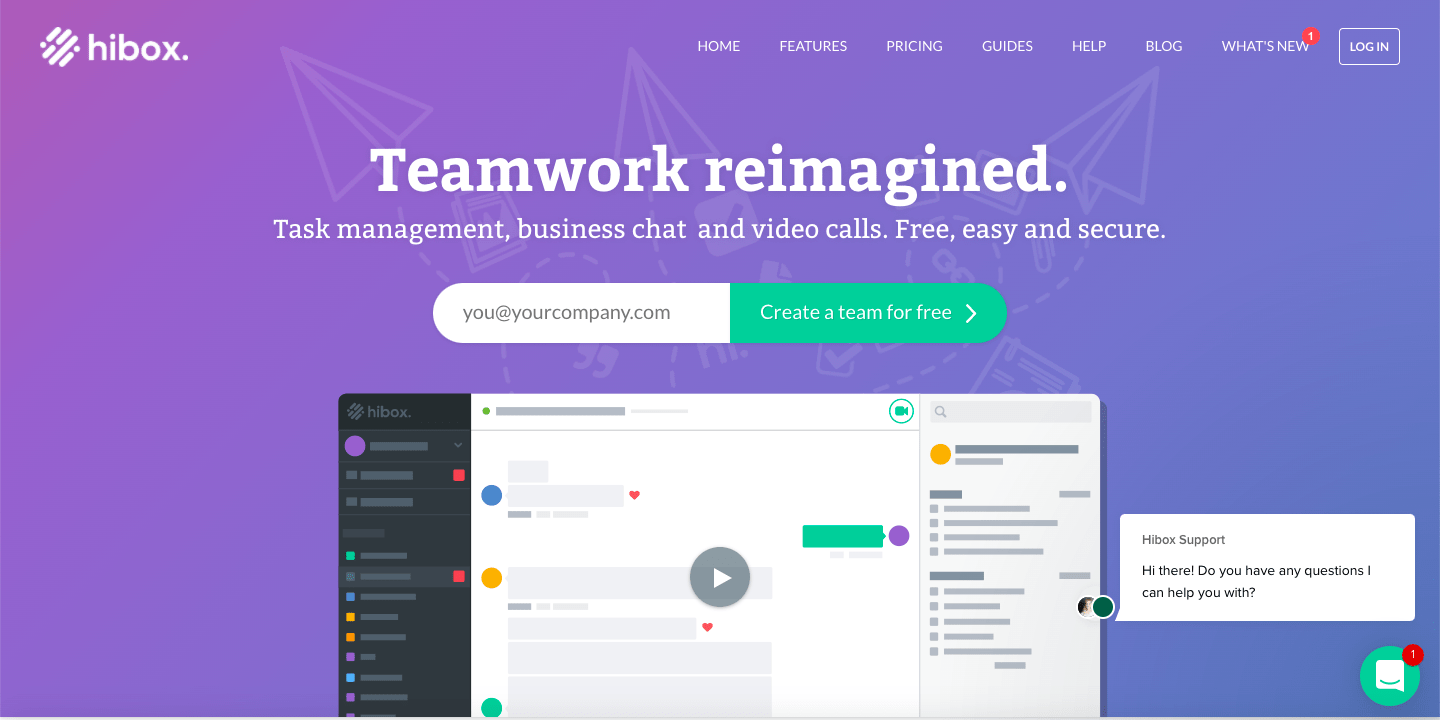 Hitask is a unique project and task manager for teams. It helps to focus on team collaboration, getting tasks done and manage an entire project. HiTask offers a free version and a free trial version. The paid version of HiTask is available from $4.98 per month.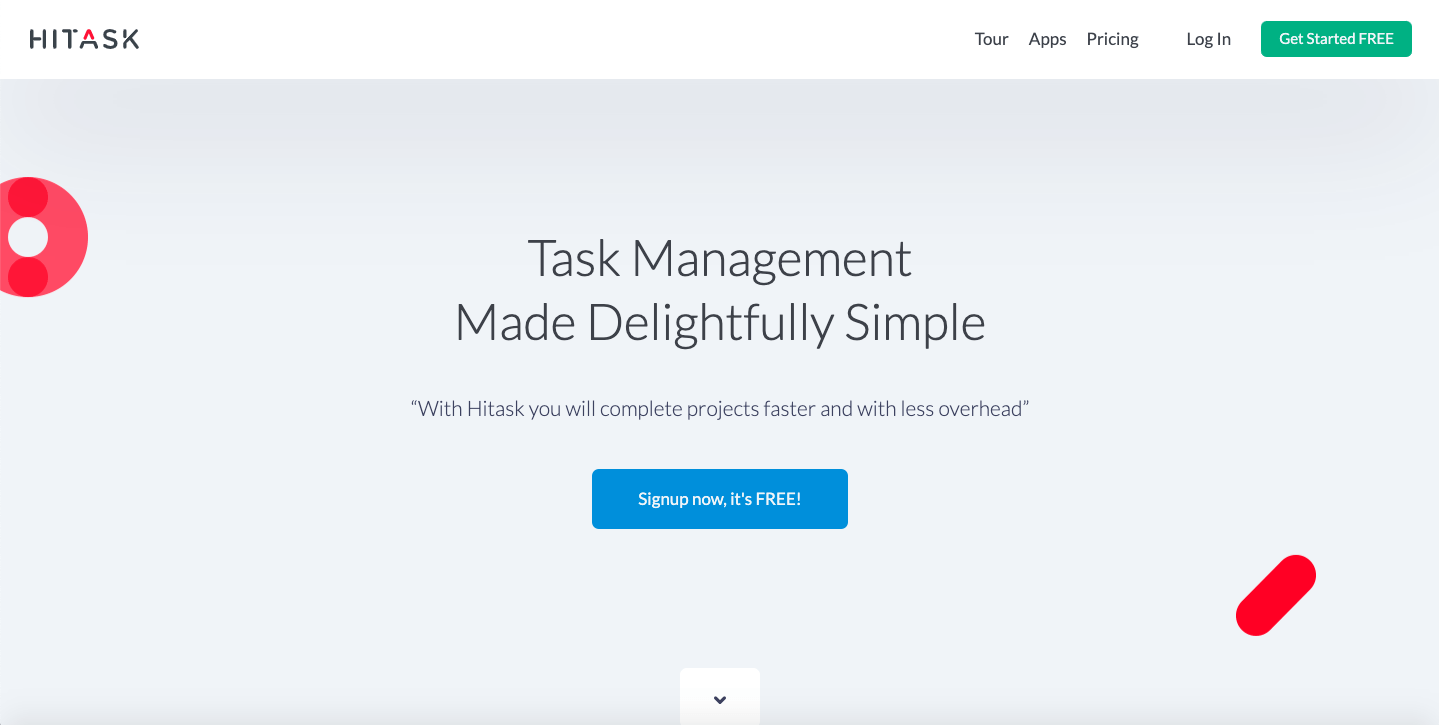 Metatask is a business and process organization solution that is ideal for teams that perform recurring internal processes such as approvals, hiring, and reviews. Metatask provides features such as workflow templates, internal process approval, control process management, task management, custom forms, chat and paper integration, and helps organizations create and organize their internal processes to be brand consistent. (getapp.de)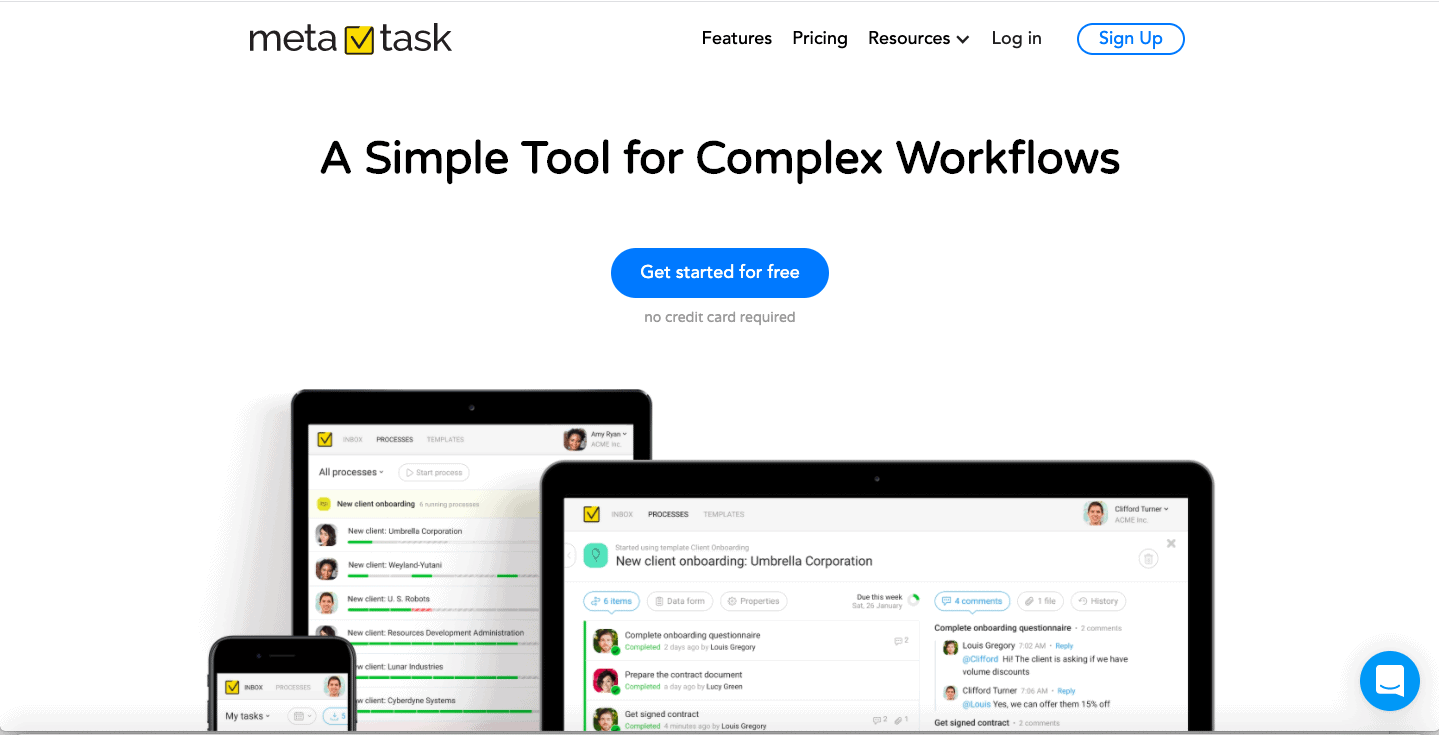 Productivity suite delivering a unique blend of CRM, task management, time tracking and billing functionality. Todo.vu is ideal for freelancers, consultants and teams of any size who strive to achieve improved efficiency, quality and transparency.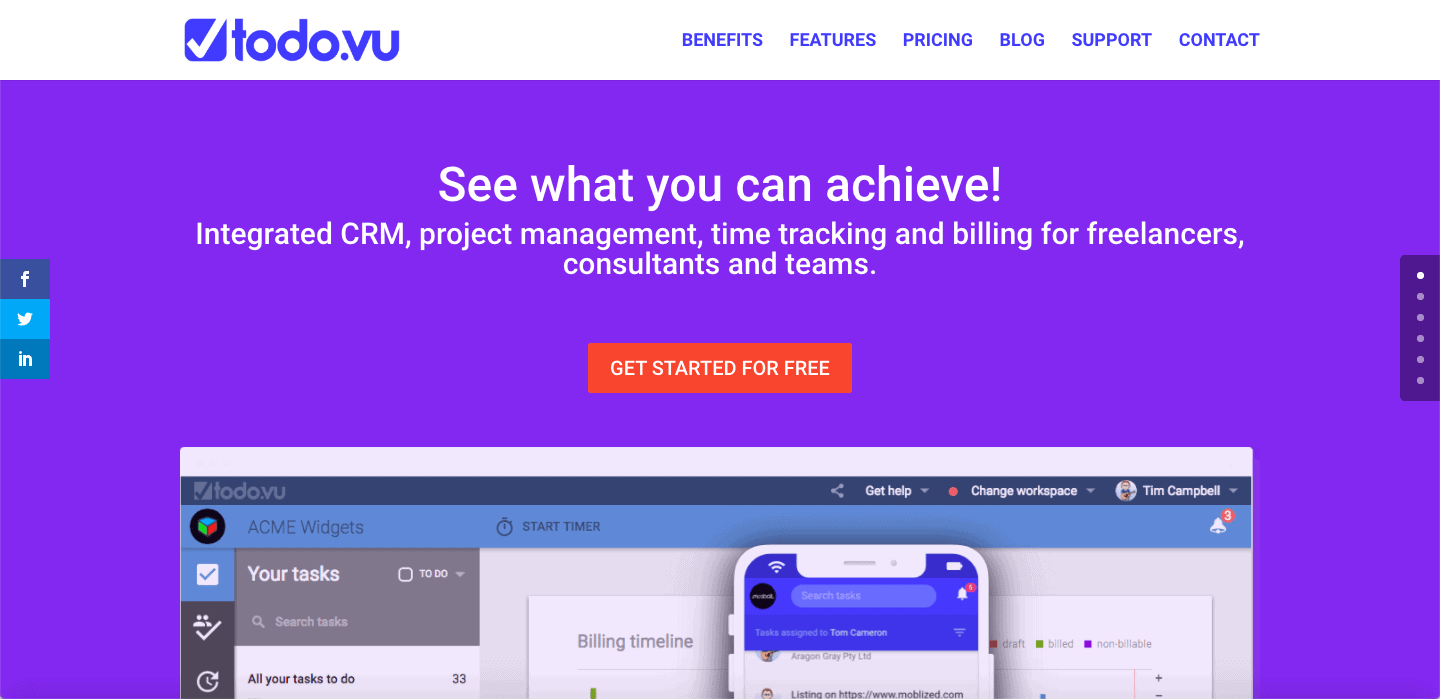 Retrospective management tool for distributed scrum teams that enhances engagement and participation of team members in activities.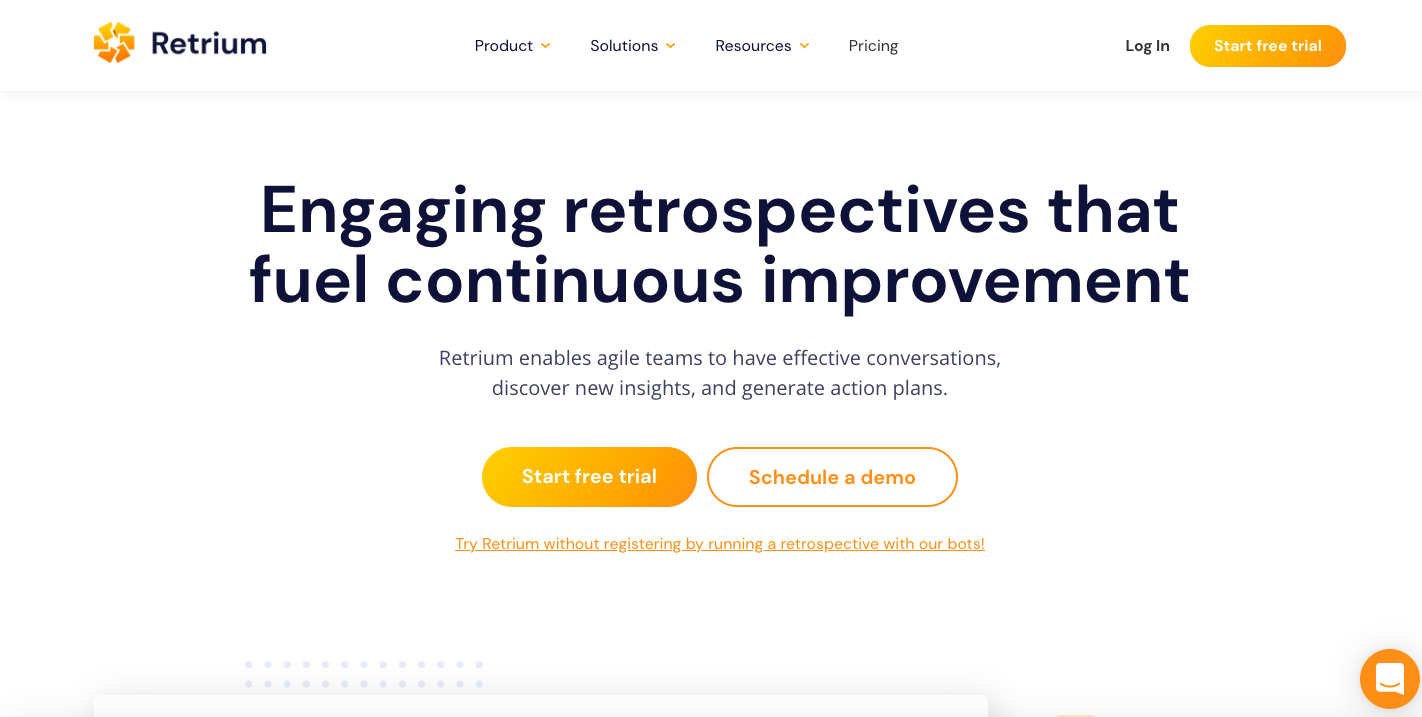 ScrumDo is a powerful work management platform and continuous improvement engine for teams and entire organizations to adopt modern workflow management processes (like Scrum, Kanban, Scrumban, SAFe and others) for better business outcomes. ScrumDo does not offer a free version, but a free trial version. The paid version of ScrumDo is available from $14.99 per month.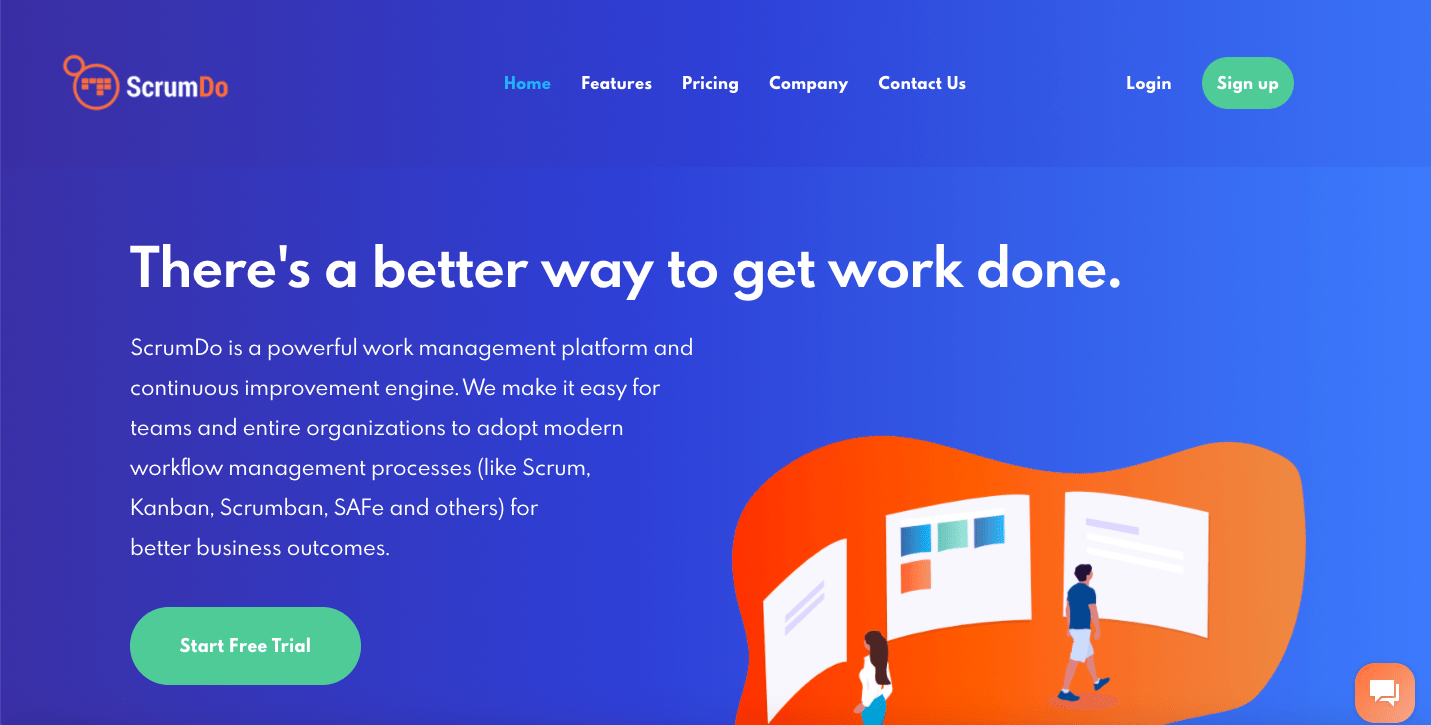 Cage is a media collaboration and project management tool for creative and post production teams. It allows you to organize and track projects and team members using just one tool! Collaborate where it makes sense using Cage's unique toolset to annotate over 150+ file formats.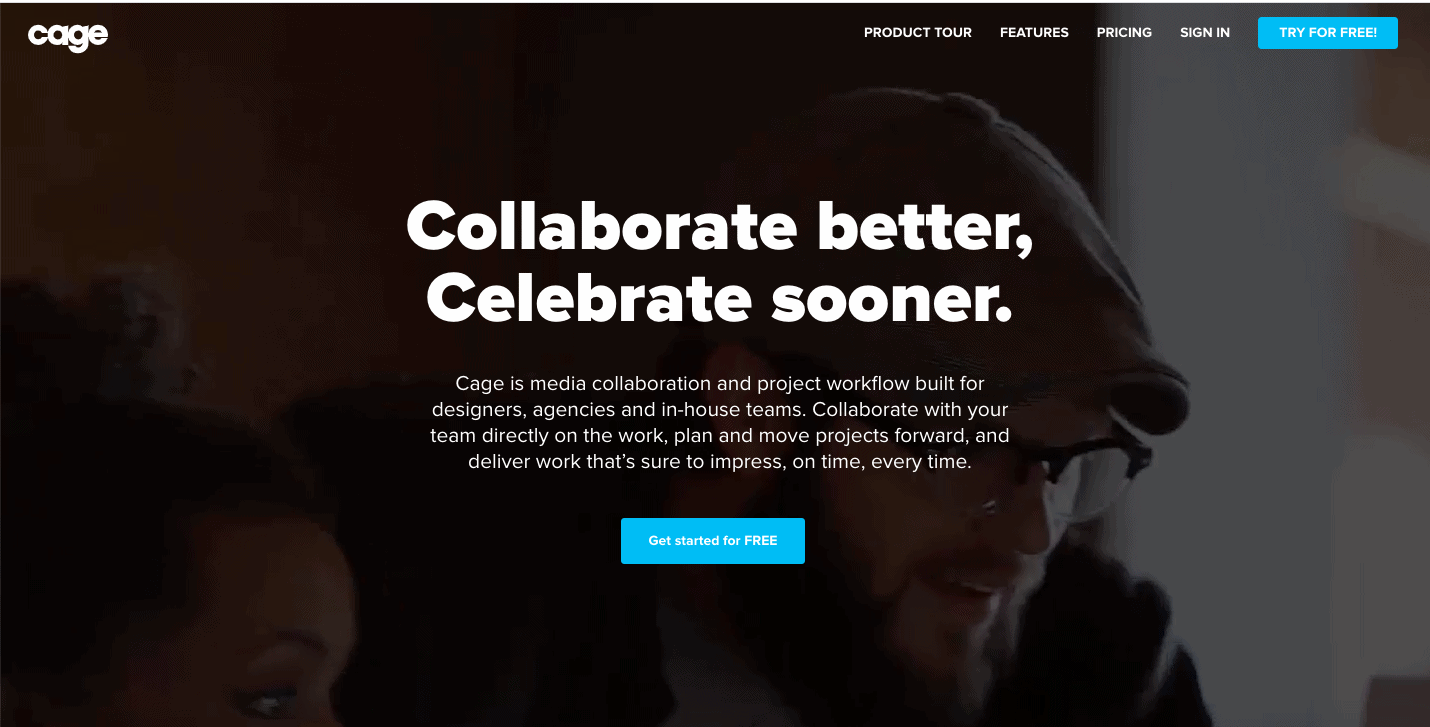 Proggio is a free collaborative timeline, task management and project portfolio for teams. It features a smart visual timeline that turns into a team action plan in minutes. The solution has powerful task management tools to keep everyone on target and on track, and an automatic project portfolio management view that can be shared with management.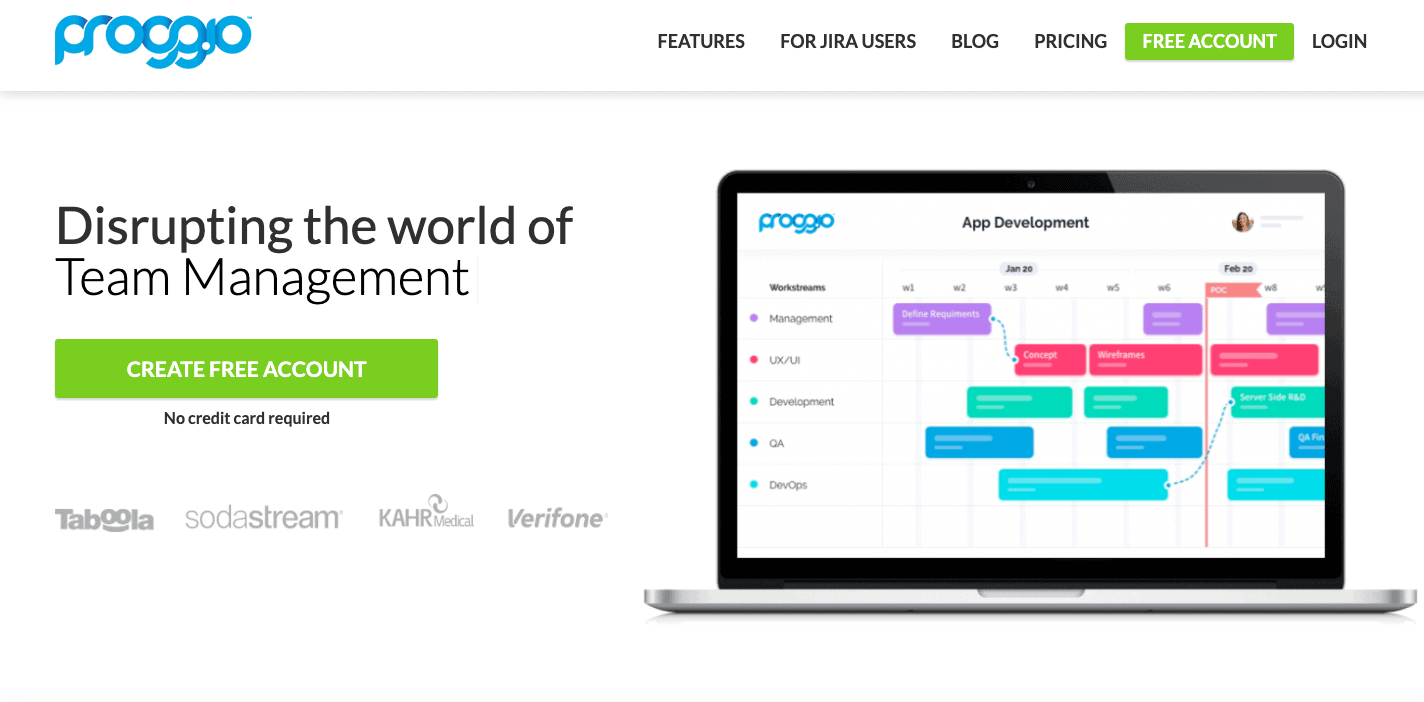 Kanbanchi for G Suite is an online project/task management and collaboration software with features like Kanban Board, Gantt Chart and Time Tracker. Thanks to special project boards the whole workflow can be visualized. Kanbanchi does not offer a free version, but a free trial version. The paid version of Kanbanchi is available from $7.95 per month.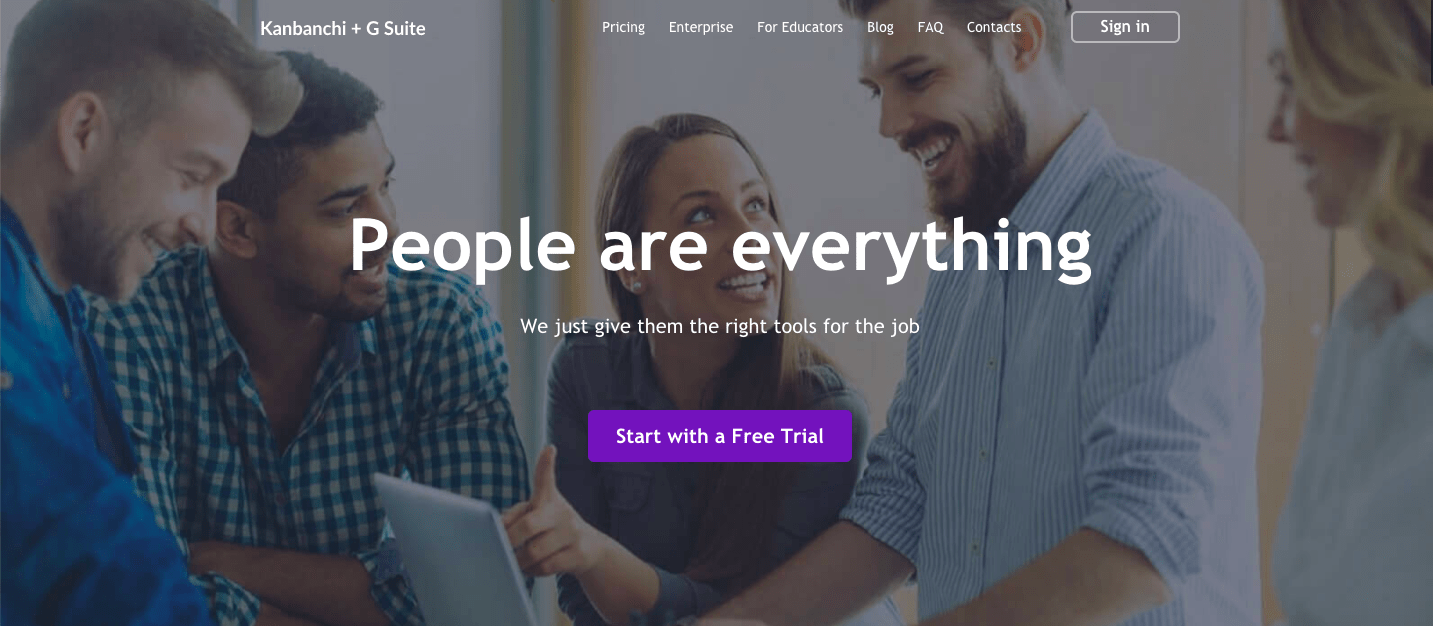 Apollo is project management is a powerful SaaS that combines project management, time management and CRM in one integrated interface. Manage your projects (and templates), use Apollo's powerful calendar, communicate with your team members using project messages (with email integration), interface with common invoicing program, manage your time entries, and keep everything in check using Apollo.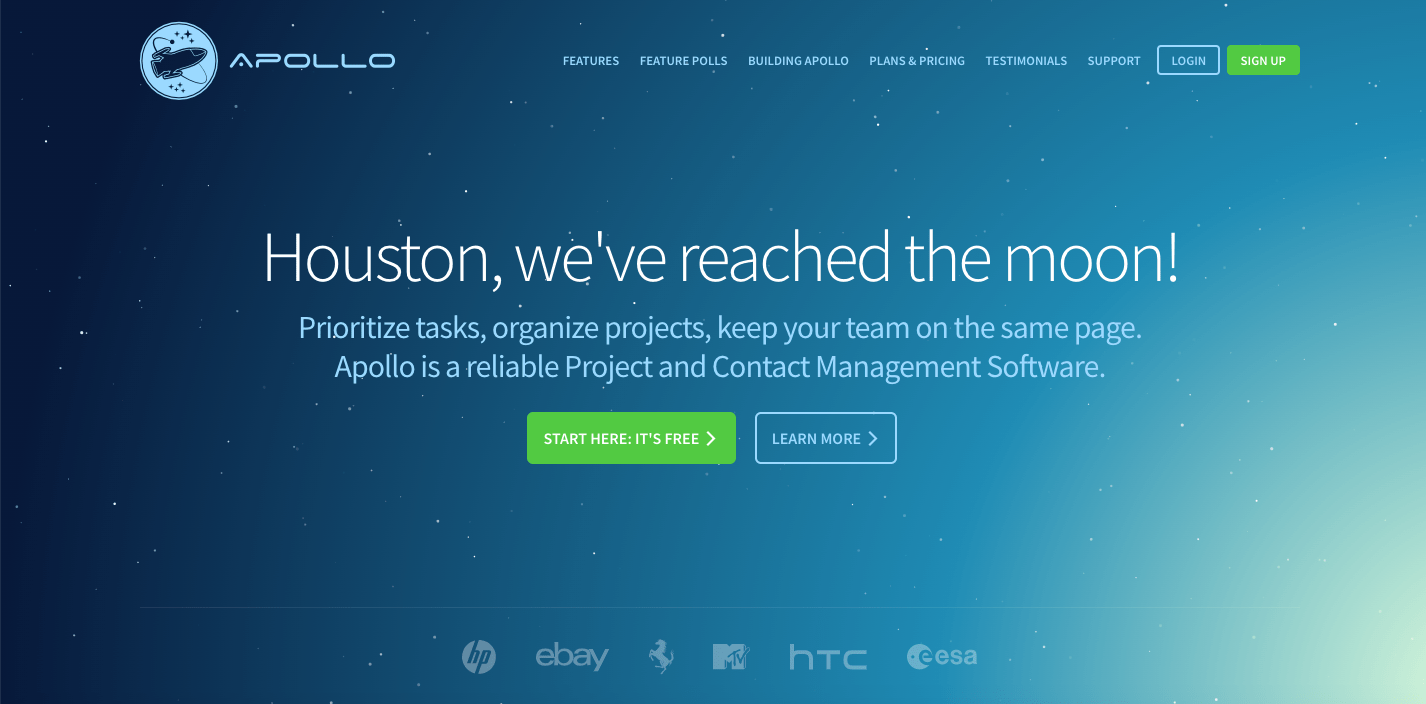 Productivity and project management tool for teams. Designed to improve the way remote teams work, Taskeo is your new fully equipped toolkit packed with everything you need to skyrocket your productivity.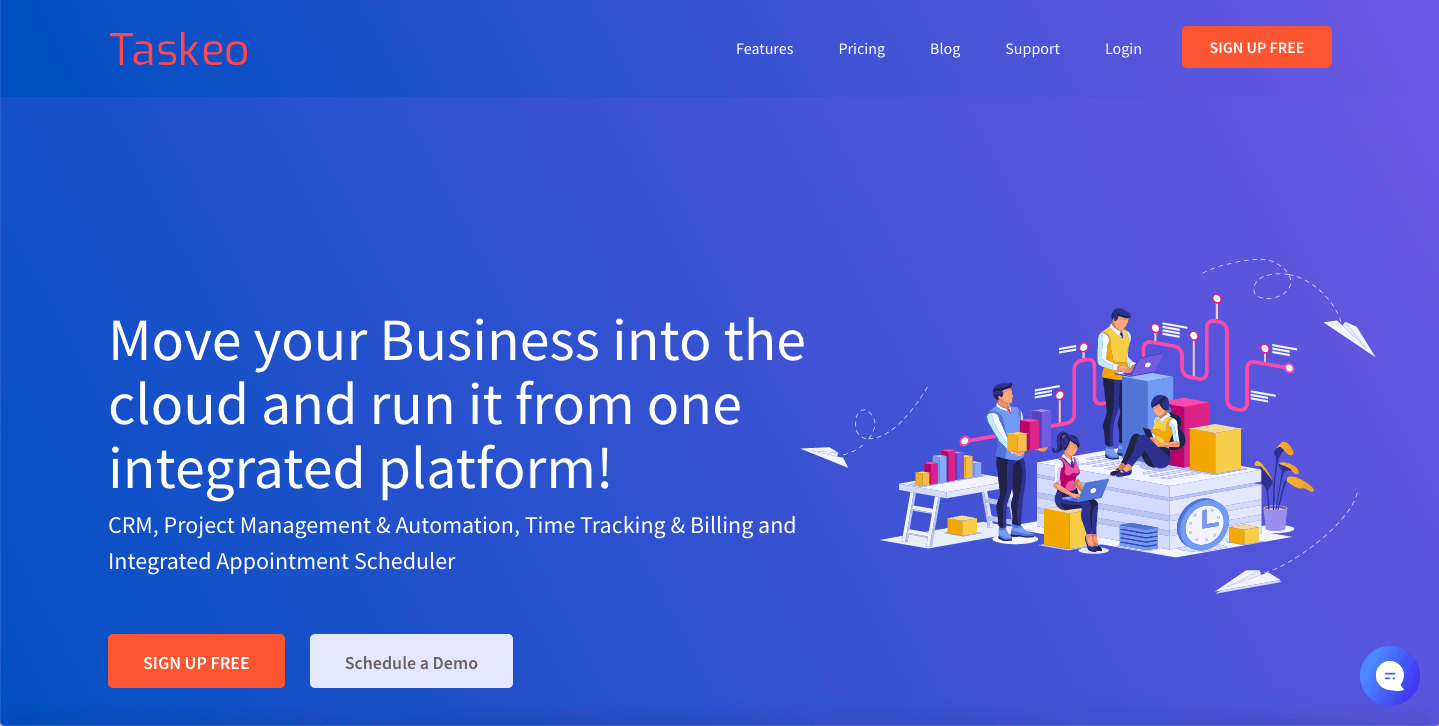 Eylean is a solution for teams looking to simplify and visualize their processes. Being a tool that is easy to use, Eylean can be used by everyone and applied in any organization.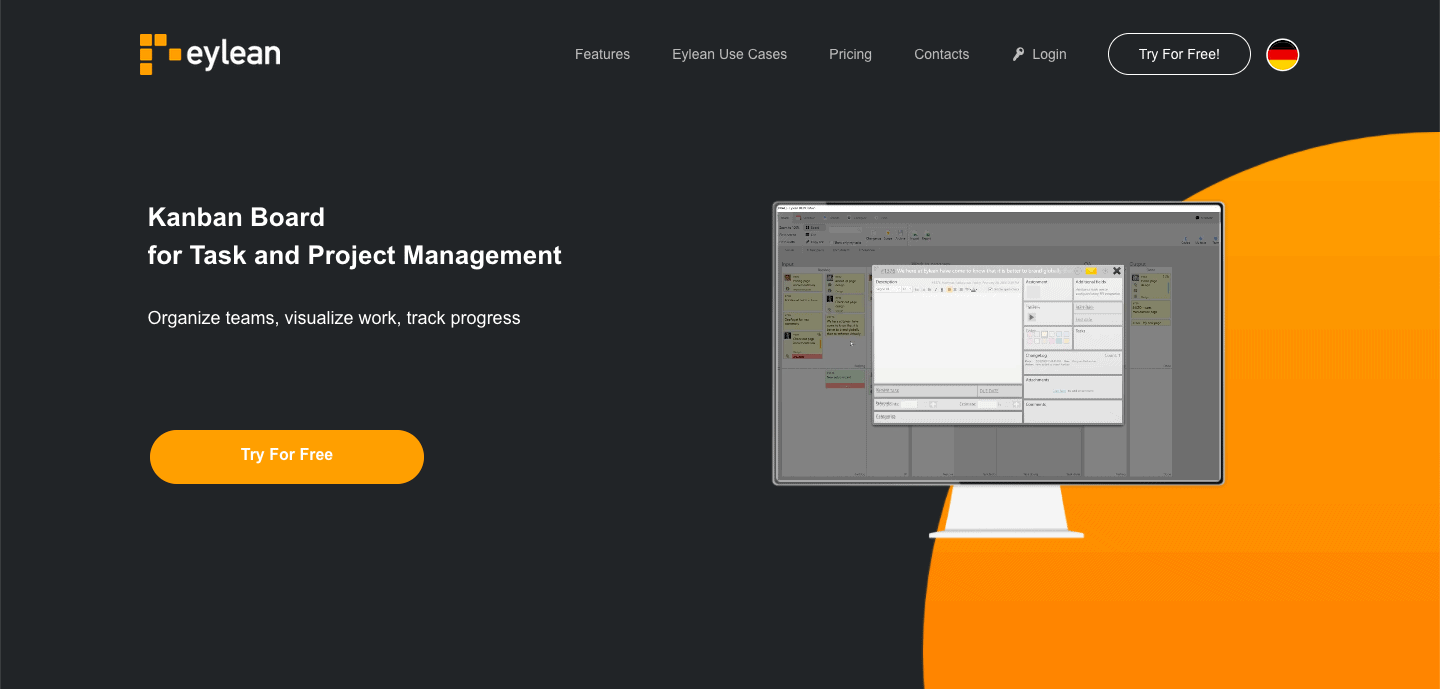 Blossom is as simple as Trello and built for people who work on software projects. It integrates with Github feature branches and pull requests. No need to reference ticket ids in commit messages all the time.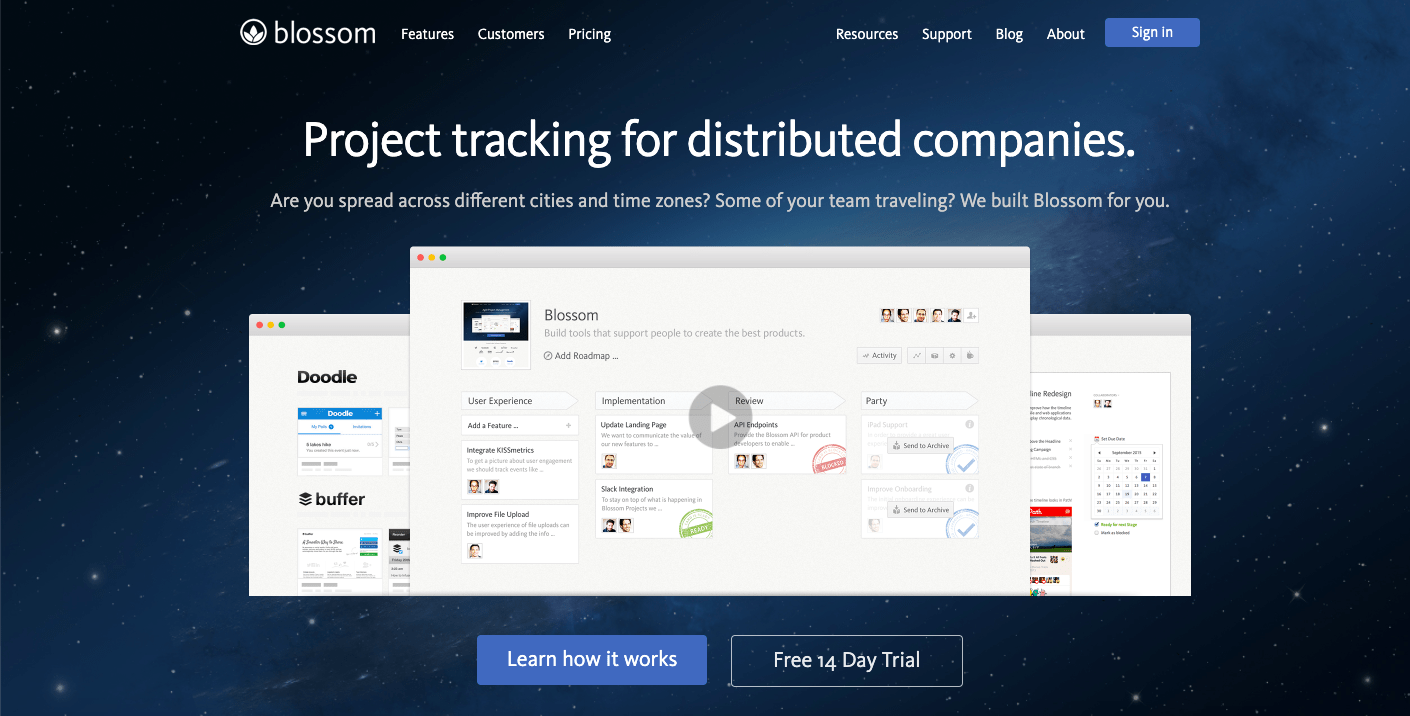 Scrumile
The all-in-one tool for agile and scrum teams that will help your teams' productivity while integrating with your JIRA.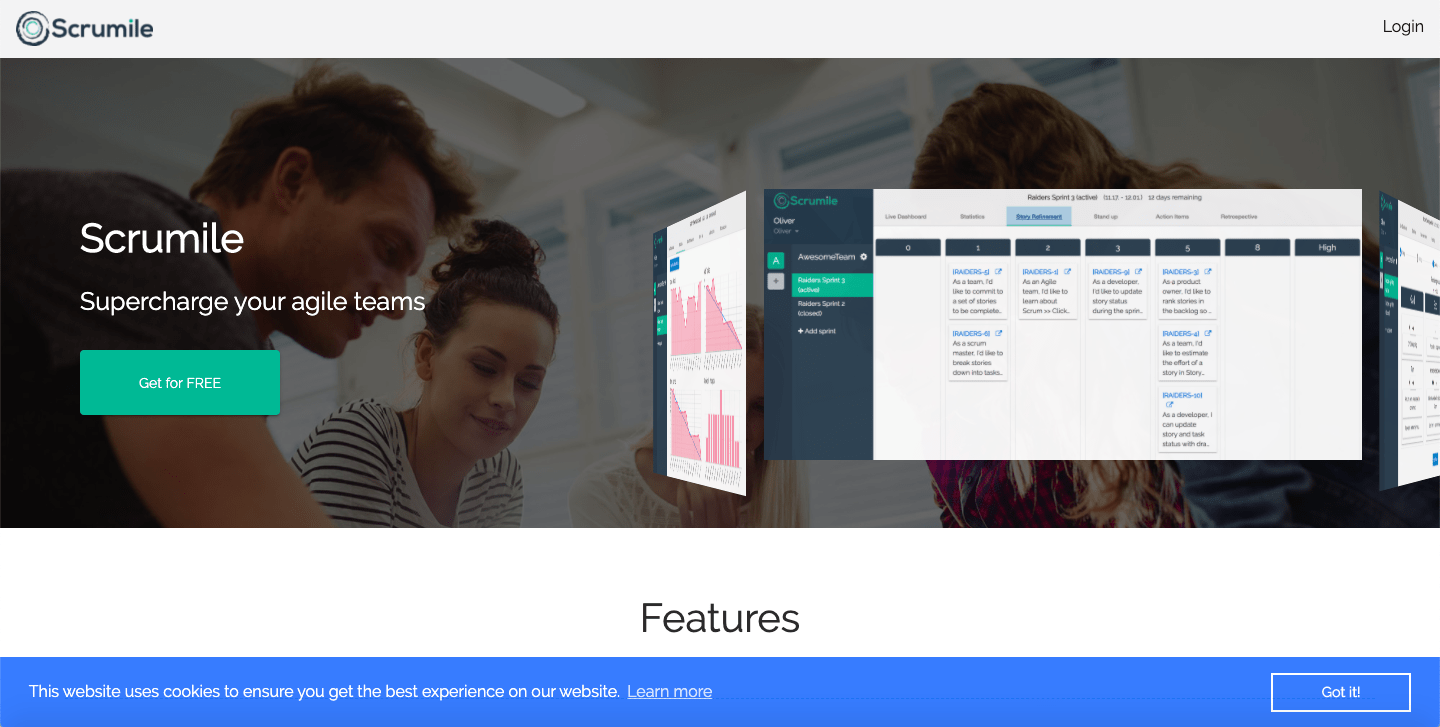 Clubhouse is a fast, uncluttered project management platform for Agile software teams to plan, build, and launch better products. It combines just the right amount of simplicity and structure to keep software teams happy and productive. Clubhouse is designed for developers and features a robust set of popular integrations (GitHub, GitLab, Slack, and more) and a well-crafted API to automate workflows. All core features are 100% free for teams up to 10 users.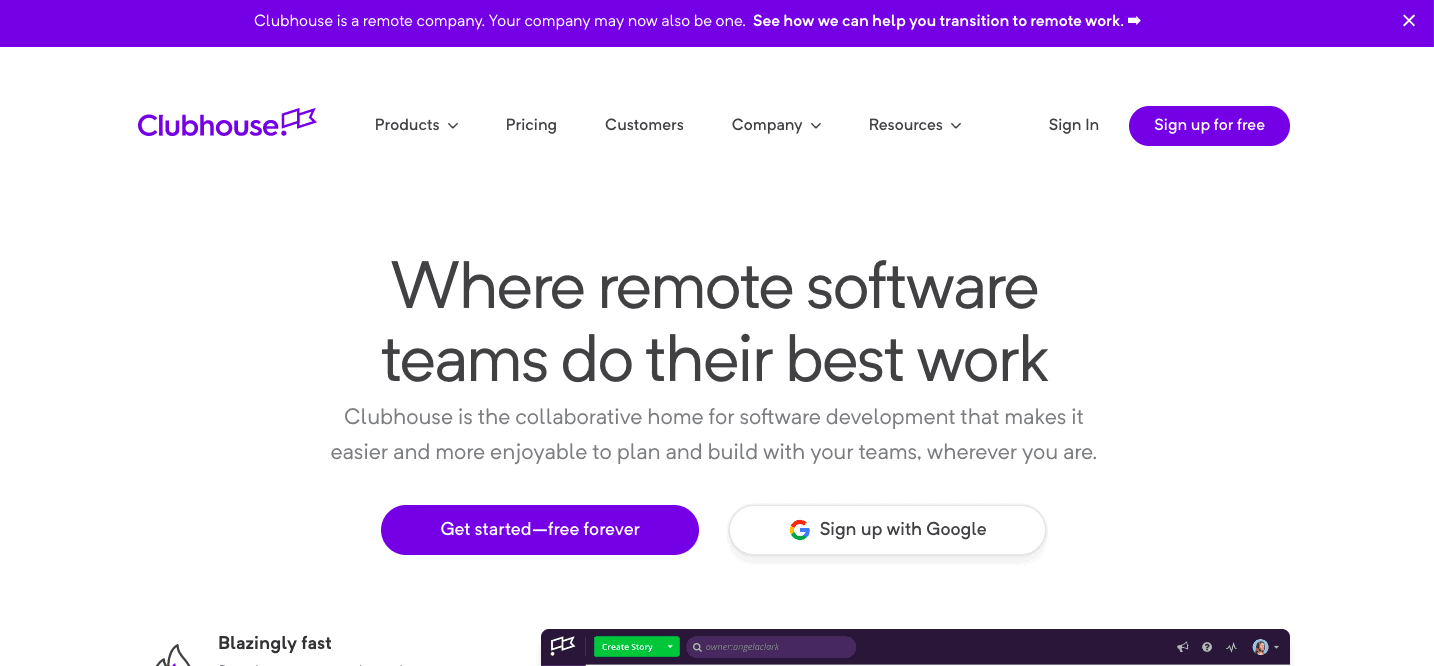 With ActiveCollab, you can spend less time juggling and more time managing your Real Work! ActiveCollab is equipped with just the right set of features to keep you free from distractions and focused on work: workload management, time tracking, task dependencies, invoicing, collaborative options, third-party integrations. ActiveCollab is used by teams and companies of all backgrounds and sizes – from large teams in international corporations to small startups, and everything in between.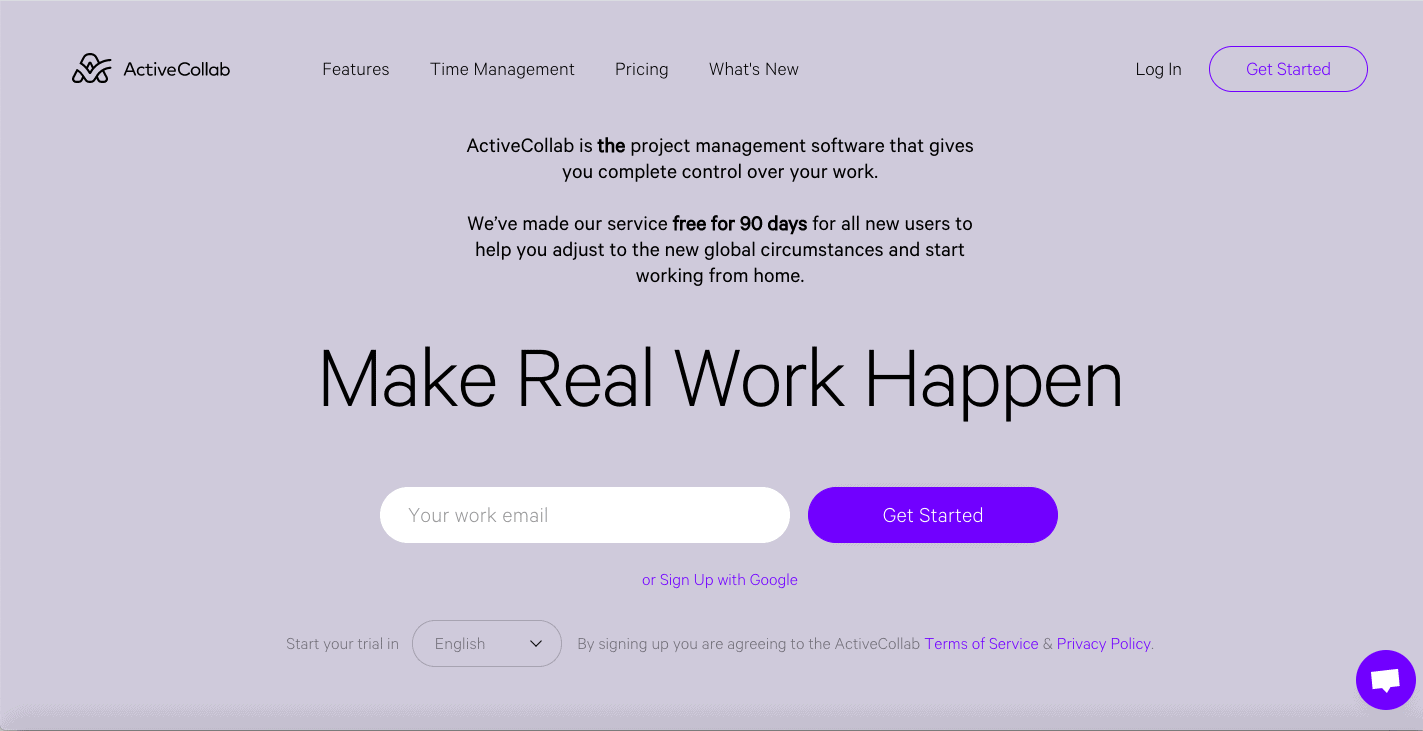 The most user-friendly online experience for managing any type of Project. Freedcamp contains one of the most comprehensive feature sets on the market while allowing you to only install the ones your team really needs. It offers innovative new user interfaces that reduce the amount of time required to stay on top of projects. Freedcamp is ideal for businesses and freelancers who are ready to get organized with ease.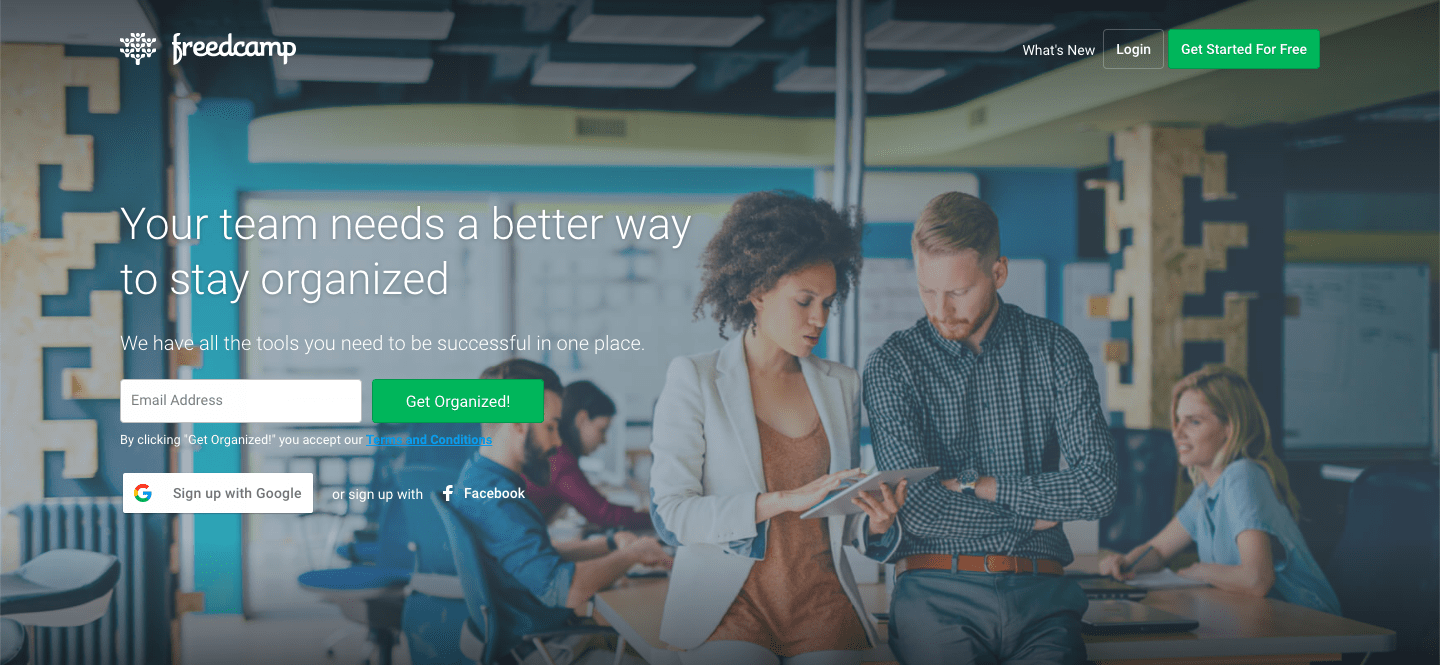 Redbooth is a task and project management platform that combines collaboration, team tasks, discussions and file sharing under one place. Redbooth offers a free version and a free trial version. The paid version of Redbooth is available from $9.00/month.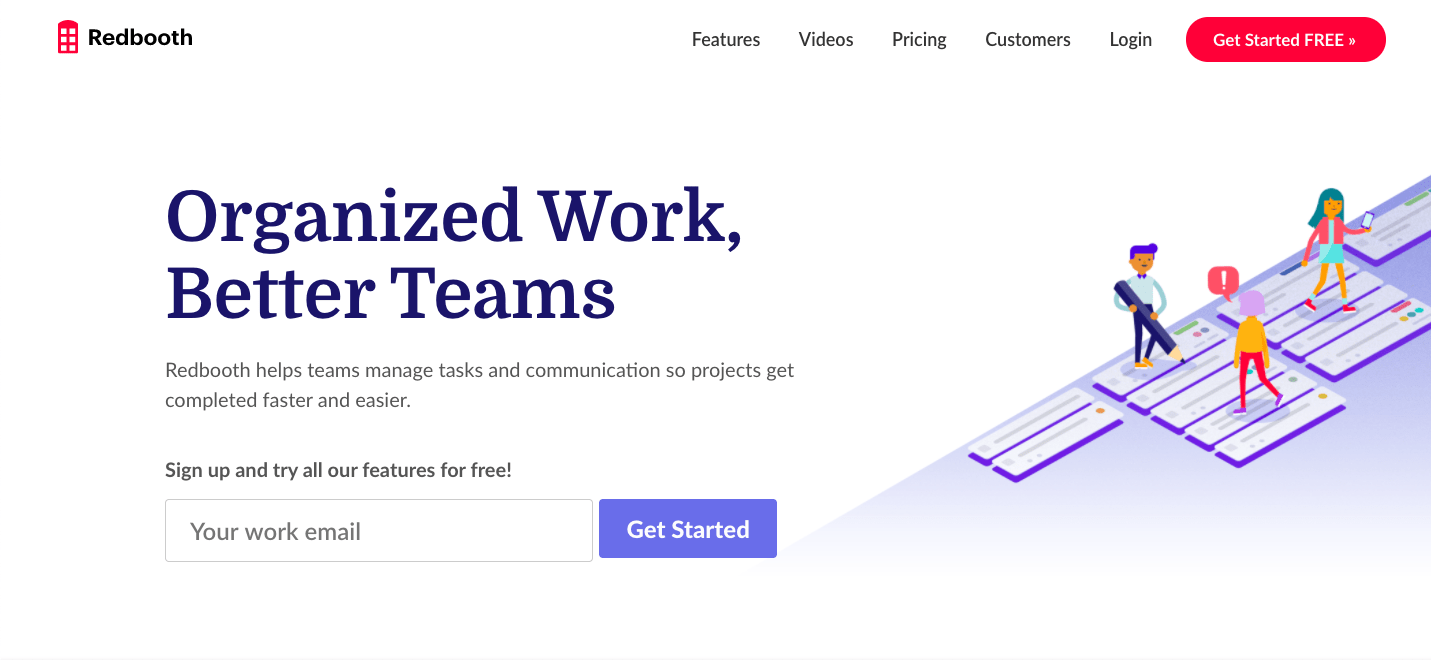 Accelo is a cloud-based service operations (ServOps) solution that enables users to manage and automate all customer-related activities. The software is suitable for companies of all sizes in various industries, and Accelo offers a free version and a free trial version. The paid version of Accelo is available from $39.00/month.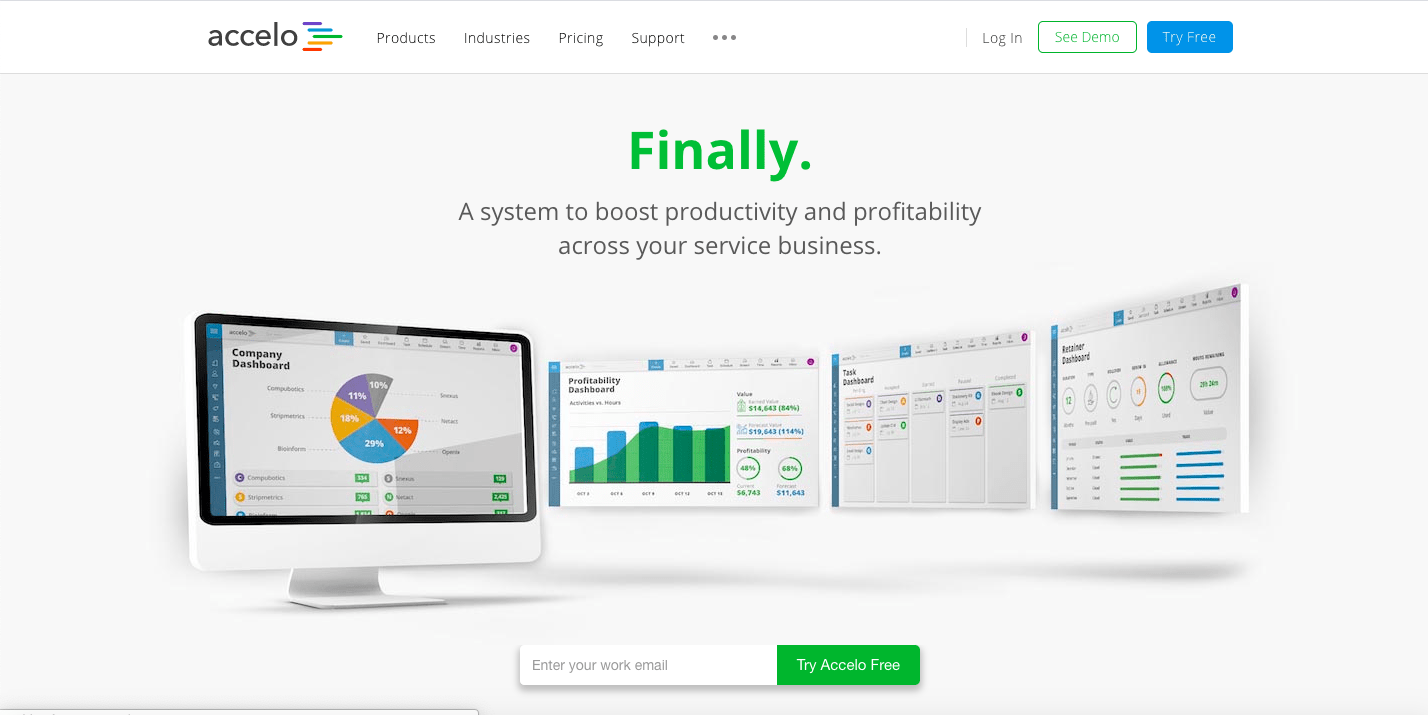 Simple task tracking and project management software for teams. Plan projects, prioritize to-dos and delegate tasks.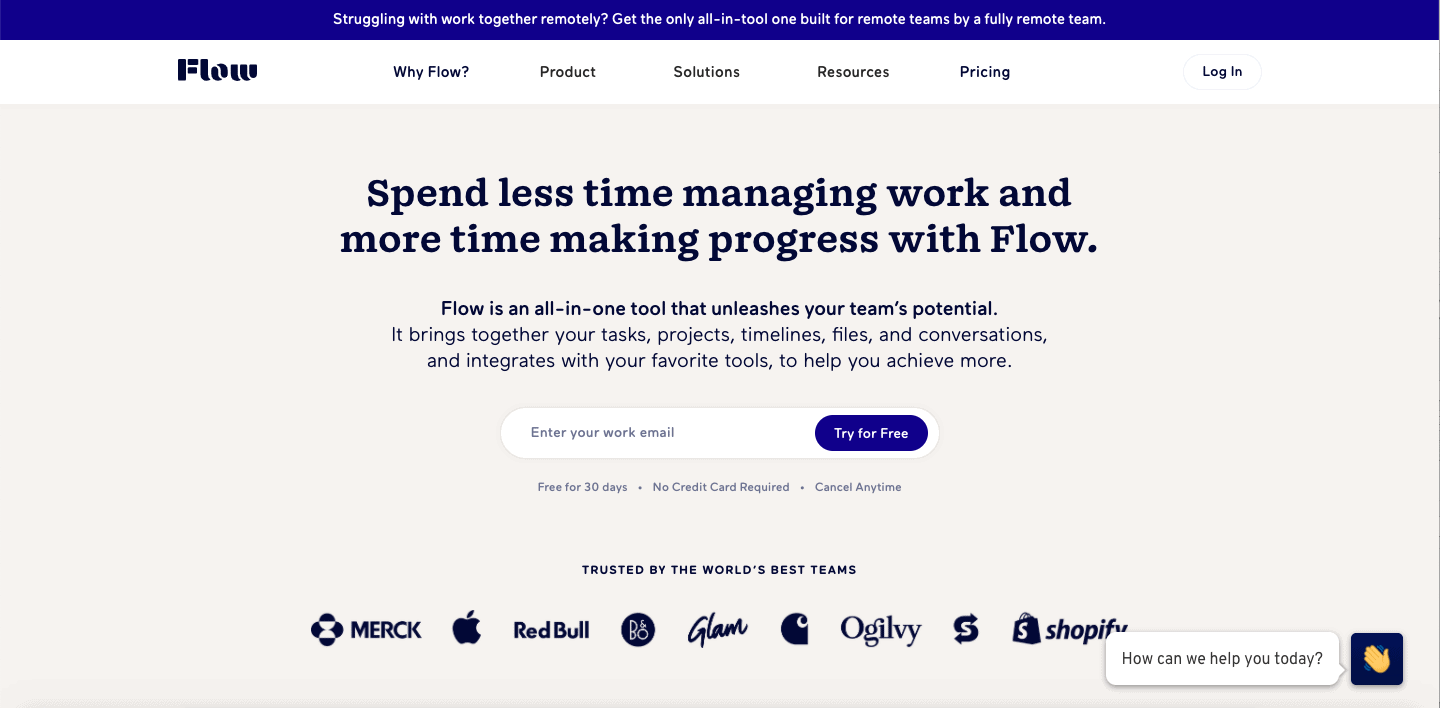 It provides you space for your lists, outlines, and teams. Use it as your simple to-do list and task manager. You can instantly make a list and share it with your friends, family, and team.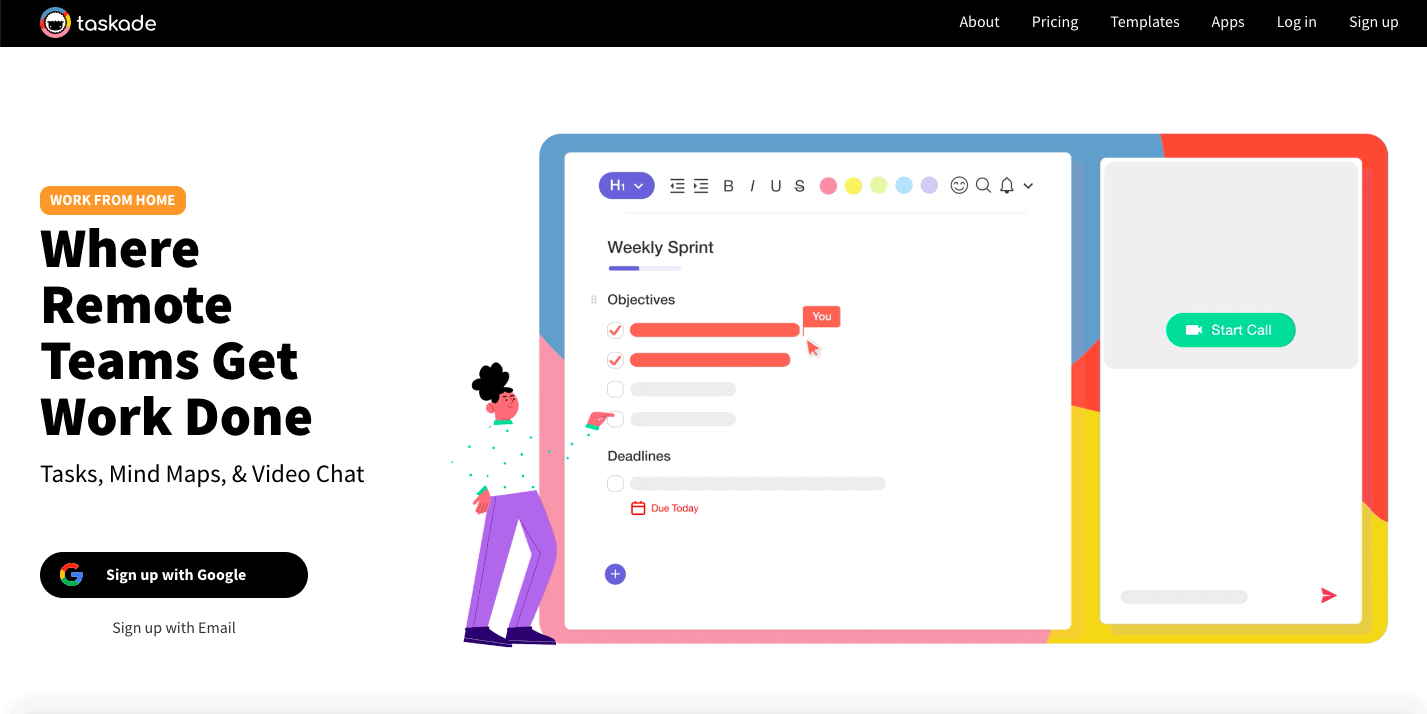 Based on the Eisenhower method framework, Priority Matrix is a full featured project management software that helps teams prioritize and focus on what matters most.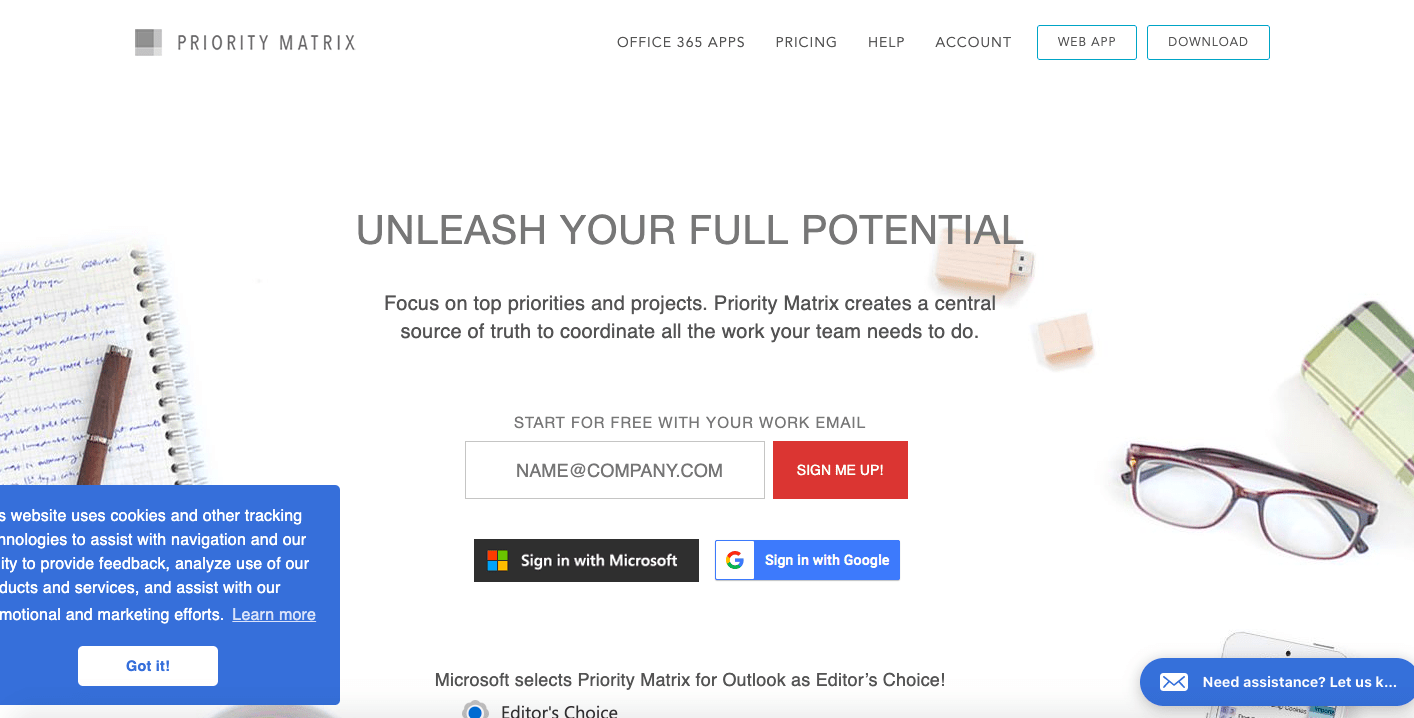 Software-as-a-Service product roadmap software for Product Managers (PMs) in software, web, and technology companies.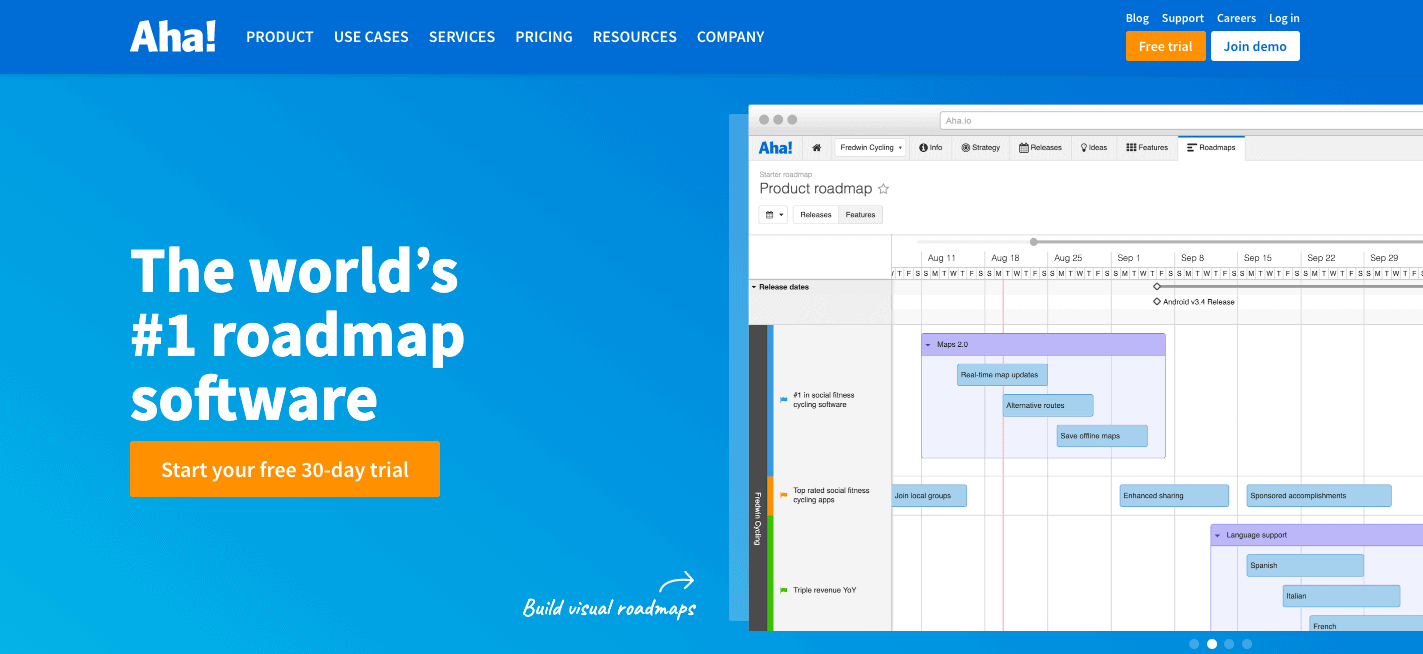 Enables small project teams and non-project managers to manage projects online creating project plans using visual project maps.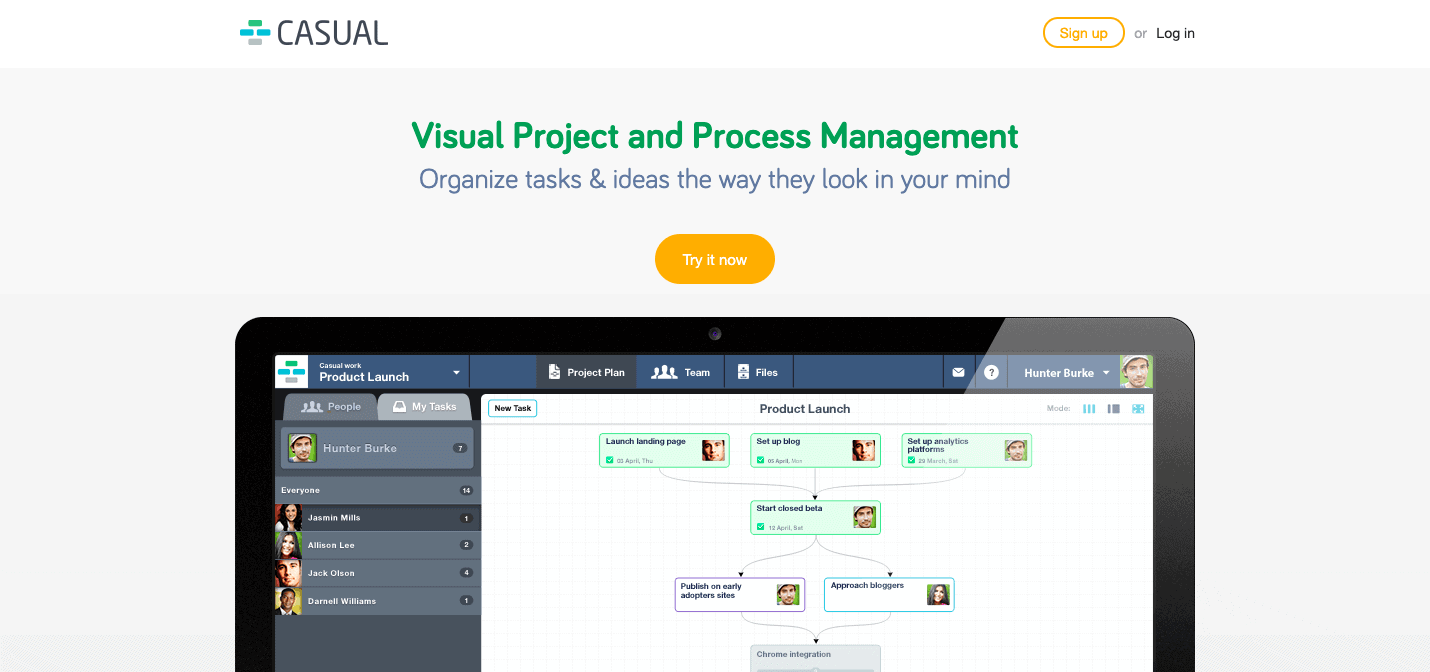 Free online retrospective meeting app featuring custom templates, multi-user grouping, integrations, analytics and more.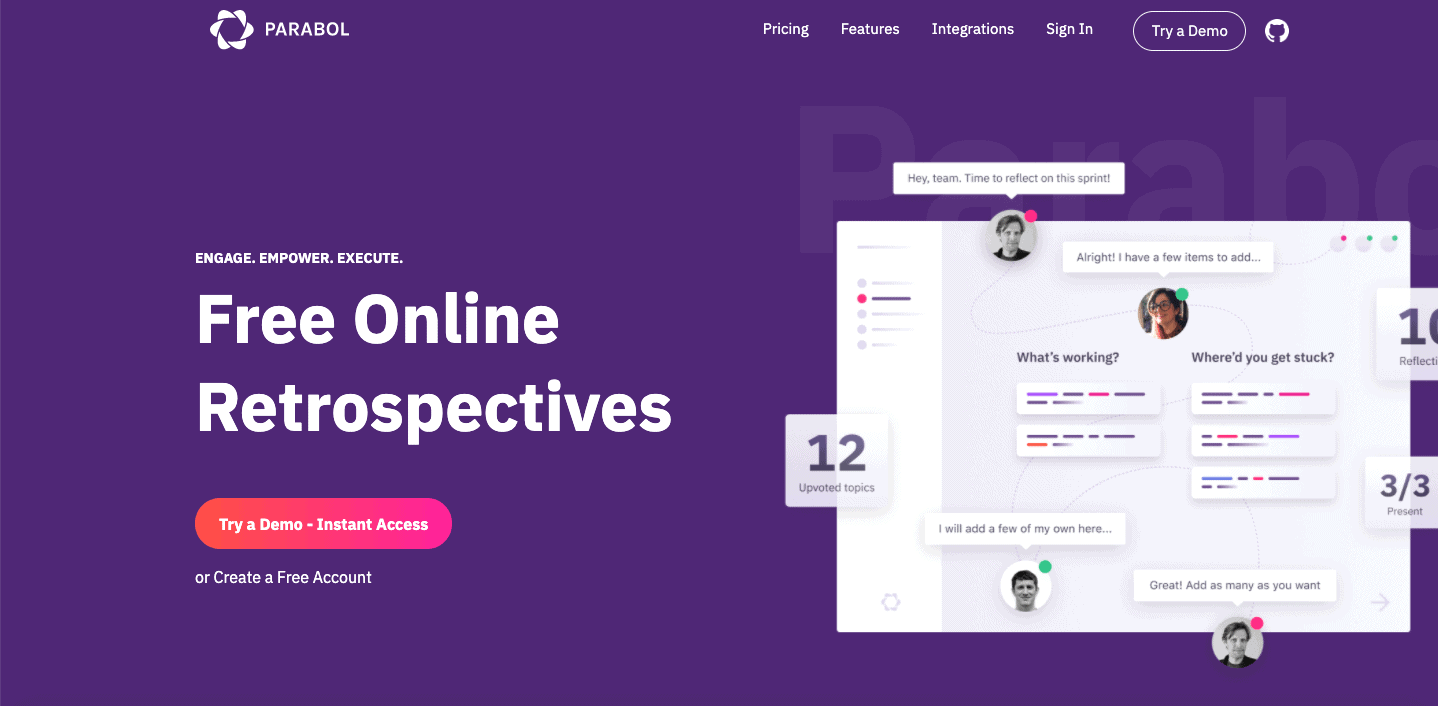 2. Communication tools 
Troop Messenger is a real-time messenger application which helps small to large businesses manage team collaboration and communication. It facilitates a secure instant messaging platform, enabling users to discuss projects, share ideas and connect with employees across the entire organization with multi-location access, virtual meetings and audio/video conferencing. The solution offers various features such as one-on-one messaging, group chats, contact search, self-messaging, conversation history, usage analytics, audio messaging, and more. Starter prize is at $1/month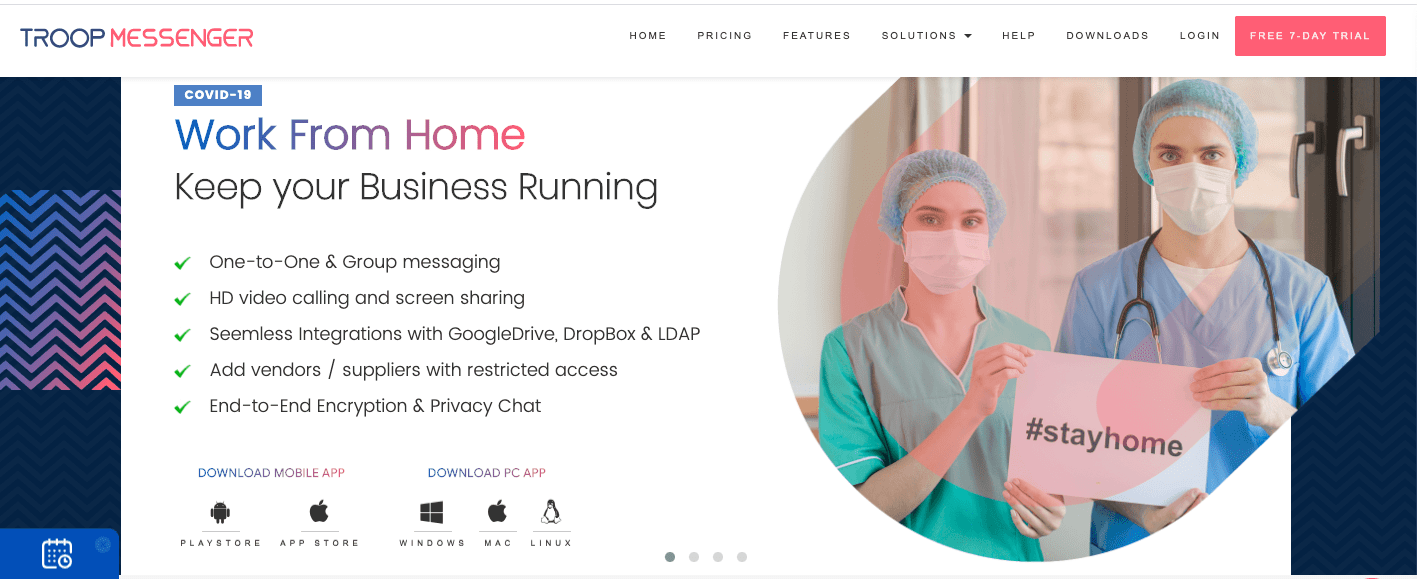 Chanty is a simple and fast team chat app to increase communication in teams of all business areas. It is characterized especially by its user-friendly interface. Chanty offers a free basic version as well as a premium version starting at $3 per month.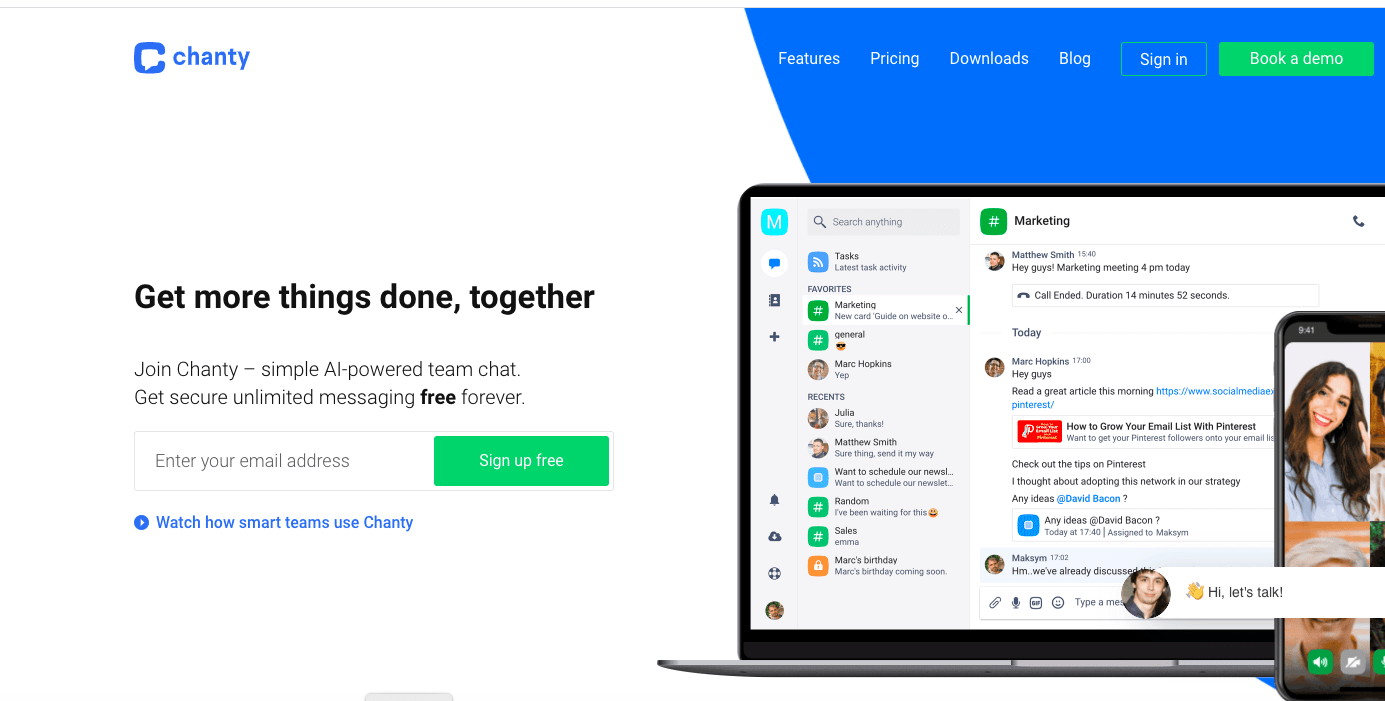 Flock is a cloud-based tool that facilitates team communication. It is suitable for businesses of all sizes across a variety of industries and allows video and audio calling, screen sharing, text chat and more. Flock offers a free trial as well as a free basic version. The premium version costs $4.50/month.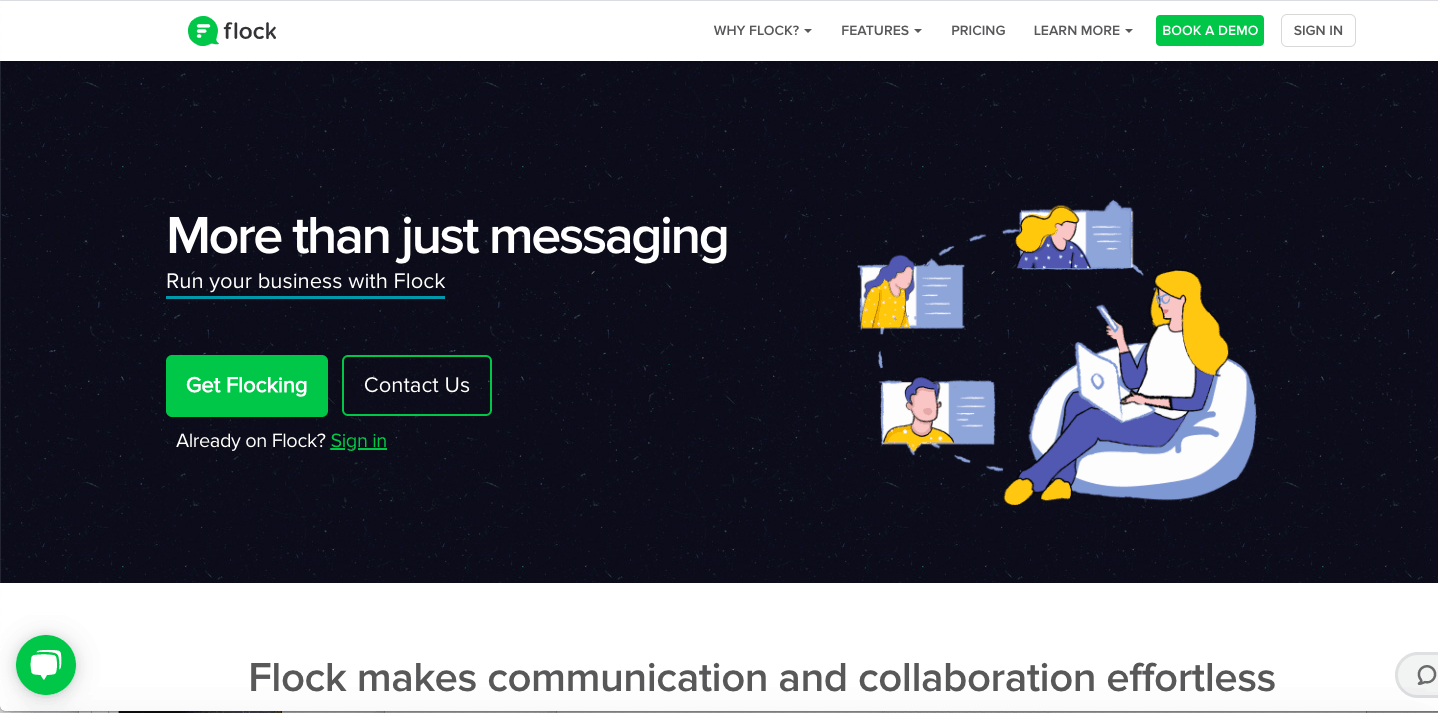 Blink is an all-in-one employee engagement app that provides a solution for frontline workers and remote employees to stay connected to their organization. It improves the employee experience in meaningful, everyday ways, giving employees mobile access to the communications and applications they need to do their job and feel part of the company. This creates a culture of productivity, retention and collaboration, where the frontline is engaged, gives feedback and feels valued.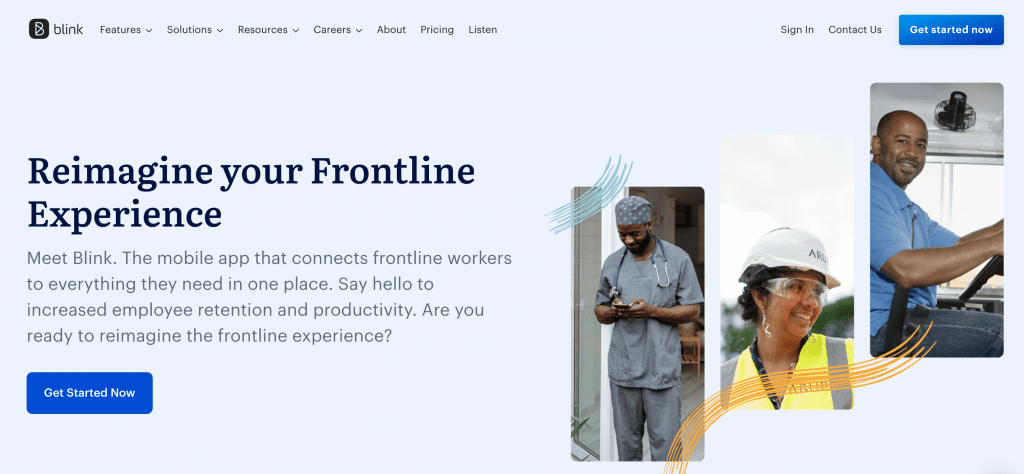 Donut is a communication tool which connects people who don't know each other well on teams of all sizes via direct messages, and encourages them to meet in person or virtually for a variety of programs. Its idea is to strengthen relationships, collaboration, and learning for your team by building bonds across departments and distances. There is a variety of pricing tiers including a free basic versions.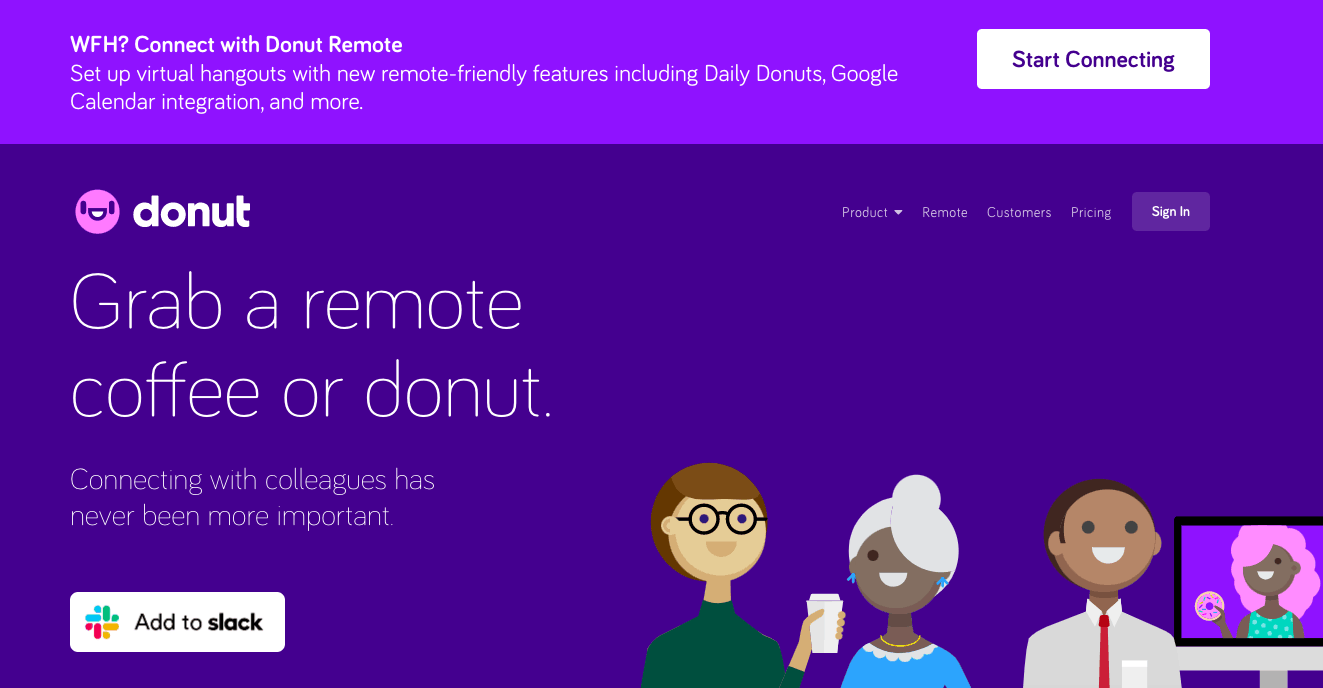 This is an Email manager, that provides you a multi-channel inbox where you assign tasks, follow, comment and analyze efficiency. It Front enables you to resolve issues faster, share updates as they happen and manage your mobile workforce.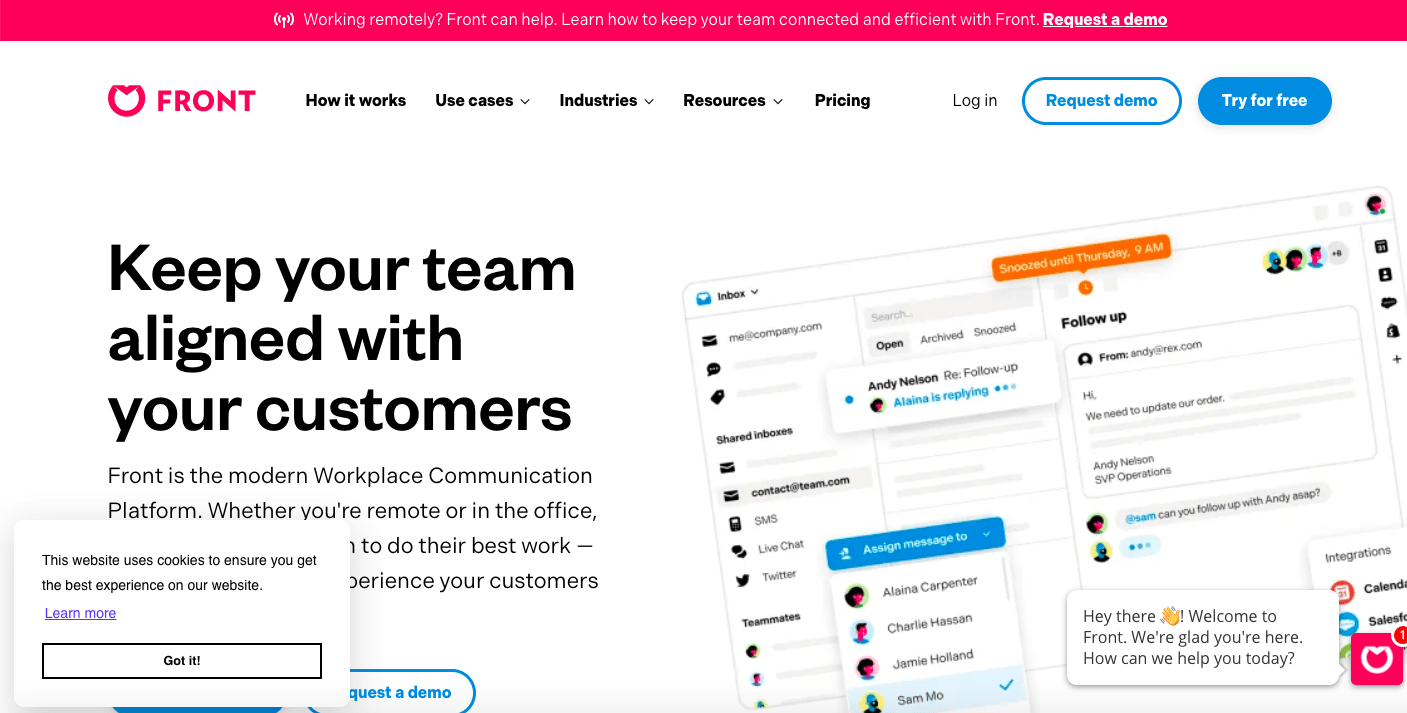 Communication tool with chat, file sharing, and task management.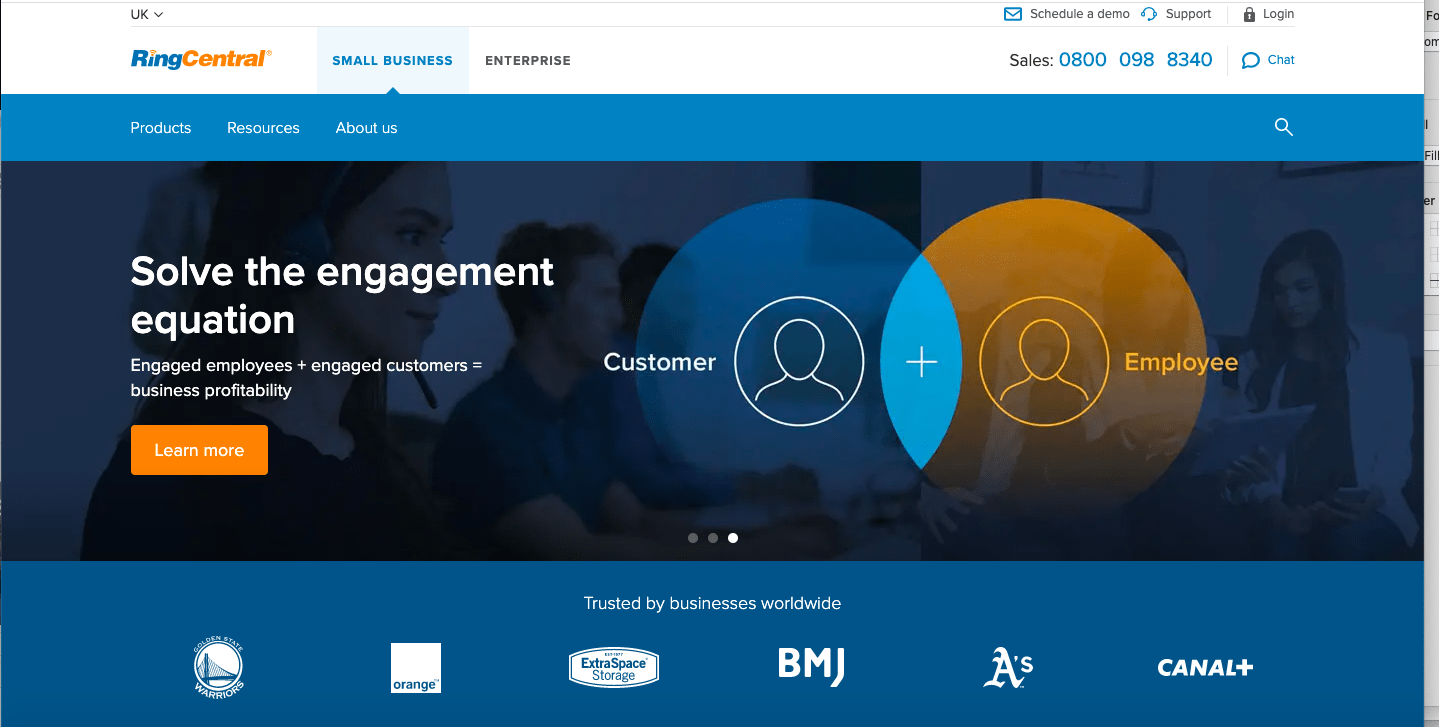 Communication tool that connects teammates through remote chat that can be sorted according to topics, locations and timezones.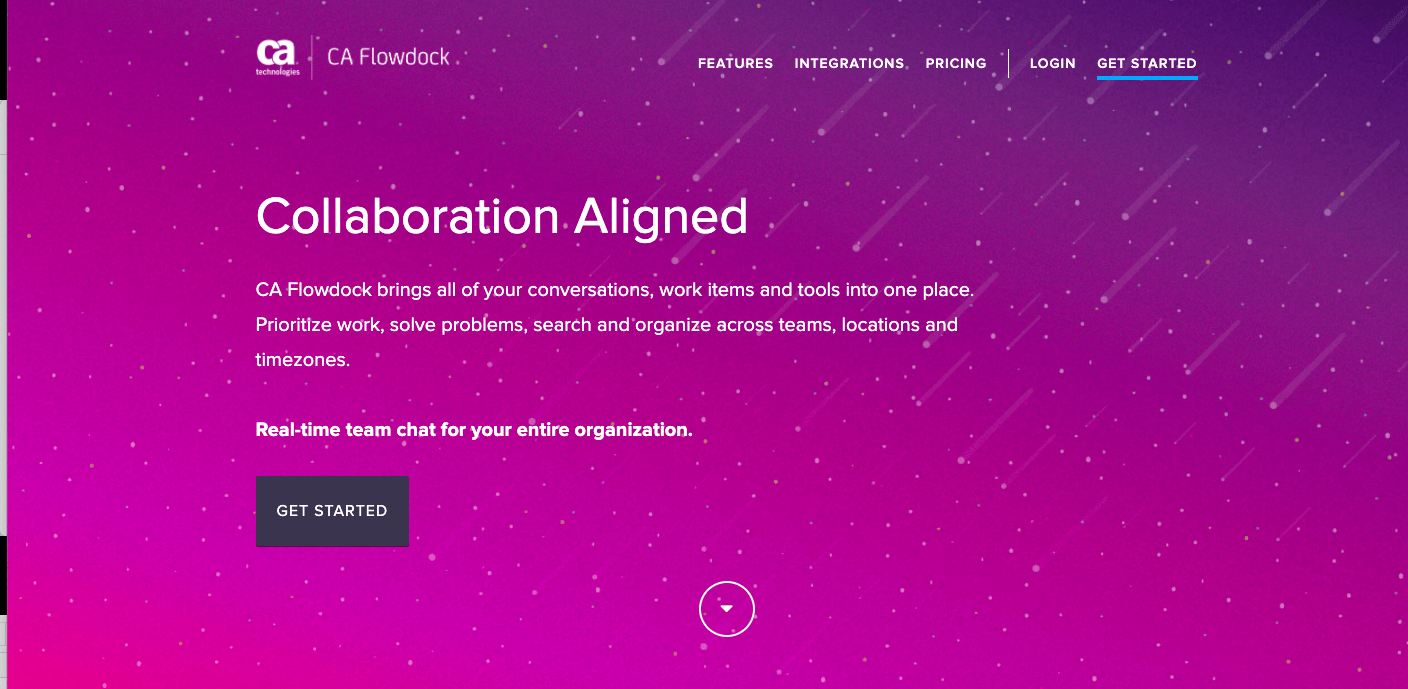 Fleep combines messaging with baked-in collaboration tools and video. Combining messaging with file sharing and tasks, Fleep has everything you need to coordinate your team's work from idea to execution.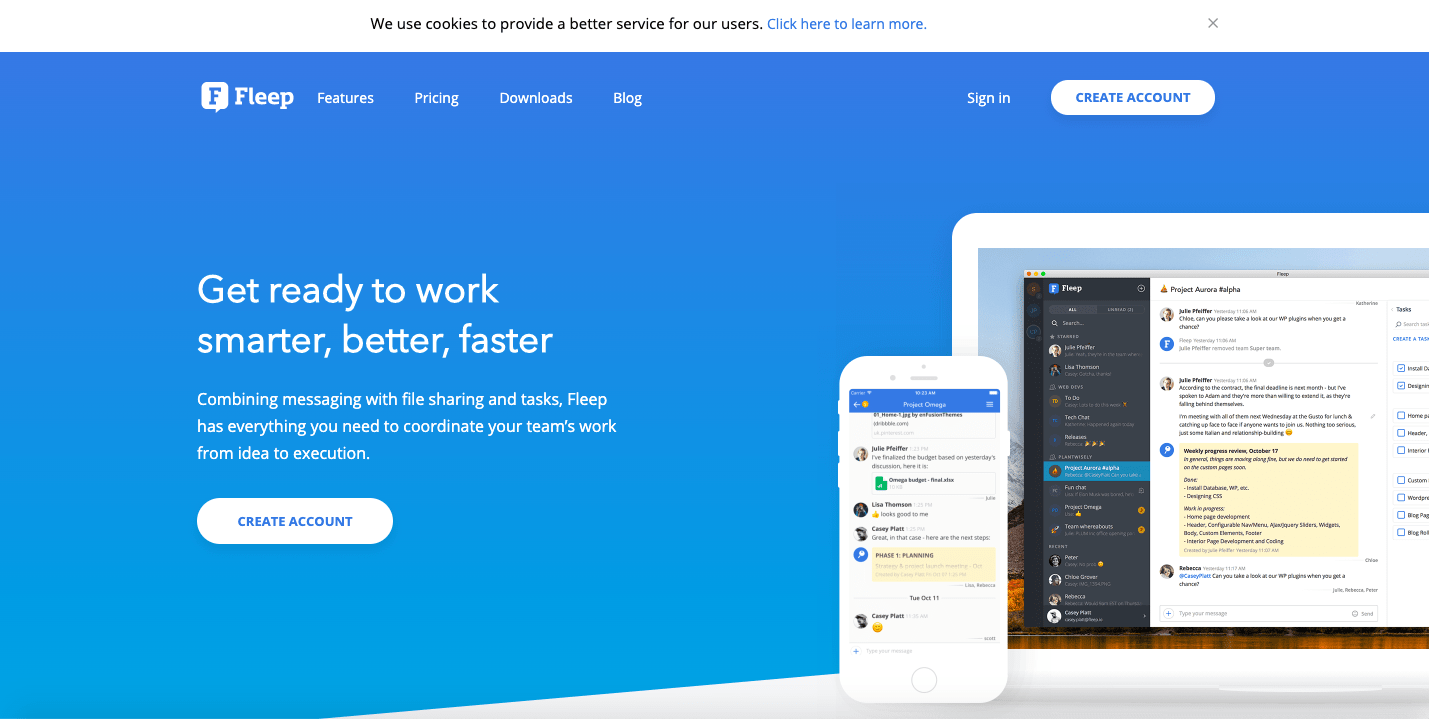 Online platform that helps collaborate and communicate with team members across multiple locations.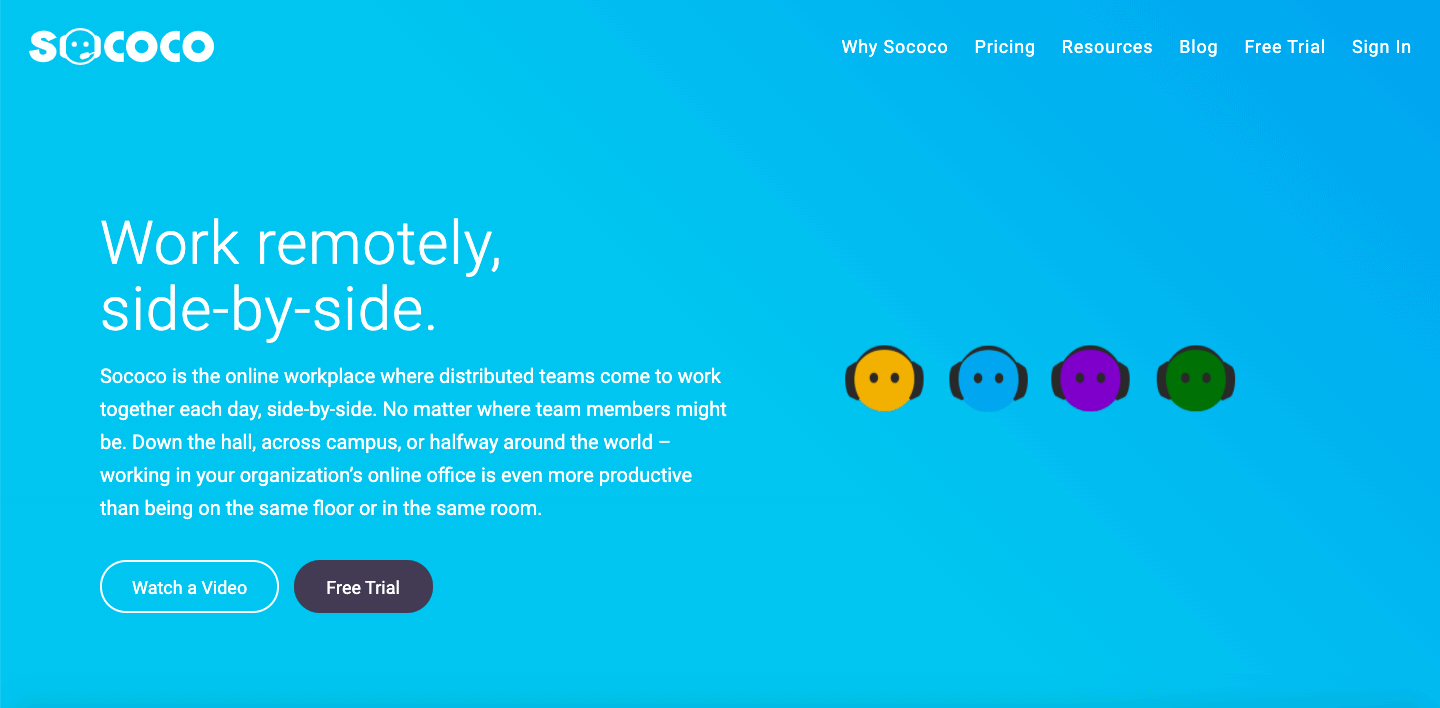 End-to-end encrypted communication and collaboration with tasks, documents and projects for business teams.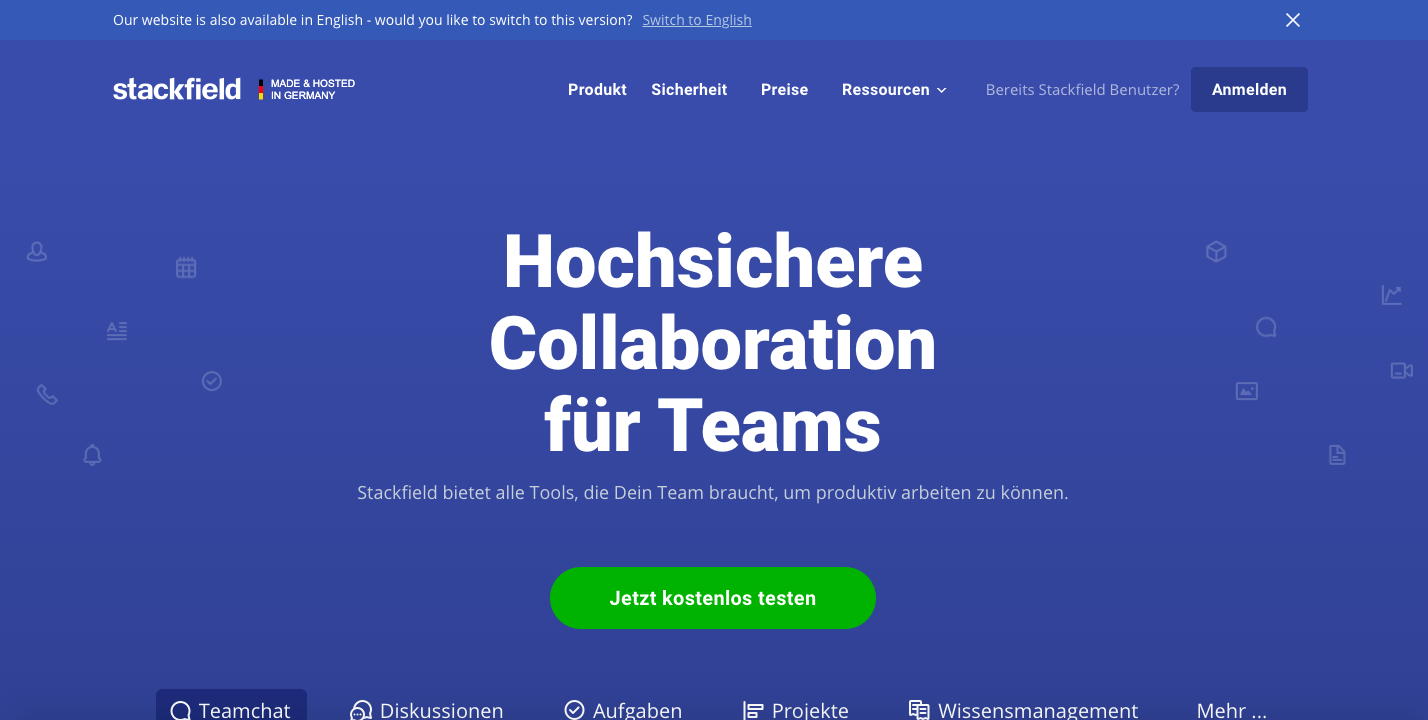 Collaboration tool for making communication simpler with 1-click video calls, team presence and awareness.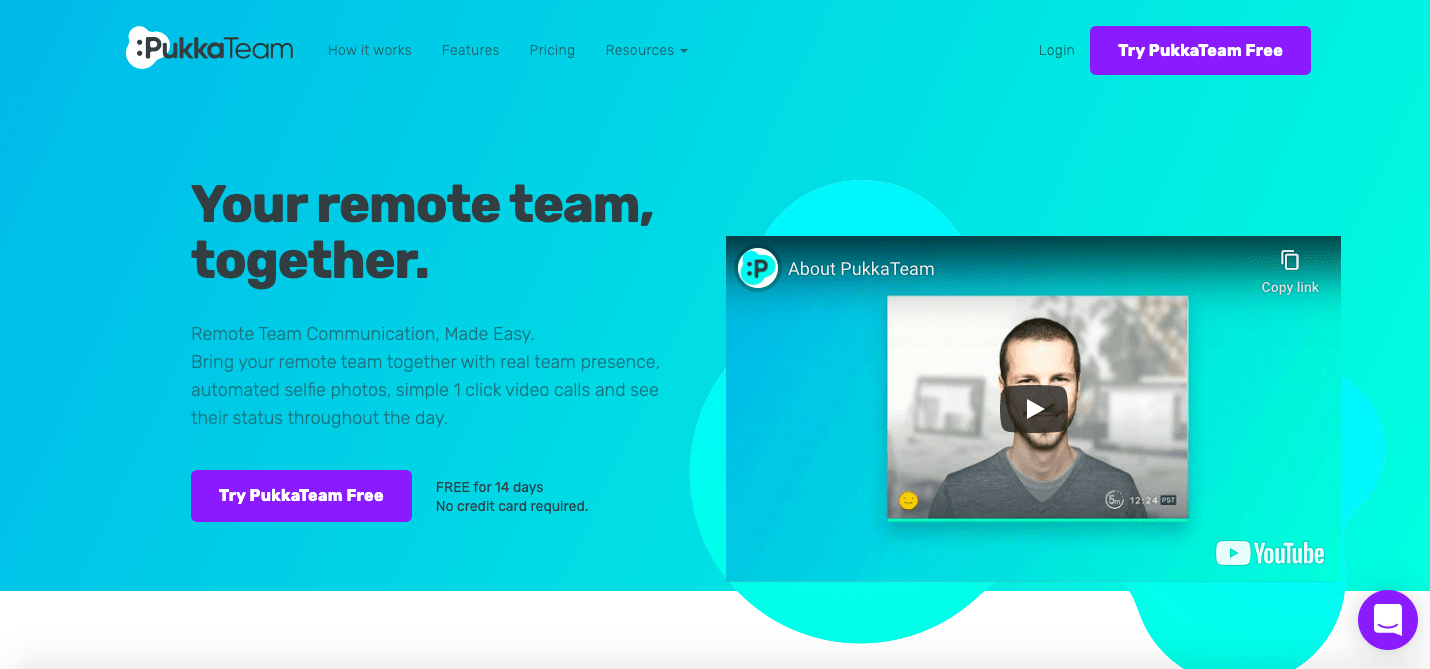 3. Video/ collaboration tools 
Bluejeans is an online video conferencing platform designed to help businesses to host successful video meetings. The software supports meeting recording, text chat, content sharing, and multiple participants. It connects to multiple platforms including Avaya Scopia, Cisco Jabber, Microsft Lync, Google Hangouts, and more. BlueJeans offers a free trial, as well as 3 different subscription plans starting at $12.49/ month.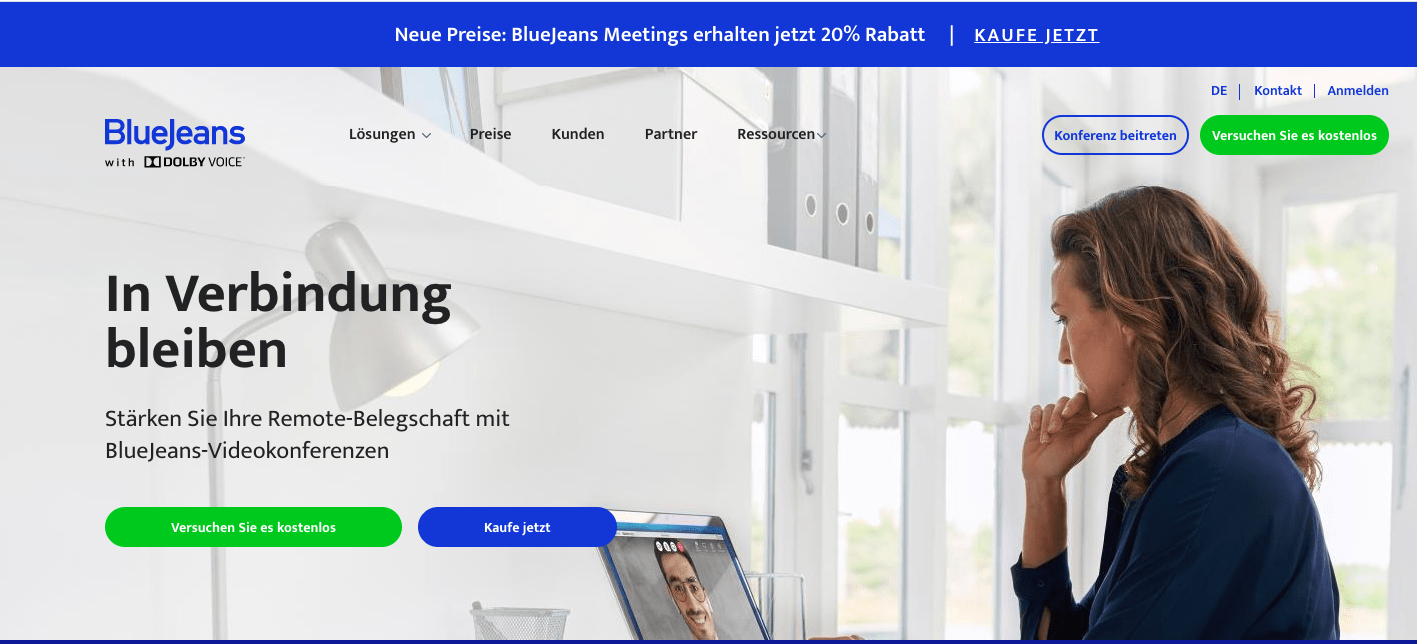 GotoMeeting allows online meetings, desktop sharing, and video conferencing among users in realtime. In contrast to many conventional video softwares, it does not require a desktop or laptop to join the online meeting. It comes with two different subscription plans, starting at $12/monthly.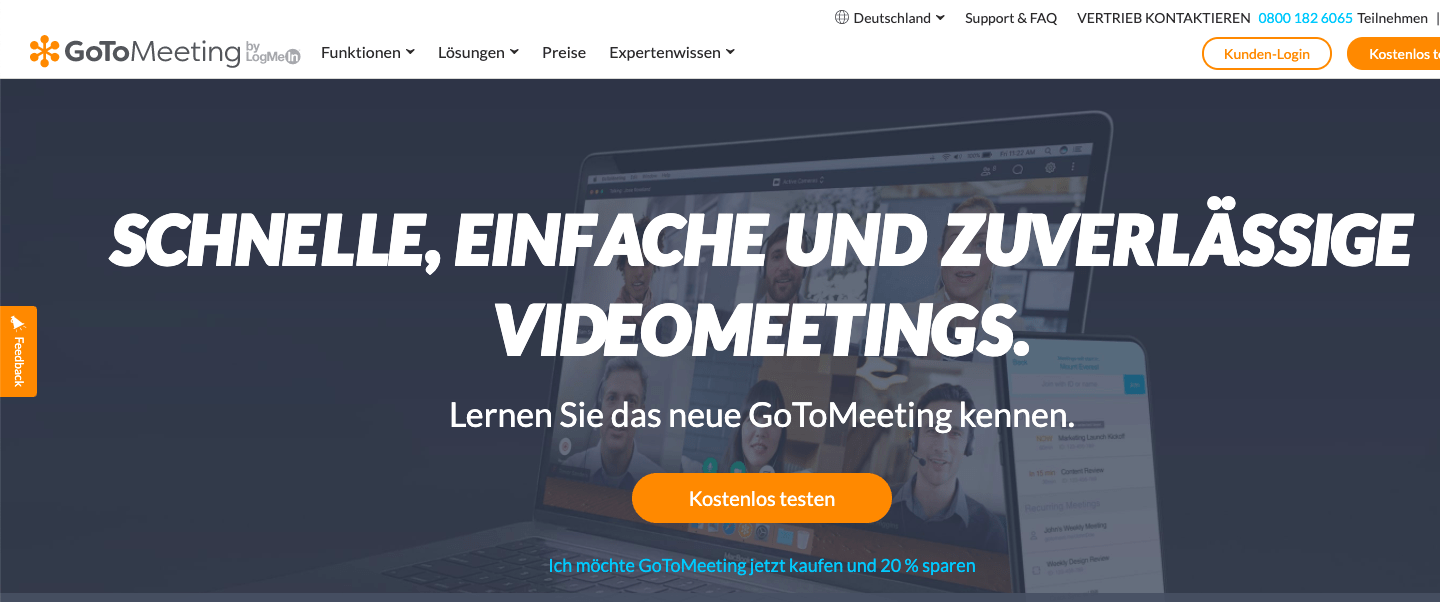 Join.me is a cloud-based application which offers a feature-rich video conferencing tool for various purposes in an instant. The friendly interface and flexible pricing scheme make join.me a top pick for startups and small companies. It comes with a free 14 day trial. The premium Business plan is $30 per month for each user, and includes up to 250 participants plus a variety of integrations.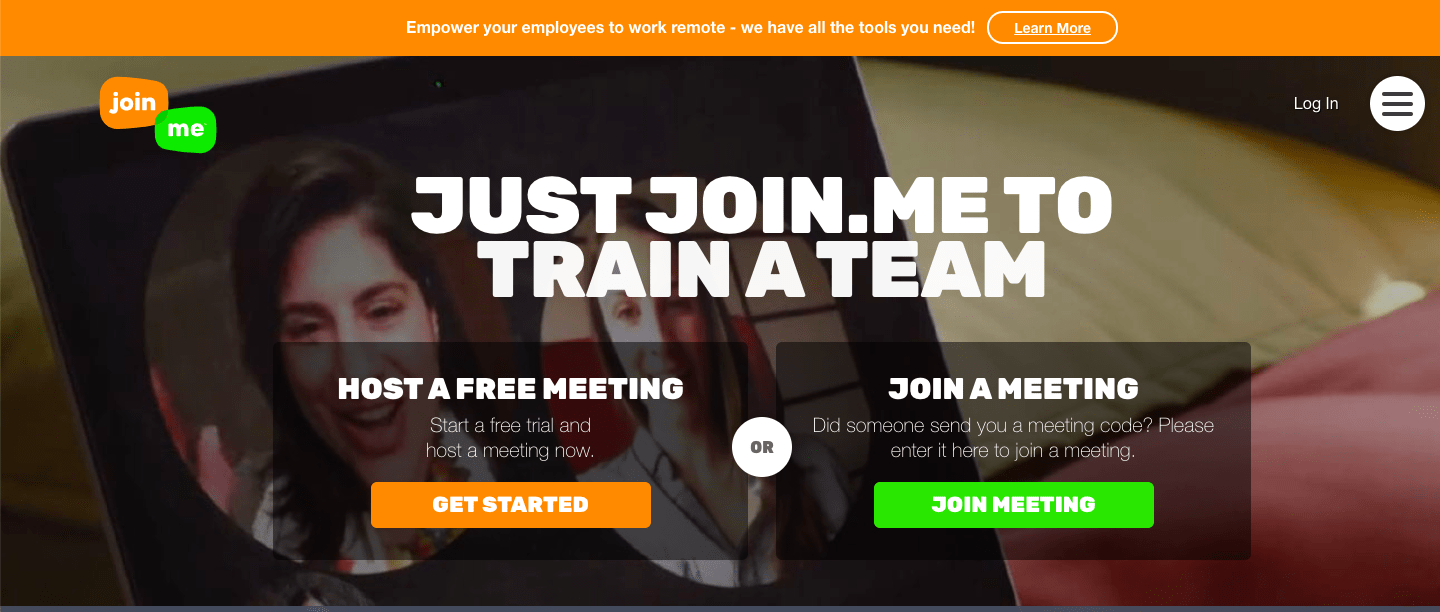 Zoom Meetings is a popular cloud-based video conferencing application, used primarily by businesses to host meetings with remote or international colleagues and clients. Zoom video conferencing is celebrated for its ease of use, high quality HD video and audio, and collaboration facilities such as text chat and screen sharing. Attendees can also join a Zoom meeting without signing into the app, but must sign up for an account to host a video conference. The basic version is completely free of charge. A 14 day free trial is available as well.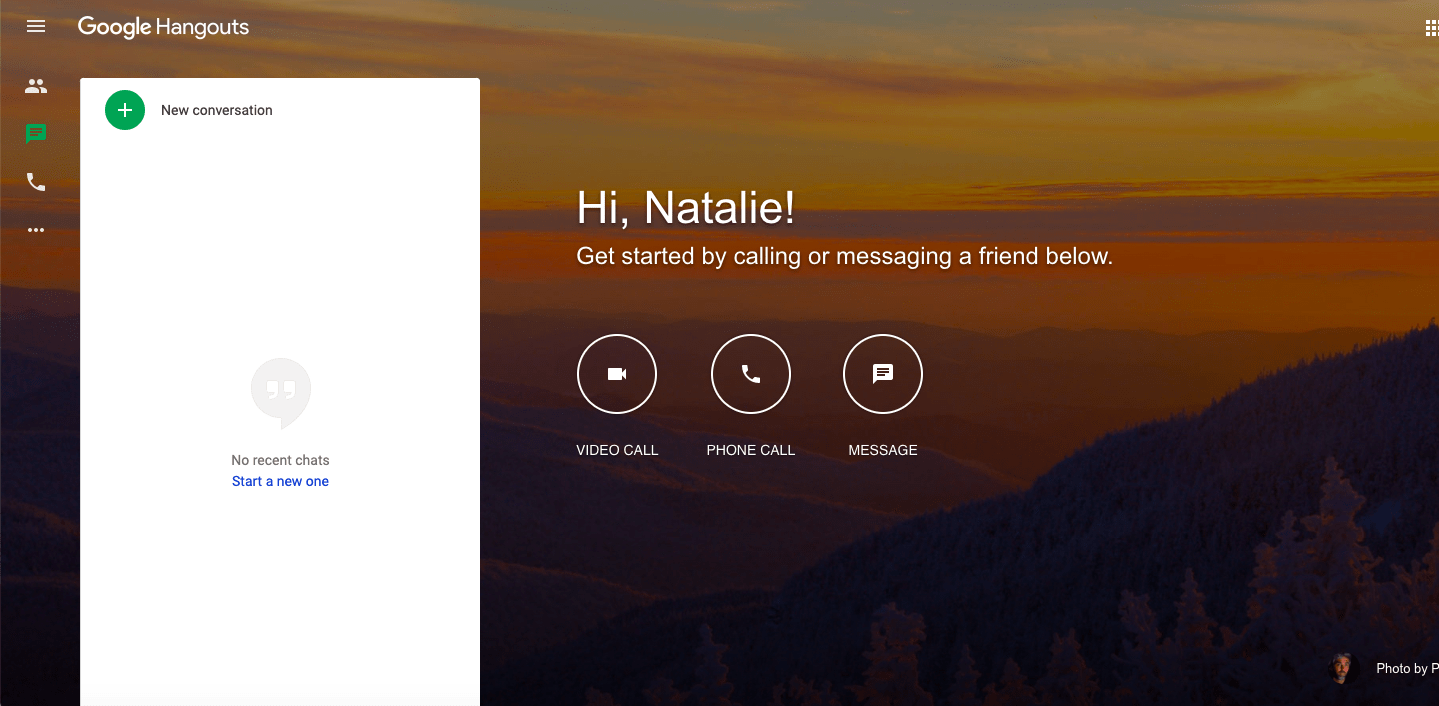 Zoom
Zoom Meetings is a popular cloud-based video conferencing application, used primarily by businesses to host meetings with remote or international colleagues and clients. Zoom video conferencing is celebrated for its ease of use, high quality HD video and audio, and collaboration facilities such as text chat and screen sharing. Attendees can also join a Zoom meeting without signing into the app, but must sign up for an account to host a video conference. The basic version is completely free of charge. A 14 day free trial is available as well.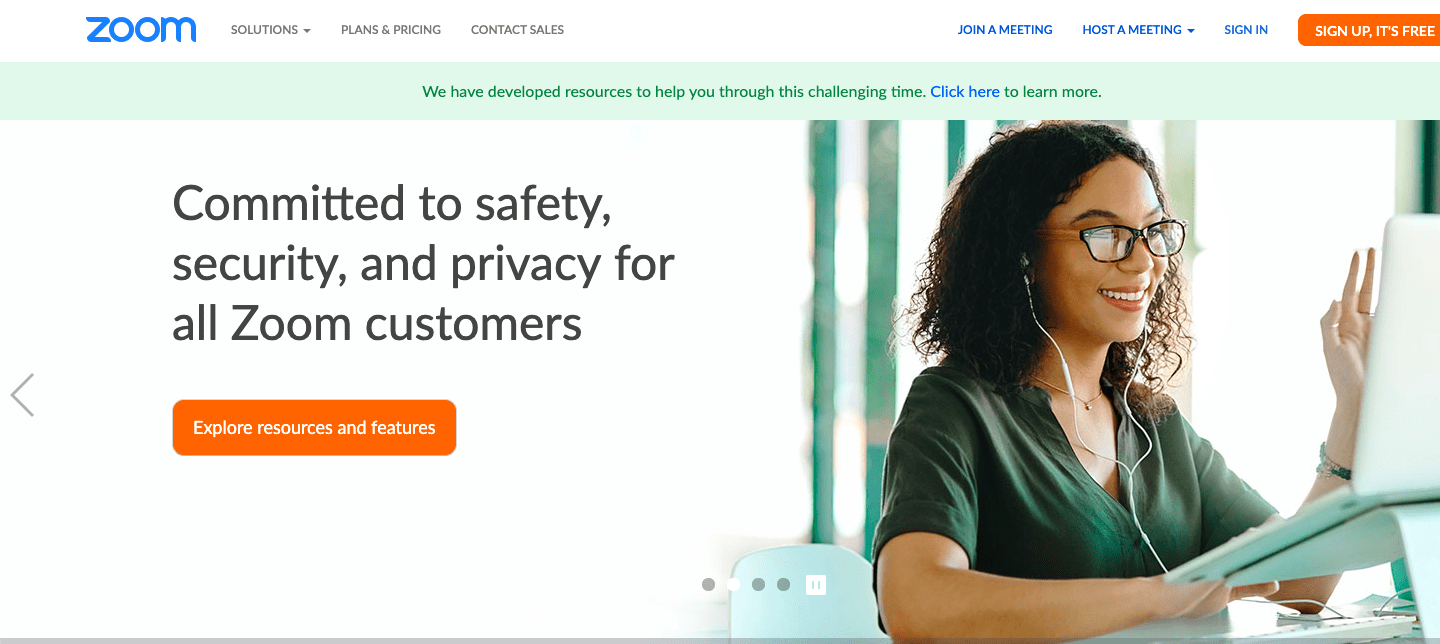 RingCentral Office integrates phone, video, meetings, and messaging in one reliable, easy-to-use solution. Designed to give you a flexible, mobile, and powerful cloud phone system. Choose from a variety of available phone numbers, install our apps on your desktop, smartphone, or tablet.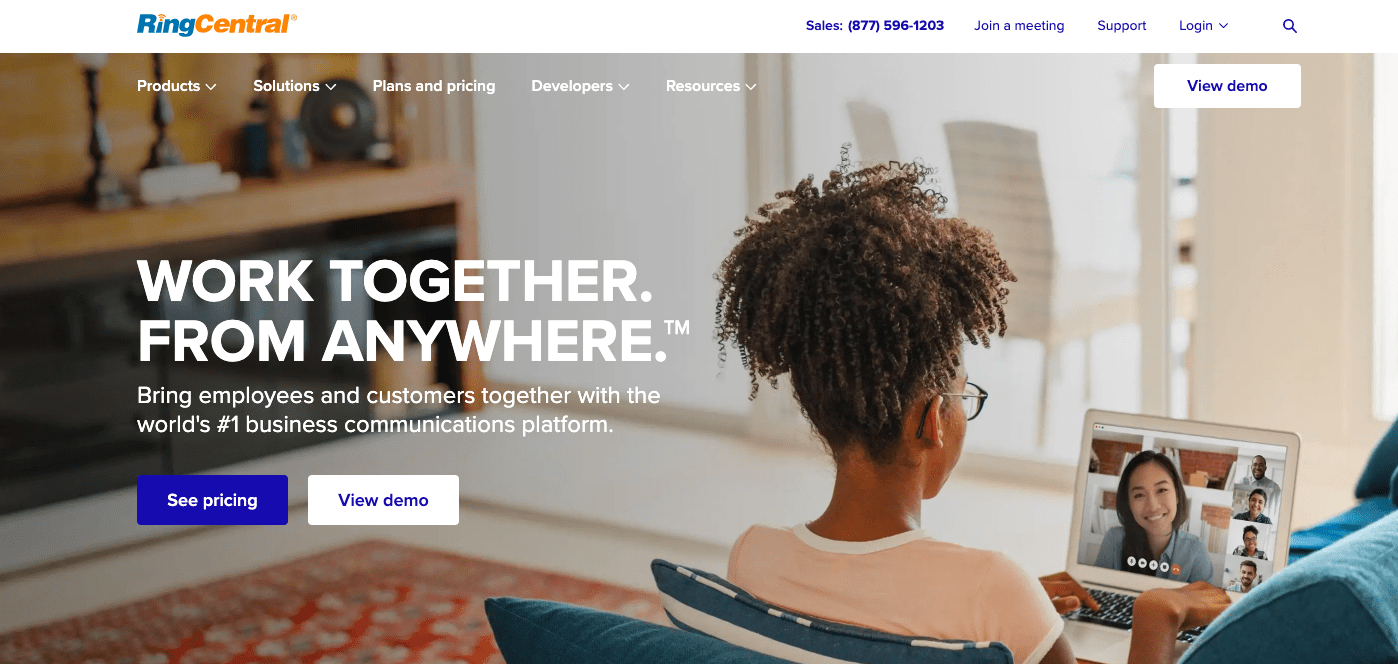 Video conferencing software for product demos, training sessions, online courses, business meetings and webinars.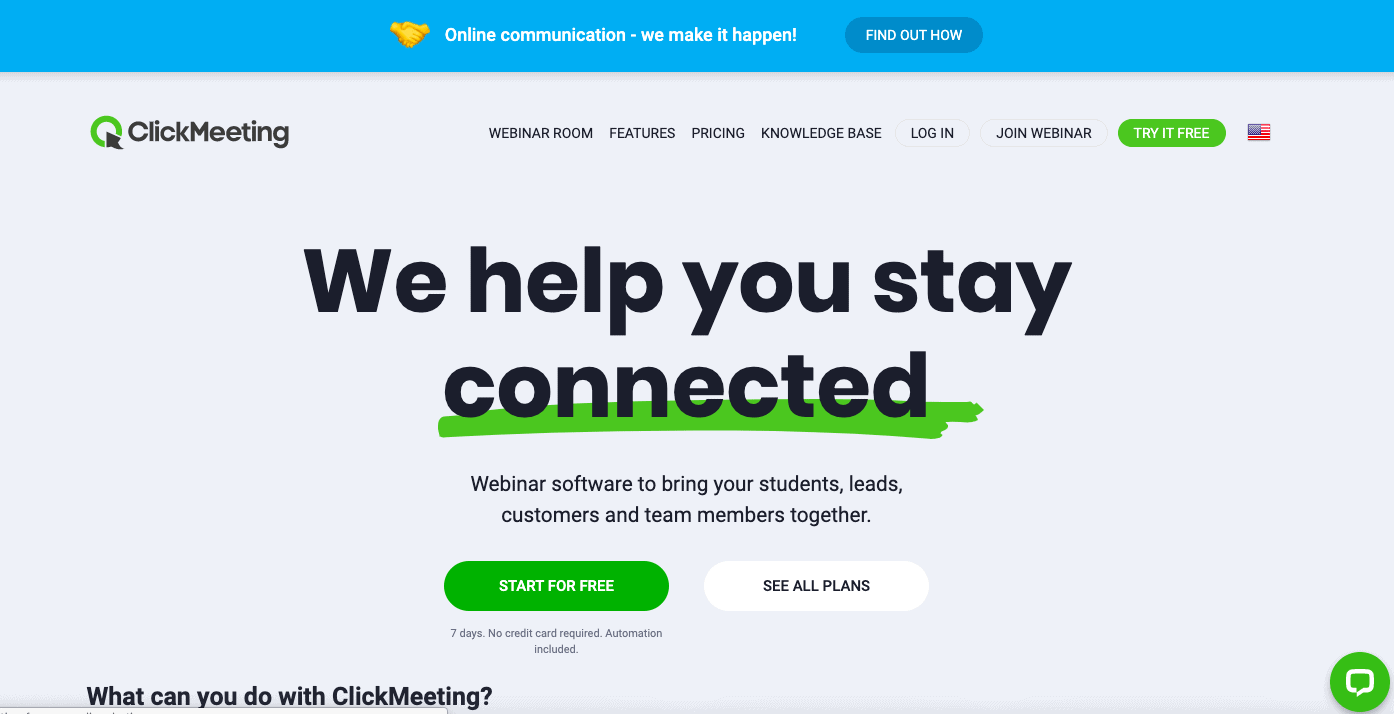 8×8 Virtual Office is a multi-channel cloud contact center that includes IVR, routing, queuing, supervisor tools, CTI, call recording, staff optimization, reporting, a chat function and other features. With VoIP technology, 8×8 aims to deliver business solutions that enrich traditional telephone services with powerful unified communications. The software is available from $12/month.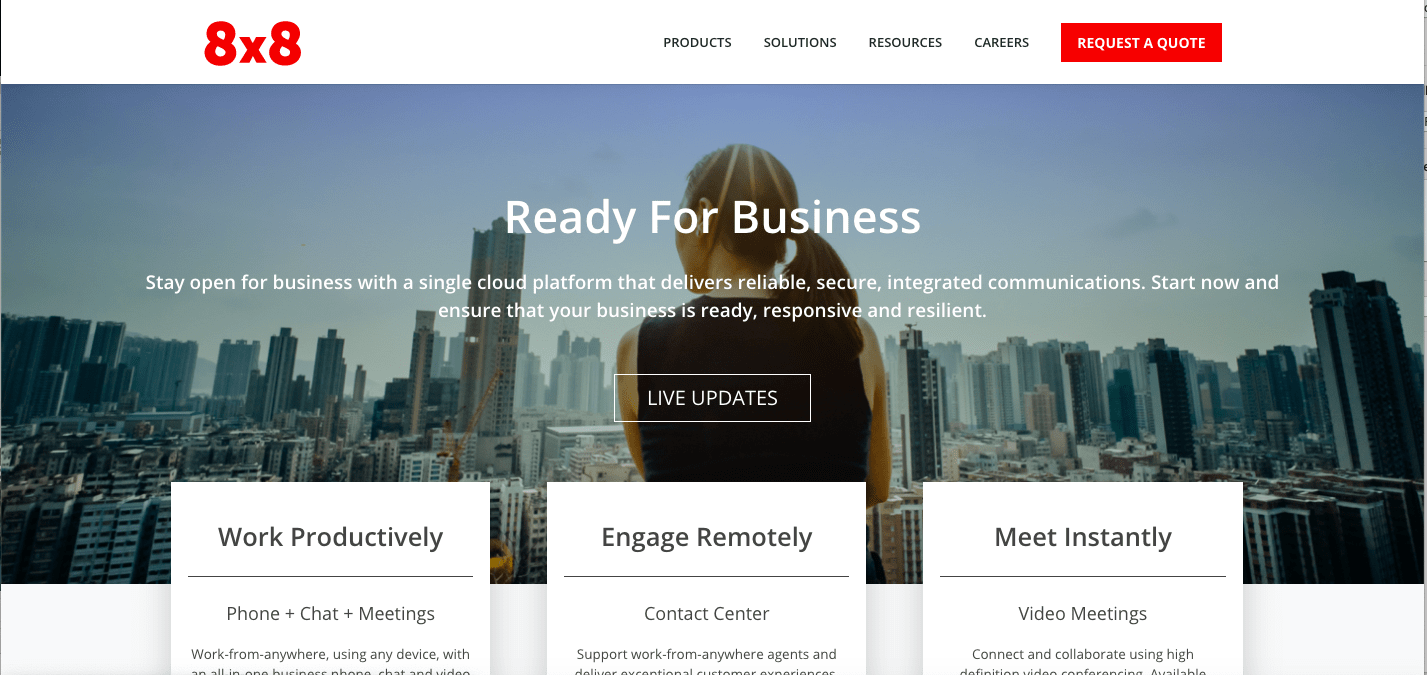 Collaboration tool for professionals who want to host easy and reliable video meetings. All meetings are conducted from your browser – no downloads or logins for guests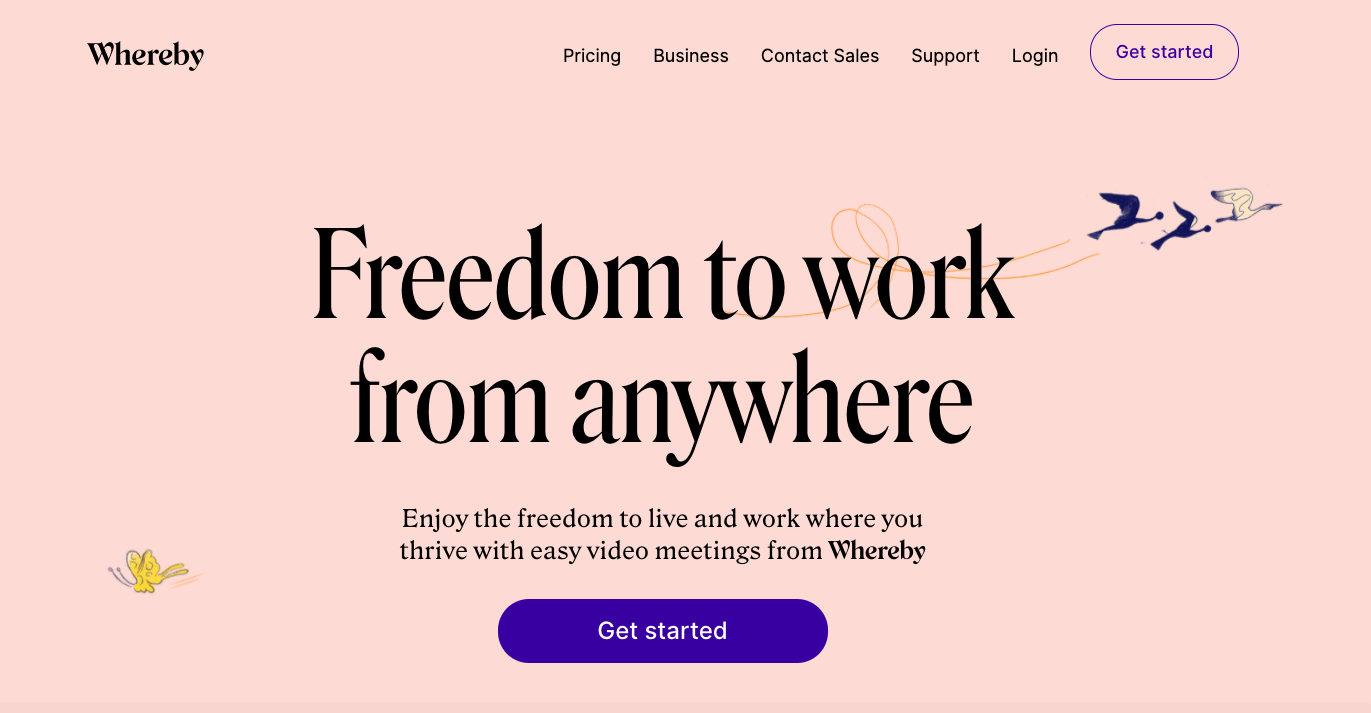 UberConference changed online meetings forever by killing PINs and making it simple for people to join. With powerful call controls, seamless screen sharing, and HD calls and video, its easier than ever to stay connected no matter where work finds you.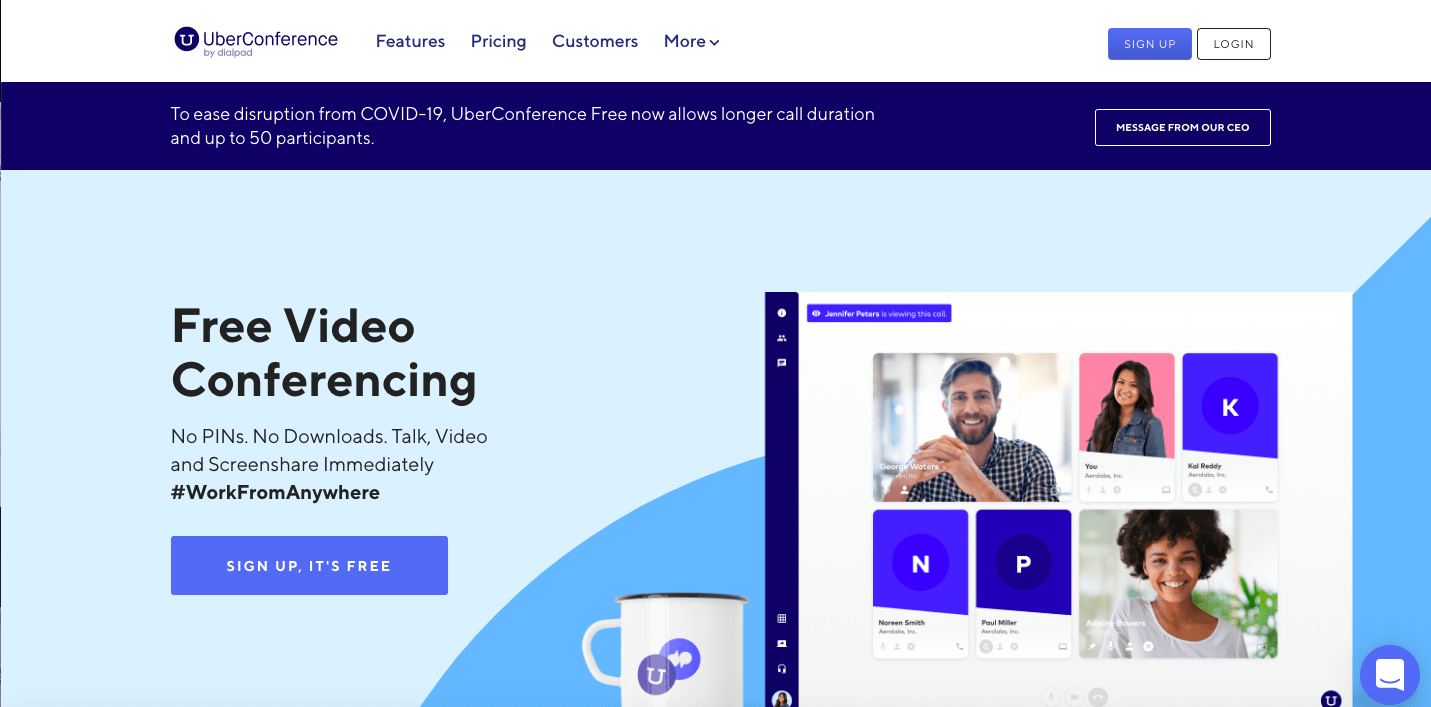 Business walkie talkie app for high-performance teams and distributed workforces.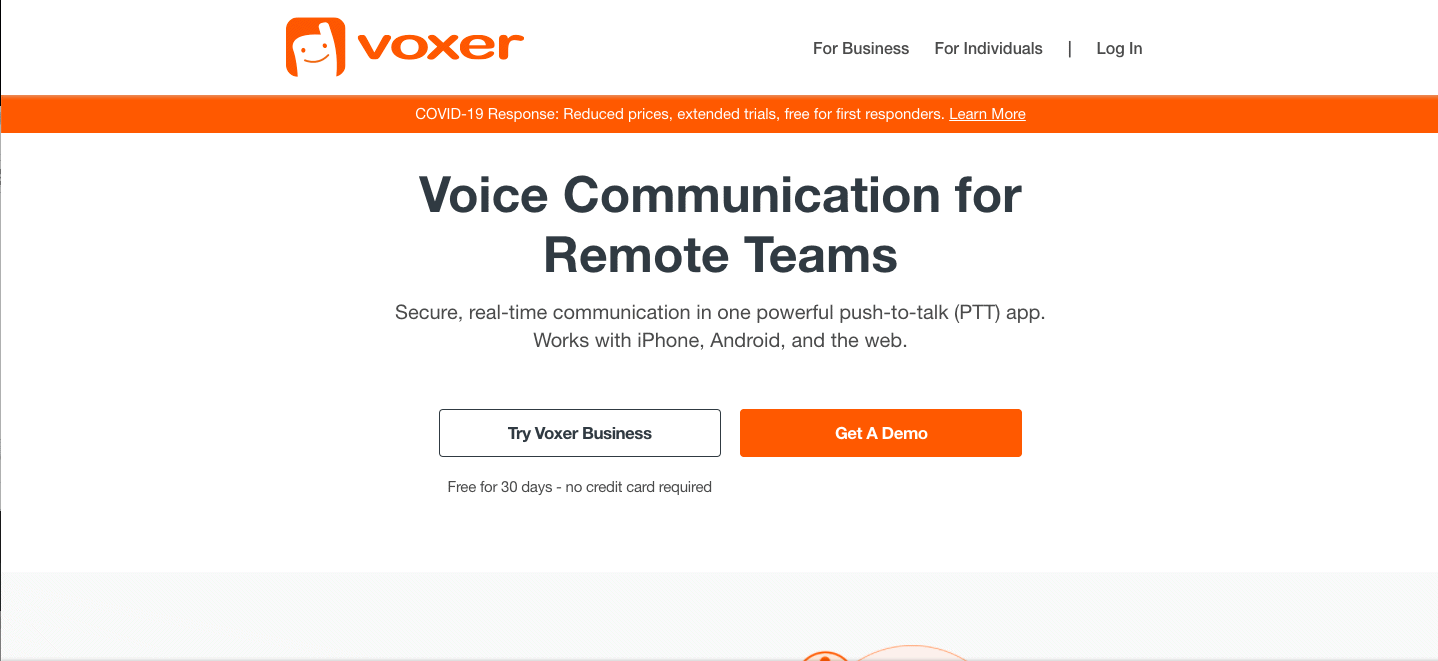 Cloud-based business phone system that keeps teams connected by making all of their telephony needs available on any device.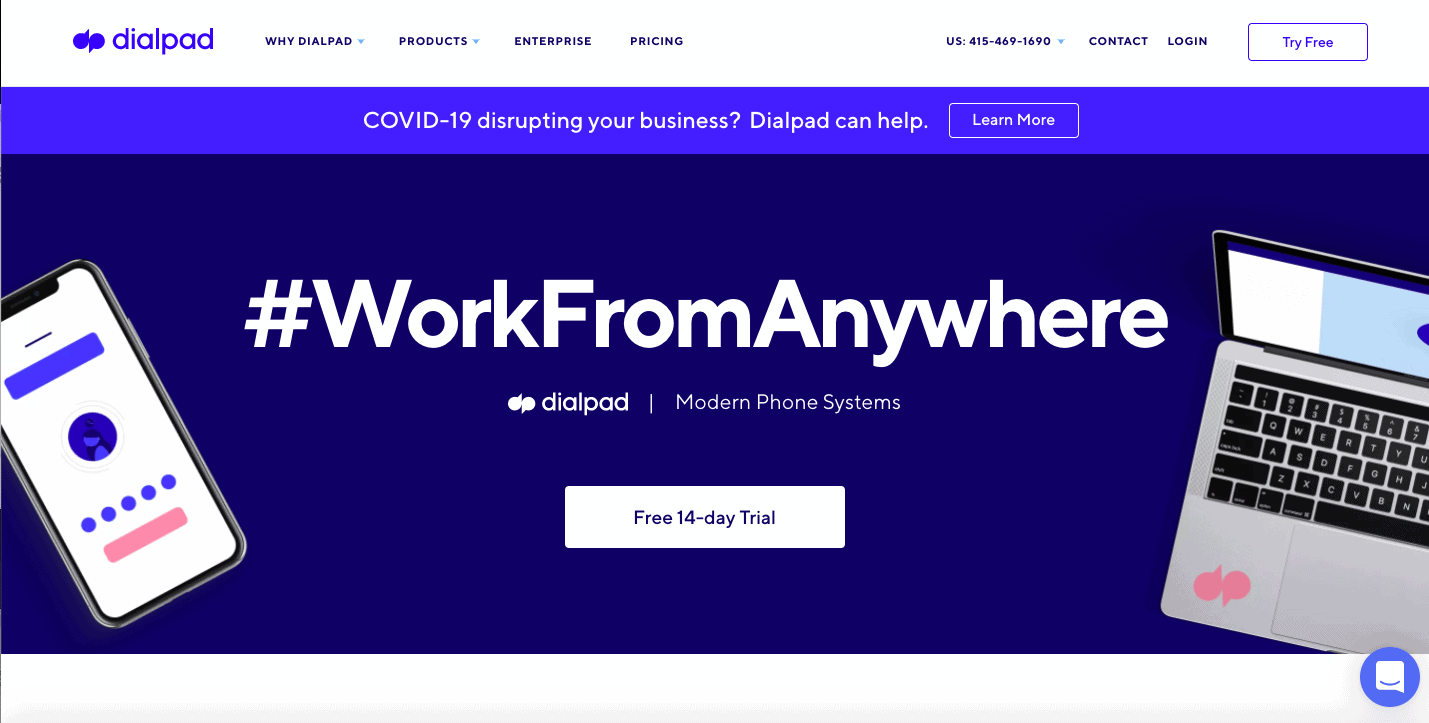 Highfive
All-in-one integrated hardware & software conferencing platform that enables collaboration across your company.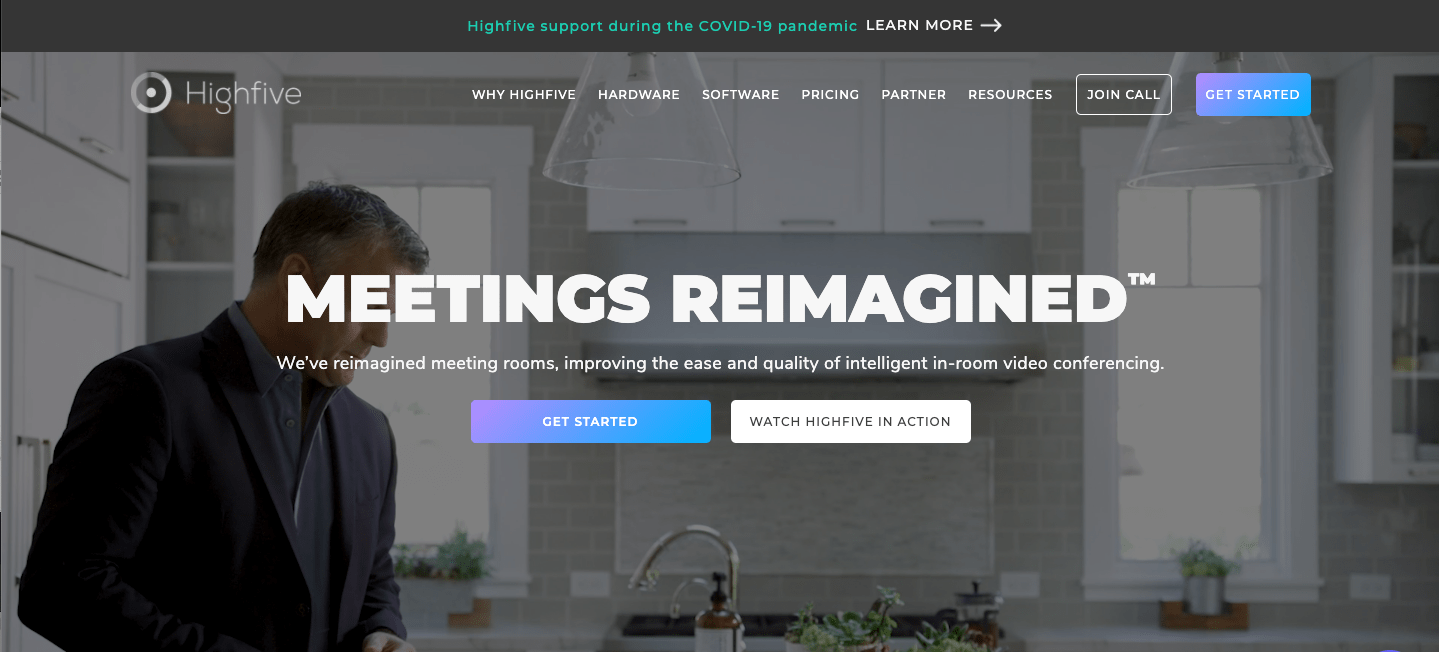 Livestorm is the webinar solution for all your customer training sessions and demo. Everything work inside a browser, in real-time, without any download.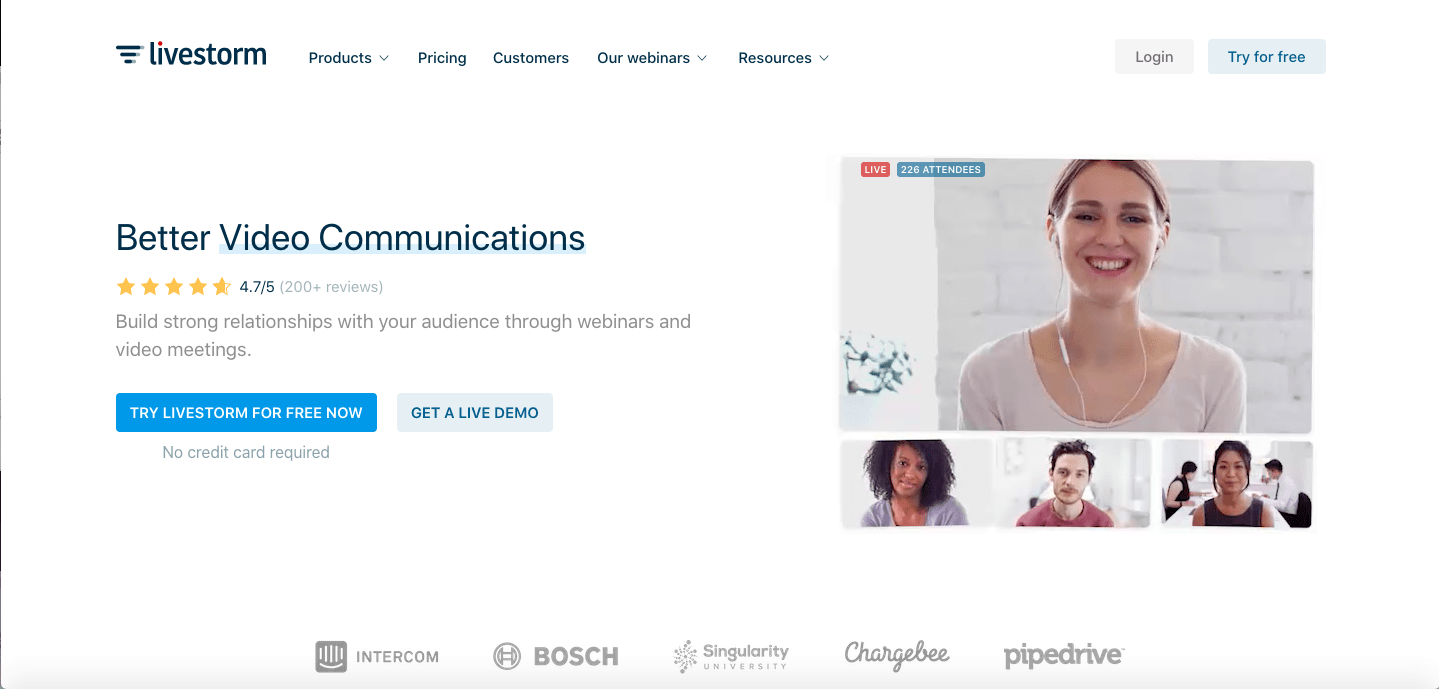 A video conferencing system which is characterized above all by a very good price-performance ratio and an intuitive operating concept. The portfolio includes single workstation and room systems, infrastructure components and a wide range of accessories to provide videoconferencing solutions for virtually any requirement (decom.com).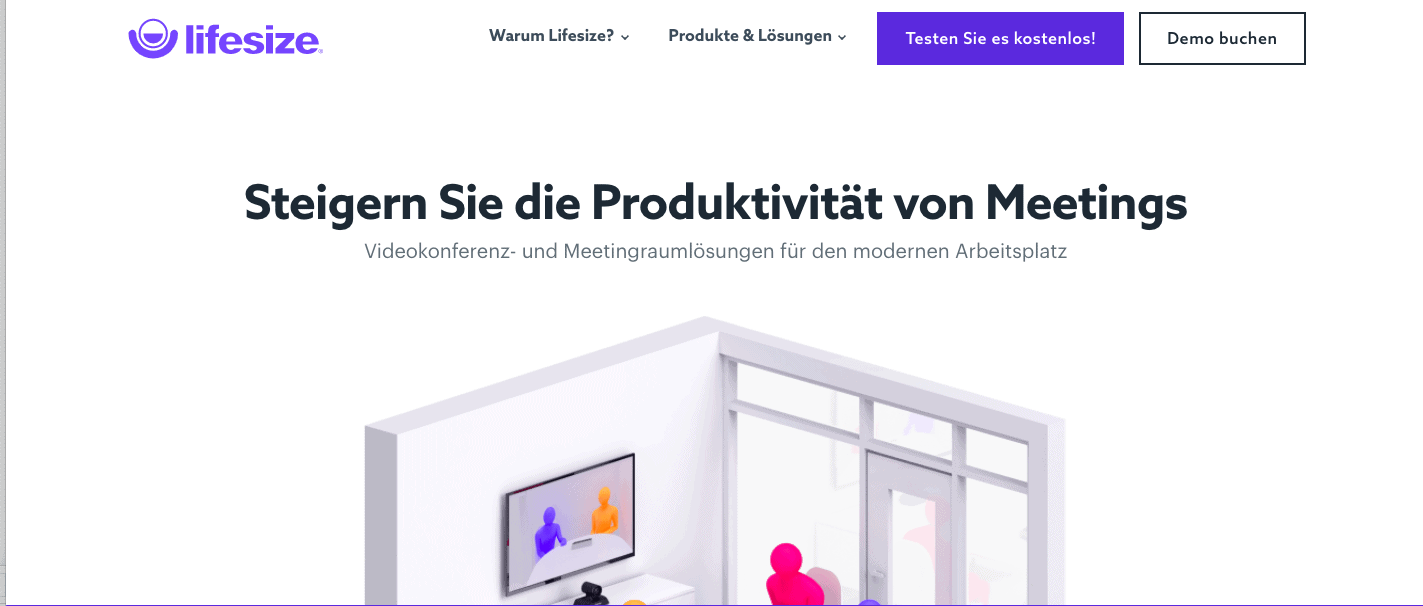 Eztalks
One-stop video conferencing solution provider that offers free cloud video conferencing, on-premise video conferencing, web conferencing, online meetings and screen sharing to collaborate in real time. ezTalks offers a free version and a free trial version. The paid version of ezTalks is available from $12.99 per month.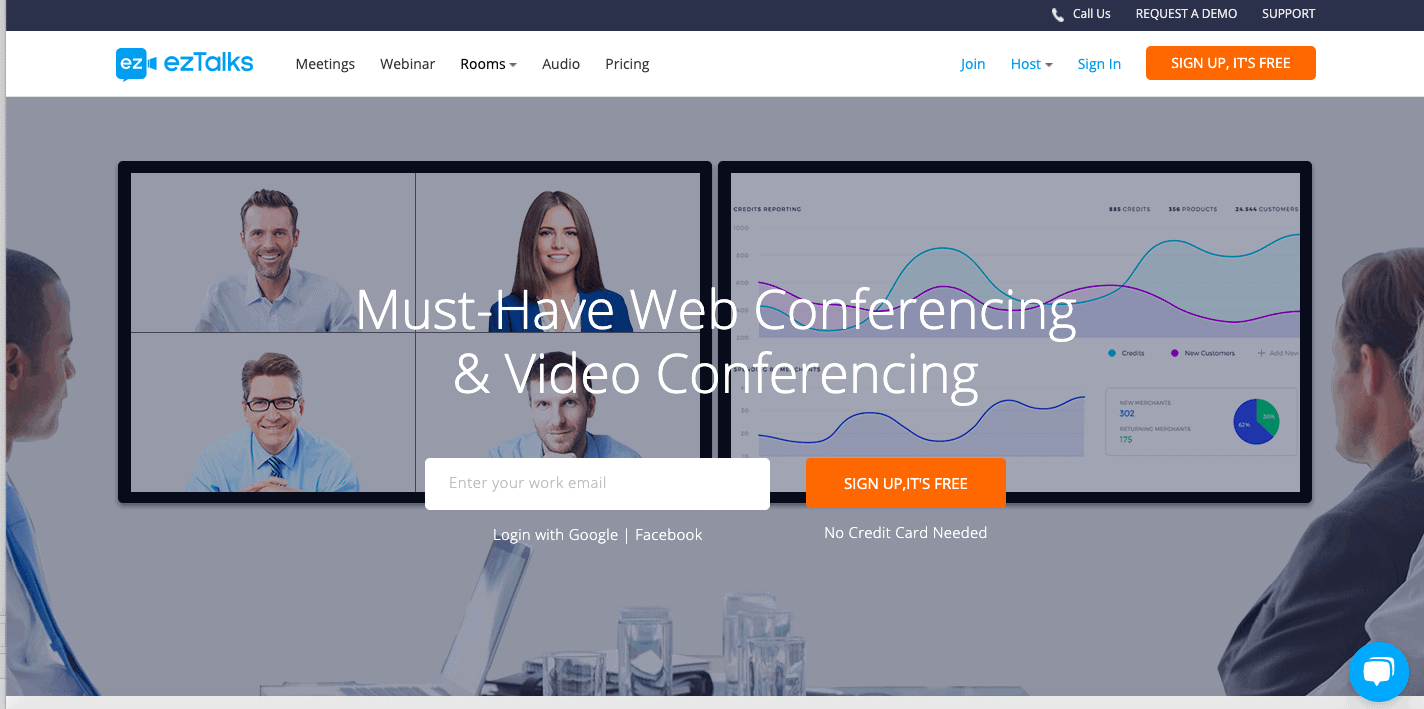 Gruveo provides you with a magic call link for customers to get face-to-face with you. A Gruveo link starts a video call with you right in the caller's browser.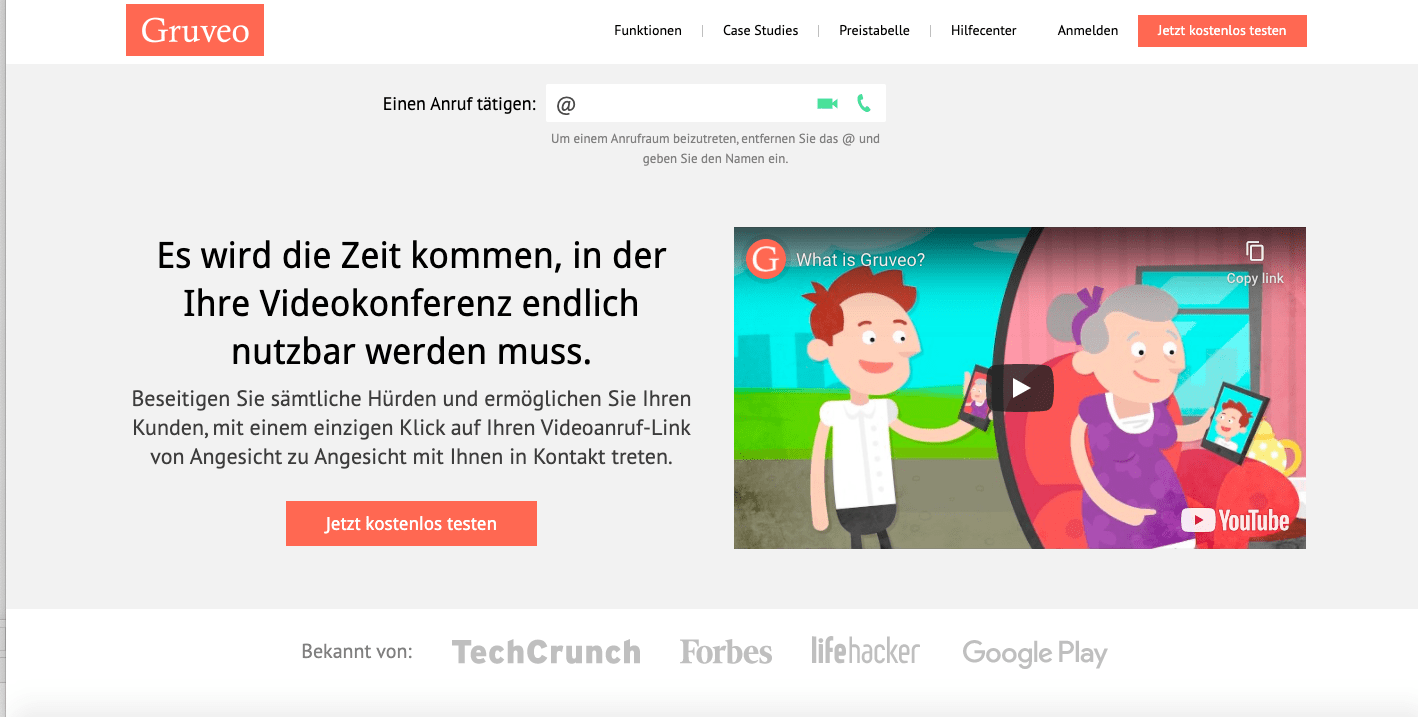 Conference call solution that makes it easy to host high-quality remote meetings, while providing the security necessary for enterprise users.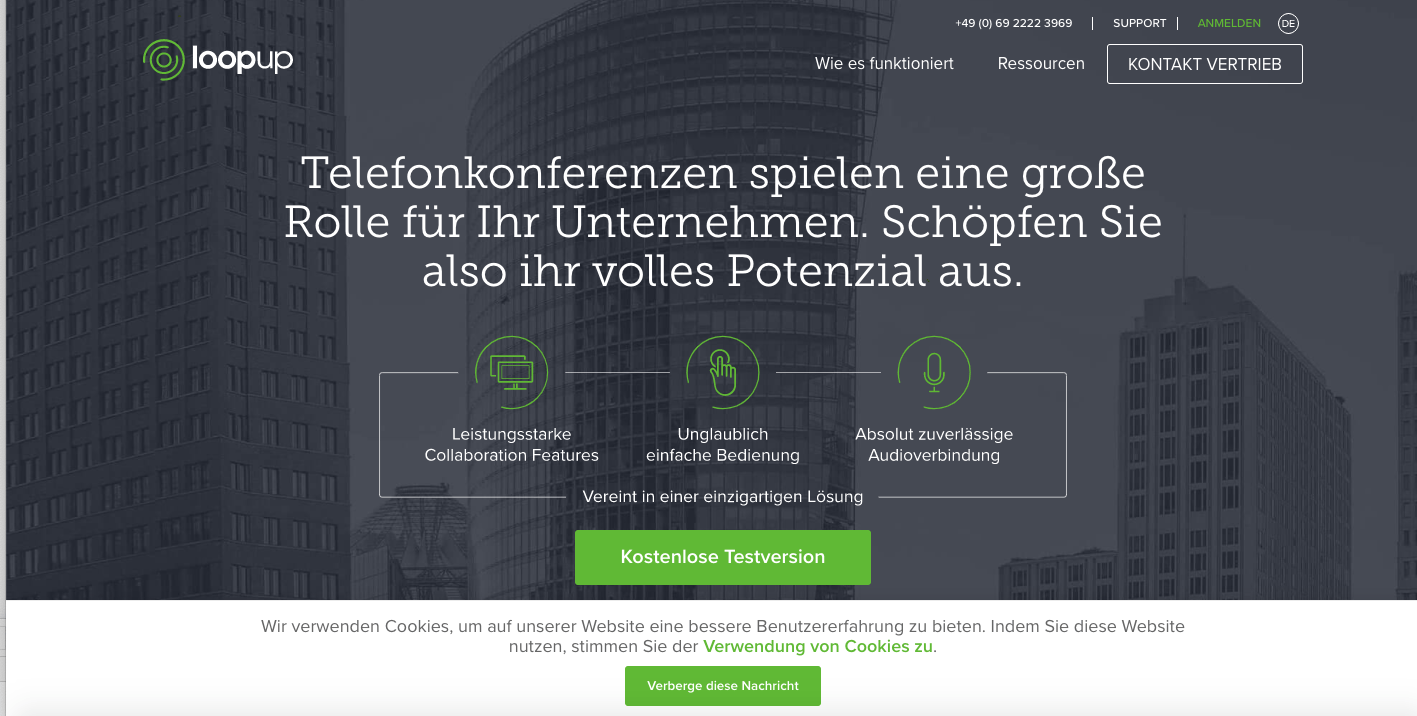 A virtual office for remote teams. Re-discover the flow of working together in‑person. See, talk to, and collaborate with your team in one click.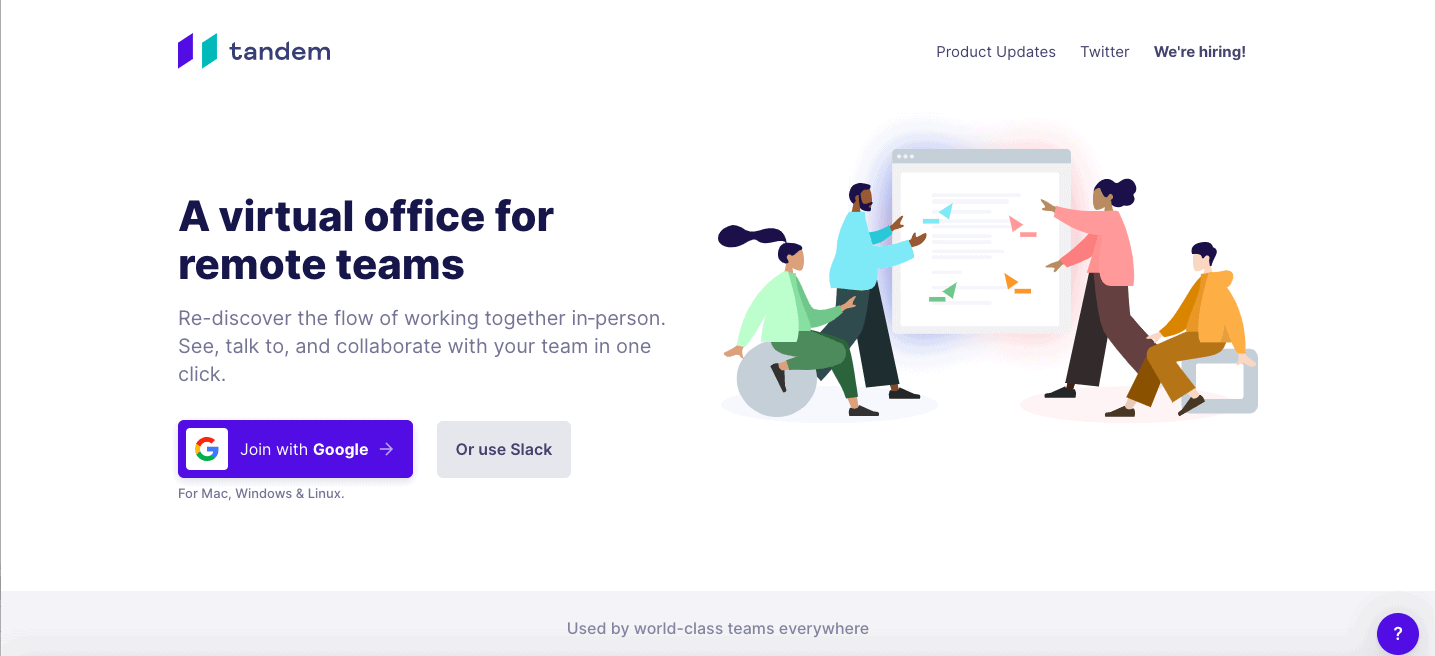 Cloud-based video calling platform that helps users manage video calls, conference rooms, recording, embedding and more for individuals and teams.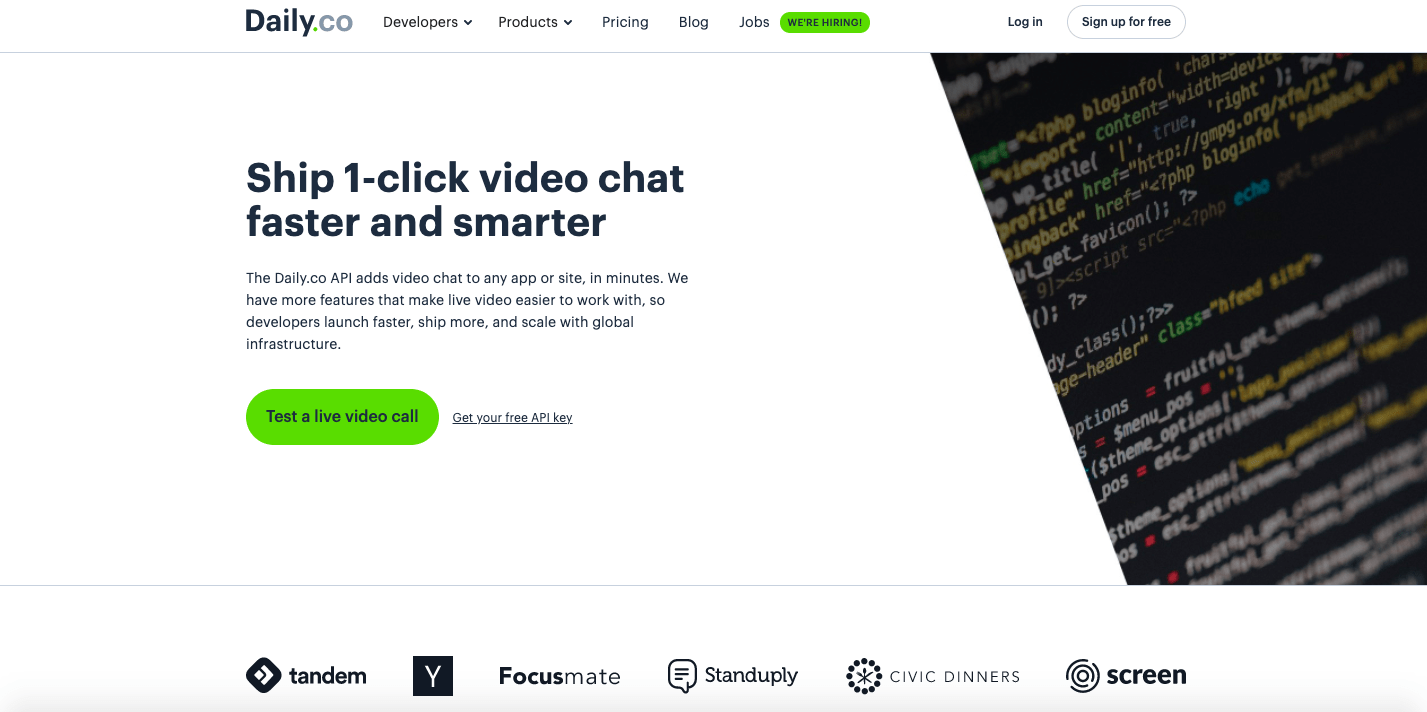 Video calling platform Talky is a truly simple video chat and screen sharing for groups.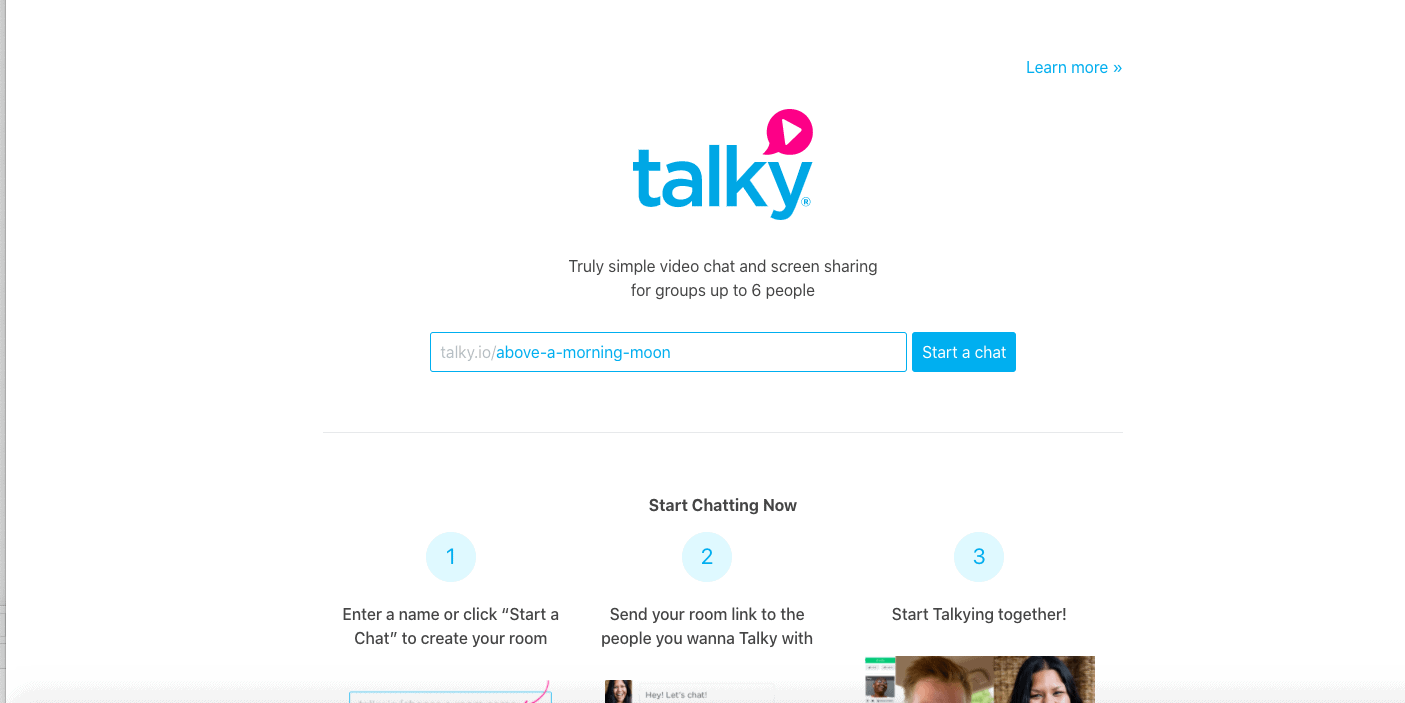 StartMeeting provides high-quality audio conferencing and online meetings with screen sharing and video conferencing to businesses around the world. StartMeeting offers a free version and a free trial version. The paid version of StartMeeting is available from $9.95 per month.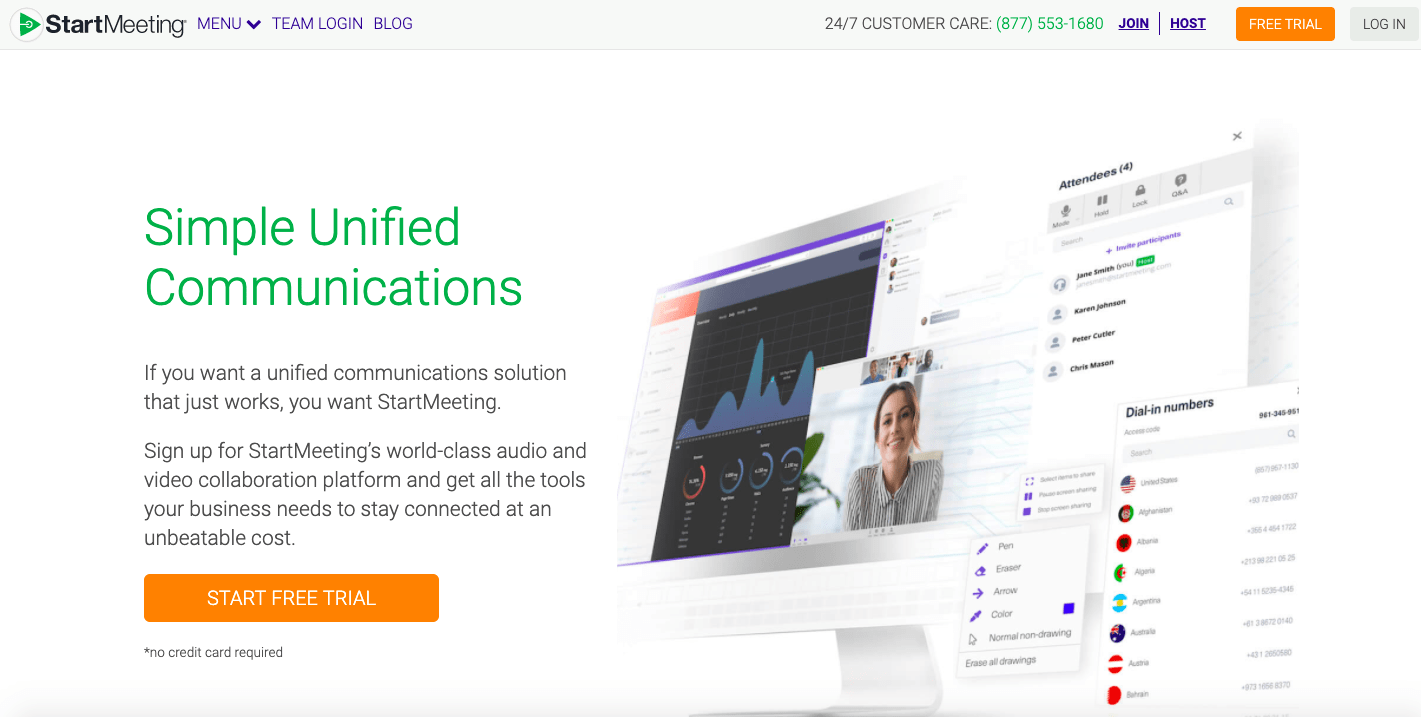 Proficonf
Proficonf is a professional video conferencing platform that allows its users to make or join video meetings with up to 250 participants without any downloads or installations.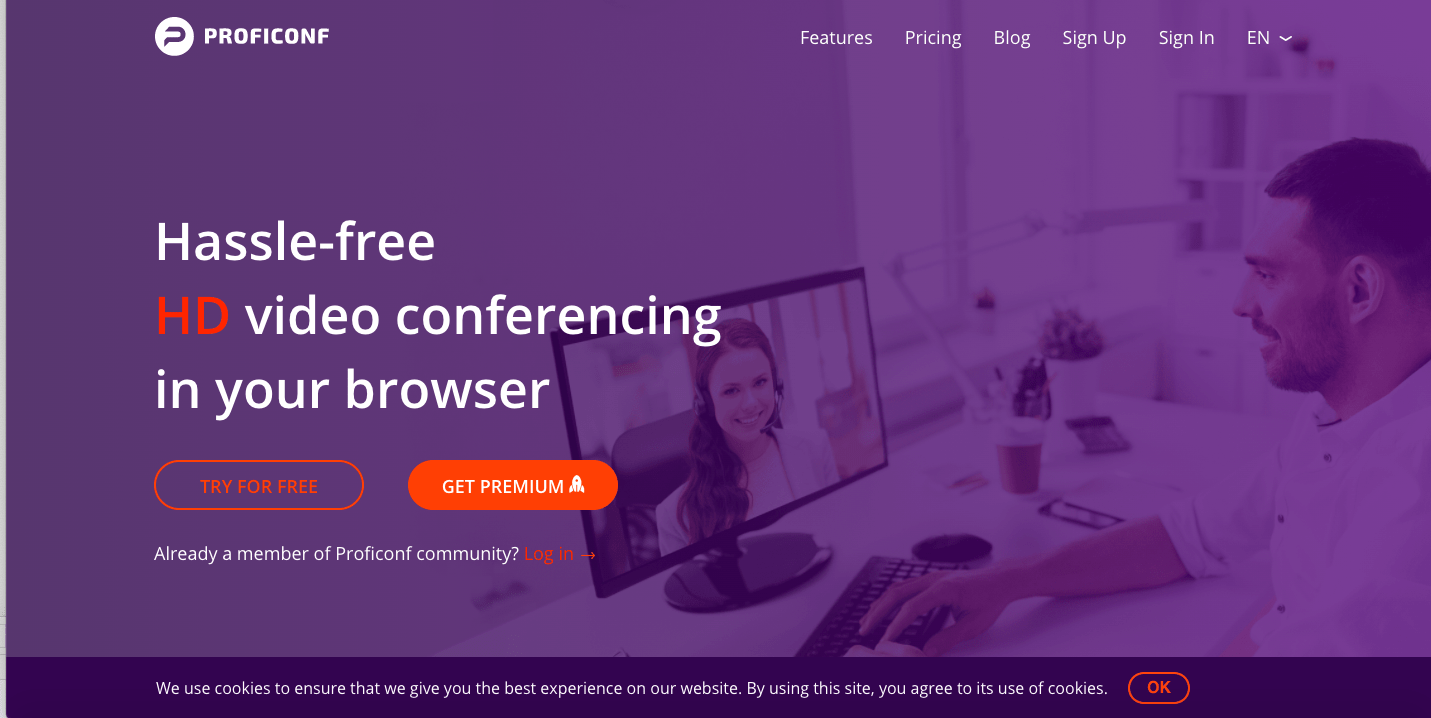 A platform for video-based virtual workspaces. It enables interactive online events, allowing your attendees to connect and learn from each other just like in real life.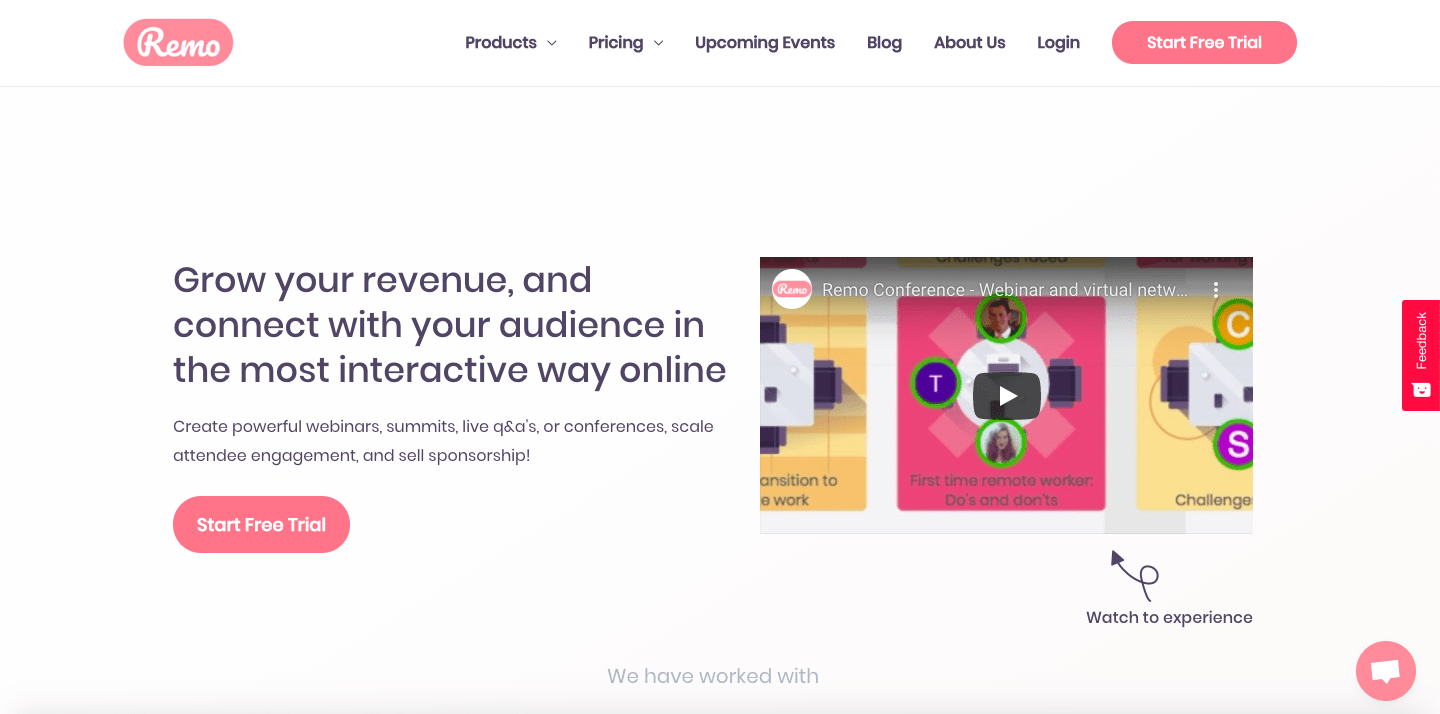 4. Productivity tools 
ZoomShift is a software that allows you to create employee schedules online. It takes into account vacation requests, the respective availability, overtime and shifts of the employees. Once the shifts have been published, employees can easily request a shift change.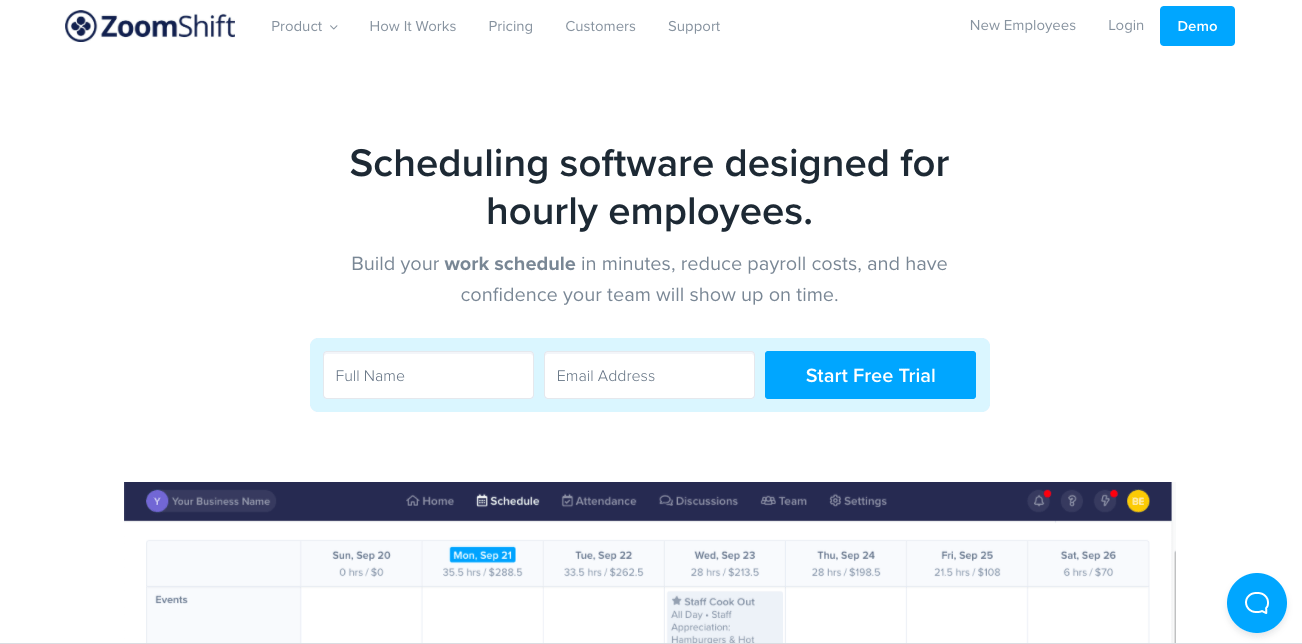 World Time Buddy is a popular visual world clock, time zone converter and scheduler. It allows you to schedule calls, meetings and events easily by supplying a URL to a page showing how the meeting time will change across time zones.World Time Buddy is free to use.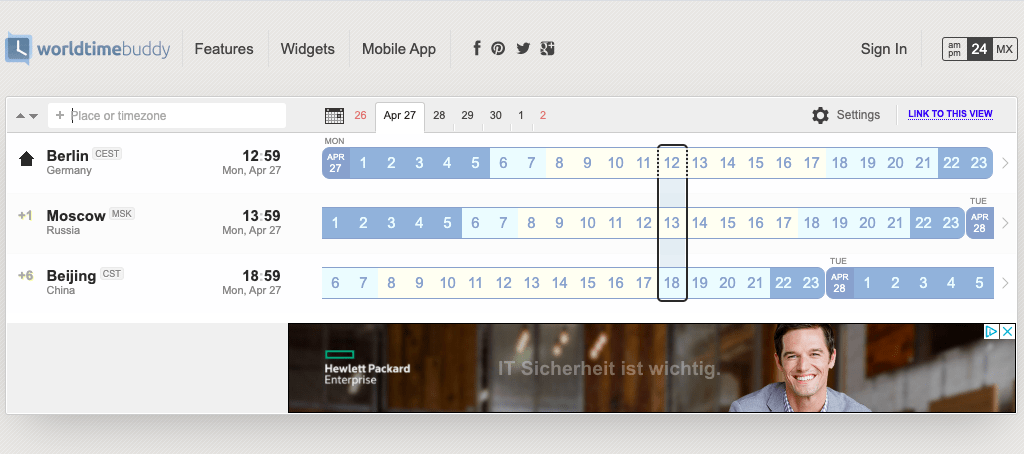 WooBoard is a collaboration and management tool that helps you to keep employees happy and engaged. With peer to peer recognition, social features, integrated rewards and gamification it aims to encourage daily interaction and employee engagement. It offers a 14 day free trial, a starter version for $3 per month, as well as a customised enterprise version.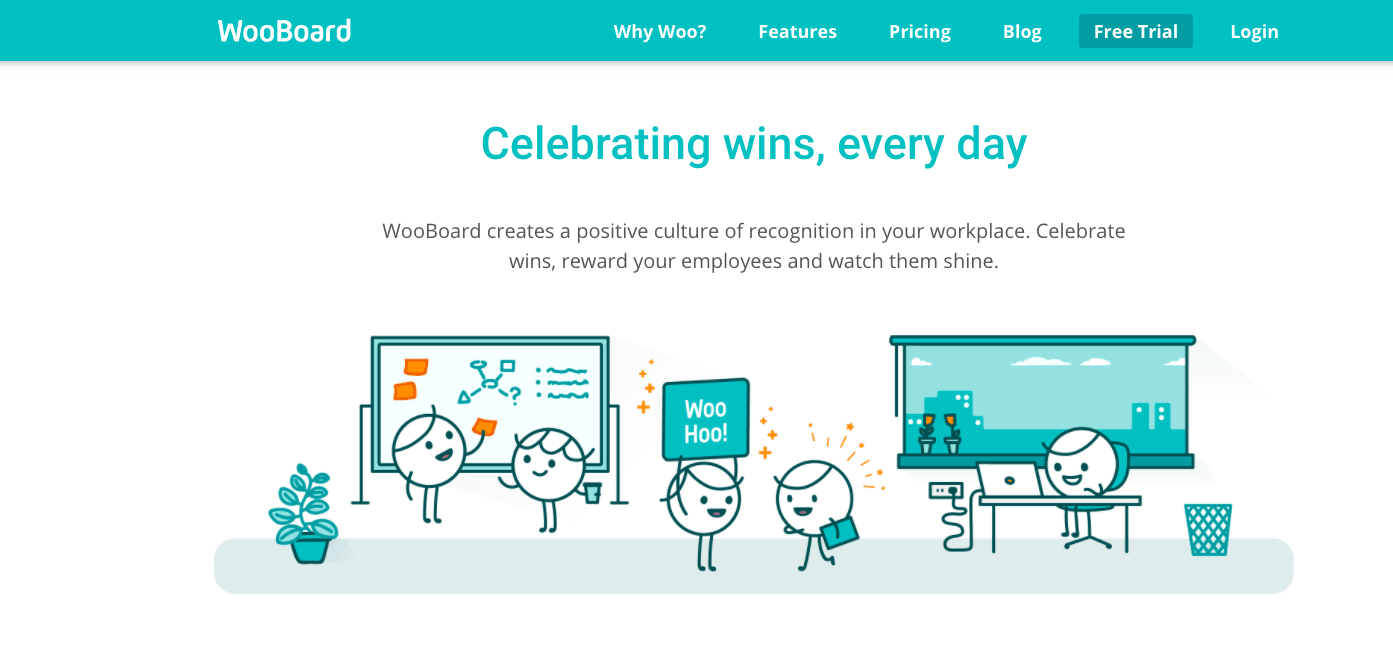 Grammarly is a well known grammar checker that automatically makes sure everything you type is easy to read, effective, and mistake-free. Grammarly is available for free as well as a premium version for $11.66. Upgrading to the Premium version will unlock new features, as for example a plagiarism detector.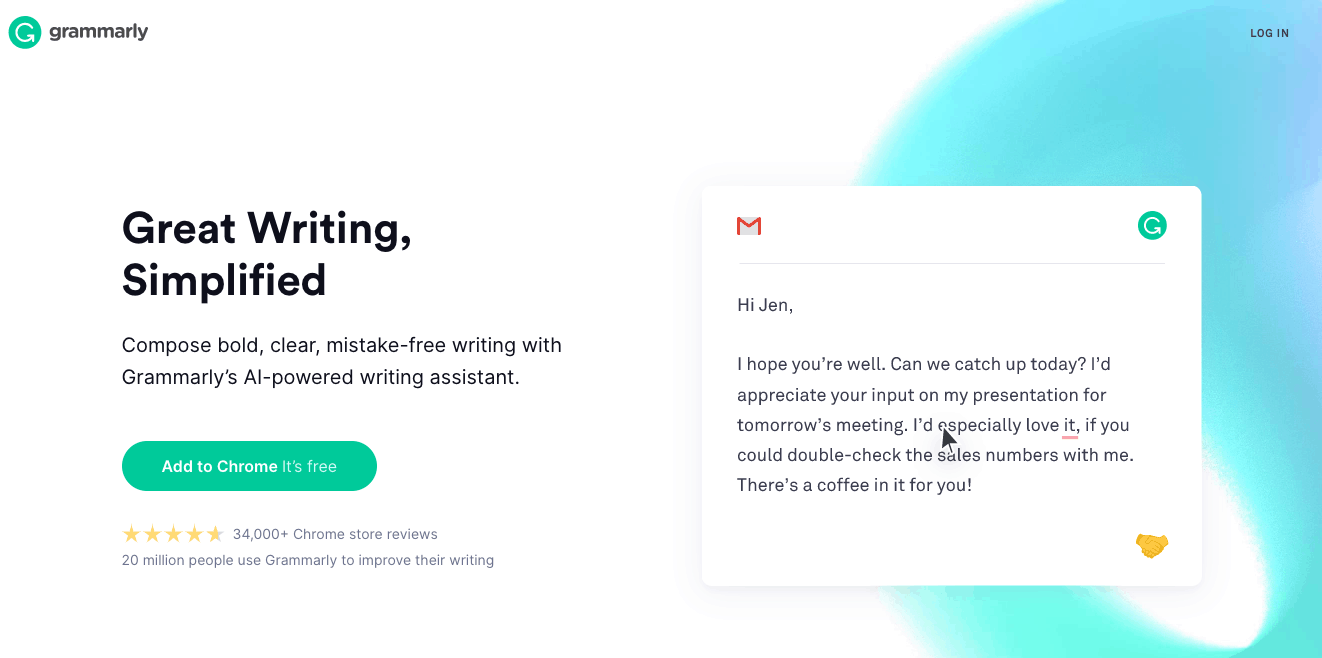 TextExpander is a cloud-based productivity app that uses keyboard shortcuts to automatically insert longer blocks of frequently used text called snippets. For repetitive tasks that require entering the same information over and over again, it is an invaluable tool that can save a tremendous amount of time.TextExpander pricing starts at $3.33 per month, per user. A free trial is available.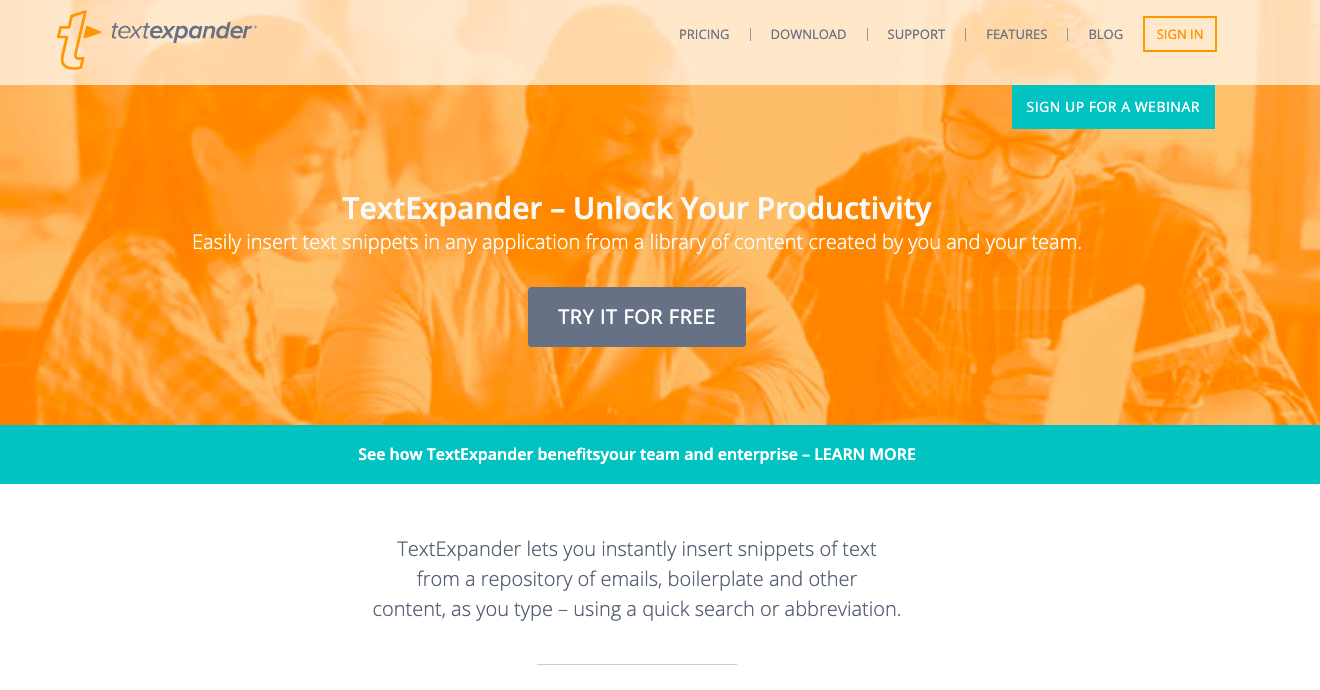 Help Scout is a cloud-based help desk solution that helps small businesses and small teams manage their customer relationships.The solution allows users to create multiple mailboxes for each shared email address so that they can work across departments or manage several products/brands from a single account. The reporting feature helps users measure team performance, spot trends and monitor customer happiness. Help Scout pricing starts at $12.00 per month, per user. A free trial is available.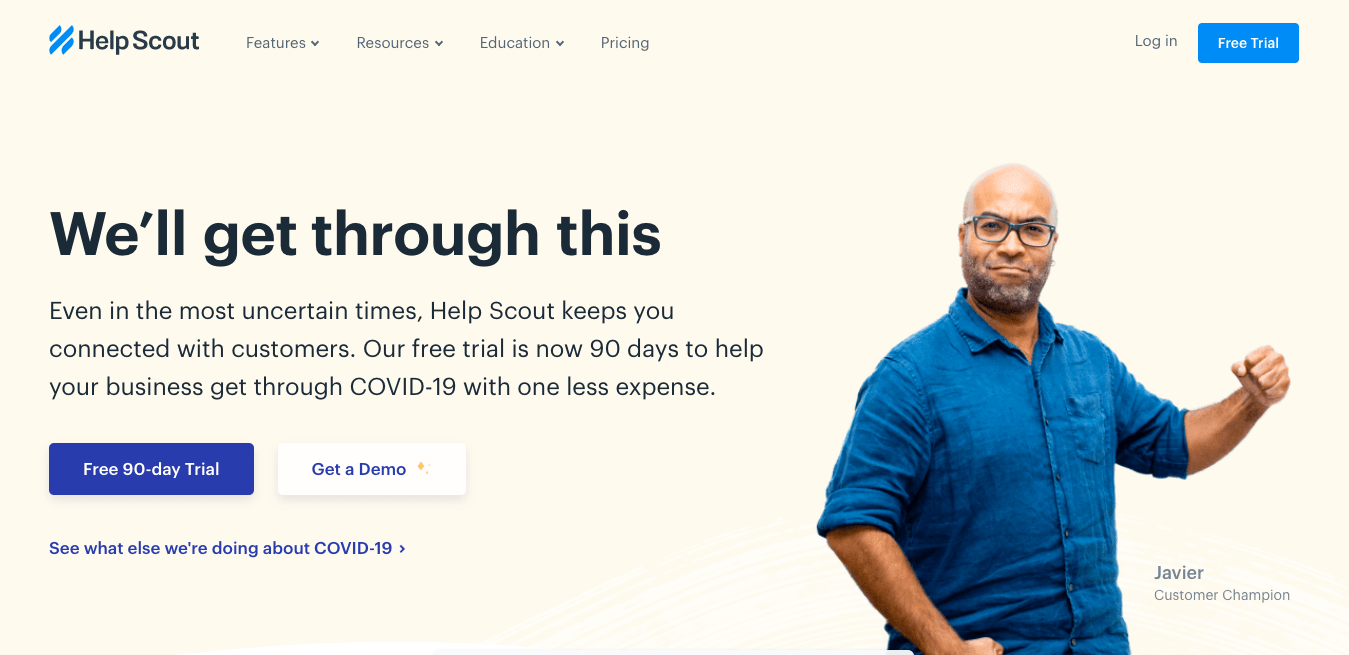 Noisli is a web service and a mobile application that you may use to generate background noise that helps you focus and boost your productivity. You can simply mix different sounds and create your perfect sound environment tailored to your needs. Free, pro and business plans are available depending on your needs.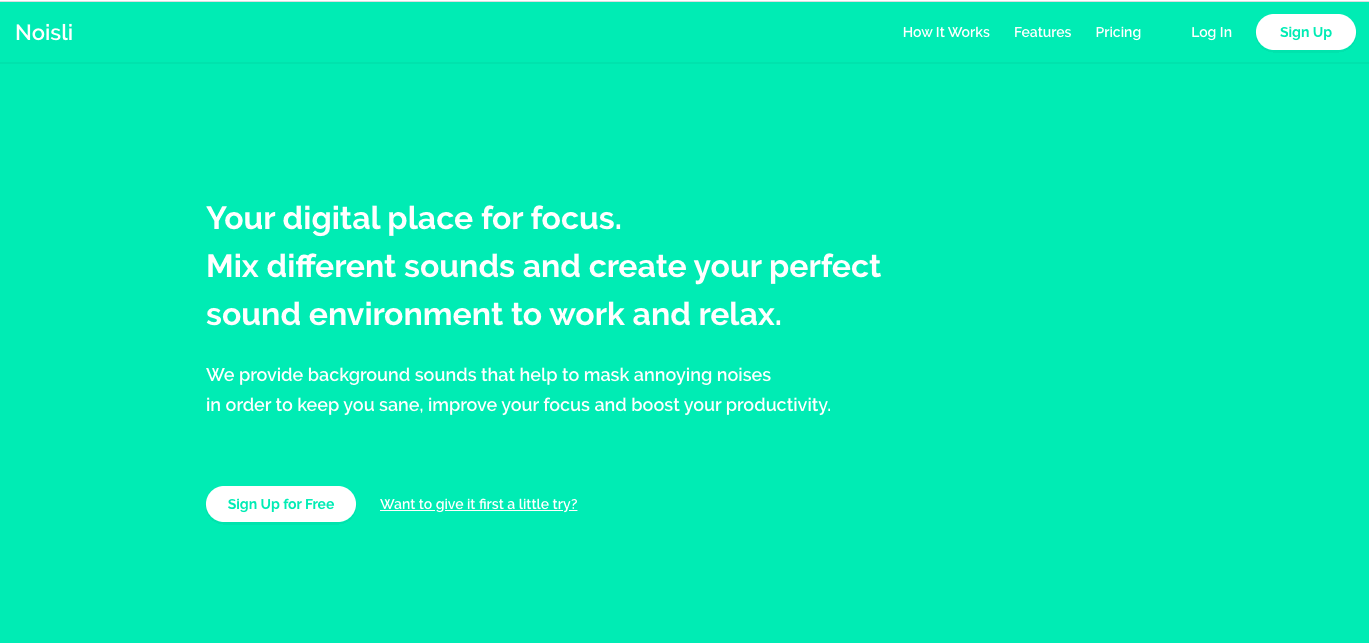 Calendly is a simple, easy-to-use, yet powerful scheduling software, which aims to save time, accelerate sales, and improve service quality. Rather than email chains and phone tag, you can send your availability with a Calendly link. Calendly can be integrated with Google, Office 365 and Outlook, and checks all calendars for conflicts to avoid double-booking.If offers a free basic version, as well as premium versions starting at $8/user per month.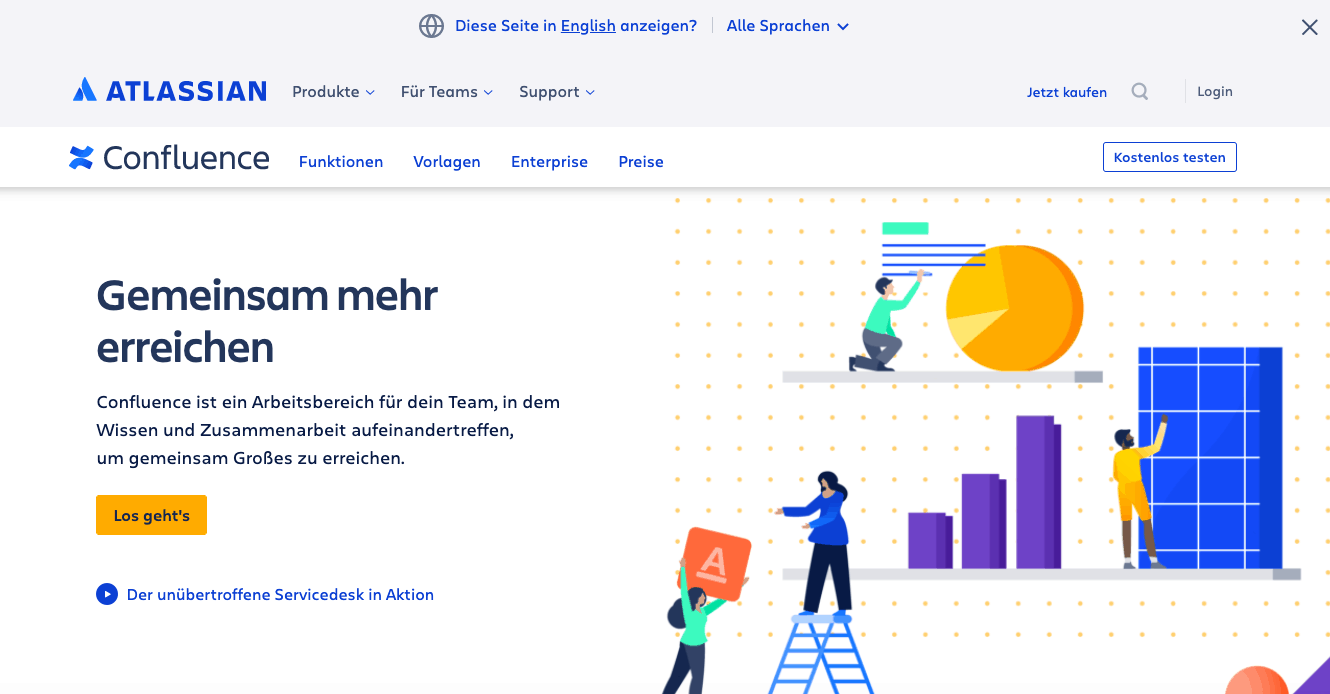 Krisp
Krisp is an AI-based noise reduction tool for MacOS and Windows to eliminate noise from video conferences and conversations in real time. Krisp does all processing locally on your own computer, so there is no need to load data into the cloud. The software is easy to use and offers both a free basic version and premium versions.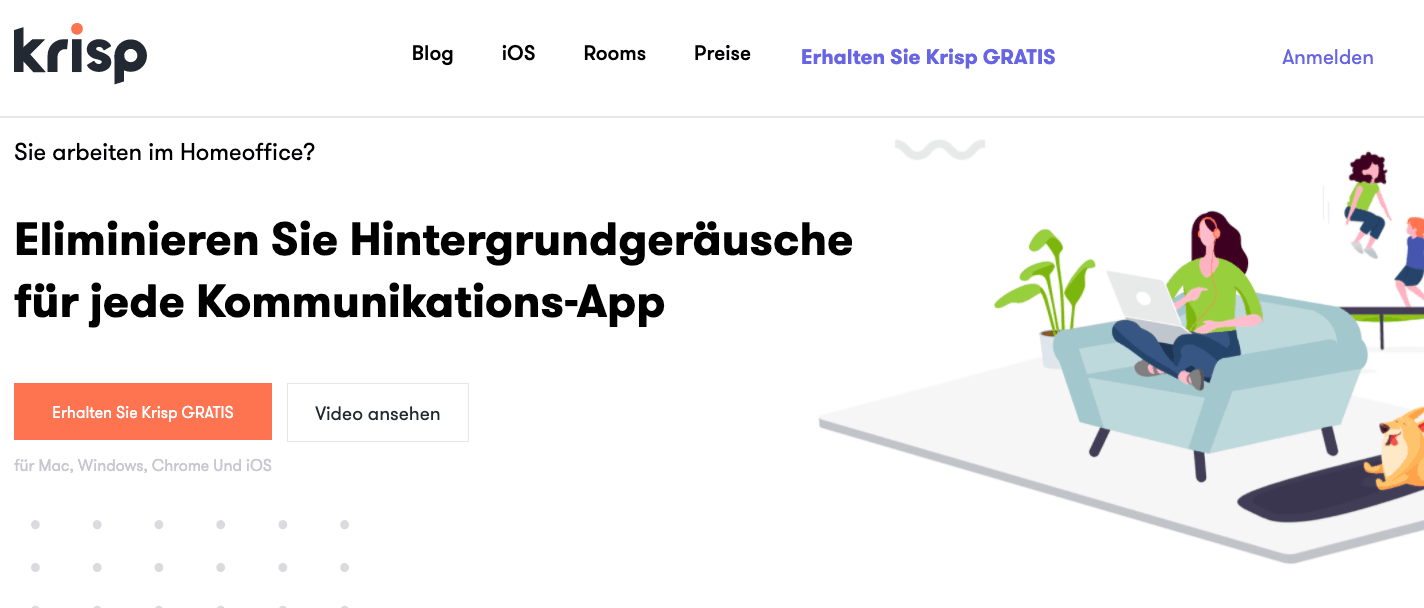 Loom is suitable as an internal communication tool to shoot short tutorial videos including screencaps. A very helpful tool, especially for decentralized work. The screencaps can be edited with some basic functions.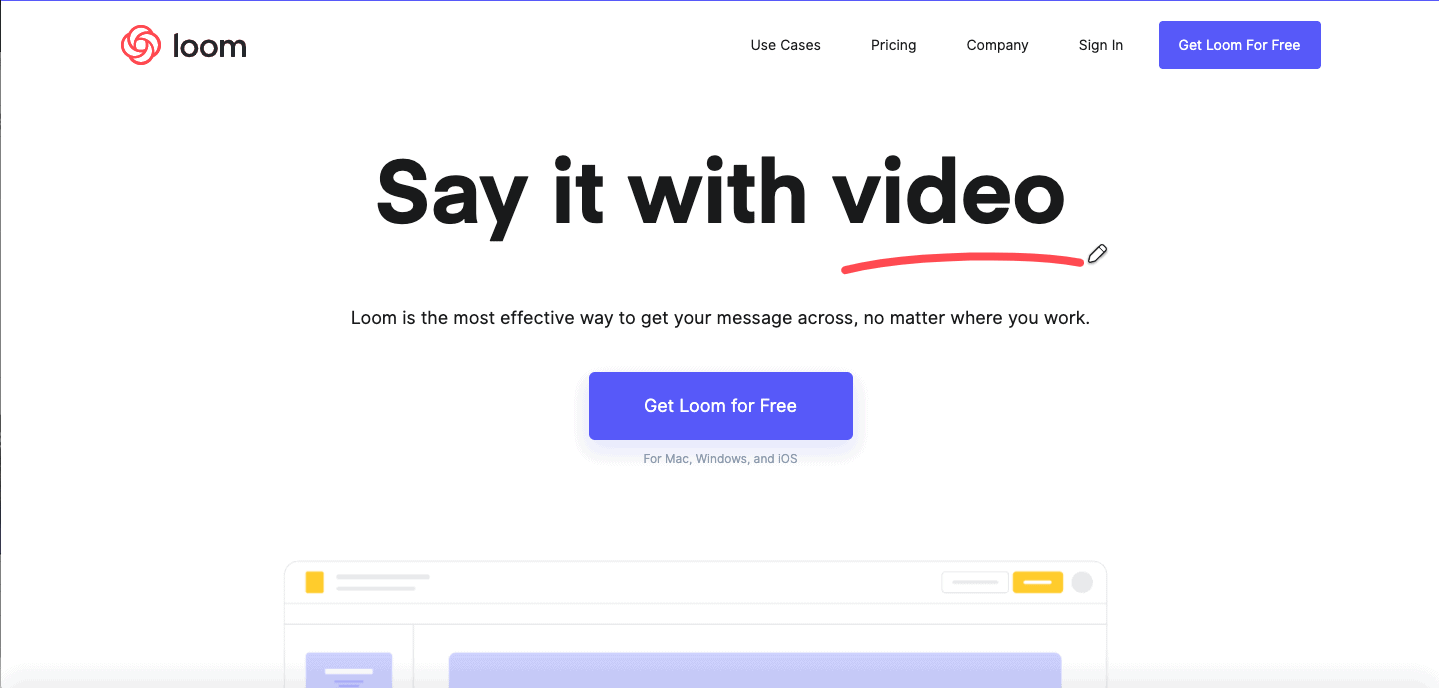 WorkBoard is the Enterprise OKR Solution – enabling enterprises to operationalize Objectives and Key Results (OKRs) at scale and speed. The solution aligns OKRs, objectively measures results, automates business reviews and ties execution to priorities.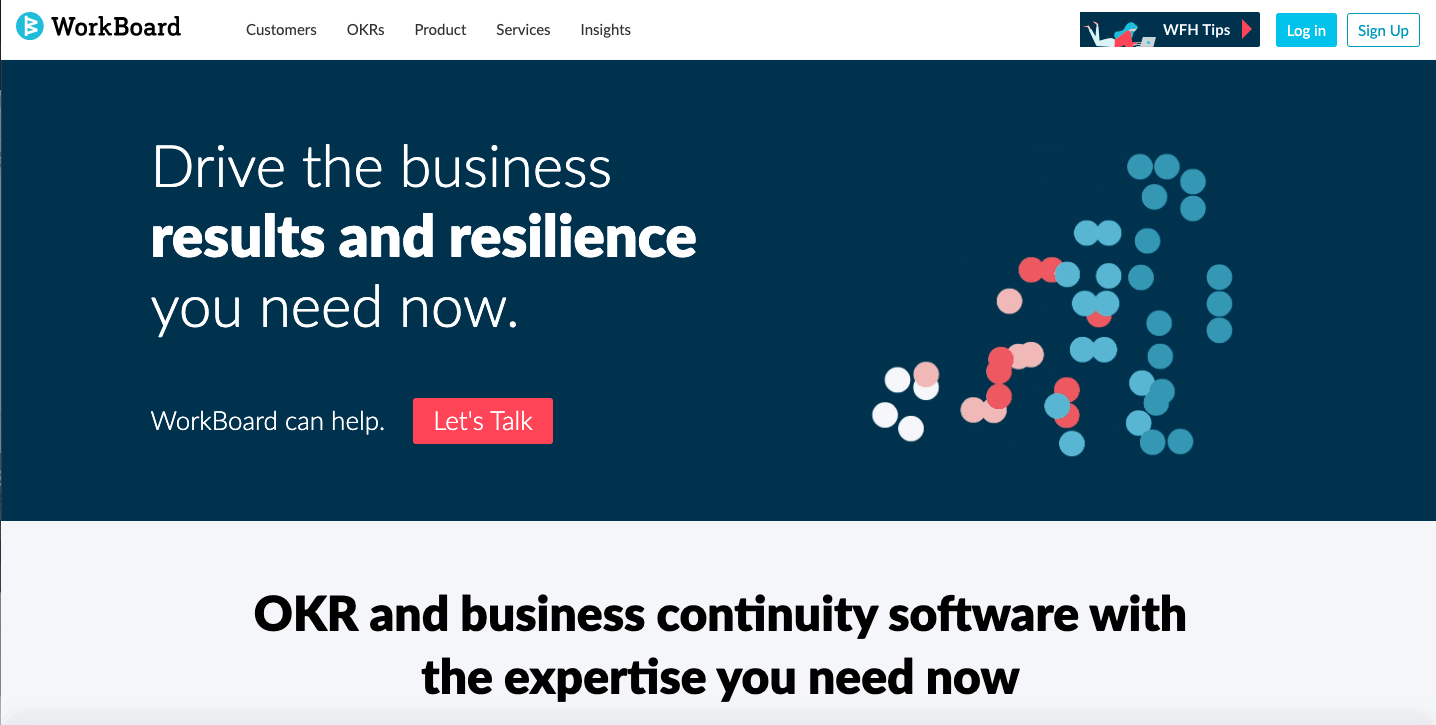 Website and application blocker for macOS. Reclaim your productivity by blocking distracting sites and applications, like Facebook and Fortnite. Stay on task and in flow to accomplish your best work!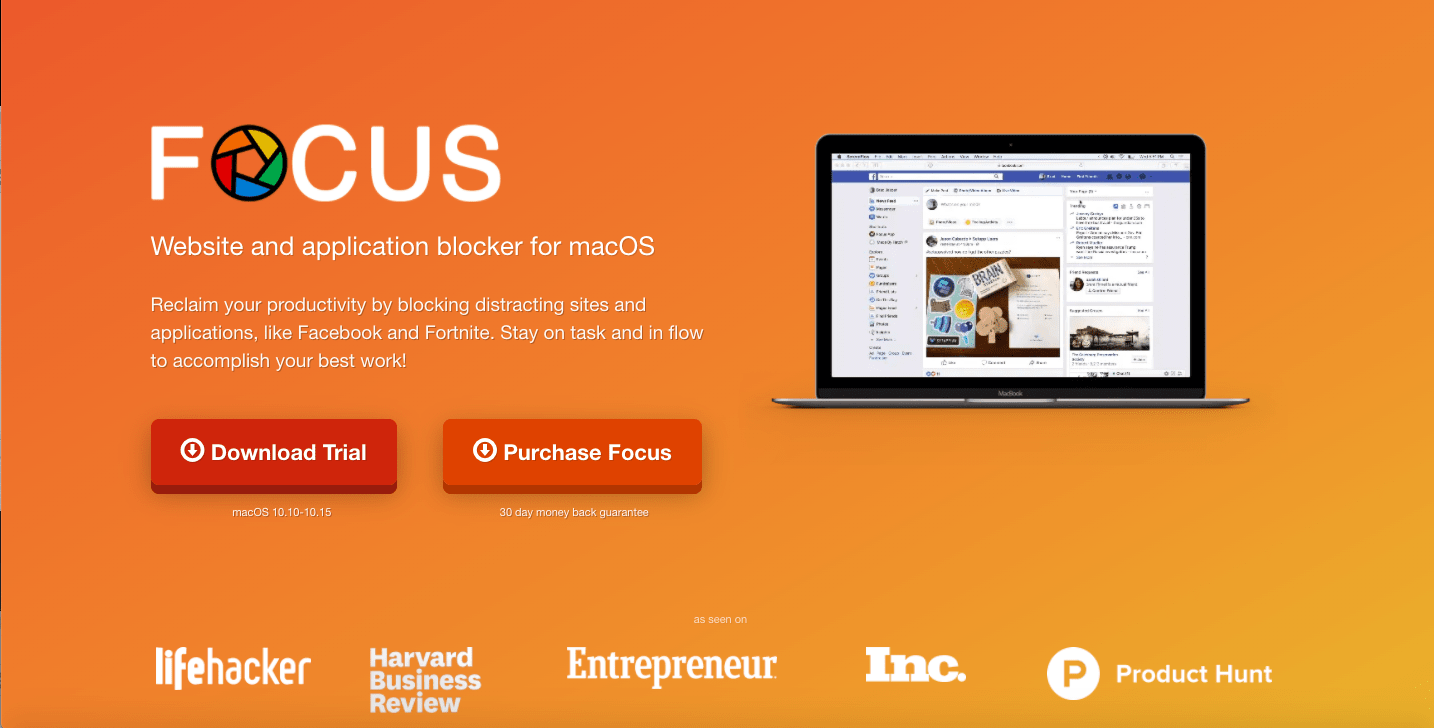 Zapier is a web service that automatically links actions between different web apps and synchronizes their applications so that they execute the desired processes.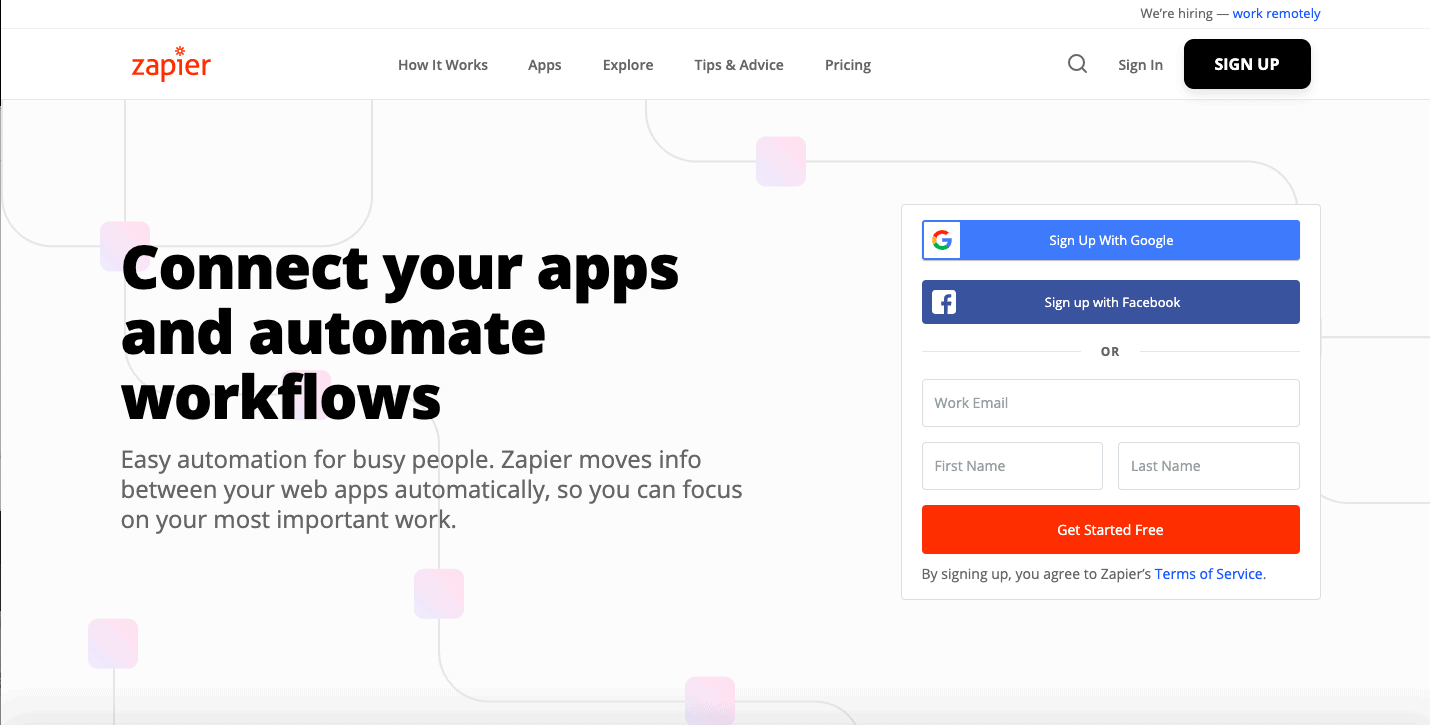 IFTTT
Connectivity platform or an "if this then that" automation service. Think of all the things you could do if you were able to define any task as: when something happens (this) then do something else (that). It's a basic framework.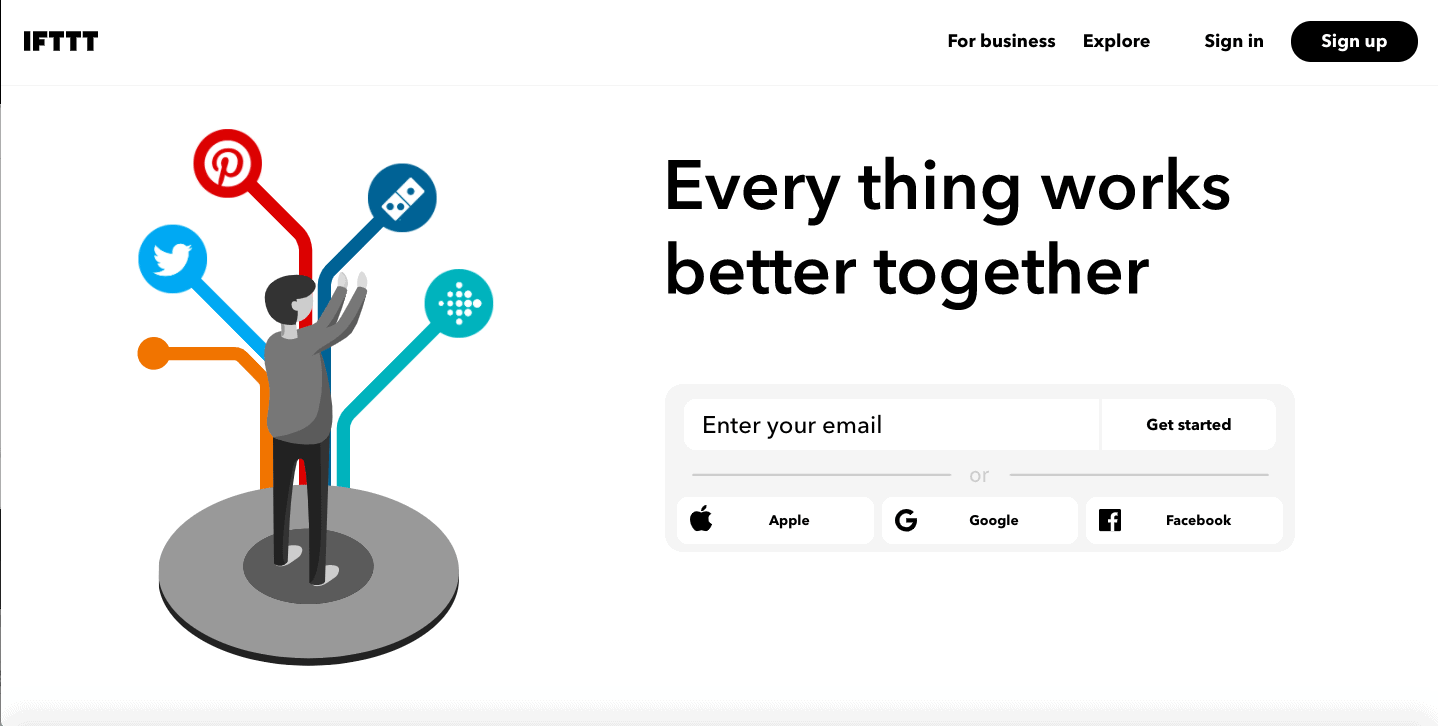 An easy-to-use productivity tool that lets you get things done efficiently through effective task management. TaskQue offers a free version and a free trial version. The paid version of TaskQue is available from 5.00 $/month.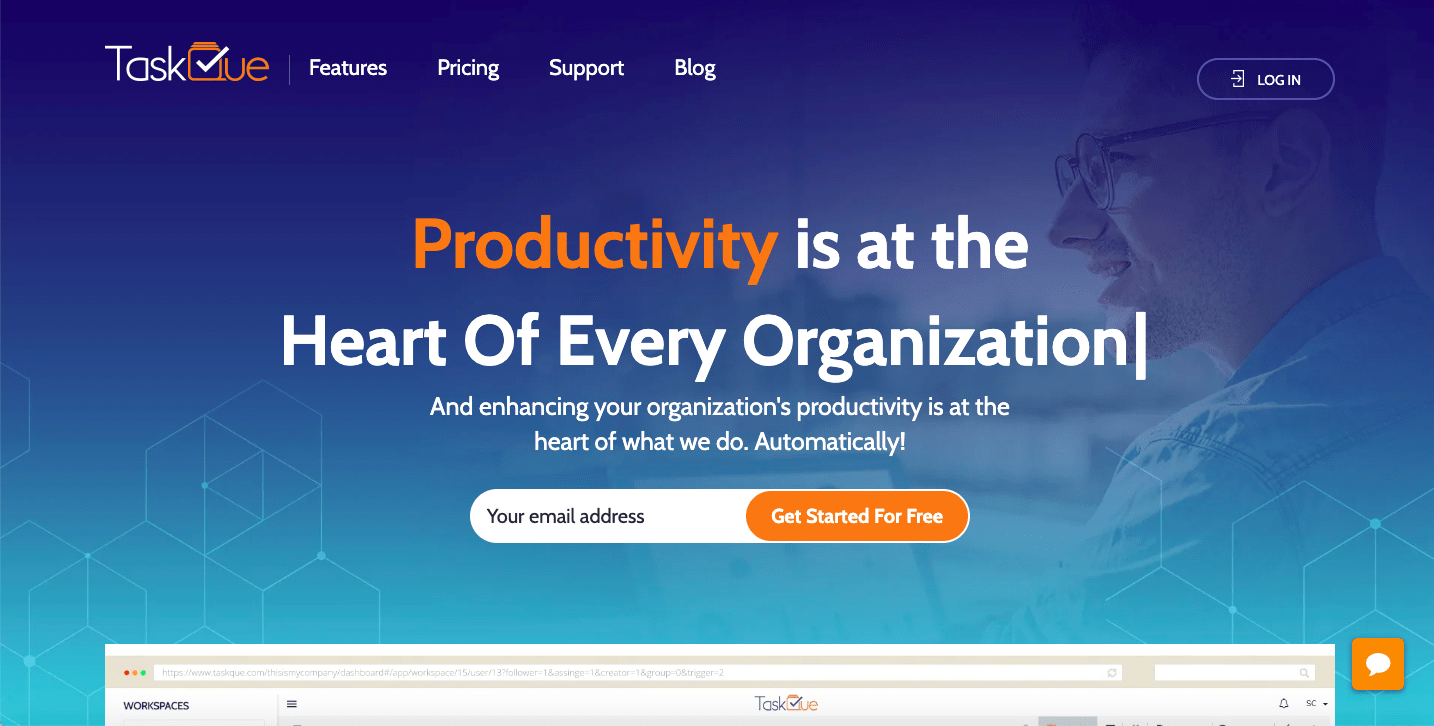 Web based solution that prioritizes important emails and summarizes the rest. Features include response tracking and filtering.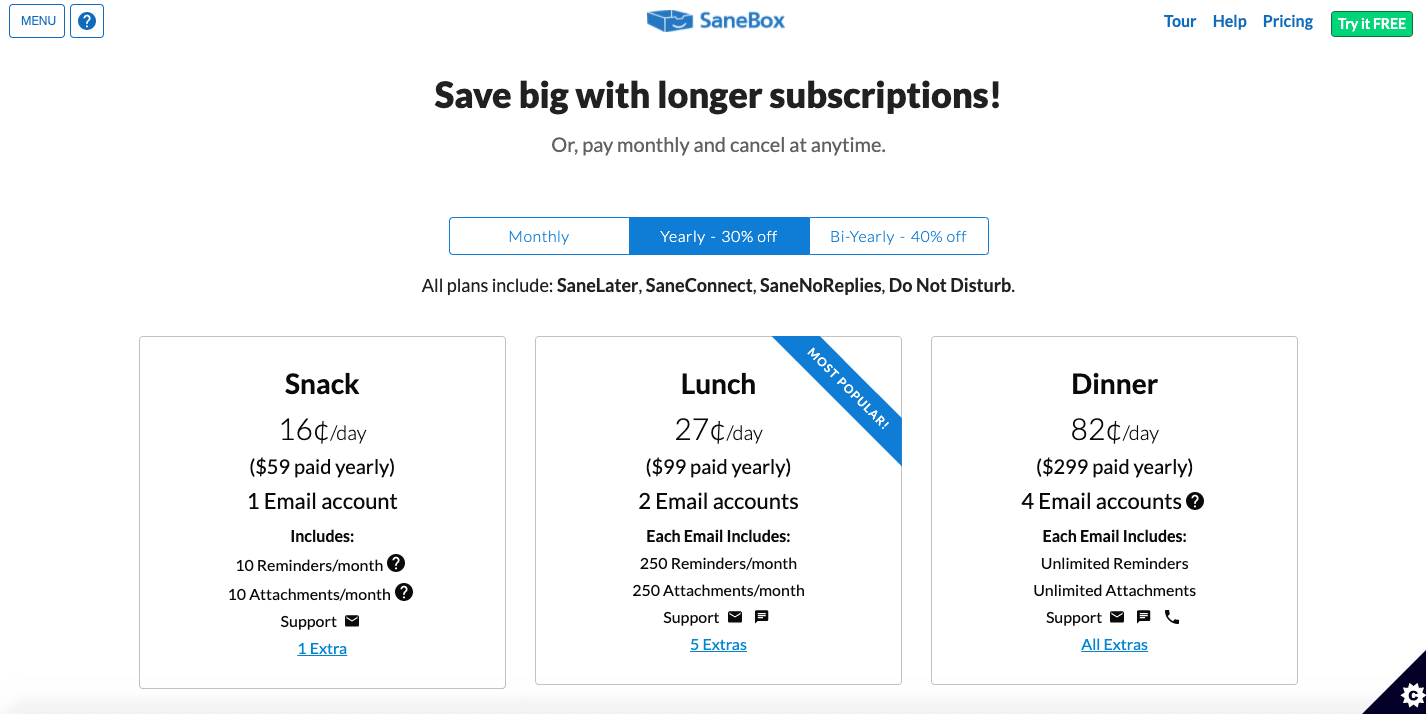 Email app for sales productivity with tools for outreach, tracking, and team collaboration.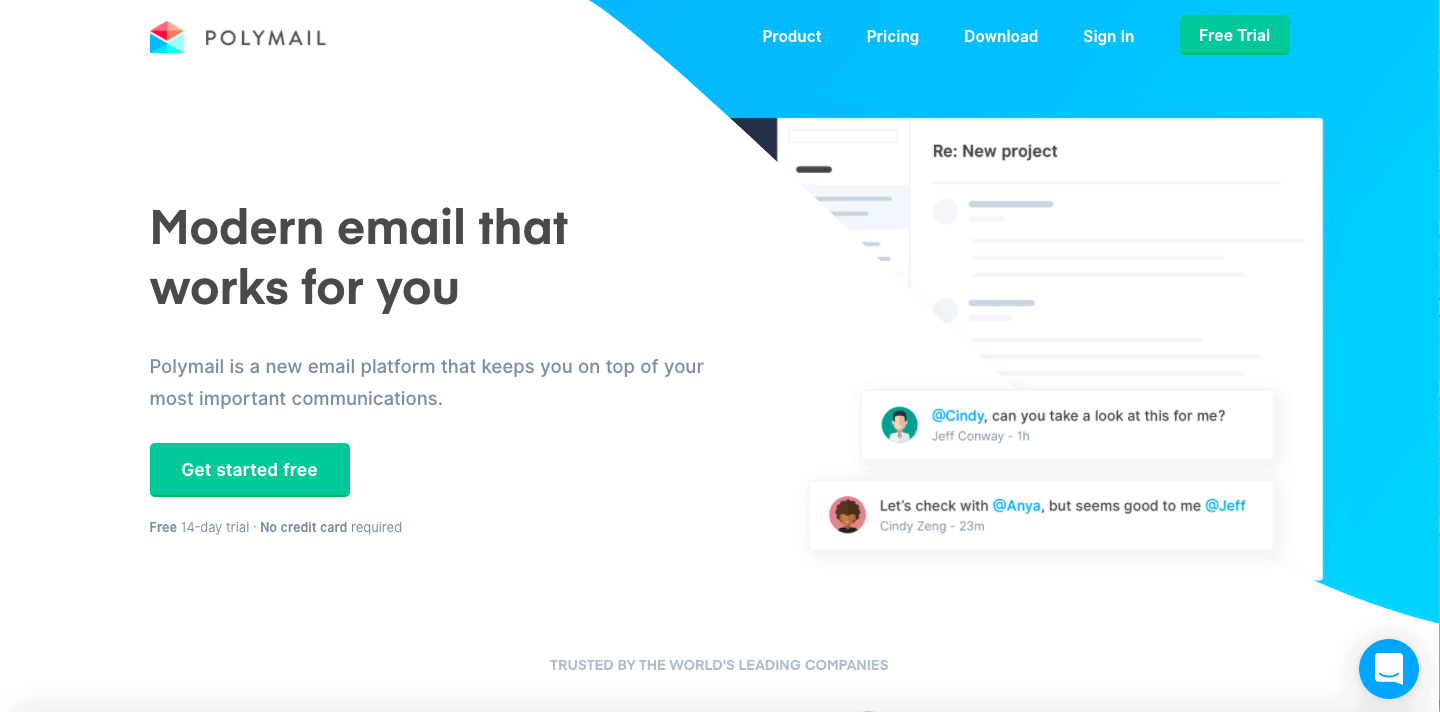 Personal email client. Spark helps you take your inbox under control. Instantly see what's important and quickly clean up the rest. Spark for Teams allows you to create, discuss, and share email with your colleagues.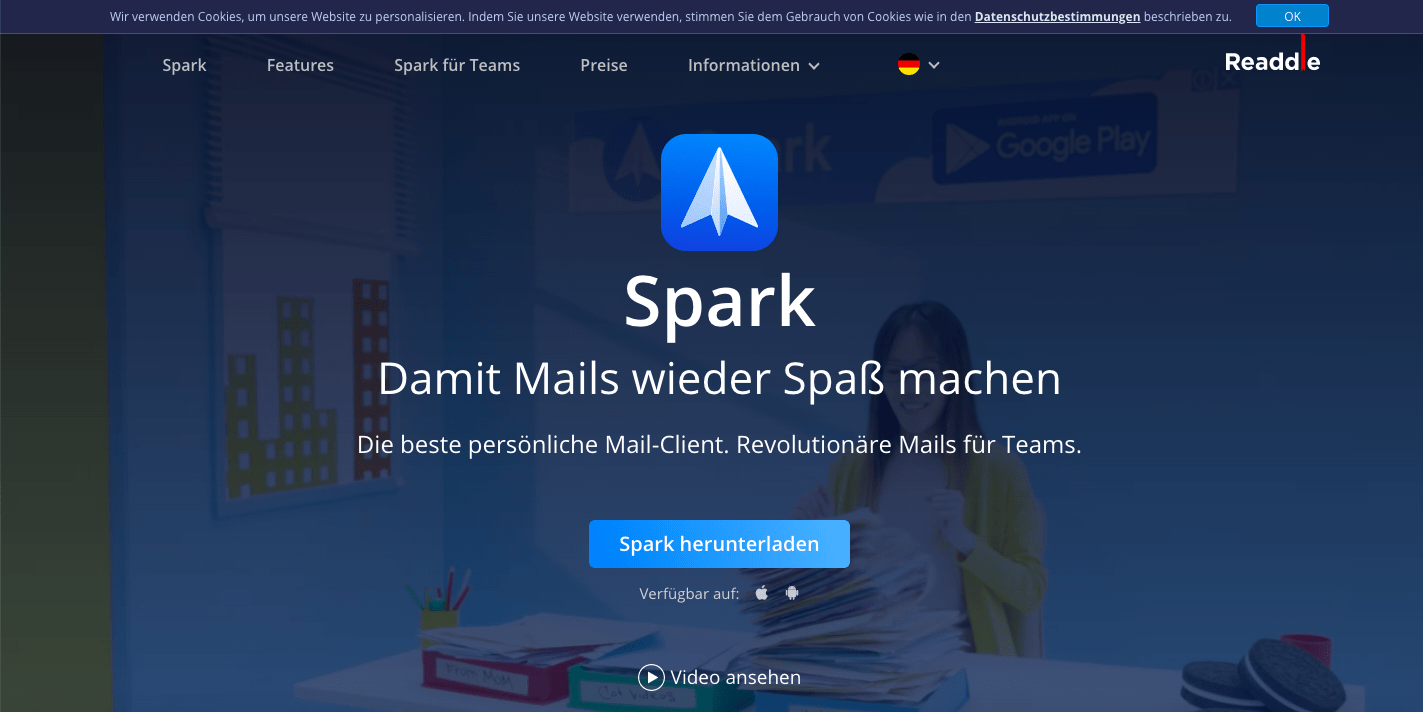 Process Street provides businesses with a streamlined, non-technical way to make managing recurring workflows fast, fun, and easy for teams everywhere.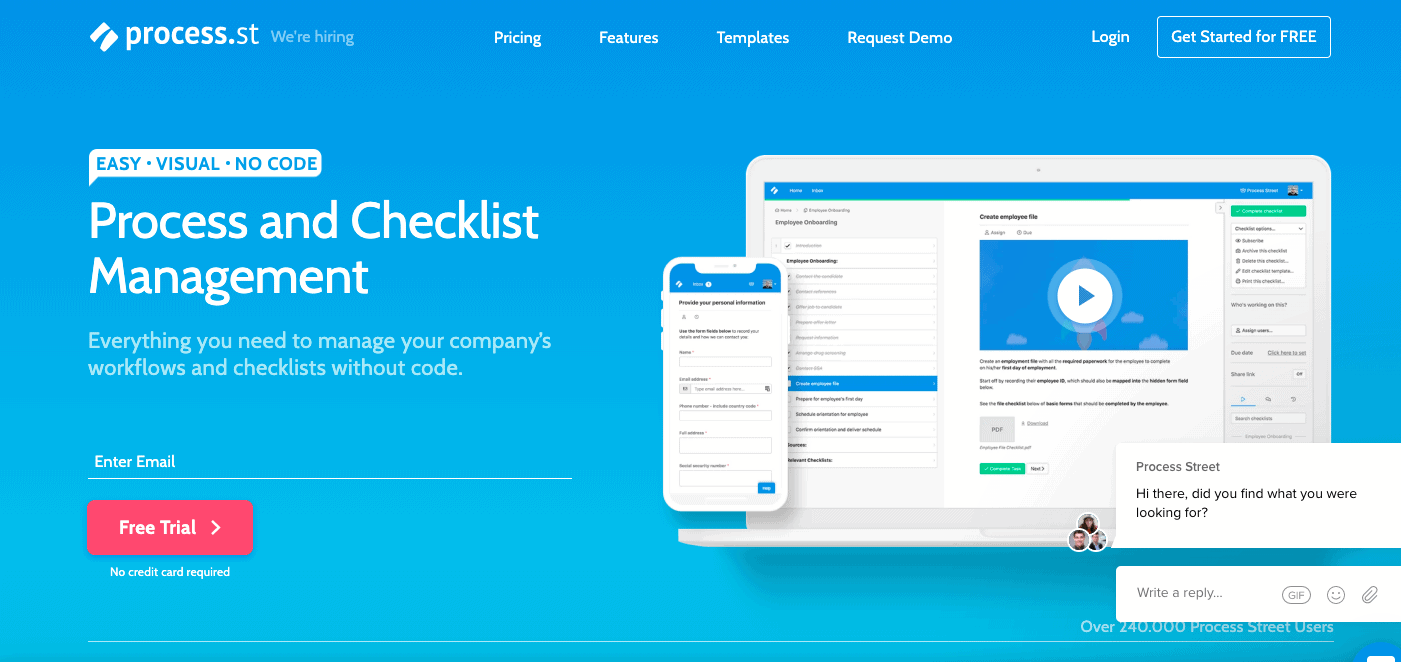 This lean managment platform allows to streamline and automate any business process on your own – from employee onboarding to customer service to agile development.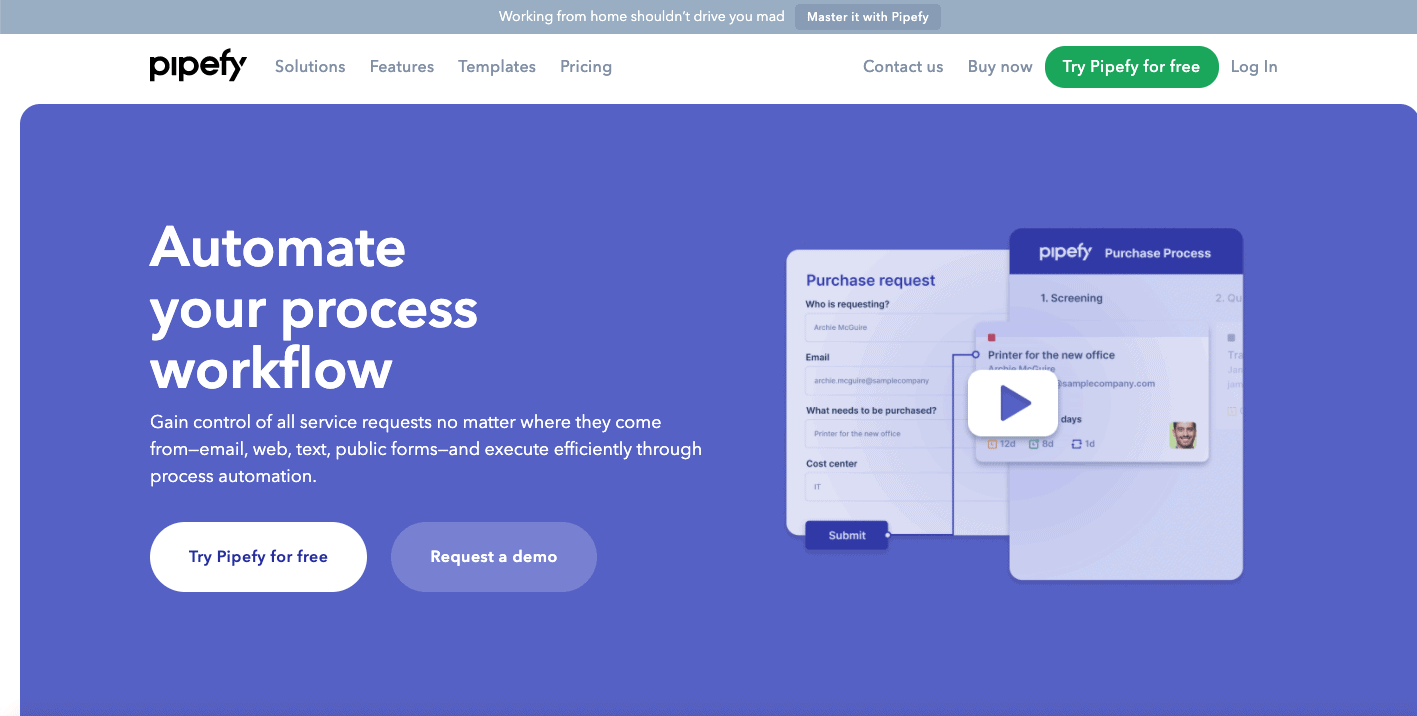 Dynalist helps you organize all your tasks and projects in one place with infinite-zoom lists.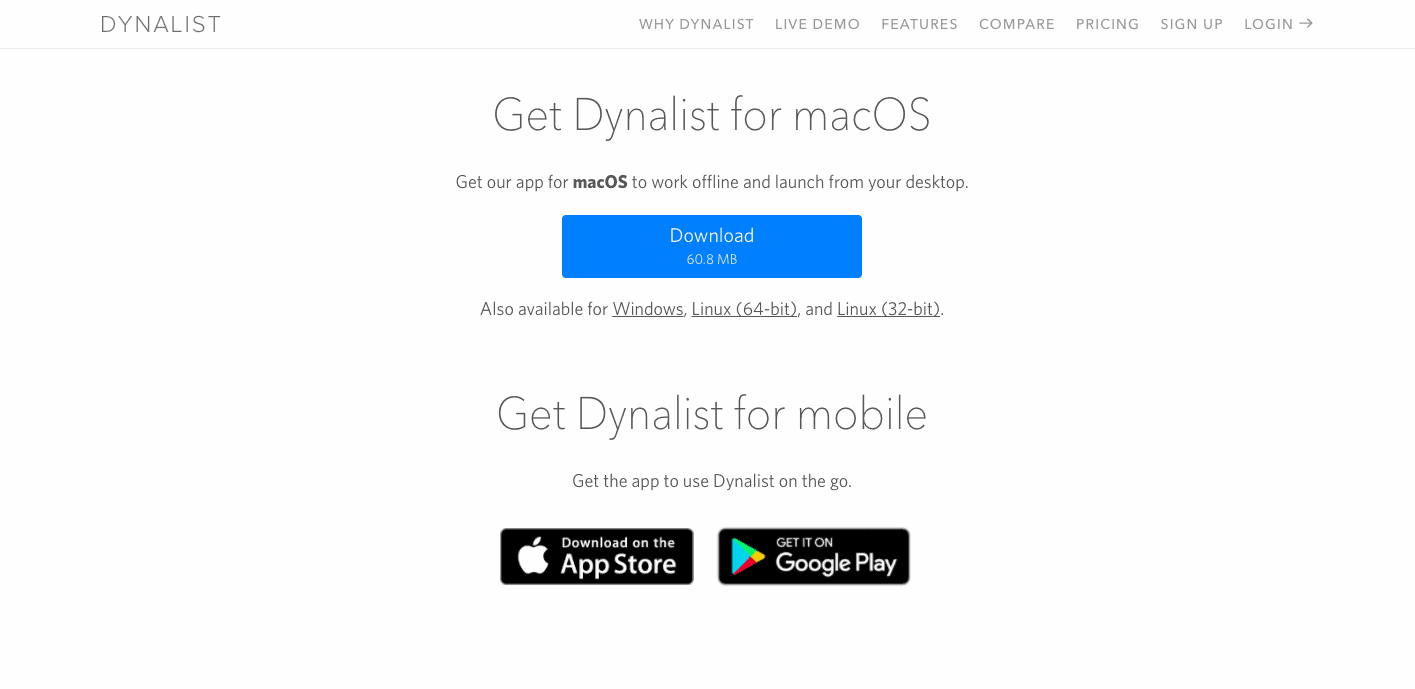 Music to improve focus, meditation and sleep. Just as the visual design of an office or bedroom should enhance its function, the music you listen to should support your goals as well.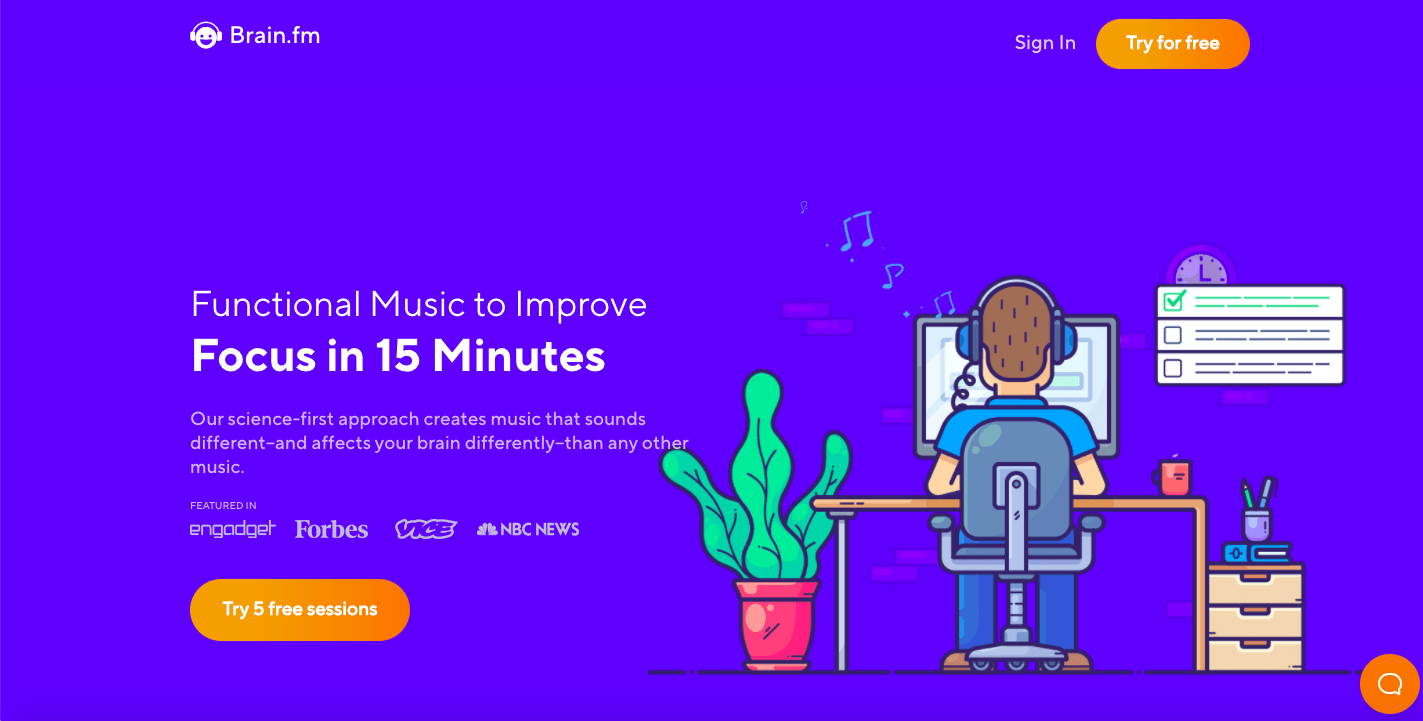 Connect all your cloud apps – Gmail, Slack, Trello, CRM, Email Marketing, Payments. Automate routine tasks, create workflows.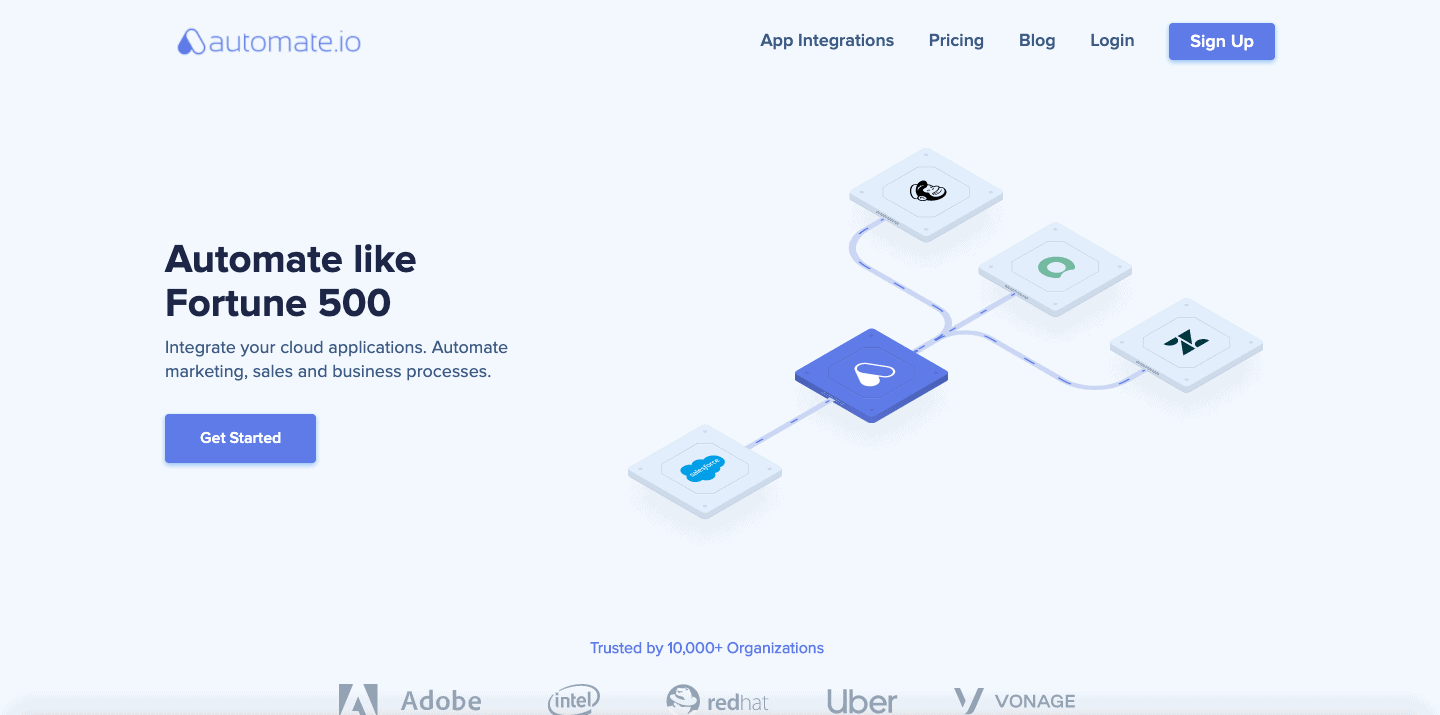 Weekdone is an OKR goal setting and tracking tool for any teams. Weekdone helps you know what is going on in your team by helping you to track and report results. Your team will know what is expected of them and they will be focused on achieving their goals.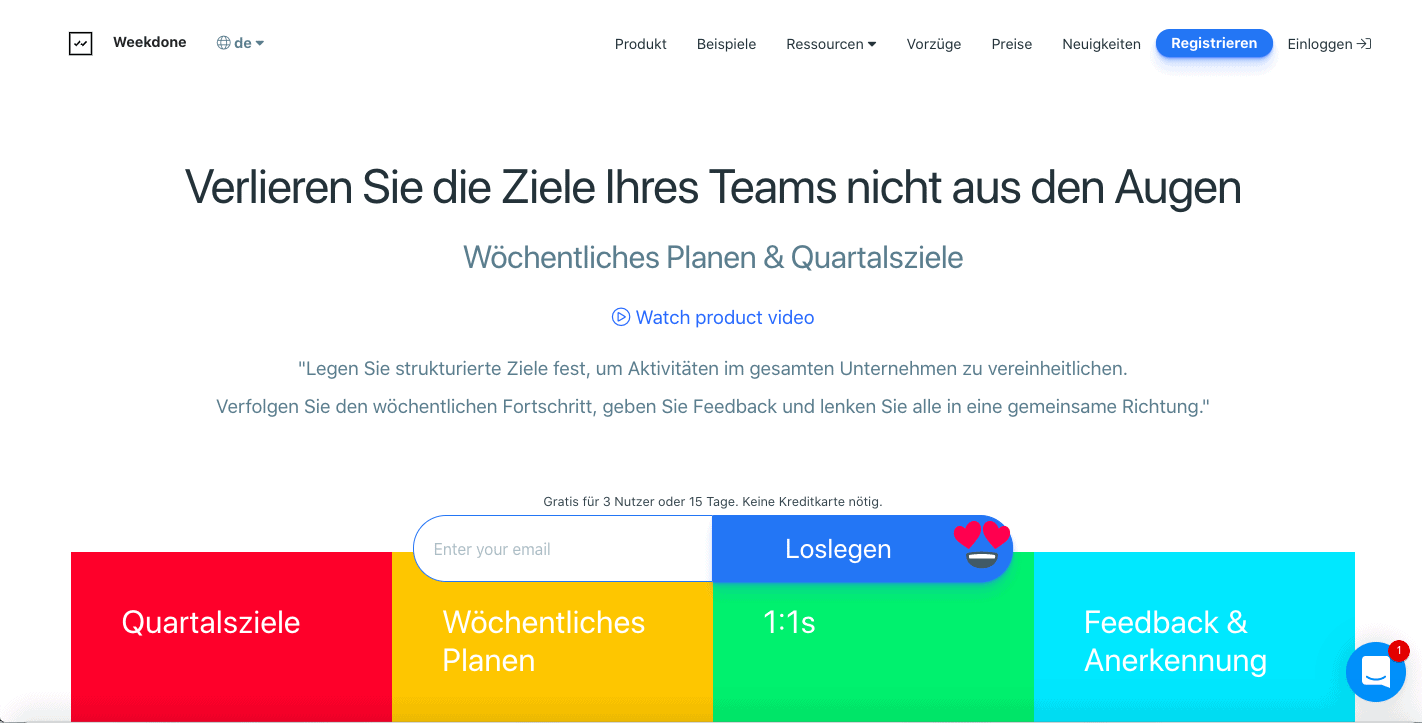 Personality assessment software that helps businesses gauge personalities and build teams with specific skills.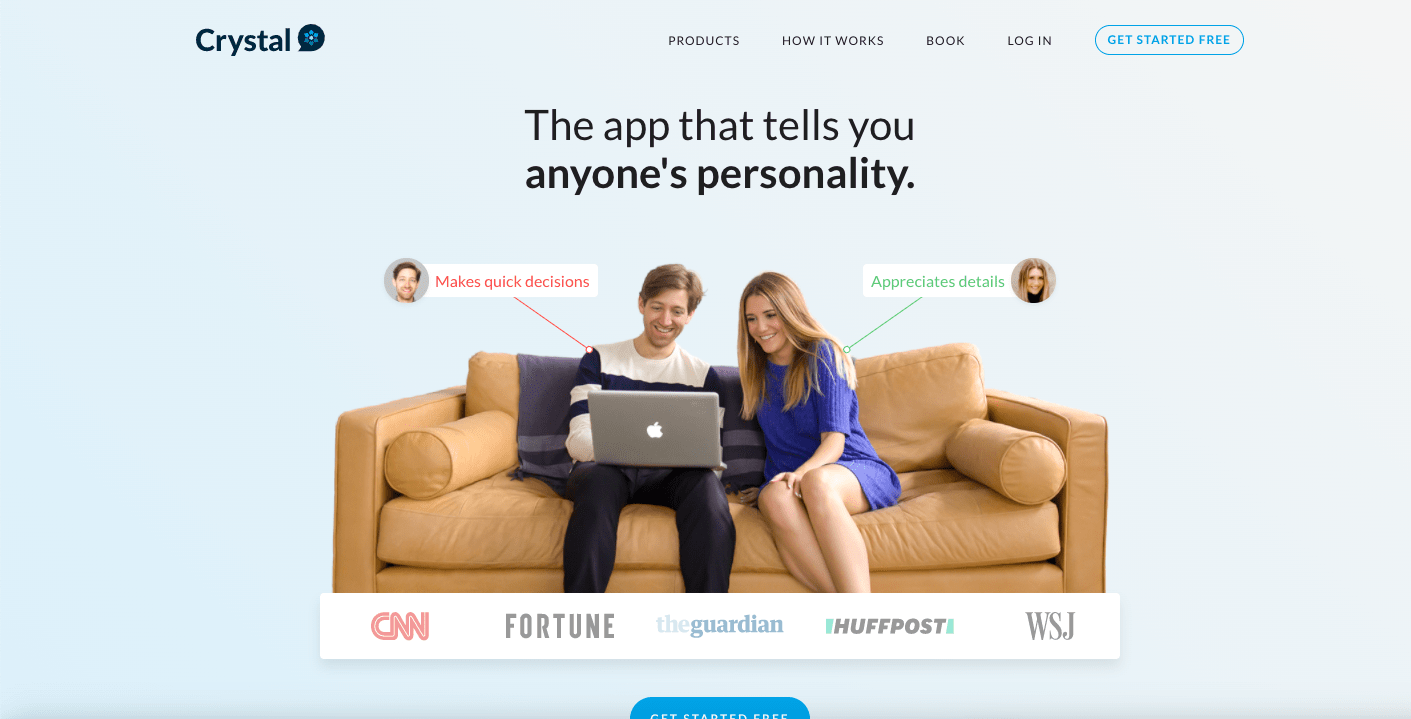 Integration platform for intelligent automations providing enterprise integration, process automation, and a citizen experience, enabling business users and IT to collaborate in order to build, operate and rollout automations without compromising security and governance.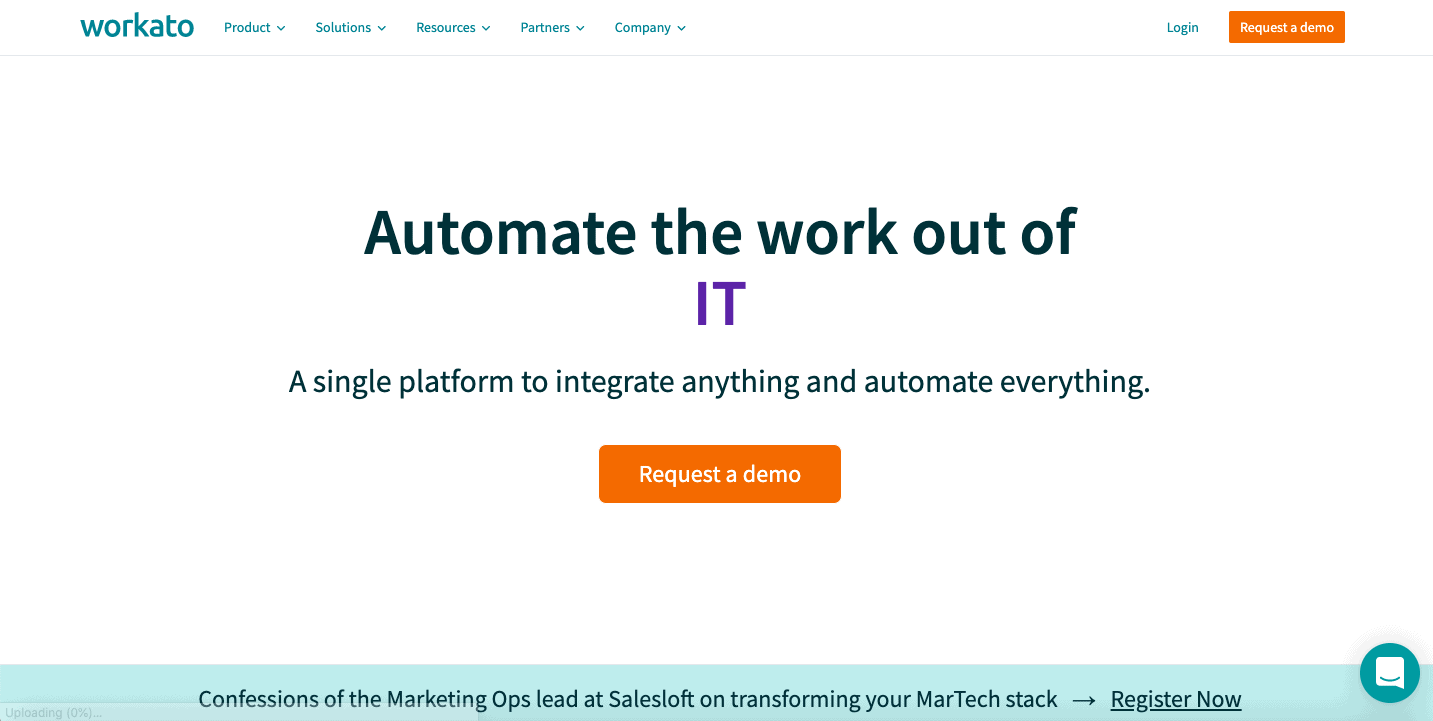 The simple and powerful way to document and track your playbooks, processes, know-how, SOP's and forms.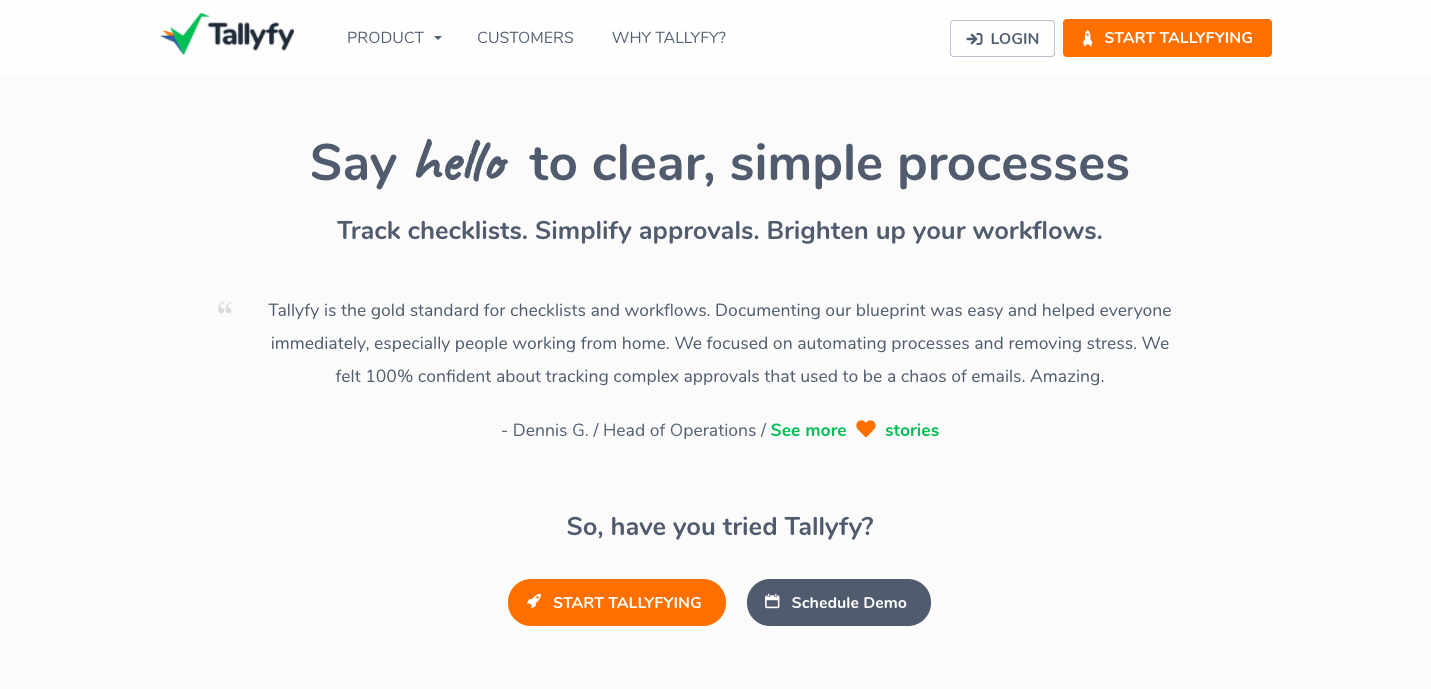 A productivity tool that allows you to organize your tasks effectively under the GTD methodology structure.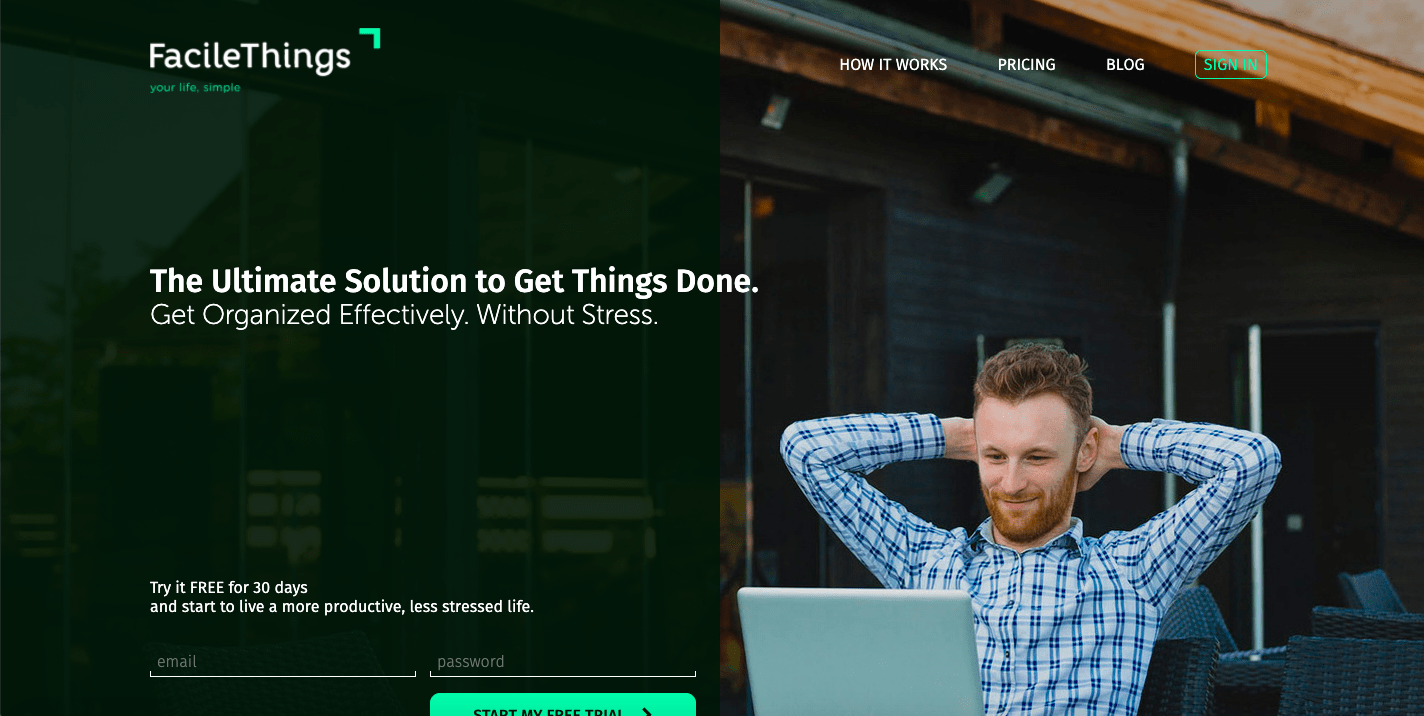 Scientifically personalized music for work. Specially curated- and produced music tracks designed exclusively to improve your focus on the work in front of you.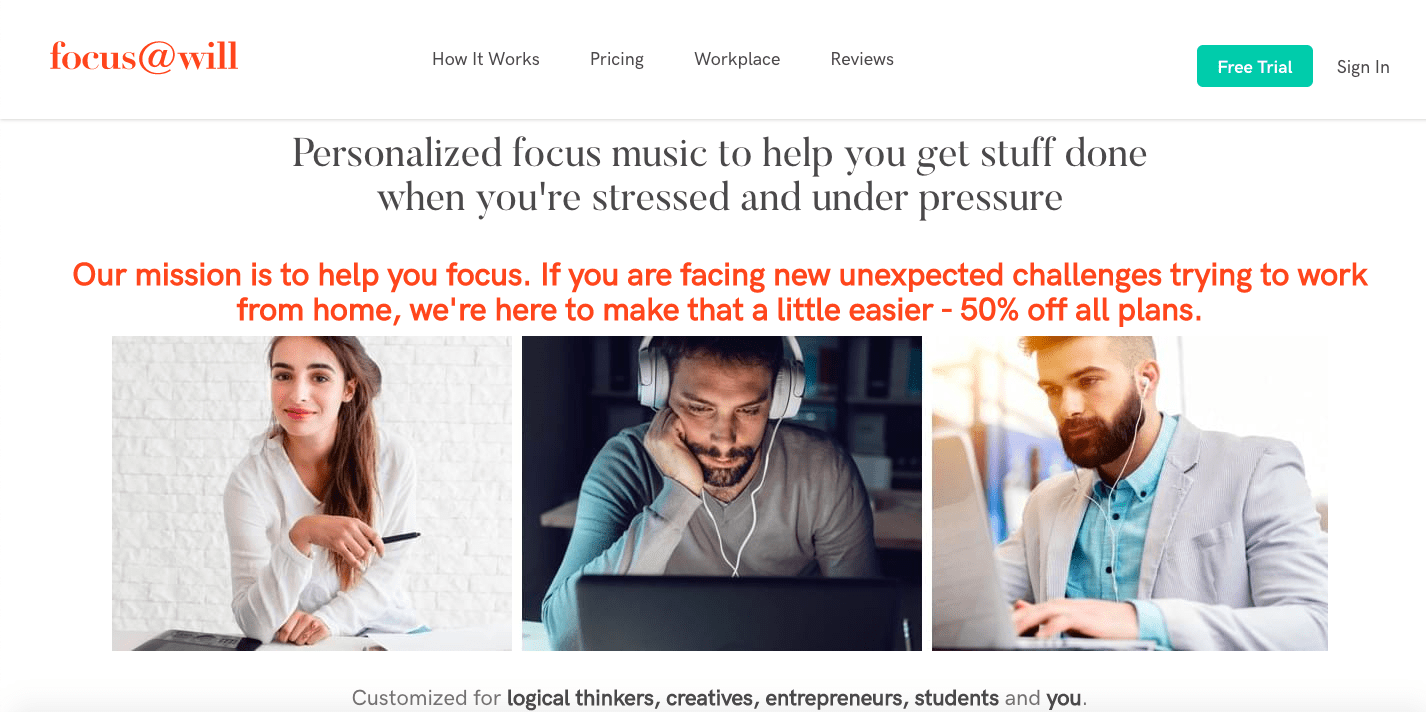 Cloud-based workflow management system. Document all those repetitive tasks that eat up your precious time, so you can grow your team and grow your business.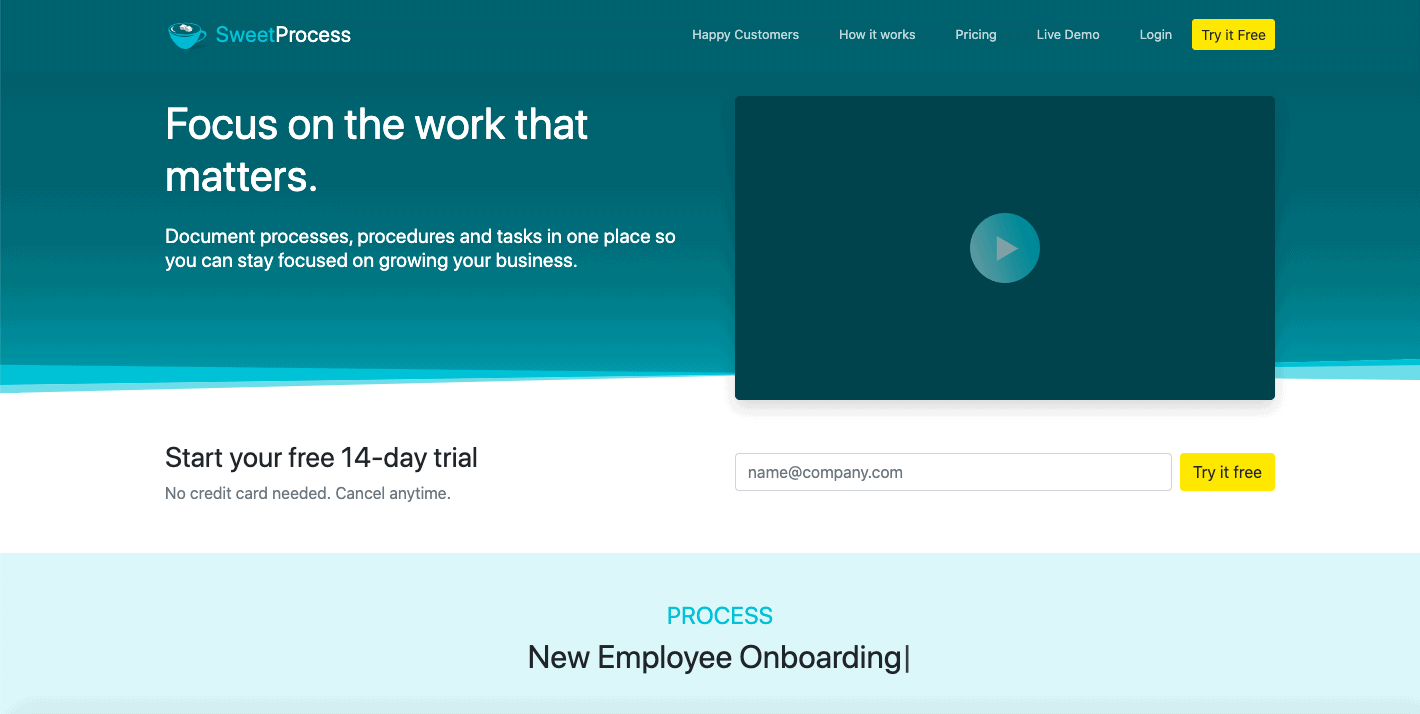 Alfred is an app for macOS which boosts your efficiency with hotkeys, keywords, text expansion and more. Search your Mac and the web, and be more productive with custom actions to control your Mac.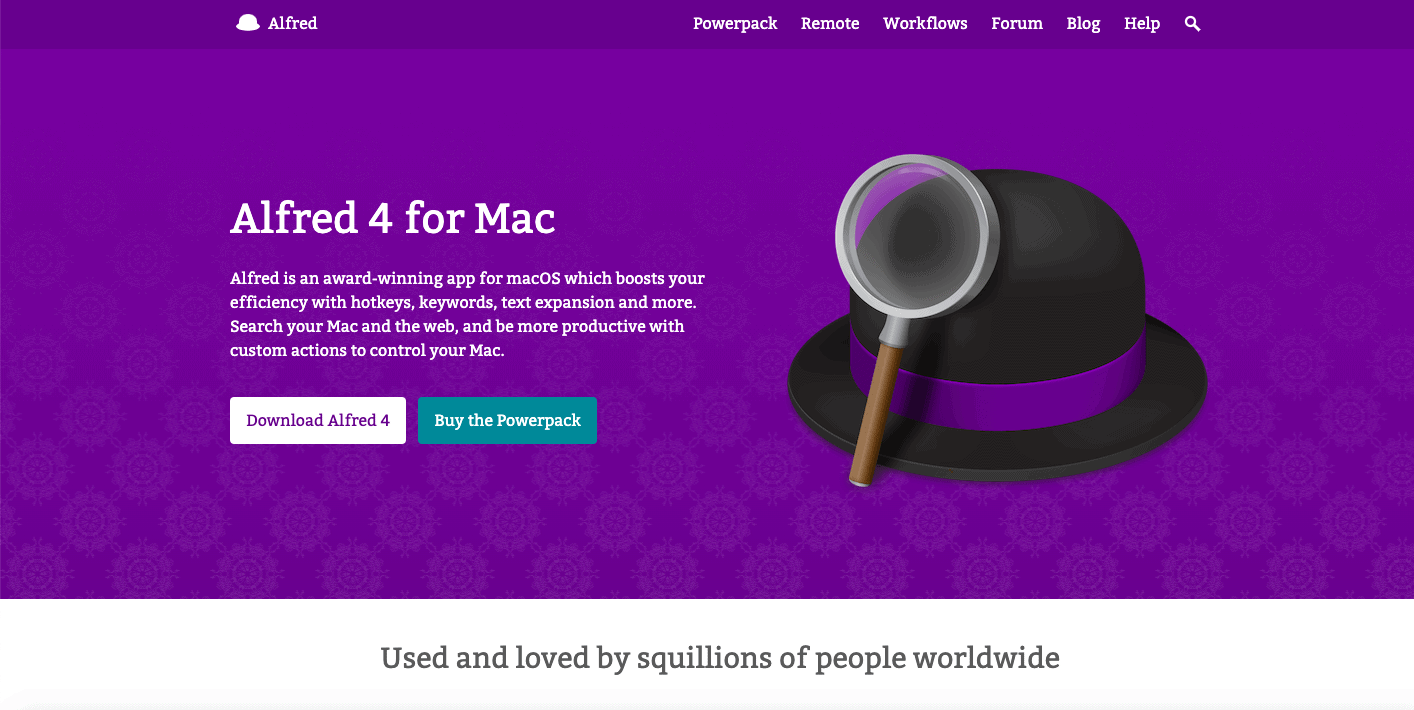 ProcessMaker specializes in enterprise business process management (BPM) and workflow software solutions. ProcessMaker allows you to improve efficiency as you build, run, report, and optimize your business processes all within an intuitive, user-friendly interface.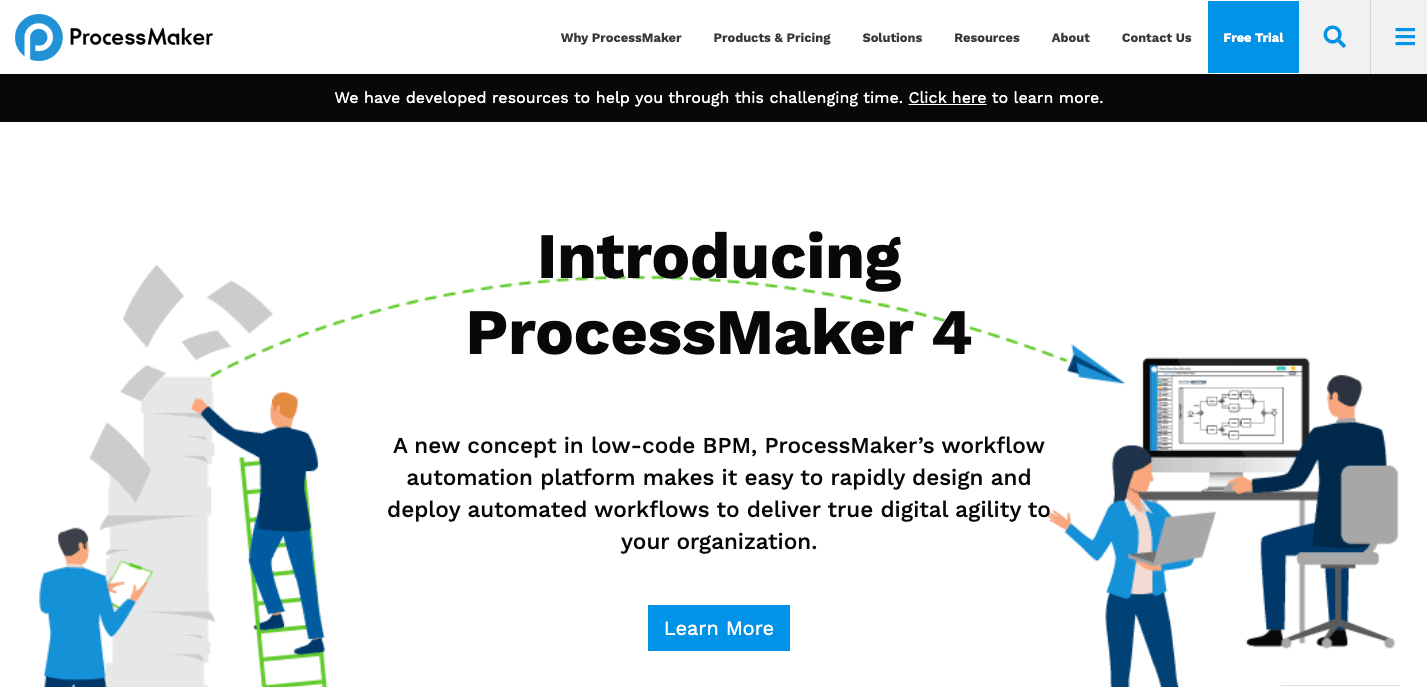 Station
Station is a free desktop application that unifies all your work tools in one neat and productive interface.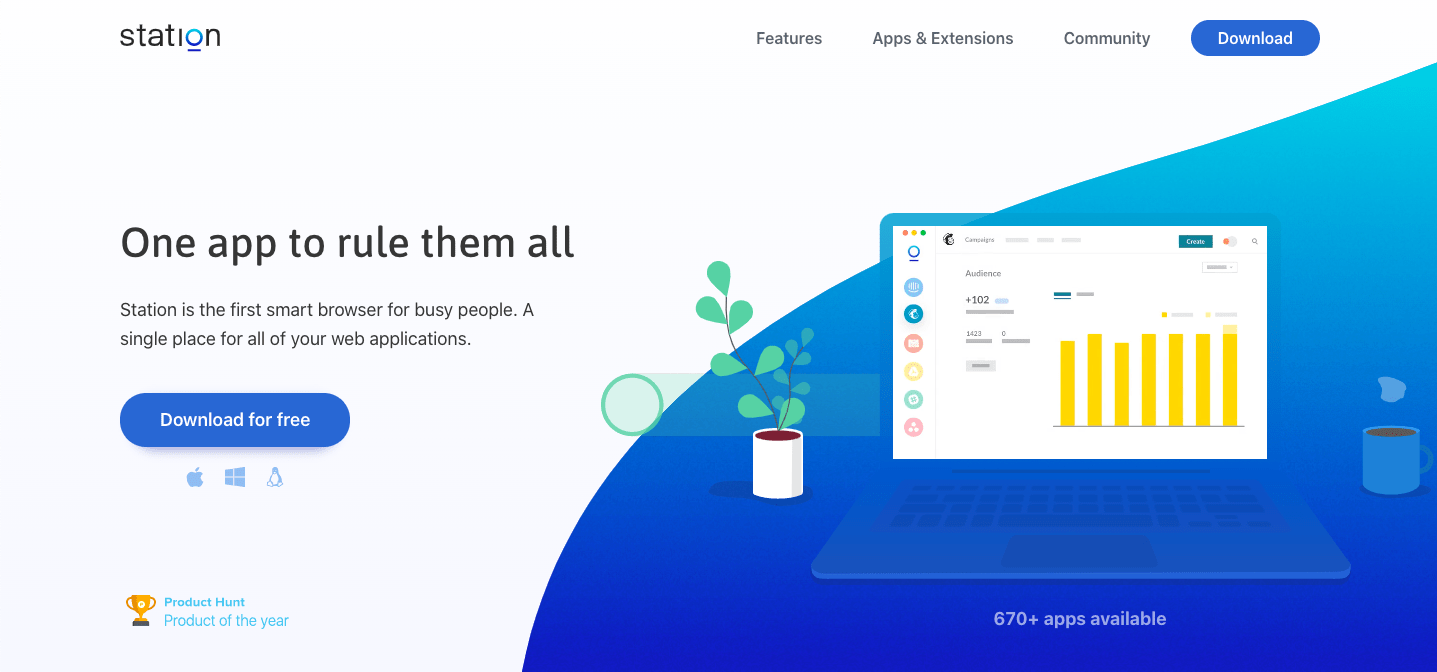 Decisions is the code-free, seamlessly integrated workflow and rules platform, delivering completely visual workflow and rules business process management solutions for any business.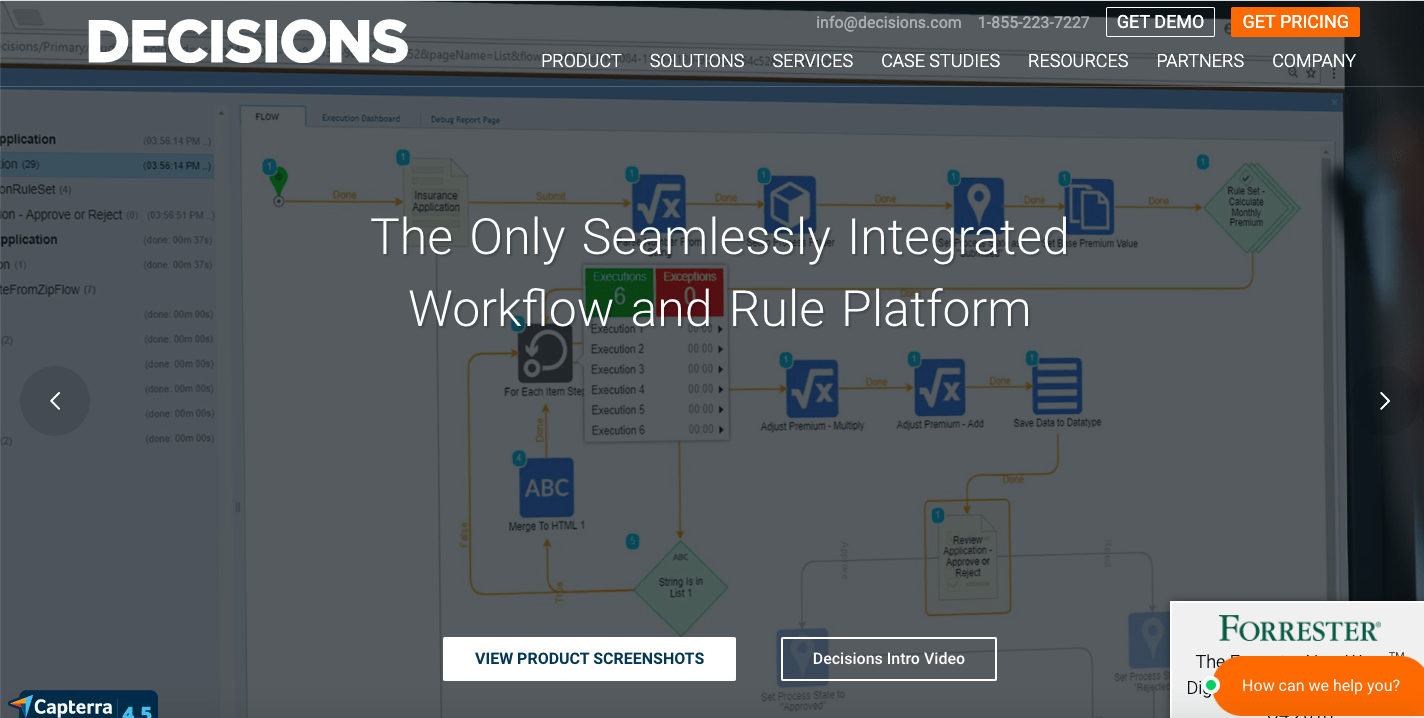 Goal management software that helps deliver the results that matter and accelerate growth. It enables CEOs to communicate the strategy in real-time, so that managers and employees can align their efforts to drive the results that matterusing KPIs & OKRs.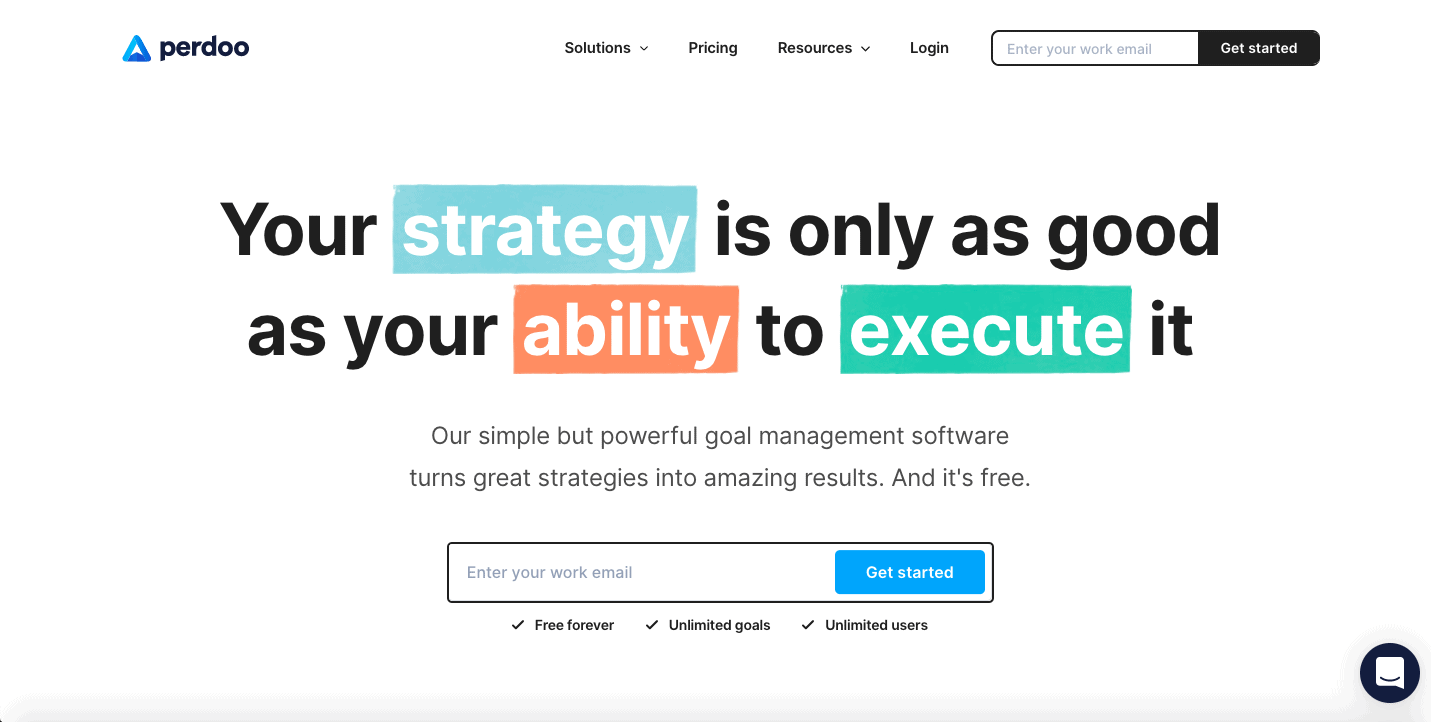 Sunsama helps teams run better meetings. Sunsama upgrades every single event on your calendar to include an agenda, notes, action items and comments. It also includes advanced tagging and search features to easily find events, notes and action items.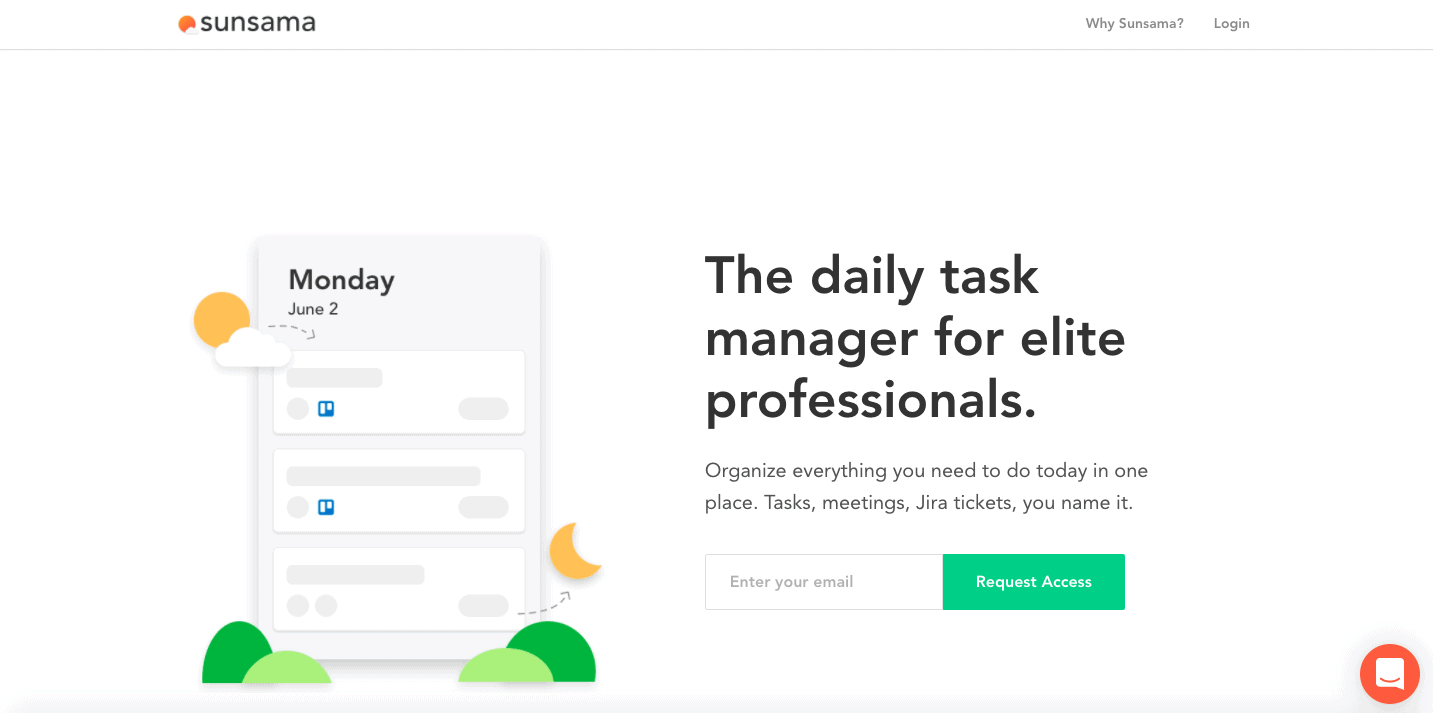 Planyway is Trello calendar power-up and Chrome extension. It gives a powerful productivity tool for personal and team time management and scheduling in Trello. It is as simple as Google Calendar.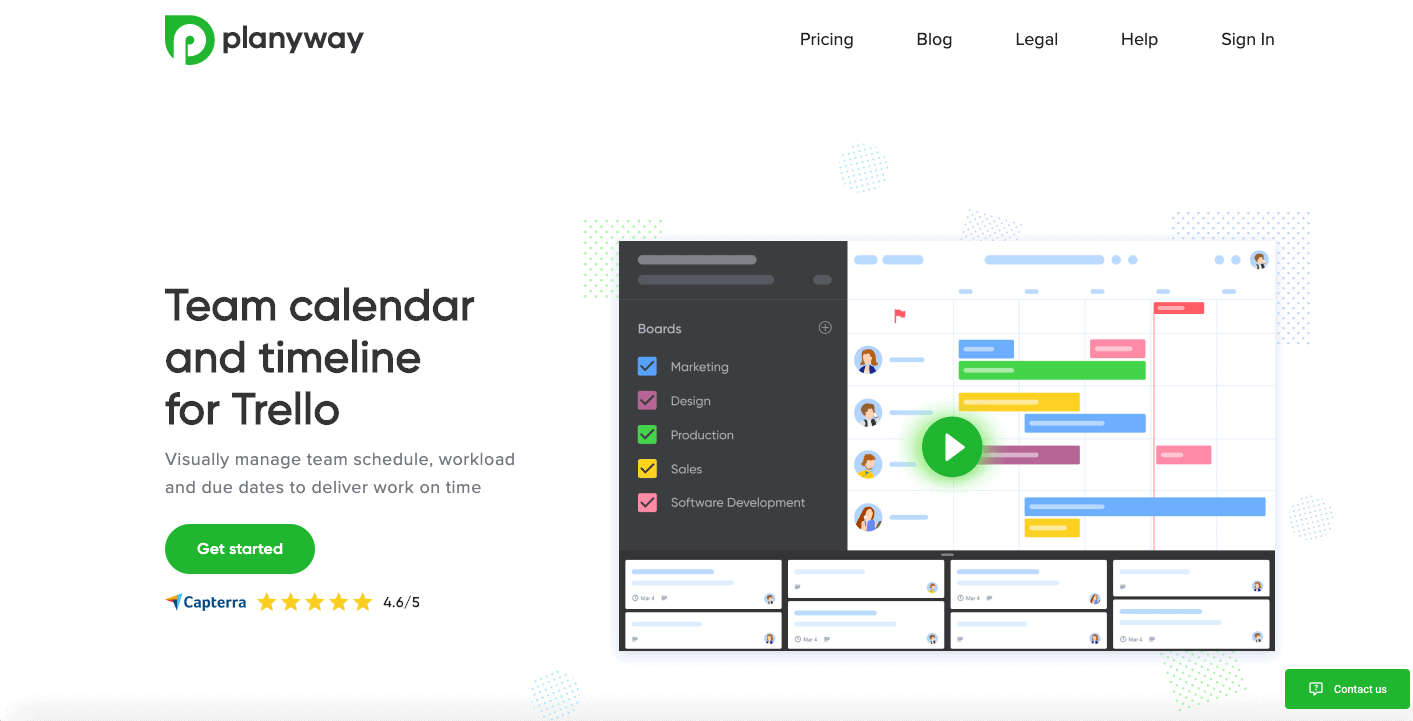 An all-in-one cloud-based solution to simplify OKR execution at scale. High-performing companies use Atiim's Goals management tool to set and track OKRs, align and focus everyone on what matters most, and drive amazing results.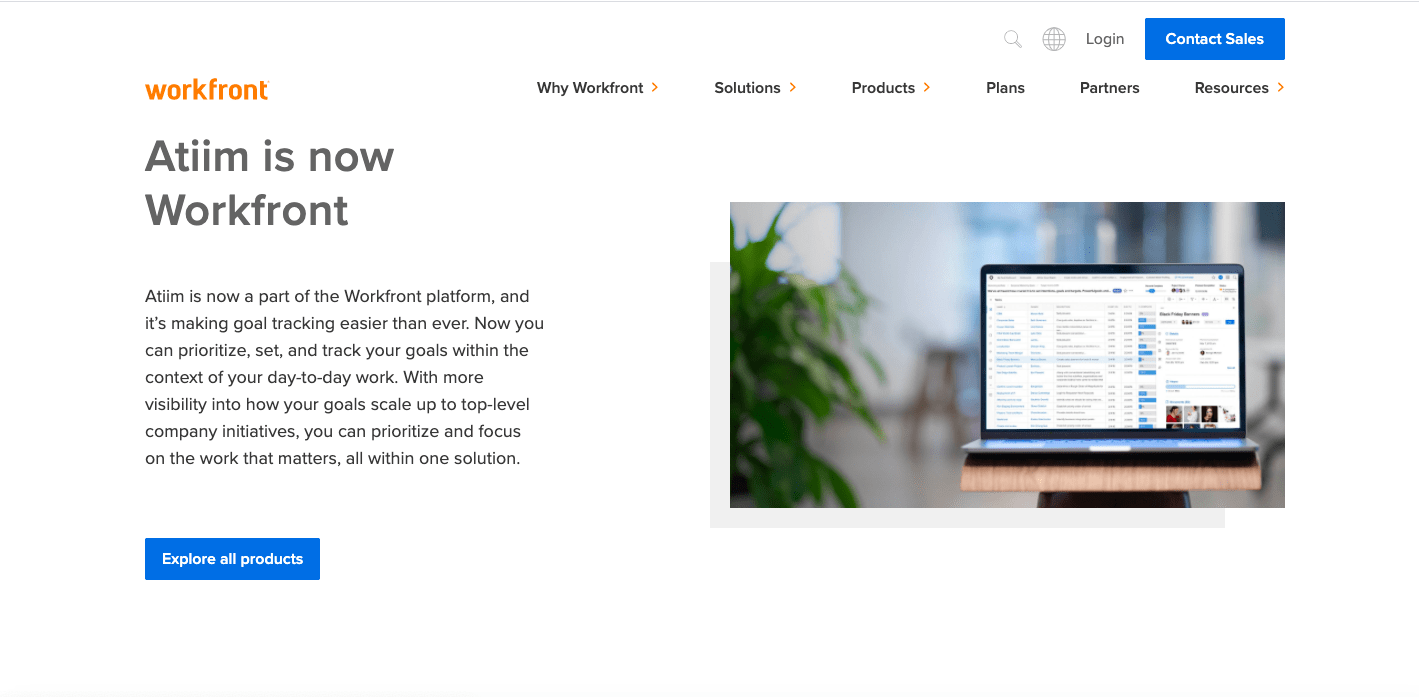 Skore
Skore is an online, team-based knowledge platform that connects people to the content that matters to them. Its collaborative visual interface allows users to work with any kind of content from notes to links, PDFs, videos and content from integrated platforms and users can add comments with mentions and hashtags and easily find discussions with built-in search.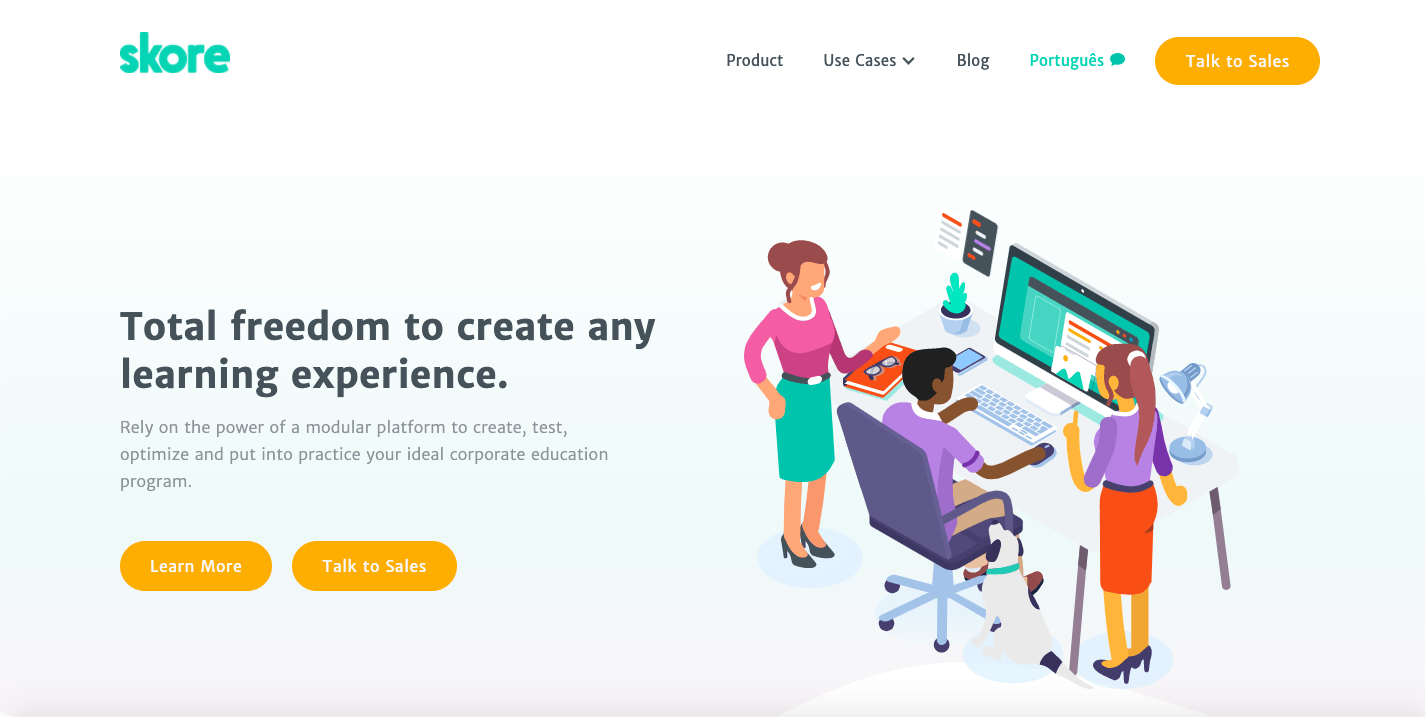 Screenful is the easiest way to visualise and share your project progress using data from your existing tools. Get a quick overview of your team's status on your smartphone or tablet. Get project progress reports delivered to your email and Slack.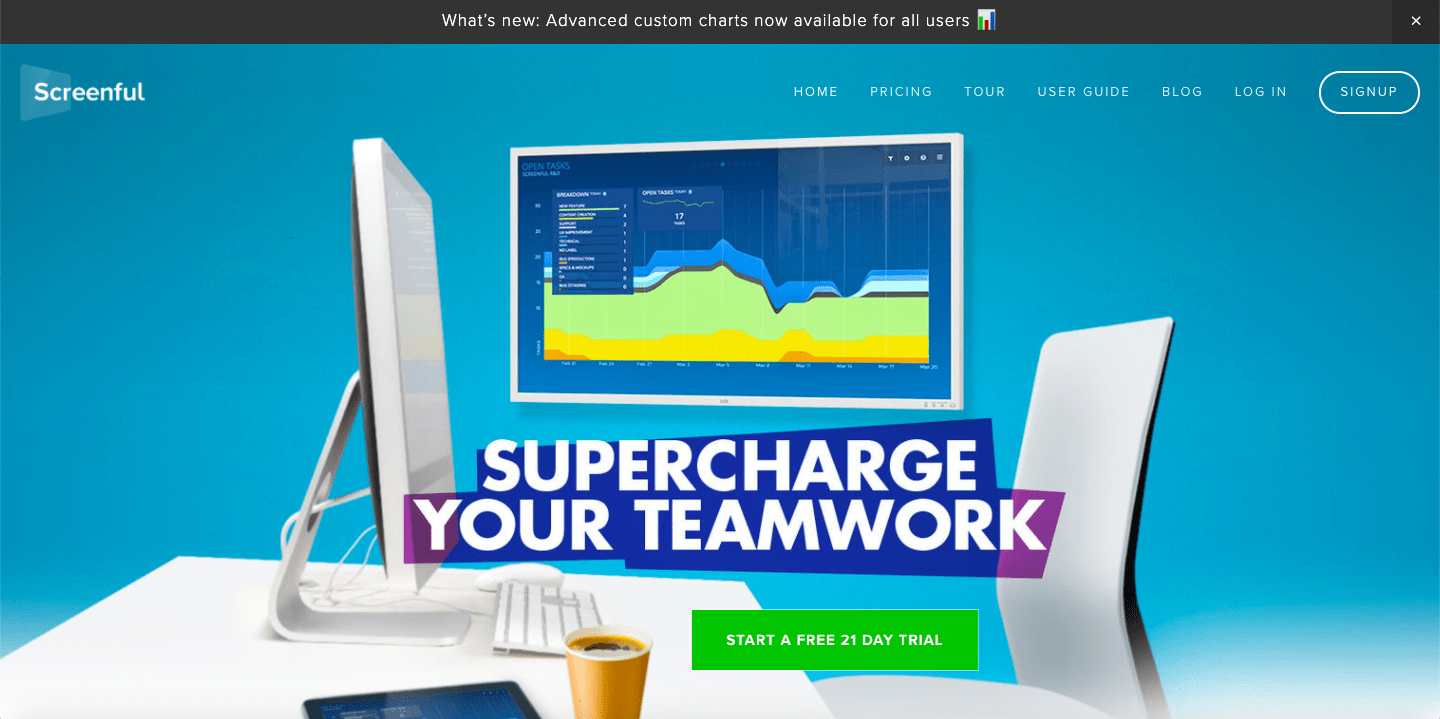 Integrify's workflow automation solution focuses on ease of use, rapid deployment and powerful features. With Integrify, organizations can automate their daily workflow processes and ensure consistent standards are followed.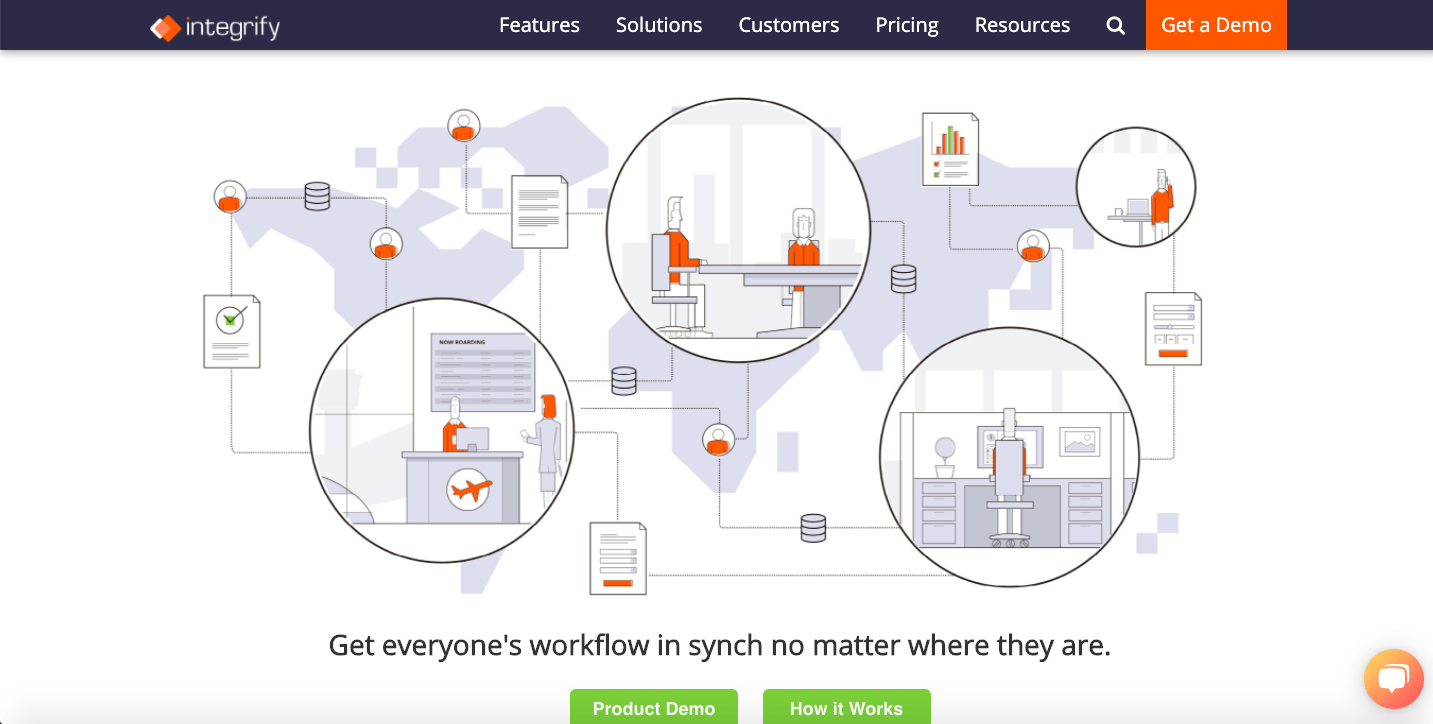 Task management solution that helps businesses of all sizes schedule tasks, track progress and more.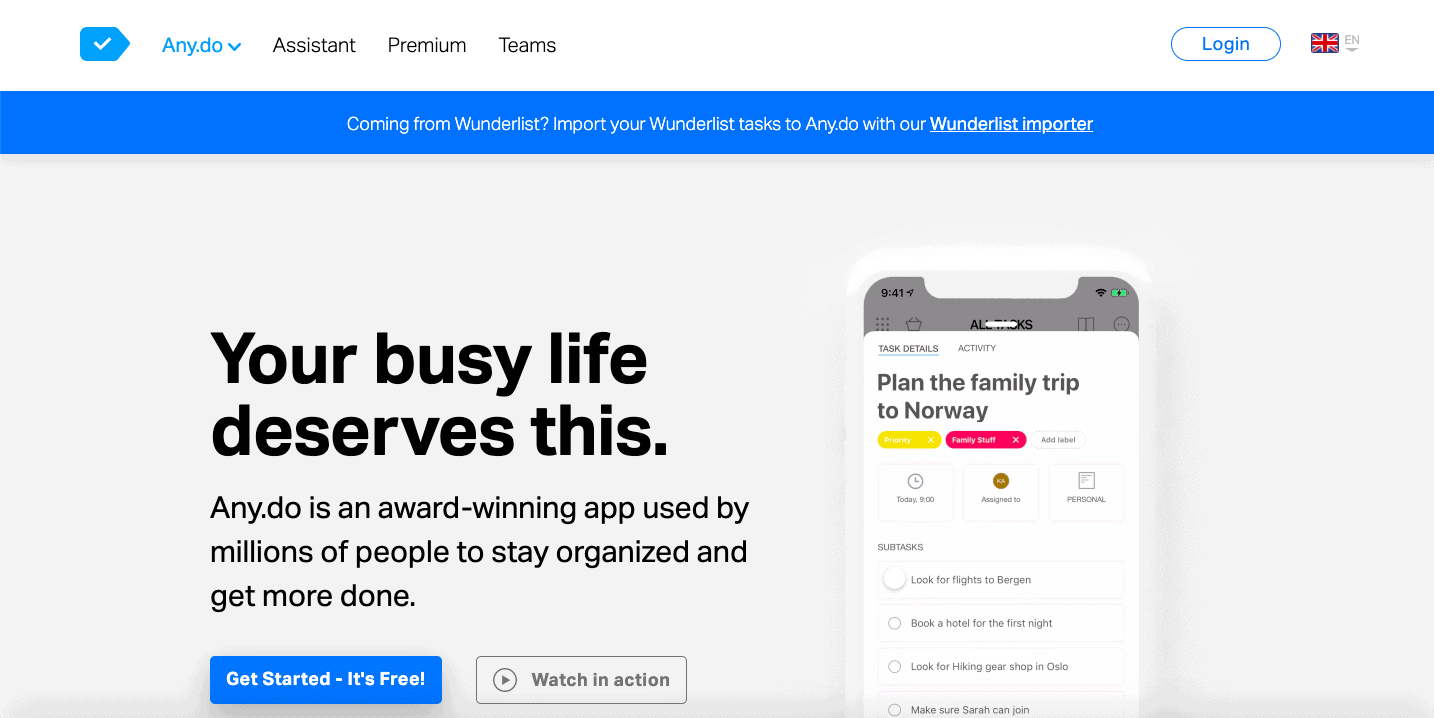 Ziflow is the leading online proofing software that helps agencies and enterprise brands, including AWS, Showtime and McCann Worldgroup, to streamline the review and approval of creative content.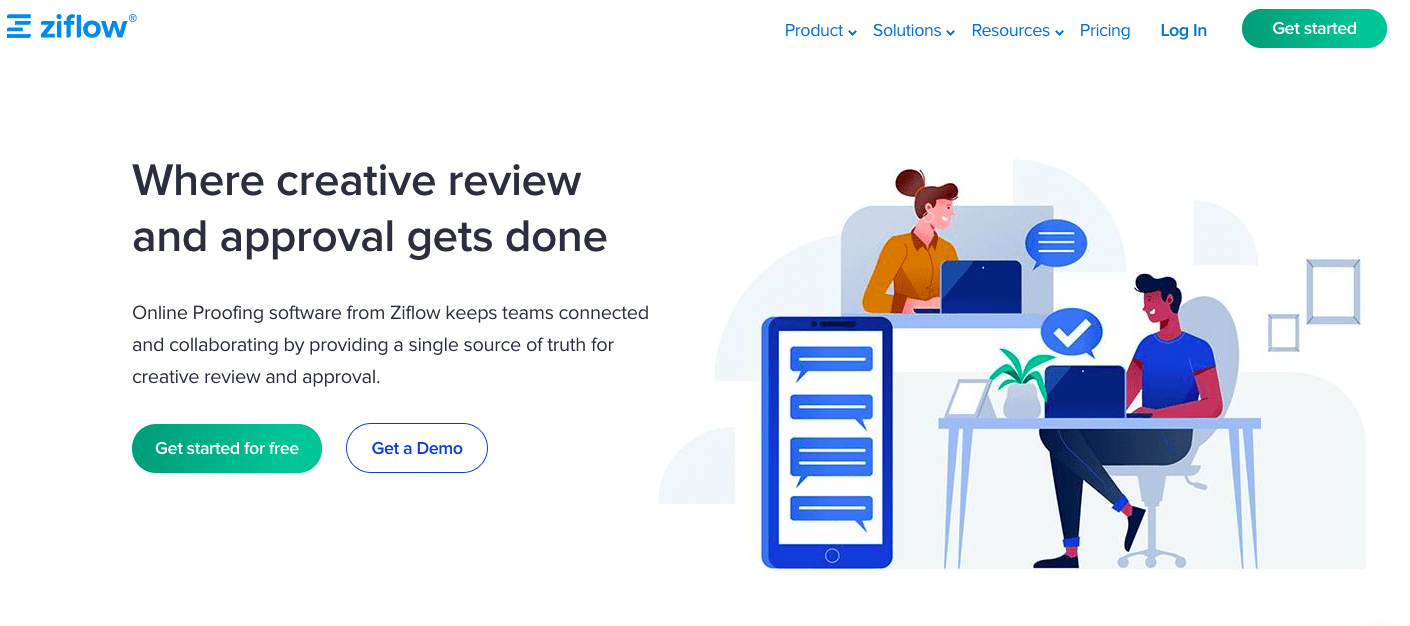 5. Time tracking tools
Hubstaff offers simple time tracking software with features such as screenshots, activity monitoring, automatic billing, advanced reporting, real-time tracking and GPS. It also integrates with over 30 popular tools such as Trello, Asana, Podio and PayPal and includes both online and offline tracking functions. Hubstaff is ideal for remote teams, small and medium-sized businesses and freelancers. The basic version costs $5/month, the premium version is available for $7/month.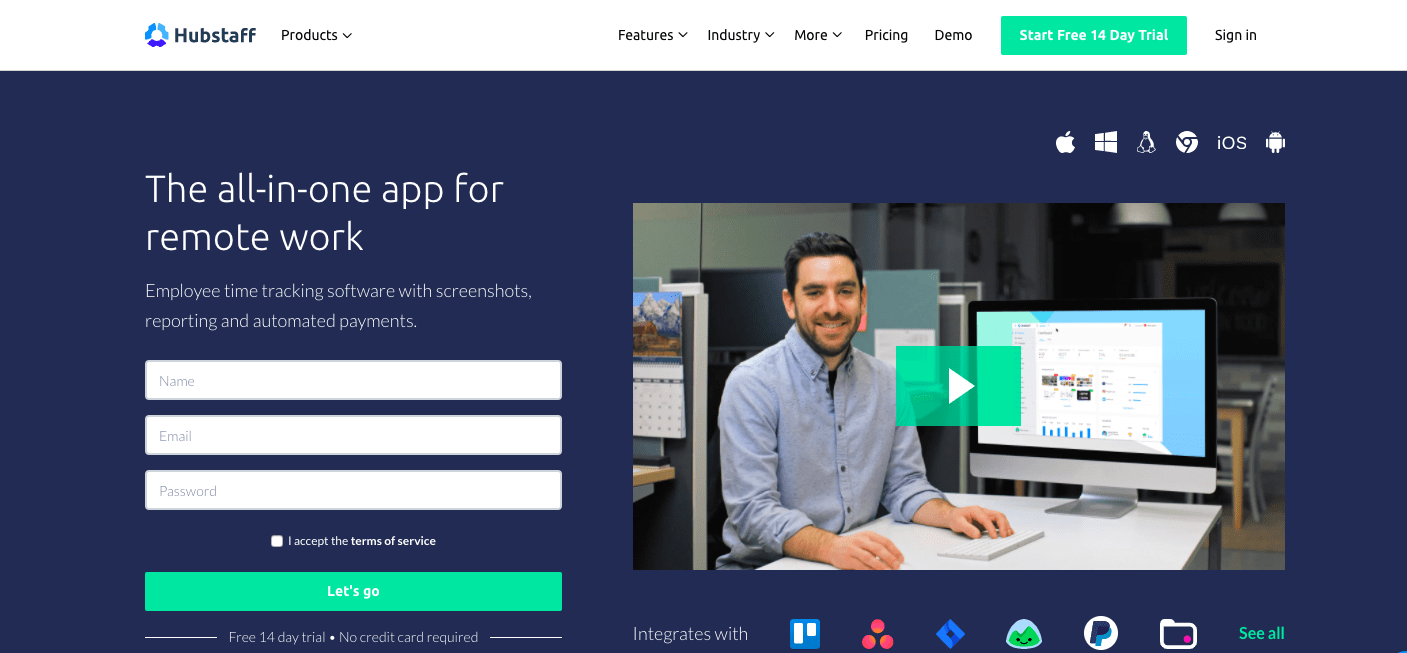 Time Doctor is a SaaS time tracking and productivity tool launched by the owners of Staff.com in 2012. It has desktop software, mobile and web based components. It basically offers a multi-functional time tracking software with CRM and white label capabilities. A 14 day free trial is available. The upgrade is $9.99 per month.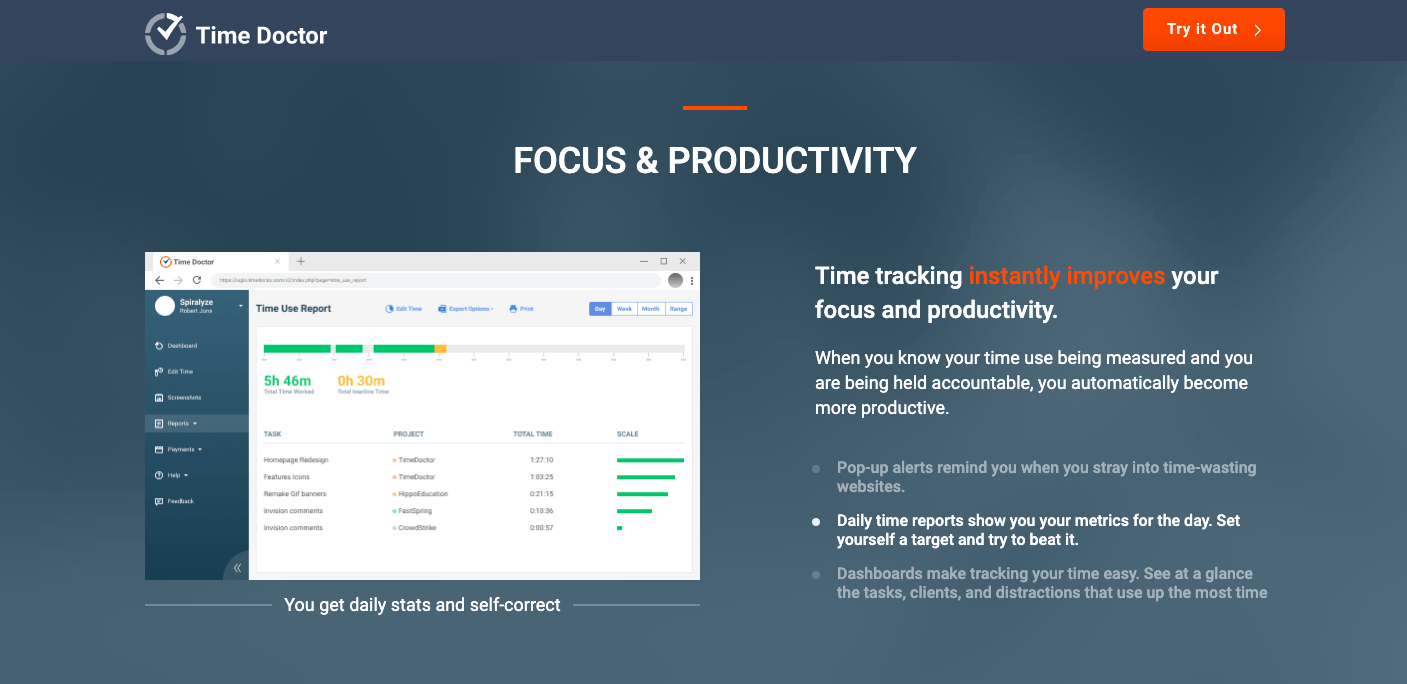 RescueTime for Android is an automatic productivity and time tracker that helps you understand and control the time spent on your Android device. It offers rich insights into how you spend your day, build better habits, and beat distractions. RescueTime offers two tiers of service: Lite (free) and Premium ($9 per month or $72 per year).A free version is more than sufficient for most people, while a somewhat pricey Premium version gives more in-depth analysis.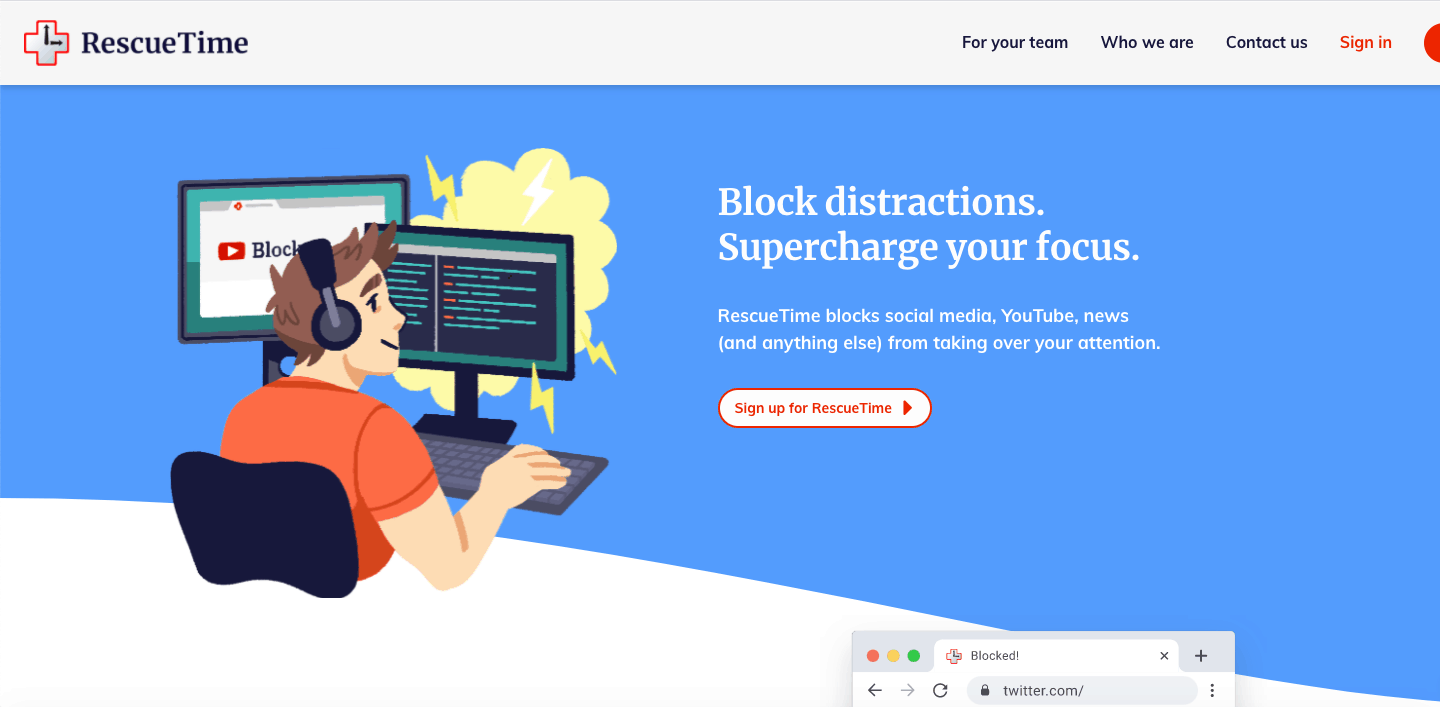 Toggl is a popular and easy to use cloud-based time tracking app. It allowed you to delete unwanted entries, add times both manually and through auto tracking as well as record every program and website that you have viewed for longer than 10 seconds.With Tags, you can add comments to any time entry. Toggl pricing starts at $9.00 per month, per user.There is a free version.Toggl offers a free trial.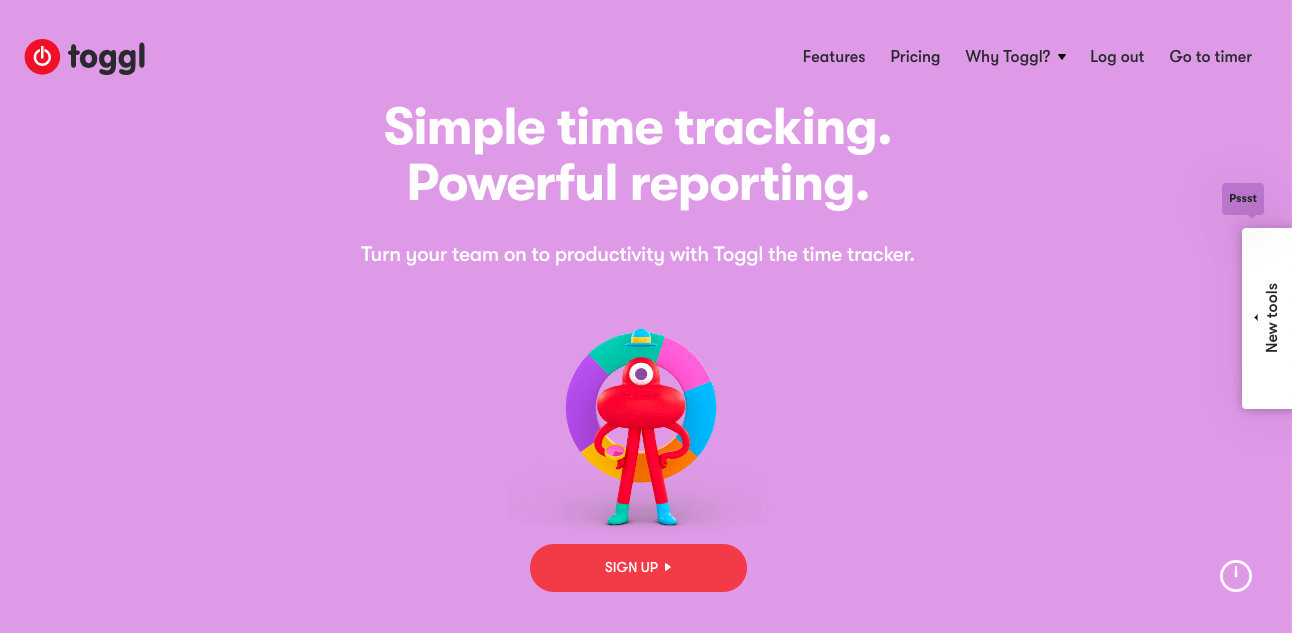 Harvest makes it easy to track time from your desktop, phone, and favorite tools, including Asana, Trello, and Basecamp.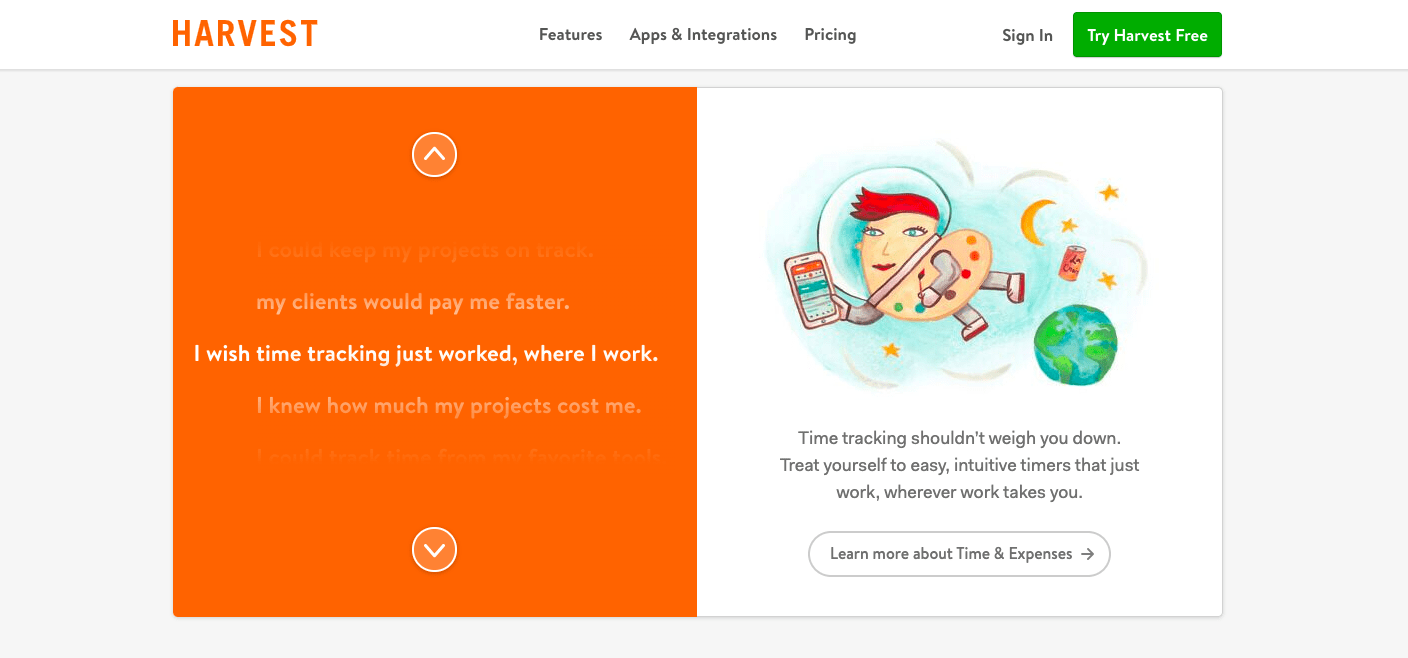 Automatic and manual billing and invoicing solutions. Track time for your tasks and projects, set an hourly rate and decide how to price your service or product.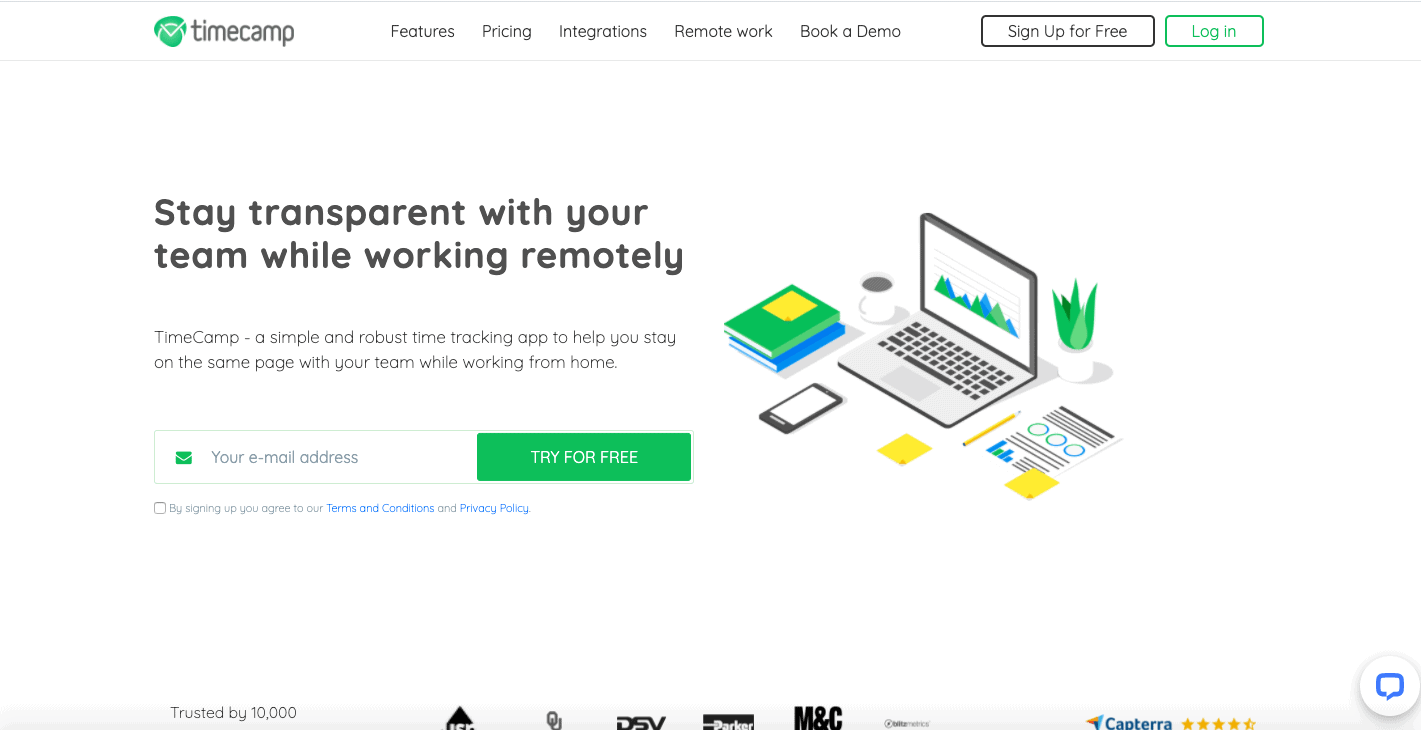 A fully automatic time tracking software that has proven to boost employee productivity by 30% within the first weeks of using it.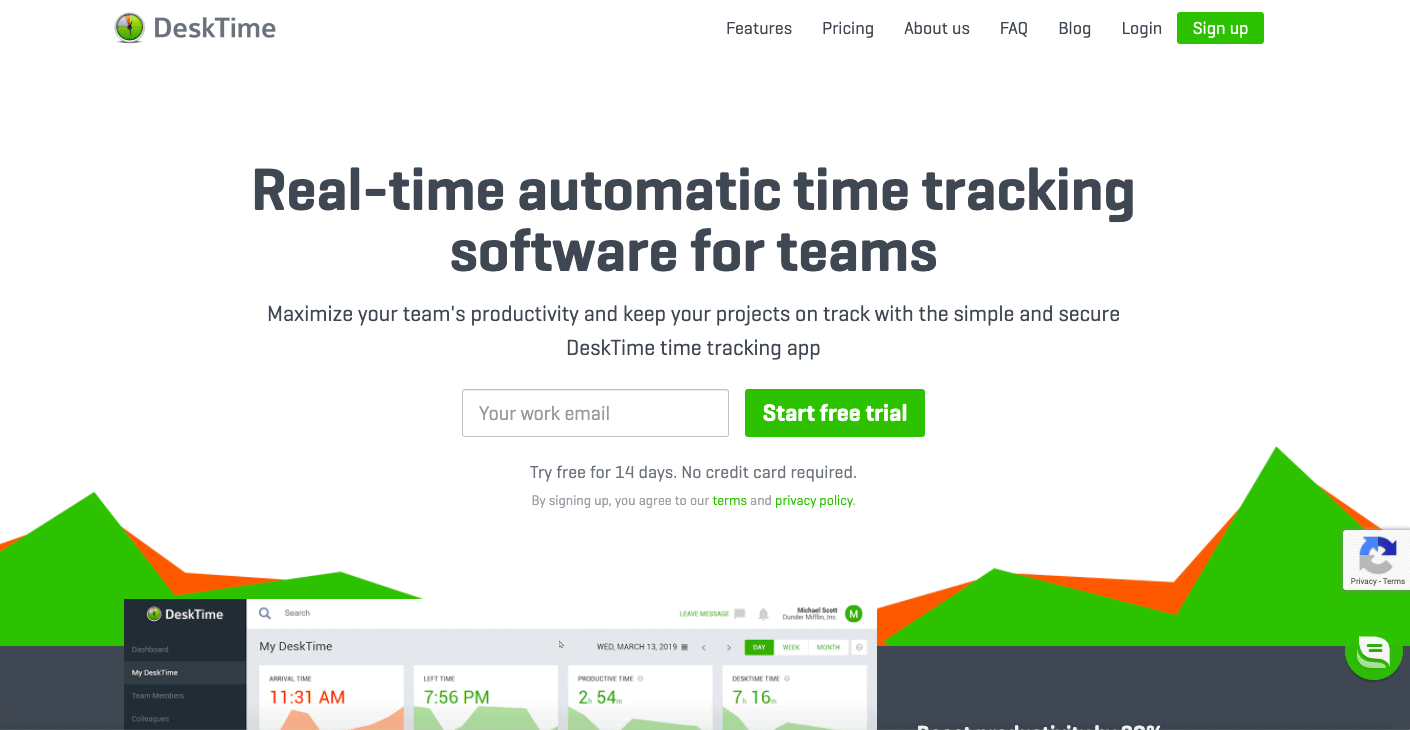 Cloud based time tracking software designed for small teams and freelancers. Track time on projects with tasks, generate insightful reports and send invoices to clients.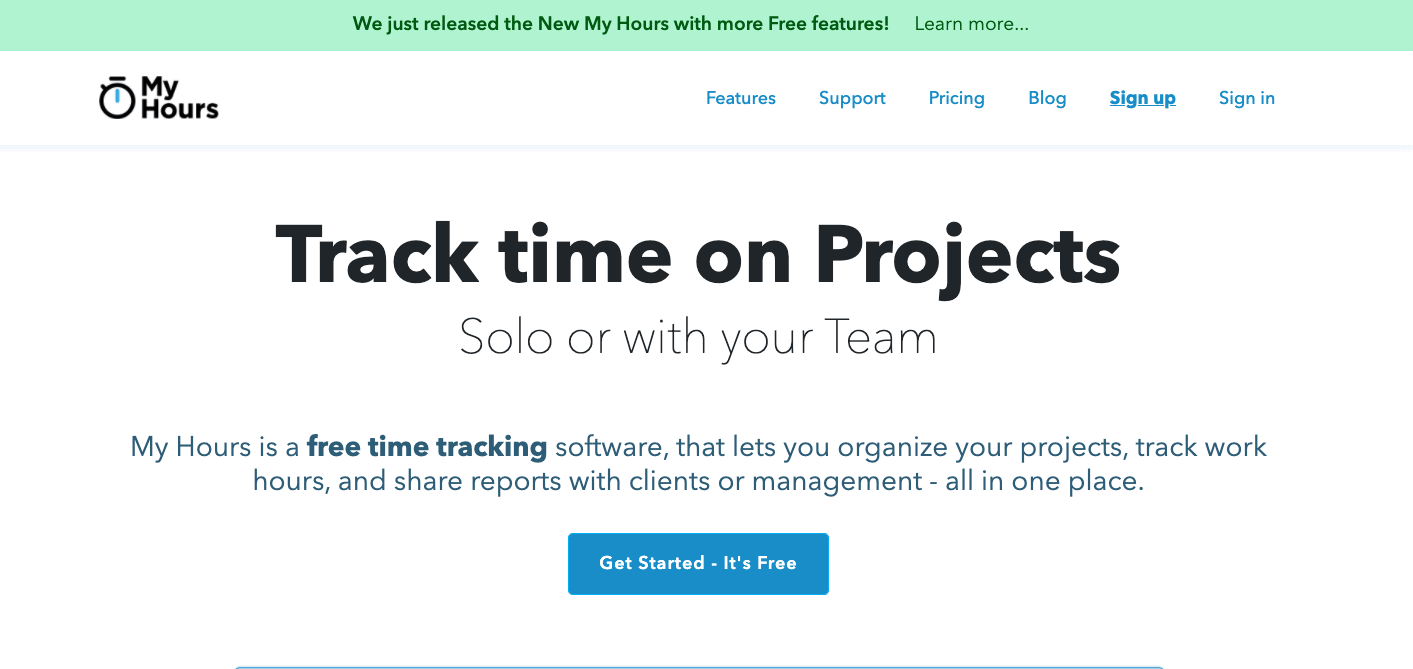 Time tracking tool for teams. Keep track of all your project budgets, schedule threshold alerts, use forward resource planning. Build any kind of reports and send professional-looking invoices.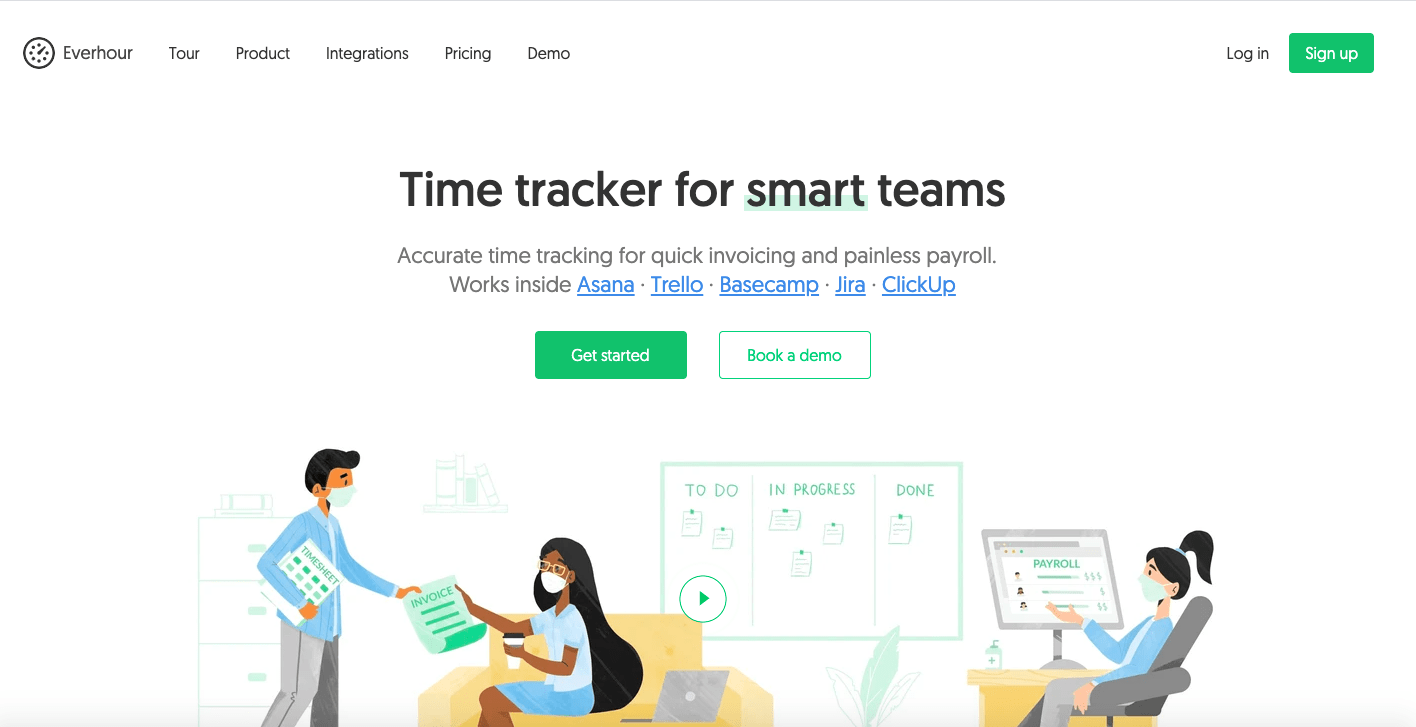 With cloud-based clockodo, you track your company's work times. Match every time entry to an employee, a customer, and a project.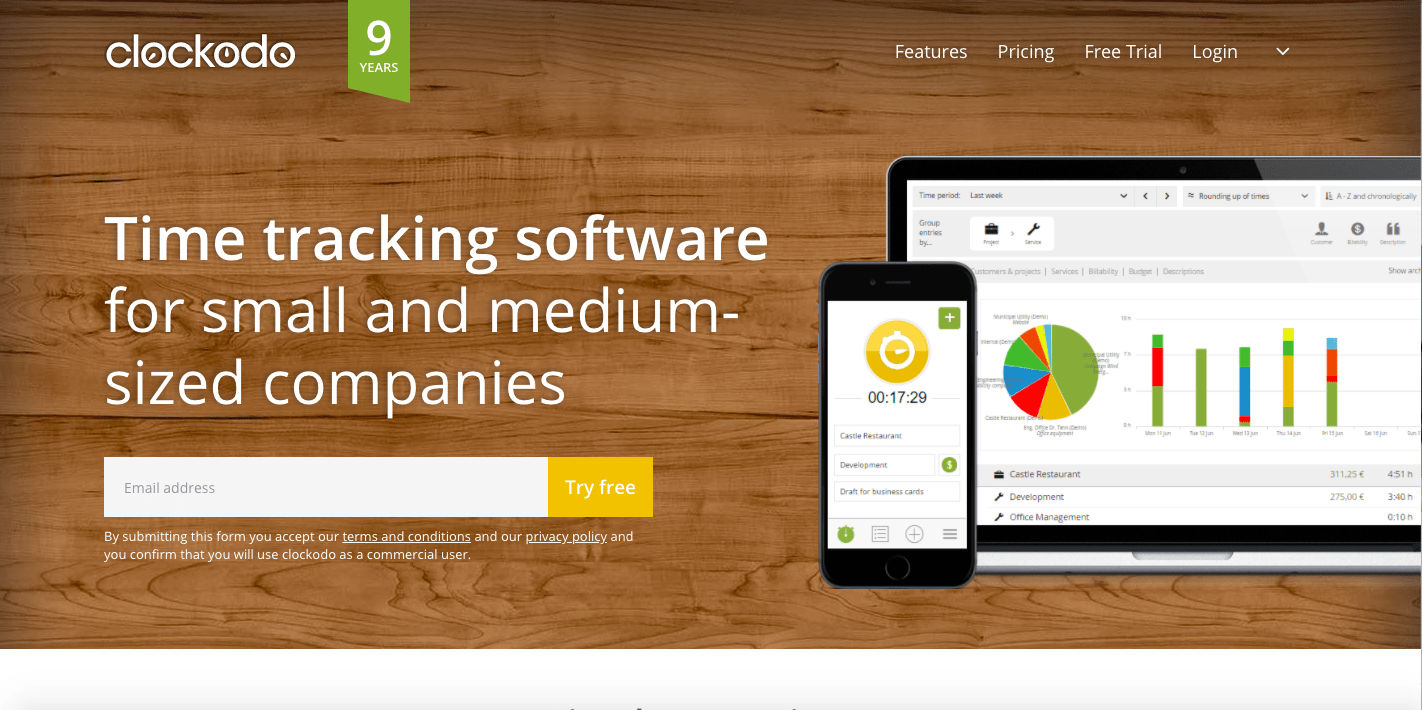 Cloud-based time tracking tool that captures screenshots of remote employees' screens, monitors tasks and generates reports.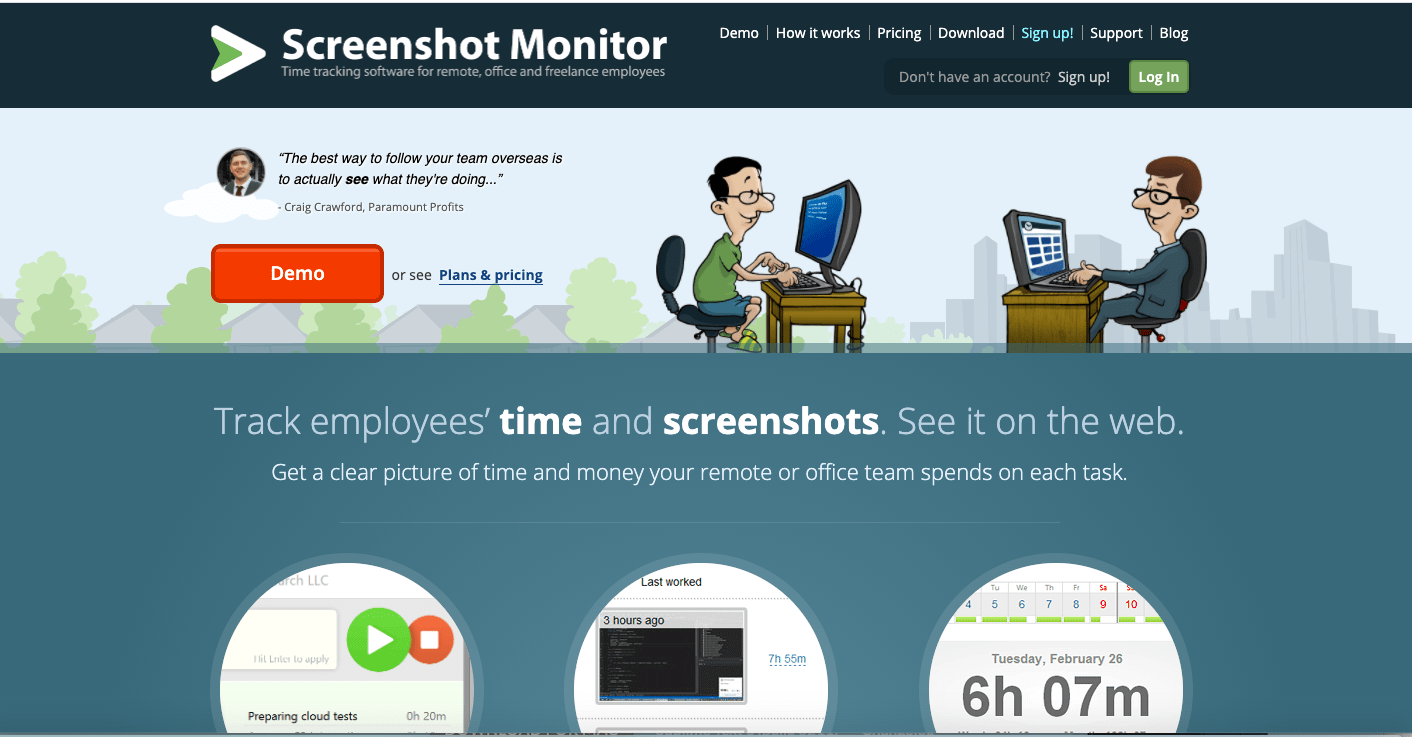 Cloud-based time tracking service for productive teams. It allows small and medium-sized businesses to track, analyze and report work time, with style and ease.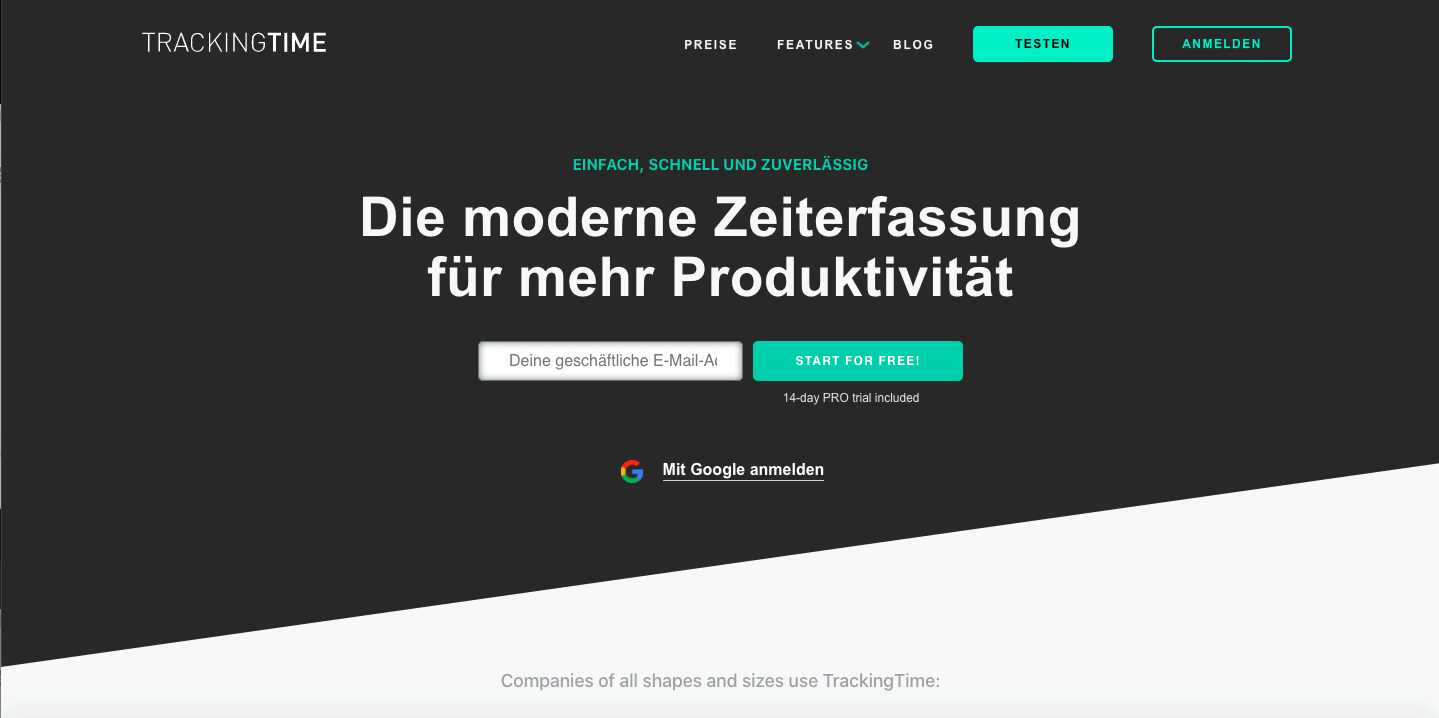 Time tracking software that helps teams easily track time and hit their budgets. Tick has integrated apps for phones, computer desktops, and browser extensions so you can quickly enter your time.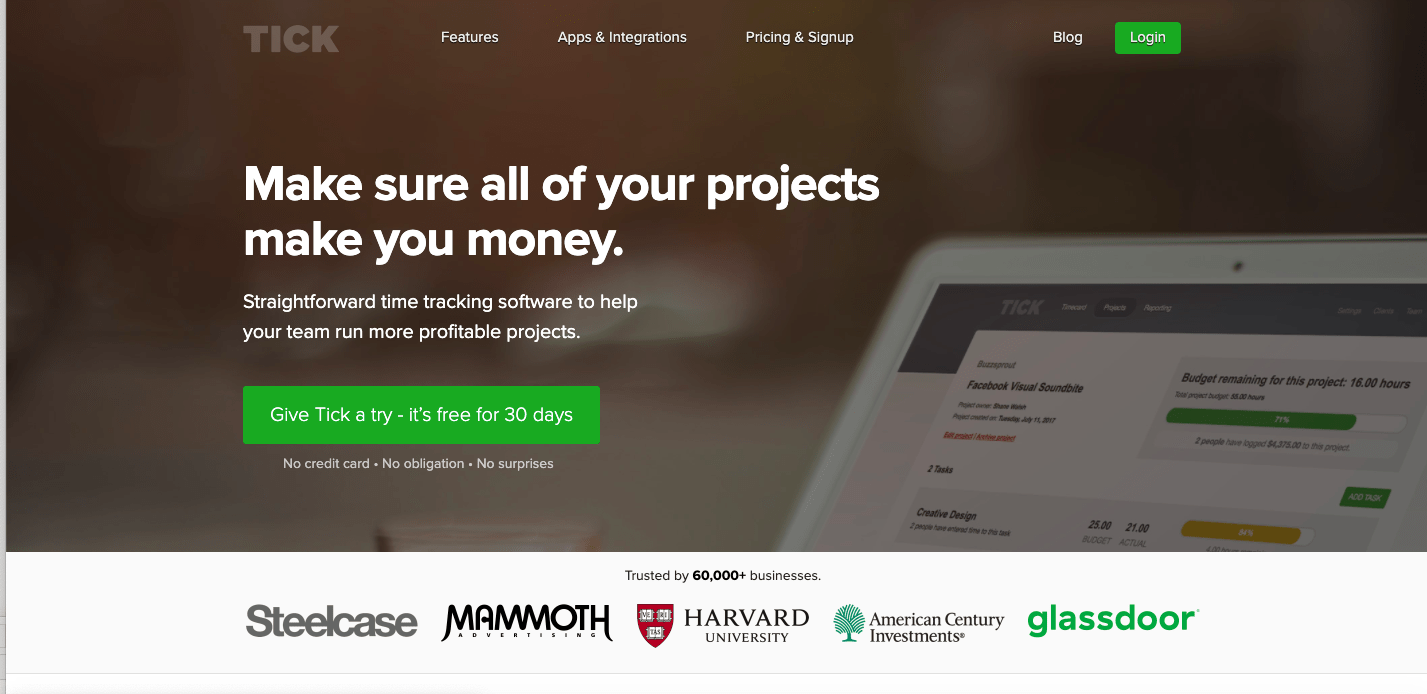 This tool allows you to track the time and attendance of your teams. Employees can clock in and out using their web browser, Slack or mobile. Hours are captured including activities and notes.
Automatic time tracking helps you never forget what you worked on. Smart resource scheduling assures everyone's time is utilized. Powerful reporting helps you identify opportunities to improve productivity.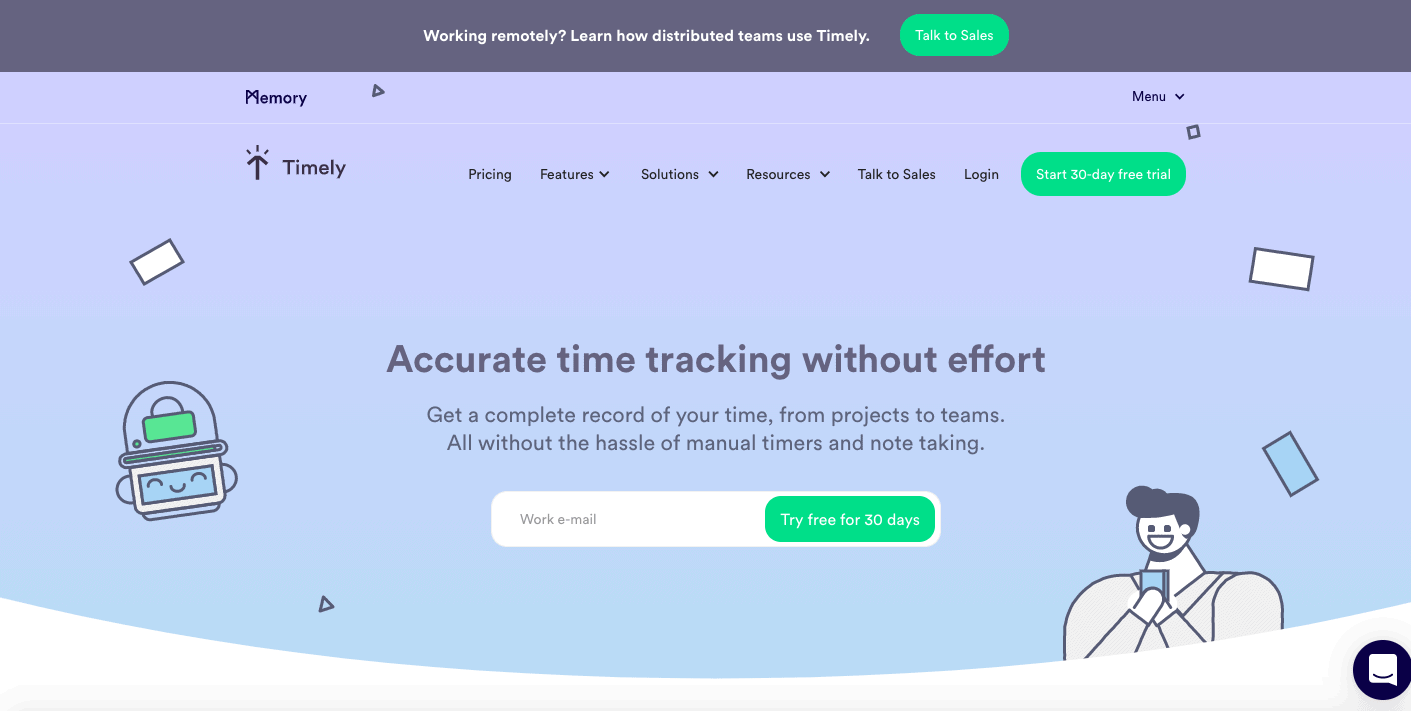 Web-based time recording program to support project and time management tasks, especially for invoices; recorded data can be imported as qbXML files into QuickBooks and used there for direct invoice generation (heise.de).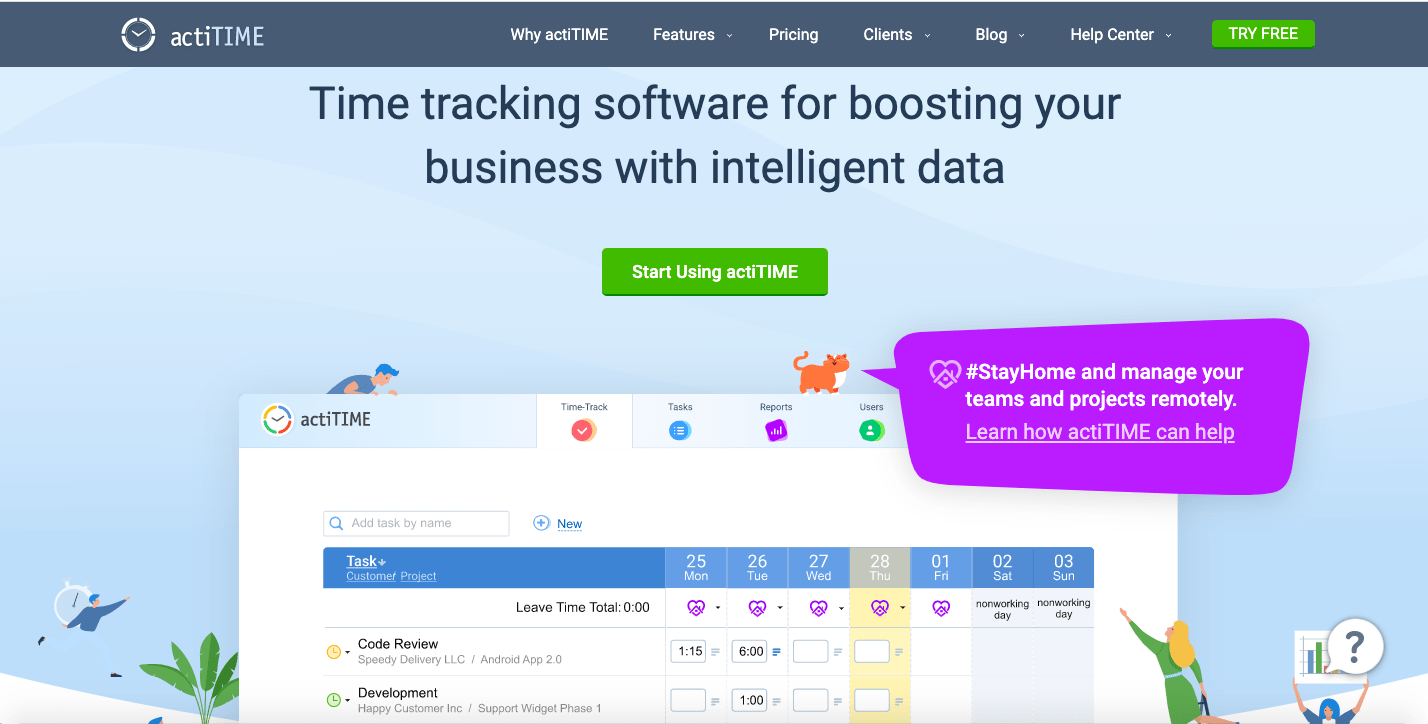 Automatic Time Tracking and Screenshot software. Especially useful for small remote teams to track employees time and productivity, generate accuarate time sheets for paying and employees and billing clients.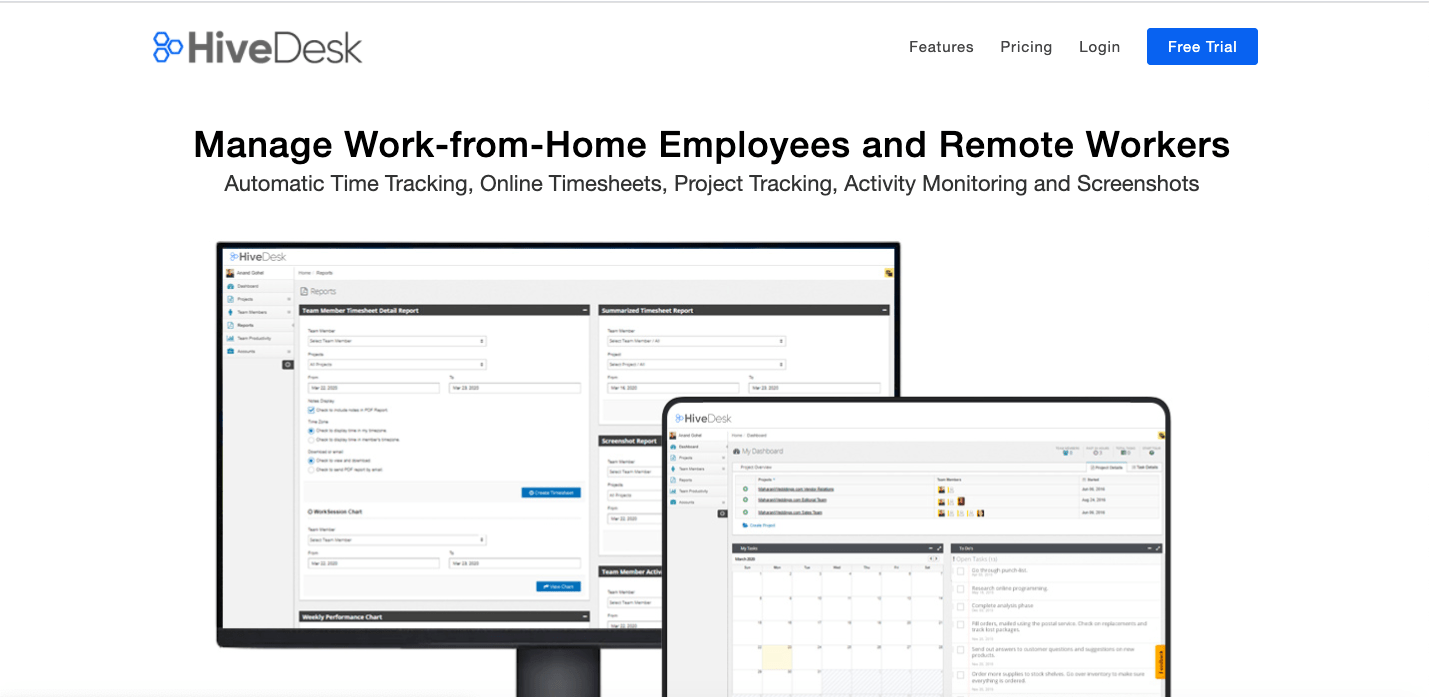 Clockspot is a 100% SaaS (Software-as-a-Service) product, designed for small businesses, but easily scales to enterprise business with thousands of employees. It tracks absences and can accrue paid time off (PTO) as well as calculates your payroll and job costing (getapp.de).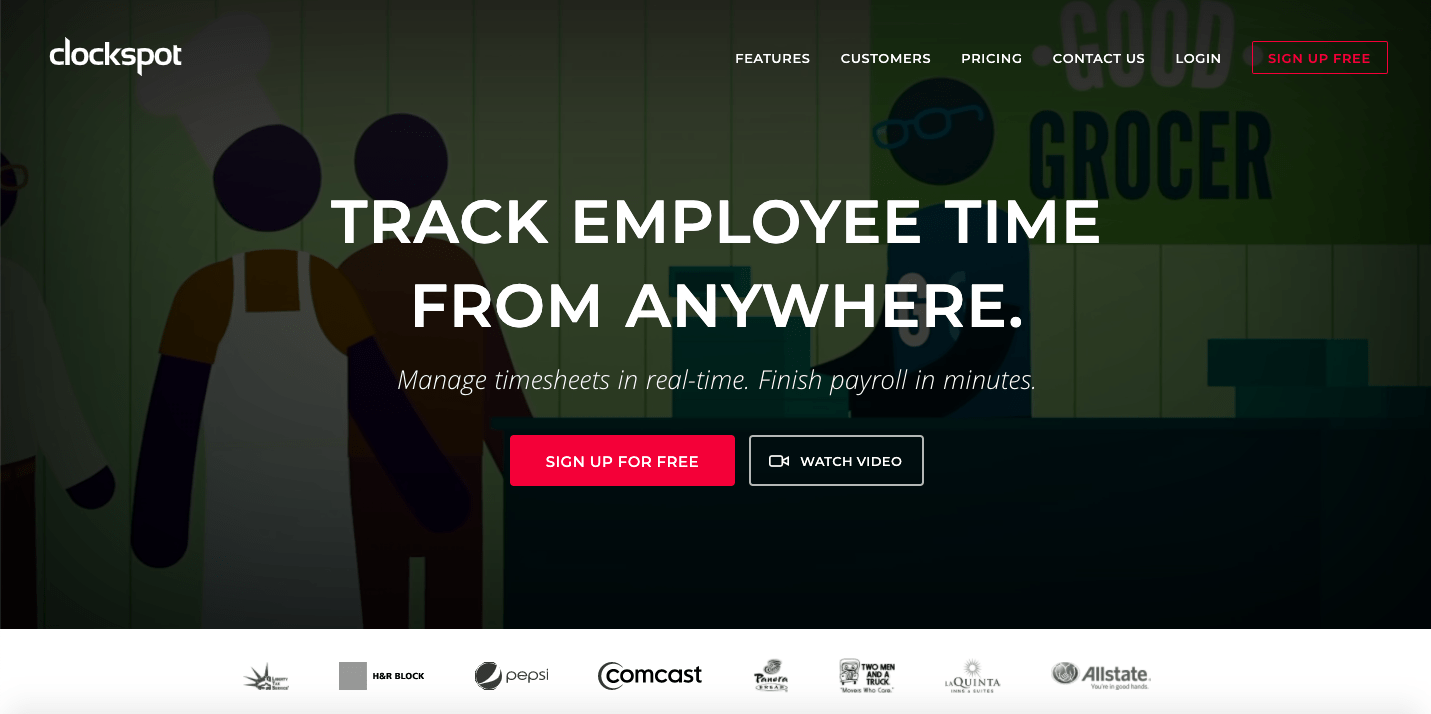 Time tracking software allowing teams across the globe to track time and increase their productivity.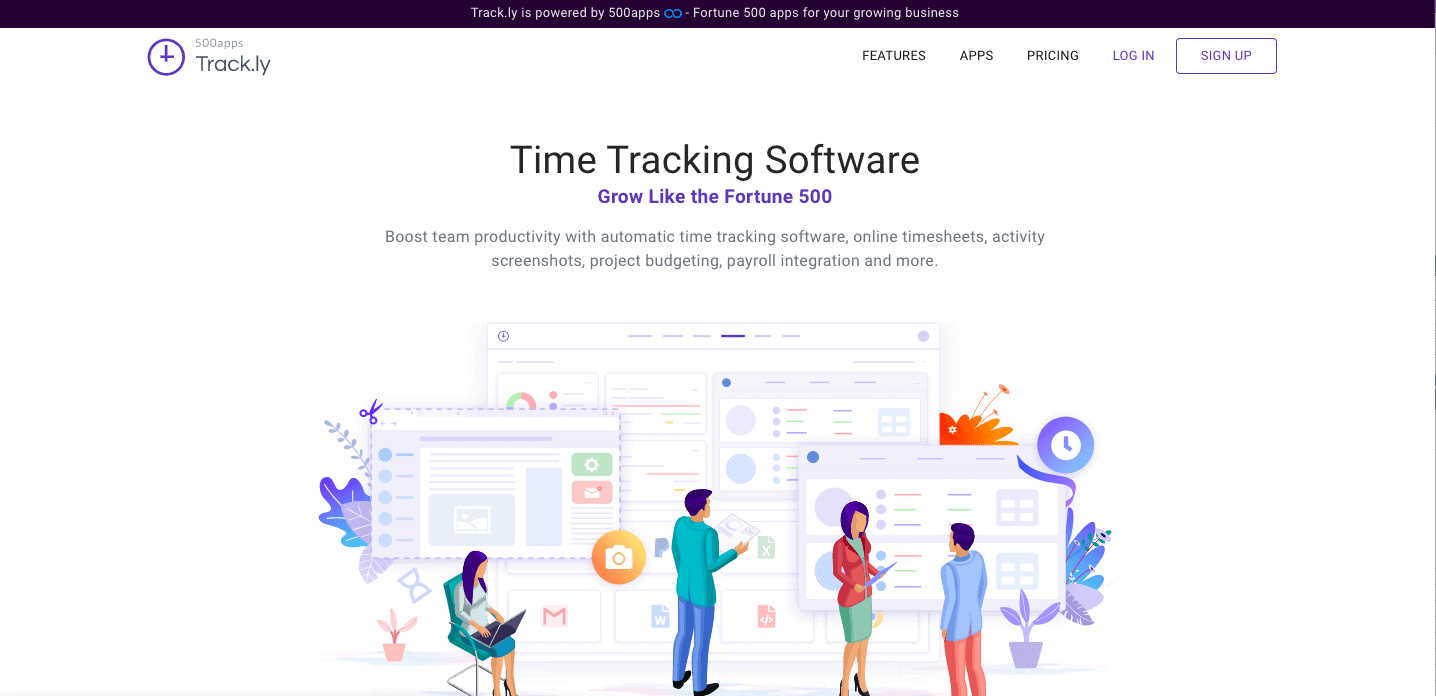 Time-tracking platform that helps businesses with productivity analytics, insights, employee behavior, and automated time-used data.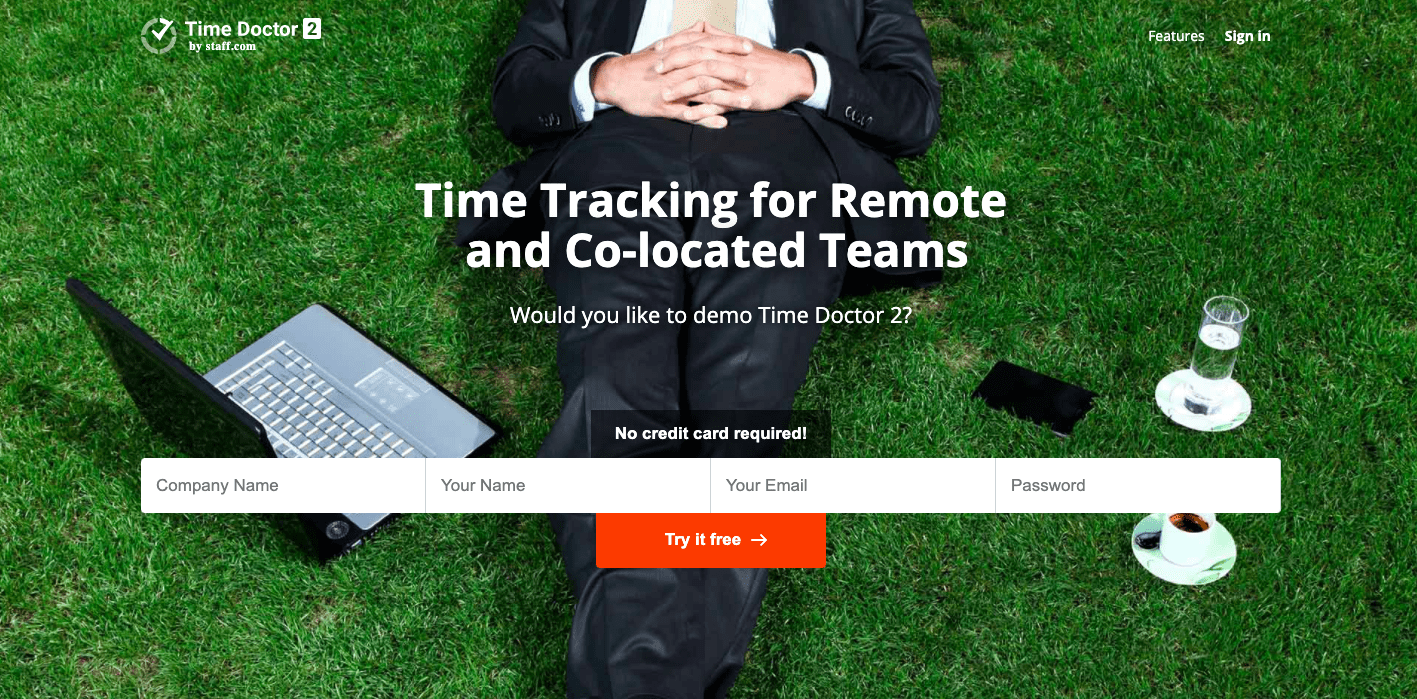 Time-tracking tool, which is helping small/medium companies to track their team productivity levels, but it is also perfect for freelancers.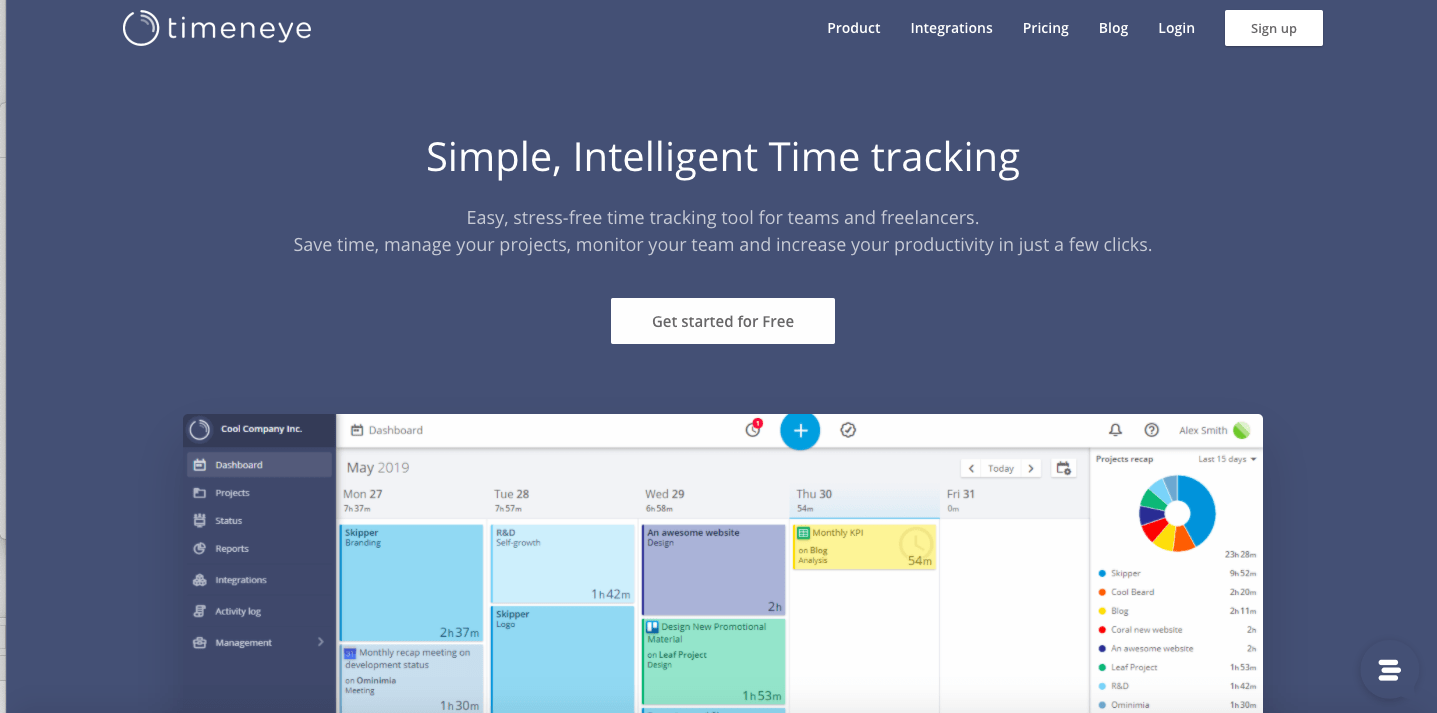 HourStack takes your existing task list and lets you plan out your tasks into your weekly schedule. You can also track time on tasks and compare your actual time to your allocated time, giving you insights on bottlenecks and bandwidth issues within you and your team's weekly utilization.
Instead of manually starting and stopping timers, it logs which apps you use, which websites you visit, and which documents you edit. That data can be categorized automatically and manually.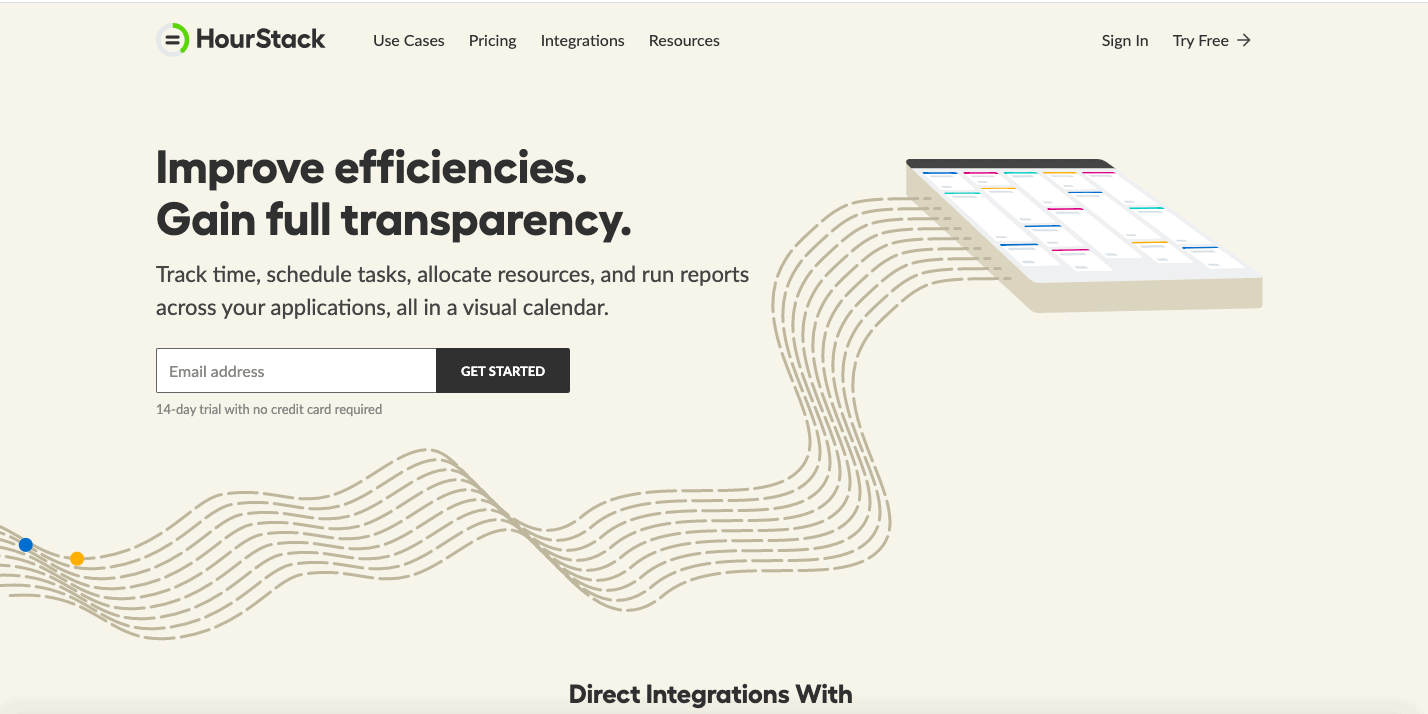 Tool aimed at boosting the productivity of the development team. It allows planning the working day and identifies the most productive time intervals.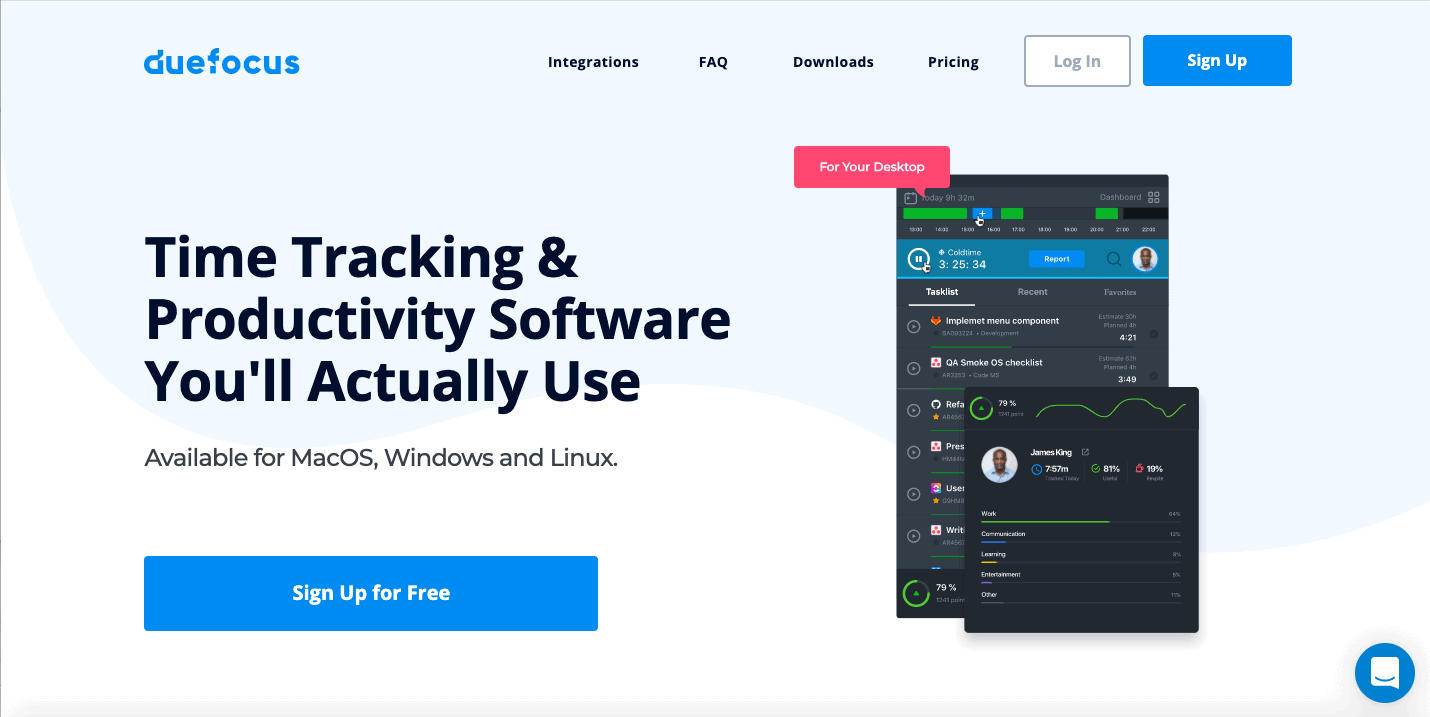 Nikabot keeps track of what your team is working on and generates reports and timesheets for you.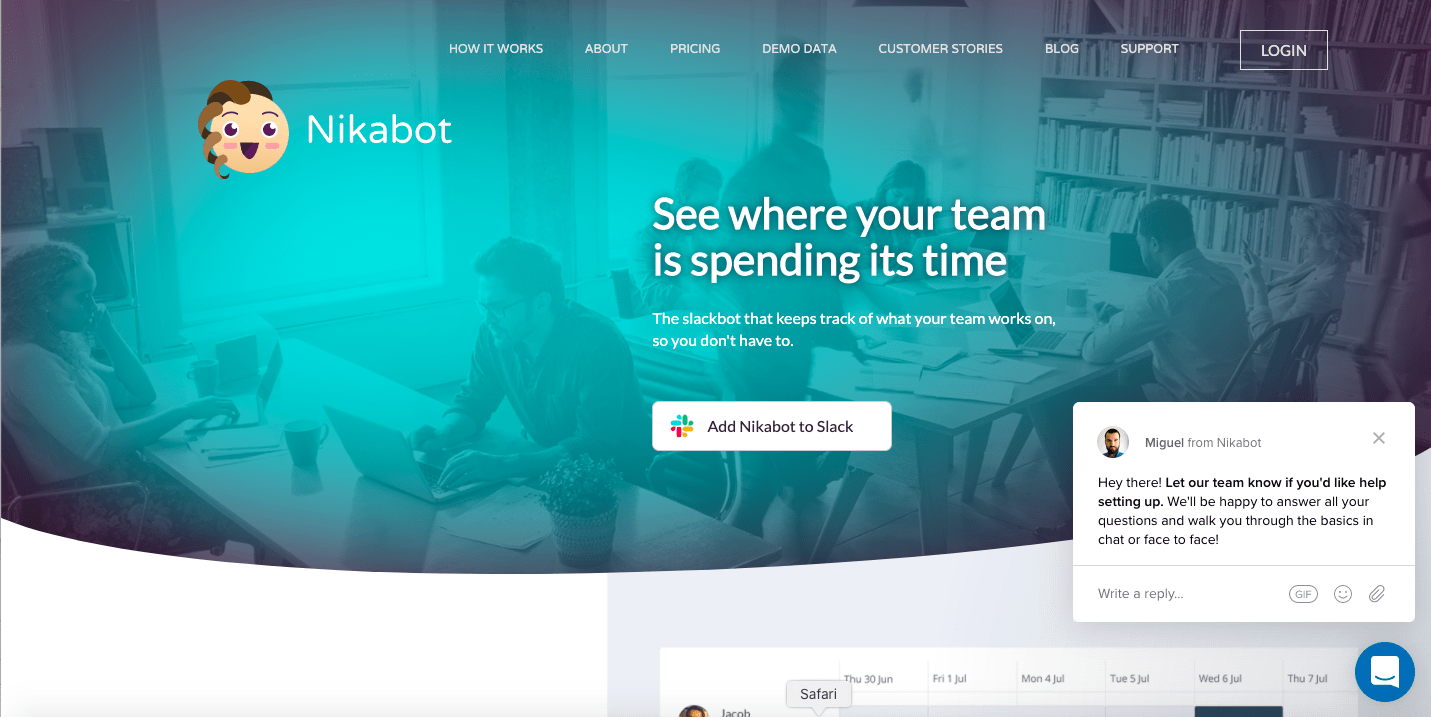 6. Design & Development 
GitHub is an open source, web-based development platform and hosting service that allows users to upload files, documents, and computer code to their accounts. GitHub allows both registered and unregistered users to view, download, and even collaborate on the uploaded files and source code repositories. Various pricing models are available, including a free basic version.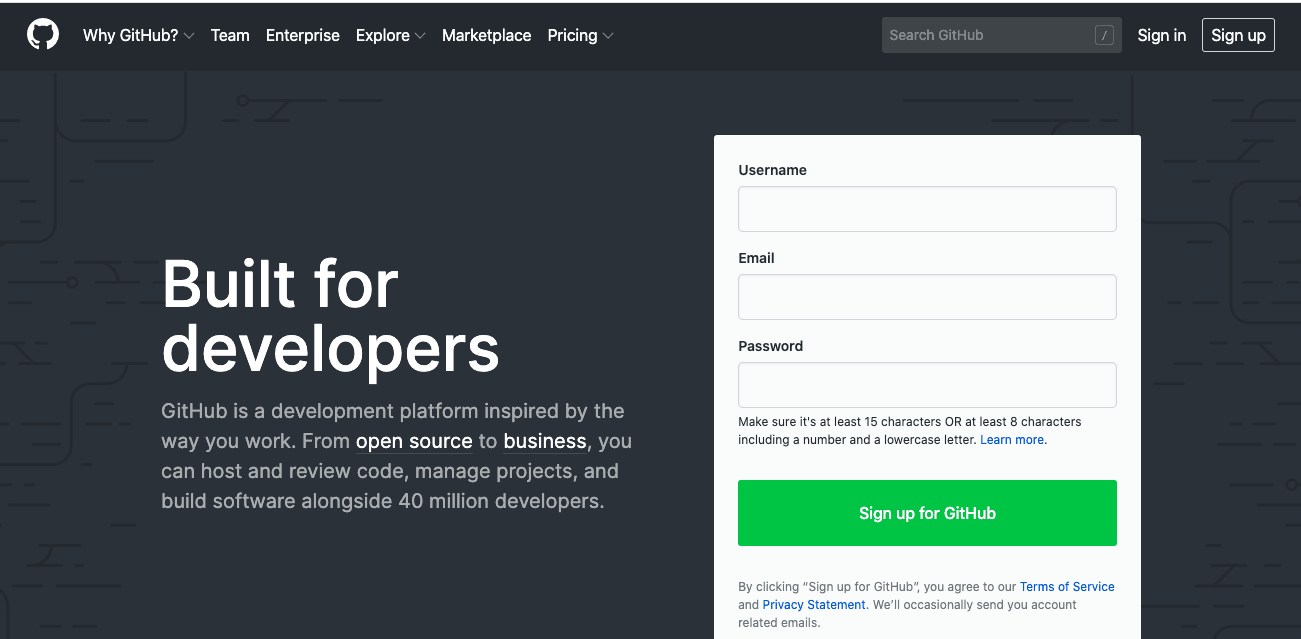 Adobe Creative Cloud is a set of applications and services from Adobe Inc. that gives subscribers access to a collection of software used for graphic design, video editing, web development, photography, along with a set of mobile applications and also some optional cloud services. There are different Creative Cloud plans for different users, including individuals, students, teachers, universities, schools, and businesses, paid monthly or annually.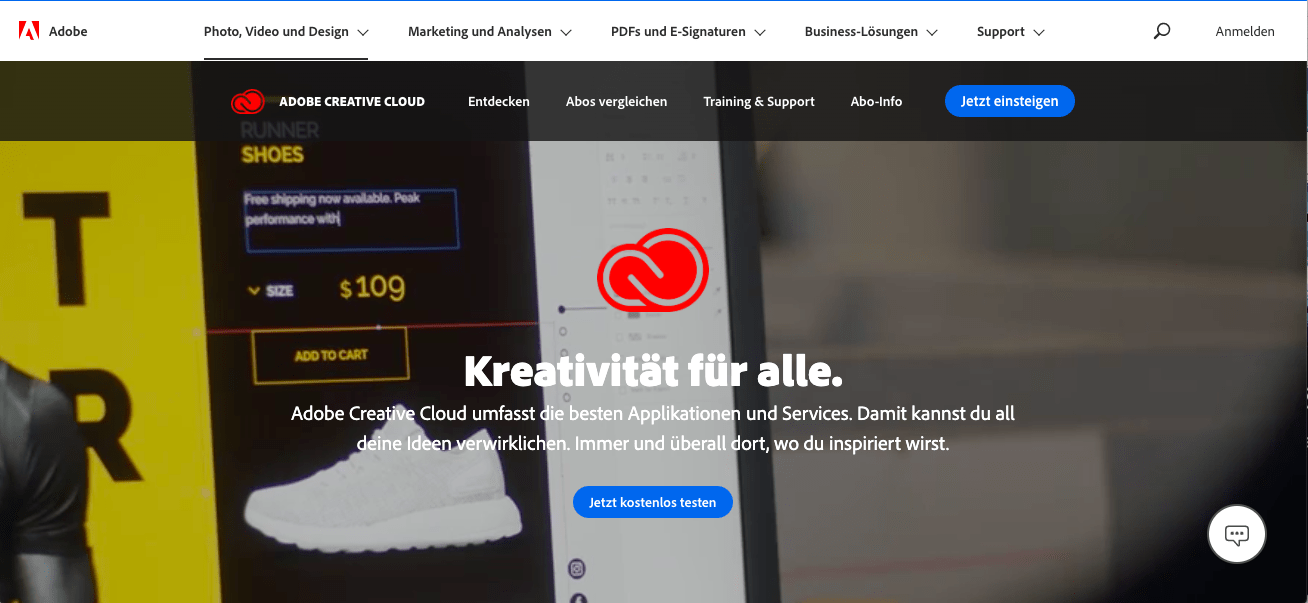 Atom is an open source text and source code editor for MacOS, Linux and Microsoft Windows. It offers various plug-ins and is available as a desktop app. The price for Atom is $79.00 per month. There is no free version.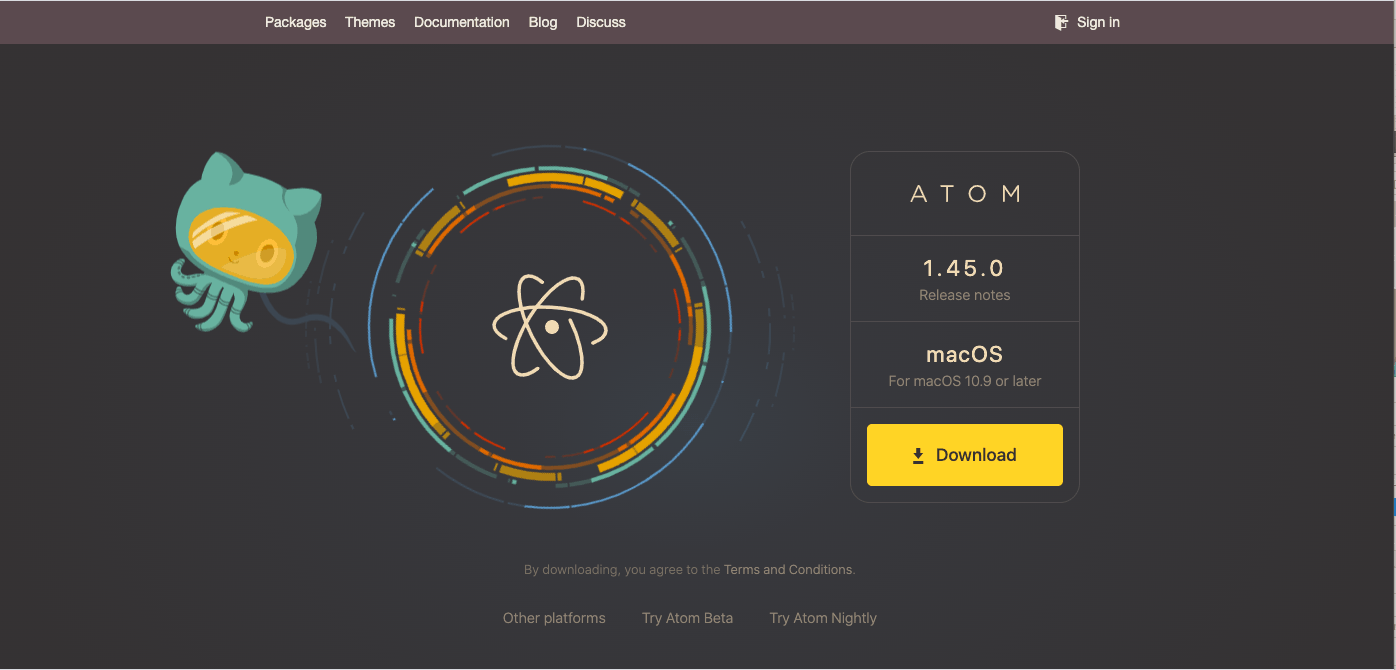 Chrome DevTools is a set of web developer tools built directly into the Google Chrome browser. DevTools can help you edit pages on-the-fly and diagnose problems quickly, which ultimately helps you build better websites, faster. In addition to front end developers, screen, UX and UI designers are increasingly using the dev tools to test visual or content adjustments directly on the website.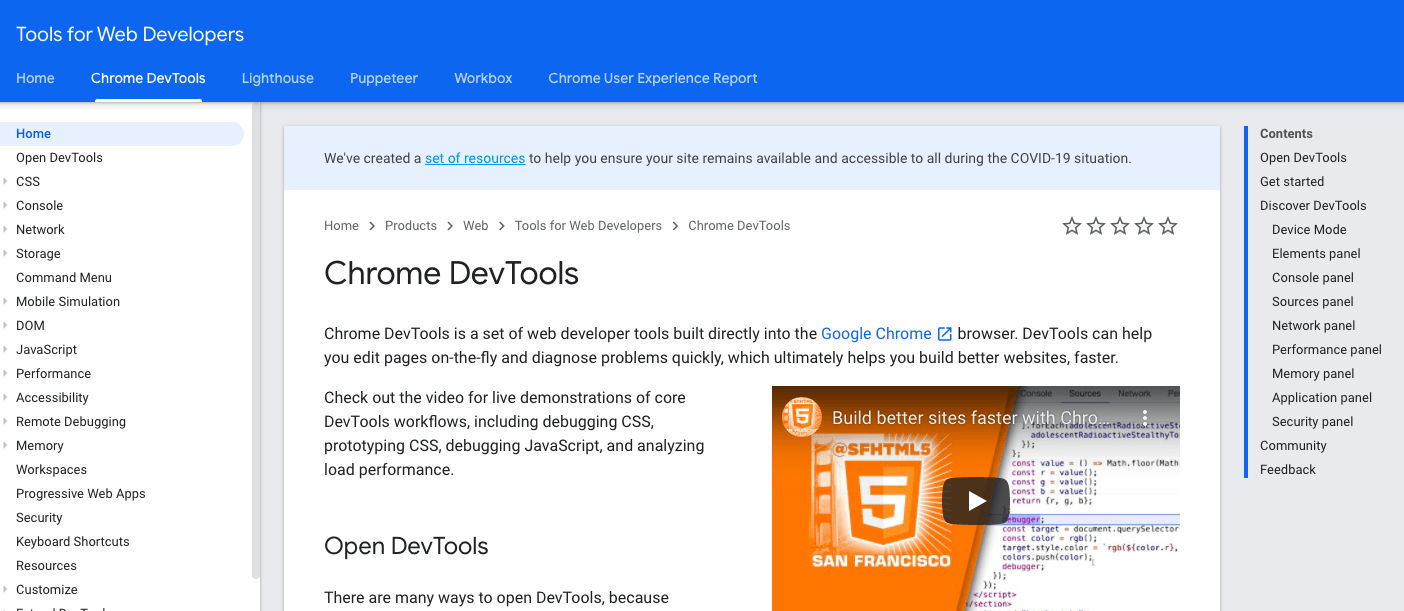 Figma is a cloud-based design and prototyping tool for digital projects in real time. It's user friendly and allows users to collaborate on projects and work pretty much anywhere. Figma is known for being more performant than similar softwares, even with larger files. There are three different pricing plans: Starter (free), Professional ($12 per editor/month) and organization ($45 per editor/month).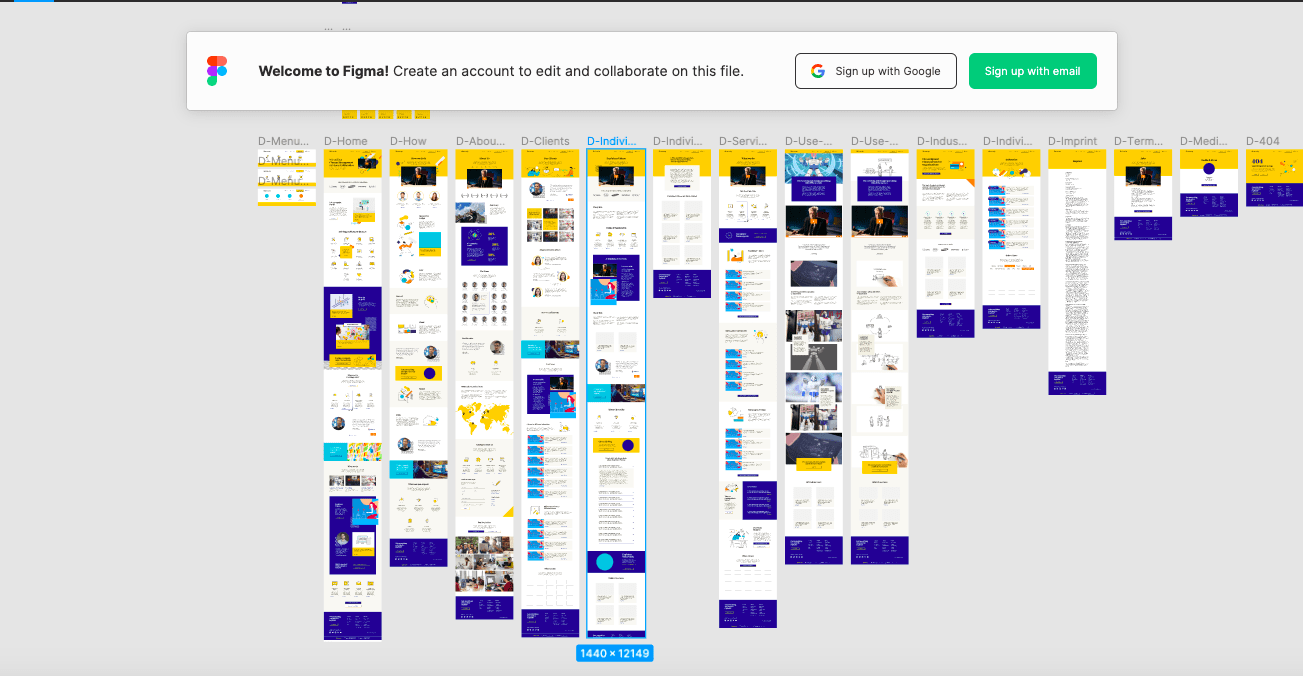 Created for designers, by designers, InVision is a prototyping, collaboration and workflow tool. InVision gives you clarity, collaboration, and control of everything you need to power your design process. It allows you to efficiently and simply create interactive mockups for your wireframes and designs. InVision pricing starts at $15.00 per month, per user. There is a free version of InVision. InVision does offer a free trial.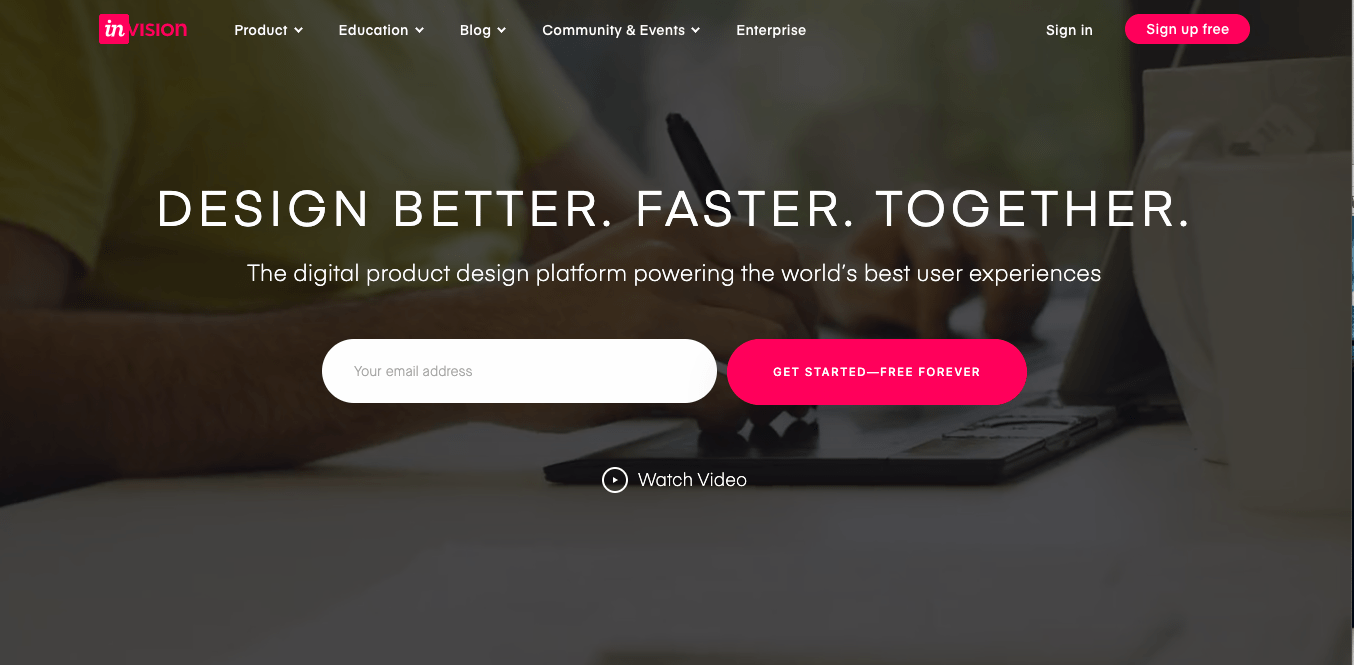 Canva
Web-based platform that enables small to large businesses to create customizable graphs, prints and presentation slides with professional layouts, templates, frames, voice icons and more.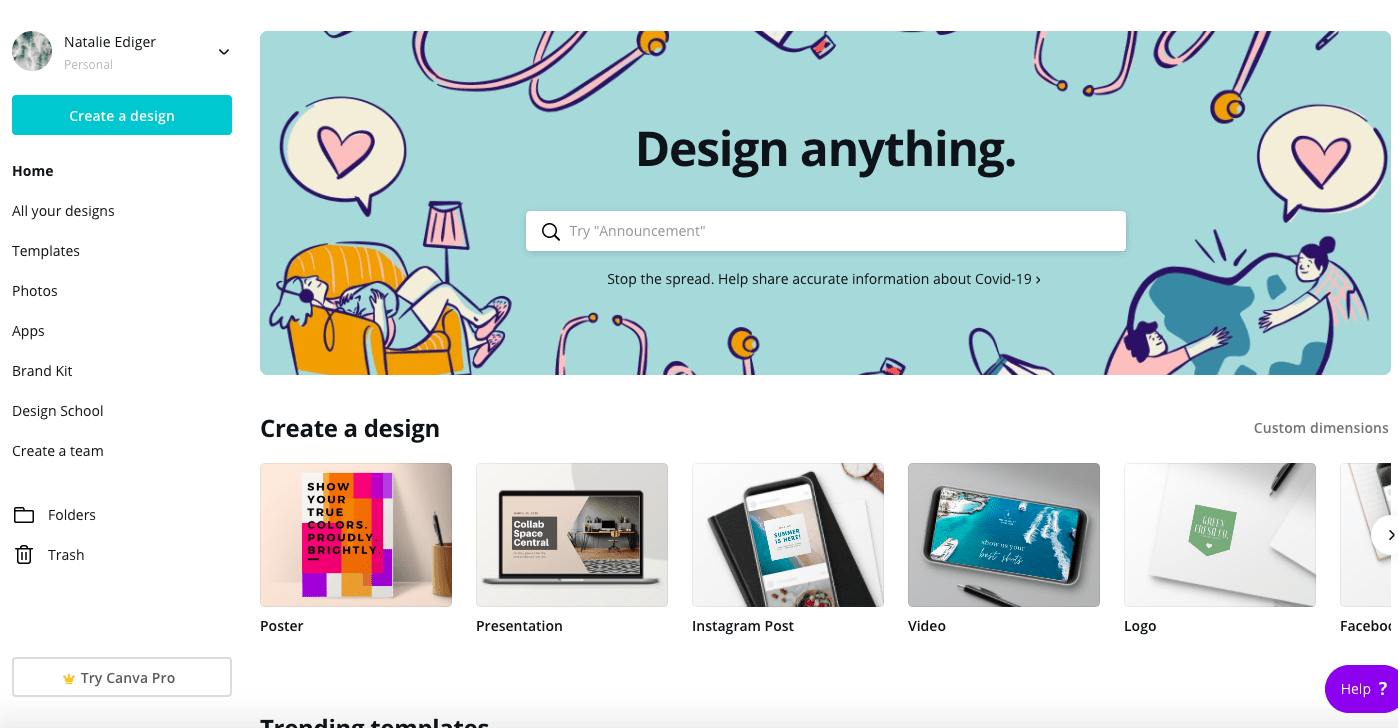 Social development environment for front-end designers and developers.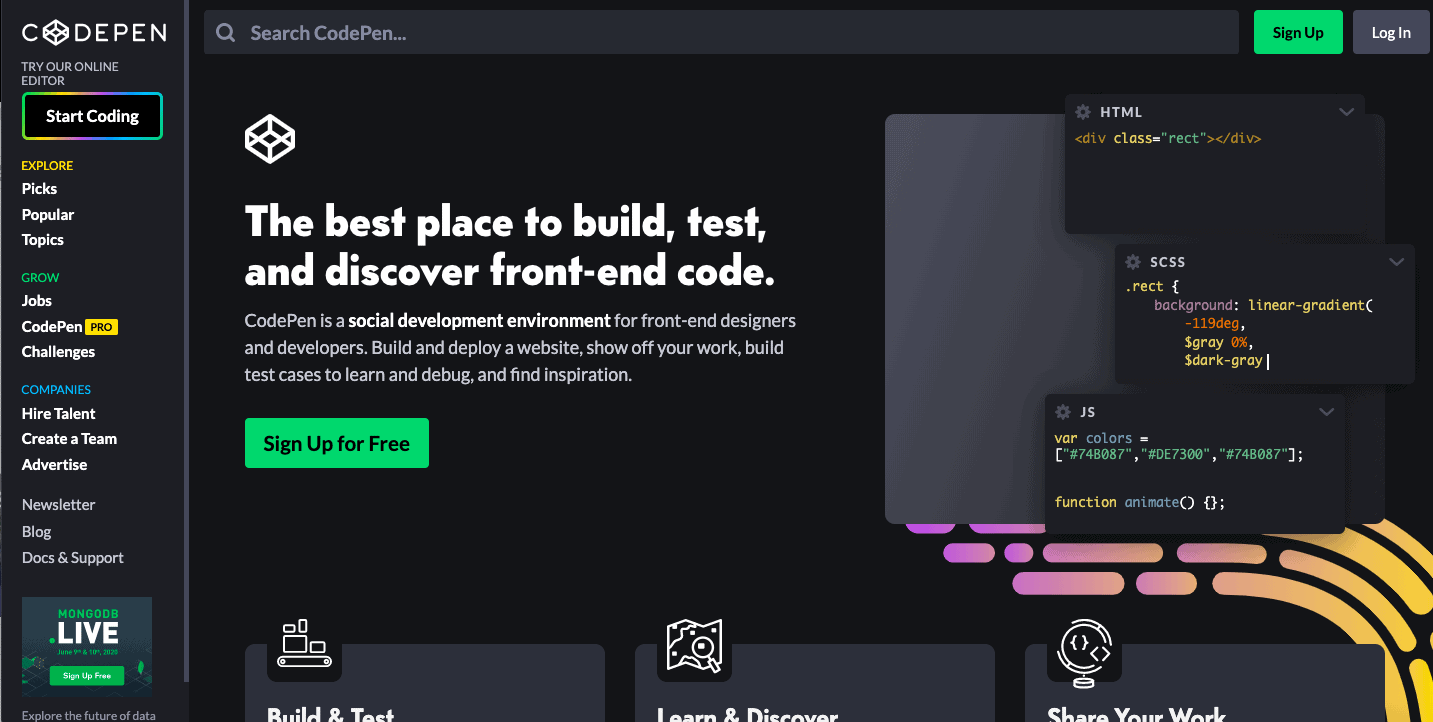 Collaboration platform designed for designers and developers to help them to communicate and work together.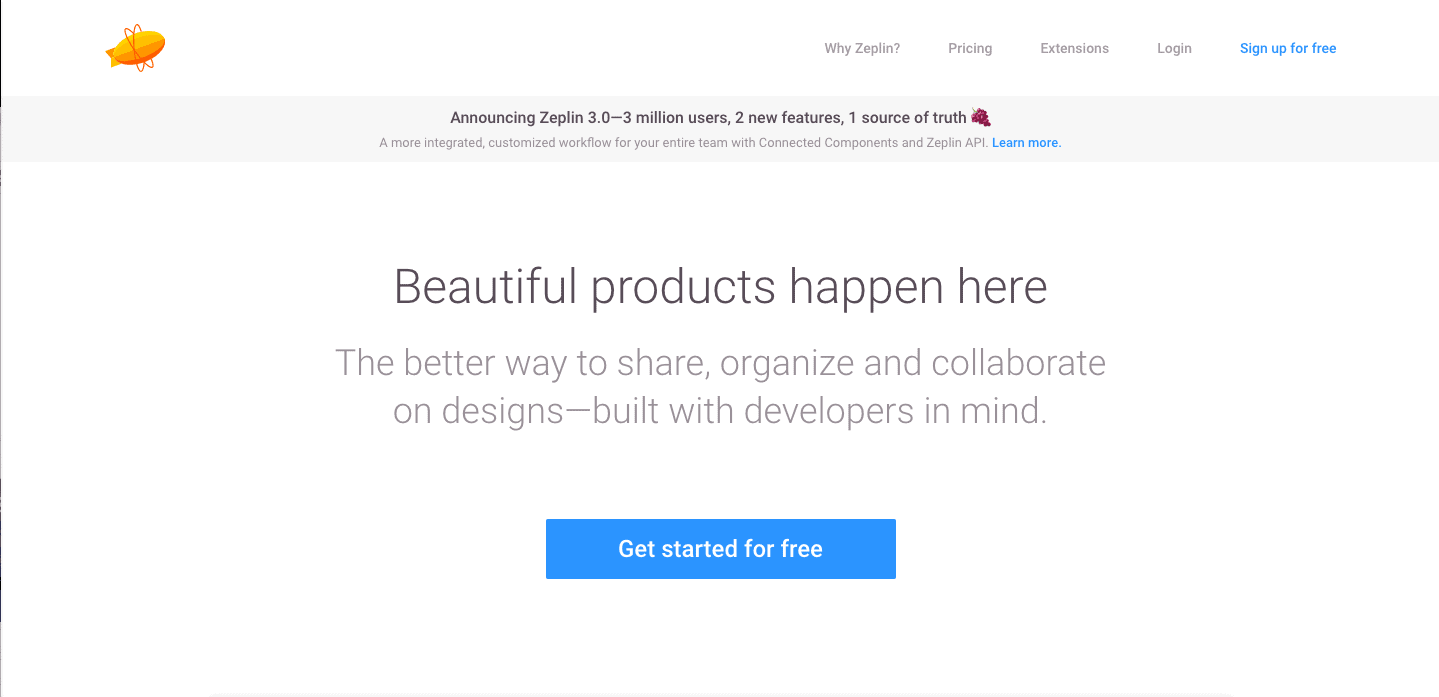 Text editor that helps developers with their coding with intuitive text highlighting.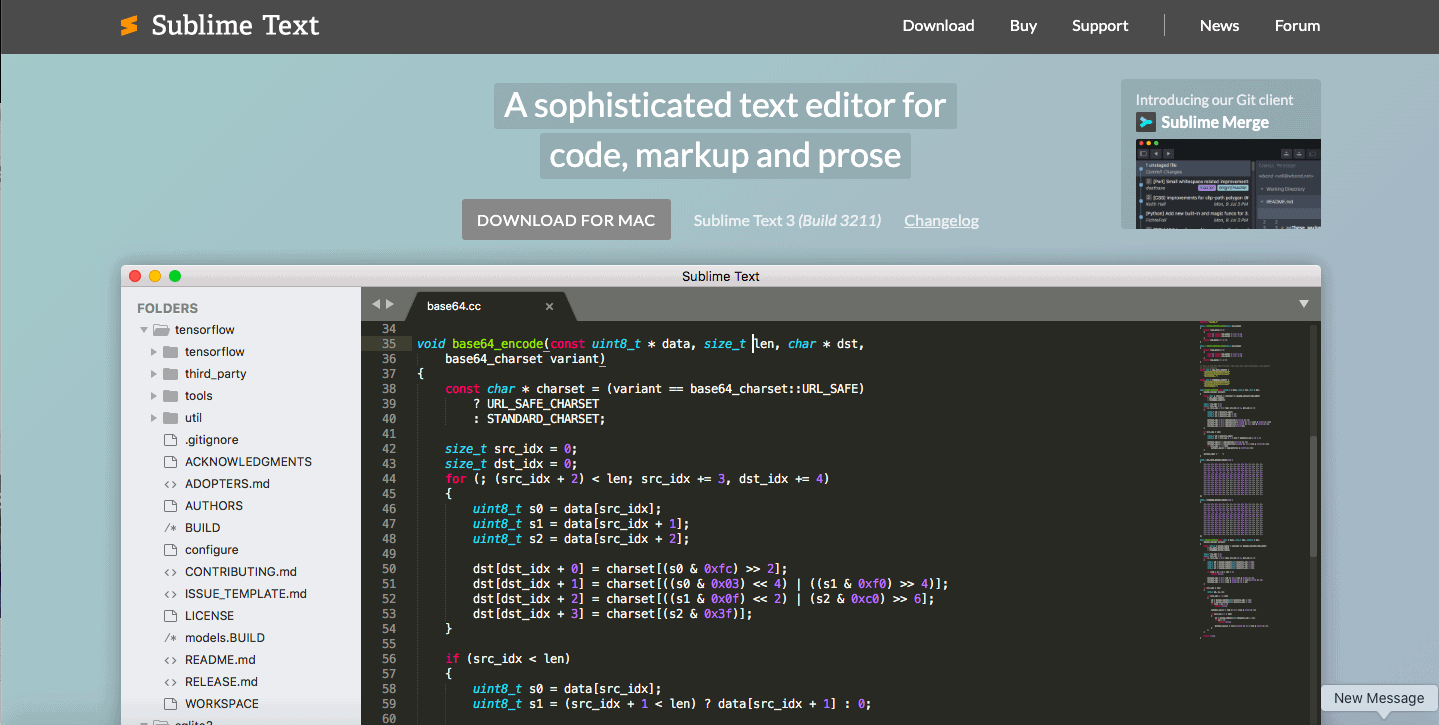 Continuous integration and delivery platform to automate the build, test, and deploy processes.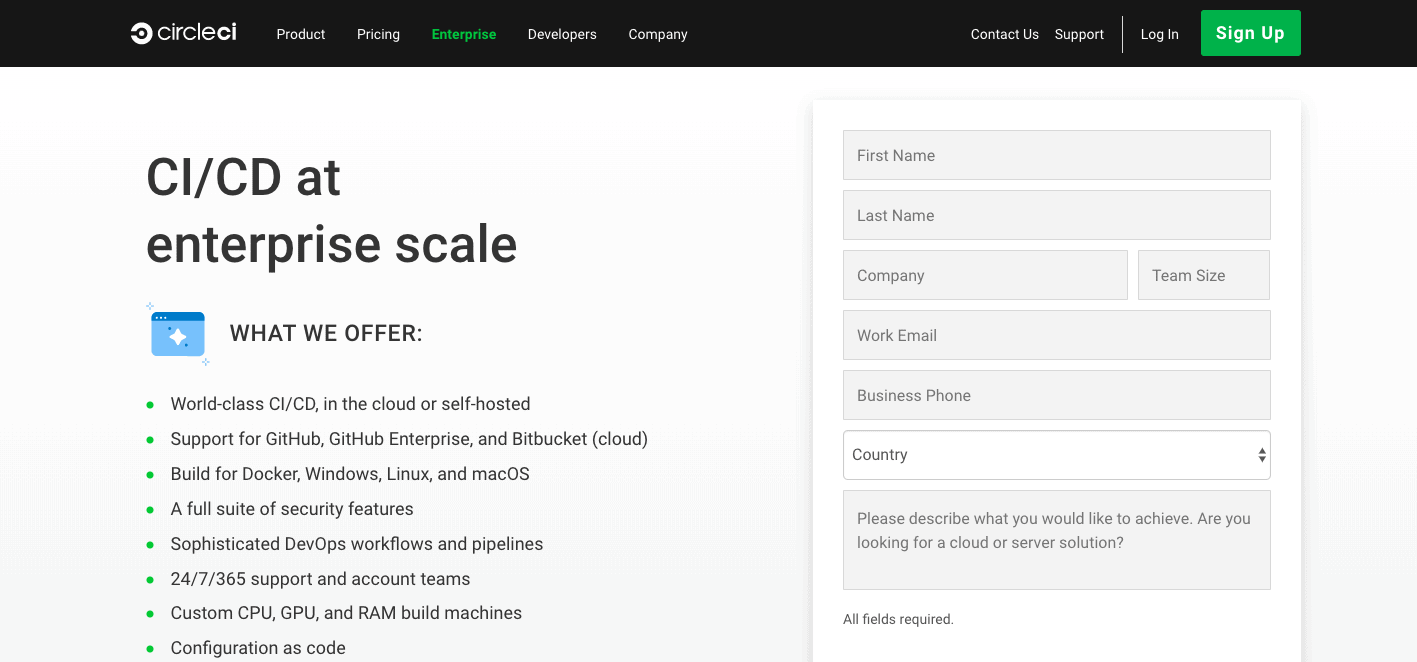 Monitoring service for hybrid cloud environments. The platform assists organizations in improving agility, increasing efficiency and providing end-to-end visibility across dynamic or high-scale infrastructures.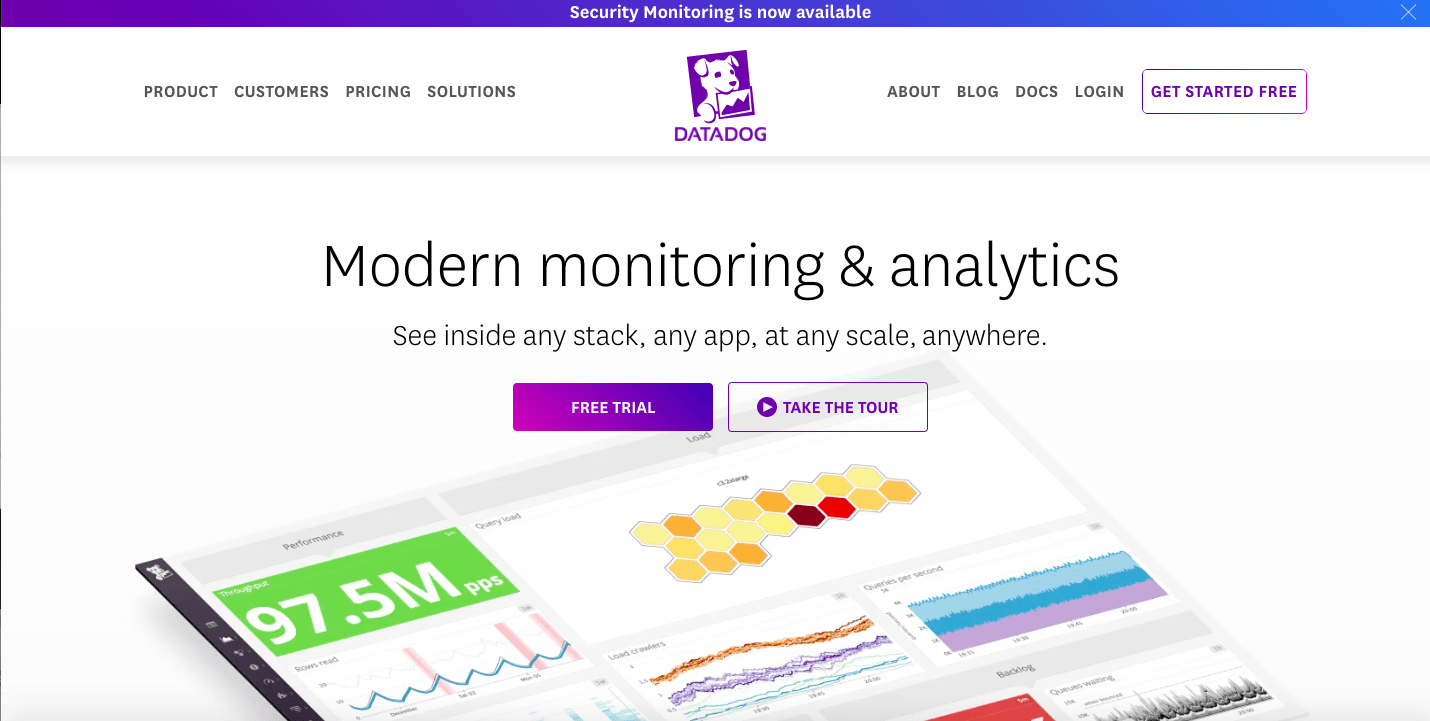 Digital design toolkit for app building with broad choice of design symbols that can be reused and shared with the design community.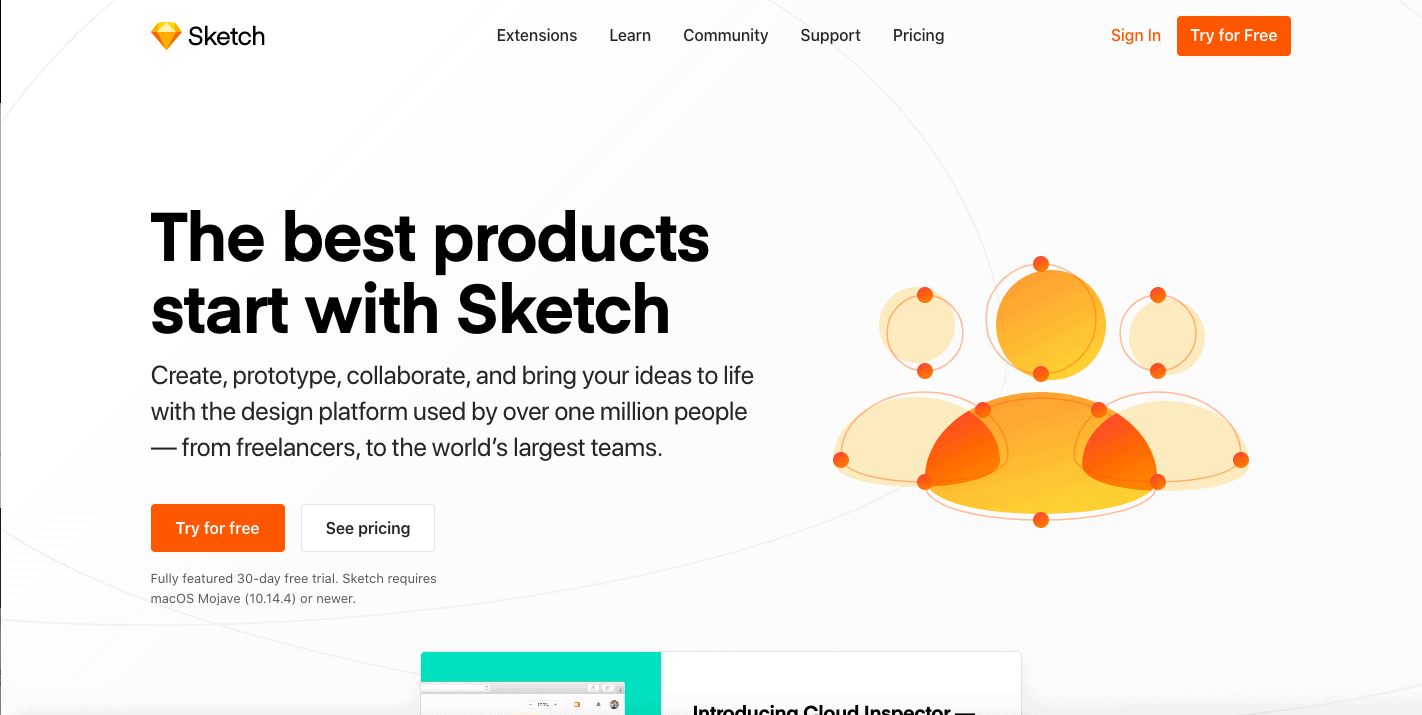 Open-source and hosted error monitoring that helps all software teams discover, triage, and prioritize errors in real-time.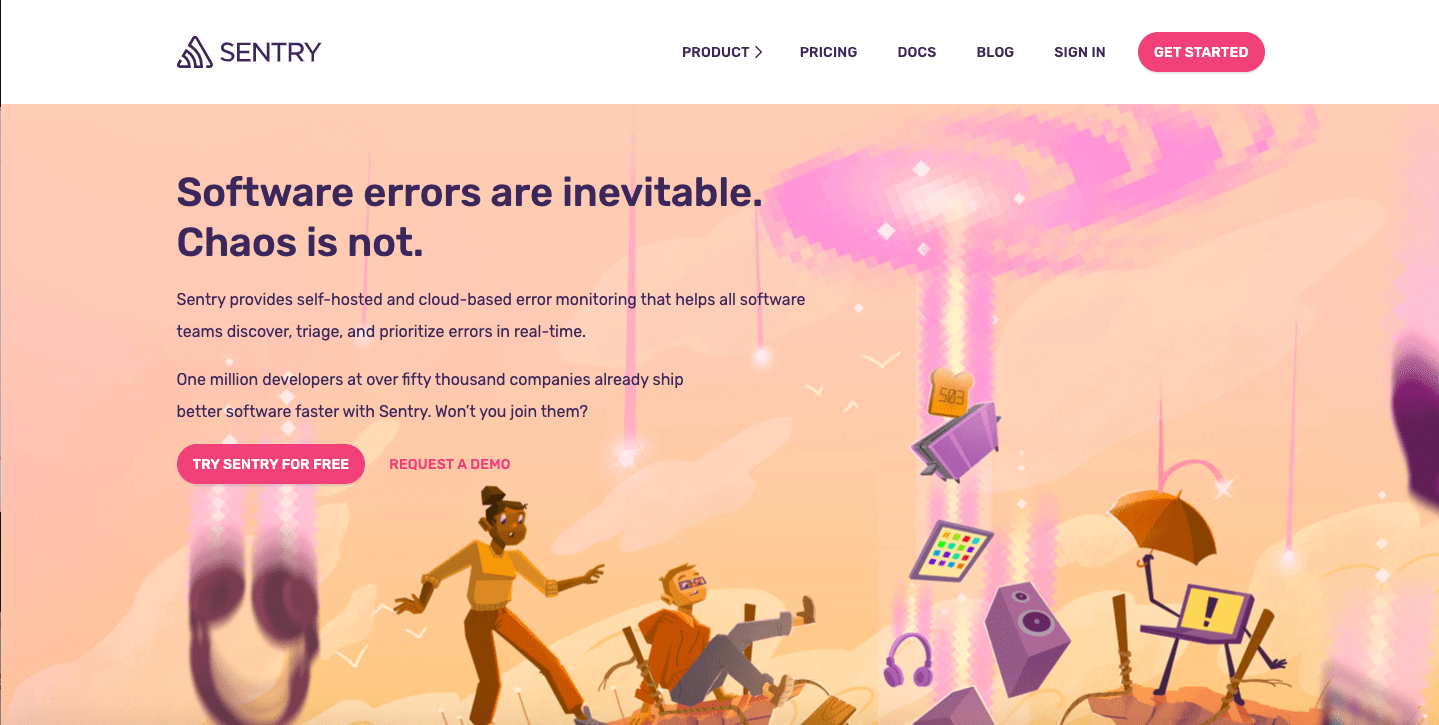 Manage tasks, teams and code in one place with SecureGit, SVN and Perforce Cloud, cardwall view of tickets for drag and drop planning, wikis and more. Integrations include Slack, Github and Zapier.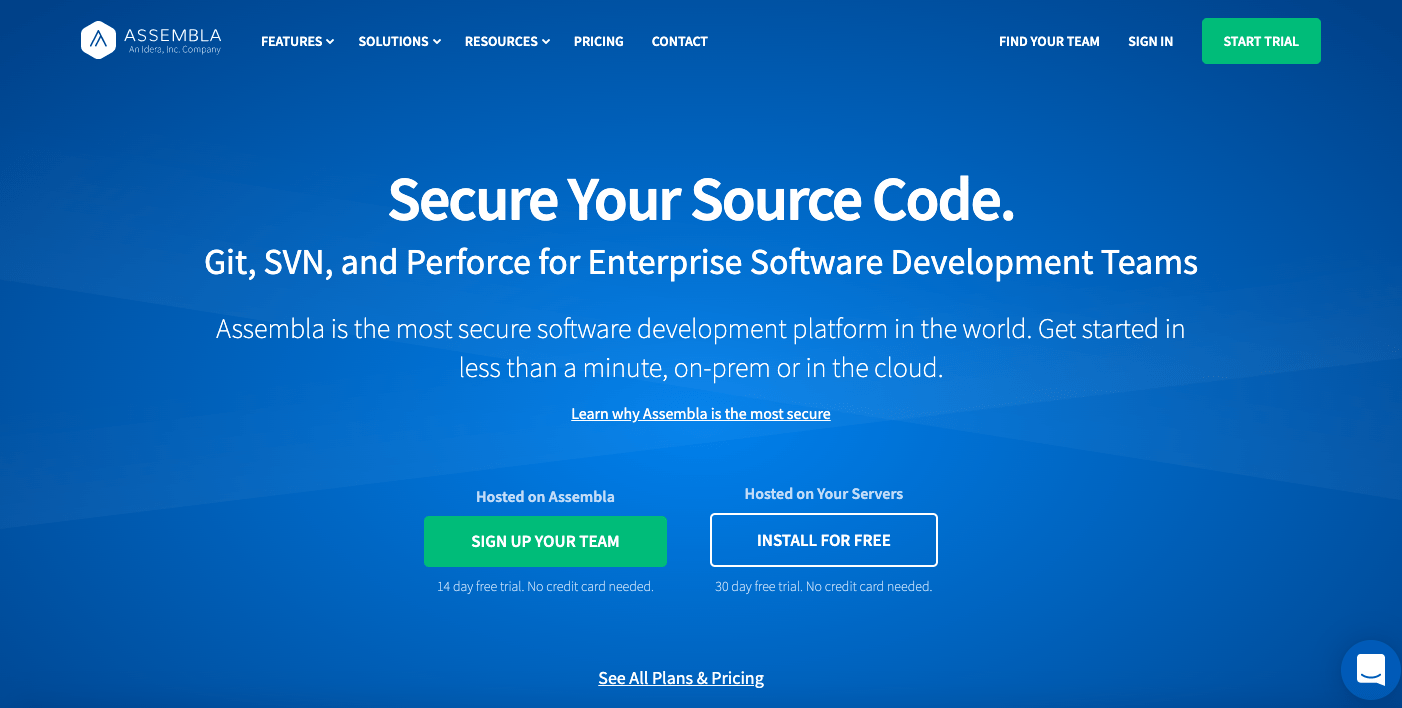 Rollbar provides real-time error tracking & debugging tools for developers. JavaScript, PHP, Ruby, Python, Node.js, Android, iOS & more languages supported.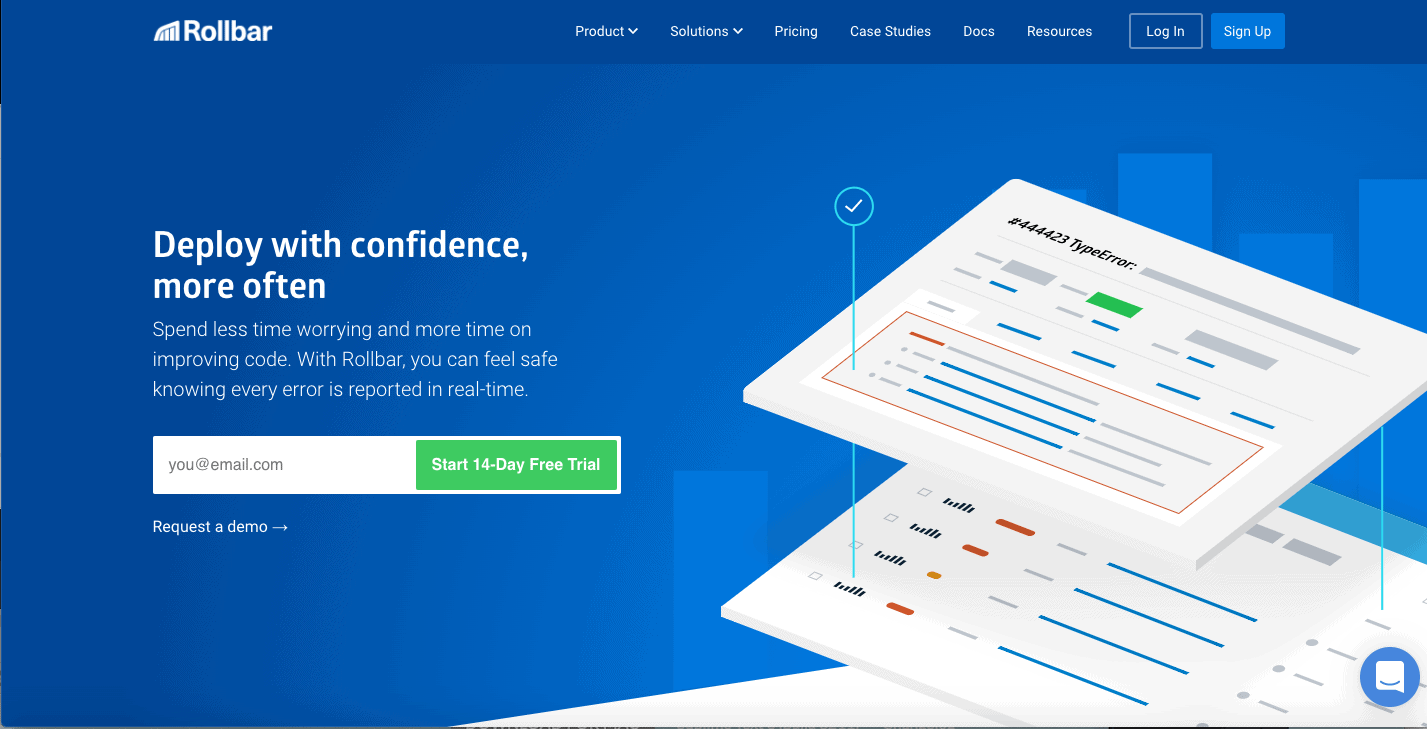 iOS text editor for website programmers that helps business of all sizes write web codes.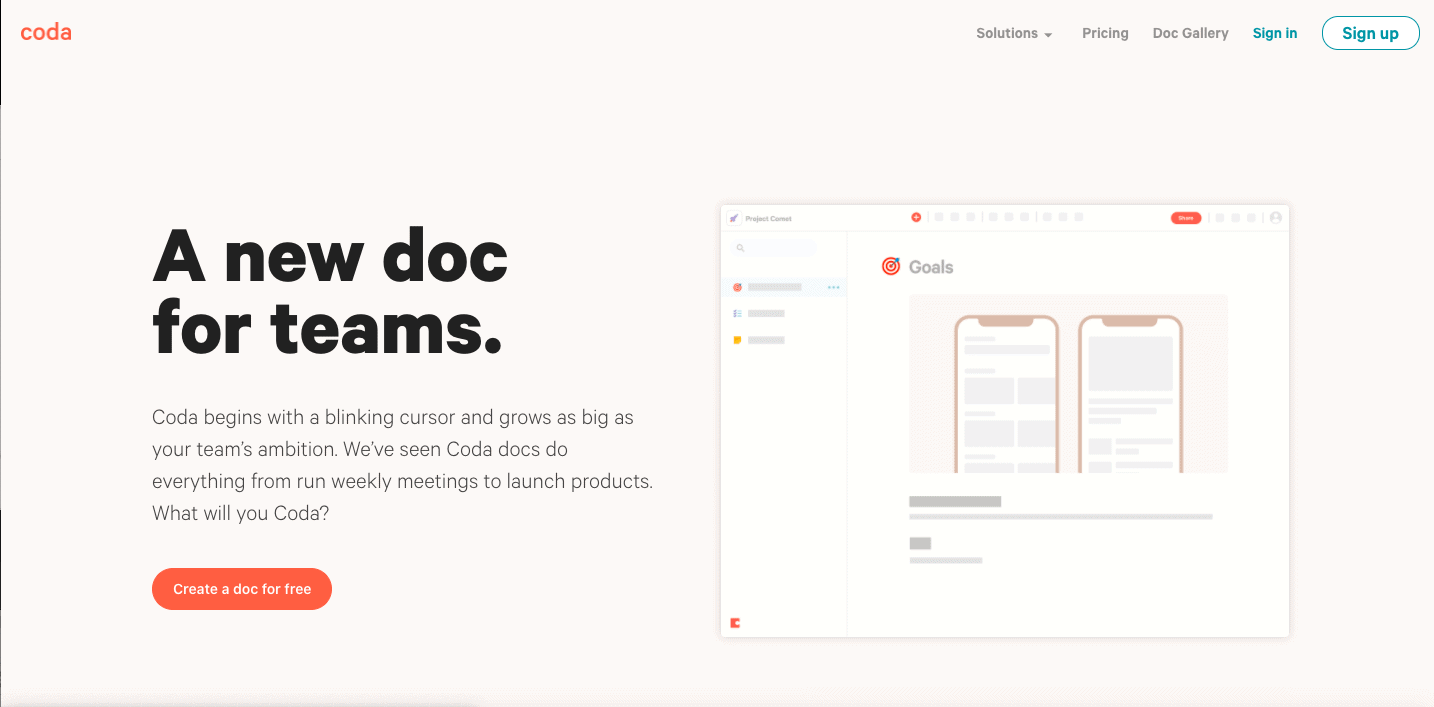 Rapid wireframing software that enables lean teams to collaborate, make mockups, control versions, and run user test.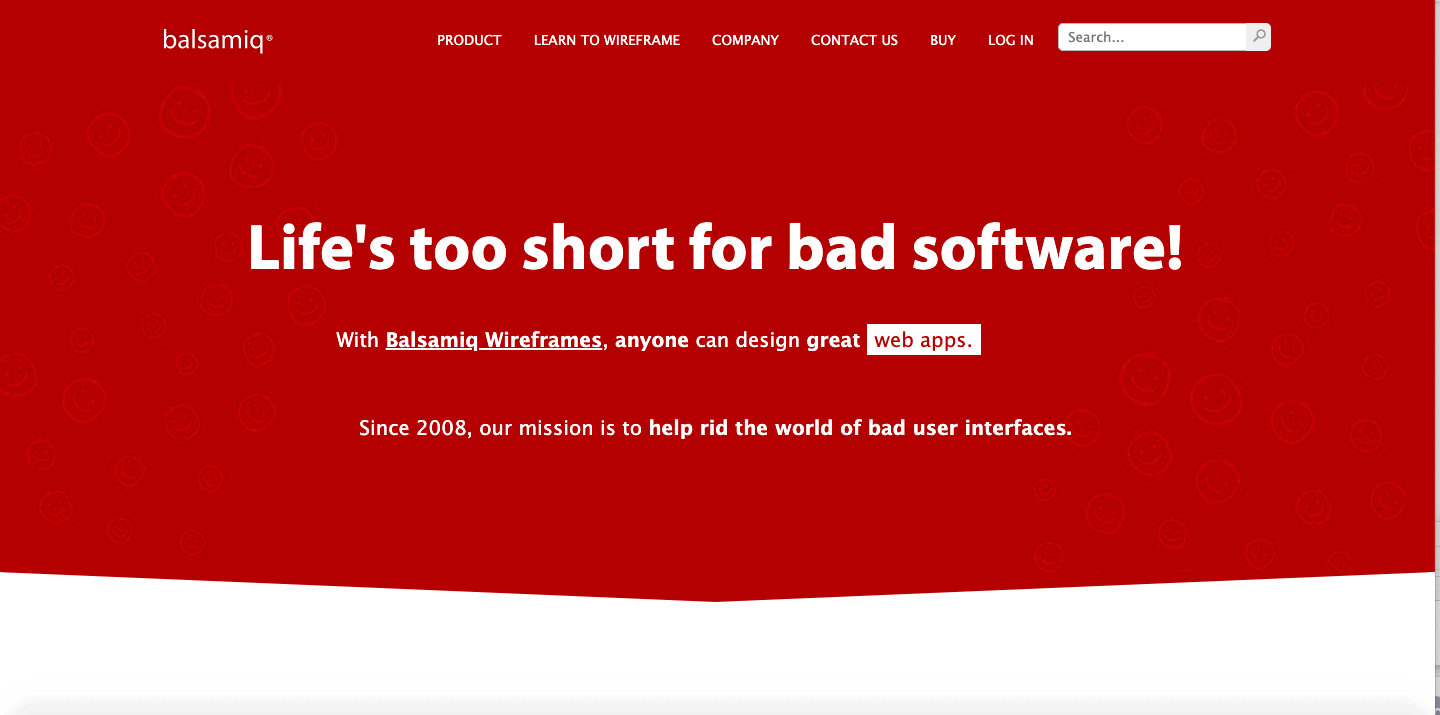 CRM solution with OCR for roofing and restoration industries. Use it on the computer or through a mobile app.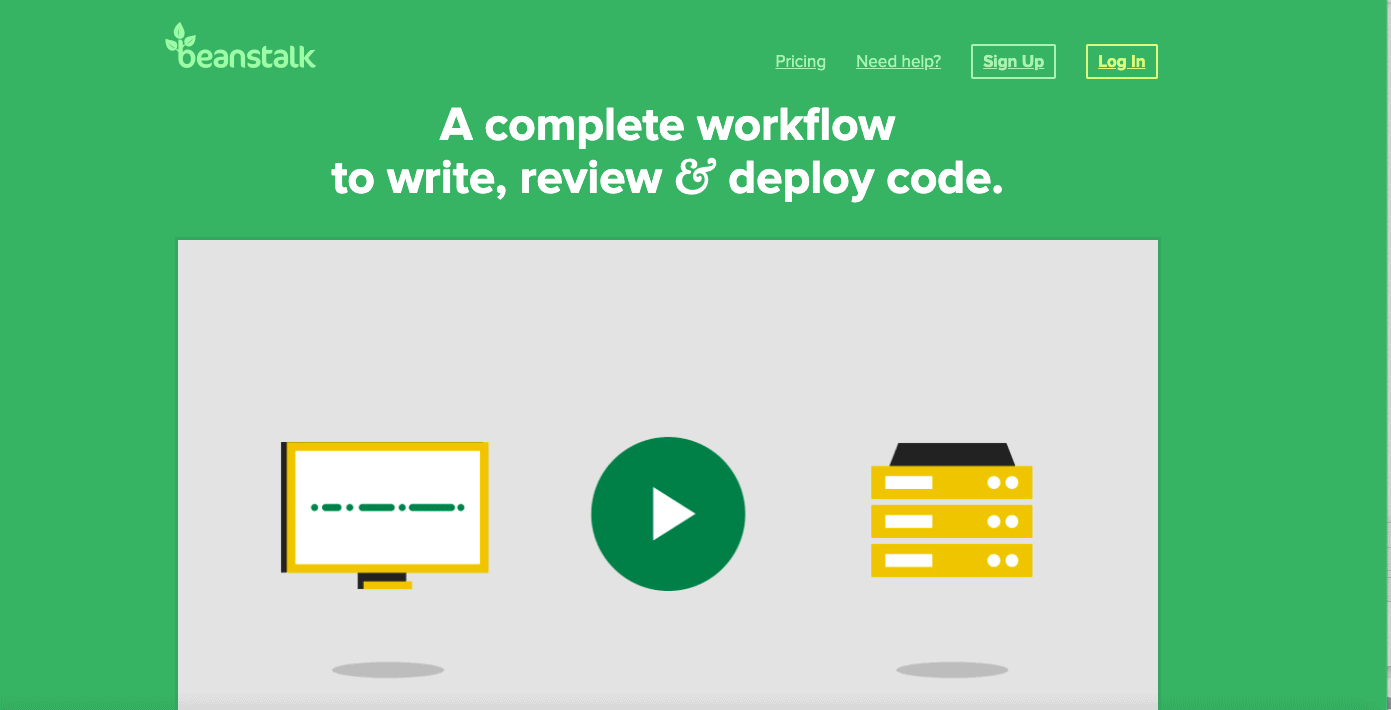 Platform for running fast, secure, and scalable continuous integration pipelines on your own infrastructure.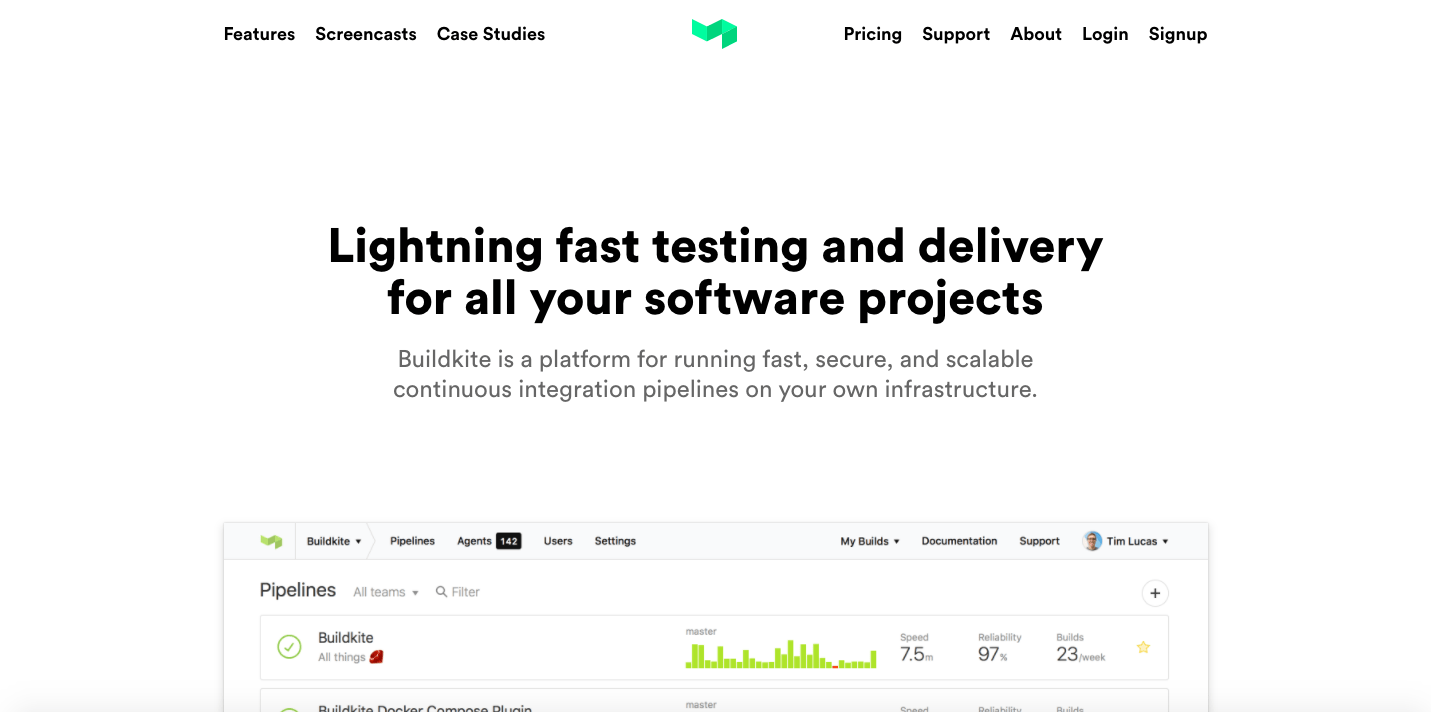 Vecta is a real time, collaborative SVG editor with a powerful Javascript based plugin system, for teams. Easily extend and automate, or create flowcharts, UML, network, isometric and web diagrams with thousands of included symbols. Export to multiple formats and resolution, including PNG, JPG and minified SVG that is very small in size and renders beautifully on all devices.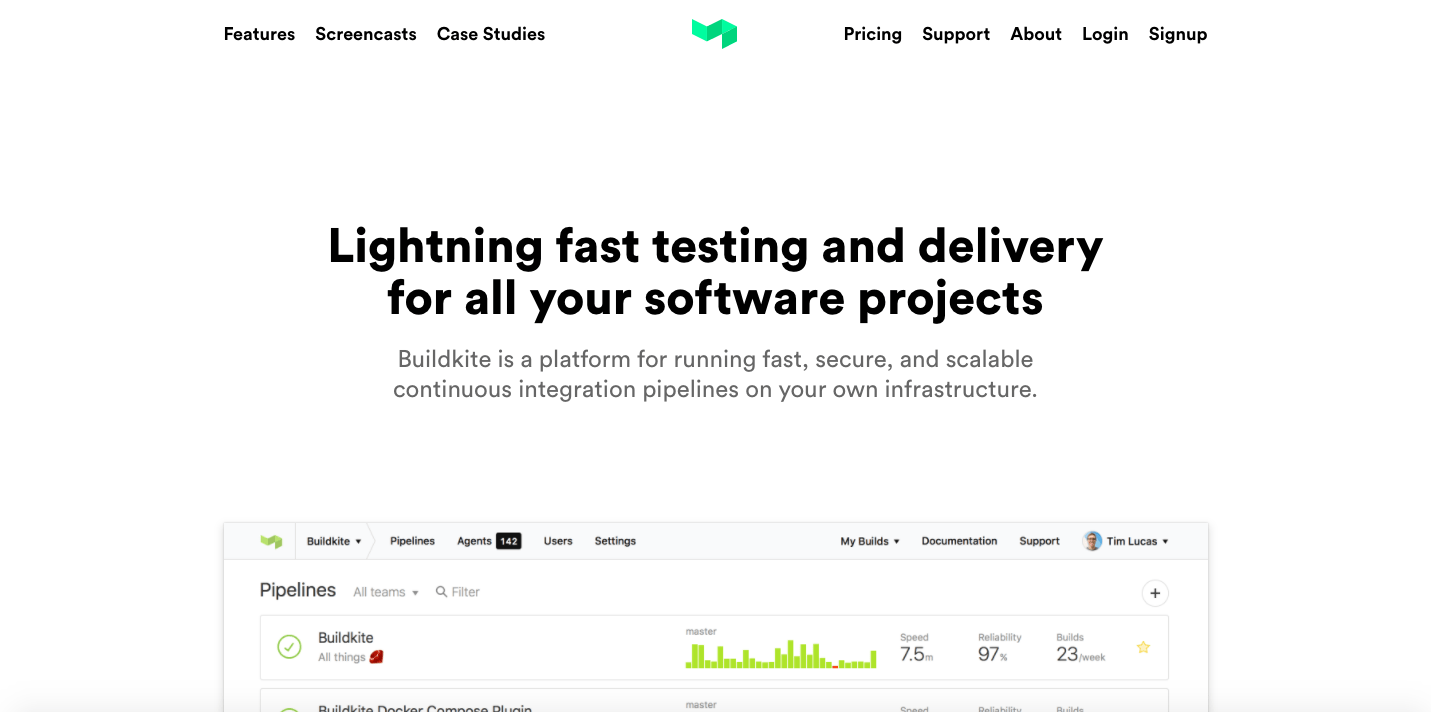 PosterMyWall is a one-stop online solution for graphic design. They have simplified the design process so that anyone can create stunning graphics and videos without requiring any artistic skills. Whether you're using PosterMyWall individually or with your team, all your work is always saved securely in the cloud. Stay organized with folders and photo/video collections. Easily invite team members to edit and comment on designs. And best of all, PosterMyWall works on computers, tablets and even your smartphone so you can easily make those last minute changes on the go.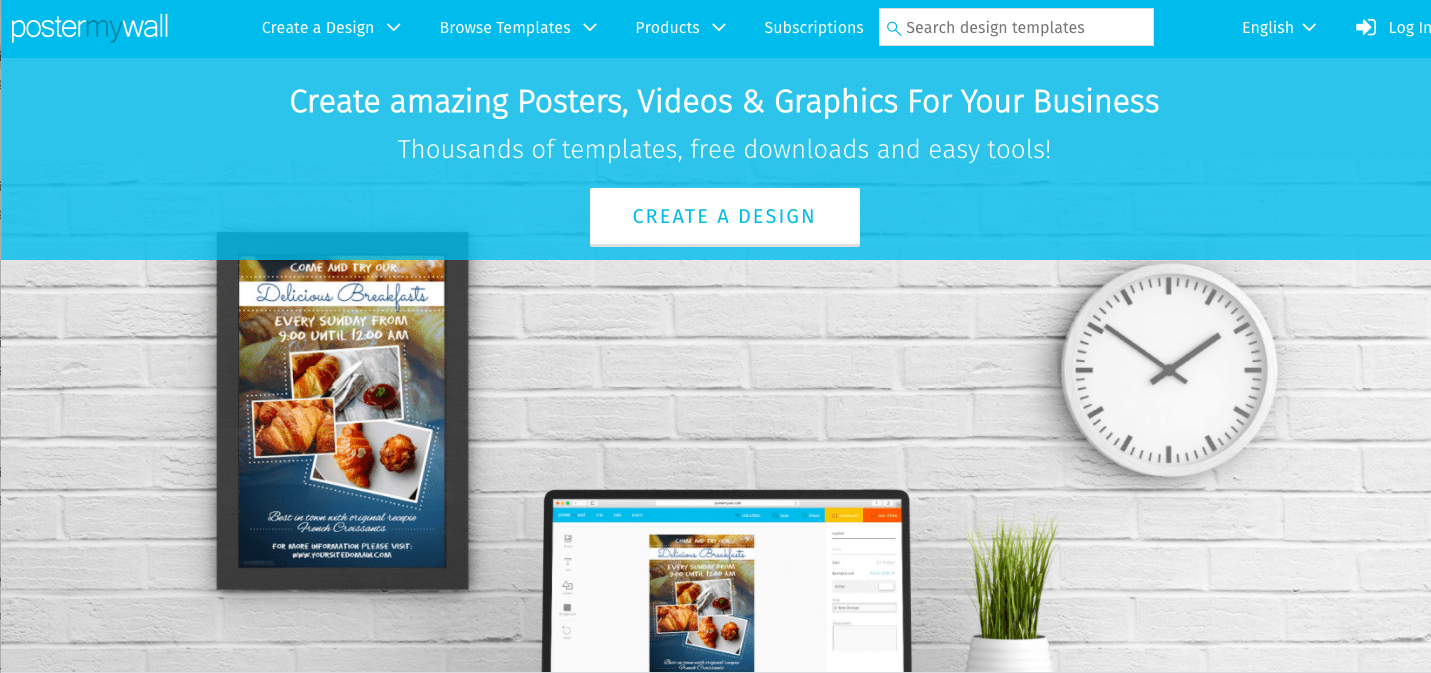 Instasize is the photo editor and video editing toolkit for creatives. Edit photos and videos with ease using features like premium photo filters, borders, and collages. The app also offers beauty tools that allow you to retouch your profile photos.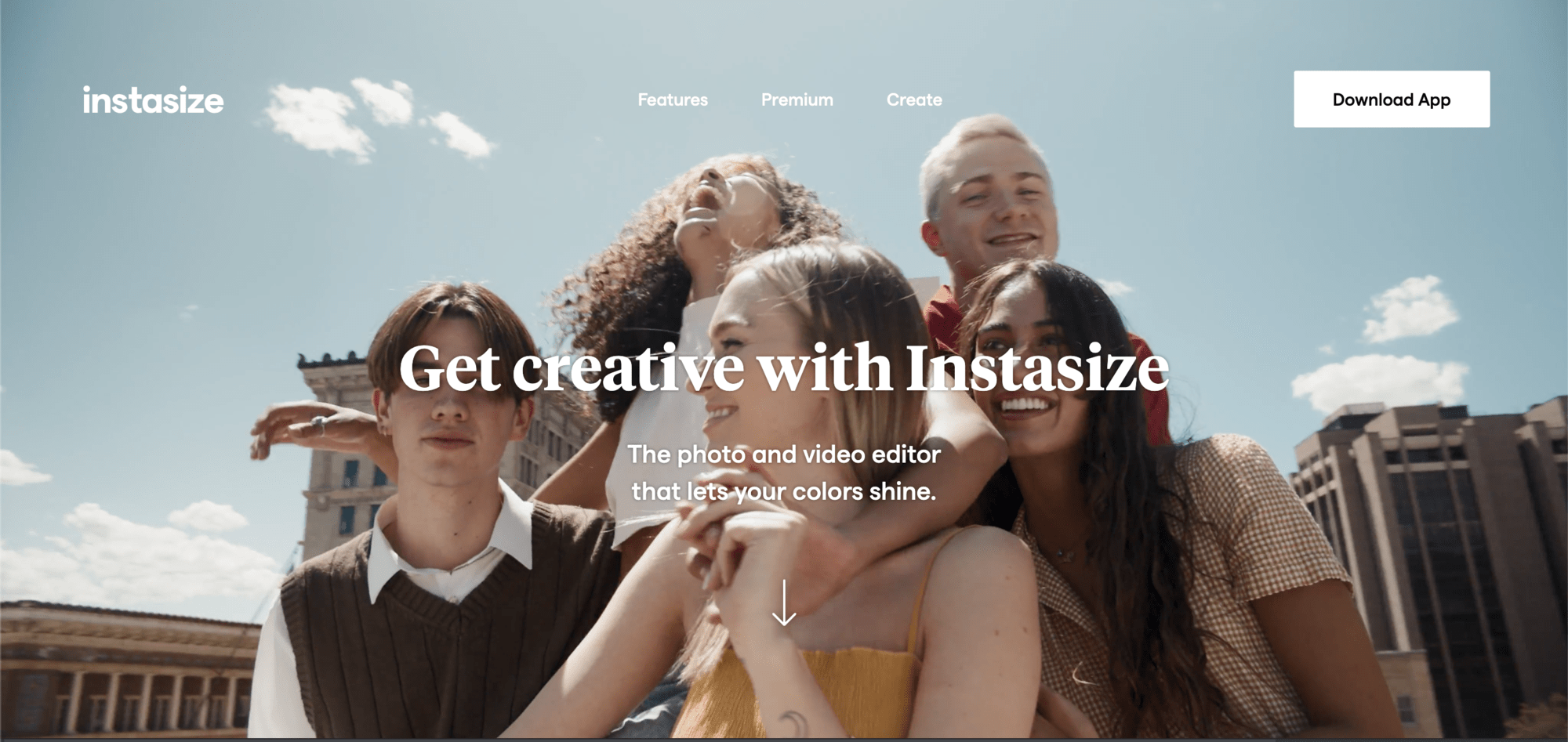 7. Storage 
Google Drive is a storage service that lets you save various files to the cloud and then access them from your smartphone, tablet, or computer. You can store documents, images, videos, and even back up your entire PC. The service makes it easy to transfer files from one device to another without having to email them to yourself.It's easy to use and free of charge up to 15GB. A google account is required.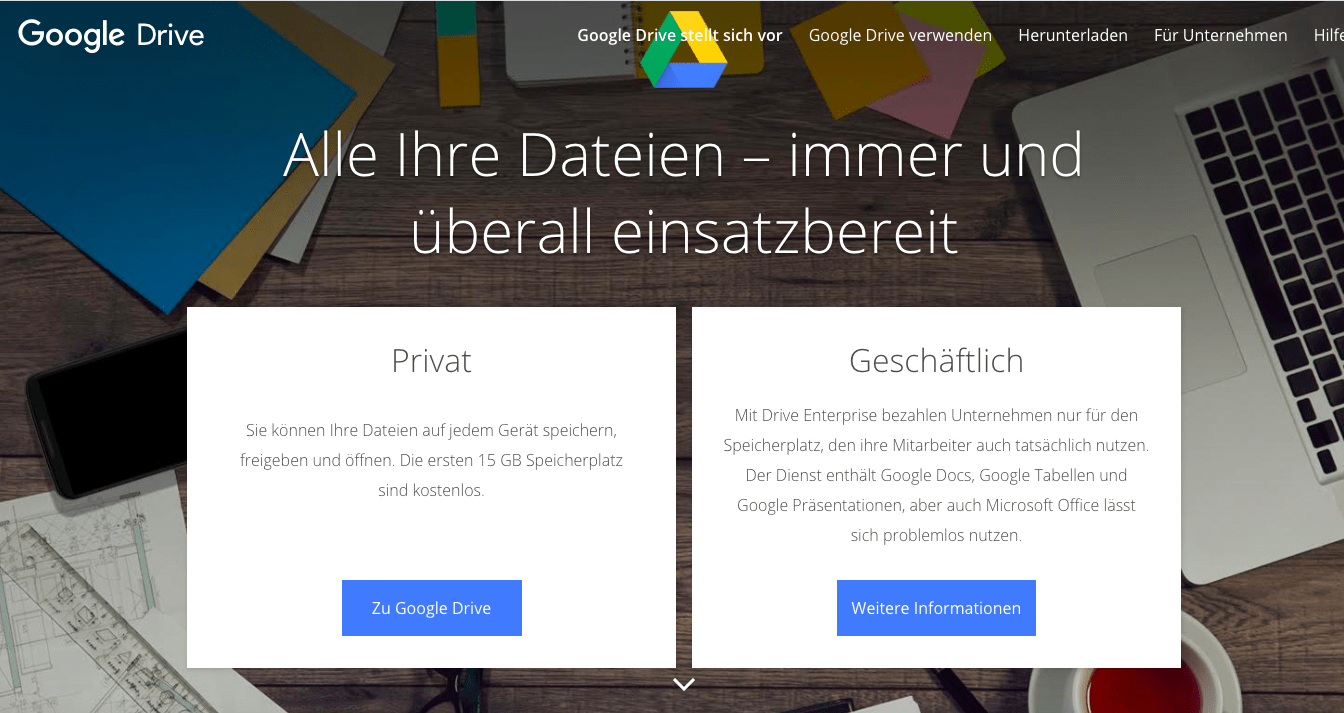 Box is a data storage mobile application that uploads photos and videos taken on your mobile device directly to your Box account. Box offers three pricing tiers with a variety of different pricing options catering all needs.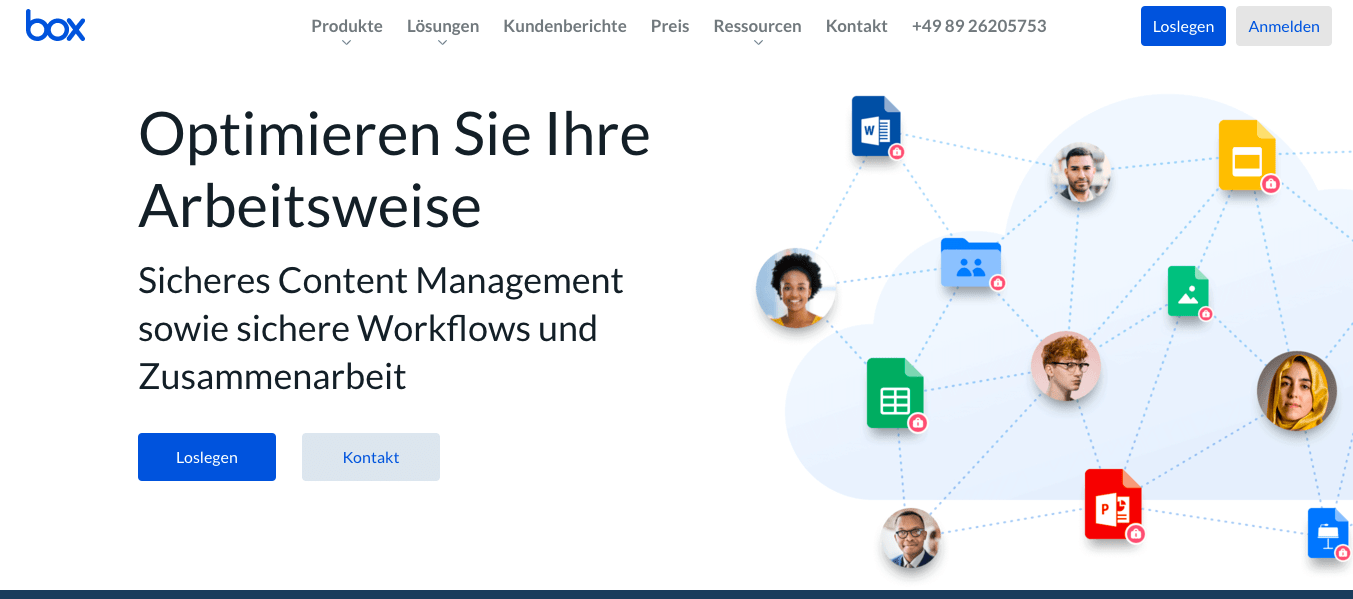 If you're looking for an easy-to-use, low-cost cloud storage platform, Dropbox could be for you. It offers a free version with up to 2GB. The Plus plan costs $9.99 per month. It increases your Dropbox storage capacity to 1TB. Owners of Dropbox Professional accounts will get a whole 2 TB of space.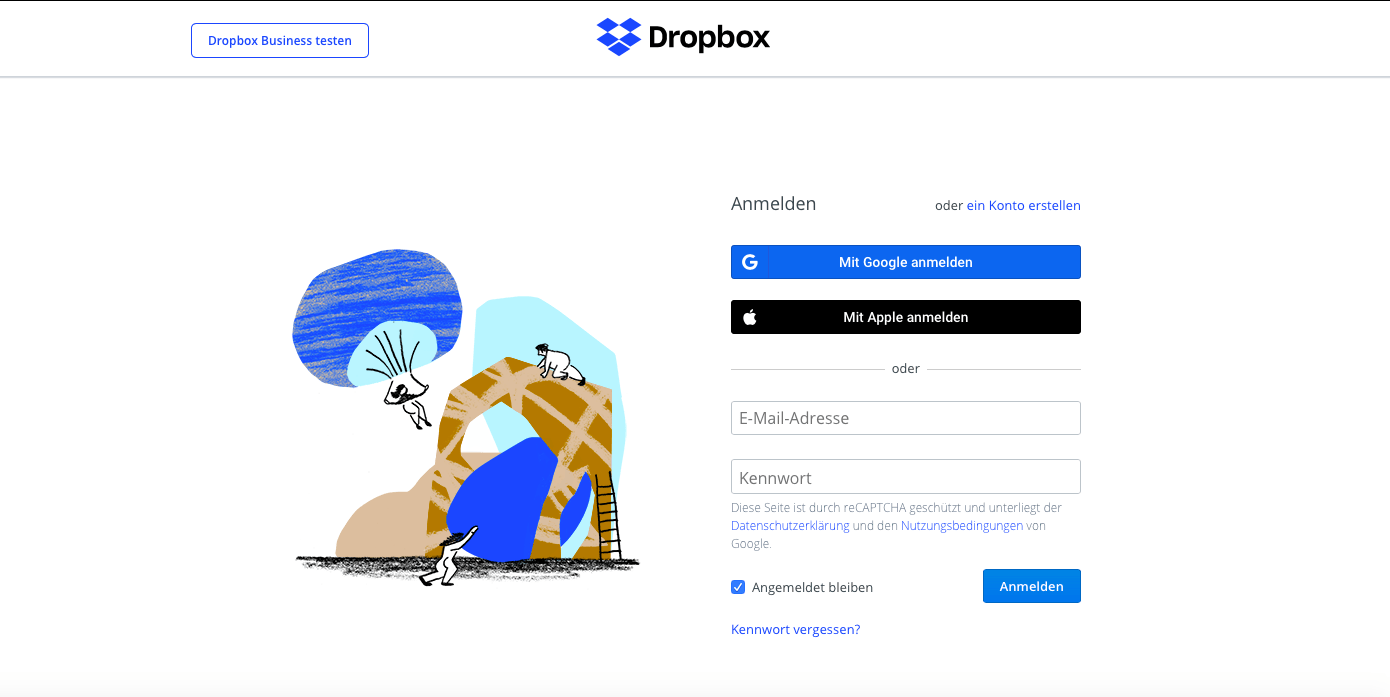 OneDrive is an Internet-based storage platform offered by Microsoft. Files can be shared publicly, with contacts, or held privately. Publicly shared files do not require a Microsoft account to access them.Anyone with a Microsoft account gets 5GB of free storage and 50GB for $2/month.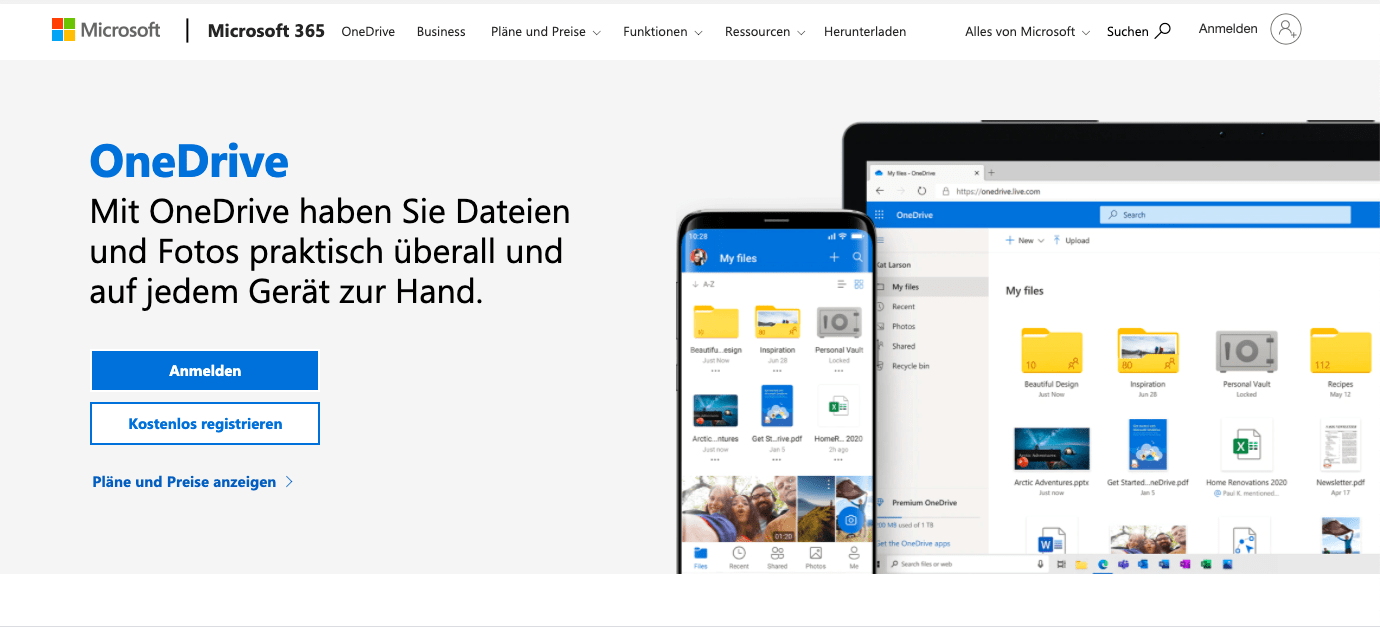 Airtable is a cloud collaboration service, with the features of a database but applied to a spreadsheet. Users can create a database, set up column types, add records, link tables to one another, collaborate, sort records and publish views to external websites. It comes in 3 different subscription plans, including a free basic version.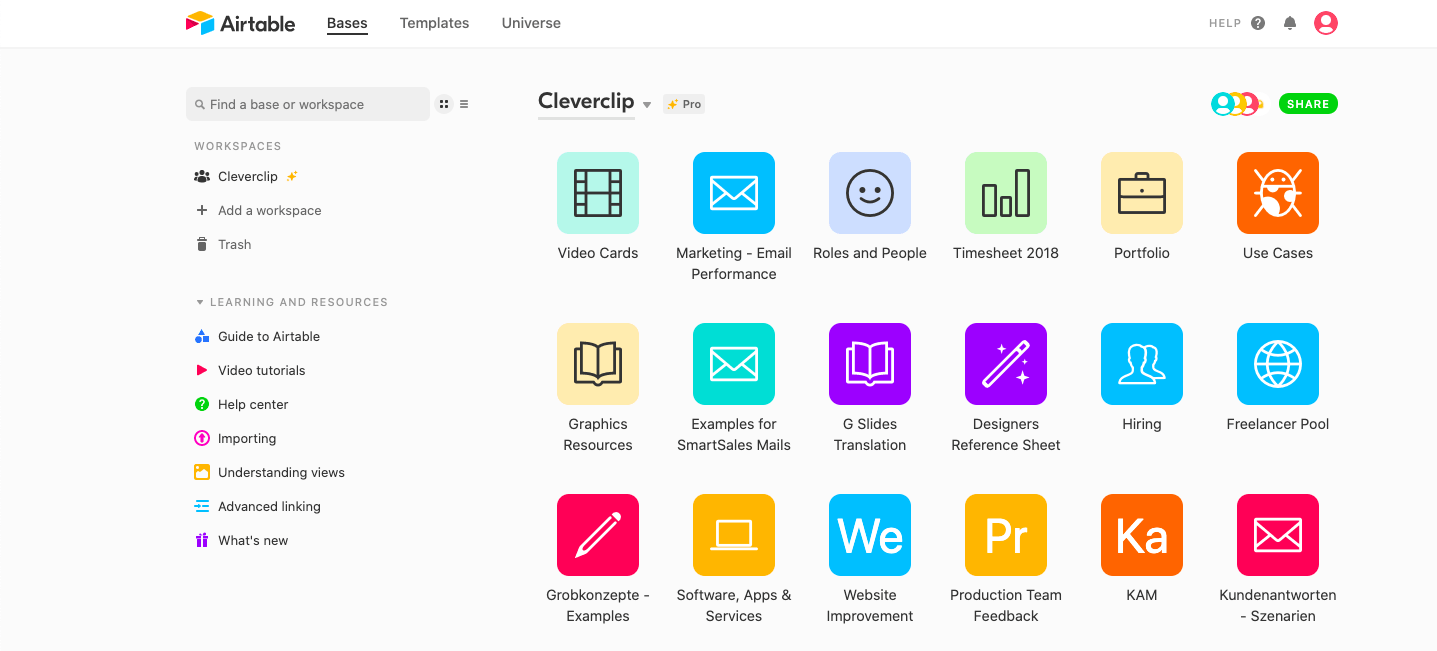 SpiderOak is a backup solution focused especially on security and privacy, featuring great encryption.It also comes with some unusual features, such as file syncing and sharing capabilities. There's a free 21-day trial with 250GB of storage capacity and a variety of different pricing models starting at $6/ month.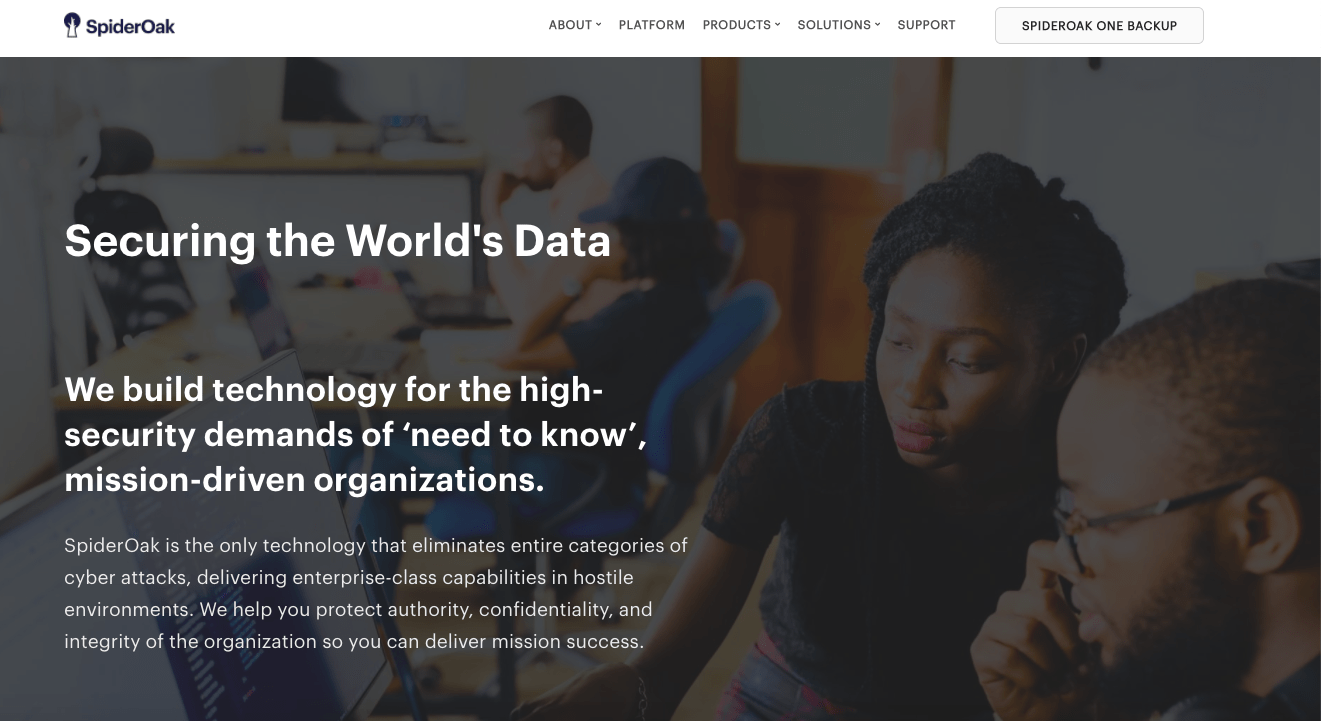 8. Passwort Manager 
LastPass is a freemium password manager that stores encrypted passwords online. The standard version of LastPass comes with a web interface, but also includes plugins for various web browsers and apps for many smartphones.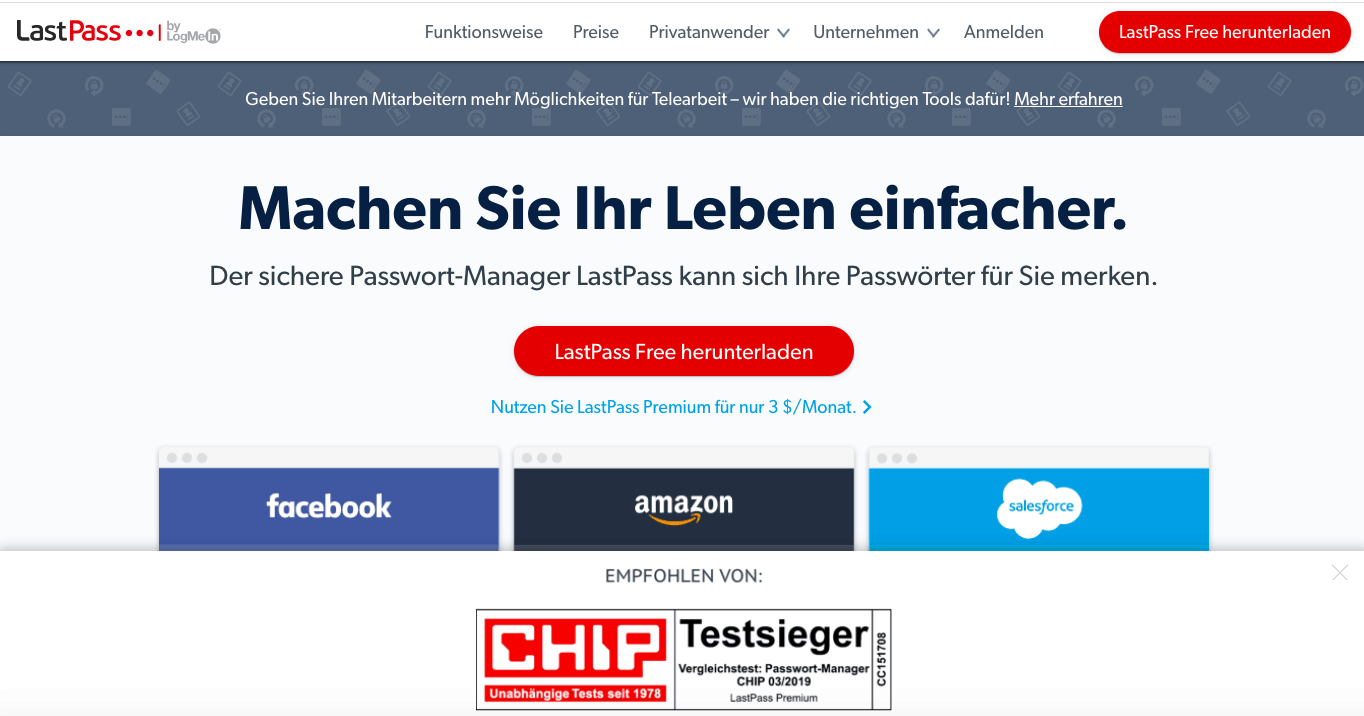 A password manager, digital vault, form filler and secure digital wallet. 1Password remembers all your passwords for you to help keep account information safe.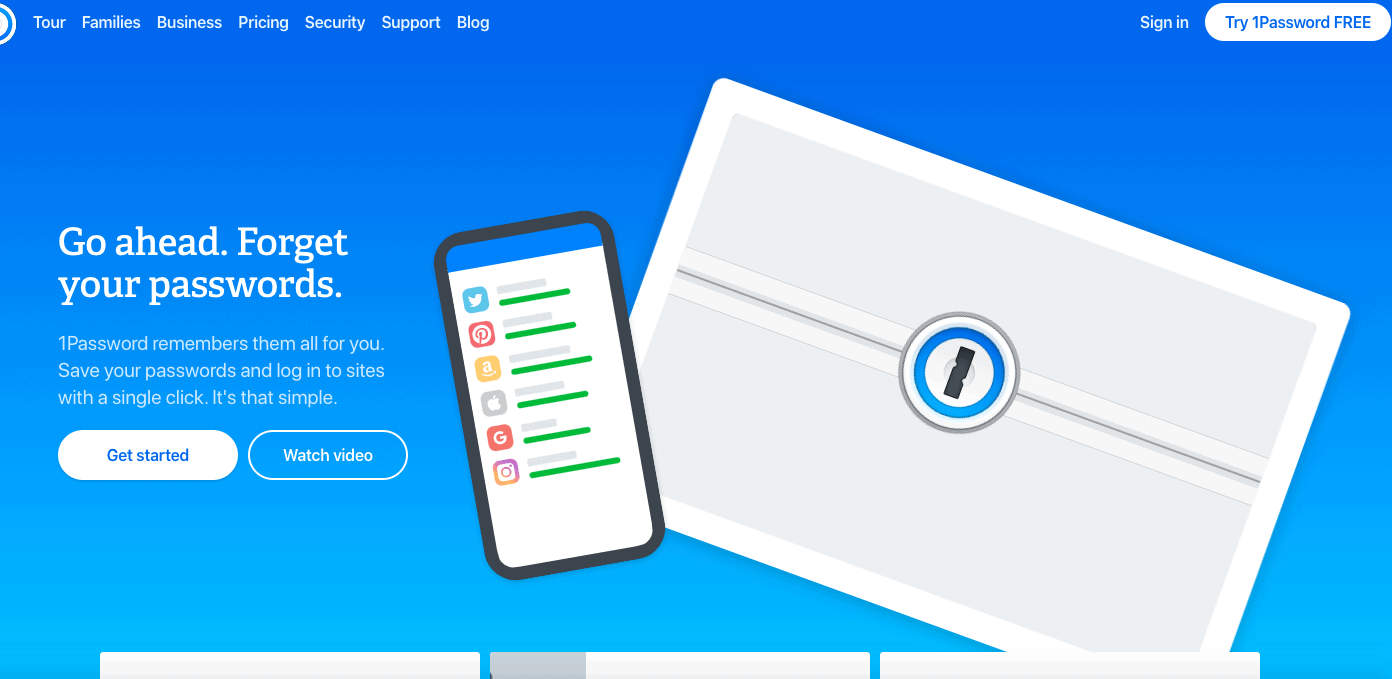 Secure, scalable, and easy-to-use password manager thats trusted by the worlds leading companies.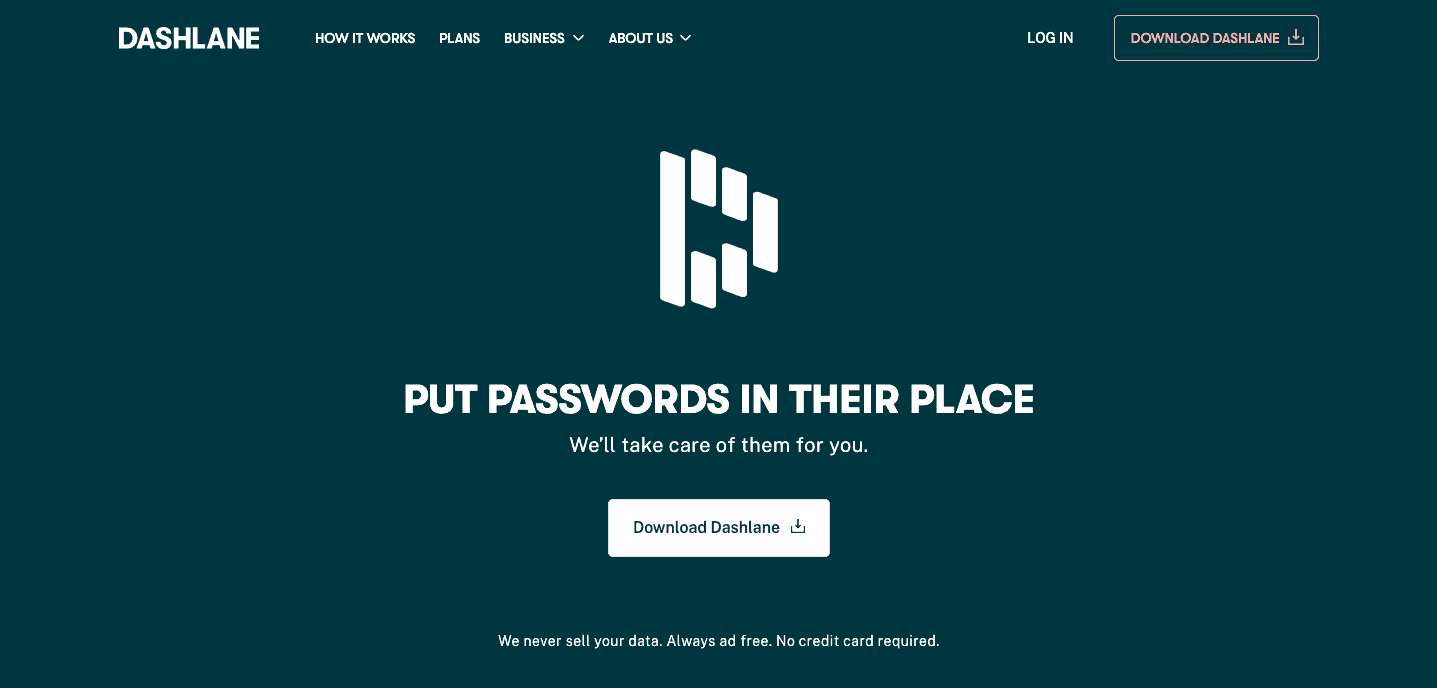 Secure and automated password management for all employees on all devices.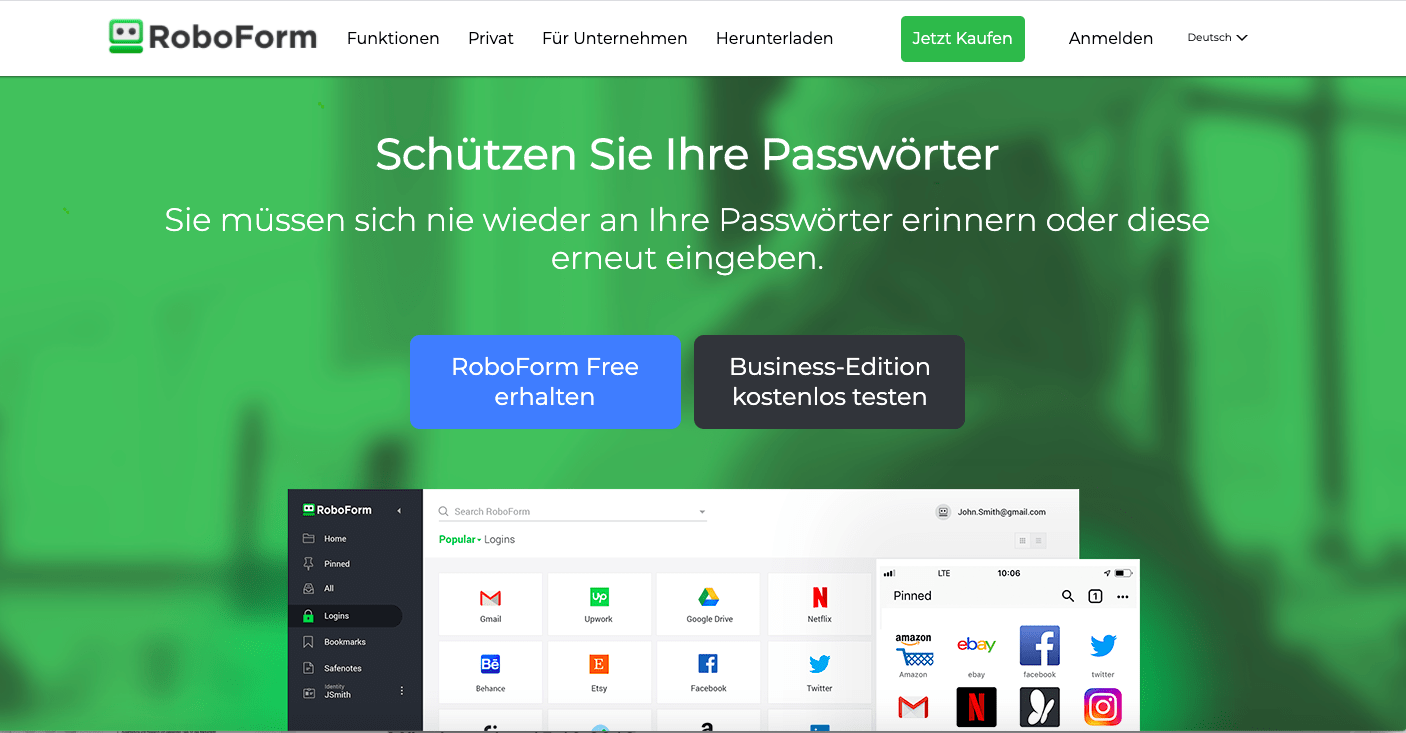 Online password manager that enables companies to manage multiple logins per site, share and provision passwords, and click to login.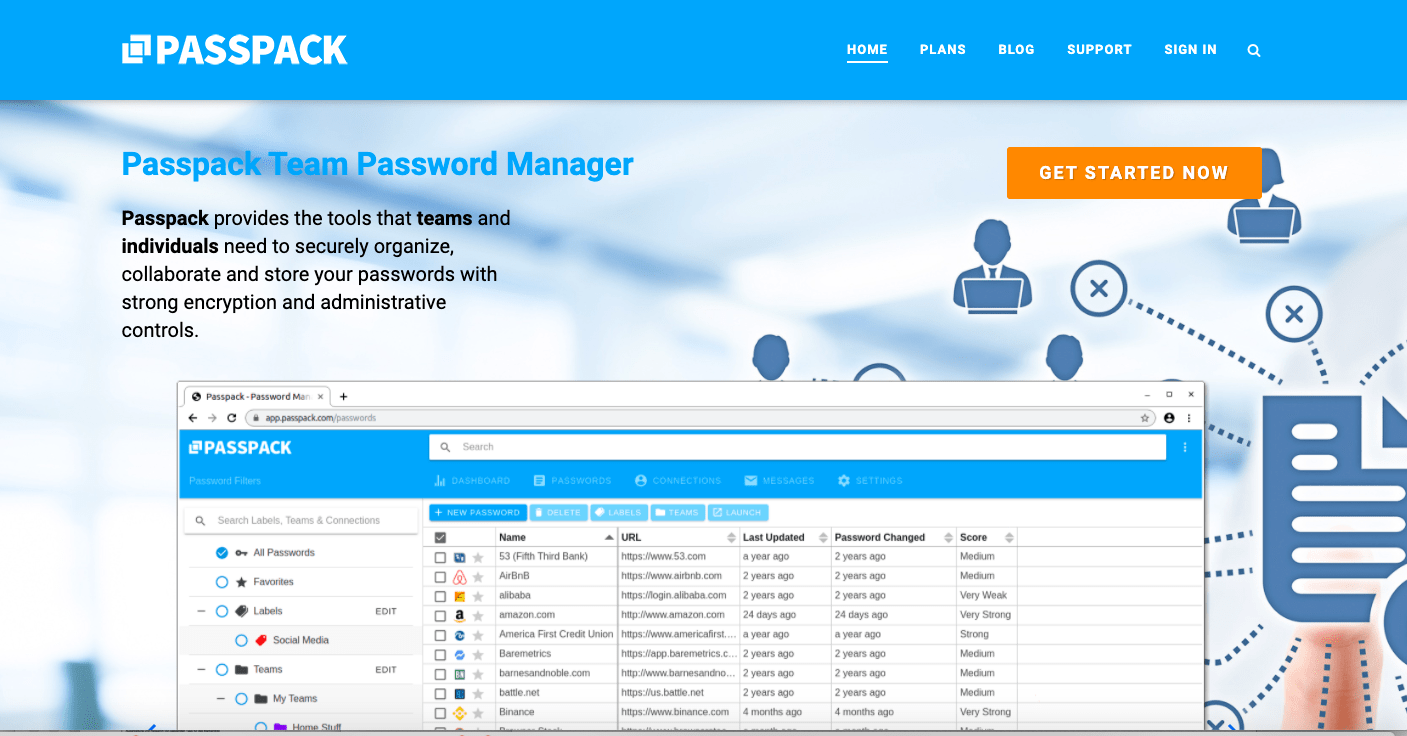 Online password manager tool. True Key auto-saves and enters your passwords, so you don't have to.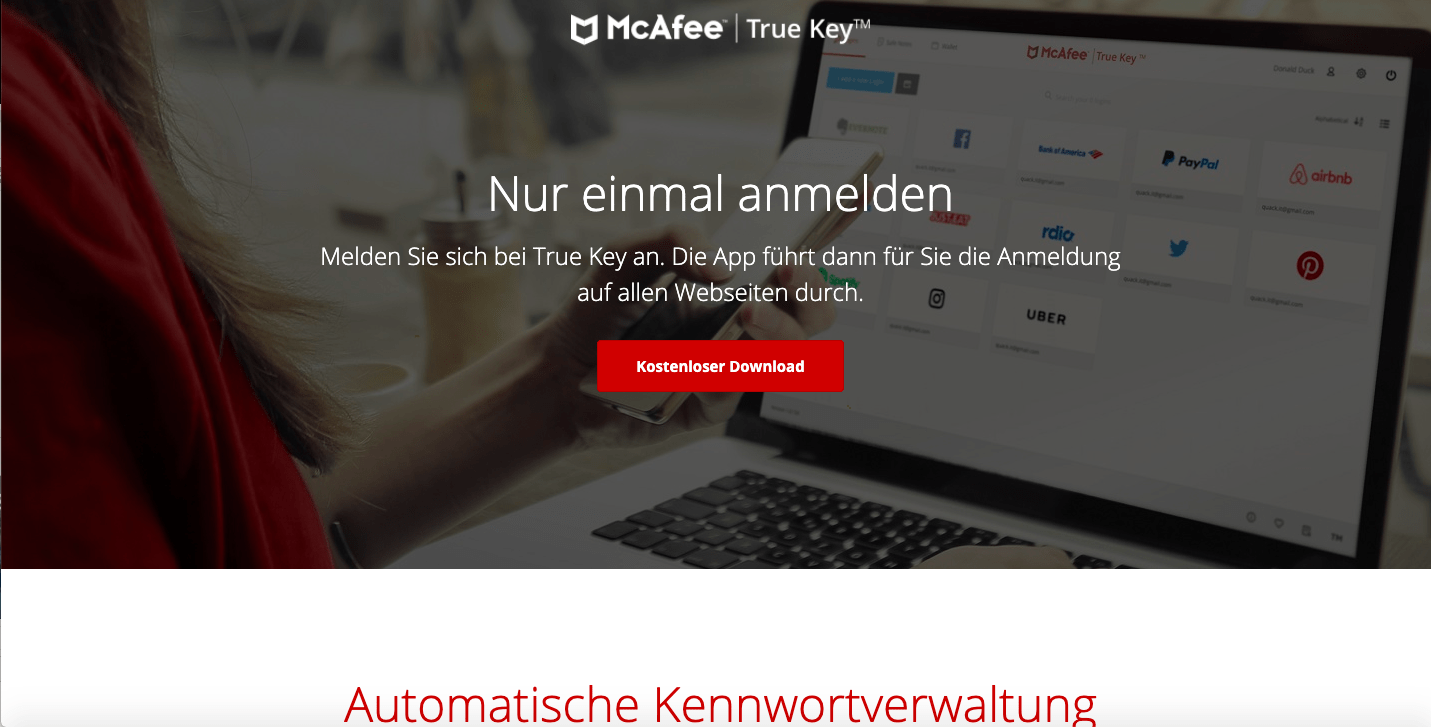 TeamPassword helps you manage and share access to the apps, services, and tools your team needs to keep projects moving.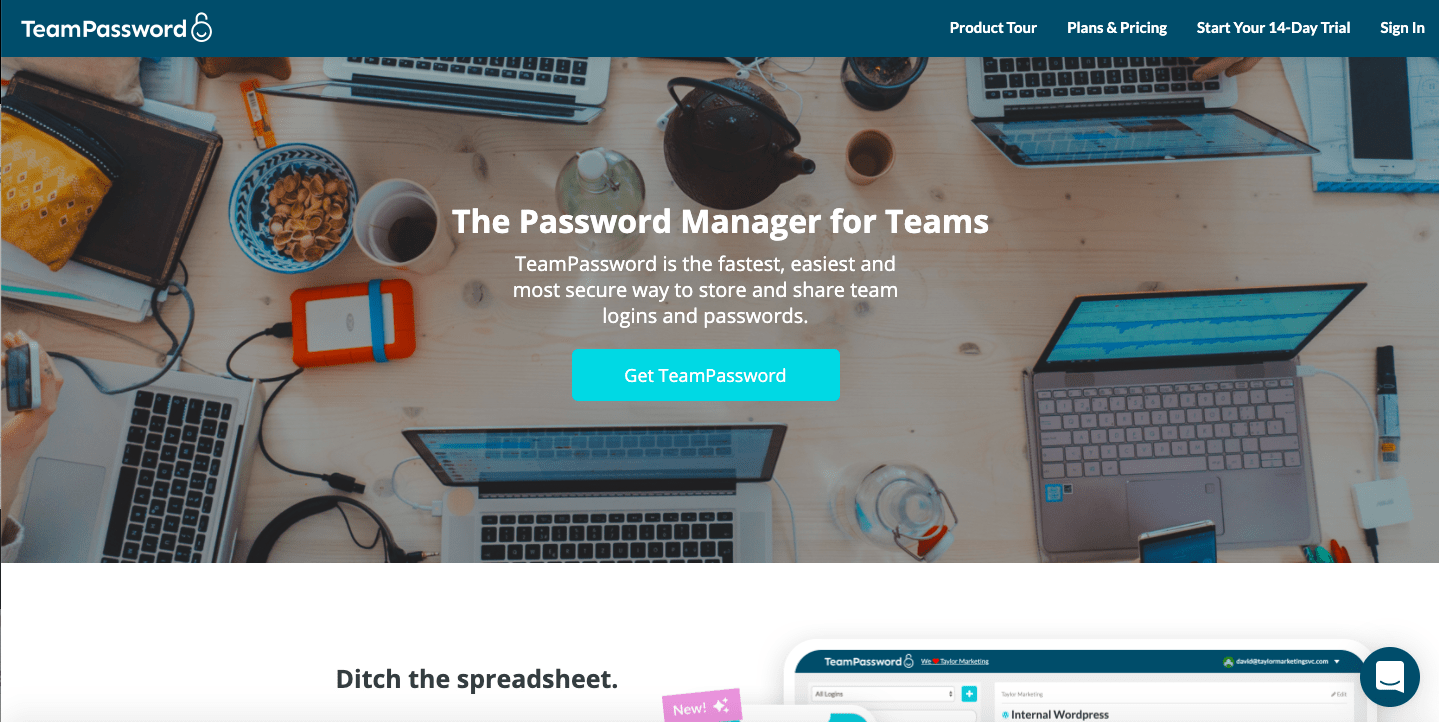 Passwork also collects all passwords in the company. All data is securely stored on your server and employees can quickly find the right passwords. The administrator manages user rights and keeps track of all actions and changes. Passwork does not offer a free version, but a free trial version. The paid version of Passwork is available from 190,00 €/one time.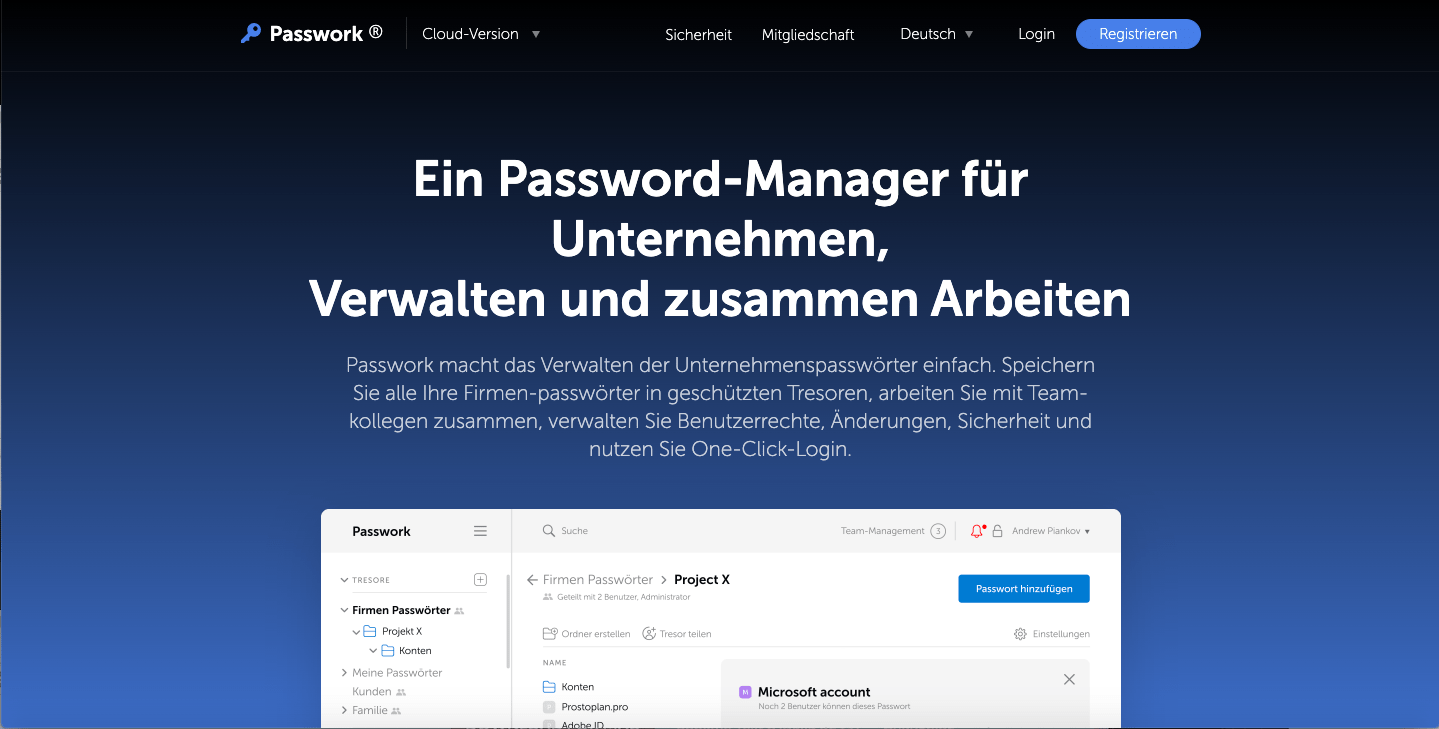 Free and open source password manager designed for teams.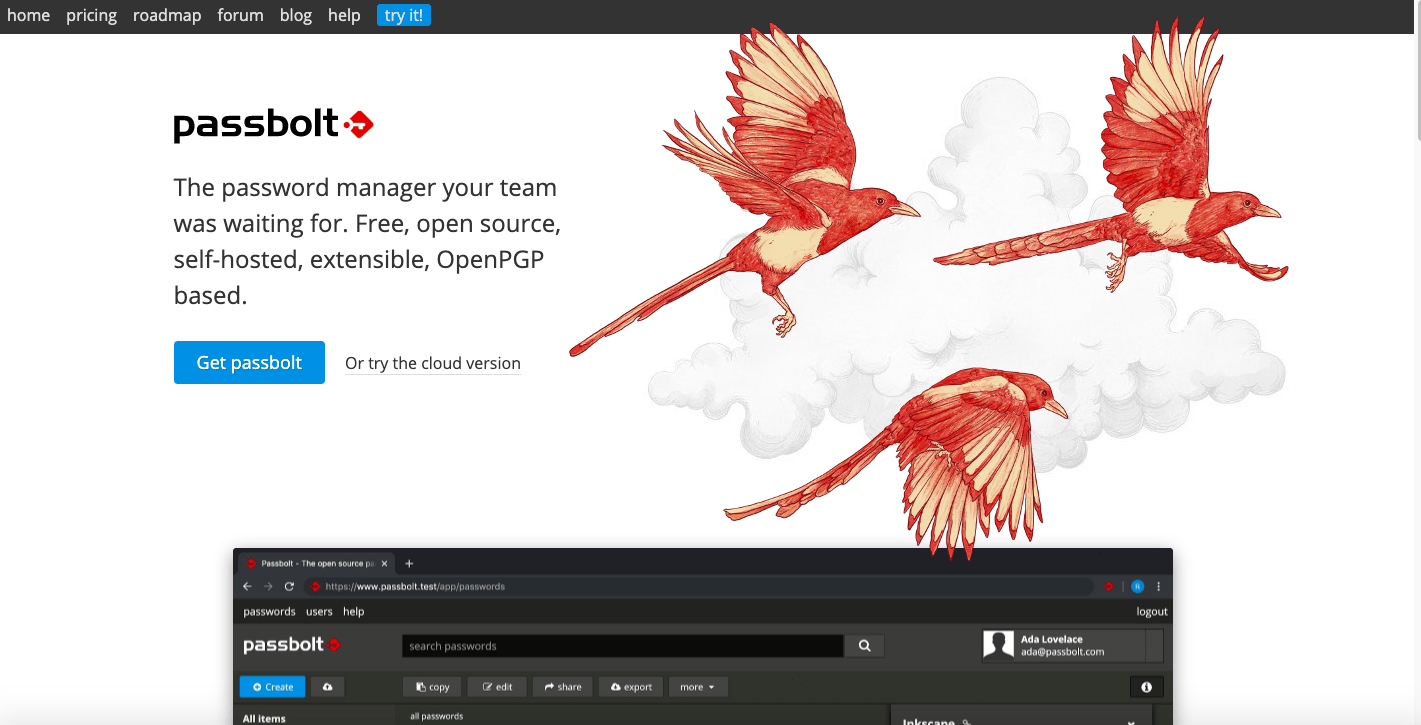 Password manager for teams that protects the privacy and safety of your data.PassCamp offers a free version and a free trial version. The paid version of PassCamp is available from $0.78 per month.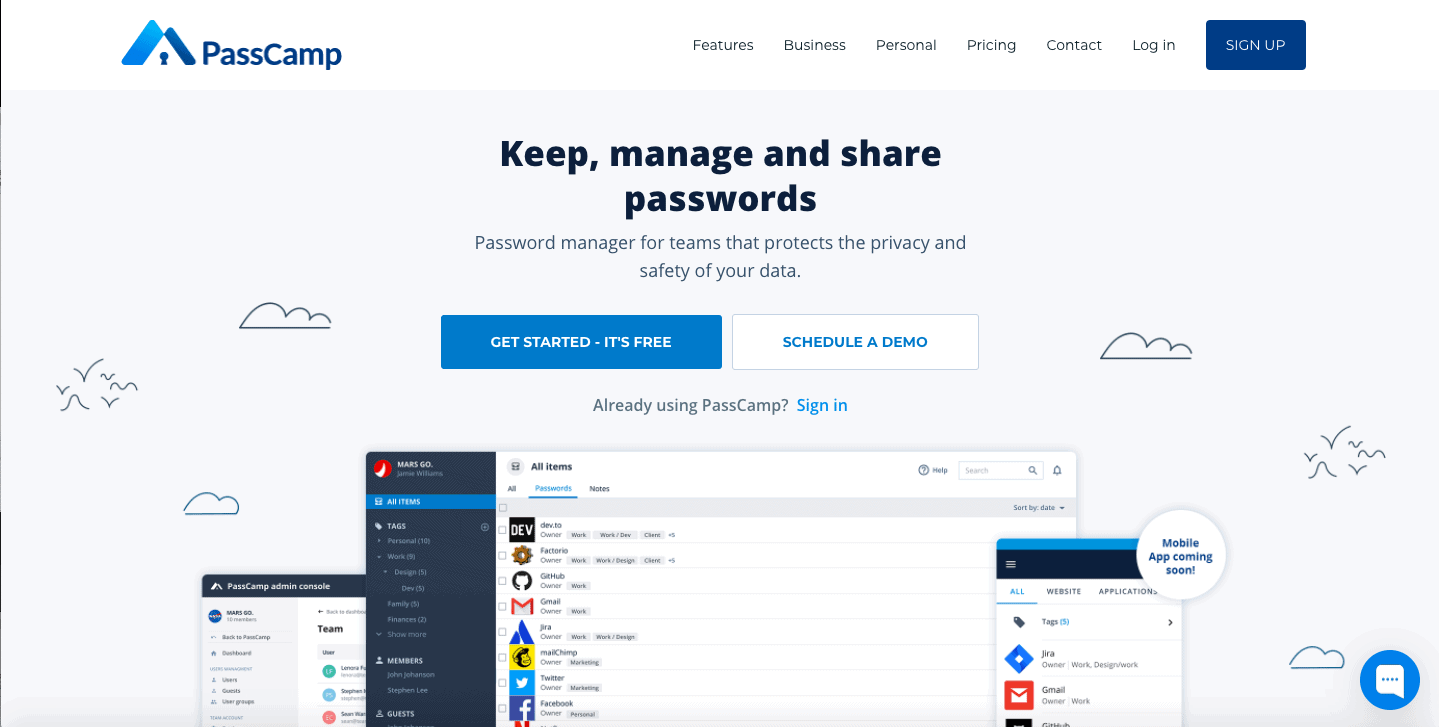 9. Calendar/Scheduling  
With Google Calendar, you can quickly schedule meetings and events and get reminders about upcoming activities, so you always know what's next. Calendar is designed for teams, so it's easy to share your schedule with others and create multiple calendars that you and your team can use together.Google Apps for Business costs $5 per user per month and includes extra features.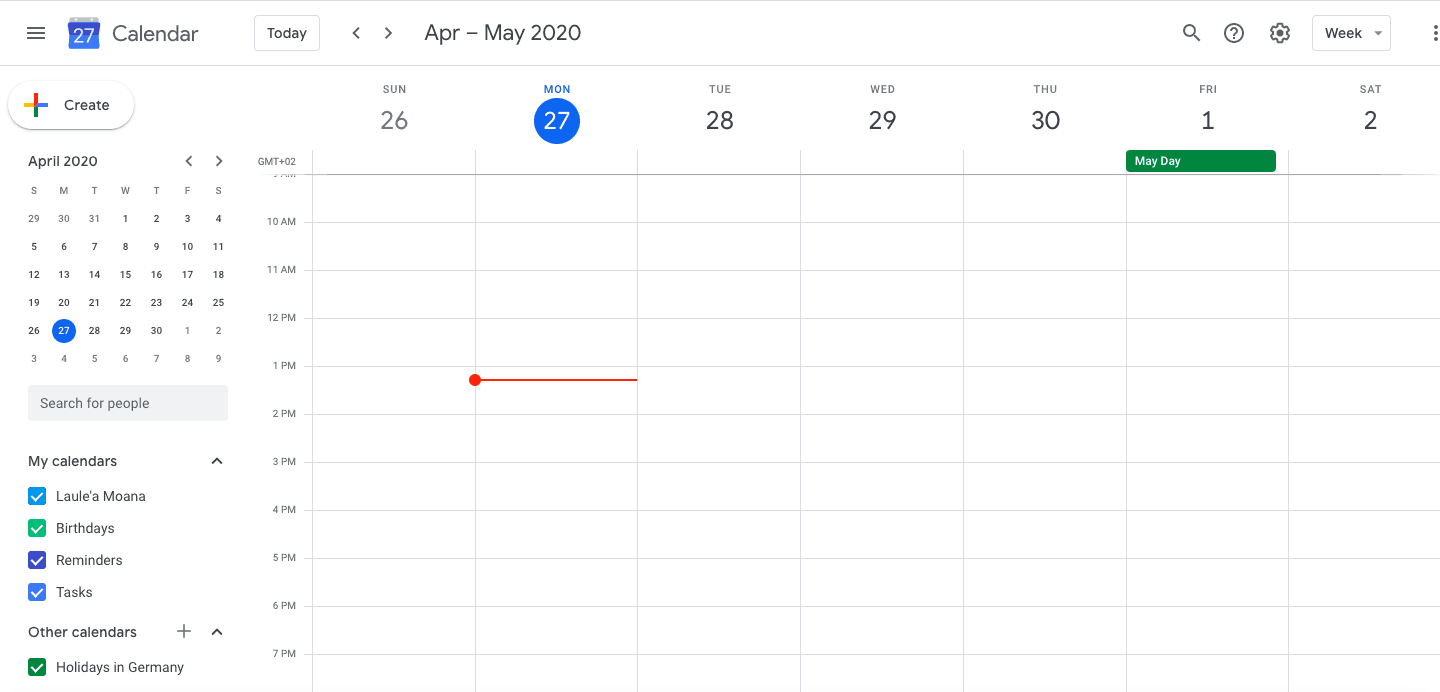 Calendly is a simple, easy-to-use, yet powerful scheduling software, which aims to save time, accelerate sales, and improve service quality. Rather than email chains and phone tag, you can send your availability with a Calendly link. Calendly can be integrated with Google, Office 365 and Outlook, and checks all calendars for conflicts to avoid double-booking.If offers a free basic version, as well as premium versions starting at $8/user per month.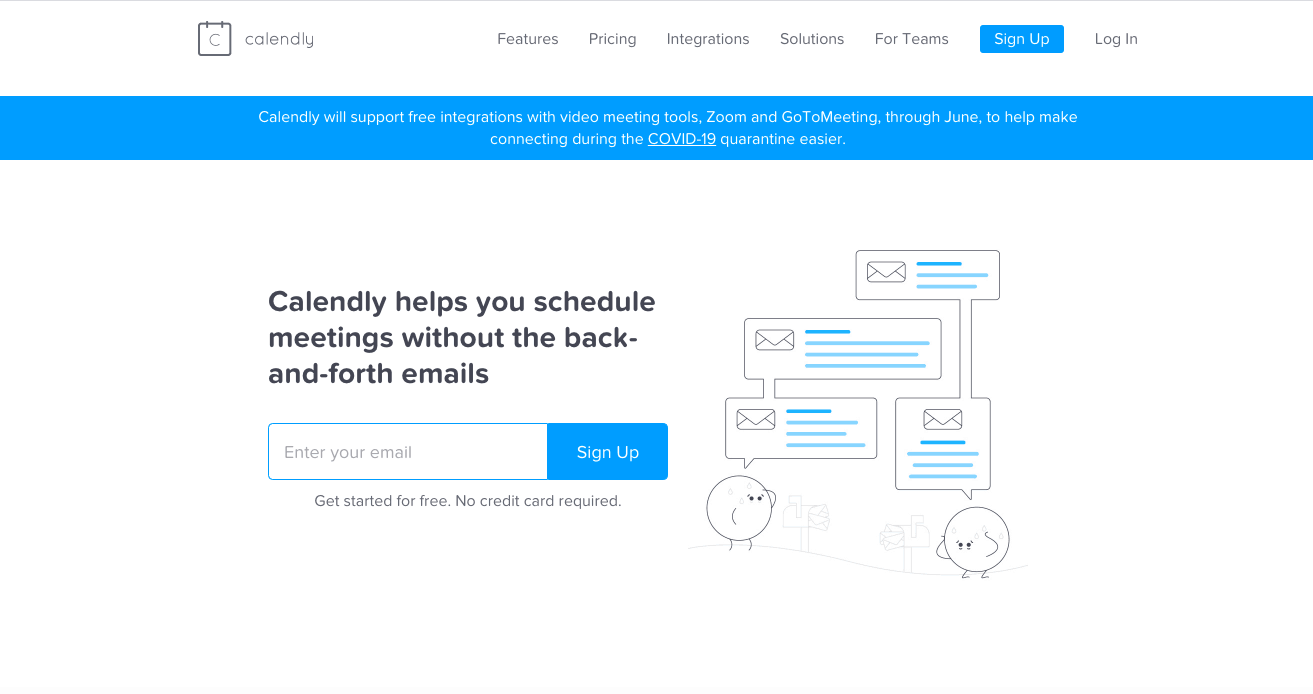 Timezone is a free cloud-based solution that helps businesses track remote teams across different time zones, plan calls or meetings and more.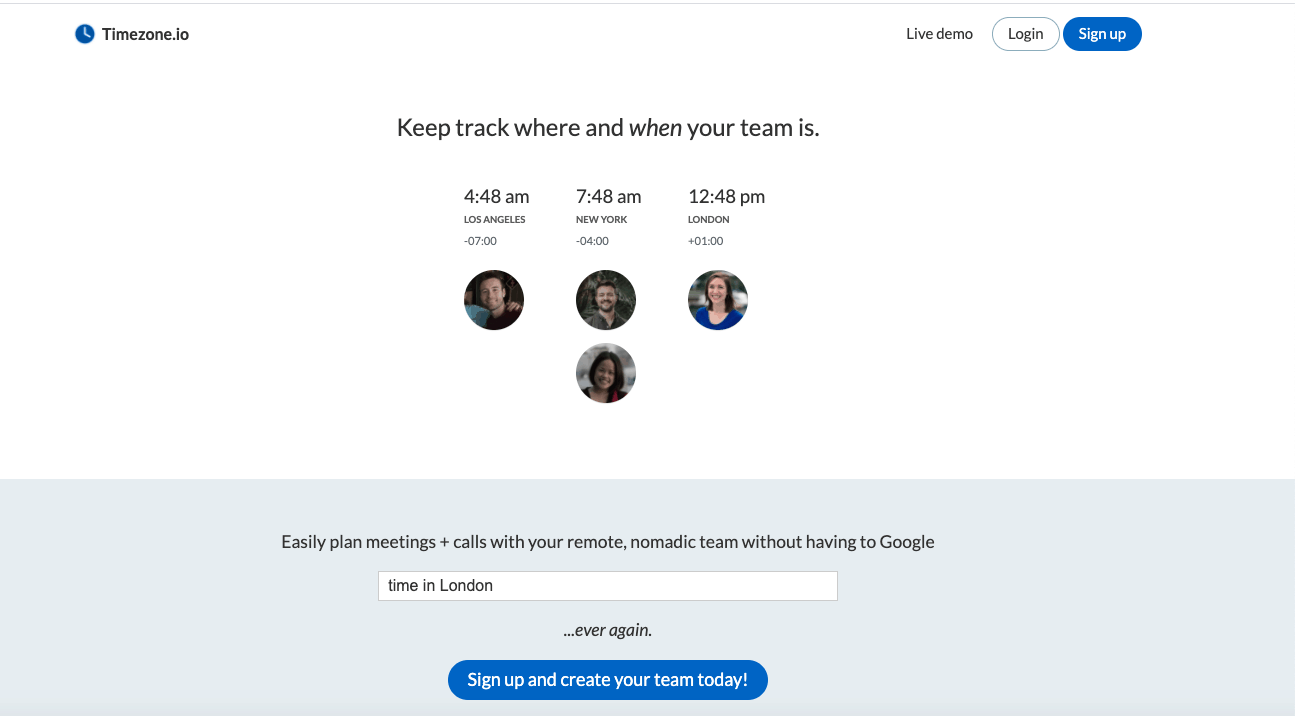 Doodle enables busy professionals to focus on their real work by making time-consuming tasks like scheduling and organizing meetings fast and easy.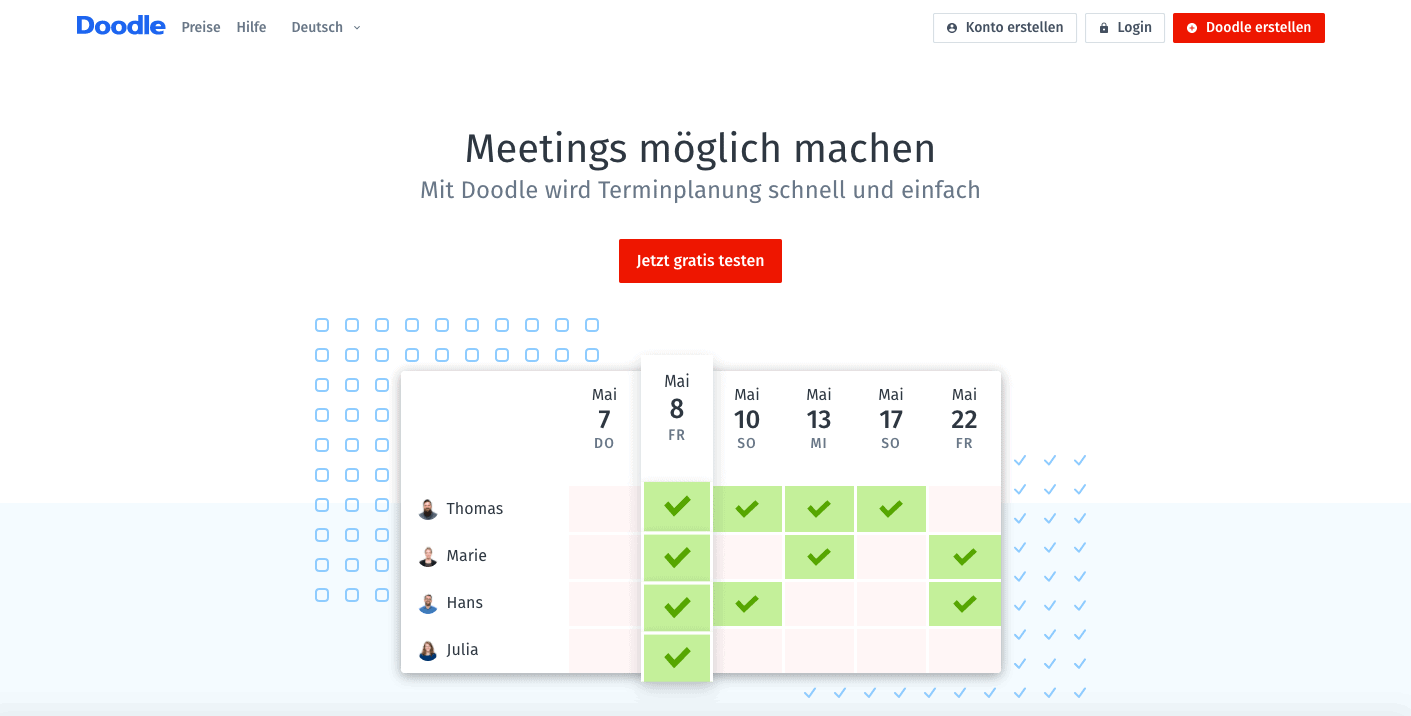 When I Work is the easiest way for businesses to schedule and communicate with their hourly employees. Put the schedule and time clock in everyone's pocket. Schedule on-the-go with free apps for iPhone and Android. Save yourself time and money with simple employee scheduling tools.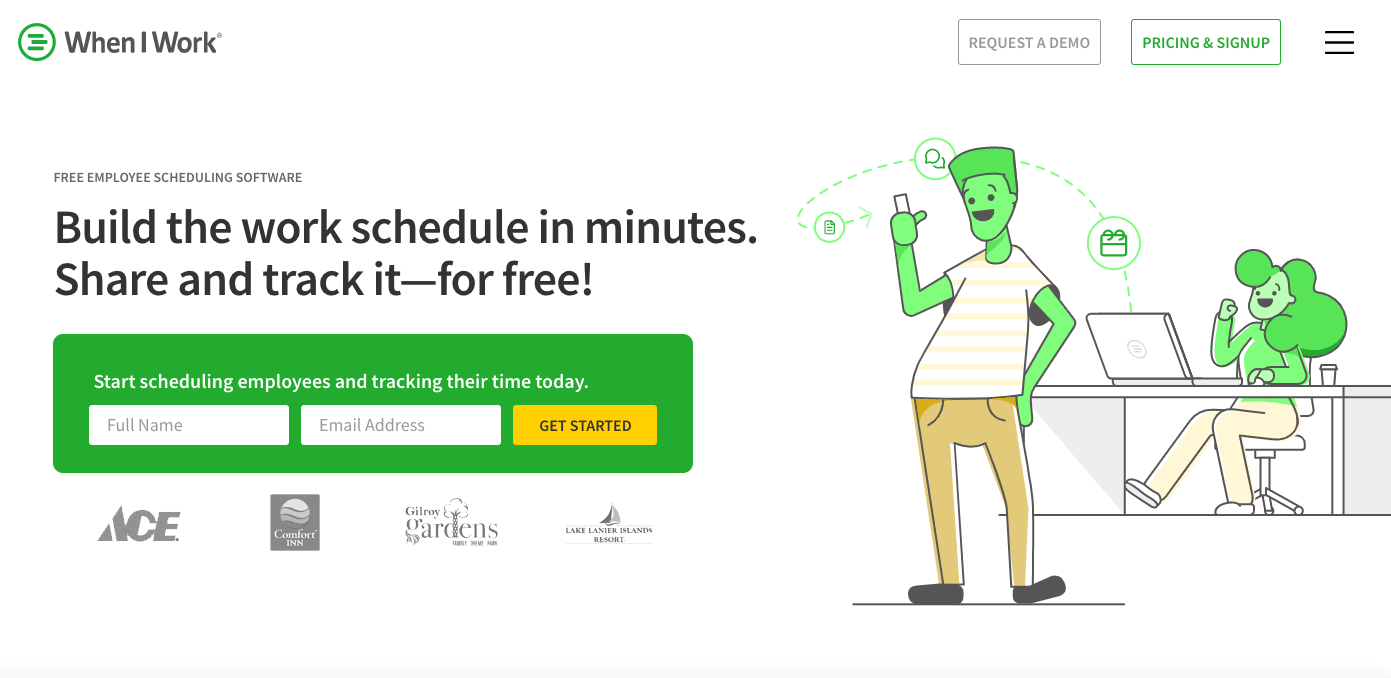 A meeting and appointment scheduling platform that increases engagements at every stage of the customer lifecycle.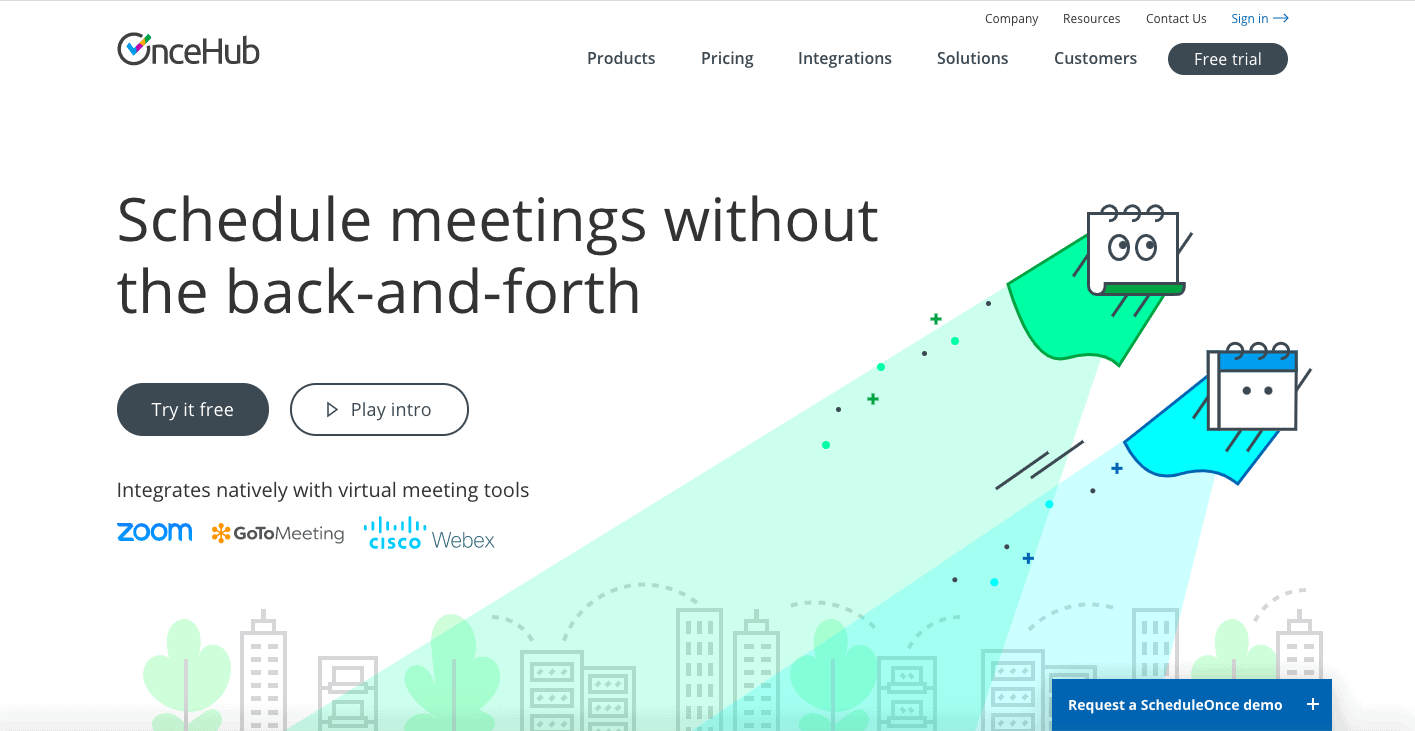 Quinyx helps to reduce workforce-related costs by automating labor-intensive processes like scheduling, payroll, time punching.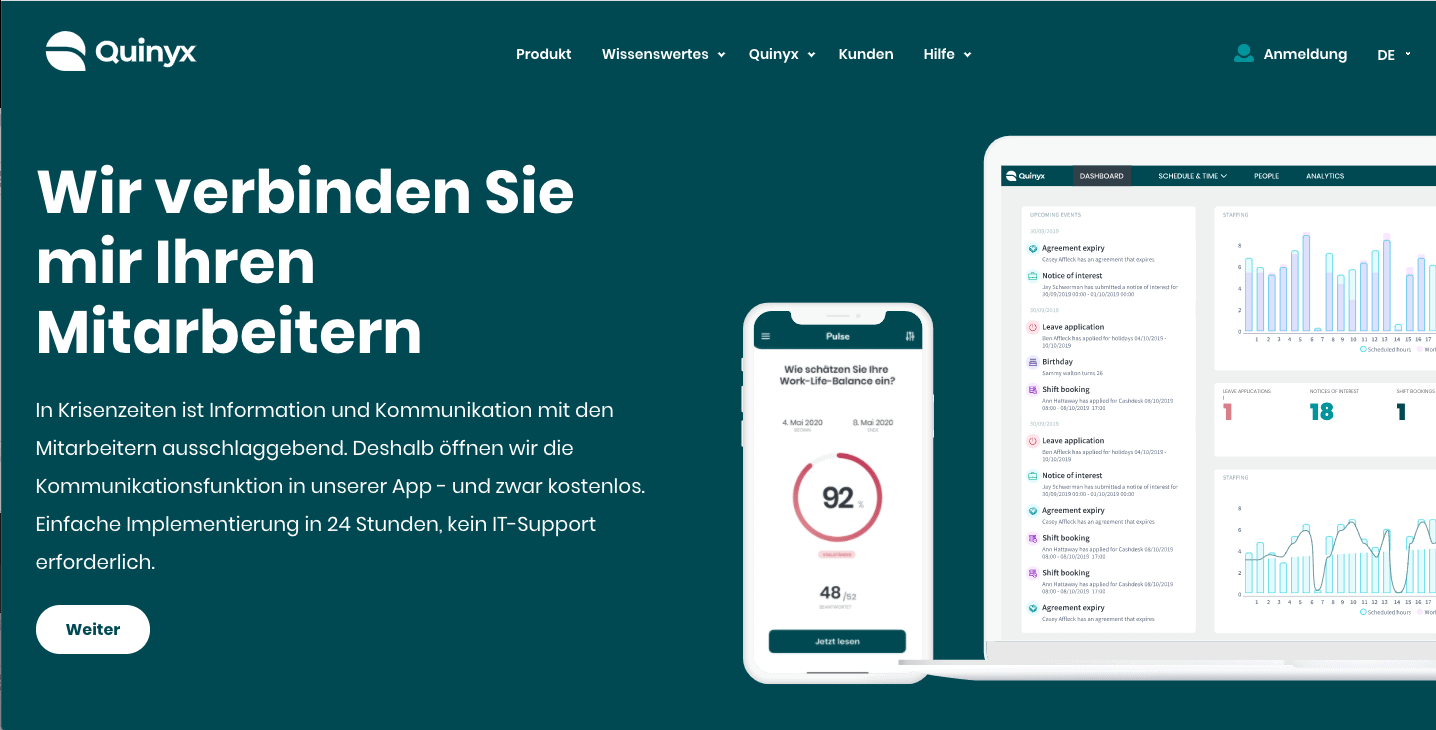 Intelligent Online Appointment Scheduling solution serving businesses of all sizes from the worlds largest retail, banking and technology organizations to thousands of small to midsize businesses.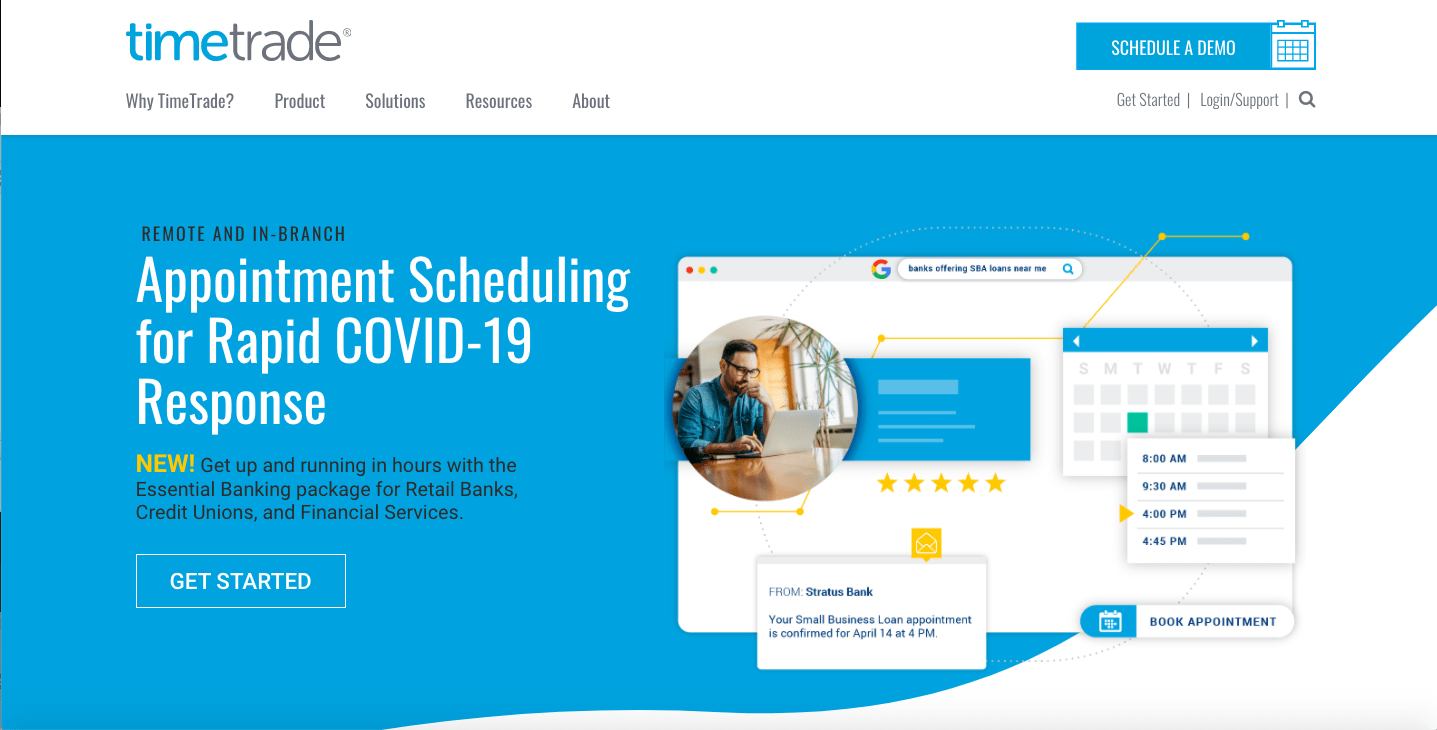 Create and share employee schedules anywhere, any time in any web browser. With drag & drop scheduling, unlimited employees, unlimited access, shift reminders, text messaging and reporting.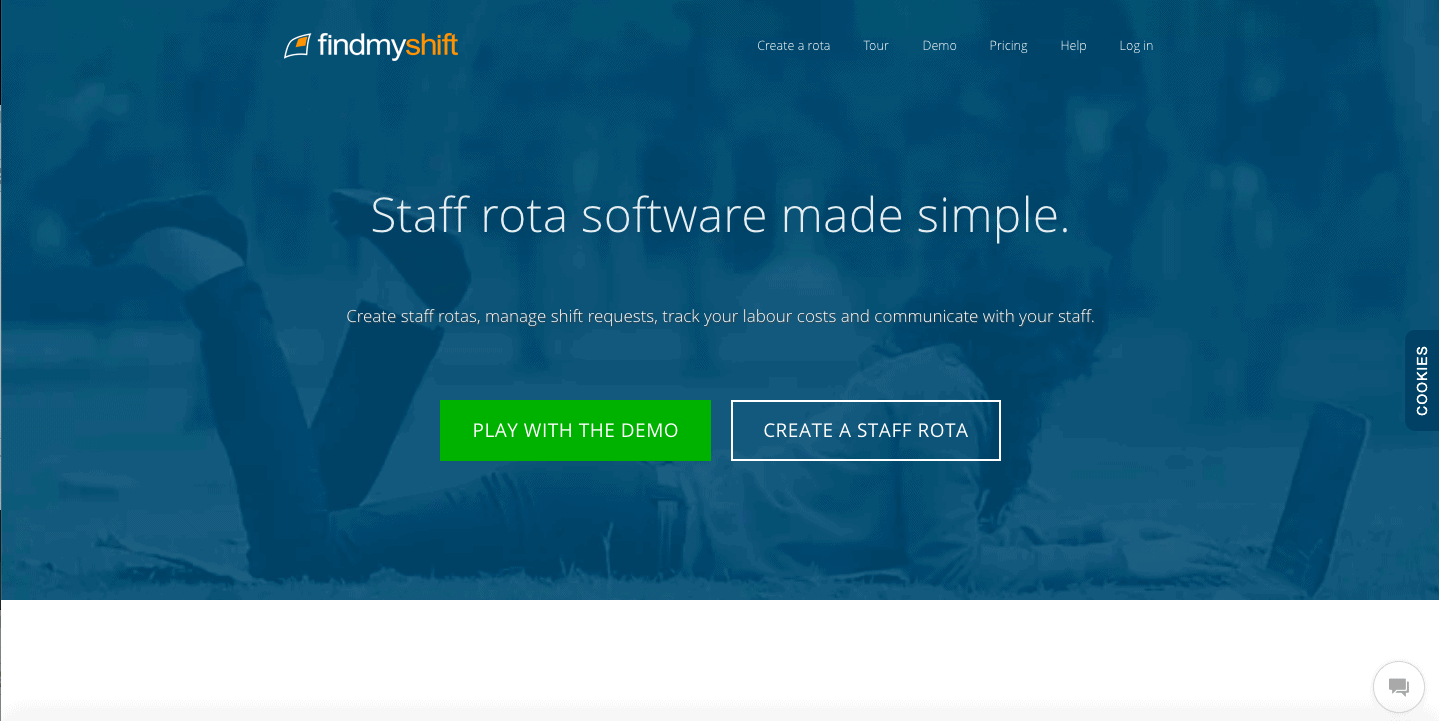 Boost communication with our shared calendar features, website plugins and mobile app. New features include Invite with RSVP, image and file manager, and email subscribers with signup form.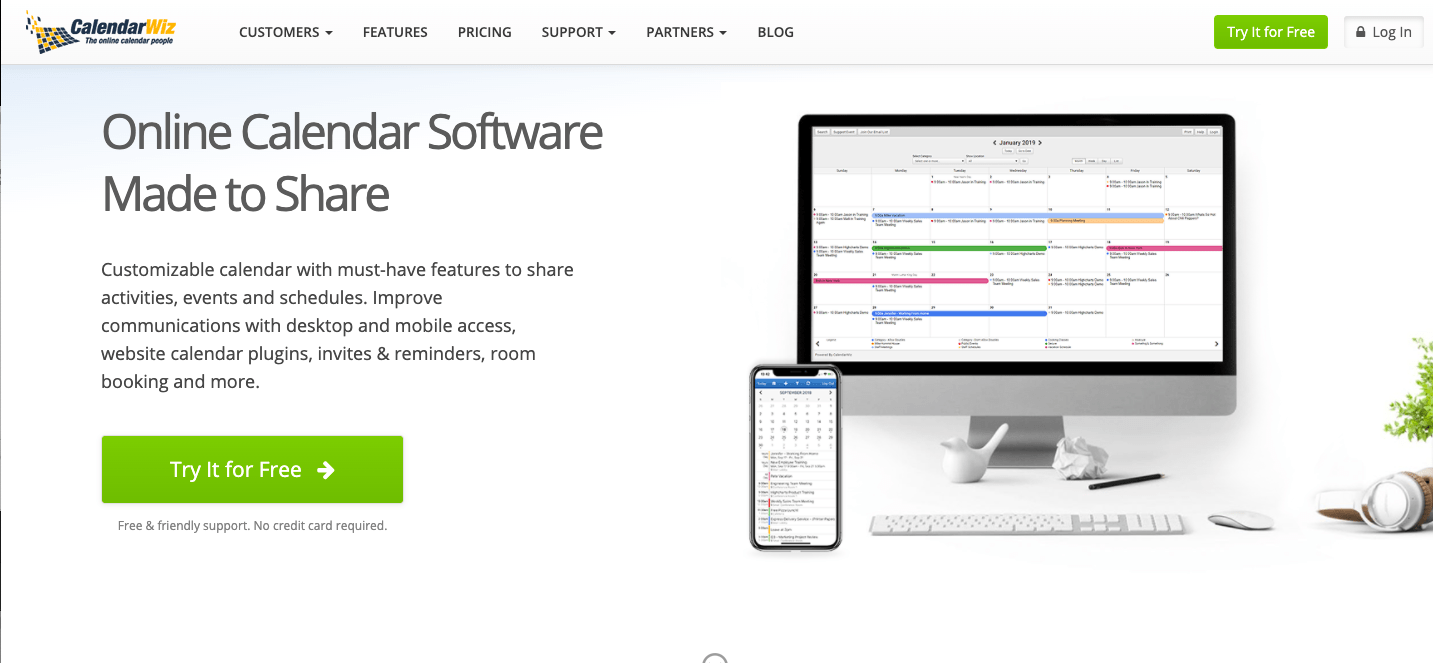 Scheduling platform. Meetingbird's simple interface and powerful integrations make scheduling meetings easy.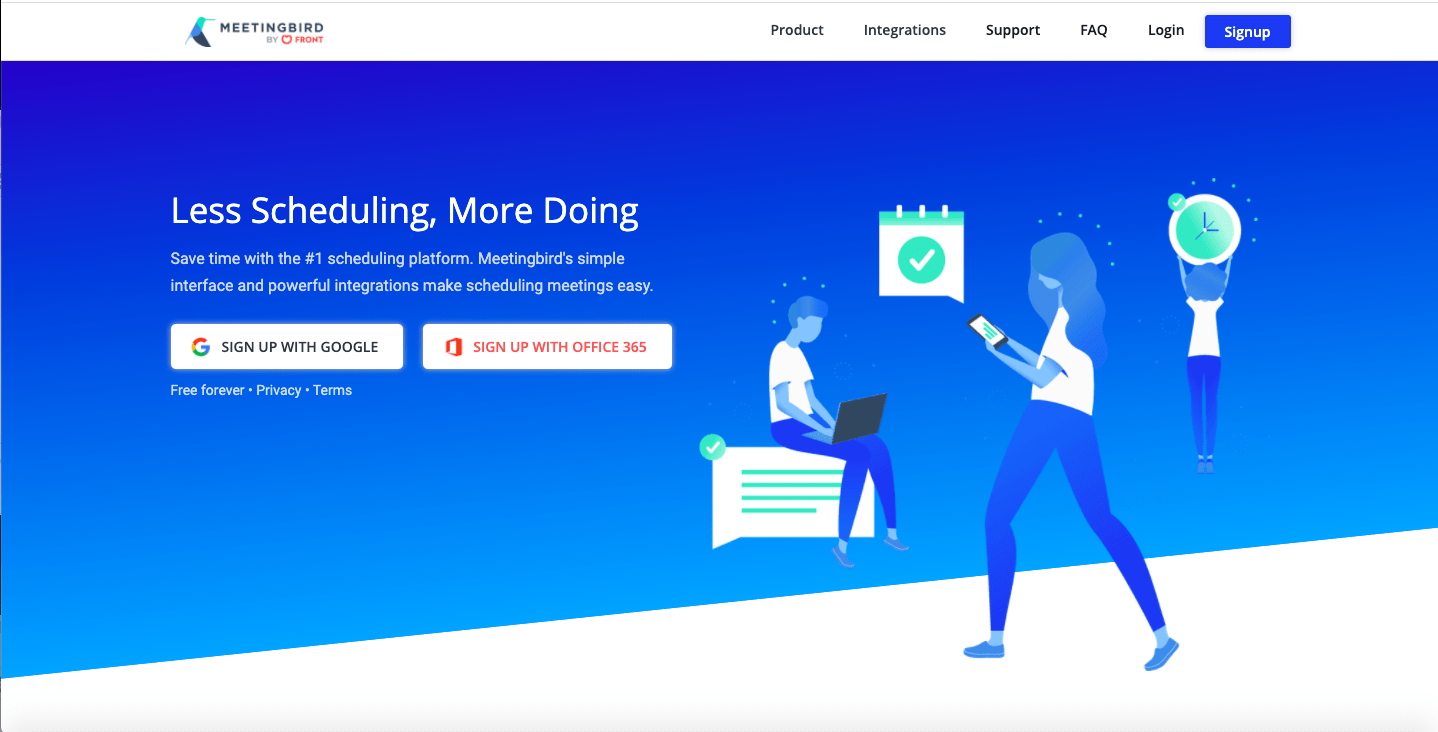 Using a visual time zone converter, Everytimezone allows you to find the exact time difference with your team to schedule meetings easier, no matter where in the world they are located.
Manage mobile workforces efficiently, simplify business processes and optimize costs with Synchroteam field service management (FSM) software for Scheduling.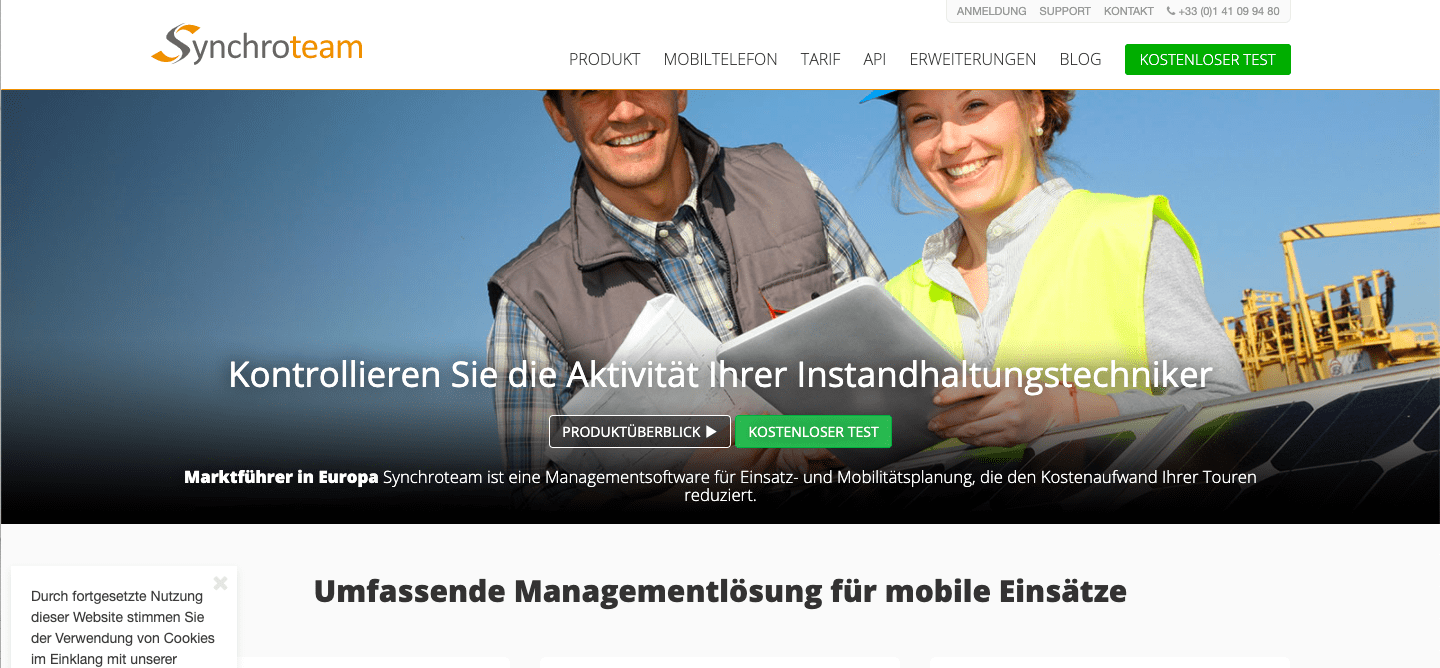 Cogsworth allows you to build a booking page that you can embed in your website, social media or share a link to in your email signature.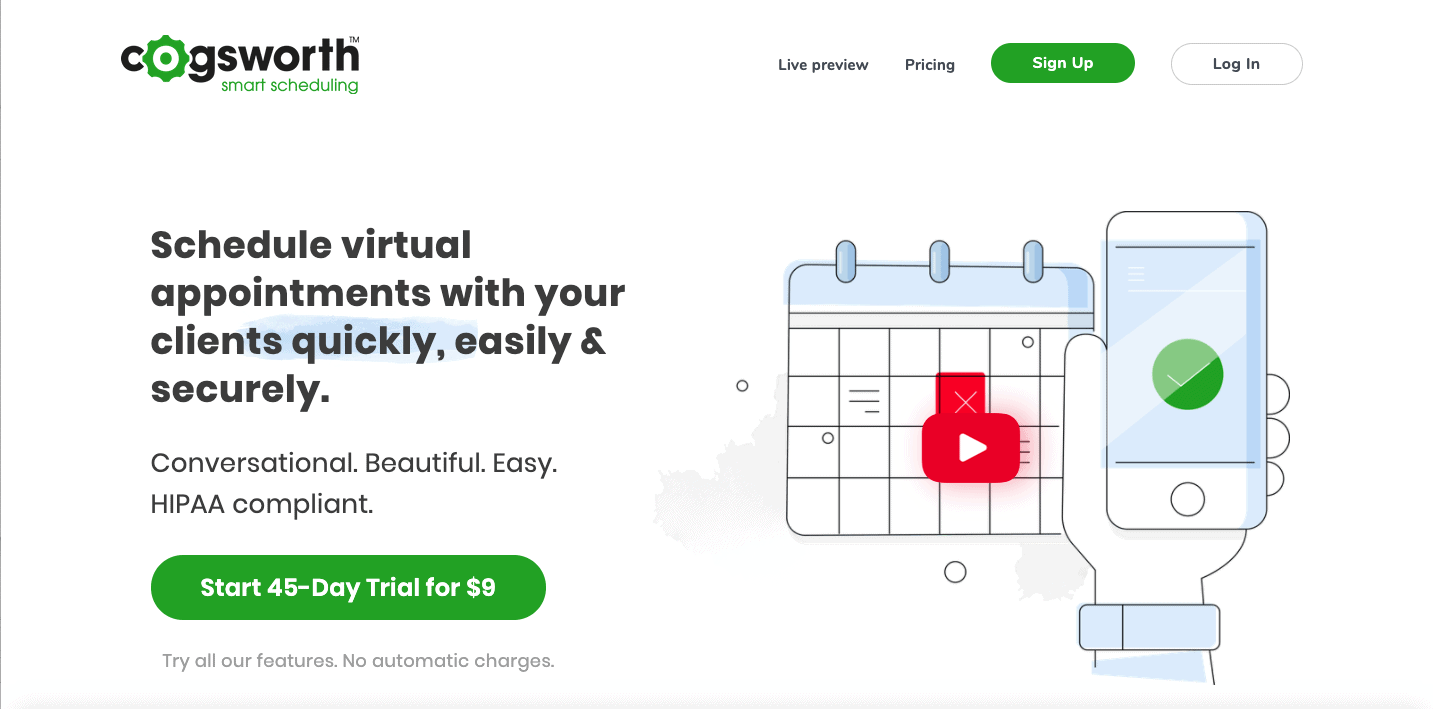 Cloud-based scheduling solution that helps users in small and midsize businesses across various industries such as digital marketing, IT services and digital learning to schedule one-on-one or group meetings with other users.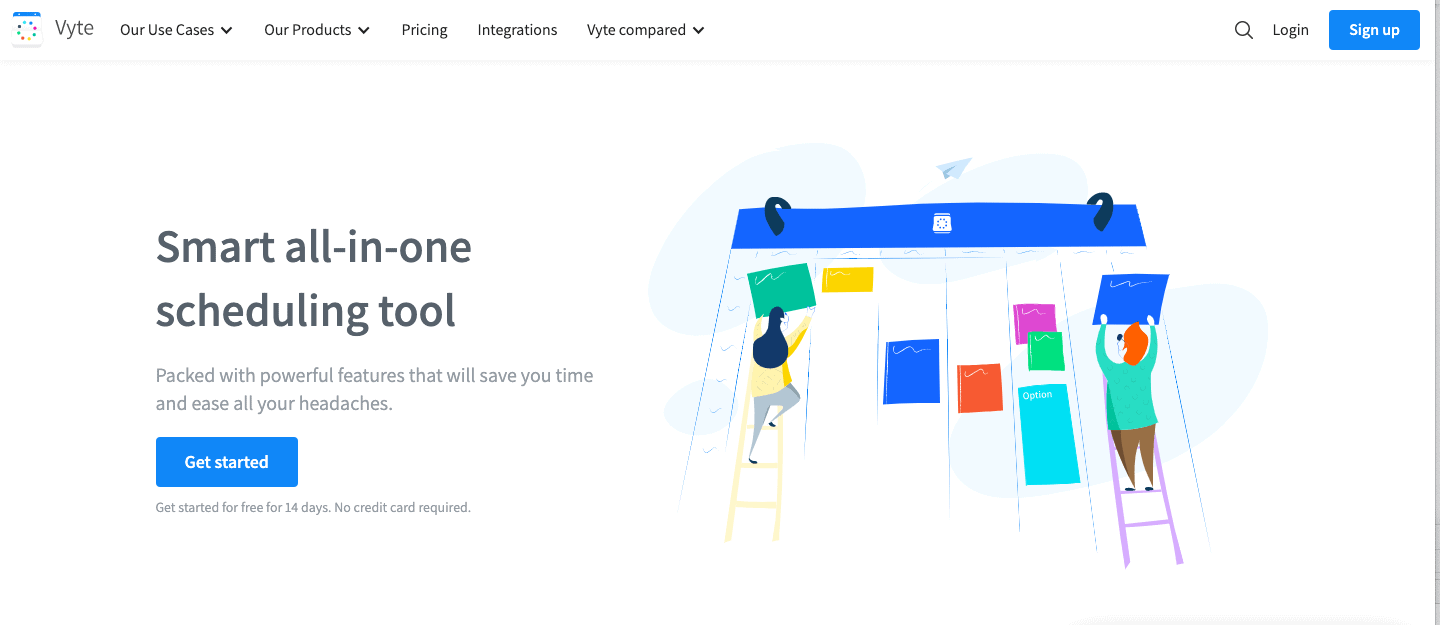 SaaS solution that creates a seamless experience for consultants to manage their client meetings from start to finish with appointment scheduling, video conferencing, and secure payments.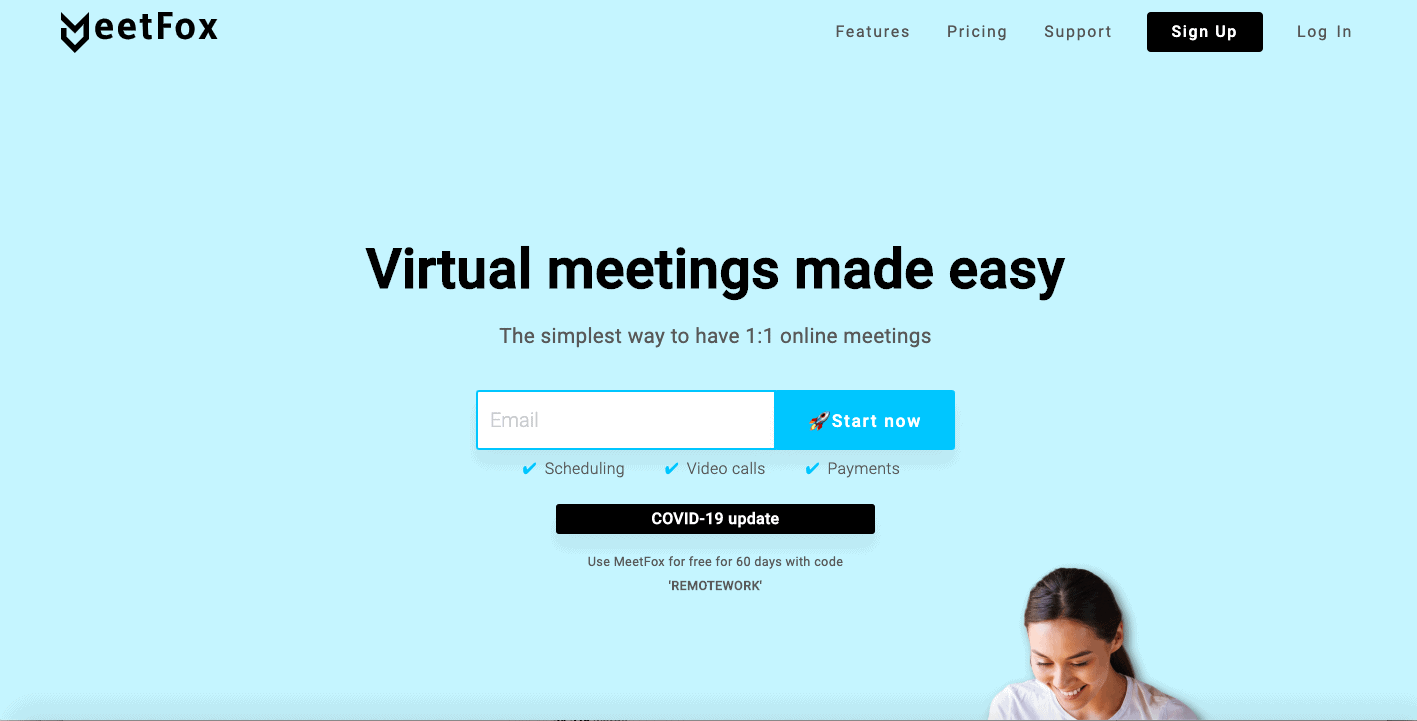 Schedule meetings with your remote team across time zones, instantly and painlessly.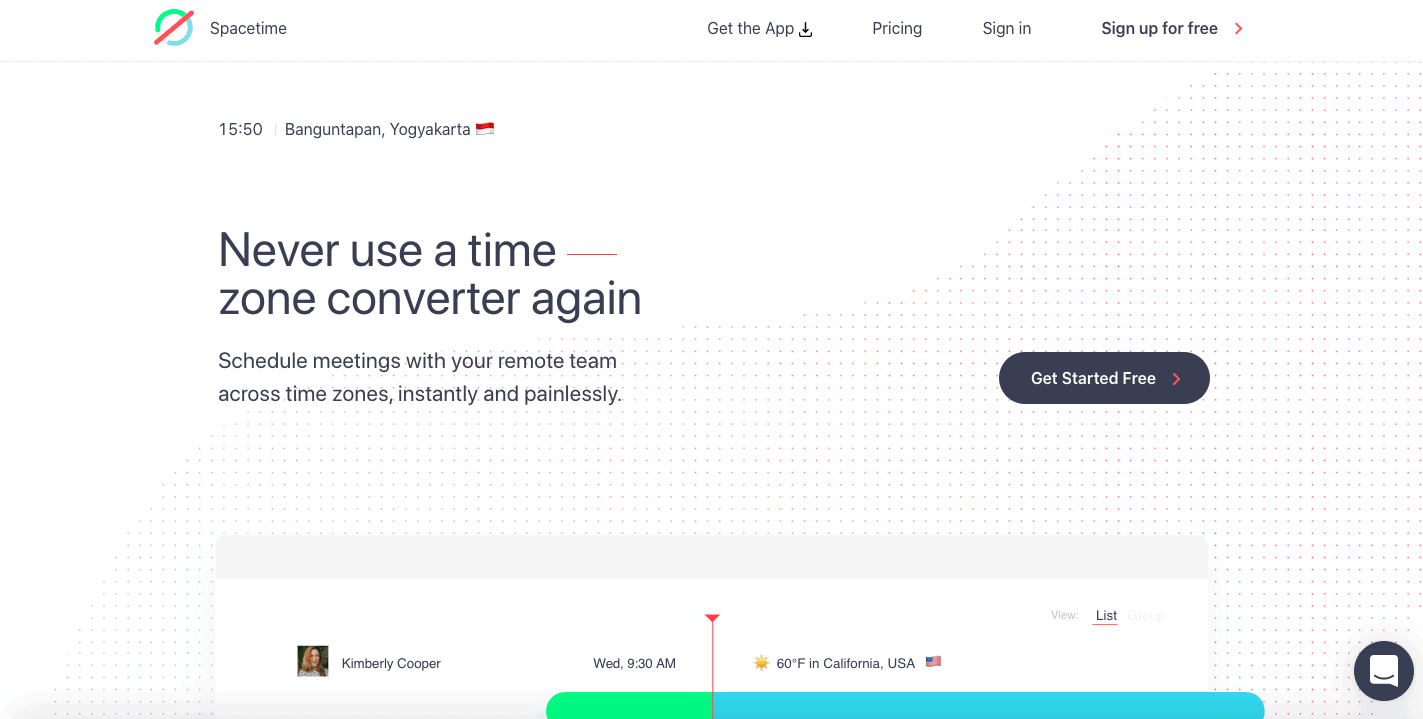 Tool for planning. Schedule your team efficiently, increase profitability and keep everyone in the loop with Teambook.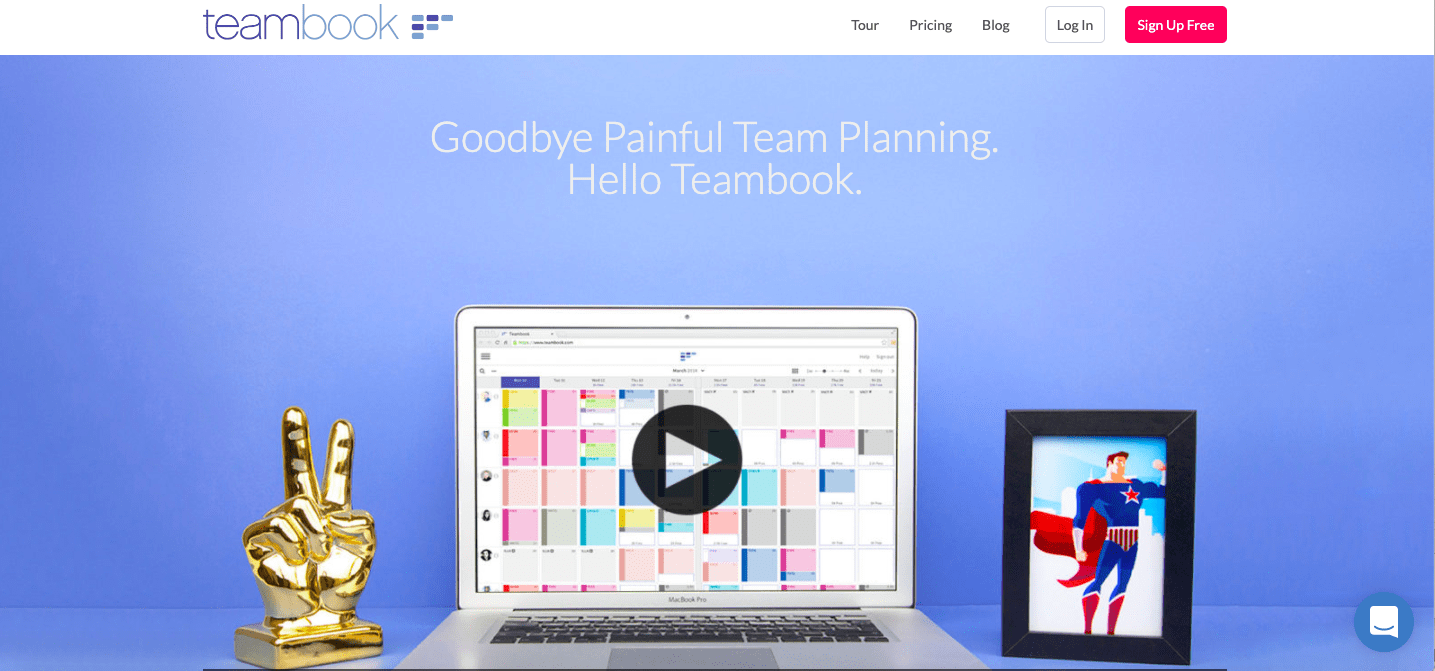 Scheduling solution. Distributed teams, changing business needs, and complex dynamics are redefining the workday. Happy Tools makes it possible for your office to run smoothly, no matter what it looks like or who makes it go.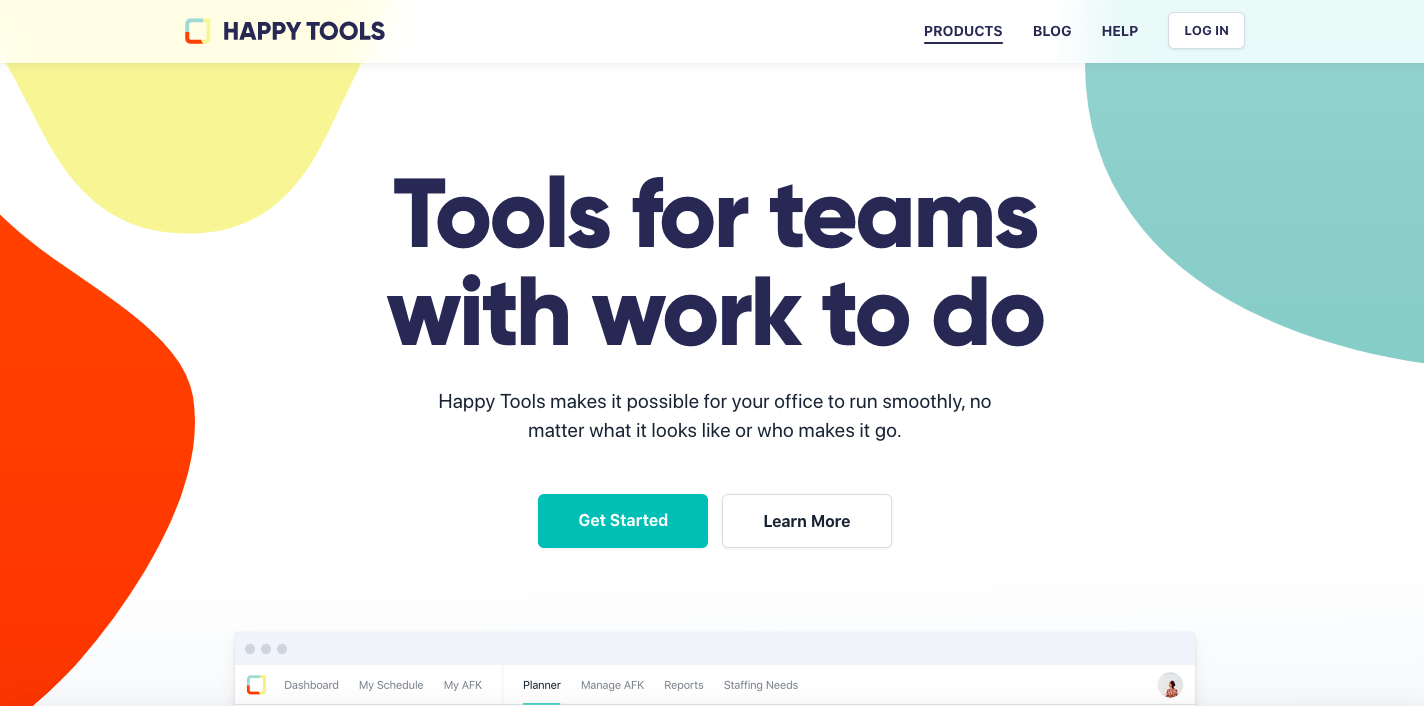 Smoopit
Smoopit helps you schedule meetings without the extra effort of checking your availability or back-and-forth emails.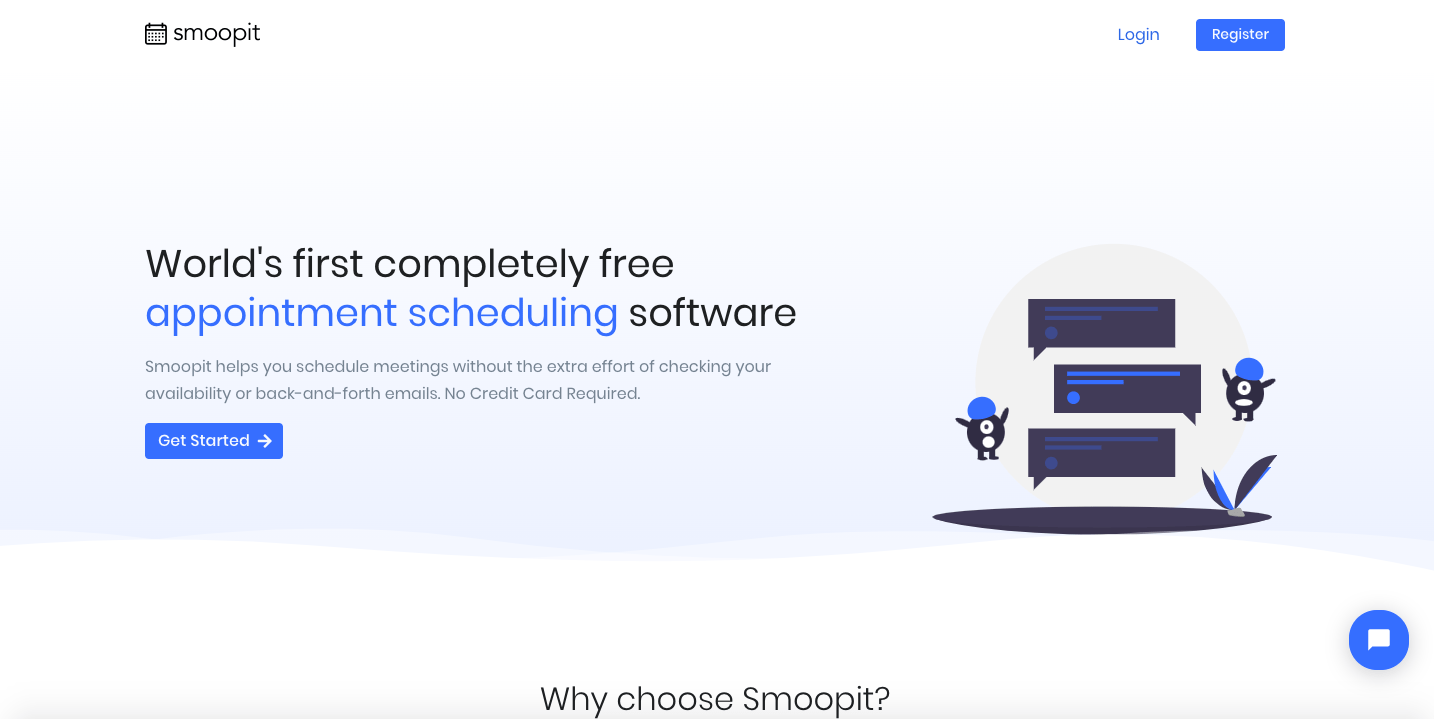 Pick takes the back and forth out of getting people together to do the things they want to do. It compares calendars, suggests times and books events so that more of what you'd like to happen, actually happens.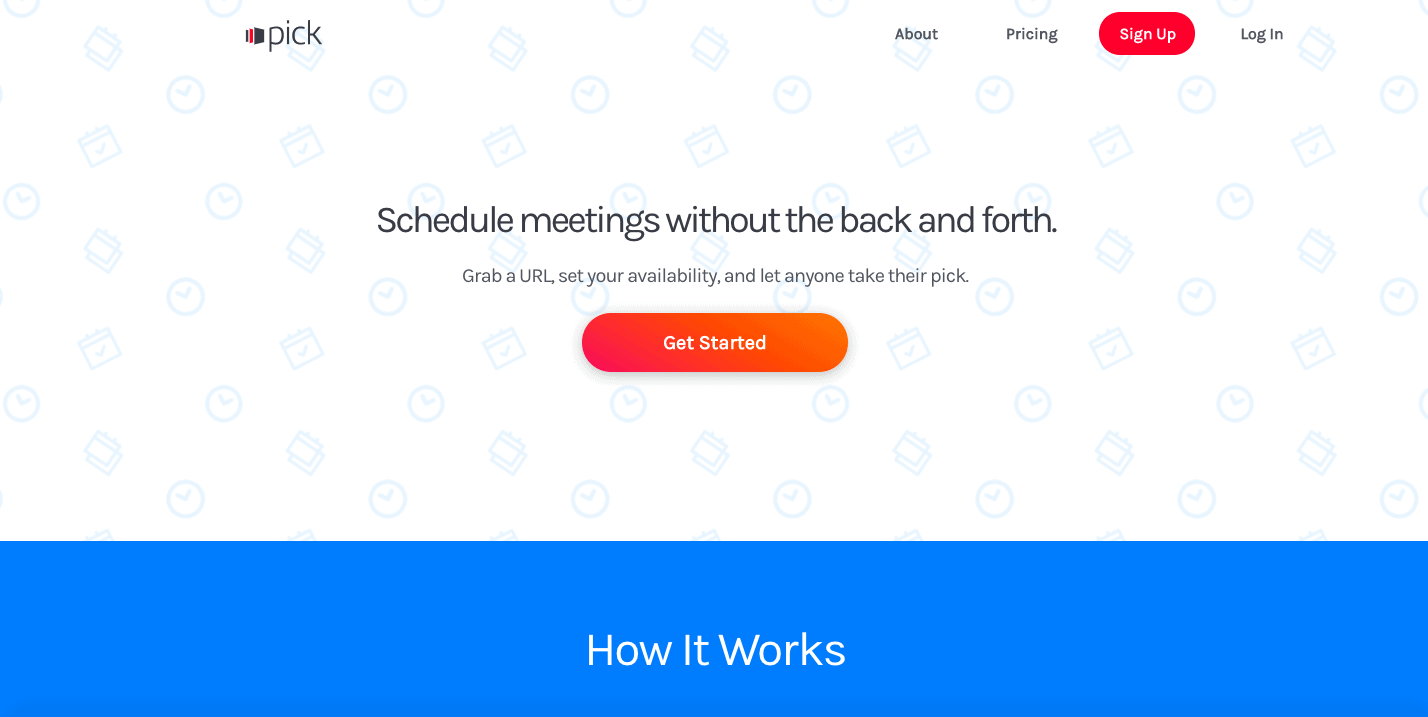 Make beautiful boards, documents, and webpages that are easy to read and fun to contribute to.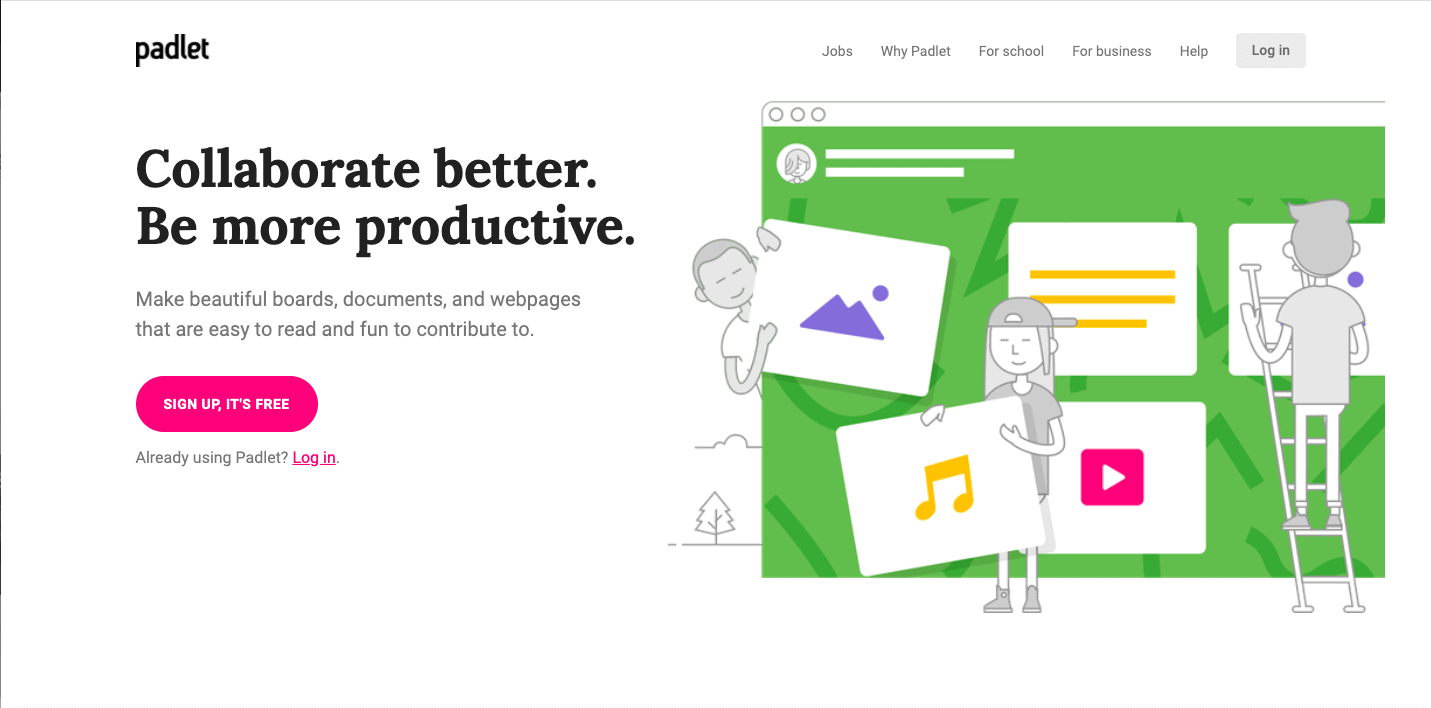 Proprietary remote desktop tool. The software program provides remote access to personal computers running the host application, which can be installed on Windows, macOS, Linux and FreeBSD.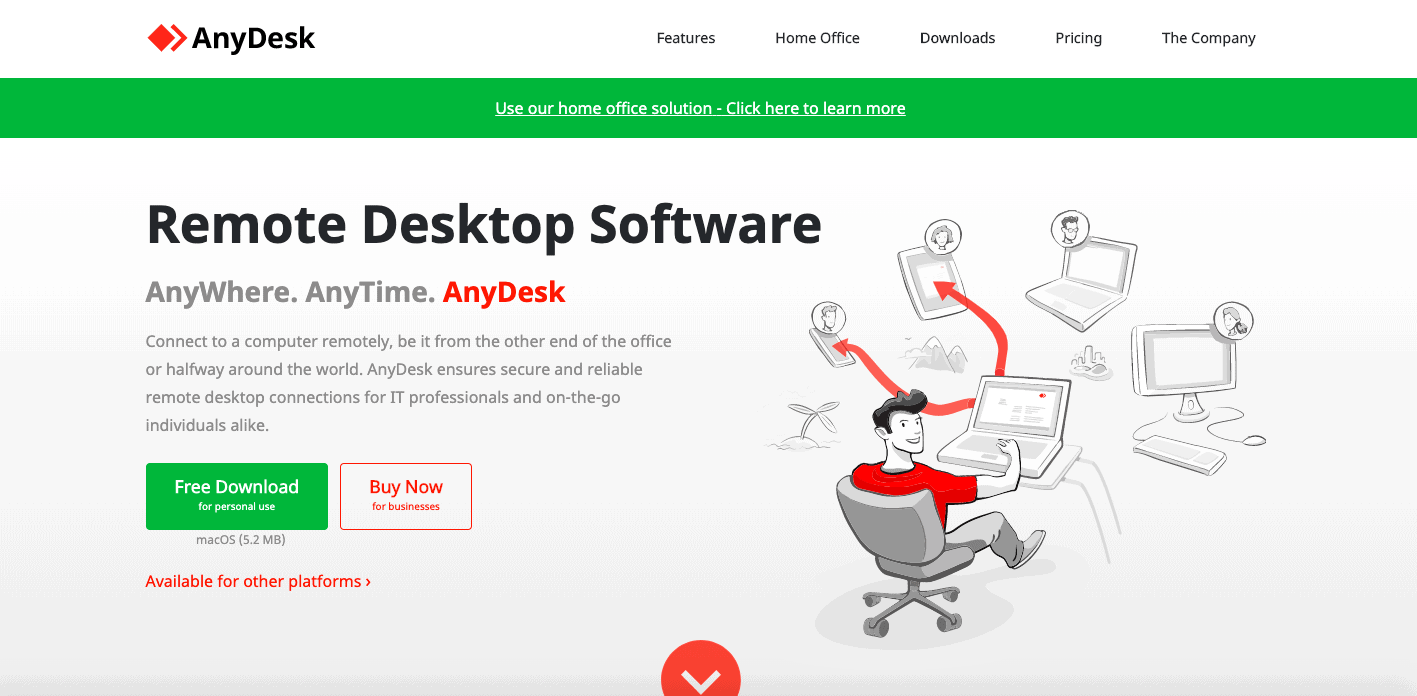 Lucidchart is a graphical collaboration tool for quick drawing of diagrams. A free 14-day trial version is available.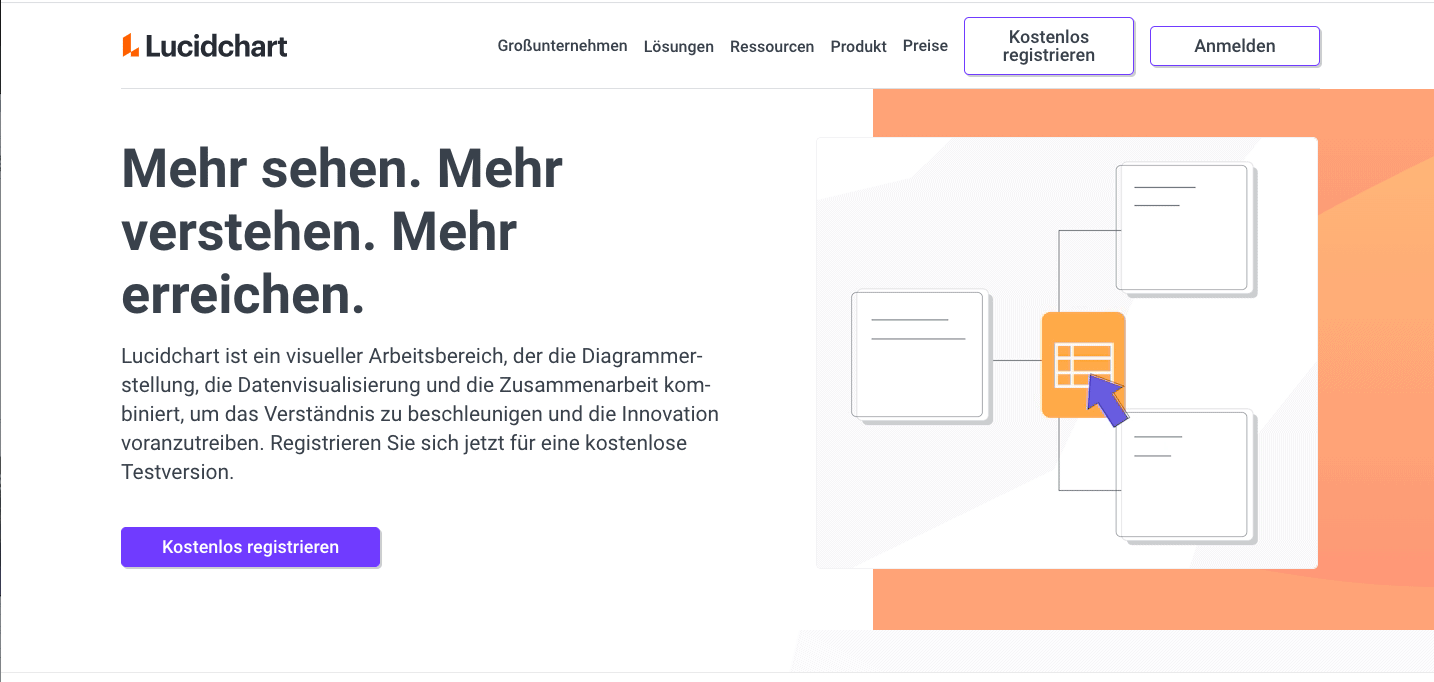 Mind Mapping framework, infinite canvas, whiteboarding platform, templates and integrations to capture, organize, and discuss your ideas in a quick and easiest way together with your team.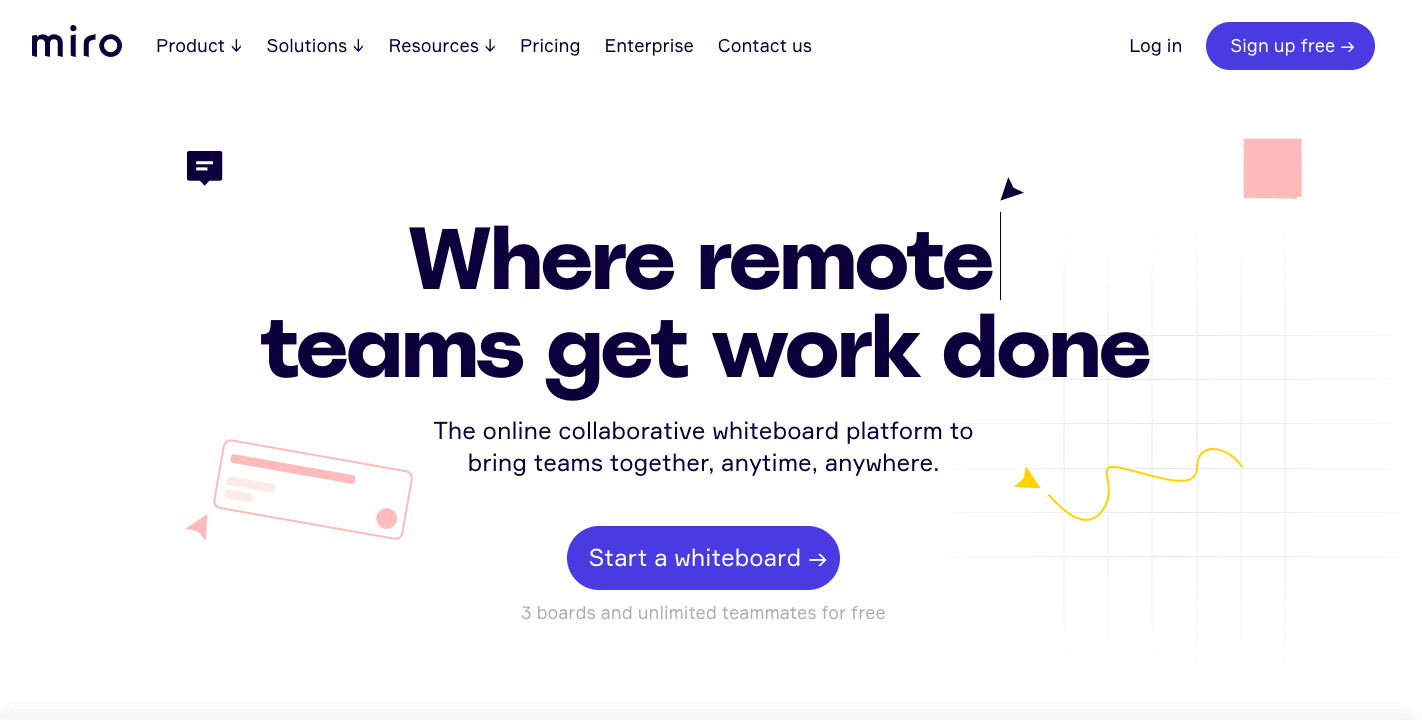 Mind mapping solution for understanding and sharing complex information for small businessess. Coggle offers a free version, but not a free trial version. The paid version of Coggle is available from $50.00.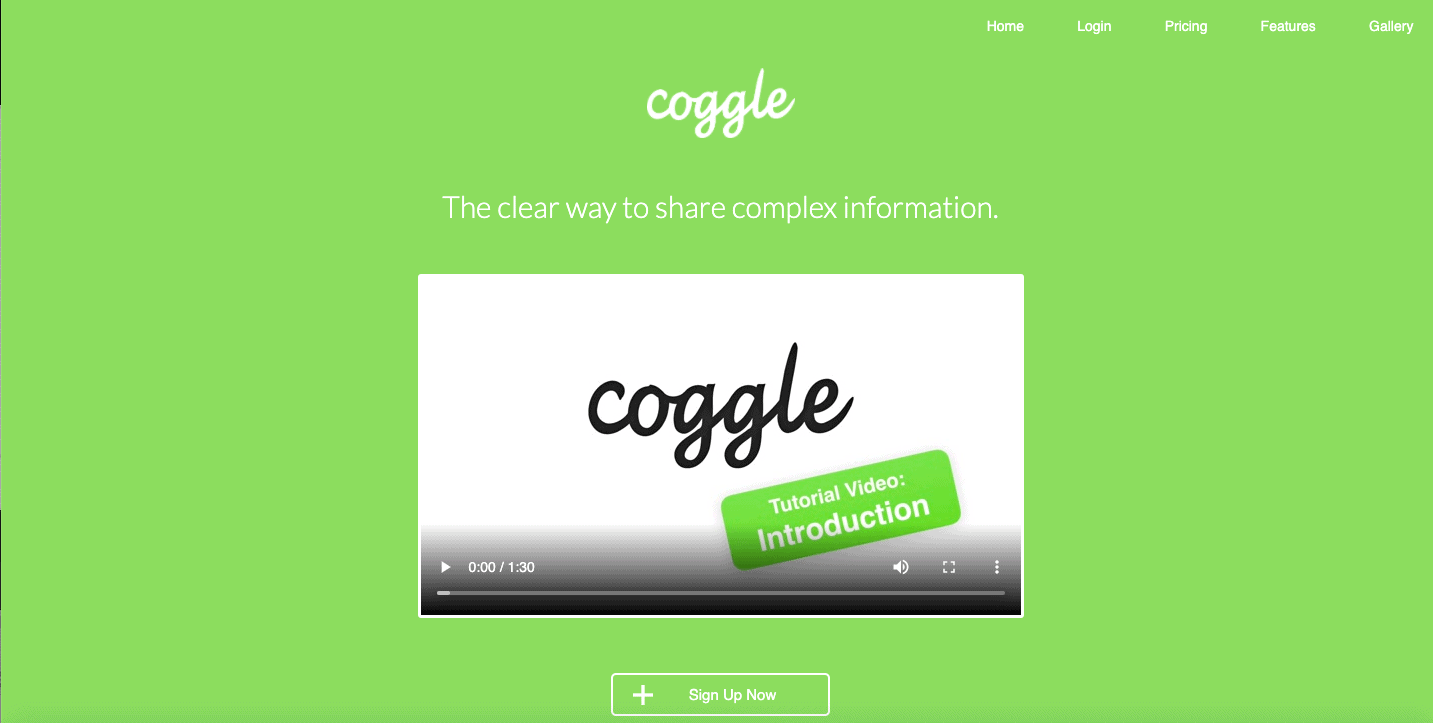 Screen recorder. Record, edit and share HD videos in seconds.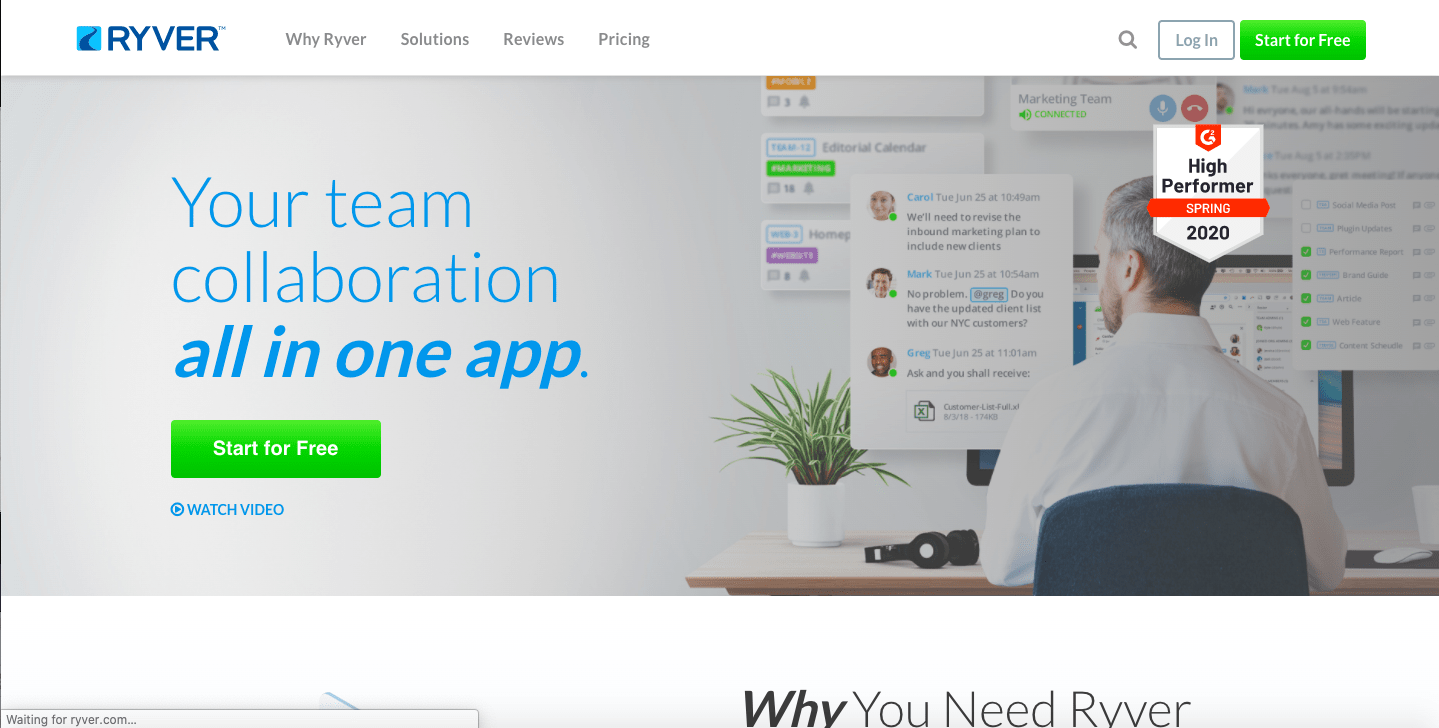 Free online mind mapping. The most productive online mind map canvas on the Web which supports Freemind mindmap import/export.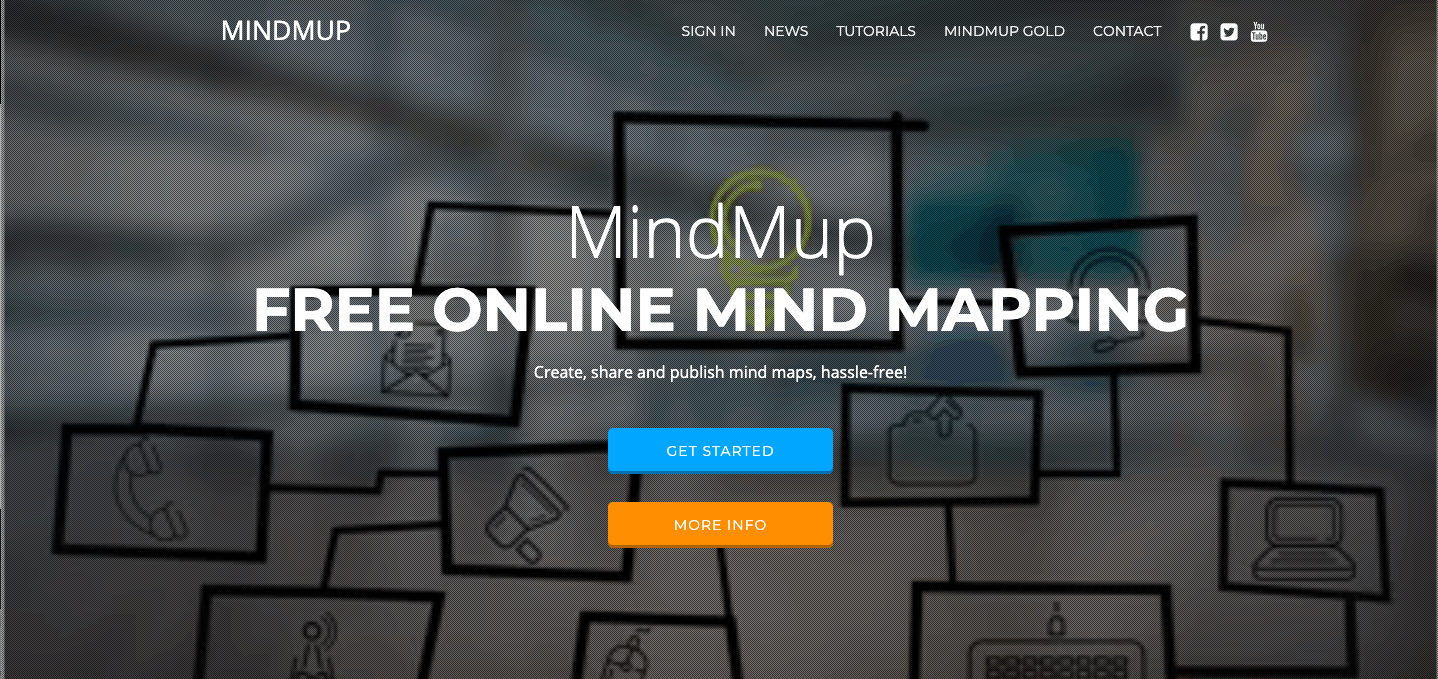 MindMeister is an online mind-mapping tool that allows you to visualize, create and share ideas with others.
MindMeister is completely web-based. The package costs 4.99 Euro per month. Teams must pay 8.25 Euro per user and month for a pro account.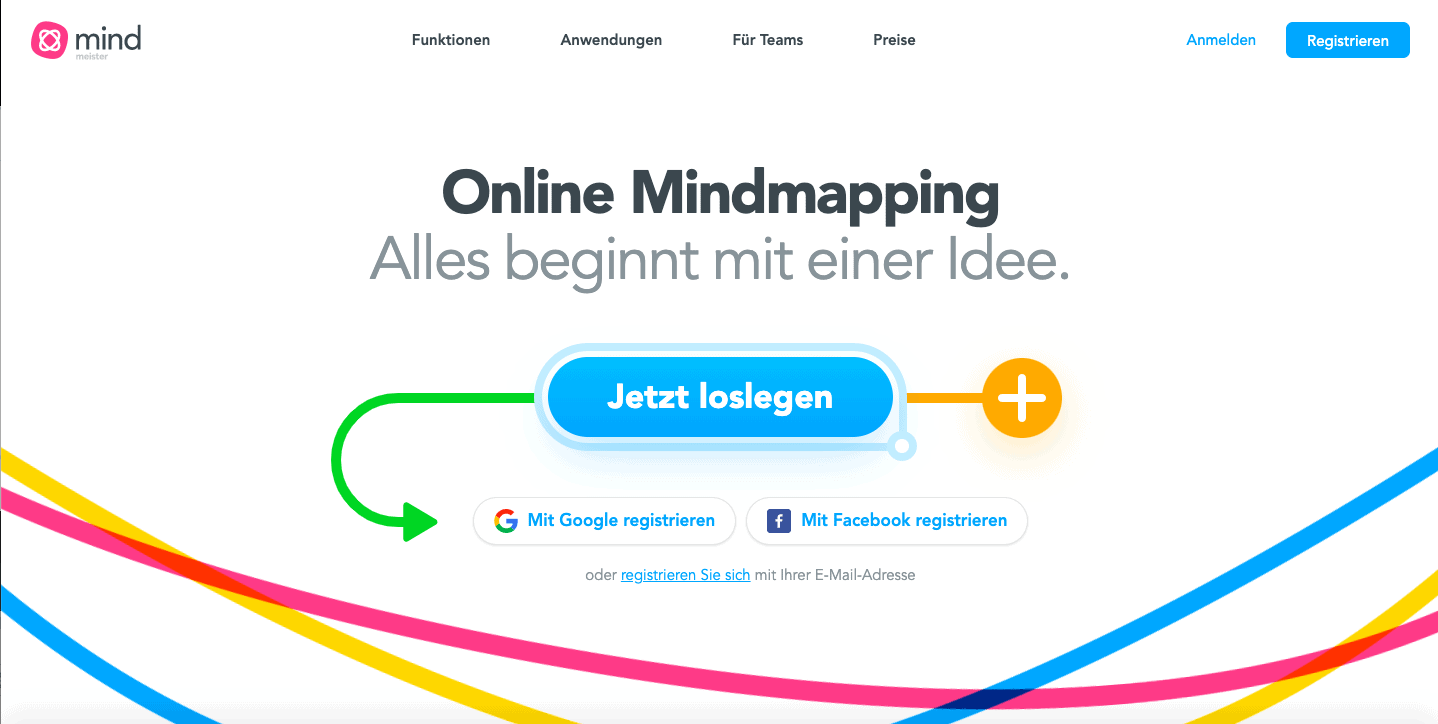 Enterprise and team collaboration social networking platform. Rocket.Chat is the leading open source team chat software solution. Free, unlimited and completely customizable with on-premises and SaaS cloud hosting.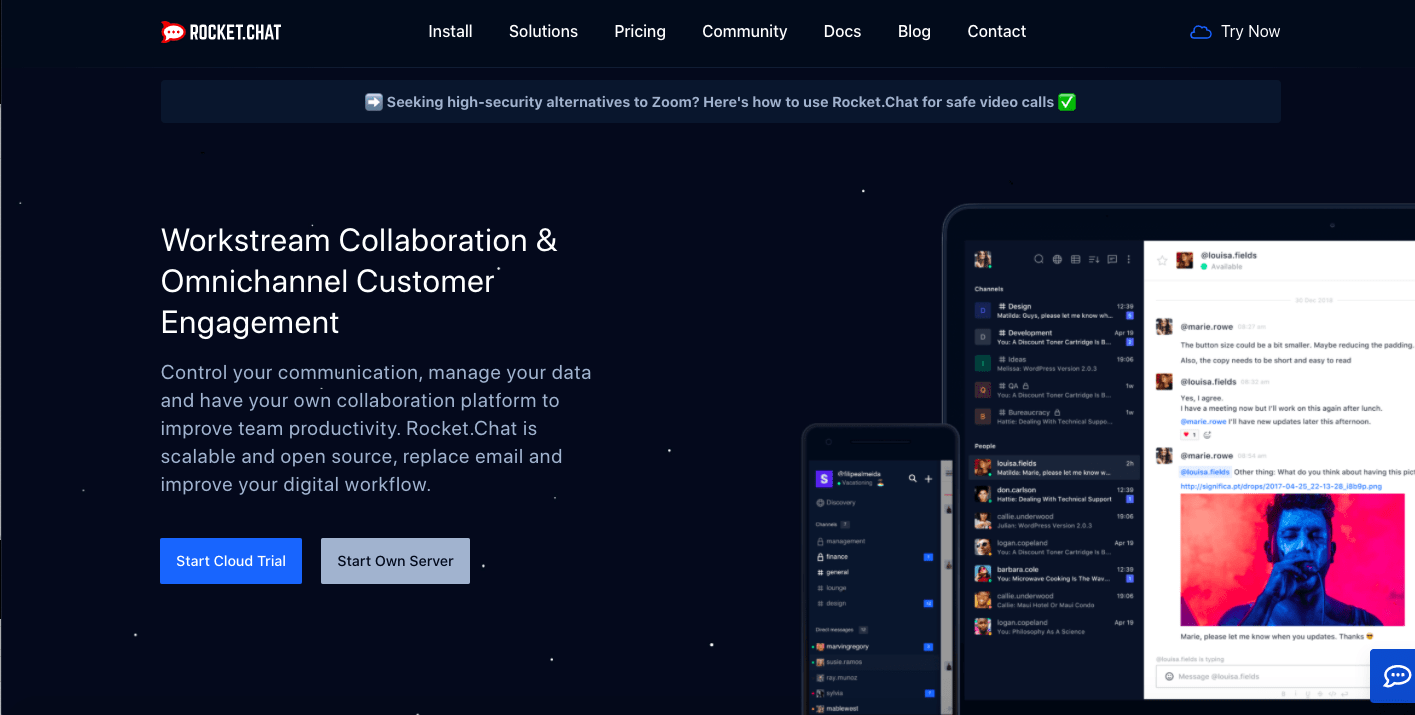 A Mind mapping software to clarify thinking, manage complex information, run brainstorming and get work structured and organized.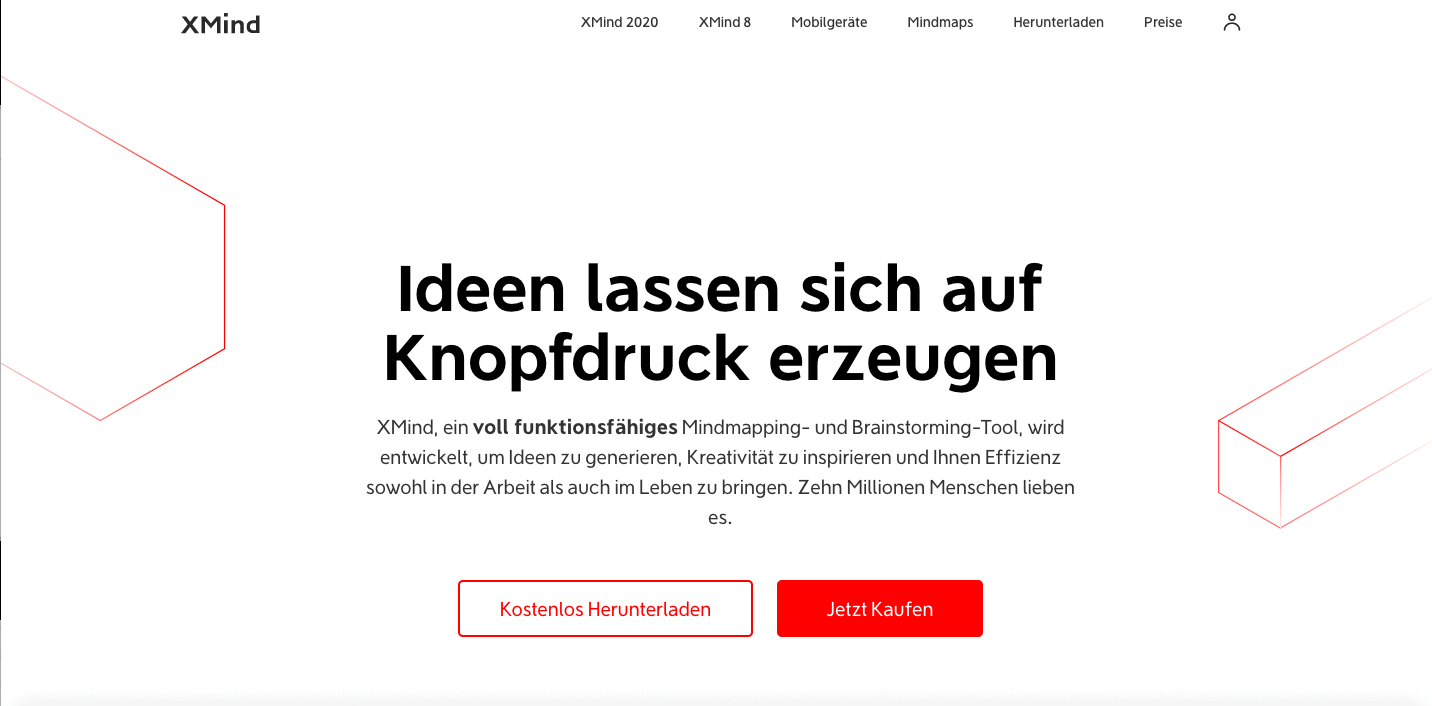 Free-to-use, interactive presentation platform that allows real-time interaction between presenters and their audiences.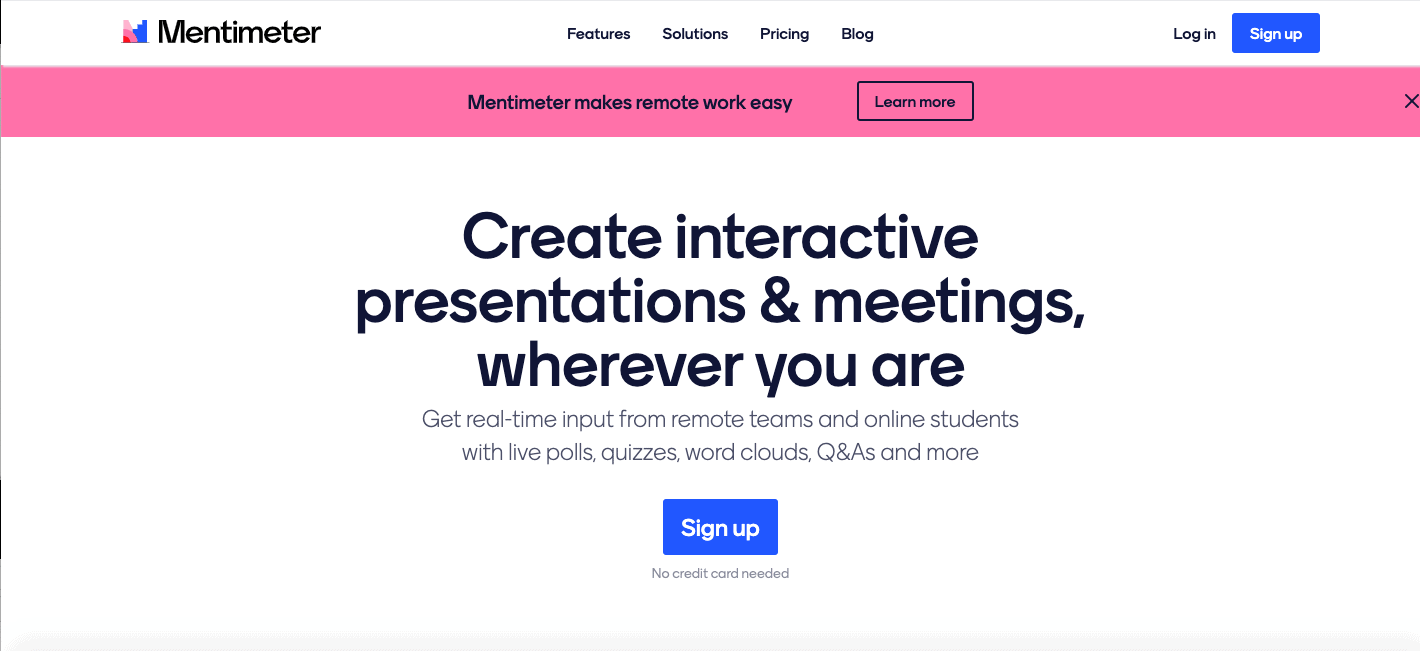 Slido is the ultimate Q&A and polling platform for meetings and events. It offers interactive Q&A, live polls and insights about your audience.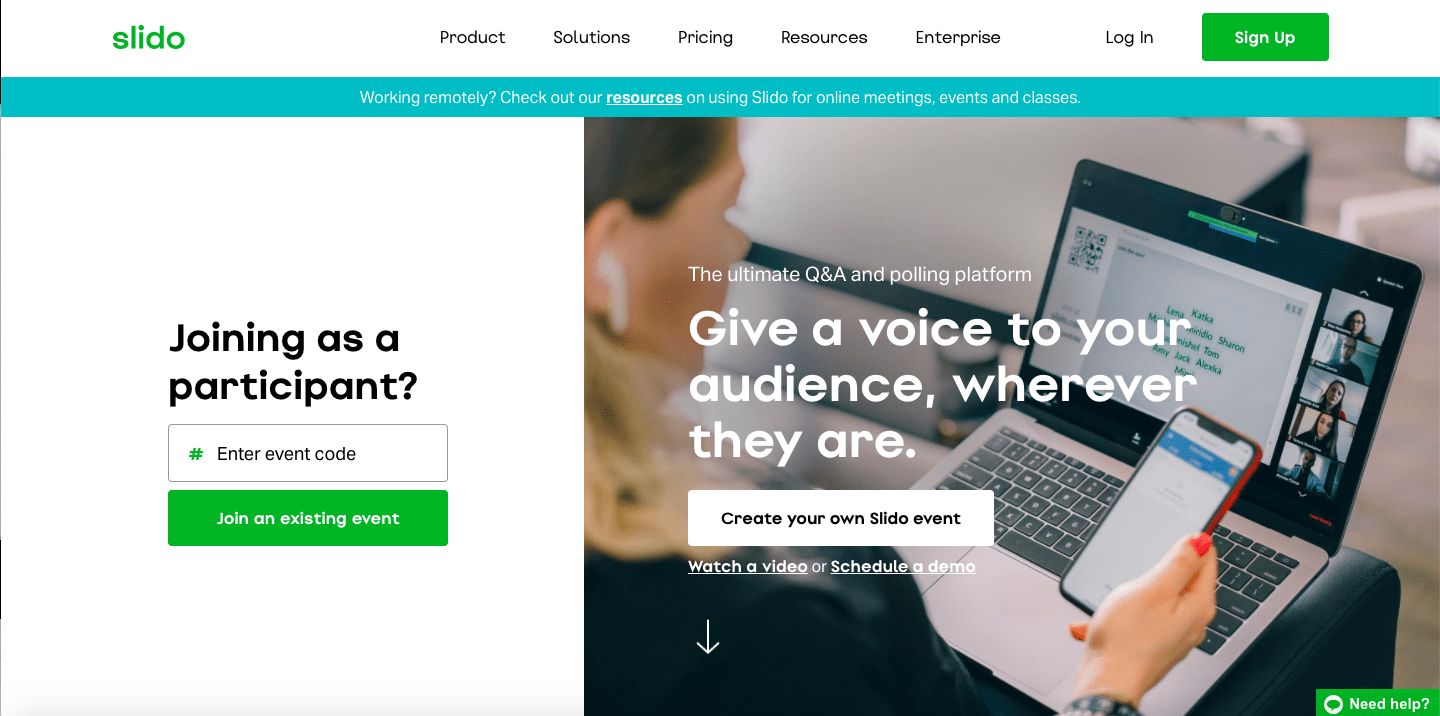 CloudApp is an instant video, image, and screen capture platform for professionals.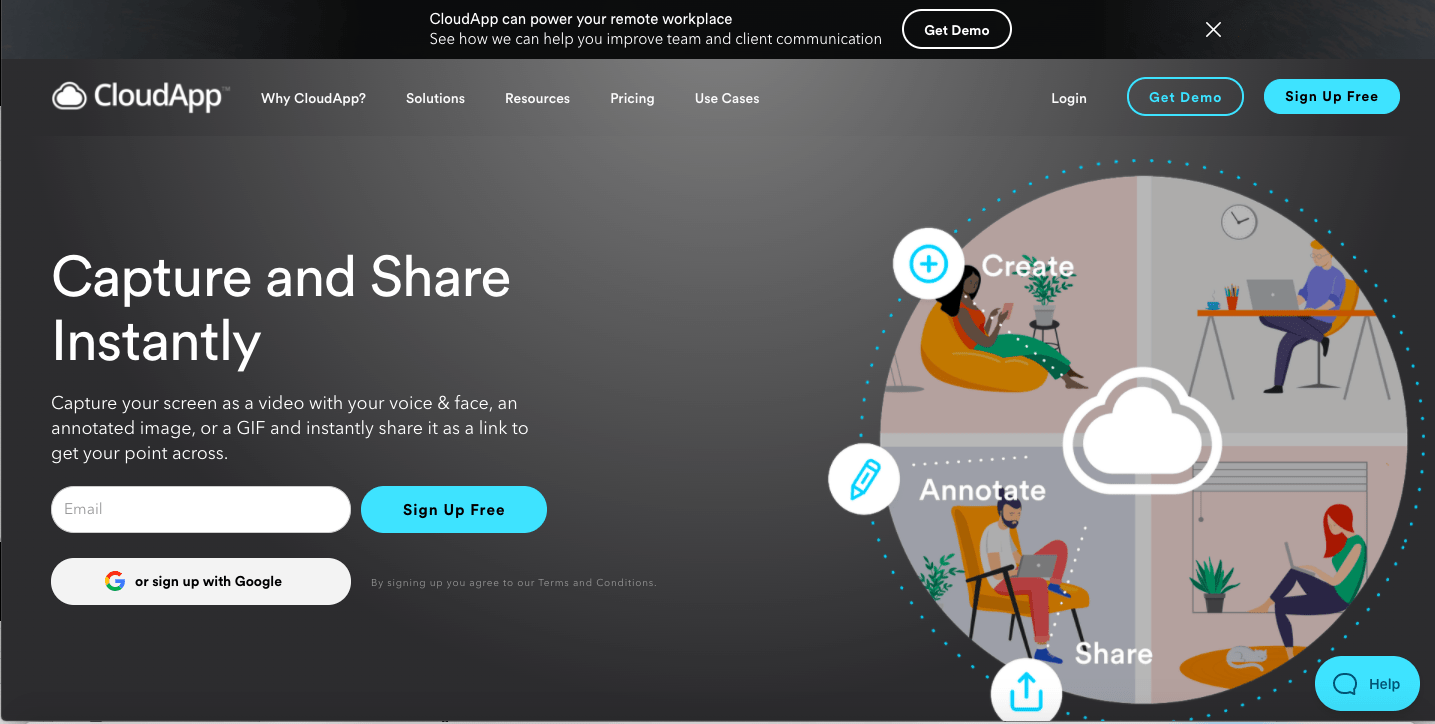 Tool to organize your ideas and projects into visual boards. Creative canvas for ideation, research, collaboration and everyday notetaking.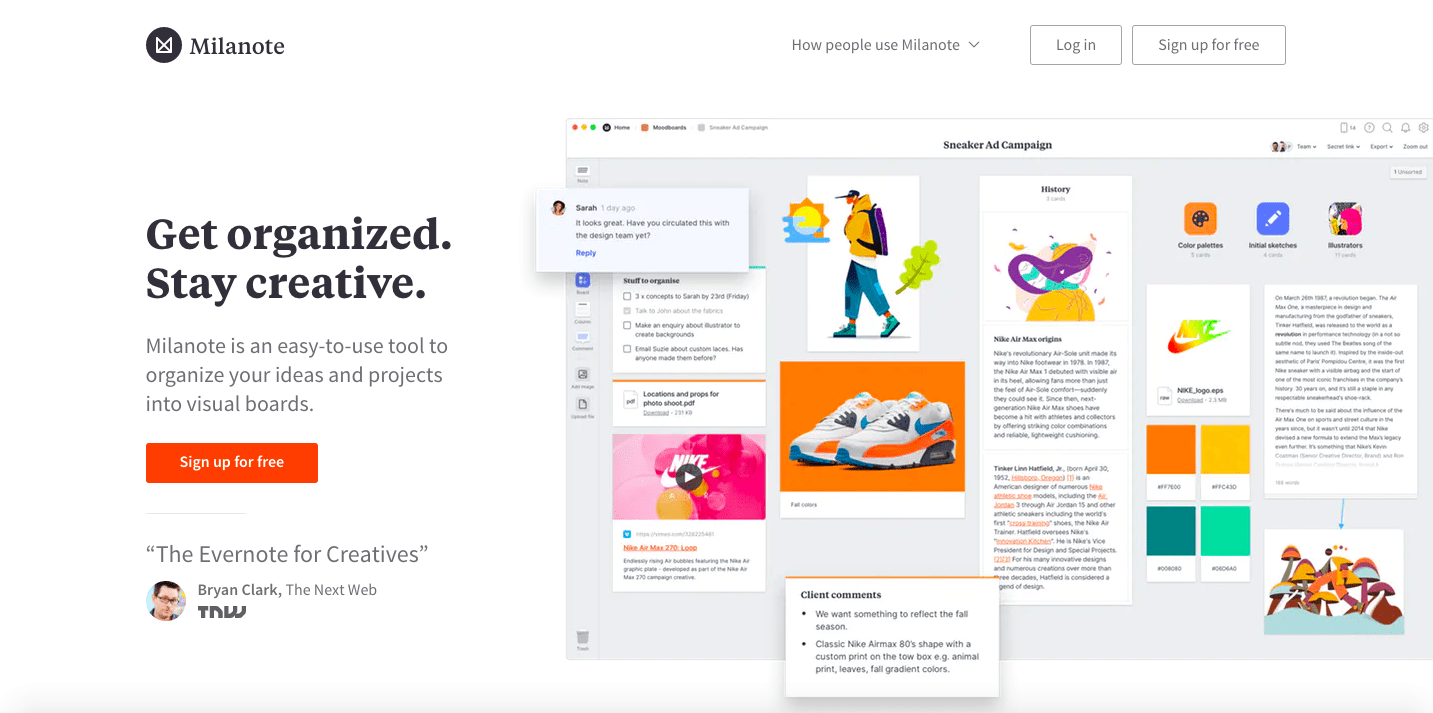 Productboard is a cloud-based product management and roadmap solution that helps product teams understand user needs, prioritize feature ideas, monitor progress, and more (getapp.de).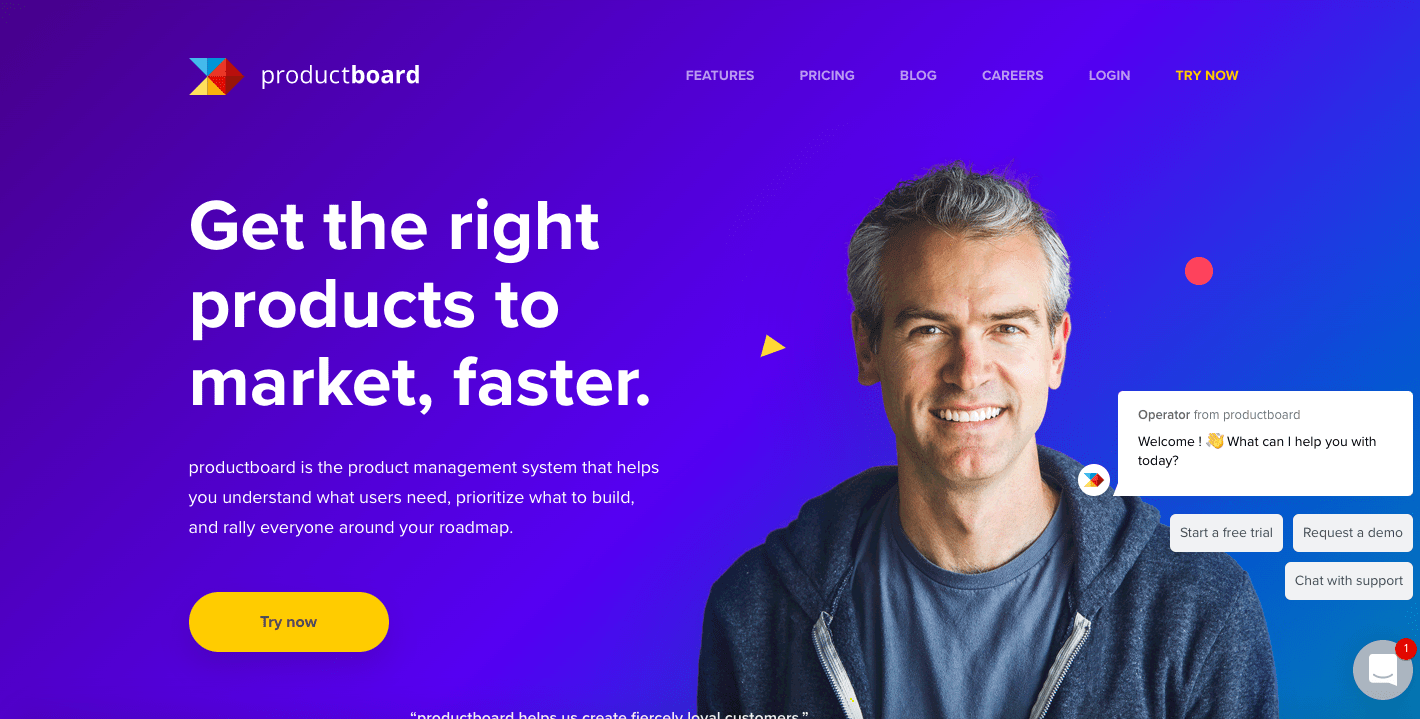 Splashtop Remote Support is a remote support solution for IT and support teams that enables users to provide remote access and remote assistance to client computers.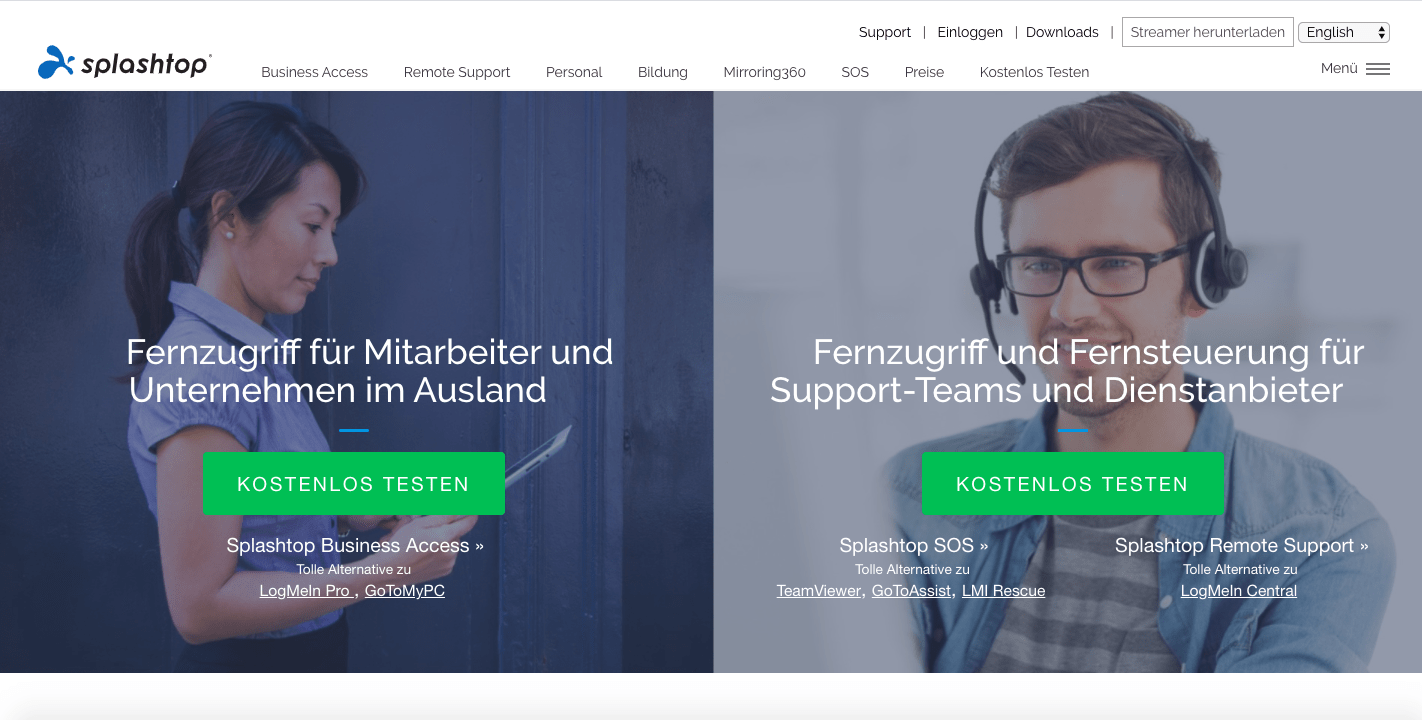 Mural is a collaboration tool that supports companies in planning, designing, brainstorming and analyzing ideas as well as creating user-defined workflows to optimize decision-making processes across teams. The platform enables organizations to store documents in a central, AES-256 encrypted repository and securely share data with team members.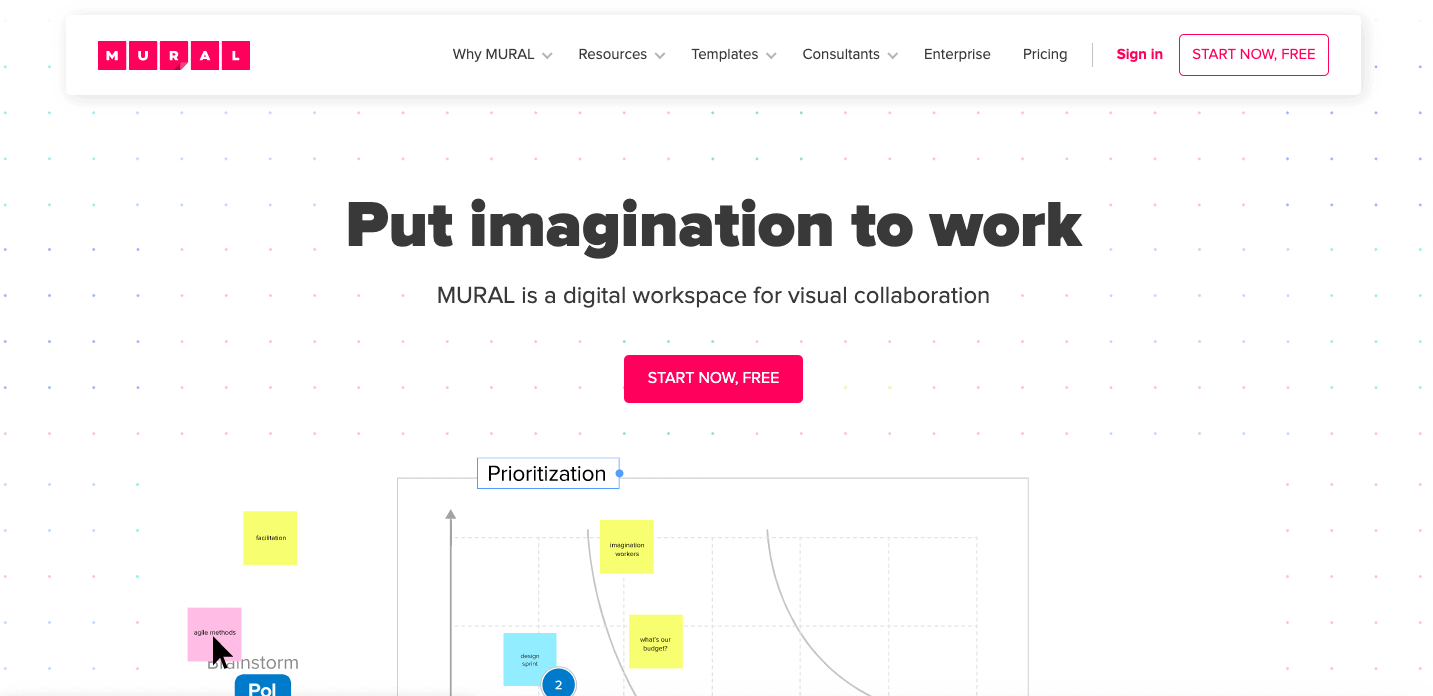 Organize and share knowledge in teams. Users can create real-time collaborative documents and connect them instantly like a wiki. Use the tree, board, and graph view to explore and organize your knowledge visually.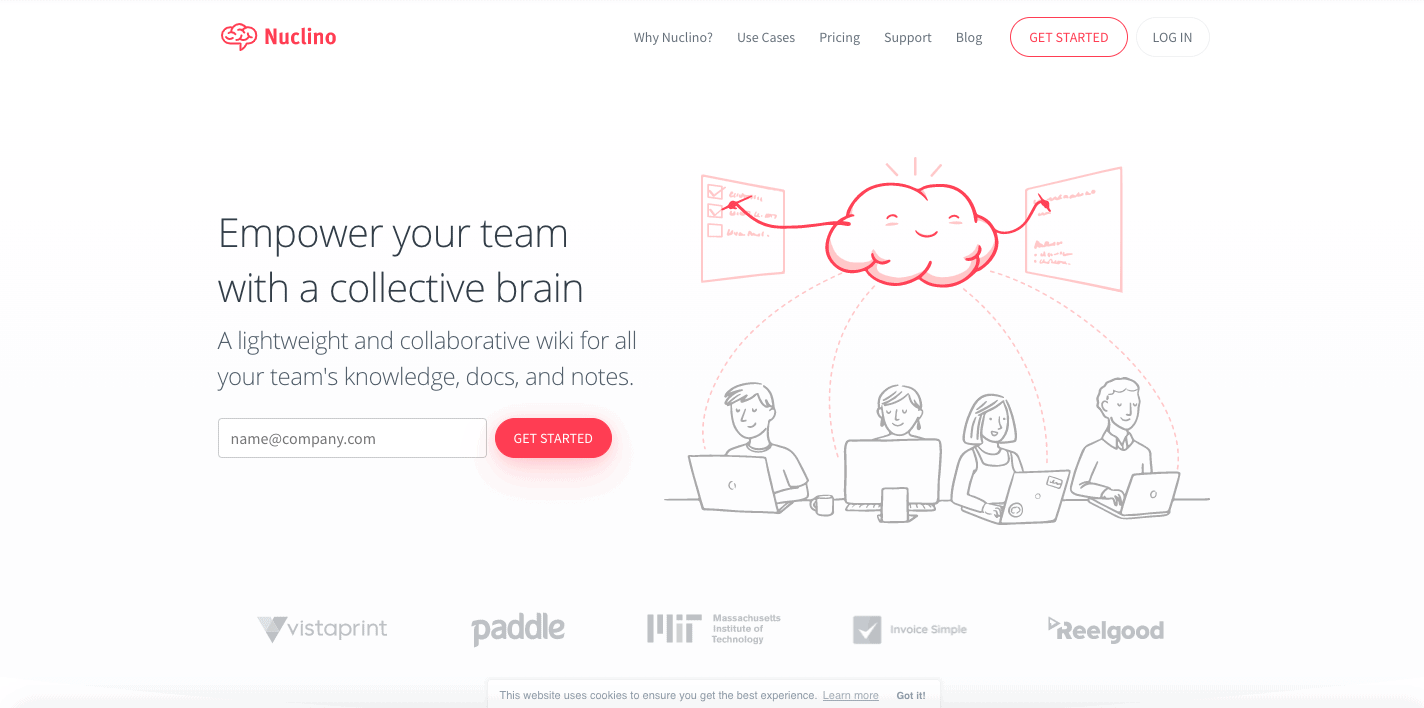 Collaborative project management tool that allows users to easily plan and organize tasks easily in a tree-like structure.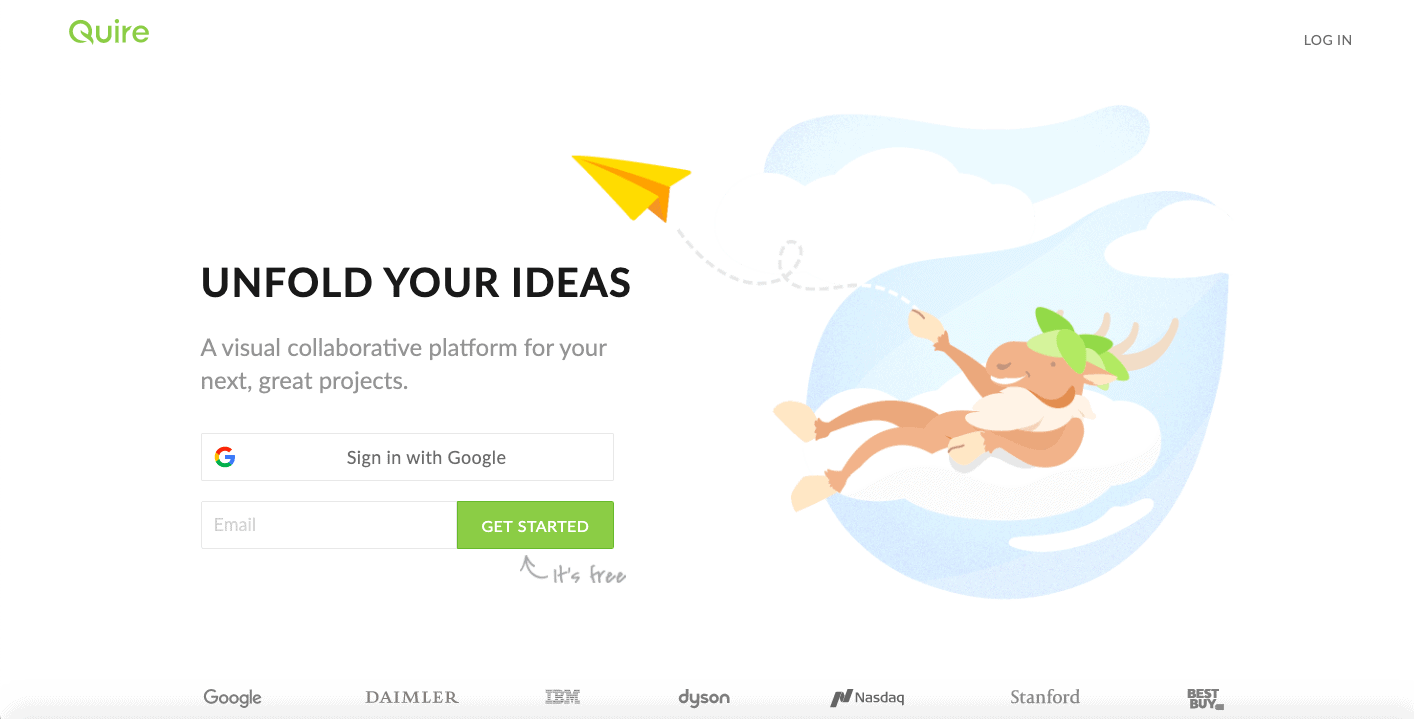 Gliffy allows you to create any type of online diagram, such as flow and other diagrams, floor plans, technical drawings, which can then be shared and edited.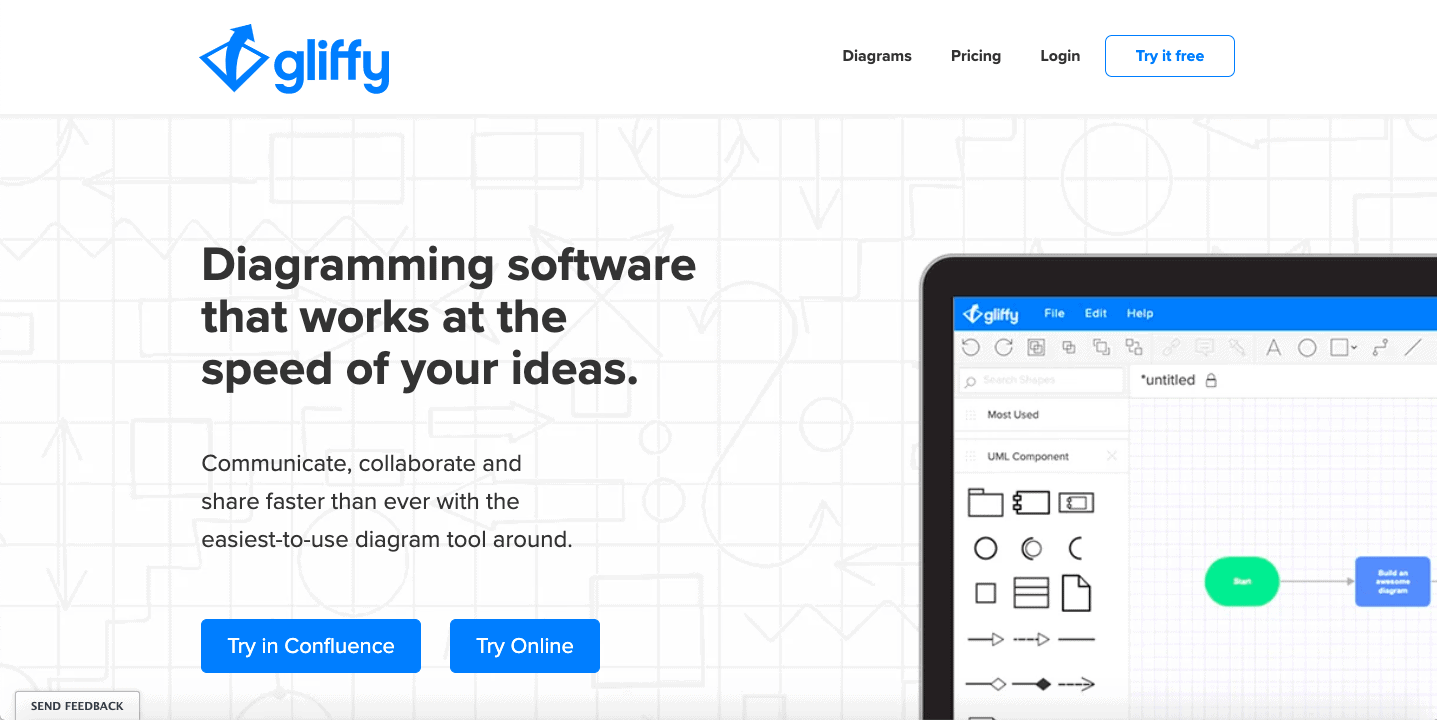 A private, hybrid and public cloud solution that offers secure, configurable, highly scalable messaging across web, mobile and PC with archiving, search, and deep integration across in-house systems.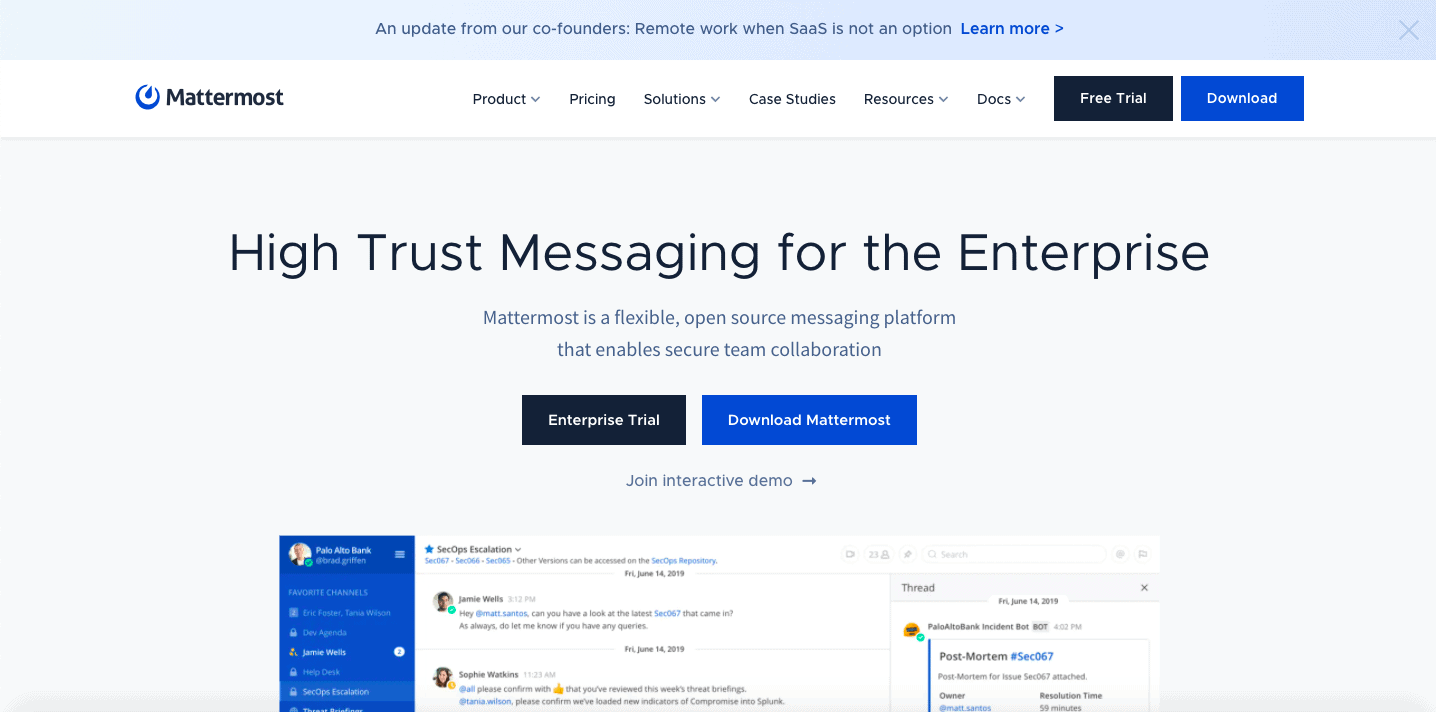 Free screen sharing and online meeting software. The fast, simple, and free way to share your screen instantly for online meetings, sales demos, and collaboration.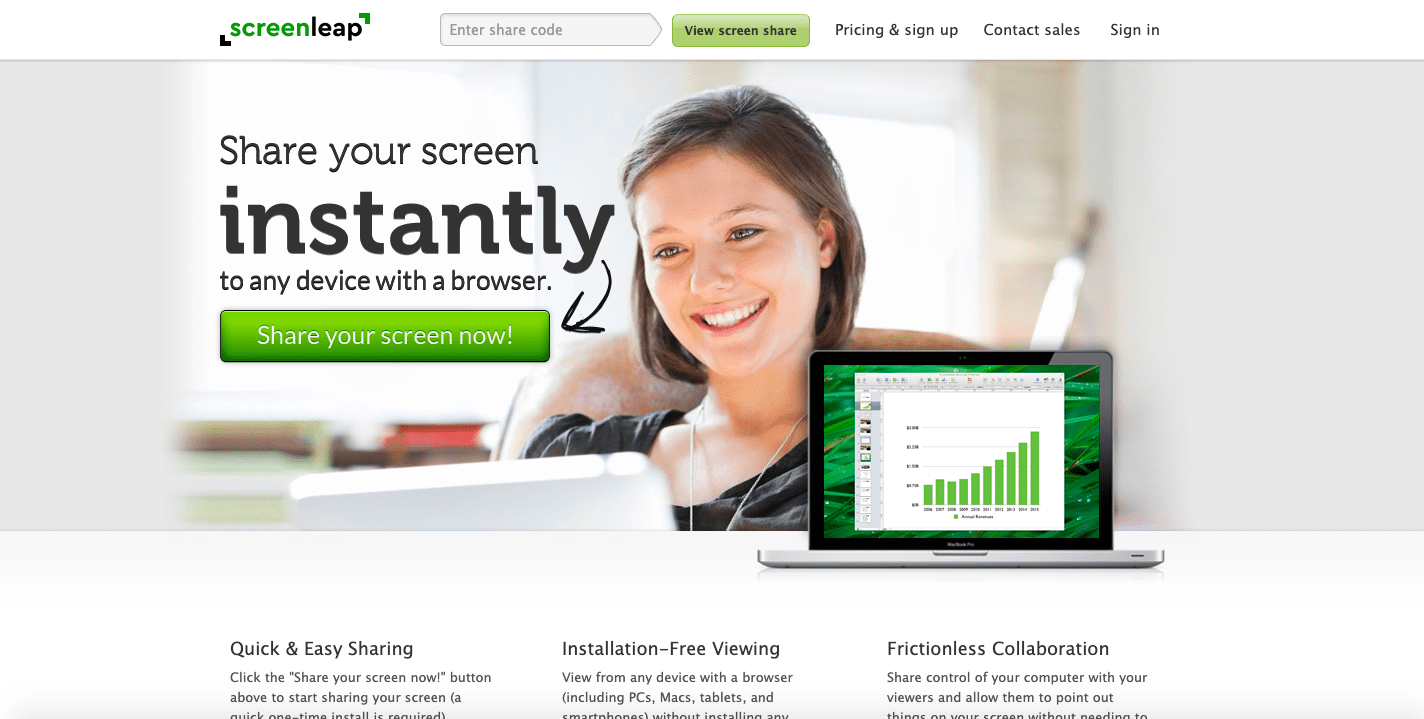 Collaborative, cloud-based business model canvas or SWOT models.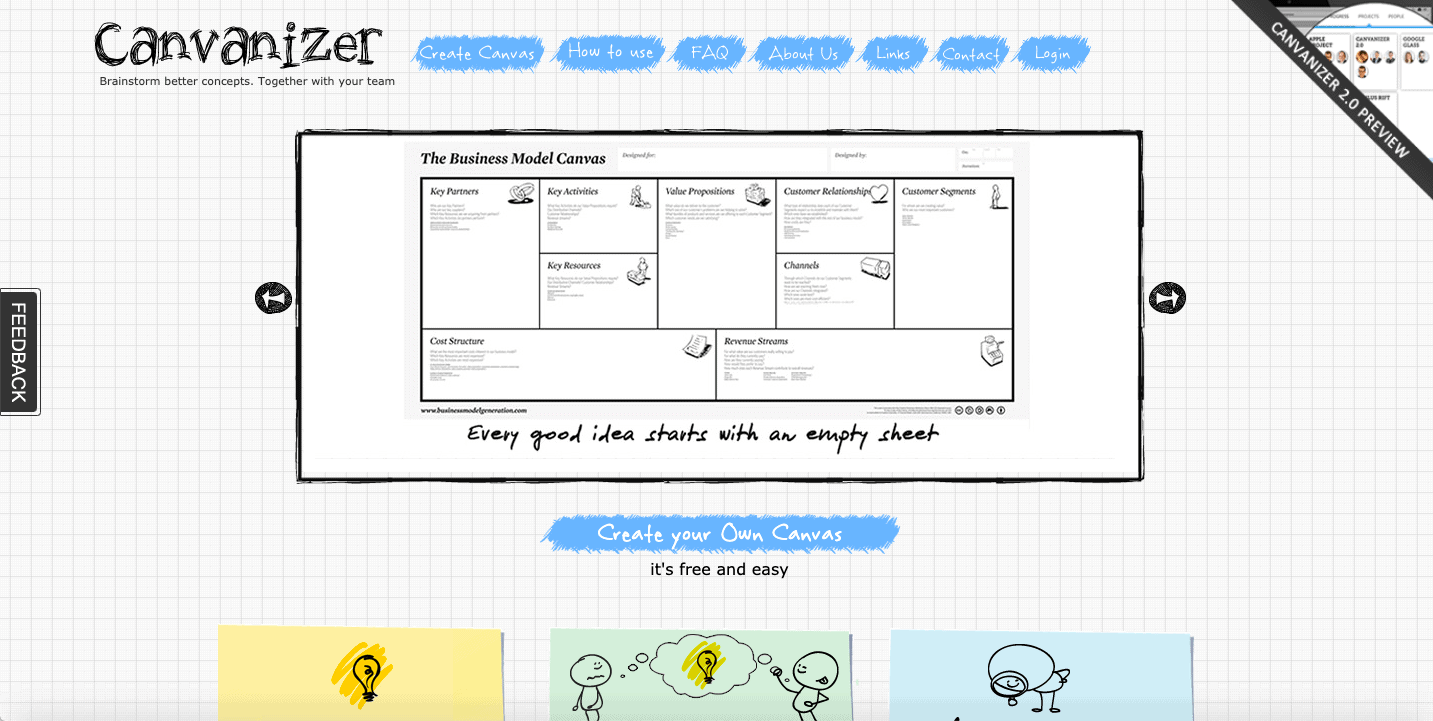 A tool that enables you to brainstorm and create mind maps online. Print, share or to generate ideas, map out processes and create presentations.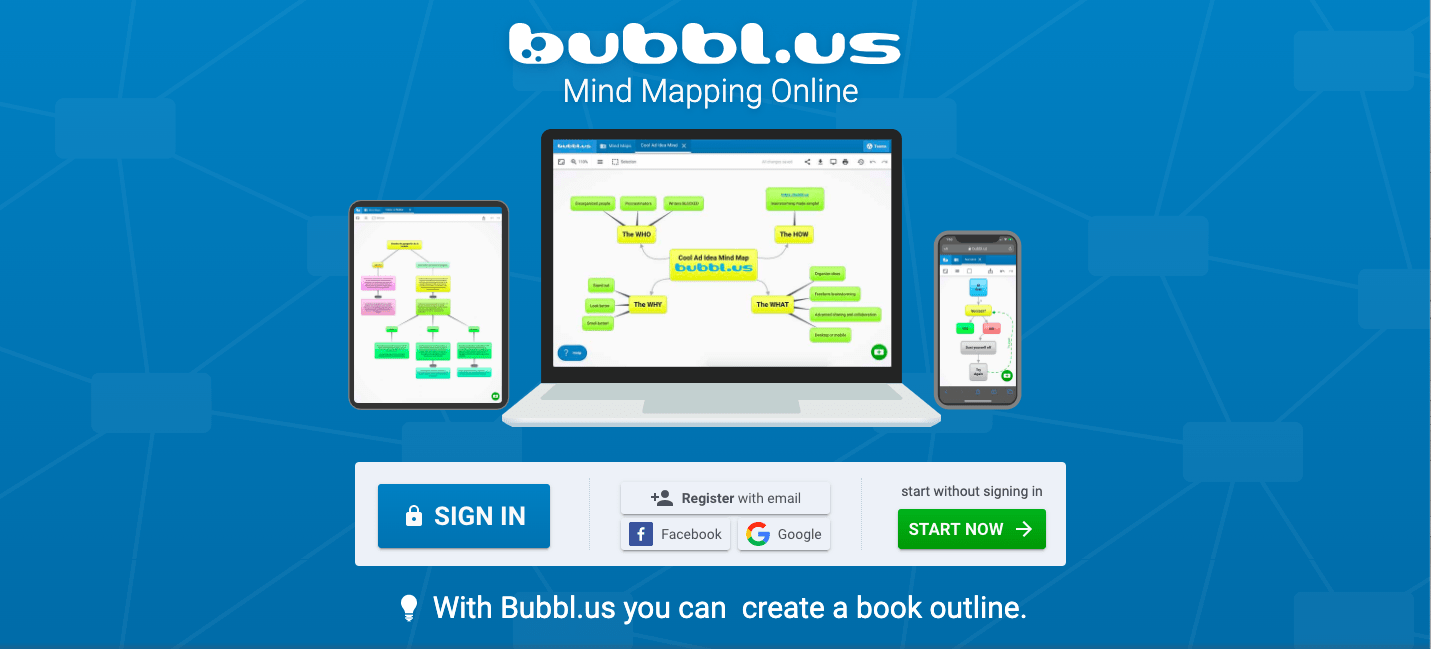 Virtual collaboration workplace with whiteboard functions enabling efficient teamwork, regardless of time and place.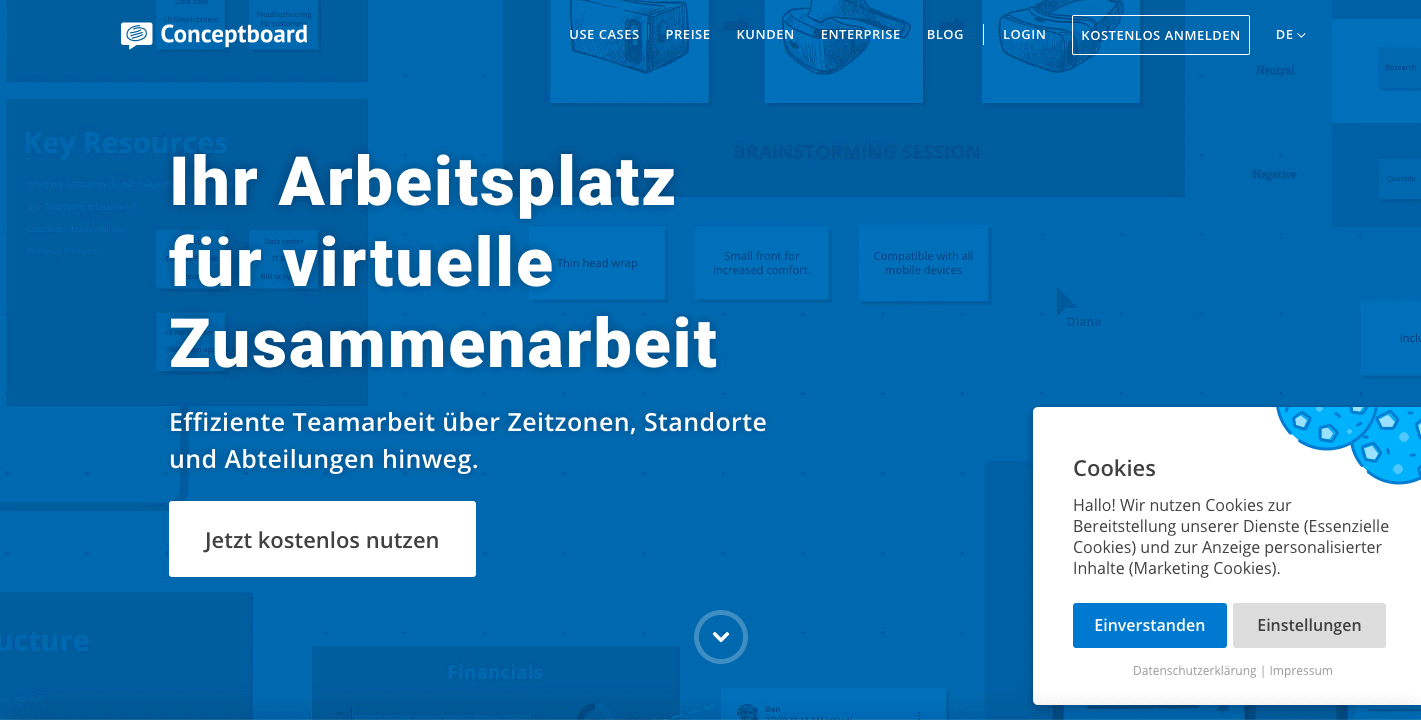 Notejoy provides collaborative notes for your entire team. It is a fast and focused workspace to capture, share, and discuss work with others.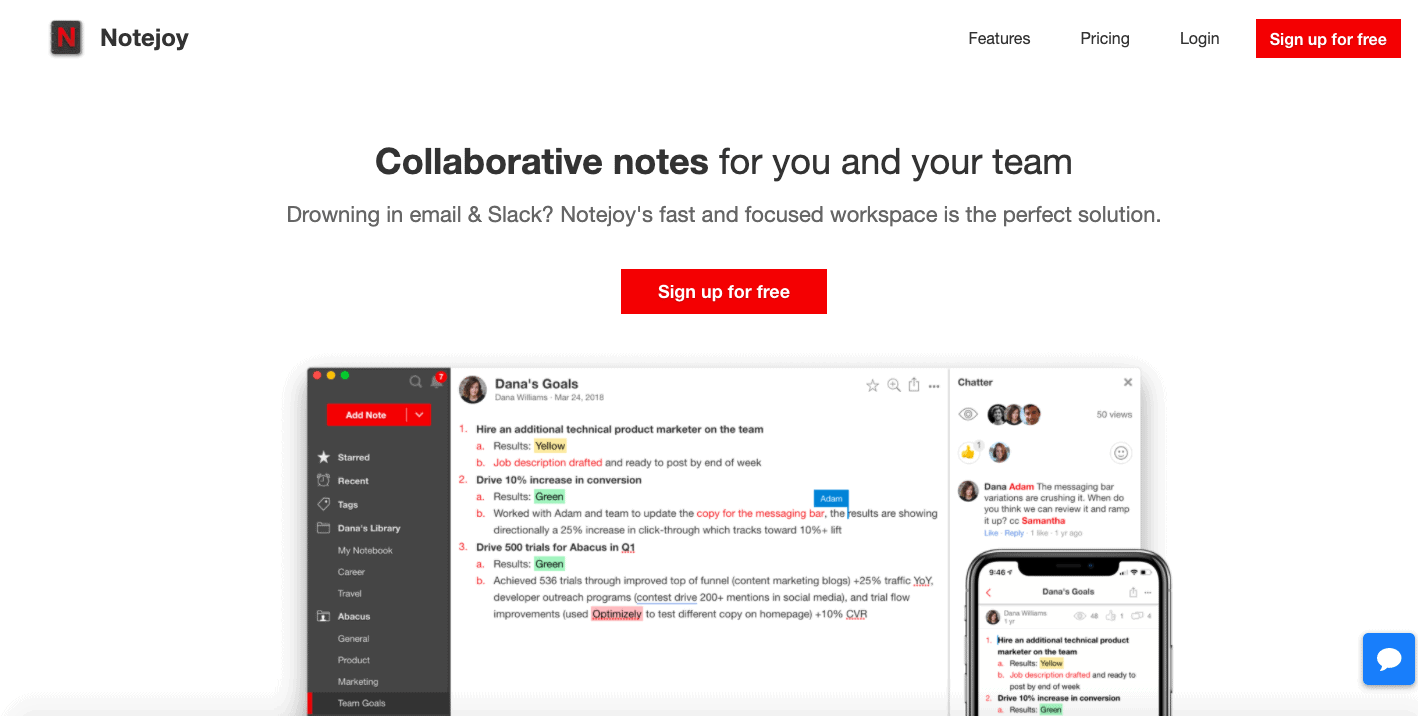 Screenshot and screencast sharing tool. It allows you to add markups and improve your communication with colleagues and customers.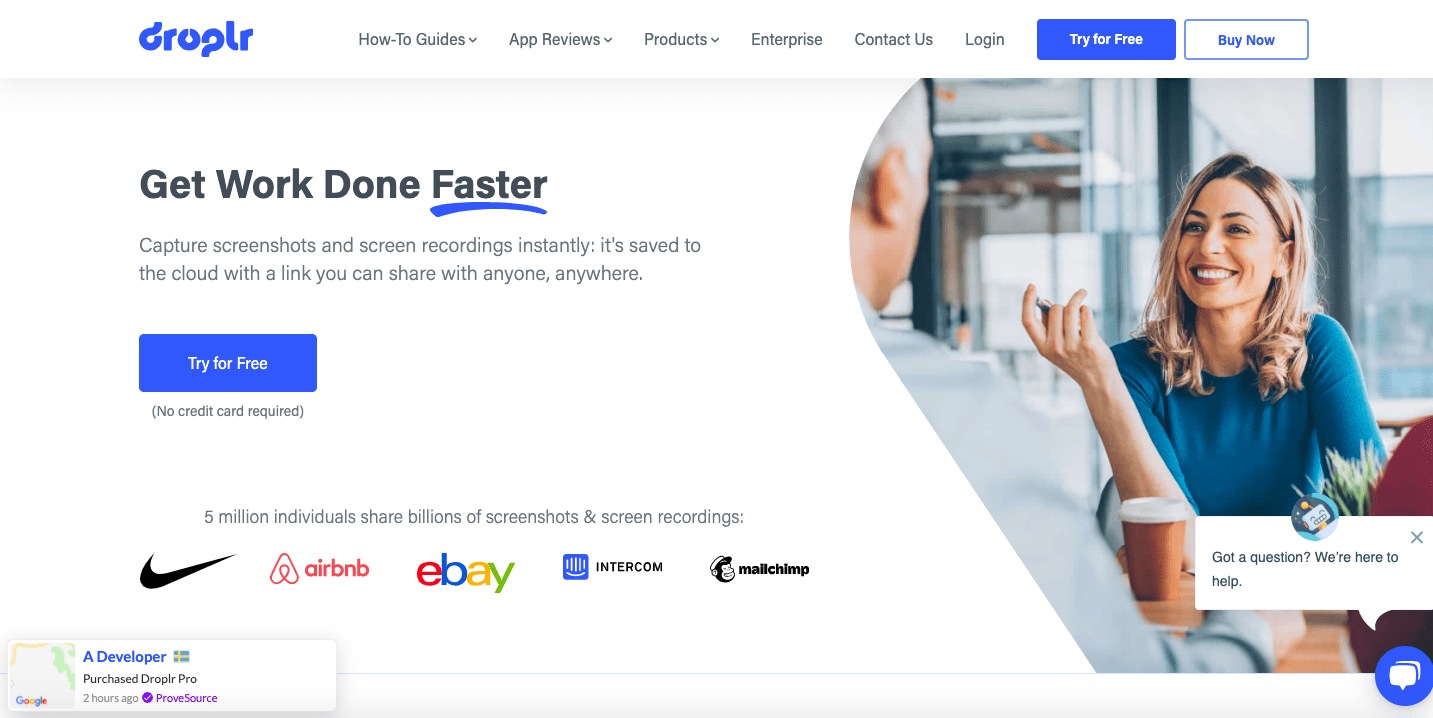 The Jive Software is one of Aurea's customer-experience solutions and offers an online collaboration area to share knowledge and documents, communicate with staff and search and find relevant content, news and people within the company (getapp.de).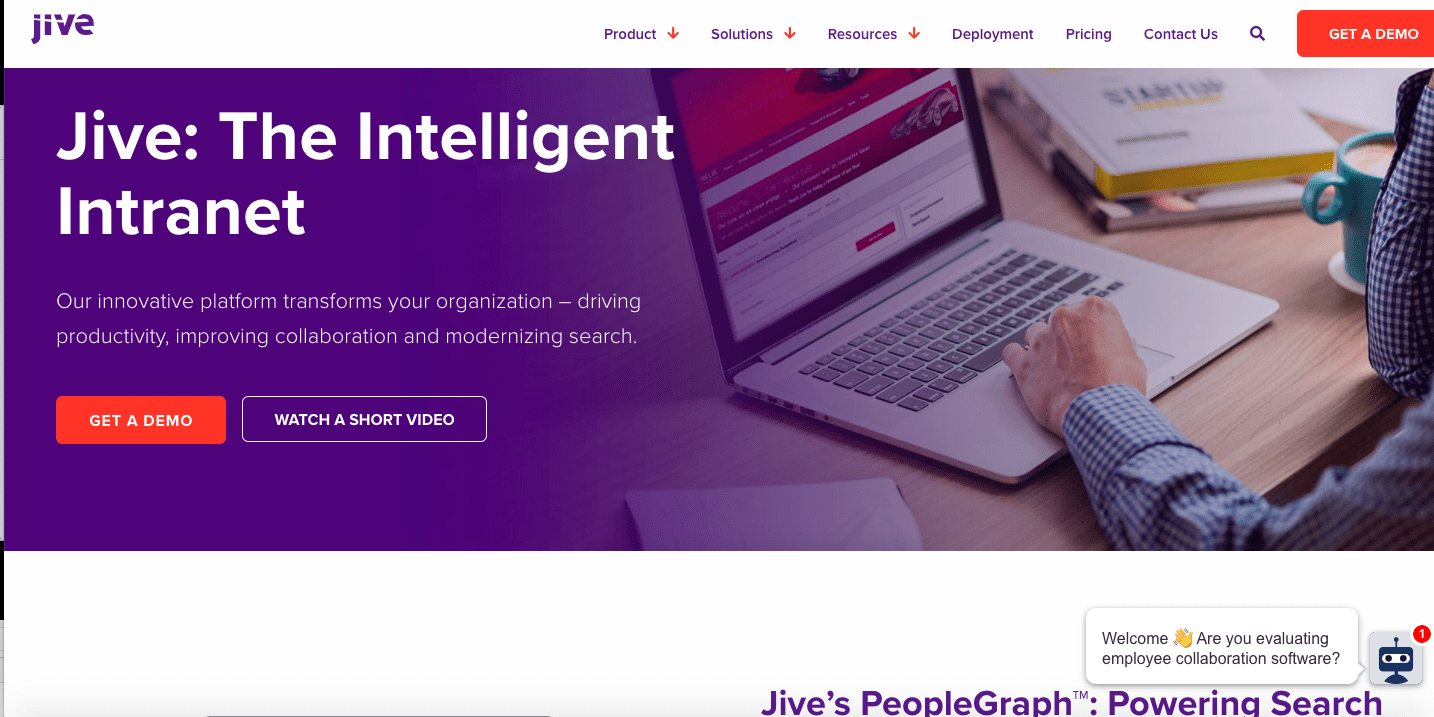 Visual brainstorming and mind mapping app.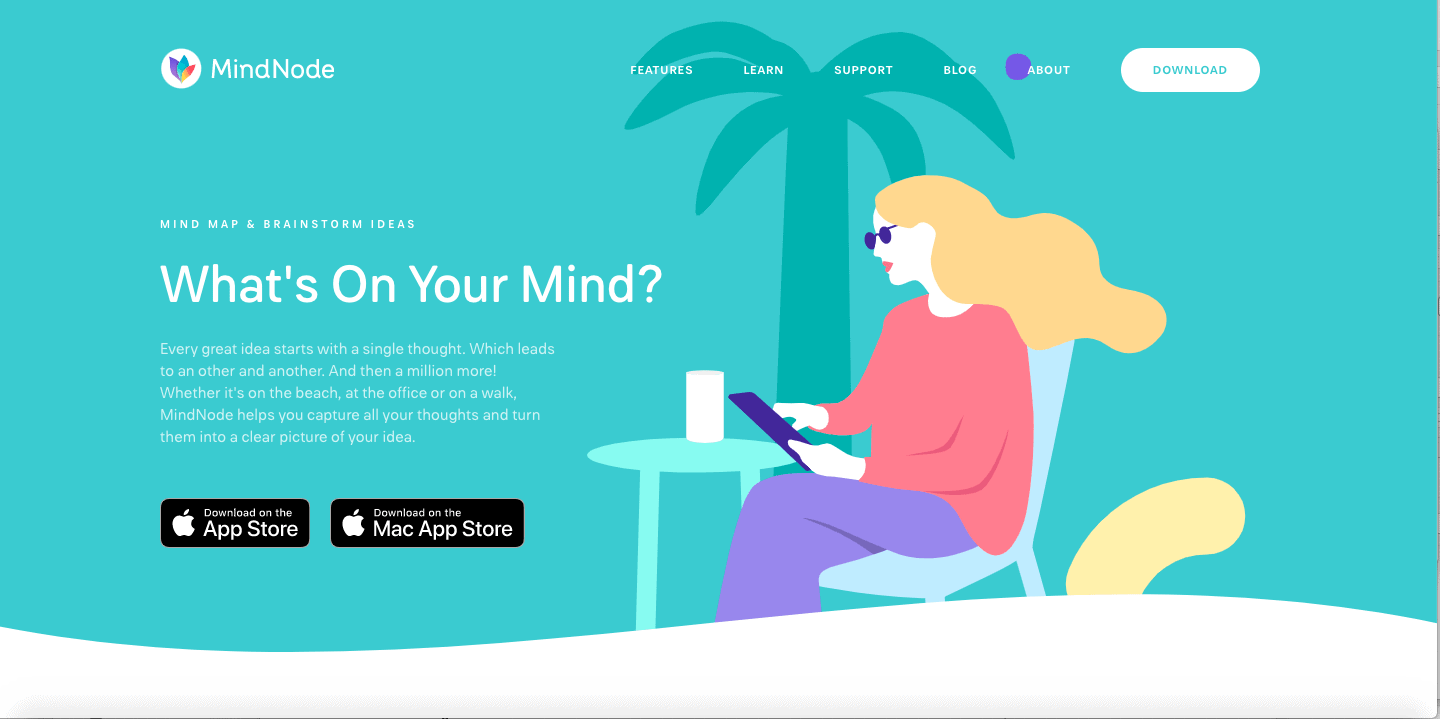 Team collaboration software for enterprise and government. Manage tasks, projects and documents simply in secure client portals.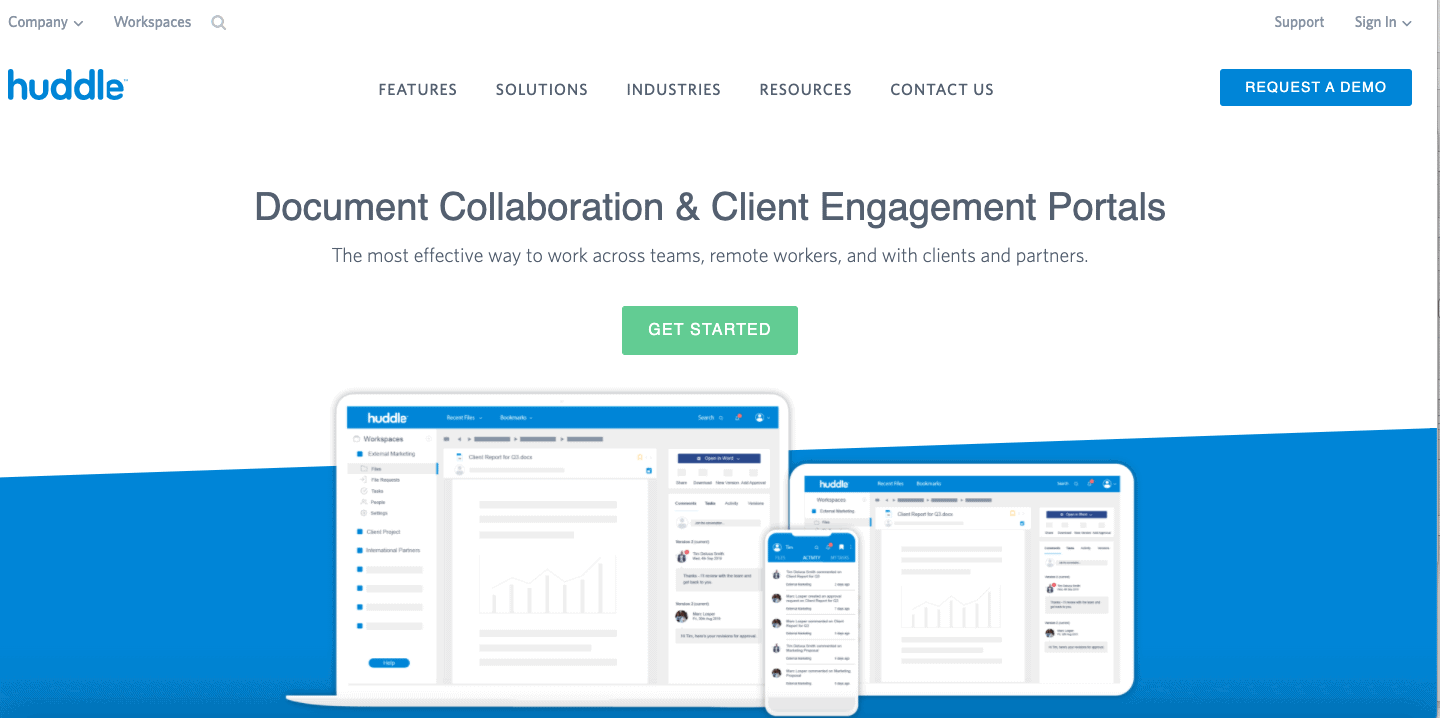 Cloud-based collaborative platform that helps increase productivity, engagement and collective intelligence within the teams.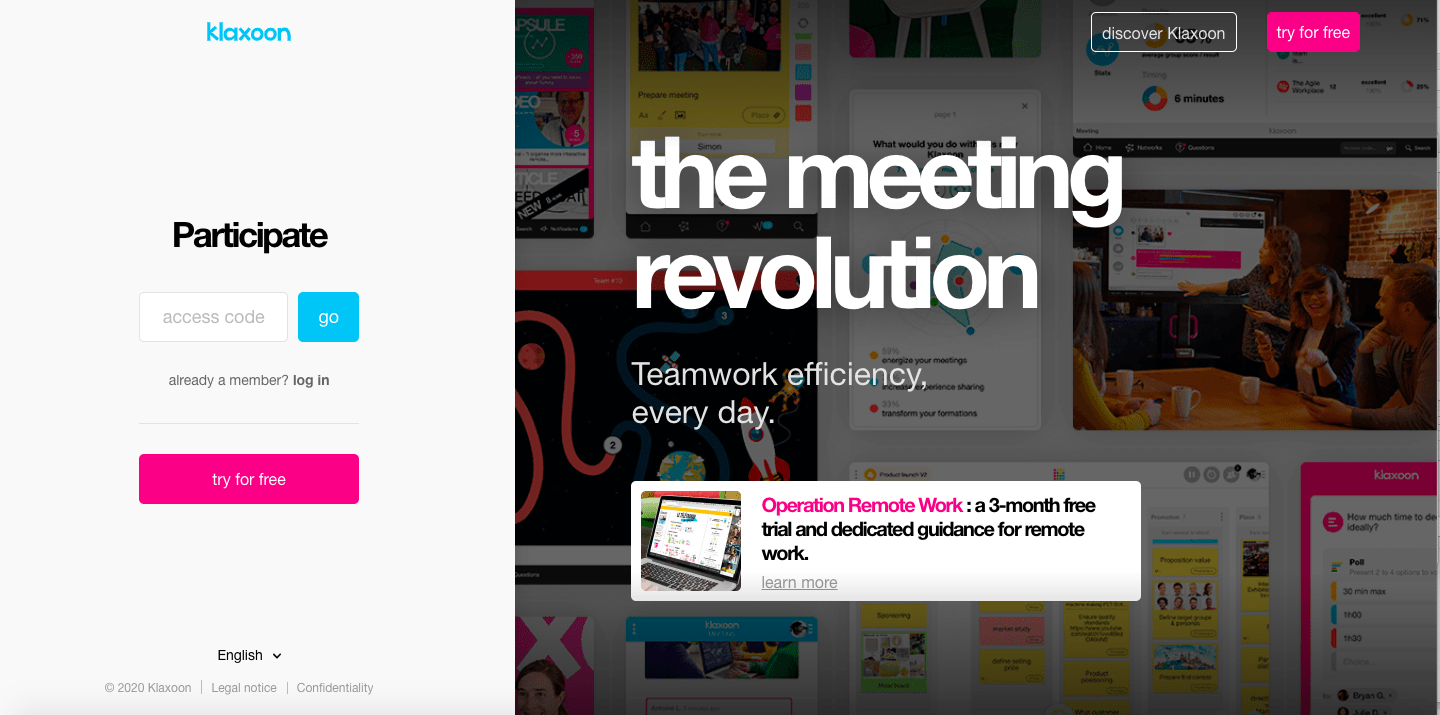 Kumu makes it easy to organize complex data into relationship maps that are beautiful to look at and a pleasure to use.