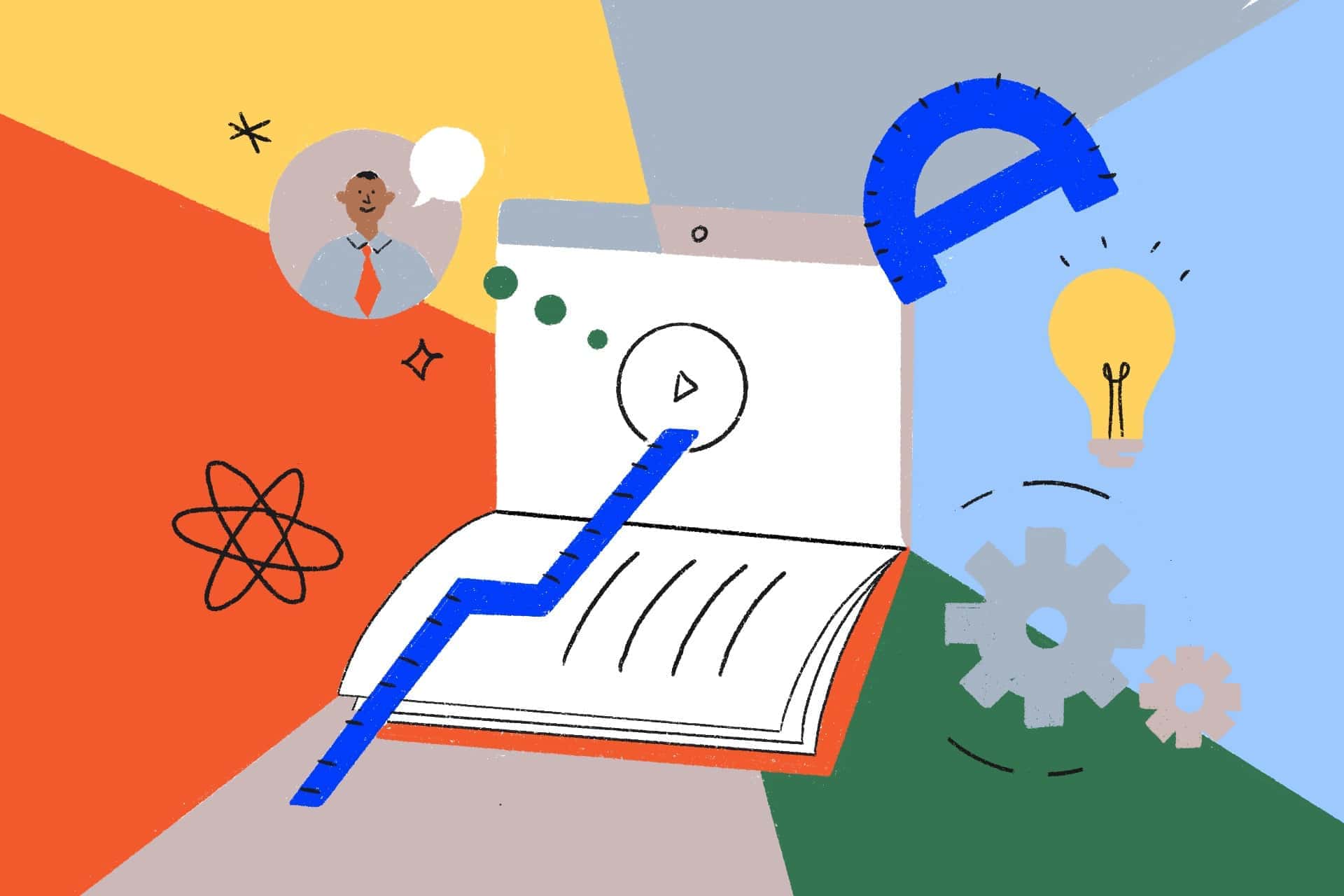 The market is changing, internal processes are changing, technology is changing. Under these conditions, it is becoming increasingly important to train employees quickly and efficiently and to adapt them to the new circumstances. For this reason, more and more companies are turning to digital learning for training and development programs. The Corona pandemic has strengthened this trend even more. What potential is hidden behind this new learning method? What challenges arise? And how can we benefit from it? Stay tuned! 
What is digital learning? 
Digital learning, also called "e-learning," involves learning and teaching with the help of digital media. Unlike in the traditional classroom, learning takes place via specific digital channels, such as offline on a PC or tablet, via specific cloud online platforms, but also via mobile apps on a smartphone. There are also a variety of formats, such as digitized literature (e.g., in the form of an e-book), virtual classrooms, and interactive platforms.
By the way, did you know that the first projects on the subject of "digital learning" were carried out in the USA as early as the 1950s? Of course, the real breakthrough only came with the rapid technological development of the last 20 years. But nothing caused such an abrupt change as the Corona Pandemic. Boom! Suddenly, everyone realized that there was more to digital learning than just scrolling and clicking on a tablet. Both in education and in the corporate context. 
Why establish digital learning in companies? 
It is no longer a secret that lifelong learning is an important concept for personal development. It is just as well known by now that it is precisely for this reason that continuous training and development must also take place in the workplace in order to adapt the employees' level of knowledge to changing economic and cultural factors and to keep the company competitive in the long term. After all, qualified employees also deliver better results. E-learning is also enormously important from the employee's point of view: Studies show that employees who have constant access to training opportunities build a stronger (long-term) bond with the company. 
At the same time, we live in a digital age with an enormous speed of innovation and constant change. Digitization has had an extreme impact on all areas of life: we store online, communicate via social networks and inform ourselves via digital portals. This presents us with the great challenge, both professionally and privately, of keeping up with this rapid development. Especially in the entrepreneurial context, it is particularly important to acquire certain competencies and to constantly expand one's skills in order to always be one step ahead. 
This requirement to always be up-to-date, combined with the rapid development through digital transformation, is difficult to achieve today with exclusively traditional learning methods. And looking back, I think we can all agree that the last 12 months taught us quite well what happens when digitization is being ignored. Suddenly, everything had to be done quickly and digitally. 
Companies that have not recognized this trend in recent years have found it difficult to adapt to the new framework conditions. While some companies had to lay off a lot of employees, the e-learning industry could hardly save itself from orders.
According to a study, the global eLearning industry will crack the 250 billion US dollar mark in 2020 and 1 trillion US dollar mark by 2027. LinkedIn recognized this trend as early as 2015 and acquired Lynda.com at a price of USD 1.5 billion (Forbes) to build up its own eLearning portal "LinkedIn Learning". So, companies that don't consider digital learning risk not keeping up with the digital transformation, not training employees fast enough, and ultimately being overtaken by the competition.
Digital learning: advantages for companies 
Of course, e-learning for companies is about much more than "just" adapting to digital developments. In general, digital learning delivers numerous benefits to companies:
Diverse learning formats
Within digital learning, depending on the topic, goal, and learning type, there are a variety of options for conveying content to employees, from simple standard solutions to interactive and multimedia formats with integrated videos and playful elements. In this way, complex and dry topics can be conveyed in a clear manner, and individually adapted to the employee. At the same time, appealing formats ensure variety in the company's daily routine and thus greater willingness to learn.
A central hub for various contents 
Digital platforms gather all learning resources in one place, regardless of the date of creation. This means that documents can be retrieved in the future and reused if necessary, for example when training new employees. 
Learners' flexibility in terms of location and time
Depending on the learning format, digital content can be consumed at any time. In most cases, the employee only needs a laptop and an Internet connection. This means that the team is not bound to the strict conference atmosphere with a schedule and can consume the content from anywhere at their own discretion. Here, of course, you should still keep in mind that any training is also part of working time and should therefore also be deducted from it.
Independent learning
Every person has a different ability to grasp things. Some can remember certain topics more easily, while others need a little more time. Unlike a traditional conference, an e-learning platform allows each employee to work through the content individually. 
Quick adaptation to internal change 
Should a certain process change within the company, you can flexibly adapt your digital learning platform and thus convey all information to the employee even at relatively short notice. Knowledge transfer can take place continuously and across departments. 
More employer branding 
Generation Z in particular has grown up with digital media and takes them for granted in their everyday lives. The integration of appealing digital training opportunities, therefore, has an attractive effect on younger workers in particular. 
At the same time, many older employees are now also open to digital media. This also helps bridge the skills gap between younger and older generations in the workplace. 
Lower costs 
Depending on the size of the company, continuing education offerings can be an expensive proposition. From the cost of the conference room, the speaker, for travel to the replacement of absentee employees, all these factors can quickly break the budget. 
Although the initial investment in an attractive e-learning platform can be higher, it can be used and updated with content over the long term. Overall and in the long term, learning via digital platforms is therefore associated with lower costs and administration effort. 
Measurement of the learning progress 
Since most eLearning platforms also include special tools to analyze results, you get a better overview of employees' learning progress.
Disadvantages Digital learning in the enterprise 
It is obvious that e-learning programs offer the company a decisive added value. Of course, as is often the case in life, not everything is so rosy. To ensure that you integrate the digital learning concept in the best possible way, you should also consider any stumbling blocks.    After all, there's a difference between integrating digital learning methods just to go with the "flow" of the digital age and truly wanting to implement a valuable and sustainable digital learning experience.
Digital learning presents you with the following challenges in particular: 
requires a lot of self-motivation and discipline of the participants.  

runs, depending on the format mainly individually and thus reduces the possibility for joint team building within the company

requires good coordination with working hours. If participants learn outside working hours, it must still be taken into account as a workload.
not all people are digital learners and need paper documents instead
Requires technical expertise on available learning platforms and/or e-learning systems
high initial investment for the implementation of a successful course 
Best practice for digital learning in enterprises 
To get the most value out of e-learning, it is important to establish an effective learning culture. You should create an atmosphere that shows that the continuing education of each individual is taken seriously and that employees are supported in this for their personal development, but also for the success of the company. What is involved? 
Open mindset: the absolute be-all and end-all. Managers and employees should be positive about digital learning formats. Communicate the benefits of digital learning across all department levels. 

Addressing methods and suitable learning platforms. It is important to find the right concept for your employees 

Create varied and entertaining content. If it's just a digital reading format, such as a PDF file, you're missing the point of digital learning units. Instead, take advantage of the wide range of digital media available. 
Before switching to digital learning, certain aspects should be analyzed in detail and the framework conditions should be defined. You can keep the following questions in mind for this:
What is the level of knowledge of the employees?

What content formats do you want to use?

What budget do you have available?

How would you like to measure learning success?

How much time do you want to spend?

How do you motivate employees? 

Despite individual learning, how do you foster a sense of community? 
Often, a mixture of traditional and digital methods could be the right solution (blended learning). Microlearning" should also be considered in this context – smaller, reduced training units to constantly refresh what has been learned after the main course has been completed and not forgotten. 
Digital learning: Platforms and methods
As briefly mentioned earlier, there are different formats for implementing e-learning. In addition to simple digitized documents or literature, such as a PDF file or an e-book, there are a number of interactive formats that make digital learning a particularly effective method. Examples would be:
Learning Management Systems (LMS) 
This is an entire platform that combines all documents as well as training courses in one place. Learning progress can also be analyzed directly and content managed. Not only can different formats be integrated on such platforms, but the learning content can also be individually adapted to the knowledge level of the respective user. There is the option of operating your own LMS or using a provider. An own LMS is worthwhile especially for large companies with regular trainings.
Gamification 
Playful elements or entire game concepts are particularly effective for linking theoretical knowledge with a direct application case. This can be designed either via online providers or through embedded elements within other learning formats.
Mobile learning
"Mobile first" is basically the motto. Instead of optimizing various programs for the smartphone, special learning apps that the user can call up directly from the smartphone are therefore becoming more and more common. 
Training videos
The ideal way to explain more complex processes clearly. Videos enable a higher learning effect than static content due to the multisensory appeal with moving images and sound. Especially for new processes, where the learning content does not have to be individually adapted to the target group, videos are ideal media to guarantee a maximum learning effect. 
Podcast
This would be a cost-effective alternative to video for less complex processes. Podcasts can be conveniently accessed from anywhere and are gaining in popularity. Which media or platform you should choose ultimately depends heavily on the learning content, goals, as well as preferences of the team.
Conclusion: Digital learning in the enterprise 
So is digital learning better than a traditional form of learning? Well, it definitely brings many advantages and is more contemporary. How effective it actually is, depends heavily on your own implementation. You have to find the right format for the right content and the right target group. And most importantly, whether it's an LMS, a virtual classroom, or a training video, it needs to be interactive. After all, digital learning is much more than just the provision of digital learning formats. It is a new form of learning culture that should also be communicated positively as such. 
For convenience purposes this post has been translated automatically.