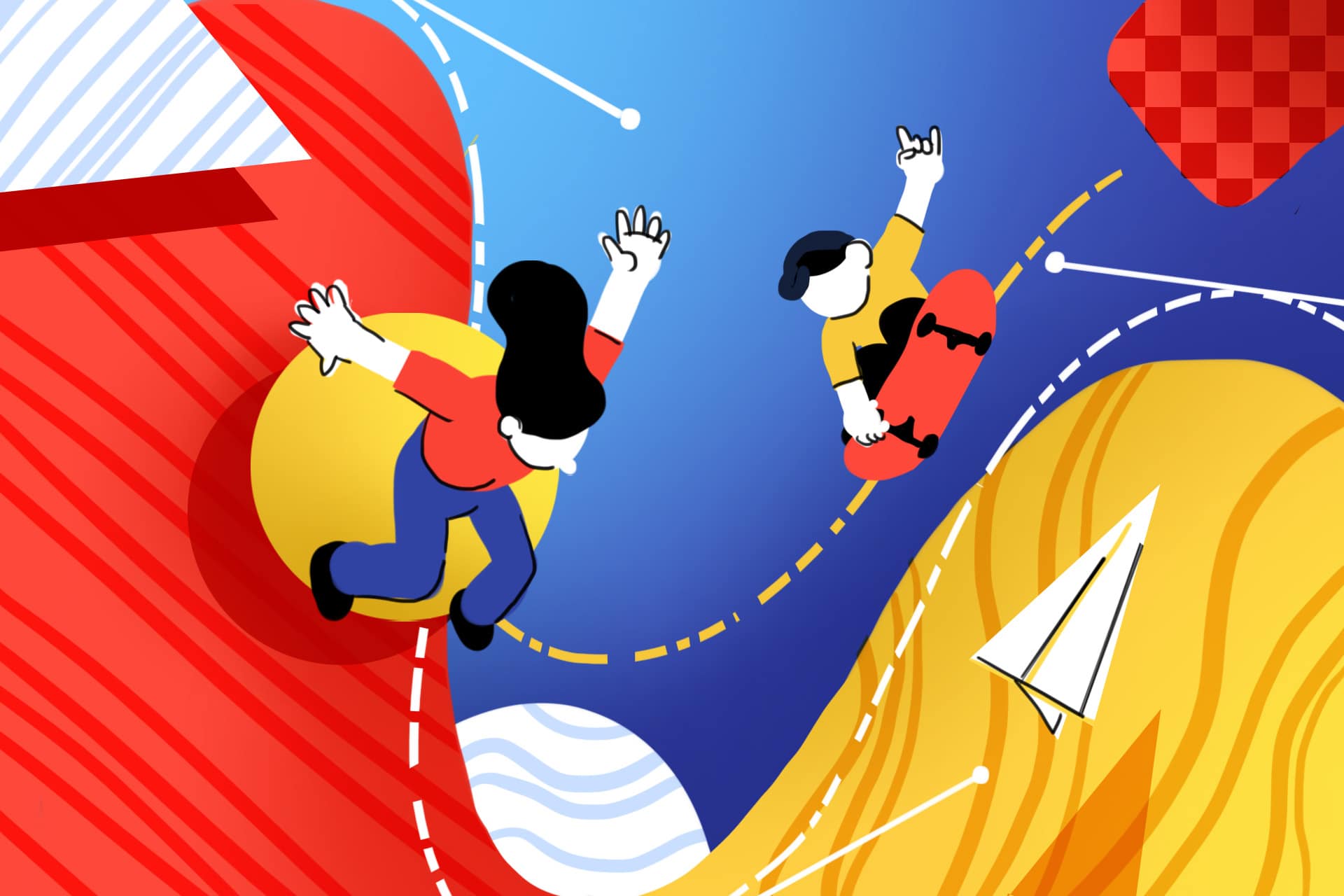 Time and again, I mention "motion graphics" as a style used in our use cases. For us as a creative agency, such terms almost go without saying and our designers are professionals in this field anyway. But not for everyone this term is as accessible. That's why today I'm going to be a little more specific about this form of graphic animation, explaining what motion design is and when it's used.
Motion Design Definition
Motion design, or "motion graphics" (these terms are often used synonymously), focuses on moving audiovisual content consisting of various colors, shapes, surfaces, typography, and transitions.
Motion design has developed into an important animation that is used in a variety of ways. At this point, a brief digression: Although the term "motion design" has emerged rather in the context of digitalization, this style has its origins already in the first half of the last century, namely with "Gertie the Dinosaur". With this animated film, the viewer was taken on a visual journey through moving images, music, and text for the first time.
Perhaps you still remember the first Toy story movie in 1995? Since then, at the latest, computer animation has also been considered a discipline in its own right.
But back to the real thing: In a nutshell, motion design is a combination of graphic elements and animation. With additional background music, simple shapes can be turned into real storytelling.
Why use motion graphics?
Motion graphics are suitable for various areas, especially when a topic is to be presented in a somewhat more abstract way, for example, for a process explanation, the design of an app or a title sequence. The moving shapes, combined with changing colors and backgrounds, have a very dynamic effect and thus catch the audience's attention.
That's why this type of animation is suitable for training and explainer videos, but also for social media channels to breathe more life into text-based information.
Since this type of animation is based on icons and typography, it is also less time-consuming than character animation or frame-by-frame animation.
Positive user experience through motion graphics
User experience (UX) refers to the perception and feelings of a user while using a particular product, mostly in the field of digital media. In this area, motion graphics can make a decisive contribution. This is because motion design can make navigating a web page easier and more predictable. For example, certain objects can appear only after clicking and moving with the mouse pointer.
In addition, especially complex contexts and dry concepts can be illustrated in an easily understandable way by moving graphic elements.
But even very simple elements, such as a call-to-action button can attract the attention of the audience with the help of motion design. Overall, motion design gives the webpage a dynamic and modern look, contributing positively to the user experience.
Motion Design in Marketing
Moving graphic elements are an excellent means of communication and can therefore be used effectively as part of the marketing strategy. Animated graphics namely stage brand messages and the individual added value just right, so that the potential customer is supported in the decision-making process.
Moving content is also shared on social networks up to 1200% more often than static elements. So you get a higher reach and create more brand awareness. For this, the video doesn't even have to be long. Quite the opposite – especially "snack content", i.e. extremely short content is becoming more and more popular on social networks. A simple GIF with moving graphic elements can therefore already set you apart from the competition.
In general, users remember 95% of content that was delivered in the form of moving content. With text content, the figure is only 10%. This also means that the integration of motion graphics has a lasting effect.
And you have to admit that an animated video really looks much more attractive than a long text.
How does motion design work?
Especially when certain content is extremely well designed and carries a corresponding lightness, it often looks like not particularly complex work to a looking layman. But of course, it is not that simple. There are specially trained motion designers who have made this very task their passion. And not everyone is suited for it. In addition to technical expertise, a motion designer must be extremely detail-oriented and creative, have a good sense of timing, and a great deal of patience. Since the work often depends on many other team members or is connected to many other production steps, organizational skills are also required.
So… and how do we now manage to integrate these dynamics into the graphic elements? To provide you with a first-hand answer, I put this question to our Cleverclip motion designers. Voilà, here's the input:
Most often, a motion designer receives a static illustration, called style frames, from a designer or an illustrator. Using animation software such as Adobe After Effects, he prepares them for animation. Sometimes the motion designer has to adapt, change or even completely recreate the design before moving on.
In the next step, they add a preliminary sound design and, if necessary, a narrator's voice so that the individual images are timed to match the narration and the rhythm of the music. Once the rough time signature is established, the magic begins – also known as the "keyframing process." Here, each graphic element can change its properties (e.g., position, scale, rotation) as it progresses. Sometimes a scene can consist of hundreds of elements, all coordinated by a motion designer.
Which motion design software is right for you?
There are a variety of different programs that are suitable even for people with little prior knowledge. Which one you choose, of course, depends entirely on your needs and goals, budget, and technical know-how.
In the previous section, I mentioned Adobe After Effects. This is one of the most popular software that has established itself, especially among professionals. But of course, there are many more programs:
Powtoon: The software contains high-quality templates with a variety of characters. Thanks to the drag-and-drop function, it is easy to use even without previous knowledge. Powtoon offers a permanently free version, but not in HD quality and only with Powtoon branding. For more features, you need to upgrade.
Adobe Premiere Pro: This can be used to post-process motion graphics, in particular, giving them a particularly professional finish.
Cinema 4D: This is a professional software for creating three-dimensional animations. Although sophisticated and enormously complex animations can be created, the software is said to be relatively easy to use. ´
Wideo: Here you can create short animated videos in particular. This program is particularly user-friendly and is therefore suitable for target groups with little previous knowledge.
Motion design examples
After a somewhat theoretical approach, I would of course not like to deprive you of some exciting examples that prove how versatile motion design can be.
Apple Motion Graphics
<iframe width="560″ height="315″ src="https://www.youtube.com/embed/qK4Re_ArS3Q" title="YouTube video player" frameborder="0″ allow="accelerometer; autoplay; clipboard-write; encrypted-media; gyroscope; picture-in-picture" allowfullscreen></iframe>
The giant Apple proves how effective typography with motion graphics can be. Combined with the music, the viewer is emotionally touched and made to think. A video that definitely stays in the memory.
Isolutions – new customer experience
This in-house video proves that less is often more. Consisting of individual points and without color accents, the viewer is nevertheless taken on an exciting visual journey.
IGAKIS – Connect
This video is also produced by Cleverclip and shows how versatile motion design can be combined. The explainer video starts with a real film and then moves into dynamic digital elements. An abstract video, which is in direct harmony with the usability of the presented product.
A recruitment video for Monvia
Motion design is also great for recruitment. We produced this video for Monvia, a healthcare center with various locations in Switzerland. The video impresses with its dynamic and colorful use of 2D motion graphics and proves how an impressive animation can be created purely through shapes, colors, and typography.
Google Cloud IoT Solutions
For most of us, data and IT solutions have a rather dry and complex feel. With the help of motion graphics, however, Google succeeds in packaging the product in visual storytelling and explaining it in a way that is understandable even to laypeople.
Pfizer – Active and 50+ / The New York Times
The New York Times used this video to illustrate a particularly important topic: pneumococcal pneumonia, i.e. pneumonia triggered by the pneumococcal bacteria. The goal of the video was to promote a vaccine that can prevent this infection. And the New York Times succeeded in doing so: the result is a lively video that explains the complex topic in an easy-to-understand way and is entertainingly accessible to everyone thanks to its graphic design.
Conclusion
Strokes and shapes can do far more than you might think. Motion design is a fascinating modern form of animation. Not only can it be used in a variety of ways, but it can also make a decisive contribution to the user experience and have a positive impact on marketing. You are interested in a motion design video? Then contact us to create the right animation for your request.
For convenience purposes this post has been translated automatically.