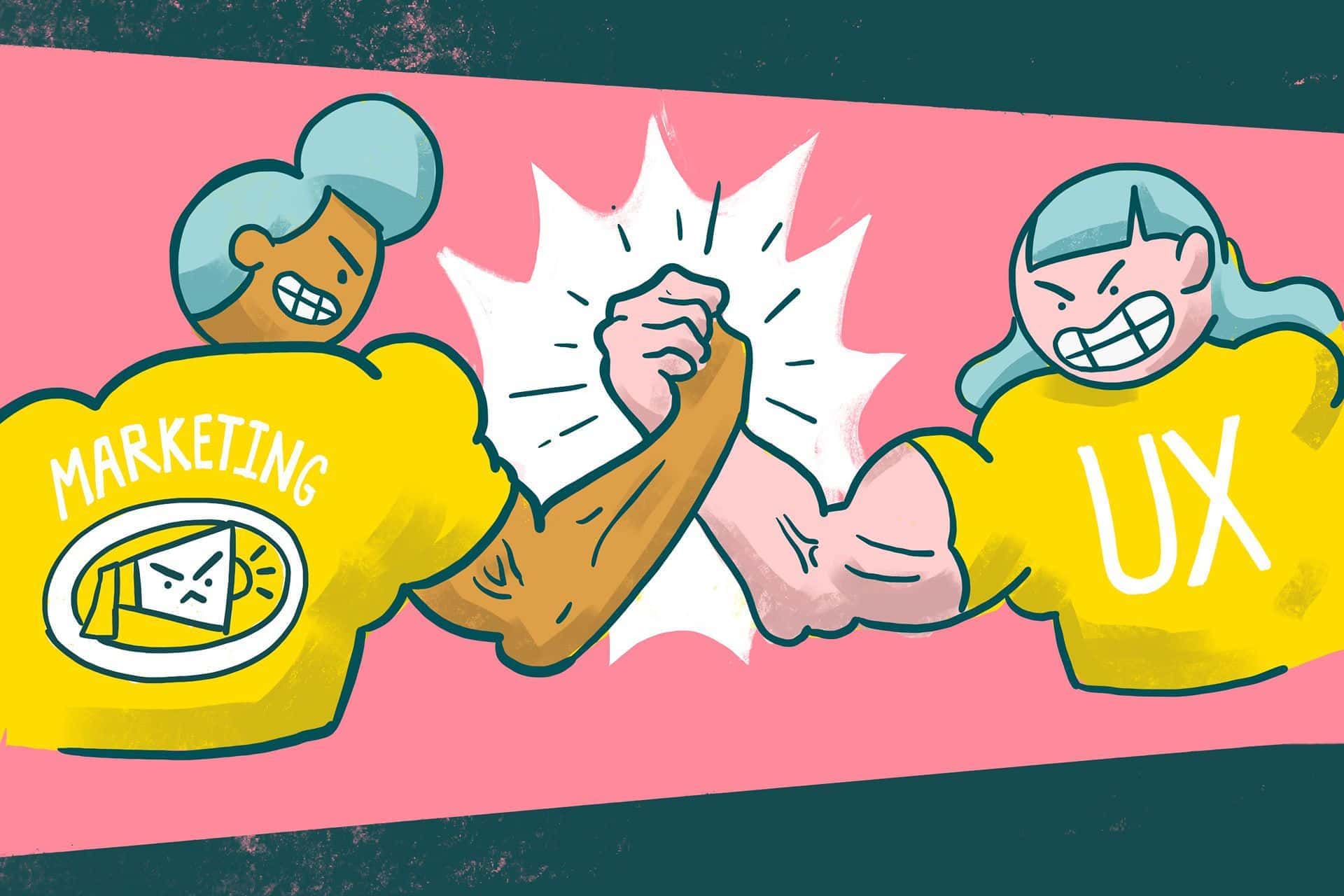 A pop-up on a web page that just won't go away? You click on a button and nothing happens? Images that just won't load? A url that takes you to an error page? Ah, some web pages can be quite frustrating. These were all examples of a poor user experience (UX). And although user experience has once again become a buzzword of today's digital age, it's well worth diving into the topic a bit more in detailed. Many associate UX as an area that exclusively concerns designers. However, you should quickly get rid if this thinking. Creating a stunning UX should also be a core area of any marketing strategy. Stay tuned, we explain you how important UX in marketing is and which points you should consider.
What is UX? 
User Experience (UX) refers to the perception and feelings of a user during the use of a certain product, mostly in the field of digital media, such as on a website or an app. In addition to the technical aspects, such as the loading time, images, placement and functionality of certain buttons, the user's emotional expectations must also be met. The webpage should therefore bring an added value as well as pleasure.
 There are a number of different components that make up a good UX. The three most important would be usability, desirability and usefulness. If you manage to optimize all these points, you are well on your way to a successful UX.
The focus of UX is always the target audience. So it's important to consider how to maximize the user's experience rather than what specific preferences you personally have.
Often, a good UX is reduced exclusively to the design. Although visual elements are also an important part of the overall experience and can conceal some shortcomings of the webpage, they ultimately say little about the actual usability of a product. 
Why do we need a good UX in marketing? 
How does effective marketing work nowadays? In the meantime, it is not easy to address the user with advertising. The attention span and dwell time of users are constantly decreasing, we ignore advertising banners and we all just want to burn those pop-ups, right?And so it happens that even an exciting product video (with really good storytelling) is not even being perceived by the user. The user leaves the webpage frustrated and annoyed without even clicking on the play button. But many marketing managers and business owners are just being their own enemy – they did not pay attention to the user experience.
User experience also plays a crucial role in the offline world. Do you know those products where you just can't get the hang of them despite detailed instructions? That can really get on your nerves. Would you recommend such a product?
Some statistics that prove what impact the UX can have on the target audience:
88% of online shoppers

say they would not return to a website after a poor user experience.

70% of online stores

fail due to poor usability.

53% of mobile website visitors

leave a page that takes longer than three seconds to load.
So, the better our experience with a webpage, product or service is, the longer it stays in our memory. For this reason, user experience is directly related to branding.
Conversion Rates
If the target audience is not satisfied, they lose interest and we lose potential leads. On the contrary, this also means that a good user experience can increase conversion rates. This can be achieved, for example, through speed optimization, but also through a clear design with a well-placed CTA or an appealing search function that allows the user to quickly find the desired product. 
SEO
Improved loading times, a longer user dwell time and higher traffic are the favorite traits of our friend Google. These elements, also called "user signals" thus give you a better SEO ranking. But not only that! If the webpage visitor has a good experience with your site, the chance to get backlinks is also much higher. 
Customer loyalty 
User experience also plays a very important role when it comes to customer loyalty. The better the customer's experience with your site, the higher the likelihood that the customer will return again and again, thus building a long-term relationship with the customer. 
UX in marketing – Tips 
Effective collaboration between web developers or UX designers and marketers is essential to combine the technical knowledge with the preferences and behaviors of the target audience. A website developer can create an optimal webpage only if he has the necessary know-how about the target audience from marketing. On the other hand, marketers should also be open to advice from UX designers – only through this combination can an optimal end product ultimately be developed. Some steps that should be considered for UX marketing are as follows: 
Analyze the target group 
Only if you know what your target group prefers, you can adjust the webpage optimally. 
Ask yourself the following questions: 
is the target audience visually appealing? A site that appeals to photographers and artists, for example, will have different design requirements than a site that addresses people outside the creative industry. 

What content preferences does the target audience have?

Which technical and graphical requirements should be met? For example, how should the CTA be placed? How do you want to present the images? Should the webpage also be optimized for the smartphone?
I stressed it earlier in the article, but really don't try to implement your own preferences, but analyze exactly what the needs of the target audience are. It may well be that you are an absolute italics fanatic, for example. But if you stand alone with your opinion, you won't achieve fame and fortune that way either. 
Meet technical requirements 
As soon as the target group has been characterized, we move on to the technical aspects. Here, for example, the loading time, error messages or "broken links" should be taken into account. Even small errors can lead to high bounce rates and thus endanger the satisfaction of the target group and your lead generation. 
Testing and analyzing 
There is no magic formula for an optimally created web page or product. Even if you consider all points as best as possible, it can it perceived by the target group differently than initially expected. For this reason, it is important to test the respective page, app or product. This includes, for example, the page views, conversions, clicks and dwell time of the users. User surveys should also be conducted to obtain detailed feedback from the target group. The most important thing is to implement the feedback (if technically possible)! 
Ready for the optimal UX in marketing? 
As you can see, UX has long been an area that concerns more than just designers. By considering an excellent UX, you guarantee maximum usability, an engaging online experience, and ultimately satisfied customers that enable you to achieve marketing goals. Above all, pay attention to good cooperation with webpage developers, test and analyze your digital products and always take into account your users' feedback. Any questions? Then get in touch!
For convenience purposes this post has been translated automatically.