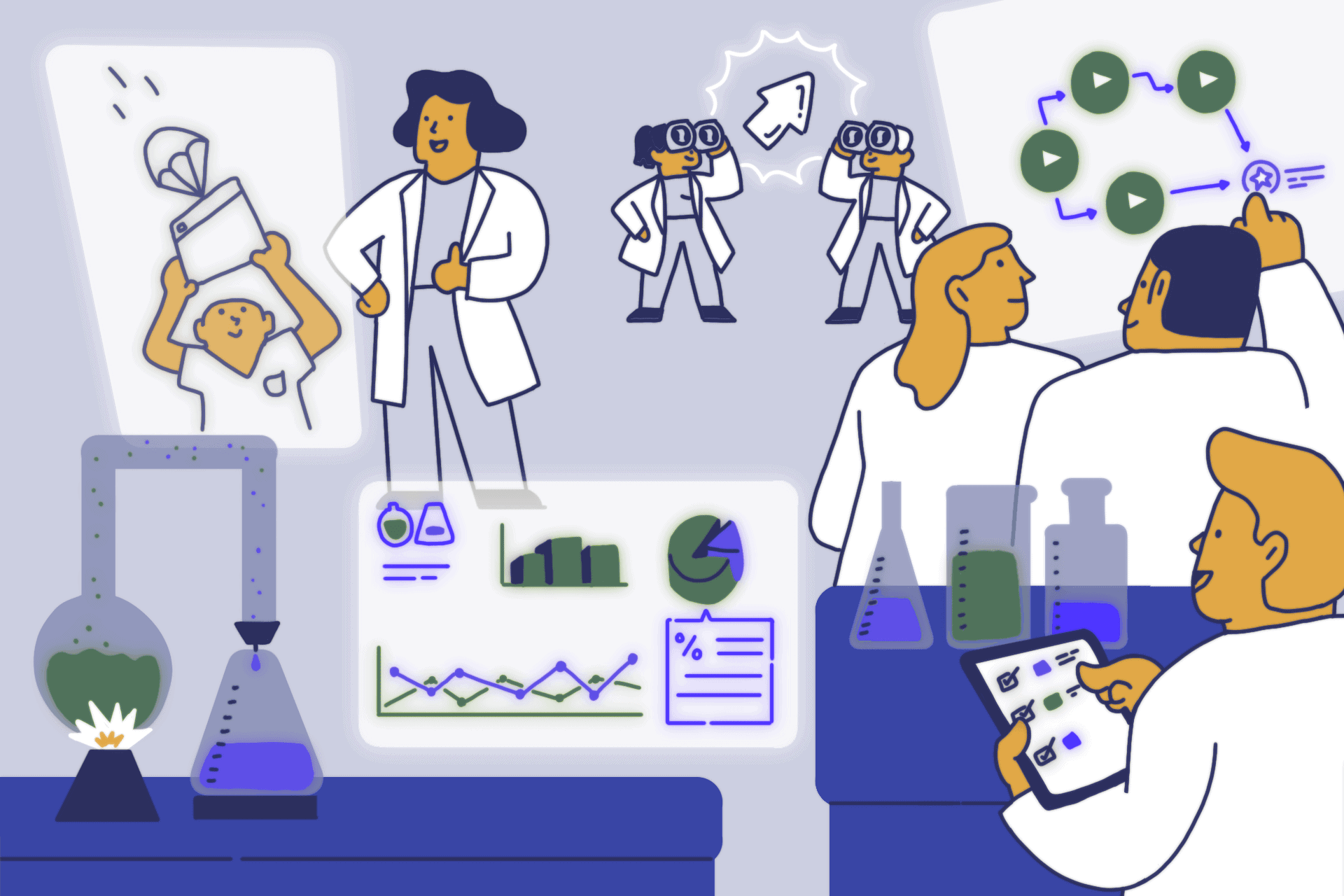 This year the normal everyday life has been a little bit broken, everything became a little more quiet and static. In digital life, on the other hand, exactly the opposite happened: Due to technological progress on the one hand and the sensory overload caused by conventional advertising formats on the other, the focus has shifted more and more to interactive content. 
Also at Cleverclip and especially on our blog, the last couple of months have all been about interactive content, its importance and the different formats. Since you might have lost the overview of things here, I decided to write a summarizing post at the end of the year about all the interactive topics addressed and share some exciting examples with you.
What is interactive content? 
Let's start at the basic root. What is interactive content anyway? Interactive content is a specific form of content that promotes the active participation of the target group. Unlike static content, such as reading a text or looking at a picture, interactive content actively involves the user in the action and thus attracts more attention and motivation.
Since interactive content appeals to several senses simultaneously, it enables an intensive and personalized knowledge transfer in an entertaining and appealing way. 
What formats are available? 
Interactive content is a very broad term. Which content is best suited for you depends on your goals, the target group to be reached and the phase of the buyer journey. The following is an overview of the most common formats: 
Quiz 
A quiz is personalized, suitable for a variety of industries and offers an extra high level of commitment from the target group. Customers like to test their knowledge and are motivated to complete a quiz. 
Infographics / data visualization 
Interactive infographics pack dry facts and figures into a vivid story. The user can obtain more information on a specific topic by scrolling and clicking on it. In this way a variety of complex information can be conveyed without being perceived as too intrusive. 
Videos 
Compared to ordinary videos, where the viewer is merely a passive observer, interactive videos actively involve the viewer in the action. 
For example, the viewer has the option to select certain elements in the video and to determine the course of action in whole or in part.
Landing pages 
Interactive landing pages attract the attention of users, increase their dwell time on the site and thus enable higher lead generation. 
Calculator
With the help of calculators, customer needs can be taken into account and thus individual offers can be created. 
 Surveys
Surveys are important instruments for obtaining detailed customer feedback. Interactive buttons, embedded videos and even animations can emphasize and understand the topic or question while helping you capture the attention of your audience.
Games/Gamification 
Games are the origin of interactivity! They are entertaining, attract attention and provide effective learning opportunities. Gamification elements are suitable for both internal and external communication.
Why do we need interactive content? 
We live in the age of stimulus satiation with an ever shorter attention span. It is therefore important to quickly arouse the interest of the viewer. This is where interactive content comes into play. They promote the commitment of the target group and at the same time are being shared on social networks. Furthermore, interactive content offers the following advantages:
SEO 
Interactive content offers many backlink possibilities and a longer dwell time on the webpage. This has a direct positive effect on your search engine ranking. 
Conversion Rates
Active engagement combined with entertaining content that appeals to the emotions of the users also increases conversion rates. 
Customer data 
Interactive content enables the collection of valuable customer data as well as insights about answered questions, behavior and needs. The following figures also prove of how effective interactive content is: 
45% of B2B customers report that interactive content is one of the three most requested content formats (SnapApp).

51% of B2B shoppers say that interactive content helps solve business challenges (SnapApp). 

62% of B2B marketers already use interactive content (NachfrageGen).
The best interactive content – examples 
Are you ready for a visual journey? I will show you some exciting formats that are currently circulating on the web. Let me inspire you. 
1. Allbirds: Why Our Future May Depend on Birds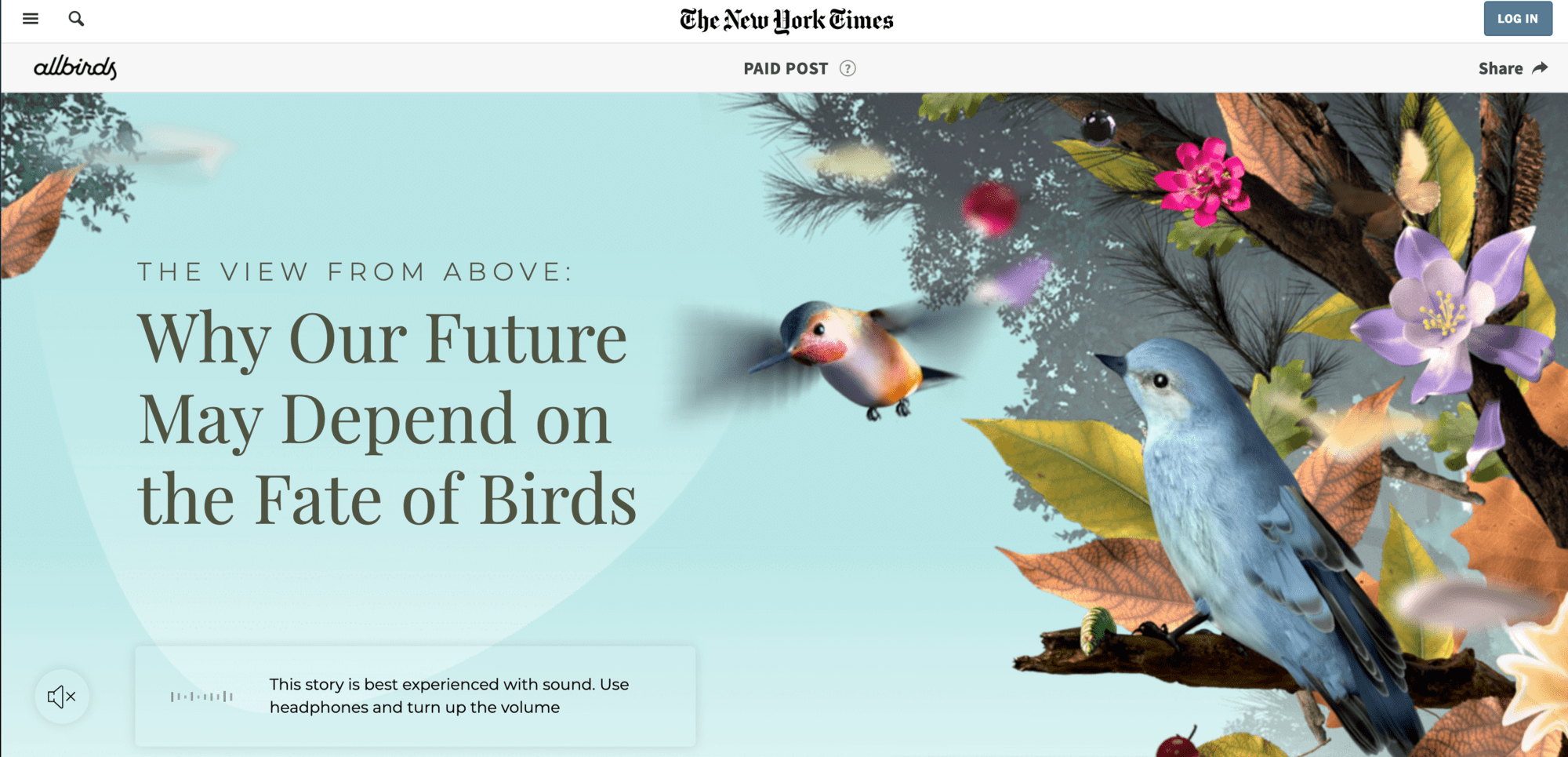 Allbirds, a sustainable US-American shoe brand created an interesting campaign in the New York Times to draw attention to the ecological importance of birds and thus create a direct reference to the brand. In particular it was about showing how the consumer can contribute to environmental protection. The campaign also explains how Allbirds contributes to this through sustainable production of the shoes.
If you are reading this, it probably doesn't sound that extraordinary. To stand out from all the other competitors Allbirds had the idea to lead the viewer on an interactive journey. The user can scroll and gets more and more information. Oh, and the design with 3D effects is nevertheless a true blessing to the eyes. With the bird chirping in the background, you suddenly feel like you're in a fairy tale forest.
2. Function of Beauty's Hair Quiz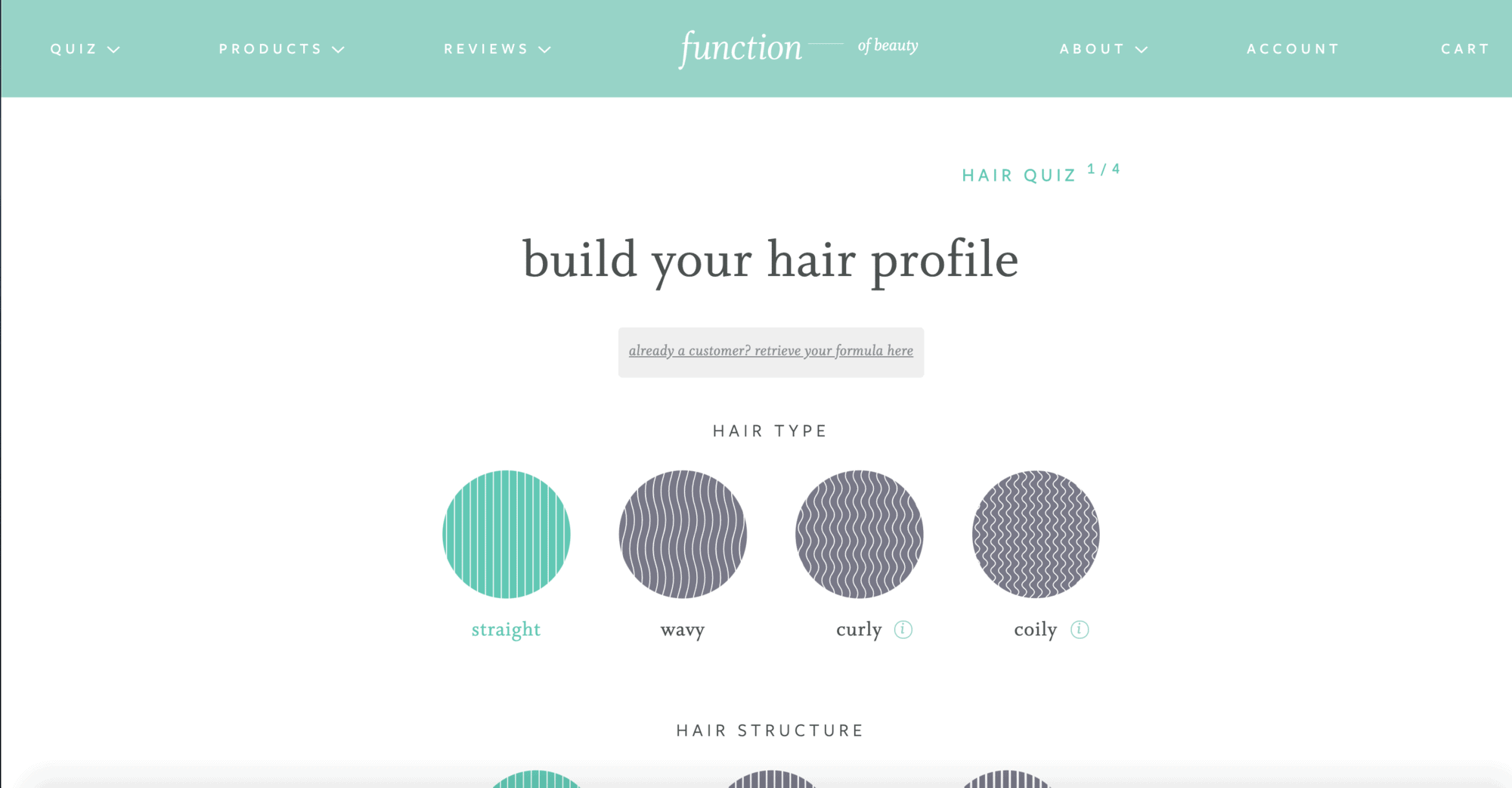 Although this example is not a visual masterpiece, it does show the extent to which interactive content in the form of a quizz can deliver an individual customer experience. Here, the customer can create an individual hair product, depending on hair structure, personal preferences, etc. Why is this so effective?
Through the additional questions, the user becomes involved and automatically deals with the brand. The longer time dwell time on the site has a direct positive effect on the SEO. Of course, you also learn about the preferences of your customer. The user receives an individual product, tailored to his needs. What more do you want?
3. How the coronavirus spread

The New York Times proves with this infographic how effective interactive elements are in conveying facts and figures. The graphic shows how the coronavirus turned from originally isolated individual cases into a nationwide disaster and at the same time emphasizes how absolutely essential social distancing is. Even those who do not necessarily want to read the short text excerpts will get a detailed insight into the rapid spread of the virus.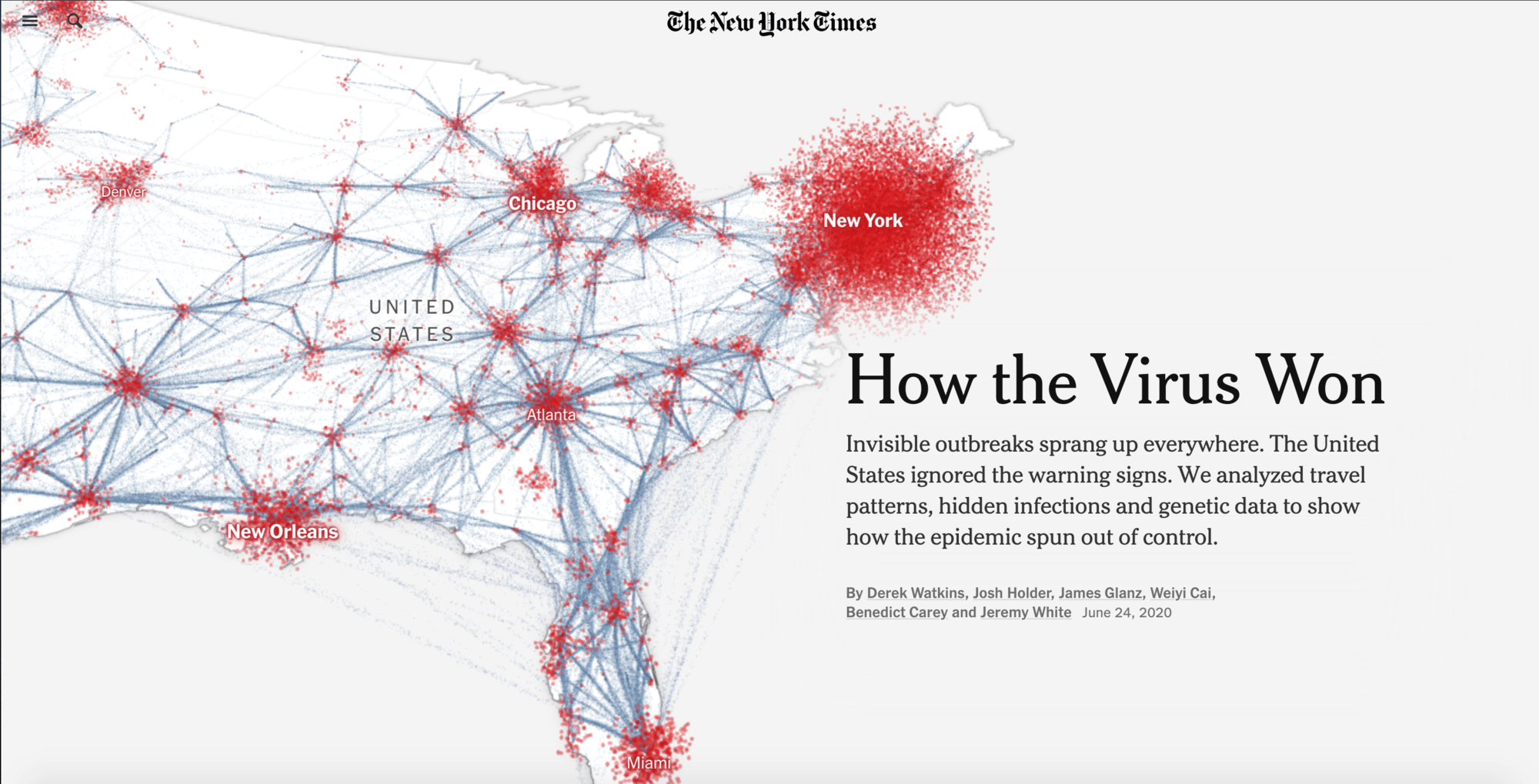 4.Expedia's Accent Map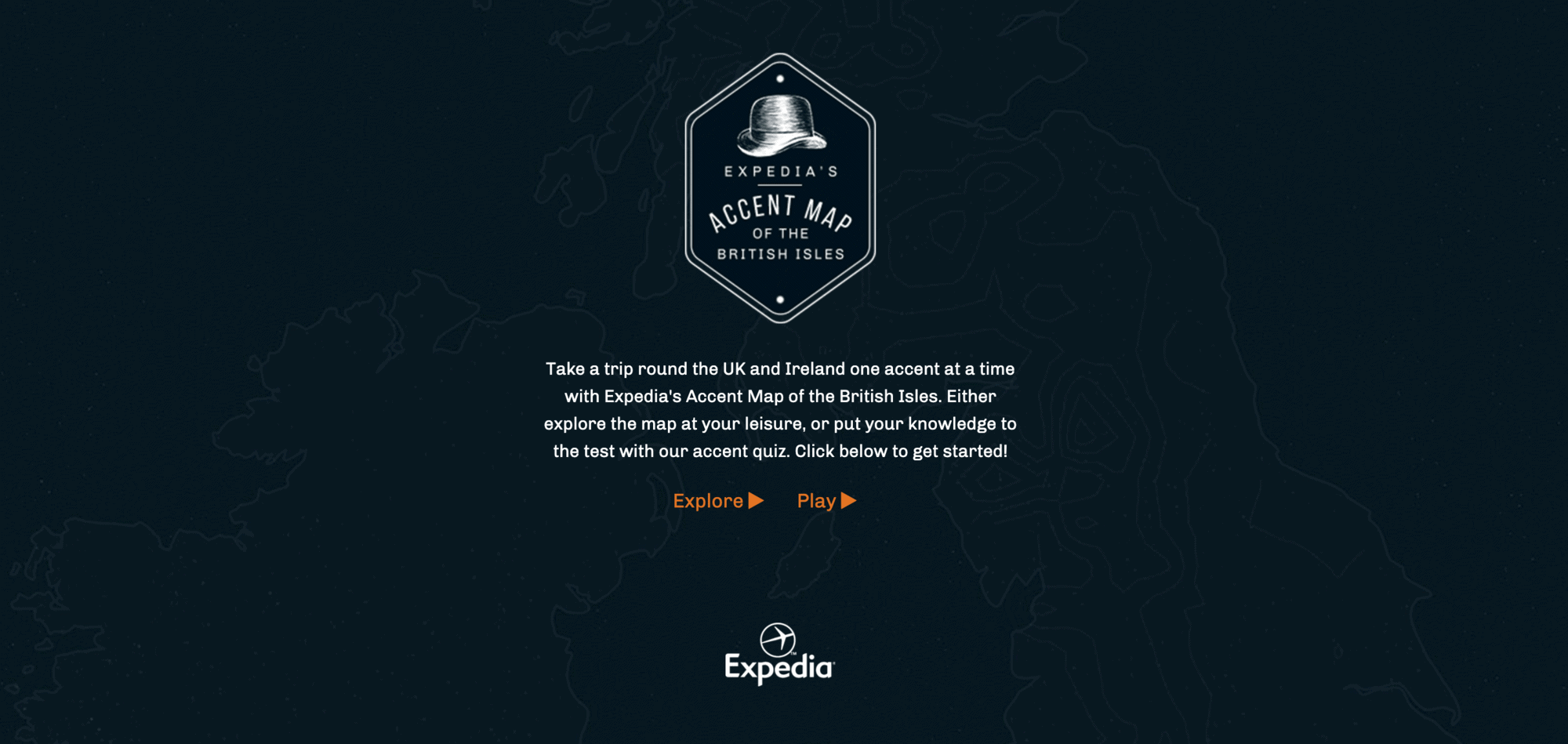 A quiz is particularly effective because it is entertaining and is readily shared within the community. Expedia probably knew this too and therefore created an interesting quiz about different English accents. Ideal to test yourself, share the game with friends and also to get a long stay on the webpage ;).
5. You vs. The Kardashians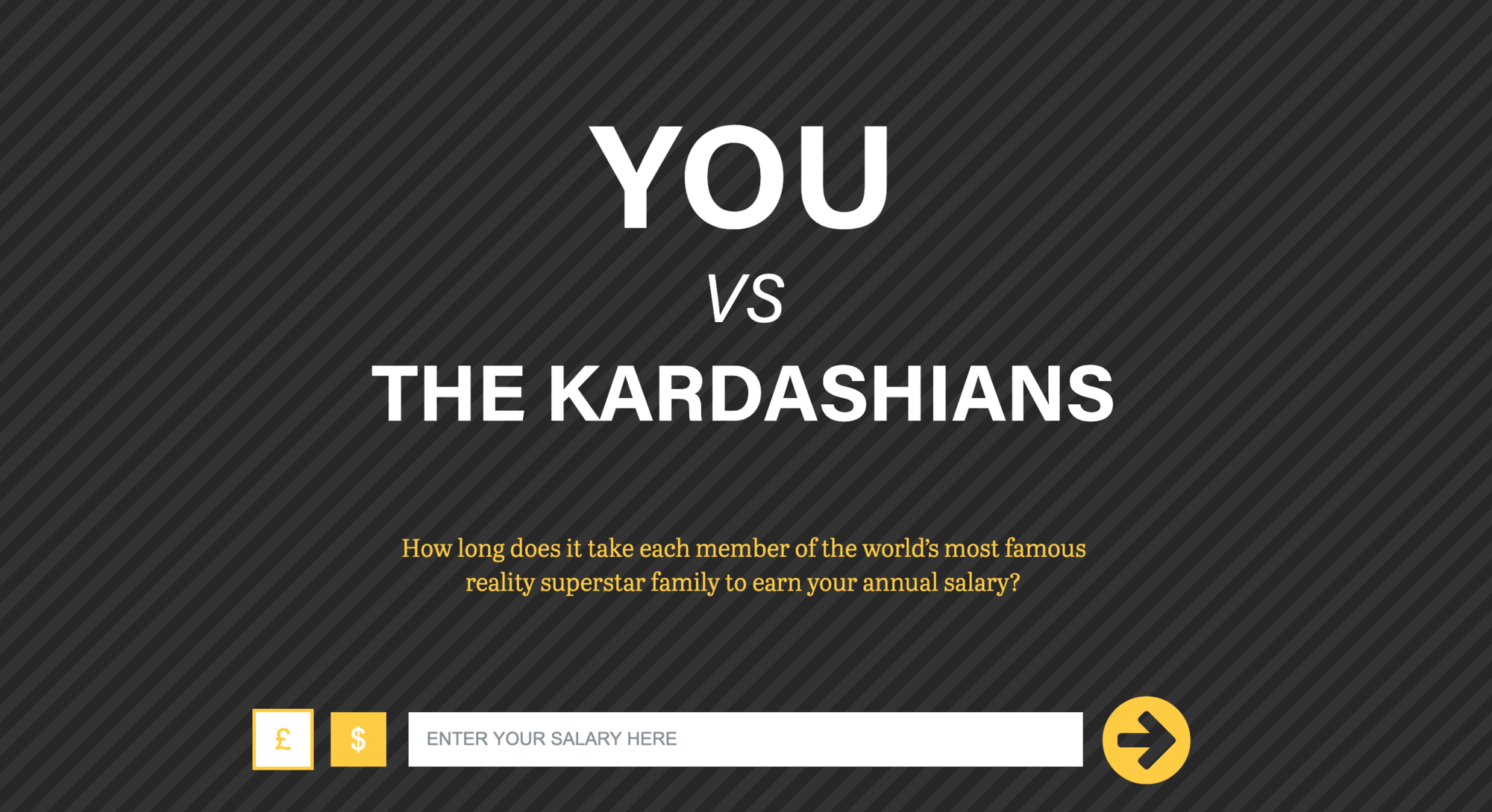 All right, let's leave the sense of this interactive content aside. Unless you want to feel really, really bad in your professional life. But it's entertaining anyway and let's face it, most of us would still try it out of curiosity. A good example of how you can keep the user on the site. Such content is particularly popular on social networks and thus makes it possible to build a community.
Of course, computers can be used in a serious context and allow, for example, the creation of customer-specific offers.
6. Interactive infographics Cewe photo world – Photos by Instagram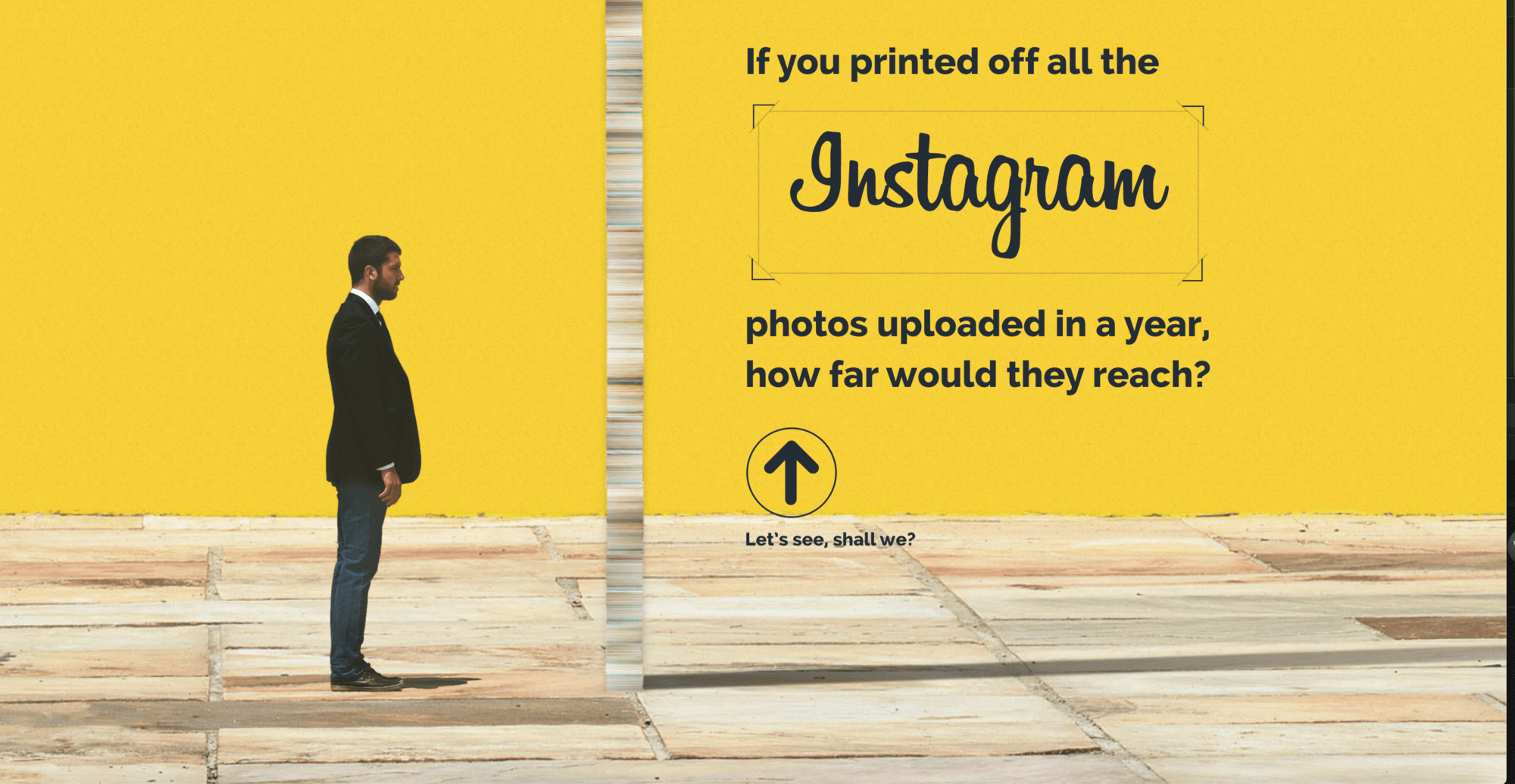 Especially during the Christmas season you might use Cewe yourself to create a beautiful photo book for your loved ones.
To attract even more customers, Cewe created an entertaining infographic showing how far all uploaded photos on Instagram would reach. The Empire State Building? Ha, this is just the beginning. Check it out ;).
By the way, this is again a good proof that interactive content does not necessarily have to be related to the product. In this case it is the subject area of photos, but of course it does not generate direct new customers for Cewe. Nevertheless, the user is dealing longer with the brand, spends more time on the webpage and will be able to remember the brand better in the future (when the product is needed).
7. The chronology of the universe  
I have already mentioned this video in one of my previous blog posts. With the help of music and graphic elements, the video infographic captivates the viewer from the first second on and leads him on a visual journey through the universe. Video infographics are especially effective for complex topics that cannot be explained by simple animations.
8. Landing page best practices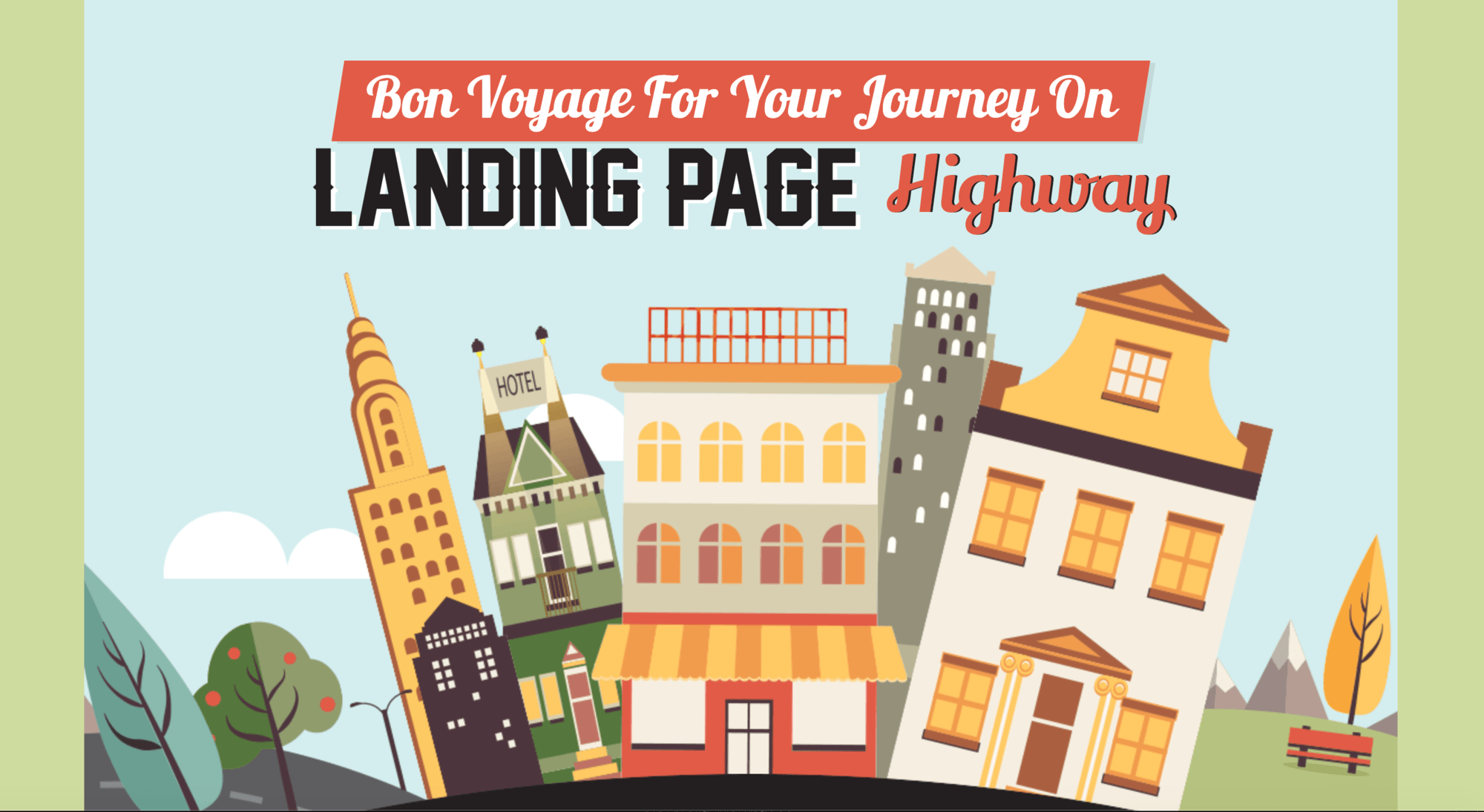 But this is really the last interactive infographic, I promise! But after a year in which statistics were used very often, interactive infographics have become very important tools.
With this animated infographic, the E-mail Monks team would like to show how to create an effective landing page. The viewer drives through the "Landingpage Road" and reaches the destination after many stops. A colorful, inviting design completes the whole thing.
9. Gamification: JustPark: How Old Are Your Reactions?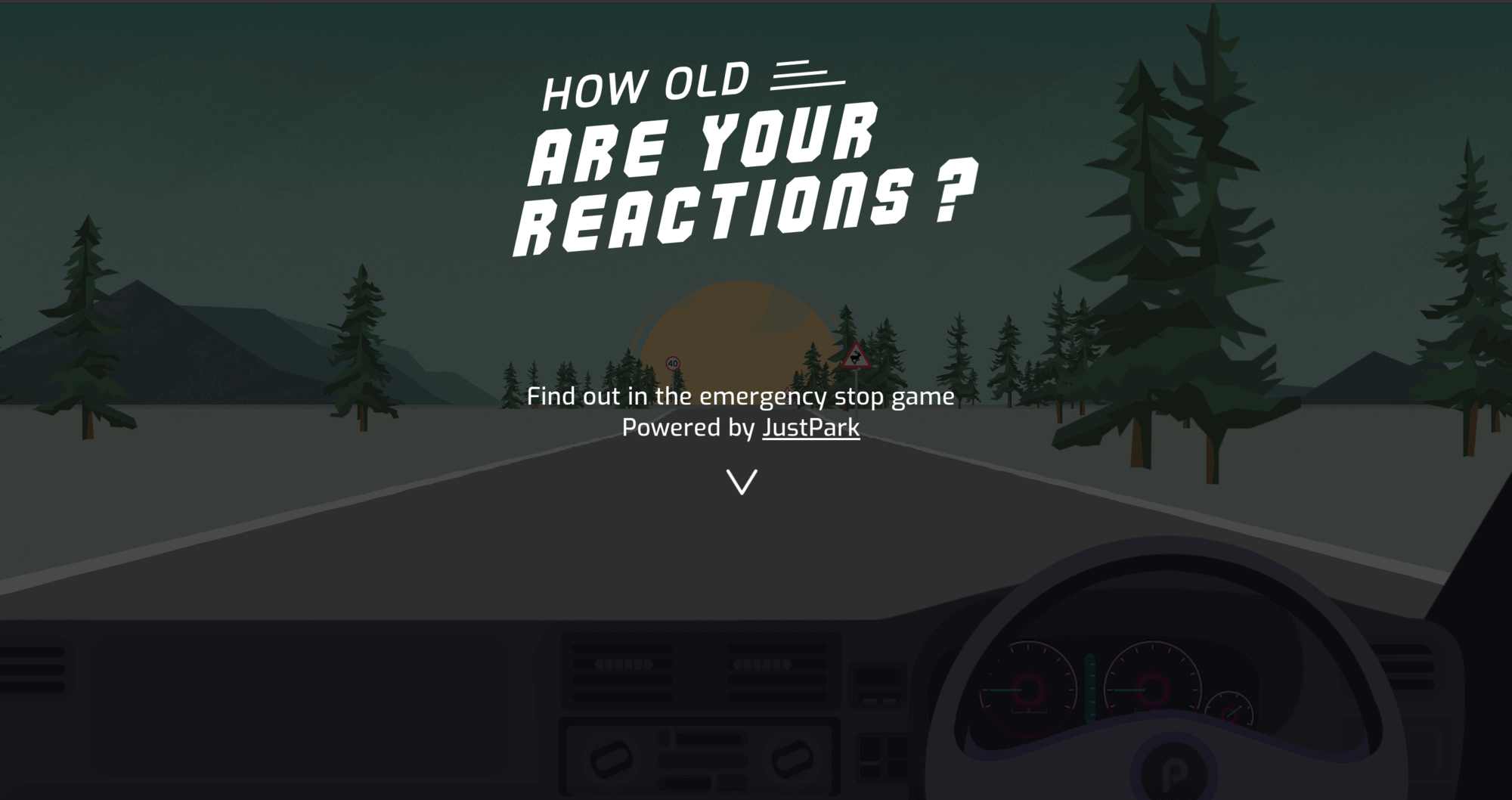 Games have not been kids' stuff for a long time. By using gamification the customer can be motivated and bound to the brand. Just Park has created a simple yet effective game to test the user's responsiveness. Definitely a format that people like to share on their own social networks to compare the results with friends and family.
According to the results of JustPark, I am probably not a very normal person. But in fact I have heard that quite often 😉 What age does your responsiveness correspond to?
10. Interactive Video: Will you fit into Deloitte?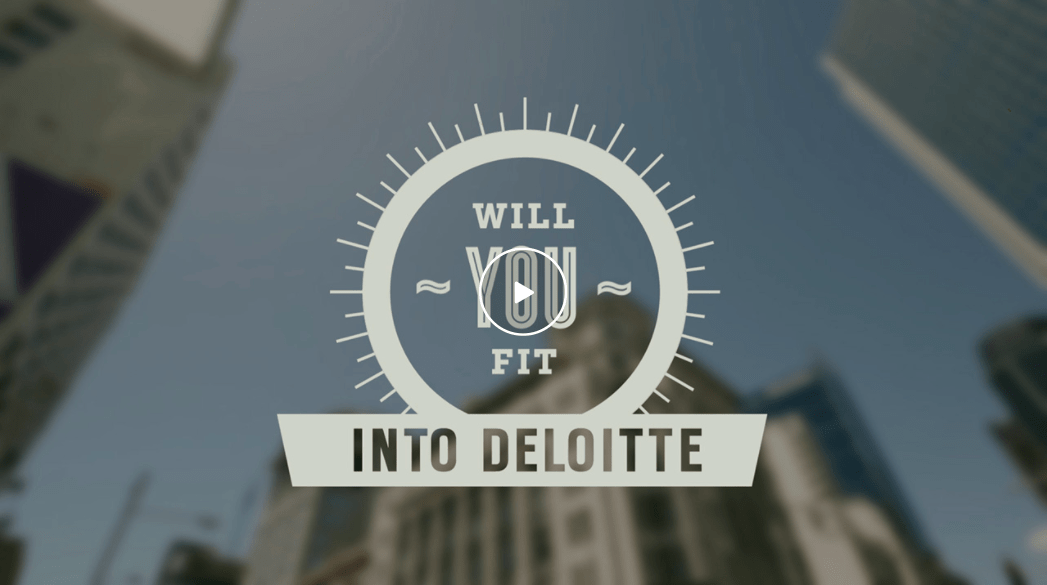 Interactive videos are not exactly the most cost-efficient format, but when used correctly they are absolute power tools in content marketing. Even without interactive elements, videos are already the most popular formats among users and achieve about 1200% higher shares on social networks than text and images combined.
The international company Deloitte quickly recognized the new trend towards interactive content and created a recruitment video based on it. The user has to answer various questions, gets to know the company values better and can find out for himself whether he fits into the corporate culture.
Cleverclip – interactive content  
At Cleverclip, we strongly believe that interactive content is a valuable tool, both for our customers and for internal projects. Therefore, this article should not miss some interactive content from our own company. We have summarized the results for you in a video.
1. Cleverclip – Road to Perfection 
How do you get the idea to award master titles for listening to music, tying shoes and cutting onions? Very simple: You have to belong to the crazy bunch of Cleverclip 😉 . We thought it would be great to know who is the best at brushing teeth or tying shoes… . In the end, we decided that, as with most things, it would be best to create an interactive tool for this. And that's what we did! Play along and define your Road to Perfection! Click here for the game.
2. An interactive graphic for Generali
Generali wants to be represented as an insurer in all situations in life with its Strategy 2025. To this end, Cleverclip is allowed to create an interactive graphic every year to provide Generali employees with an updated overview.
This time we created an interactive illustration that presents the world of Generali. By clicking on numbered buttons, the user gets a detailed insight into the strategic business areas. The colors and graphics are in perfect harmony with the company: Colorful and positive – so is the brand. Because Generali's goal is to create a positive and emotional experience for the customer.
3. Landing page: 60 years for TPL 
TPL wants to combine 60 years of company history with the Interpack exhibition. For this purpose we were allowed to create an interactive landing page, which should also serve as information and registration portal. With playful elements the user is led on a visual journey through the company history of TPL.
The best interactive content: Related topics
This year I have been working on a variety of interactive formats, collected the "best ofs" and went on a trend search. Here you will find a number of articles dealing with specific formats. 
The best interactive content: Conclusion 
I hope after this article you love and live for interactive content. In this age of sensory overload, anyone who wants to effectively address the target group and bind them to the brand in the long term must rethink and focus on content that enables exactly that. 
As you have read in this article, there is a wide variety of formats, for different applications, budgets and target groups. Have you come across exciting interactive content this year that is still missing in this article? Then let us know! And if you still need support with the conception of your interactive content, please contact us. Together we will find the right solution for your business objectives. 
For convenience purposes this post has been translated automatically.