Newsletters offer a great way to interact with your customers. Not only do you reach many customers, you also build and expand your community. So how can you increase the opening rate and get more out of your newsletter? In contrast to many other marketing tools, a newsletter is free of charge and can be designed completely freely. This does not mean that it deserves less attention, on the contrary. Here it is particularly worthwhile to optimize the opening rate!
But how can you increase the opening rate? How do you finally reach opening rates above 20% ? Our infographics have tips and tricks.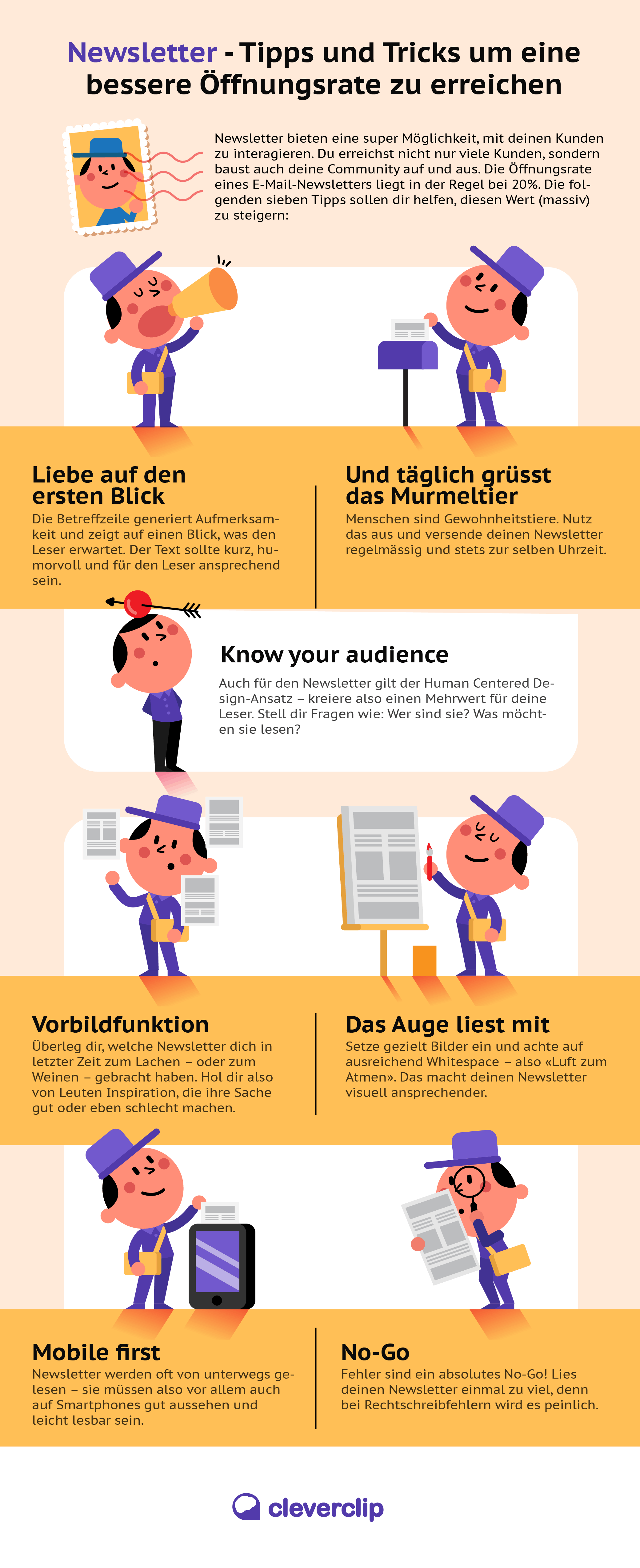 And now you want to know if we follow our own tips and tricks? Well then, subscribe to our newsletter!
1: Love at first sight
The subject line generates attention and shows at a glance what the reader can expect. The text should be short, humorous and appealing to the reader.
2: And every day the marmot greets you
Humans are creatures of habit. Use that and send your newsletter regularly and always at the same time.
3: Know your audience
The Human Centered Design approach also applies to the newsletter – so create added value for your readers. Ask yourself questions like: Who are they? What do they want to read?
4: Role model function
Think about which newsletters have made you laugh – or cry – lately. So get inspiration from people who do their thing well or badly.
5: The eye reads with
Use specific pictures and pay attention to enough whitespace – that means "air to breathe". This makes your newsletter visually more appealing.
6: Mobile first
Newsletters are often read on the go – so they have to look good and be easy to read, especially on smartphones.
7: No-Go
Mistakes are an absolute no-go! Read your newsletter once too often, because spelling mistakes are embarrassing.
For convenience purposes this post has been translated automatically.