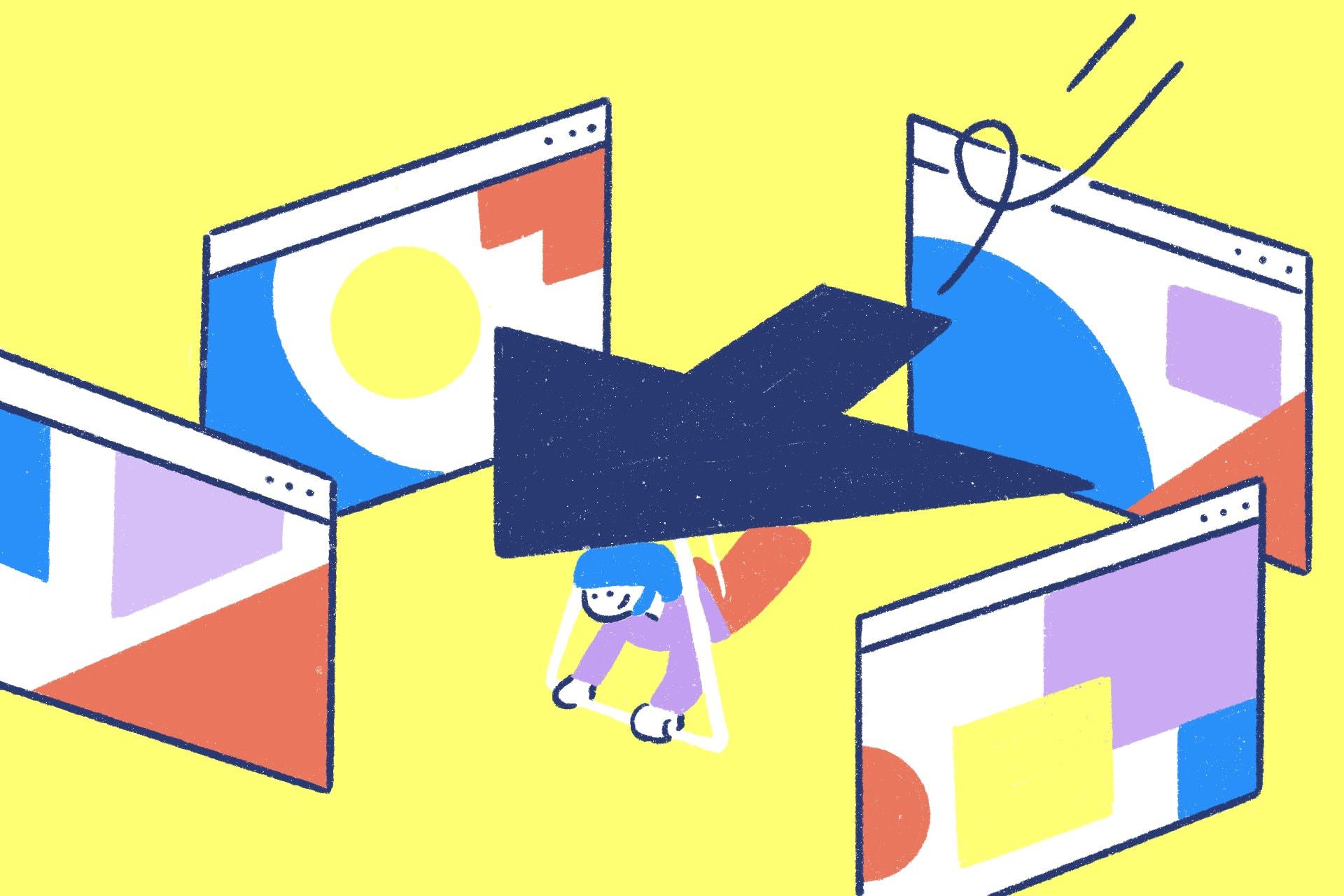 Interactive content, interactive content, interactive content – I'm talking about it, other companies are talking about it, marketing experts and of course Sir Google are talking about it. Interactive content today includes a variety of different formats. While the internet is more or less oversaturated with information about video content, quizzes and calculators, interactive platforms do come a bit short. Yet they offer a lot of potential in both, the external and internal corporate communication. In this article I will explain what this type of interactive content is all about, why we need it and what trends we can expect for 2021. 
What are interactive platforms? 
Interactive platforms are targeted and personalized content that enable an immersive experience for both, the external and internal communication. 
Via an interactive web portal, users can access, for example, specific information, products and offers. They can use interactive elements to adapt the content to their own needs in part or in full. News, company updates, facts and figures are thus wrapped in an interactive experience and communicated to the user in an appealing way. An interactive platform can either be part of the website or act as an independent portal. For Generali, for example, we created an interactive platform on which the user gets an insight into Generali's strategic business areas with the help of an illustration: 
You can read the entire case here. 
Why are interactive platforms useful? 
Depending on the format, interactive platforms help achieve the company's goals in a variety of ways. In general, interactive platforms facilitate collaboration and communication in any context and increase the company's productivity and efficiency as well as the user engagement. Internal portals provide managers and employees with all the tools they need to communicate and collaborate more efficiently and effectively in real-time. 
They can also be used effectively in the area of knowledge management to collect information in a central database and then retrieve it more easily. All interactive formats also offer good tracking options and valuable customer data. 
Interactive platforms – what formats are available?
Probably the best known form for most of us is the "social intranet". A social intranet is a kind of digital collection point where employees can collaborate and communicate within a protected, interactive space. But interactive platforms can also be integrated into the company's everyday life in a variety of ways. Here is a small selection: 
Information portal  
Interactive platforms are particularly suitable for the transfer of knowledge to employees and external partners.  Company reports, important internal information and company updates can be collected centrally and accessed by users individually and in an engaging way. 
Community Platform
The main focus here is on networking as well as communication and interaction with external stakeholders, such as customers, partners and other prospects. A community platform allows to get feedback, discuss ideas and generally encourage external communication.
Project platform 
This type focuses on collaborative work. Specific topics and results are being developed to reach the desired goals. A project platform does not only make the company's work easier, but also more effective. 
Innovation platform 
An innovation platform collects all your creativity in one central place, so that you can exchange ideas with employees, external partners and interested parties, discuss them together and promote innovation. 
Digital shopping experience 
With smart, networked online shopping opportunities, you can offer the customer an immersive shopping experience. Shoppers get more involved, while you gain valuable consumer insights. 
Interactive platforms: What trends can be expected? 
Digitization is not standing still and will therefore also offer more opportunities in interactive content marketing. This year in particular has shown us just how suddenly technological innovations can be introduced. And that is exactly what I would like to take a closer look at. What trends, developments and changes can we expect in the field of interactive platforms? Let's dive into the future.
Learning Experience Platforms (LXP) 
It is probably no big surprise that we can expect an ever-increasing switch to digital platforms, especially in the E-learning sector. Of particular interest in this context would be so-called "learning experience platforms" that combine knowledge transfer with an appealing user experience. They are also called the "Netflix of learning" because they offer a similar level of engagement and interactivity. 
With adaptive learning platforms, special content is even customized to the respective learning type: For example, for one user the content focuses more on visuals, while for another user it focuses more on text based quizzes. Based on the user's level of knowledge, the following course content is automatically adapted. 
We can expect to see more and more interactive learning experience platforms of this kind in the future in a variety of areas: employee training and continuing education, onboarding processes etc. A learning experience platform is user-oriented and at the same time serves as a social network in which learning progress can be shared with the community. No wonder that LXPs will soon replace the traditional LMS (Learning Management System). 
Focus on "Unified Communications as a Service". 
Even without Corona, the (internal) communication has changed rapidly over the last few years. Nevertheless, many communication tools were isolated from each other and only very few companies had a uniform communication infrastructure. "Unified Communications as a Service" (UCaaS) combine various communication services, such as messaging, e-mails, Internet telephony, etc. in one cloud. Although UCaaS offers a great deal of flexibility and productivity, it has not been a standard in most companies to date. 
Now, of course, things look completely different: The work-from-home movement has led more and more companies to turn to UCaaS to enable a more flexible and agile way of communicating. We can assume that the importance of cloud-based and uniform communication platforms will continue to grow in the coming year. So here it is important to analyze precisely which platforms or which systems are best suited to your company and create the most appealing user experience possible. 
Mobile optimization 
Mobile-friendly and "mobile first" – these are two keywords that I now use in every marketing article. But how could I do otherwise? With more than half of the worldwide data traffic, mobile optimization cannot simply be ignored – at least not if you want to reach a large target group. Regardless of your interactive platform, be it a modern intranet, a digital shopping experience or an entertaining knowledge portal, ideally it should always be optimized for your smartphone. Also make sure that the design is adapted to the smartphone display and that all fonts are clearly visible. 
Artificial Intelligence 
A rapidly growing trend in the technology sector: artificial intelligence. Due to the ever-increasing amount of data and information, manual data analysis in companies is often no longer possible. In the meantime, we have all encountered some form of AI, for example the chatbots in customer service. On interactive platforms, AI could play a role, especially in the context of a modern intranet, for example by recognizing user habits and adapting the content and documents to suit the respective application profile.
Within internal portals, for example, it is also possible to analyze whether the employee's activities are in line with the respective job profile. If this is not the case, other contents can be suggested. In this context, voice control and natural language processing are the central elements. Digital buying platforms can also benefit from the AI and thus create an appealing user experience.
The focus on employee experience 
What is the "employee experience" in your company? You are not sure or do not know exactly what I mean? Red flag. In the meantime, the term "employee experience" has become a real buzzword. But behind it lies an important element for a good working atmosphere and more employee engagement. The Employee Experience covers a wide range of areas – from the interview to the onboarding process, to-dos and routines – everything that affects the corporate culture. 
The employee experience has already gained in importance in recent years. But the changing working habits due to the Corona crisis puts it in a new light. Because many previous "perks" such as free wellness hours, fruit baskets, table tennis or the "bring your dog to work day" mostly referred to the regular office life. But how does it look digital? 
Surveys show that employee experience will continue to be one of the top priorities in the future. We can assume that especially in the post-Covid era, employees will have more and more technical requirements to work more productively, but also to feel digitally connected to the company. And in this context, attractive, interactive employee portals that offer a social experience in addition to the professional aspects will play an important role. 
Modern Intranets 
I have already mentioned the "Intranet" several times. But much more than an ordinary intranet, it is important to switch to modern intranets. What exactly do I mean? 
In general, the focus is again much more on user interactivity and not exclusively on the provision of information. A modern intranet not only provides static information, but above all puts the organization's employees at the center and thus promotes a dynamic exchange of communication. With the help of special tools, the entire team has better access to company-specific information and can run its work more efficiently. A modern intranet is completely cloud-based and therefore cost-effective, easy to implement and manage. Companies have been migrating to modern intranets for some time now. However, we can also expect this development in the coming year. 
The desire for immersive experiences 
VR (virtual reality), 360 degree experiences and AR (augmented reality) play an increasingly important role in visual storytelling and interactive content. Unlike ordinary interactive elements, the user gets an additional realistic representation of the content and becomes, especially in virtual reality, part of the immersive experience. 360-degree videos, in turn, can be used as training tools that participants can deal with effectively. 
As the demand for immersive and engaging user experiences continues to grow, we can assume that these elements will also be used in interactive platforms. 
Telemedicine – treatment at a distance 
Perhaps a little off topic or concerning a completely different industry. However, this trend only shows us that we can soon look forward to more and more exciting interactive platforms. Especially in the healthcare sector, new technologies are usually being  introduced a little slower. This year, of course, things went quite differently and promptly telemedicine became an integral part of many medical practices. Will interactive health platforms soon become the new standard? Hard to say. 
It is difficult to predict whether interactive health platforms will actually become the standard. After all, face-to-face conversations are  indispensable in the healthcare industry. However, in times after Corona, we can at least expect a slight trend towards interactive platforms where patients and relatives can inform themselves, exchange information or even receive virtual treatment tips. 
Conclusion
An interactive platform makes it possible to create a bond between your brand and the audience. Whether an interactive knowledge portal, a modern intranet, a digital shopping experience or a community platform, digital experiences not only attract the attention of your target group and create more engagement, but also deliver valuable consumer insights. Do you use an interactive platform in your company? If not, it's about time! Message us and let's find the perfect solution for you together.
For convenience purposes this post has been translated automatically.