Of course: Remote Work has many advantages. For example, you can decide for yourself when and where you want to work. This leads to more flexible planning of work and leisure time, which ultimately results in a good work-life balance. In addition, you are independent and often even more efficient than in the office.
The other side of the coin
But unfortunately this way of working does not only have advantages … It also creates challenges at the same time.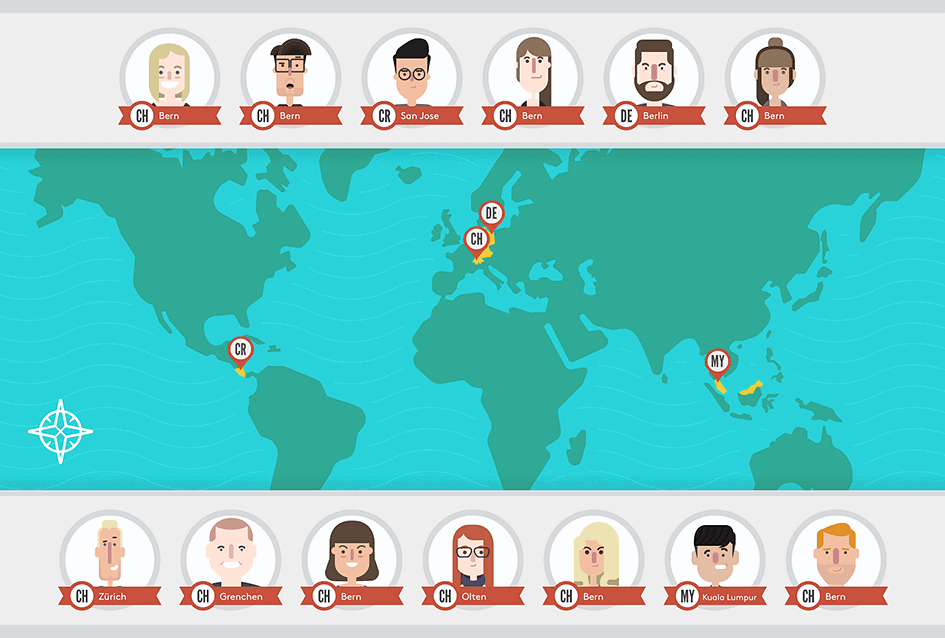 The most difficult thing is to always bring all employees to the same table.
A small example: After the project managers have returned to the office from the kickoff workshop with the customer, a plan must first be drawn up as to when and what needs to be done.
The first two steps are a concept meeting and a heat map and decision session. All important information about the project, the content and the data is passed on to the creative team. We then work out a first idea, in which we determine in which direction the story we want to tell could go.
It becomes clear that there is a lot to organize! When Carlos gets up in the morning in Costa Rica and makes himself a coffee, motivated and in a good mood, the boys and girls in Bern have been on their feet for a whole day and are about to leave work. Working in different time zones is a challenge, but also passing on information on a visual level proves to be more difficult than you might think …
Meeting at the virtual table
We always meet the challenges of remote working with new tools. These should make our daily work easier. Naturally, we sometimes have better, sometimes worse experiences. Among the former we certainly count "Realtimeboard". It is a tool that solves the problem of locality in an elegant way. Realtimeboard brings – casually speaking – all participants to a common, virtual whiteboard. In fact, it almost feels like sitting together in a meeting room, complete with beamer and whiteboard wall. The great thing about it is that information can not only be told, but also displayed on a visual level. And you know, pictures always stick better than text! (Where have we heard that before …?)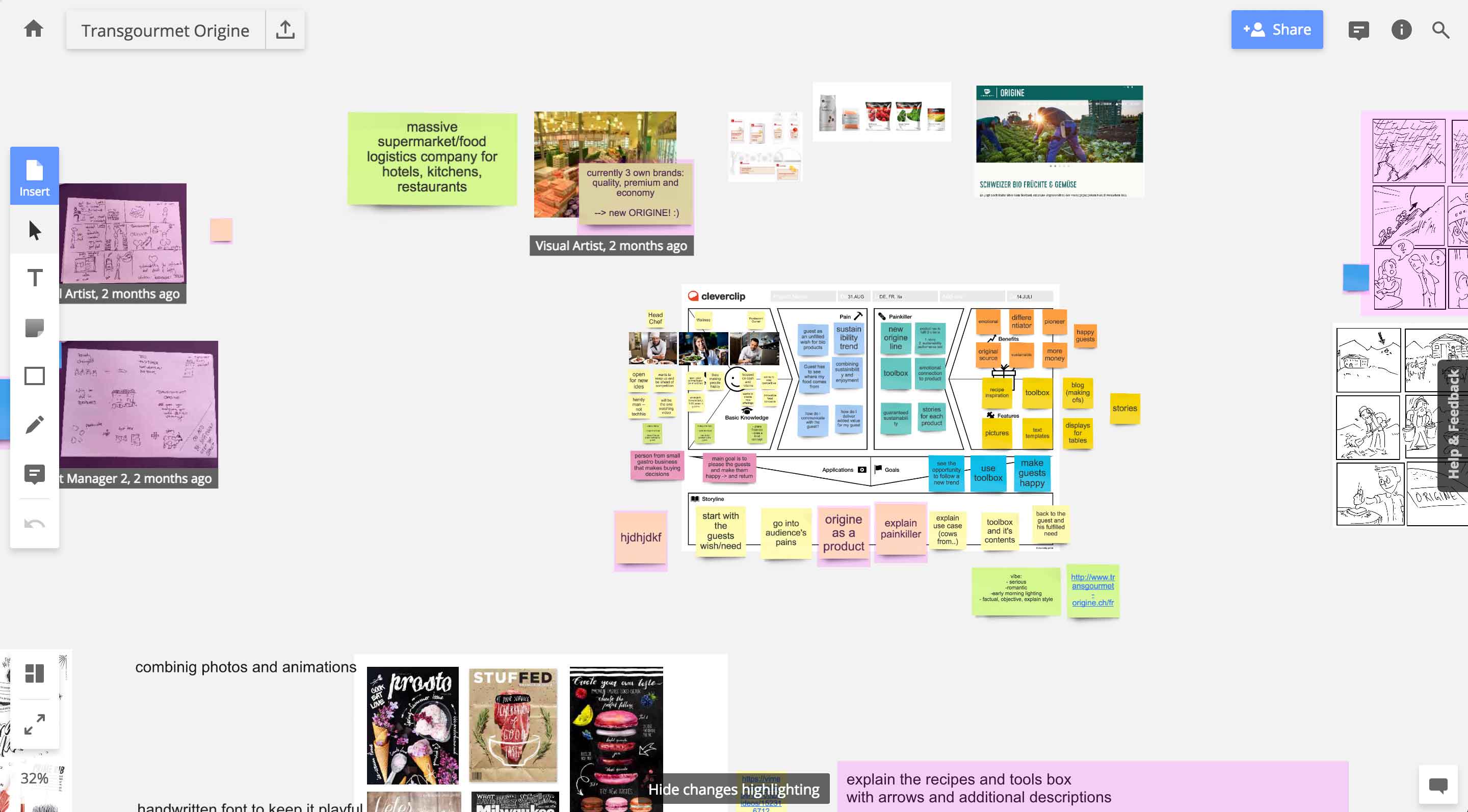 Project managers can upload any file, regardless of format. You can upload pictures, pdf documents or even small GIFs. It is also possible to add virtual post-its, and this is widely used in our sessions! (We're huge post-it fans!) All of the customer's details are repeated so that everyone present gets the same picture of the situation. In this way we can respond perfectly to the needs and wishes of the customer.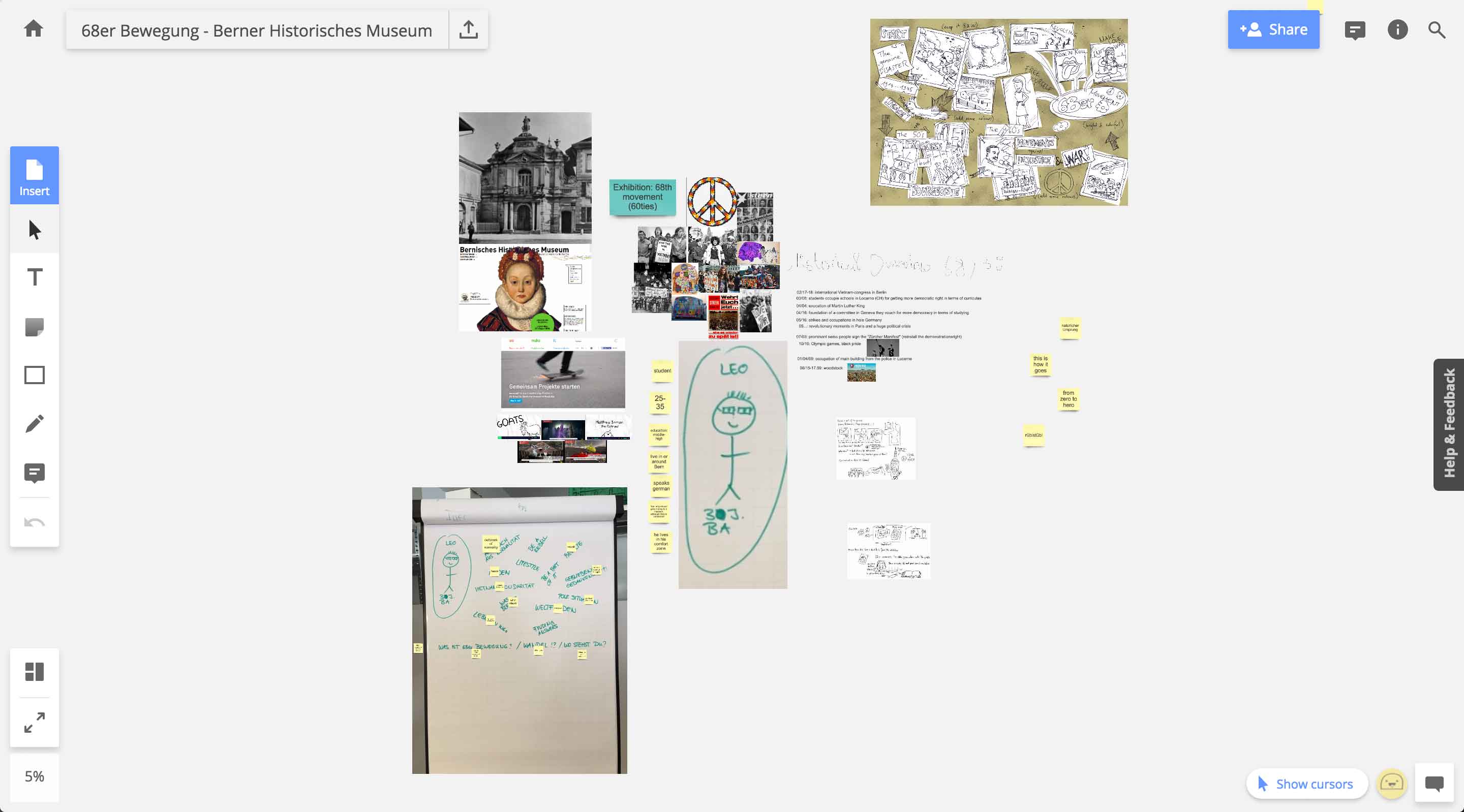 Realtimeboard shines with a super-easy operation. By drag-and-drop you can upload required files in seconds and by simply clicking and moving all materials can be structured according to your own wishes and ideas.
An explosion of ideas
The concept meeting is followed by the heatmap and decision session. All creative people and project managers have thought about the product or process beforehand. The session is a virtual meeting to present the generated ideas. These were loaded onto the real-time board beforehand and can thus be viewed by everyone. There are many ways to present the ideas: Either you make a sketch on paper or in the real-time board itself, or you write a text in a text field. Or you can write keywords on virtual Post-its. In addition, you can upload pictures or links to videos that have served as inspiration for your own idea.
A tool that ensures efficiency
Realtimeboard … This browser-based solution has given us many advantages, especially in meetings. At the moment we can't imagine this virtual playground without!
The most important thing about Realtimeboard is the efficiency it brings with it. It's a tool that's very intuitive to use, which makes it one of our favorites in everyday work.
Try it out, it's worth it!
Interested in more news & opinions about design and storytelling? Well then off to our newsletter
For convenience purposes this post has been translated automatically.