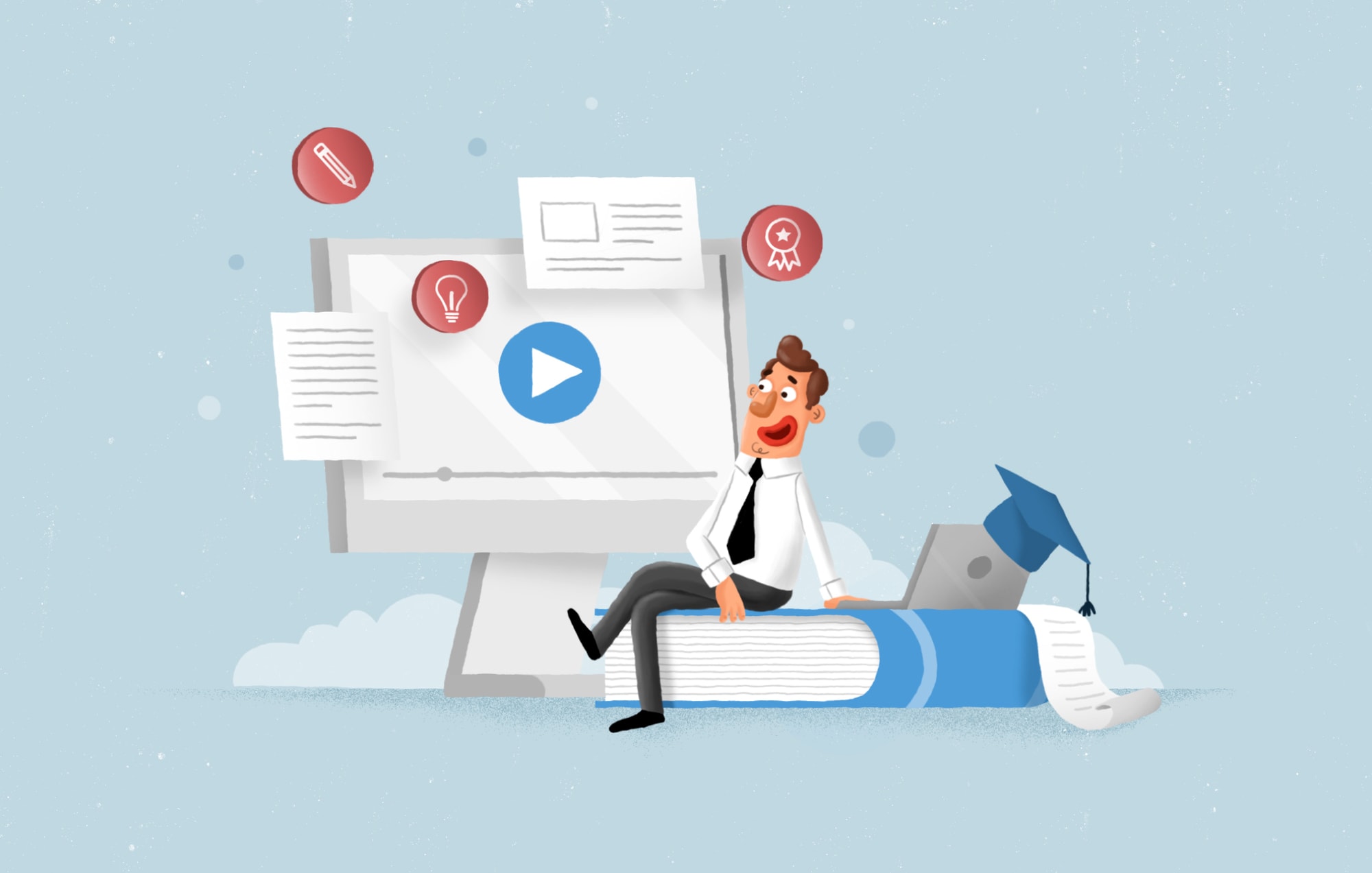 In one of my last articles, I talked about digital learning and its potential in companies. Today, I want to specialize a little more and explain how learning videos can be created.
Whether on TV, on social media, or on the website, moving images pack any message into an exciting story and thus catch the attention of the target group. So, why not just apply this method in the (continuing) education sector? In this blog post, you'll learn why it's worth integrating learning videos, what the different options are, and what steps to take.
What is a learning video?
As the name also suggests, the goal of a learning or instructional video is to impart knowledge in order to teach the viewer something. An educational video can be a stand-alone format or integrated within a learning course, e.g. an e-learning course, but also during a live presentation.
Why is a learning video worthwhile?
The last 12 months in particular have pretty much turned traditional learning methods on their head, both in education and in a corporate context. Here, learning videos are the ideal medium for interacting with the target group and effectively conveying content, despite the lack of face-to-face training.
As a creative design agency, we at Cleverclip are particularly big fans of learning videos, because we know exactly how effective visual elements are compared to text-based ones. Our brain processes images up to 60,000 times faster than pure text. 70% of the sensory receptors are also located in the eye. This means that conveying information with the help of moving images, as is the case in a video, is particularly appealing to the target group and thus increases the learning effect.
Of course, everyone has their own learning habits. There is the visual or auditory learning type, reading type or the practical learner, who acquires everything by "learning by doing". With the help of embedded videos in your learning format, you can therefore optimize your eLearning offering and take the individual learning types into account.
But a learning video offers many more advantages:
Can be watched by the viewer at any time, depending on individual needs
Can be consumed regardless of location, thus saving on travel costs, as is the case with classroom training, for example.
Can be repeated countless times and thus be a good aid, especially in case of comprehension problems
Offers different format options, depending on the needs of the target group and topic
Can be used for different purposes: On the one hand, quite classically in the educational sector, such as in class or in a lecture, but also in the company for onboarding processes or further training.
What types of learning videos are there?
There are a variety of ways to create the perfect learning video. Depending on the context, your own target audience and topic, there should definitely be something for everyone.
Animated explainer videos
The classic among the learning videos and also our specialty at Cleverclip. Animated explainer videos or "explainer videos" illustrate even complex topics in a very short time and pack them into an exciting story. The visual action is usually additionally supported by a narrator, thus enabling maximum effectiveness of the message.
Explainer videos also offer a wide range of creative possibilities, from simple scribble videos to more elaborate character animations.
Screencast
A much simpler option than an animated explainer video would be a screencast, i.e. a recorded screen recording of, for example, a PowerPoint presentation. Especially if the presentation itself is interactive and appealing, it can be an effective alternative to exclusively written material. At the same time, you as the speaker can better explain more complex points. Recording can be done either directly in the presentation software, but also via various programs such as QuickTime Player or Loom.
In this context, tablets are also excellent for drawing directly on the screen parallel to what is being said and then recording this. This would be a similar approach to the scribble animation of an explainer video, for example.
Live-Action
If you're not exactly camera-shy, the easiest option, and without a lot of bells and whistles, would be to simply speak directly into the camera. This is best suited for simple topics that don't require much visual support. However, by having your own presence, you still give the content the personality it needs to have greater appeal to the target audience.
Here you should pay particular attention to the following things:
sound design: an external microphone is a must.
simple, non-distracting background
lighting conditions. Additional studio light is recommended
image quality. A camera with high resolution is recommended. Built-in webcams cannot keep up here.
Real films also come in handy in the form of interviews, for example, to bring additional expertise to a training course or class. The good thing nowadays is that in the digital age, interviews can be conducted excellently at a distance using a split-screen and therefore do not require the personal presence of the interview partners.
Tutorials
A subcategory of live-action shots would be the widely used tutorial, which I'm sure everyone has watched in some form on YouTube itself. Tutorials are particularly effective for quickly demonstrating certain processes and applications that are difficult to explain in a text-based instruction manual. And let's face it, we'd rather watch a video anyway?
Create your own learning videos
Regardless of the format and application you choose, there are certain steps you shouldn't miss when creating your video.
In a corporate context, it makes sense to work with an agency or at least a freelancer to guarantee a professionally created video. With the right know-how and the consideration of some basic steps, you can of course do it yourself.
The basic concept
What facts and information do you want to convey? What outcome do you expect? Of course, you should be clear at the beginning what exactly is to be explained and what learning you hope to achieve.
The target group and its needs should be analyzed in order to decide on the appropriate format and distribution channel based on this. You might also consider how any learning should be measured afterward.
Planning
Turn the camera on and just go for it? That will most likely have little appeal to your target audience. Think carefully about which sections you want to divide the video into and which image sequences go with which spoken text. Detailed planning in advance saves unnecessary cutting and thus a lot of post-production time. Of course, the right equipment should also be provided.
The script
It is especially important to prepare a detailed script so that the most important points are mentioned, but at the same time you don't beat around the bush.
Read the script aloud once, preferably also to other people, and consider whether everything is formulated precisely and understandably. The script is just as important for an explainer video as it is for a real film recording where you speak directly into the camera. Without a rehearsed script, it can quickly happen that you repeat certain points or paraphrase them too complicatedly.
Voice-over
Depending on the format, the script is recorded after the fact. Depending on preference and resources, it may make sense to work with a professional voice-over artist who has the right timbre and articulation. If you record the voice-over yourself, be sure to use a good microphone, film in a quiet environment, and post-process the audio afterward if necessary.
Filming and post-processing
If the preparation is finally done, it's time to start filming. As mentioned earlier in the article, the lighting conditions, the image quality, and the background should be right. Afterward, the recording should of course be optimized and unnecessary sequences cut out.
Can I create learning or explainer videos for free?
Animated explainer videos are popular, but can also be relatively expensive, especially when working with an agency. Fortunately, there are a variety of tools available today that make it easy to create explainer videos yourself. Well, relatively easy. A certain amount of skill is still required, of course. You should also have some basic knowledge of scripting, dubbing and animation.
You should also be aware that you are relatively limited in the use, especially with the free versions. Mostly, only a small selection of characters and backgrounds are offered, including watermarks of the respective tool. For a simple learning video in class, this could of course serve its purpose. For a corporate video, however, it makes sense to switch to the premium versions or work directly with an agency. Nevertheless, I would like to introduce you to some programs that work well for this.
Create animated learning videos: Tools
Biteable: Already with the free version you can create high-quality HD videos. If you want a bit more features and design the watermark, you should upgrade. The premium version costs $99/year.
Videoscribe: This software is perfect for creating whiteboard animation, even without any experience. It offers a variety of royalty-free images and music, as well as a free trial.
Powtoon: The software offers very high-quality templates with a variety of characters. The drag and drop feature makes it easy to use, even without any prior experience. There is a free version, but with limited features and Powtoon branding.
Animaker: Here, too, there is a user-friendly drag&drop function. With 120 different animations and 5 video styles, this software also offers an extremely extensive database
Rawshorts: This program specializes in whiteboard animations and offers extremely creative templates for various industries. This allows you to create creative videos with smooth transitions in no time. A free trial version is available.
Conclusion: Create the perfect learning video
In today's age and especially due to the digital transformation caused by the Corona pandemic, an educational video is an ideal medium to convey content effectively and sustainably. Various formats are available for different purposes and target groups. Thanks to modern tools, learning, and explanatory videos can also be created inexpensively in your own studio.
Do you still need support? Perfect, that's what Cleverclip is here for ;). Get in touch and we will help you create the perfect learning video.
For convenience purposes this post has been translated automatically.