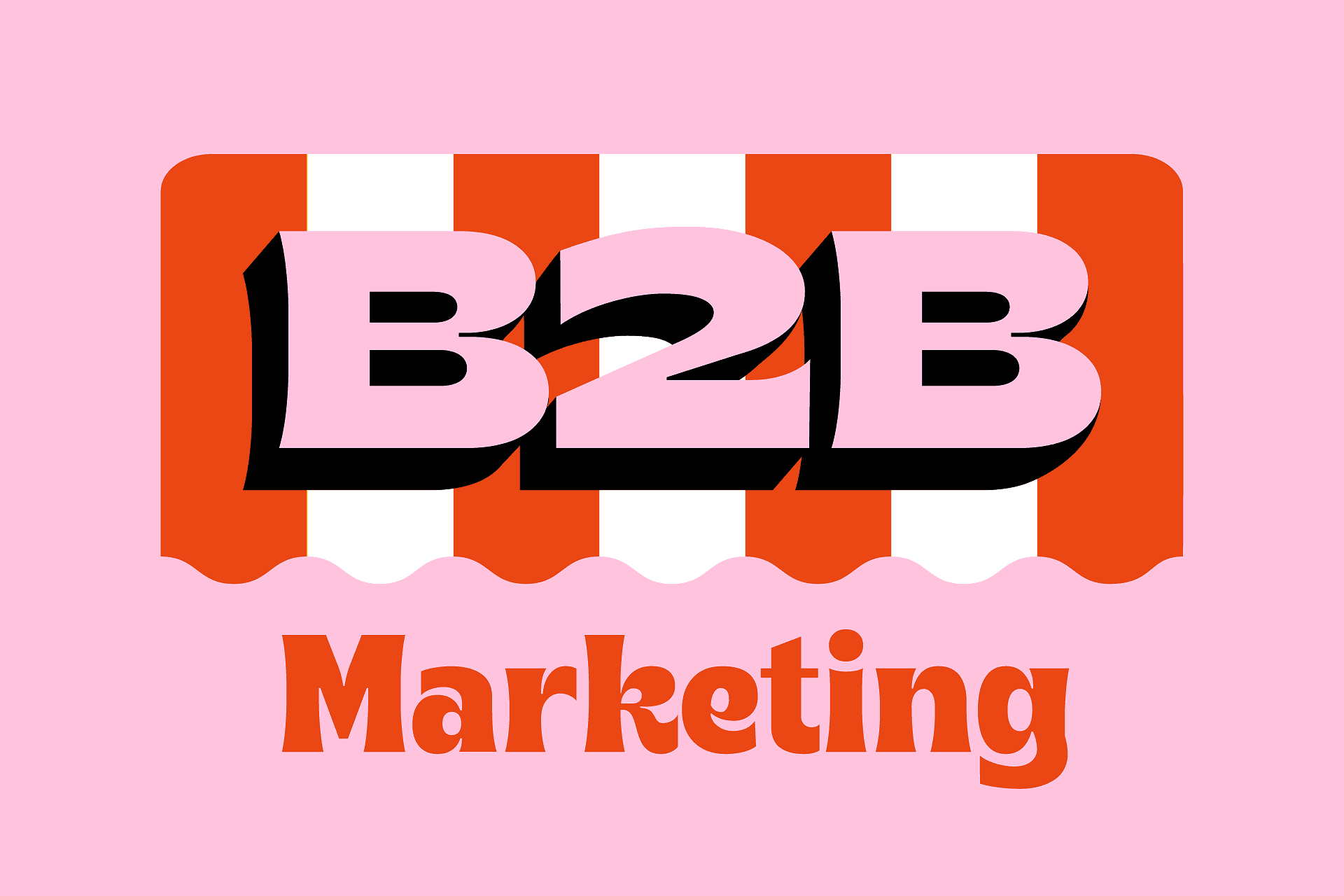 In 2020, there were 3.96 billion users on social media, which is a relatively large potential reach for your business. However, it is mostly B2C companies that exploit this enormous marketing potential. Among B2B companies, there is often still a misconception that hearts, tweets and "thumb-ups" belong less in a professional business context. A false assumption that can cost these companies many customers. B2B companies can also use social networks to create more brand awareness, present their corporate culture, build relationships with external customers and ultimately contribute to corporate growth. In this article, you will learn why it is worthwhile for B2B companies to be present on social networks and which points should be taken into account. 
B2B in social media marketing 
While a B2B company may not be able to attract quite the same crowd, it is still possible to build a strong online community that can ultimately result in higher lead generation and sales. Adobe, for example, was able to close 42% of all sales through a successful Linkedin strategy. Here are some of the top reasons why it is definitely worthwhile for B2B companies to join the social networks: 
Your competition is already there 
You may not be completely convinced by those likes and shares yet, but what about your competition? Maybe they've been building an active online community for years and you're just missing out? You can only win if you play along. 
Customer service
Social networks have long been more than just a content-sharing platform. Today, they serve as important channels to interact with customers and provide fast customer support. So, with the right platform, you also succeed in ensuring an excellent customer experience for your B2B customers and quickly assist them in case of problems. This gives you more credibility and a long-term bond with your target group.
Social Selling 
Through interaction and information exchange with the target group, social networks open up many opportunities for lead generation. Especially with the help of paid ads, new potential customers can be addressed with valuable content. 
Collect customer data 
In addition to active community engagement, social networks also provide important information on customer behavior with the help of analytic tools. So with an effective social media strategy, you get to know your target group better and receive valuable feedback on your content. These consumer insights are an important basis for future marketing initiatives. 
Employer branding
The future workforce in particular is at home on social media and has grown up with the channels in their private lives. So to continue attracting talented young professionals, an appropriate social media presence is essential. Therefore, use social networks to ensure insights into the corporate culture and show the faces behind the brand. As you can see, it's definitely worth thinking in terms of social media in the B2B sector as well. Of course, everything is easier said than done. Communicating with a B2B customer definitely needs a slightly different approach than with an end consumer. Here are some tips on how to make your B2B social media marketing strategy effective. 
Tips for B2B Social Media Marketing
Create a social media plan
One of the biggest mistakes is that social networks are equated with some random number generator. What do I mean by that? Whenever there is time and a picture is left over, companies upload something, somewhen, whatever.  Btw, often by an intern who, overwhelmed with all the tasks, hardly finds time to add a suitable hashtag. No need to hope for any success here. Social media is not just a little teeny-bopper stuff. It needs a strategy! And that strategy needs to be in line with the overall digital marketing efforts and business goals. So, before it gets into the actual content creation, it's important to
a) set measurable goals: this is the only way to analyze successes and the budget later on. Important social media KPIs include the engagement rate, the cost-per-click, the website traffic and, if applicable, sales.
b) analyze the target group: even the B2B sector does not only consist of stuffy jacket wearers (no offense ;)). Who is your clientele? What do they want to see? Especially in the B2B sector, it is important to adapt the social media content specifically and individually to the industry and less to a broad audience. Use common vocabulary for your industry and create content that is relevant to your target audience. This doesn't mean that all your posts should sound like a high-brow lecture. On the contrary, people tend to communicate more openly and casually on social media. But you need to connect with your target audience and create content that they can relate to.
c) Distribution Calendar: Regular activity is important to be constantly present with the target group and at the same time to be classified by the algorithm as an active user with relevant content. Personally, I always like to design the content calendar for a month in advance and adjust it accordingly (for example, due to short-term, unplanned campaigns).
From time to time there are recommendations how often something should be uploaded. Here you can find different stuff: three times a day, a few times a week, several times a month… . I don't really rely on these recommendations most of the time. Much more important: use common sense! Put yourself in your target group's shoes and think for yourself what makes sense. A certain regularity must be there in any case. But the content must also be relevant and not perceived as spam! And then, of course, it's also a matter of trying and testing. Here we would be at the next point… . 
Analyze and make adjustments
At the end of the month, look at all the posts on the different channels. Which ones have the most engagement? Pay particular attention to authentic comments and shares. 
Comments that only include an emoji can often be written with bots. For this reason, I wouldn't give too much importance to likes either – you can get them already for 99 cents. Based on your results, you can better design future content.
Become active
Instead of just uploading something and hoping that this something will eventually go viral, you should also become an active user. So that means: like, share and comment! That's the only way you'll be heard within your own network. Of course, everything should be relevant and not spammy. 
Active engagement has a positive effect on the algorithm and thus offers better reach in the long term. Don't forget, the goal of social networks is to get in touch with other people online. So if you only want to passively upload content and don't give anything away yourself, you will often get less reach than hoped for, despite good content.  It's also important to interact with your followers. Far too often I see companies not communicating with their "fans". If a follower leaves a comment, even just an emoji, comment back! This kind of community management builds a long-term bond with the target audience.
Influencer Marketing in B2B
Influencer marketing has become an effective marketing initiative over the past few years, especially in the B2C space. But what works with the end consumer works no less effectively in B2B. However, the approach to this is actually somewhat different. In B2C, it's mainly about the reach of the respective influencers or, as many companies have finally realized, the engagement. In B2B, it is primarily credibility and expertise that play a decisive role, rather than the reach of the influencer account. Suitable B2B influencers would be thought opinion leaders, analysts or CEOs, for example. 
Select content specifically
Interesting and relevant content is the key to getting engagement on social networks. I think this is often the big problem for many B2B companies. Because especially on social media, B2B companies have a hard time finding this balance between entertaining and technical content. In this case, it's important to think a bit outside of this typical "B2B bubble." Always put yourself in the target audience's shoes. It doesn't just have to be posts about your own product, but it can certainly be broad topics from everyday business or even other industries – as long as it's relevant to the target audience. Deloitte is a role model for effective B2B social media marketing. They predominantly show the faces behind the company on the channels as well as insights into the corporate culture.
The right social media platform for B2B
Of course, you should choose the platform carefully, especially in the B2B sector. There is no point in creating all the possible accounts if you neither have the time to maintain all the channels nor the target group is represented there. 
The live streaming platform Younow, for example, is particularly popular among 14 to 15 year-old users. So if you're targeting mid-sized companies in the financial industry, do you really need an account on Younow?
You should also think carefully about what content and what formats you want to or can create. If you focus on static images or short messages, it makes no sense to be on Tiktok, a creative video platform. Ideally, each platform needs its own strategy with individual content. Content that is particularly popular on LinkedIn will be received differently on a photo platform like Instagram. Different content also has the advantage that a person who follows you on multiple networks can still see different content. 
If you are targeting an international audience, also take into account the different popularity of certain networks in different countries. In Germany, for example, Xing is still somewhat more popular among companies than Linkedin. In the USA, on the other hand, only very few have heard of Xing. 
But let's take a look at some platforms a bit more detailed:
Linkedin: This is probably the most platform in the B2B sector and probably the only platform you should definitely use!
In contrast to other platforms, Linkedin still has a very good reach and well-made posts can quickly go viral. However, the algorithm has already changed here in recent years and you should be quick to take full advantage of the current opportunities. Some interesting figures on LinkedIn:
among LinkedIn users, there are 46 million B2B decision makers. 

89% of marketers say they use LinkedIn for content distribution. 

more than 702 million people can be reached with Linkedin ads

LinkedIn accounts for 50% of all B2B social traffic. 
(Source: weidert.com)
So it's definitely worth being there. The problem for many companies? They still see Linkedin as a too business-oriented platform and use it exclusively for expert tips or job postings. But it's the personal and emotional posts that usually go viral. So, go ahead and show some personality!
Instagram: The platform is more popular in the B2C industry. So if you have already completely exhausted your time resources and can't invest in a decent Instagram strategy, then do without this platform. Otherwise, Instagram offers enough potential in the B2B sector as well, more precisely 500 million people who look at Instagram Stories every day and 200 million daily users who visit a business account. The target group can also be found on Instagram – albeit with slightly different content.
You can read a detailed post on how and why Instagram is also effective in B2B here. In general, your Instagram success depends on your own strategy. However, with valuable content that tells a visual story and encourages interaction, you can build a personal and casual relationship with your target audience.
TikTok: TikTok for B2B, can that work? As always, it depends on the content produced. However, with TikTok, you can show a completely different face behind the brand and, most importantly, present your company culture and some behind the scenes in an entertaining way. As of June 2020, TikTok had 87 million downloads (Hubspot), outpacing its competitors in the App Store. Most B2B companies still view TikTok with skepticism, but that in turn means one thing: The competition is not yet on the platform. So it's well worth taking advantage of this before Tiktok is also littered with similar accounts. You can read a detailed article about Tiktok here. 
Facebook: Some are on it "because it's appropriate," while others wonder if anyone still uses the platform at all. Regardless of your private needs, Facebook still ranks first among all social networks with 2.6 billion active users per month. Although Facebook is also primarily popular in the B2C industry, don't forget one thing: B2B decision makers are also sitting on the couch in the evening browsing though Facebook. For this reason, personal and non-work related content is most effective here. 
Nowadays, it is relatively difficult to achieve a large organic reach on Facebook, because Facebook lives primarily from its paid ads. All the more target group specific you can attract new customers here in turn through switched advertising.
Youtube: If you have the opportunity to produce video content, whether in the form of expert tips, animated clips or entertaining videos around the company culture, Youtube can become enormously relevant. Firstly, of course, because of online community building, but more importantly for SEO reasons. Youtube is the biggest search engine on the web after Google and also still part of Google. So if you are also active there, you contribute decisively to the search engine ranking. 
Twitter: The platform is often underestimated by B2B companies (as you can see the trend continues, social networks are probably generally underestimated by B2B companies ;)). Twitter is especially suitable for a short update, a summary of a post or even an exciting impulse that refers to further topics of your company.
Even if you're not creating Twitter-related content, however, it can be an effective platform in the form of a search engine. For example, you can search for people and topics in your industry, or you can search for threads about your competitors to get feedback. Ultimately, there is no secret recipe here either. It is important to analyze the behavior of the target group and their reaction to the respective content and then to assess which platform is suitable and which offers no added value. But please also set a realistic time frame here. Because of the algorithm, even with a good content strategy, it can take months before the first positive results are seen.
Ready for your B2B social media strategy? 
B2B marketing doesn't have to be dry and boring. With the right strategy, you can create exciting campaigns that demonstrate both your expertise and creative side and generate a lot of engagement on social networks. 
Social media marketing creates more brand awareness, allows you to build an active online community and ultimately contribute to business growth. So, what are you waiting for? Let the hearts and thumb-ups rain. Do you have any questions? Then contact us.
For convenience purposes this post has been translated automatically.